Saucony Switchback 2 review
A lightweight minimalist trail runner from Saucony, the Switchback 2 incorporates the BOA Fit System for a sock-like, convenient closure with lots of ground feel.
It's fast and nimble. It's minimalist so you feel the ground. Honestly, these are things I used to really love and they still hold a place in my heart, but that doesn't mean this shoe is for everyone.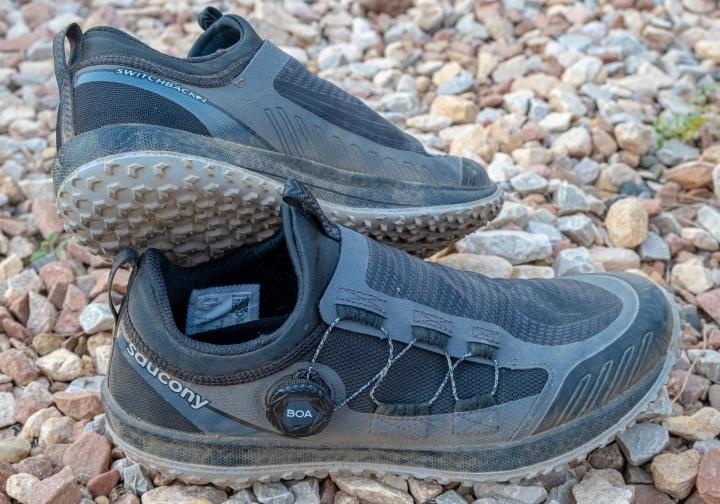 Be sure to check out Born to Run before you HEAD out on the trails with these bad boys, just to get pumped up about minimalist running and the benefits they proclaim, while your calves and arches feel that sweet sweet burn.
Updates from the first version
The lacing structure was moved
Midsole was upgraded
Added rock guard
Lost some weight
Snug wrap & the BOA of the Switchback
The highlight of the Saucony Switchback 2 is its BOA Fit System. It's pretty brilliant! I love how it locks your foot in place better than normal laces.
It has also been moved to the side of the shoe. It's got a Mono panel which is actually a modified tri-panel top flap giving it great lockdown.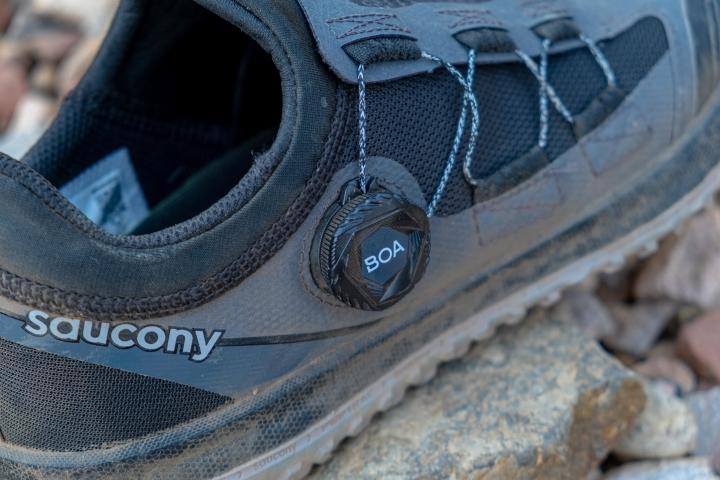 However, I do have my gripe about the BOA closure system. Because of the sock-like wrap it provides, it's hard to put on.
Another downside for me is the upper material that's not quite breathable and it does not drain moisture well either.
A nice touch to the shoe is its toe bumper. It makes the shoe more durable.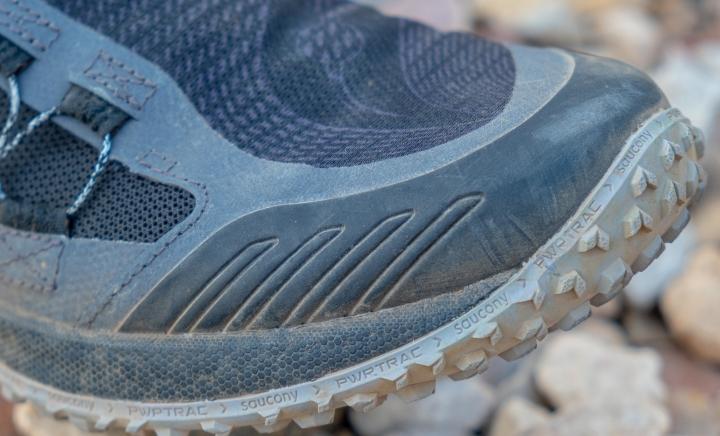 The heel counter, meanwhile, is super soft. It almost has no support. However, the BOA system is there to maintain a zero-slip fit.
Minimal yet functioning cushion
Contrary to the first version's EVERUN foam, the PWRRUN+ midsole is much lighter. To add protection, there's a rock guard nylon plate, which I think is a necessity for minimalist shoes.
Another hitch from this shoe is that because its midsole is very minimal, it does not deliver a plush ride. This shoe is really intended for minimalist runners who know how to run in that style.
Heel strikers should also be mindful. With this shoe, runners should really pay attention to footstrike and placement.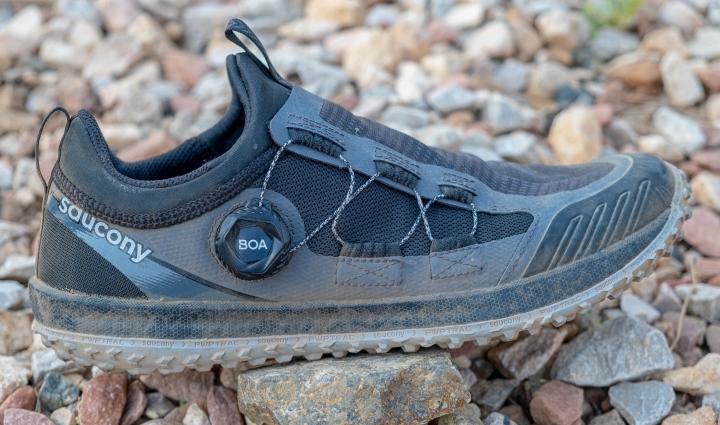 Although there's plenty of ground feel, the rock plate does its work by providing flexibility while supplying sufficient protection on rocky trails as long as you're paying attention.
Underfoot stays protected in the Switchback 2
The outsole of the Switchback is composed of PWRTRAC technology. You can actually see through the outsole the braided rock plate.
I was quite skeptical about the 3mm lugs, which seemed quite insignificant, but they really have a solid grip. This is especially true for mild to medium trails. But it does not have the same grip on the more technical trails.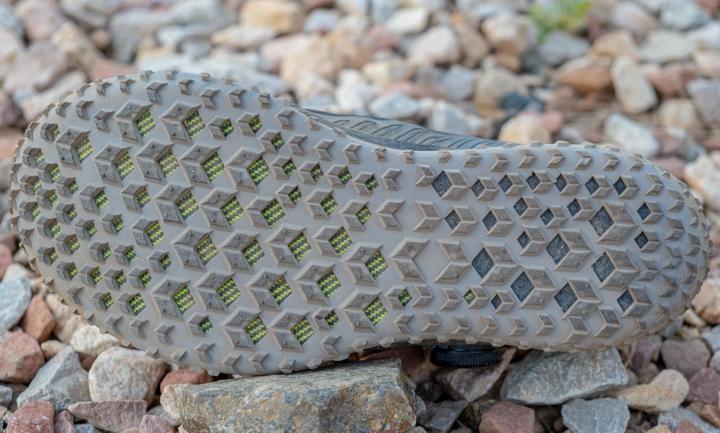 Fit of the Saucony Switchback 2
As expected from a minimalist shoe, the Saucony Switchback 2 has a sock-like fit. It actually feels low-volume enough that having no socks is probably the way to go.
Because of the BOA Fit System, it snugs down easily and nicely. Not to mention, there's plenty of room in the toe box.
Weight
It's lightweight as it should be, but it's not that light for what it is. Compared to the Torrent which is much more substantial of a shoe, we are talking 5 grams!
Durability
The shoe may hold up, but your feet and legs may not. You really need to be careful in a shoe like this—take it easy and pick your way through the technical stuff. Charging down steep technical terrain is not the same as in a pair of Hokas or other shoes with very intentional protection.
Looks
It's unique, and I really dig it. However, it does look like a cycling shoe more than a running shoe.
If you liked the shoes in 2012, then you'll like how this looks. It's a well-updated throwback to the minimalist era.
Price
For a shoe with BOA, I think $140 is a decent price but it's not a lot of shoe you're getting either. With its breathability and draining issues, I feel it's a little steep.
In conclusion
You need to pay attention in these shoes to your foot placement, and I remember that about my old shoes like this, and I don't think I want to pay that much attention to it anymore, to be honest.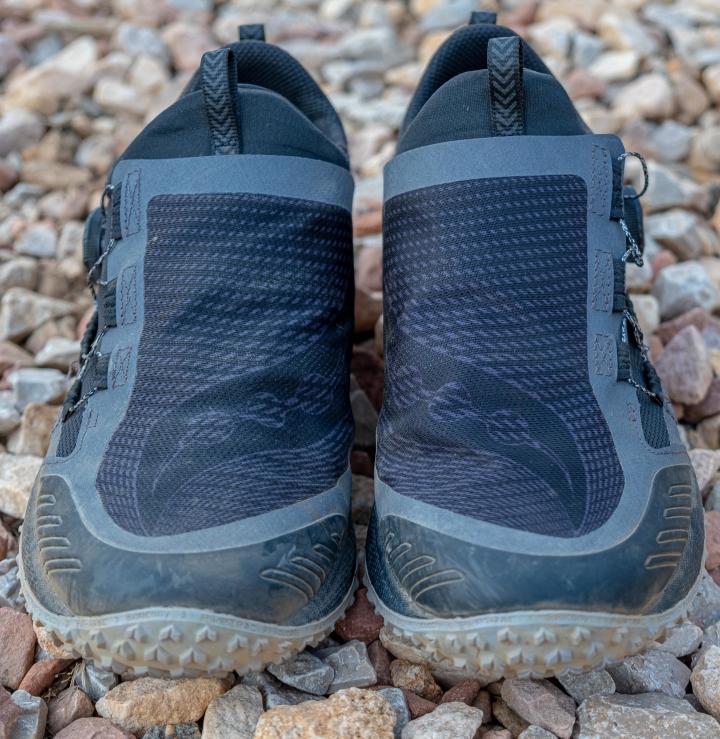 I think they are great minimalist shoes but not everyone needs or wants minimalist shoes. But for me, I think they will work well as training shoes on shorter, less technical days to help strengthen my feet, but I think my days of longer runs in shoes like this may be in my past.
Compare popularity
Interactive
Compare the popularity of another shoe to Saucony Switchback 2: