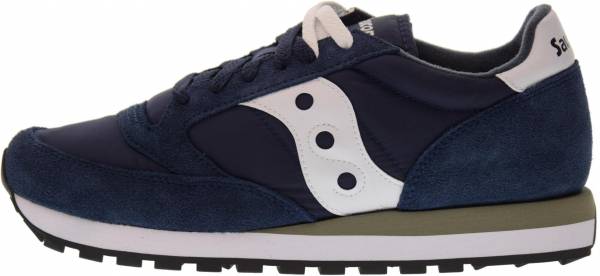 The Saucony Jazz Originals shoes are basically as comfortable as they are stylish. The midsole cushioning and the lightweight materials used in the uppers work together to provide a comfortable experience. It is a comfortable, vintage shoe that still works in some activities. This is easily a "steal" for sneaker fans.
---
Verdict from 100+ user reviews
10 reasons to buy
An overwhelming majority have given an almost perfect average satisfaction score to the Jazz Original shoes by Saucony.
Many reviewers say that this model is one of the most comfortable shoes that they have ever worn.
Plenty of people have mentioned that they loved the snug and comfortable fit of these kicks.
A considerable number of wearers love how stylish this classic pair is.
A lot like how light the Saucony Jazz Original sneakers feel.
Despite the vintage look, customers say these Saucony Jazz shoes are "absolutely functional," because they are supportive of many physical activities.
A pair of Jazz Originals is quite affordable.
More than half of those who have left reviews say that this model provides moderate arch support.
Those who own more than one pair of Saucony Jazz Originals note that the quality is consistent.
Custom orthotic insoles work well with Jazz Originals, a few buyers have remarked.
2 reasons not to buy
Some people are disappointed that the black ink from the suede of Saucony Jazz Original sneakers run into the white soles when the shoes get wet.
A few users were disappointed with the shoe's traction, particularly on wet pavement.
Bottom line
The
Saucony Jazz Originals shoes
are basically as comfortable as they are stylish. The midsole cushioning and the lightweight materials used in the uppers work together to provide a comfortable experience. It is a comfortable, vintage shoe that still works in some activities. This is easily a "steal" for sneaker fans.
Best price from 30 shops
We earn affiliate commissions at no extra cost to you when you buy through us.
87% say it's true to size.







Size and fit
A pair of Saucony Jazz Original shoes contain moderate arch support according to some reviewers. The fit is comfortably snug, and the shoes work well with orthotics, if you need them.
The sneakers have a low-top profile, which is supportive of various physical activities. Leather and suede overlays against the nylon uppers provide some medial and lateral support as well.
Saucony Jazz Original Style
As these sneakers were originally released as running shoes, a pair of Saucony Jazz Originals really goes well with active wear. But because it comes in various color combinations, these kicks are also good for those who want to experiment with a variety of casual looks. The suede overlays also enhance their overall appeal.
Men
Saucony Jazz Originals in the men's tan/navy colorway would look cool when paired with dark blue jeans with folded hems and a long-sleeved collared shirt in blue.
Tan pants and a green sweater would pair well with Saucony Jazz Original shoes in dark green (dark green/black).
Saucony men's Jazz Originals sneaker in dark red hue (burgundy/white) would blend well with an all-black outfit for a nice pop of color.
Women
The Saucony women's Jazz Original sneakers in the charcoal/pink colorway would match prettily with black skinny jeans, a dark blue parka, and a grey sweater over a white shirt.
Black warm leggings, a light blue shirt, and a dark blue jacket would look nice with Saucony Original Jazz in the women's navy/silver colorway.
Saucony Jazz Originals in a black shade (black/silver) simple black jeans and a white top.
Notable Features
There are three reasons why Saucony Jazz Originals have lasted for decades: First, because as performance shoes they were as functional as you could get. Now that they have a new life as leisure sneakers, they can rock most outfits and make you look stylish in the process. Second, these kicks are simply comfortable. You can wear them all day, and your feet will still thank you. Third and last, who doesn't love classics?
Saucony Jazz Original History
The Saucony Jazz Original silhouette was first released in 1981, and it was the product of a partnership between Saucony and a podiatrist named Frank Santopietro. Their aim was to create a model that would be sensitive to an average runner's foot structure and normal range of motion.
Apparently, they did just that because the Jazz was immediately en route to becoming an icon. The suede/nylon uppers provided the right fit. The revolutionary triangular lug design on the rubber outsoles provided the needed traction. Active people just loved the experience of running in Saucony Jazz.
Collaborations and iterations on the Saucony Jazz Original silhouette
Being one of the brand's iconic shoes, Saucony Jazz Originals had also witnessed some amazing releases and collaborations. One of these releases is the White Mountaineering x Saucony Jazz Original Pack. This is a collaboration between White Mountaineering, a Japanese adventure outwear brand, and Saucony. The pack features vegetable dyed calf suede uppers with leather linings, embossed detailing and a White Mountaineering branding on the tongue. A follow-up release of this collaboration came months after with a new colorway known as the White Mountaineering x Saucony Jazz Original "Courageous."
By June 2014, the Saucony brand joined forces again with Anteater, a Russian streetwear line, which gave a fresh look to the Saucony Jazz Original shoes. The theme of the pack was "Sea & Sand" which is a bit of a surprise coming from a Russian brand. The pack features a "wave break on the beach sands" image.
The Saucony Jazz Original "Luxury Pack" debuted with some brand new colorways, designed for the Northern Hemisphere's colder weather. The release of the Babochka x Saucony Collection followed not long after. This collaboration between Babochka, a Russian luxury boutique, and Saucony, was another interesting take on the Jazz Original.
On 2016, the Saucony brand launched an iteration of the Jazz Original. The Saucony Jazz Original Denim Pack came out with three colorways. One featured denim-covered uppers with some gold stitches, the second took a darker denim approach, while the third one showed a lighter denim tone. Another Luxury Pack for the Saucony Jazz Original was released by August that same year, giving the vintage model a new sophisticated look.
In 2017, the brand released some brand new colorways for the Jazz Original, and then a new collaboration followed. The Saucony brand teamed up with Japan's Tacoma Fuji Records. The Tacoma Fuji Records x Saucony Collab features a USA casual-type colorway.
A few other modifications of the Saucony Jazz Original include the Saucony Jazz Leather, Saucony Jazz Low Pro, Saucony Jazz Original Vintage, and the Saucony Jazz Vegan.
Today, more than thirty-five years later, Saucony Jazz Original sneakers still retain their silhouette and footbed shape. They now come in a multitude of hues to suit every personality and style. Given their appeal, the Jazz Originals will continue to make their presence felt for years more.
Additional Info
Saucony Jazz Original shoes have striped EVA midsoles for effective shock absorption.
The tongues and collars are padded to ensure superior next-to-skin cushioning.
The shoes are provided with soft fabric linings, rubber outsoles, and nylon and suede uppers.
Each shoe weighs 255 grams.
Rankings
How Saucony Jazz Original ranks compared to all other shoes
Popularity
The current trend of Saucony Jazz Original.