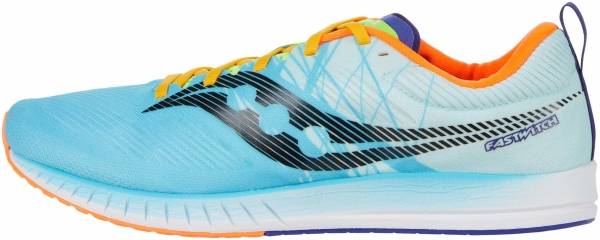 The new Fastwitch 9 with its lightweight SSL midsole and PWRTRAC outsole gives great cushion and traction that most runners admire. Majority of its wearers also liked the engineered mesh upper that provides a breathable fit that they found very comfortable. Although not well received by runners who are flat footed and a few unfavorable reviews about the shoe's tight toe box, majority of runners still laced up, pushed the pace, and won races in their all-new Fastwitch 9.
---
Verdict from 5 experts and 100+ user reviews
8 reasons to buy
Many runners have noted that the Saucony Fastwitch 9 feels lightweight, thus ensuring a comfortable ride.
Some users were happy on how well the shoe's grip performed on road terrains while providing a smooth ride.
A number of wearers claimed the Fastwitch 9 to be a fast shoe, which is great for a running shoe that is aimed at high mileage runs.
Most users liked the shoe's responsiveness. They claimed its good responsiveness resulted in pure speed during their road runs.
The shoe's toe box was also praised as it is spacious enough to allow the feet to splay naturally during the runs.
A few testers mentioned how the shoe's tongue was comfortable, had an elastic sock-like fit, and securely stayed in place.
The shoe's outsole durability was also praised by most of its wearers, thanks to its PWRTRAC outsole material.
One reviewer thought the styling on the Fastwitch 9 was much improved than the Fastwitch 8.
3 reasons not to buy
A few of the Fastwitch 9 users mentioned that the fit of the toe-box is not tight and not wide enough.
According to a couple of wearers, the shoe's outsole was a bit complicated as it allowed water and debris to enter, which became an issue for several occasions.
Also mentioned by some users is that the Fastwitch 9 had too much cushioning for a racing shoe.
Bottom line
The new Fastwitch 9 with its lightweight SSL midsole and PWRTRAC outsole gives great cushion and traction that most runners admire. Majority of its wearers also liked the engineered mesh upper that provides a breathable fit that they found very comfortable. Although not well received by runners who are flat footed and a few unfavorable reviews about the shoe's tight toe box, majority of runners still laced up, pushed the pace, and won races in their all-new Fastwitch 9.
Best price from 32 shops
We earn affiliate commissions at no extra cost to you when you buy through us.
40% say it's too small, 53% say it's true to size.



We earn affiliate commissions at no extra cost to you when you buy through us.
Our reviews
The Saucony Fastwitch 9 is a stability road shoe that is so much lighter than competing shoes, lacing up a pair on race day almost feels like cheating.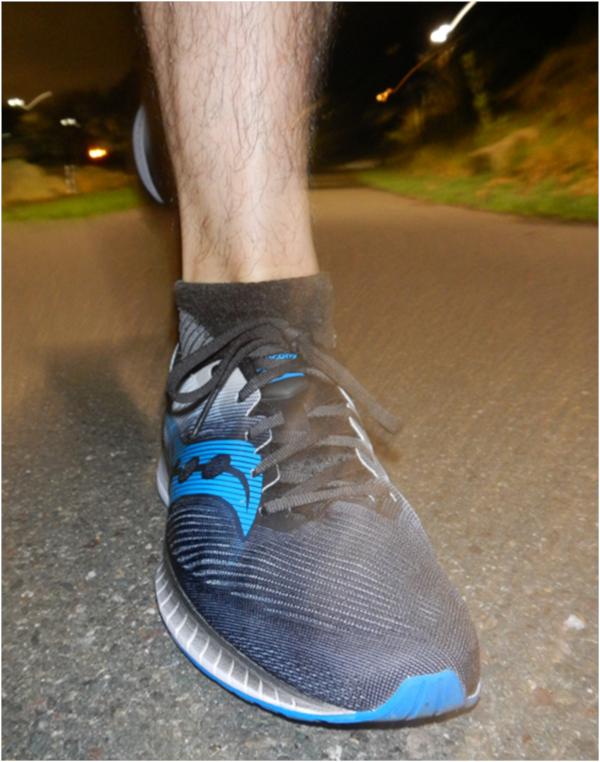 Who Fastwitch 9 is perfect for
Shoes like the Fastwitch 9 are aimed at runners with mild-to-moderate overpronation who find stability features like a medial post beneficial in mitigating injuries and improving running form.
Typically, however, these stability features add extra heft, so finding lightweight stability shoes for fast track workouts, tempo runs, and races have until recently been a real challenge, with stability shoes feeling more like cement trucks than Ferraris.
Fortunately, as the market and engineering of running shoes has become more sophisticated, the number of race-ready stability shoes has ballooned to the point that the challenge for consumers is no longer finding a lightweight stability option but choosing the best lightweight stability shoe.
Today, virtually every major shoe company—Saucony, Asics, Adidas, Nike, New Balance - offers a lightweight stability shoe (see "The Competition" section below).
Yet in my experience, the Saucony's Fastwitch 9 beats them all, being dramatically lighter than the offerings from each of the aforementioned competitors at just 6.7 oz for a men's size 9, with a perfectly designed upper and outsole attached to a flexible layer of springy yet firm midsole foam.
Taking them out of the box is an immediate indication: the cardboard packaging feels like it weighs more than the pair of shoes themselves. Lacing them up just makes you feel fast.
The Fastwitch 9 is such a lightweight, go-fast shoe, that even some neutral runners who miss the firmer, more responsive feel of older models of the Saucony Kinvara have adopted the Fastwitch for everything from 5K to marathon races.
In-depth review, from top to bottom
Upper
The Fastwitch 9's upper is terrific. Minimal use of overlays keeps it light, breathable, and form-fitting. It is a significant improvement from the somewhat overlay-heavy Fastwitch 8.
While it lacks overlays for weight-saving, breathability, and accommodating fit, the Fastwitch 9's upper does have a lightweight but firm heel counter to keep feet locked in place and stable. While many overlay-free uppers (like the one in the Nike Free Run) can feel floppy and cause feet to slip around.
The Fastwitch 9's use of a heel counter works well with its overlay-free upper so that the shoe feels comfortably sock-like and stays comfortably in place during rapid-turnover sprints.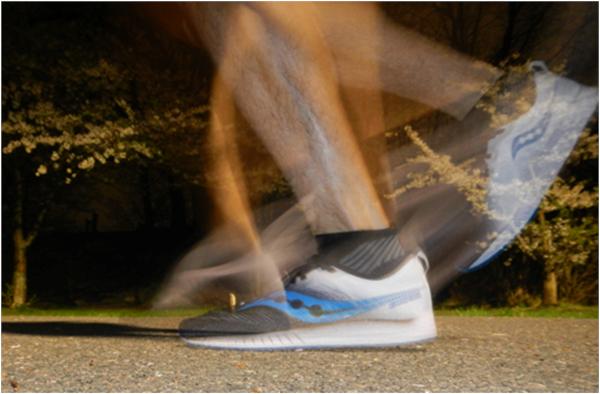 The only disadvantage to the Fastwitch 9's upper is that being so minimal, it wears down and starts to lose its snug fit and form after fewer miles of use (around 100-200 miles) than long-distance trainers like the Saucony Liberty ISO.
That said, the upper's lower durability relative to heavier everyday trainers is an expected tradeoff to get the shoe to be so light. In my opinion, the tradeoff is absolutely worth it, especially if you're reserving the Fastwitch for its intended purpose of shorter mileage tempo runs, track workouts, and races.
I also found the Fastwitch 9's upper was more durable than competing lightweight stability shoes like the Nike Lunarglide 9 that I found started to lose snugness in its upper after as few as 50 miles of wear.
Midsole
The Fastwitch's midsole is perfect for speed work. It is firm and responsive, and you can feel every ounce of energy goes into propelling you forward, not being wasted squishing down a soft foam.
The midsole's forefoot design also has a bit of upward curve to encourage quick turnover during up-tempo runs. Despite being firm relative to long-distance trainers, the midsole's stack height still has enough cushioning to be comfortable up to around a half marathon distance when running on hard concrete (or up to a full marathon for particularly efficient, lightweight runners).
The midsole's 4mm heel-toe drop was also a great choice by Saucony, making the Fastwitch a good option for a wide range of running gaits anywhere from heel to forefoot strikers.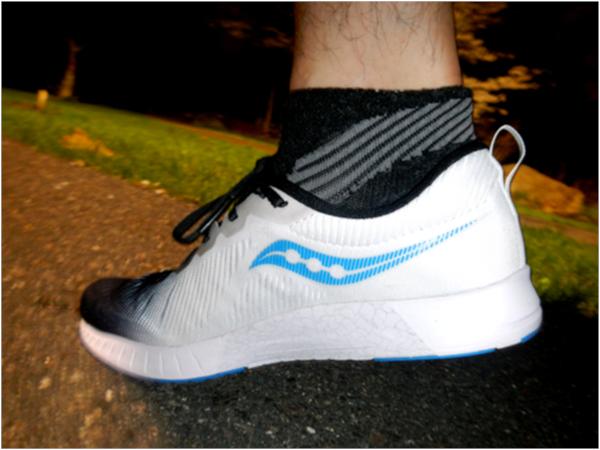 Of course, the highlight of the midsole, and what separates the Fastwitch from neutral race day shoes like the Saucony Kinvara are its stability features. Here, the Fastwitch 9 has just enough support to keep mild-to-moderate overpronators comfortable with the use of a dense foam post that reduces excessive flexion in the medial arch.
In addition, the Fastwitch's midsole is designed with a bit of outward flair from the top to the bottom to help keep feet stable through the mid-stance phase of the gait cycle to help cycle efficiently through toe-off.
Outsole
The Fastwitch's outsole is perfectly grippy on roads and tracks, with grooves positioned in all the right places to allow forefoot flexion while keeping the midfoot rigid and secure. The design of the outsole, therefore, works well with the midsole's medial post to further mitigate any instability while running.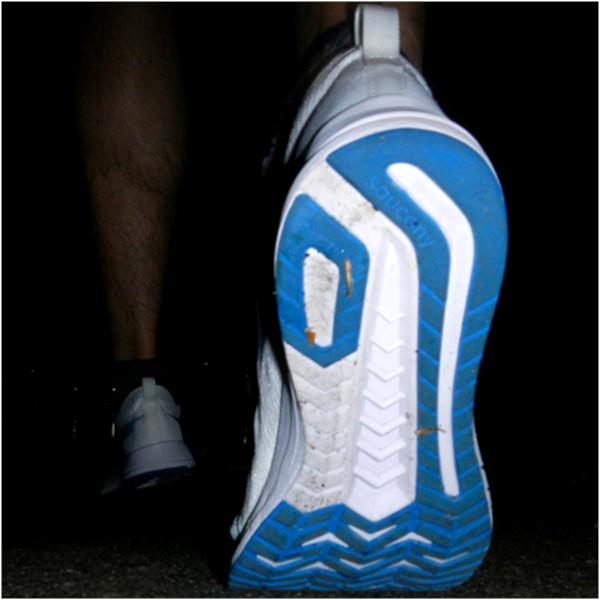 I really appreciate that Saucony decided to keep durable outsole rubber along the full length of the shoe. This choice runs counter to many brands who have taken to getting rid of some or all of the outsole material in speed-oriented shoes to save weight since this dense rubber is usually the heaviest material used in a running shoe.
Getting rid of outsole rubber might be an easy way to drop a shoe's weight, but the design choice has two problems. First is the loss of grip. Second is that it leaves the midsole foam vulnerable to abrasion from the ground, quickly breaking it down since the midsole foam is left rubbing directly against the pavement with every step.
As a result, I've found shoes without full rubber outsoles like the Nike Lunarglide 9 have much less grip and wear down dramatically faster than shoes like the Fastwitch.
The competition
If you're considering running in the Fastwitch, it is because you're looking for a lightweight race day or speedwork shoe with a touch of stability.
That means after narrowing down the options to the stability shoe category, the single most important variable will be weight, and at 6.7 oz for a men's size 9, the Fastwitch 9 has all of the competition beat:
New Balance 1500v5 (8.3 oz)
Brooks Asteria (8.3 oz)
Asics DS Trainer 24 (8.7 oz)
Nike Lunarglide 9 (9.3 oz)
Adidas Adizero Tempo 9 (9.8 oz)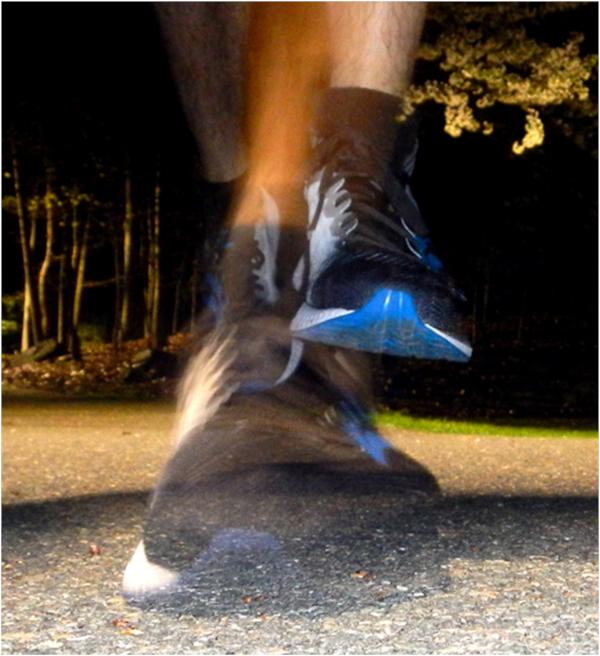 Other than weight, all of these shoes have similar lasts (fairly narrow, race-fitted uppers), levels of stability (posted, but only mildly), and prices (around $120 retail). The only two reasons I can think of that one might go with another shoe in this category are:
1) You prefer a softer, plusher midsole, in which case the Asics DS Trainer 24 or Nike Lunarglide 9 might be worth the added weight, or
2) You prefer a more traditional heel-toe drop, in which case the Nike Lunarglide 9 or the Adidas Adizero Tempo 9, each with 10mm drops, will be preferable to the Fastwitch's more minimalist 4mm drop.
The Saucony Fastwitch 9 is a perfectly speedy, responsive, lightweight stability shoe for any mild-to-moderate overpronators who want to run fast paces on track, tempo, or race days.
Compared to competing shoes, the Fastwitch 9 is lighter with a grippier, more durable outsole. It also features an impressive upper that keeps the foot locked in place without the use of any bulky or restrictive overlays.
The one downside of the shoe is a lack of durability compared to heavier, long-distance training shoes, but if you reserve the Fastwitch for its intended purpose of lower mileage speed workouts and races, then this weight-for-durability tradeoff is absolutely worth it.
In sum, if you need to run fast while mitigating pronation, the Fastwitch 9 is the best option on the market.
Remember putting on a cape (old bedsheet) as a kid and thinking you can fly? Welcome to the Saucony Fastwitch 9.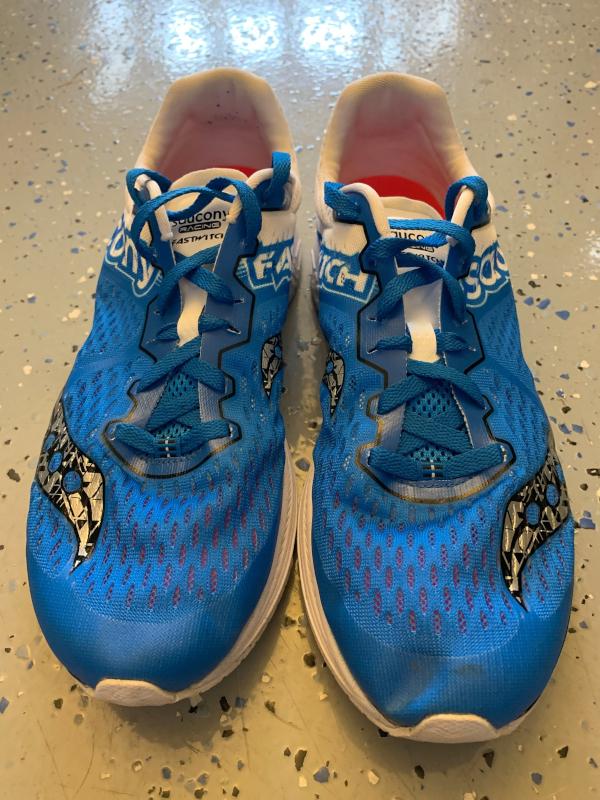 A speed-demon I am not. An elite I am not. But, I can wear shoes that are made for speed-demons and elites and still think I can fly!
The Fastwitch 9's got my attention first just with the name. Understanding where the name came from in muscle structure, still, I am mesmerized by the question: "Does the 't' go with fast or does the 't' go with twitch?" I know I am not the only one that has stopped and pondered.
The Fastwitch is a racer with minimal construction and features that just sing out "fly with me!"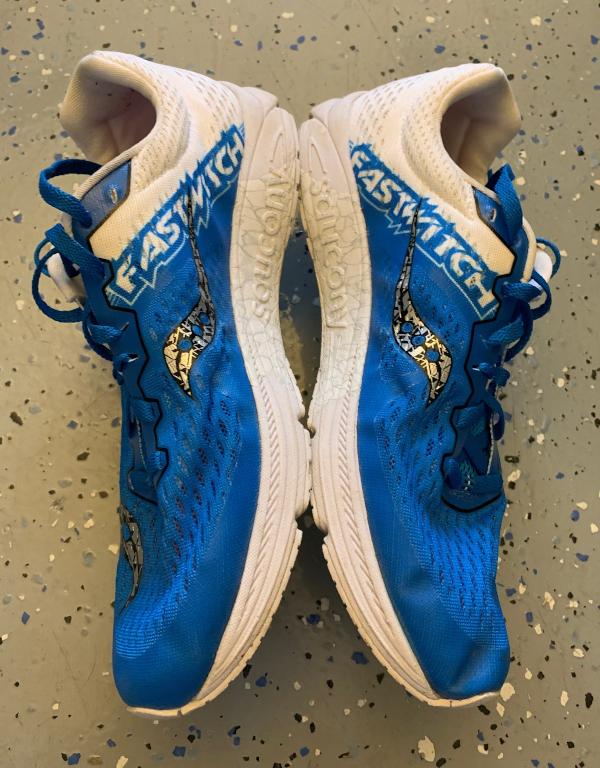 I am in this for more on the long-hall than the fast and furious. Thirteen-point-one is my song more so than most anything with a K at the end. I do run the occasional 5 or 10K supporting local entities. And they are good training runs no doubt.
So, if you are going to fly among the eagles, you need to at least look the part at the start line. The Fastwitch is not just about looks (you know you are judged at the start line by your kicks!), but they are amazing on the road.
When lacing them up for the first time, the sense of minimal is pressing on every nerve. There was actually a butterfly that fluttered in my stomach the first time I put them on—weird, I know.
I think it was the brain telling the rest of my system, "You know what this means don't you?" I don't run to win (I am an old coot for crying out loud), but taking the podium in my age group does have my attention.
So, I race when I run. These are built for racing.
I need wider than typical shoes, and these posed no problems. The uppers are almost non-existent hugging every part of your foot. The laces snug it all down nicely without any sense of any area being restricted.
This is important even to an old bird as the last thing you want when passing a young whipper-snapper in a 10K is to have to stop and adjust your screaming-eagle shoes.
The insole gives a little of a cradling effect without too much overdo on the arch. I am not a fan of orthotics and pay a little attention to those that seem to push support on their included insoles. These are just right.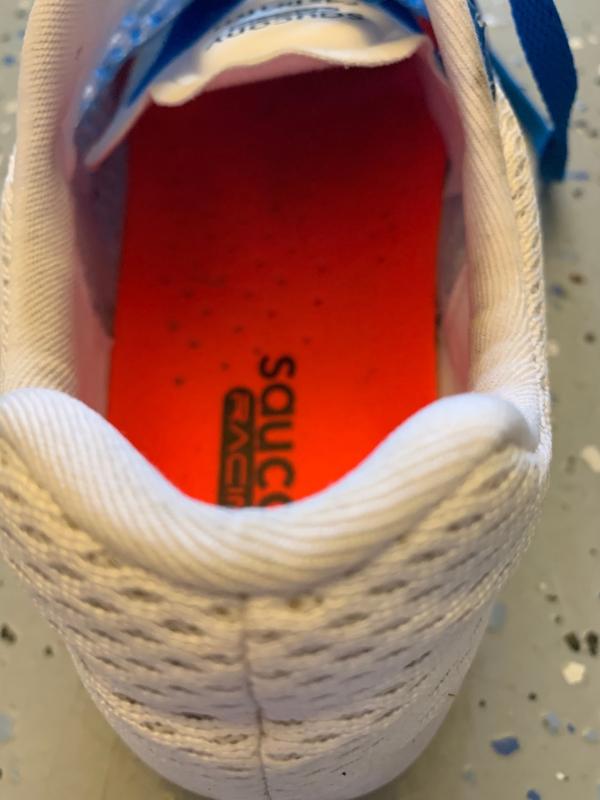 Also, they are blazing orange, which is just what the eyes need when you are lacing these for a fast one. It gets the heart pumping!
You have looked at the stats and know that this is a lightweight racer. Having started with the heavy trainers (14 ounces or so) years ago, this is such a different sensation.
I am so happy about the evolution that has given us better options. No doubt this is not for every race or for everyday training. I have it for those special occasions.
Also of note, I had no issue with the break-in. My first run was a tempo run, and these felt as though they had been around that block many times right out of the gate. I put them on even after weeks of no street time, and there are no issues getting used to their build.
Unlike many shoes, the sole is one material. Care has been taken to whittle away some lesser-needed areas to save on weight. This is interesting in that it gives some vents that go all the way through.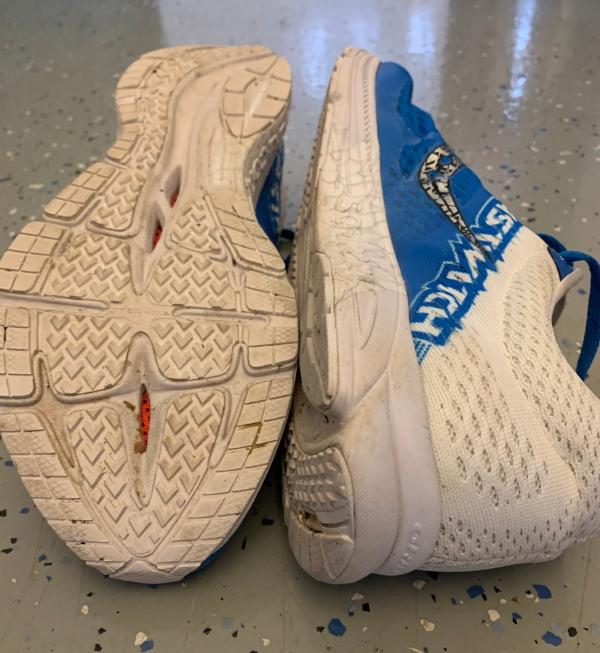 I can't say that I really felt the shoes breathing during the run, but there is something there. Note this is also be considered a leak point if running in wetter conditions.
I am not sure the total mileage these might bring though they are looking good after 50 or so miles.
On the road, the feel is smooth. There is an evenness to the structure that gives a nice even transition. If you are a heel striker, you know that racers can kick you hard.
These have a little sumpin-sumpin on the back to give a little cushion, but beware these will not save you from the beating coming your way.
I transitioned off the heel to midfoot (that was fun) a while back. I fall back on occasions though this running shoe really performs on the midfoot—encouraging you to do the right thing.
When I look at the sole, there is a solid build area right at the sweet spot for me. I can feel this running, almost envisioning the sole in the transition.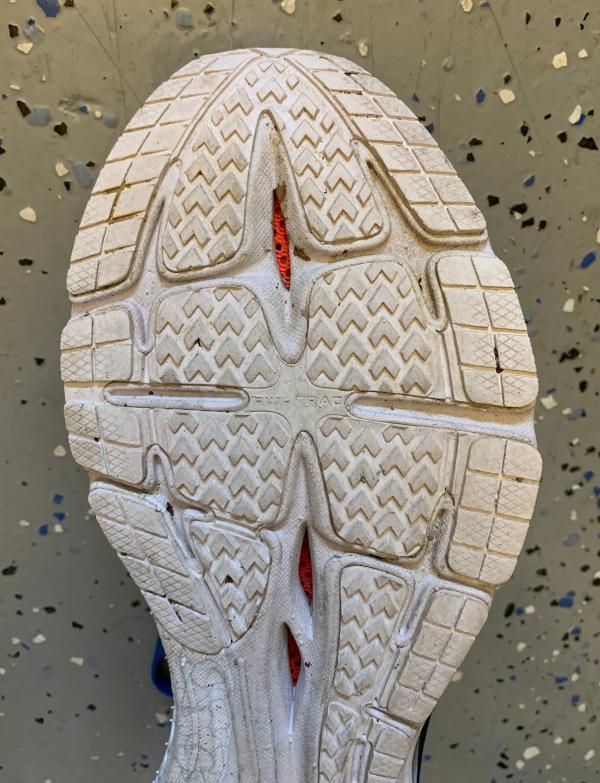 For me, running fast forces sensations that longer, slower runs don't bring. My ankles cry just a little. There is an interesting amount of cushion in the ankle and heel area that give good comfort when the tears start to swell.
It helps significantly in keeping the focus on the stride away from some of the distractors that can easily overtake thought when your heart rate is setting a new PR.
The Saucony Fastwitch 9 gets solid points from me. They are in my rotation for the occasional—let's do something crazy. Suit up and fly.
Good to know
The eighth edition of the Fastwitch lives up to its known legacy of stability and speed. The new Fastwitch 9 now features a lightweight engineered mesh upper that offers both support and breathability. The engineered mesh upper is also supportive in providing a closer fit compared to its predecessor, the Fastwitch 8. Despite the closer fit, this does not in any way restrict the shape or feel of the shoe when running.
The updated mesh upper now also presents the huge Saucony logo and ombre finish to give the Fastwitch 9 its freshest look to date.
This Saucony running shoe's midsole now features a lightweight construction and responsive SSL EVA midsole for energy return. This helps the shoe to feel more agile and responsive on every stride. This also keeps the cushioning on the firmer side, and the SSL EVA material also provides excellent protection for runs at a variety of speeds.
The outsole of the Saucony Fastwitch 9 has also been completely updated and redesigned. The midfoot post is still found present in this new model, but the remainder of the sole has now been replaced with a triangular design. The reason for this is that the triangular design creates a smoother ride and better flexibility in the forefoot. This also allows a very smooth toe-off while also offering excellent traction on different types of surfaces, even on wet roads.
The outsole update on the Fastwitch 9 does not stop there; it also uses the Saucony PWRTRAC technology which is responsible for the shoe's traction. This provides both great acceleration and control.
Since it is now on the 9th version, the Fastwitch 9 has also dropped its weight further to 170 grams (based on Men's shoes). Despite the reduction of weight, the shoe proves to remain snappy, supportive, and responsive ride on all types of road runs.
Lastly, the shoe's 4mm offset gives the shoe a better performance edge that lets the body naturally control the ride with less reliance on cushioning or support.
The fit and sizing of the Fastwitch 9 has been released to be true to size with snug fit for racing. Made to come in medium width for men which is D and for women, it is in medium width B.
The shoe's heel was made to be snug to hold the foot well with an almost non-existent heel counter. The midfoot section offers a bit more space for the foot but it then tapers off into the forefoot which is not too wide. This is where the engineered mesh upper comes in slightly adjusting the stretch to accommodate to the wearer's forefoot. Overall, the Fastwitch 9 has a customized fit feeling and it is also not too narrow.
The Saucony Fastwitch 9 use the PWRTRAC rubber outsole which provide three time better traction than the usual rubber. This enhances the shoe's grip enhancing every pounce and step. The PWRTRAC is a durable rubber that also gives exceptional abrasion resistance allowing for a longer wear of the shoe.
The Fastwitch 9 utilizes a full-length CMEVA midsole to provide cushioning for increased impact protection and shock absorption.
The Fastwitch 9 is constructed with a medial post that is engineered to help slow the rate of overpronation. This medial post device is firmer than the rest of the midsole material providing medial support for increased stability.
Within the shoe's midsole is the SSL EVA which provides lightweight responsiveness.
Engineered with a 4mm heel-to-toe differential, the Fastwitch 9 offers a faster performance and natural form which encourages an efficient, continuous and positive gait cycle from heel strike to toe-off.
Just like the popular Saucony stability running shoe, the Saucony Guide 10, the Fastswitch 9's upper consists of engineered air mesh that combines breathability and support. This allows air to fully permeate the entire footbed to guarantee that the feet stay cool and comfortable when the temperature goes up.
A strong, lightweight material is also melted to the upper, which allows for few layers in the shoe shedding weight, making it more flexible resulting in a seamless upper which reduces skin irritation and chafing.
Rankings
How Saucony Fastwitch 9 ranks compared to all other shoes
Popularity
The current trend of Saucony Fastwitch 9.