Saucony Cohesion 14 review
The Cohesion 14 is an entry-level running shoe from Saucony. It is not intended to be flashy, but affordable; not technologically advanced, but technologically adequate. At $65, the Cohesion 14 is intended to welcome new runners by giving them a stable platform for easy pace, daily runs.
I logged 86 miles in this shoe before writing the review.
Who the shoe is for
The Cohesion 14 is ideal for runners who:
need a reliable entry-level running shoe
are looking for a budget-friendly shoe
are heel strikers
Who the shoe is NOT for
Look away if you desire:
The Saucony Cohesion 14 fits perfectly and comfortably
The shoe length is perfect and it fits comfortably around my feet. My toes are exactly where they need to be. I wear US size 12 I weigh in at about 175 pounds, and the shoe holds its shape and provides adequate space as expected.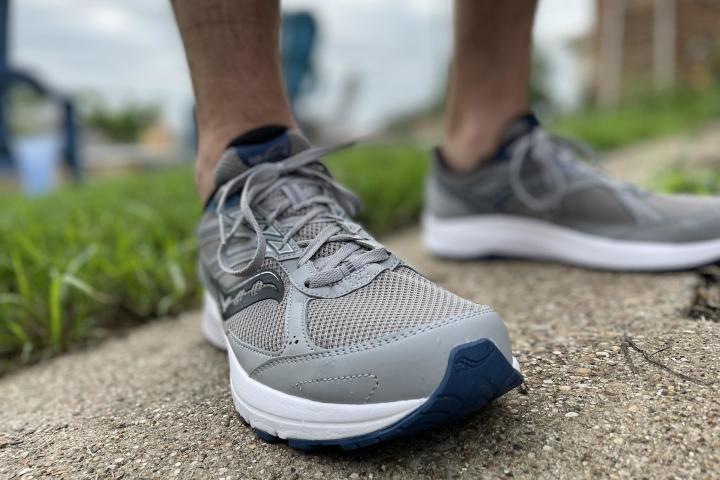 Superb lockdown
The inside of the heel is filled with extra padding. This cushion is superb, helping to keep the heel locked down securely.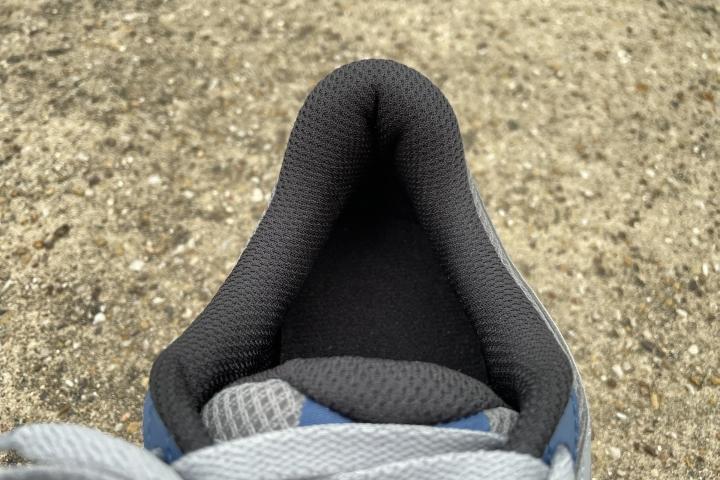 The tongue itself is very thick, which provides an extra cushion between the laces and the top of the foot.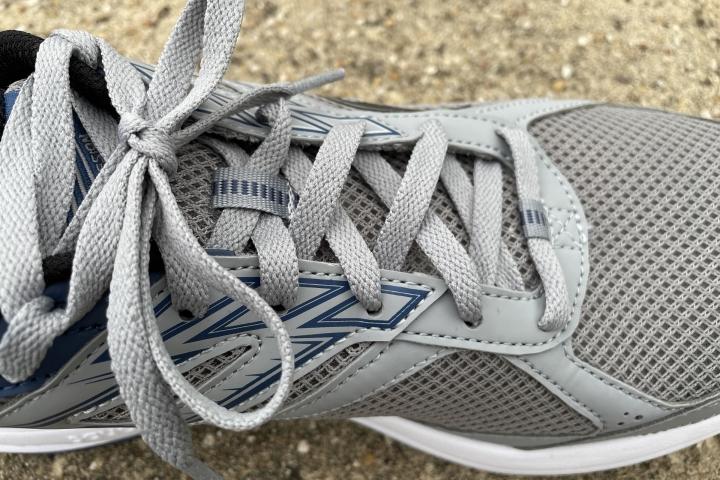 The laces also provide robust lockdown of the foot. The additional eye at the top provides the option for a runner's loop - fortunately, I did not have to use it! Lockdown is that good on this one.
Robust, grippy outsole for ALL surfaces
The rubber outsole is quite robust. Over 86 miles of running in this shoe I covered nearly every type of terrain: asphalt, concrete, gravel, sand, dirt, and grass. On every terrain, the shoe is stable and provides a lot of grips, which gives much confidence over the course of the run.
Basic and heavy midsole
This midsole is very basic, nothing fancy. It is cushioned enough, though it felt heavy.
The huge 12mm drop is not for everyone
The stack height is 28.5mm in the heel and 16.5mm in the forefoot, providing a huge 12mm drop. This is intended to provide a major relief for the calf but does not allow much of a midfoot to forefoot strike. Because of the high heel-to-toe drop, there is a lot of pressure on the balls of your feet.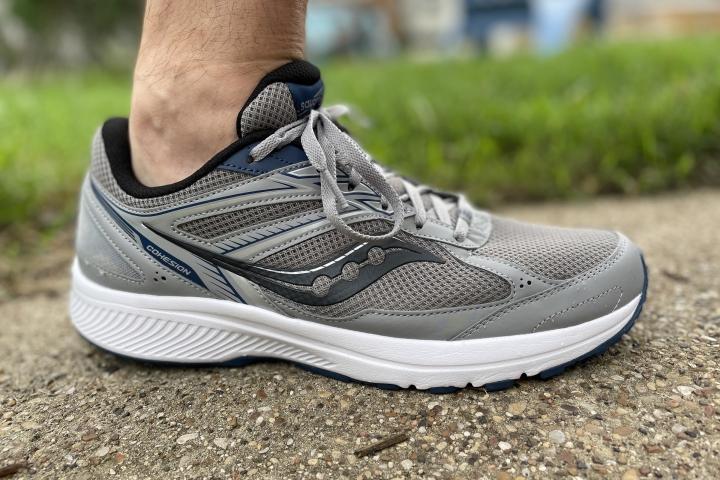 The minimal forefoot cushioning creates discomfort
The shoe only became uncomfortable after several miles in the sole of the forefoot. The minimal cushioning in the forefoot did create pain over the course of miles.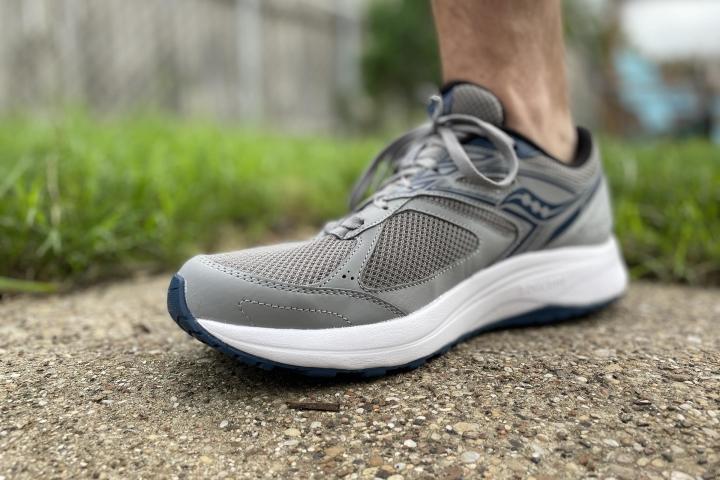 You need to break-in the Cohesion 14
It is a good idea to spend some time walking in the shoes for a day to get accustomed to them. They are a little stiff at first but break in relatively quickly.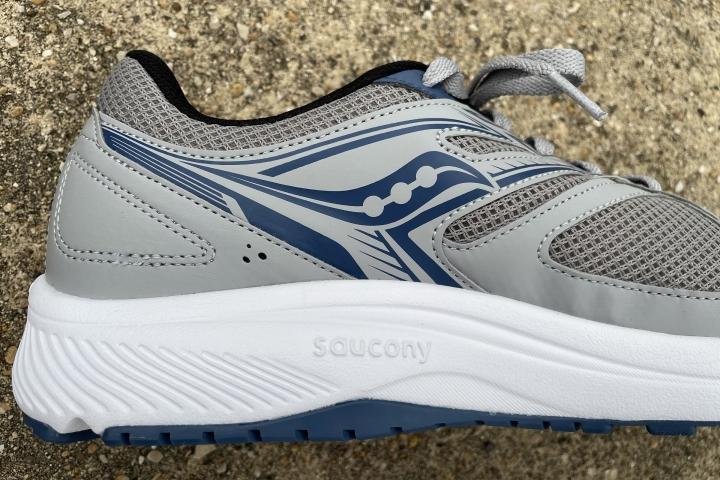 Does not wick away moisture
The upper is very thick, with a lot of material and cushion. This causes the shoe not to breathe well or, sometimes, at all.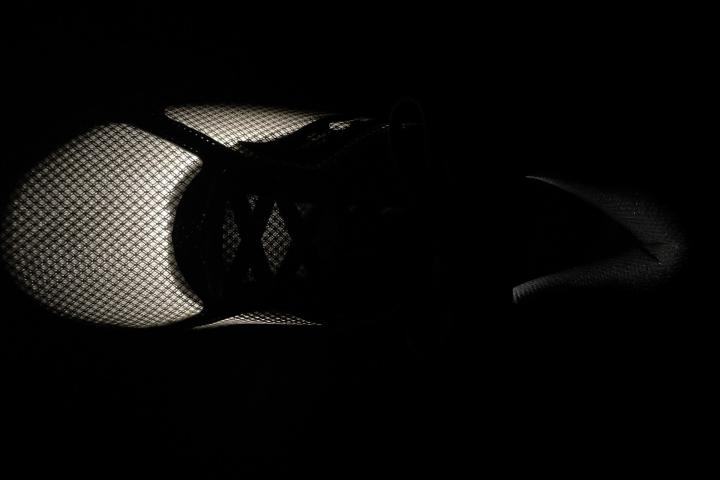 Compare popularity
Interactive
Compare the popularity of another shoe to Saucony Cohesion 14: