Helping hikers move quickly on snowy landscapes, the Salomon X Ultra Mid Winter CS WP certainly has a lot to offer. Chief among its features is its waterproof construction, thin and lightweight insulation, and high-traction rubber outsole.
Pros
Durable
Waterproof
Comfortable hiking boot
Amazing traction
Keeps the feet warm
Lightweight
Who should buy the Salomon X Ultra Mid Winter CS WP
Like the other winter boots from Salomon, the X Ultra Mid Winter has gotten high marks for its unrivaled durability. It is a solid option if you:
Prefer a hiking boot that lets the user tackle freezing weather conditions with ease and comfort.
Prefer a hiking boot that provides a strong grip and traction on different surfaces.
Prefer a hiking boot that offers durability and maximizes motion control.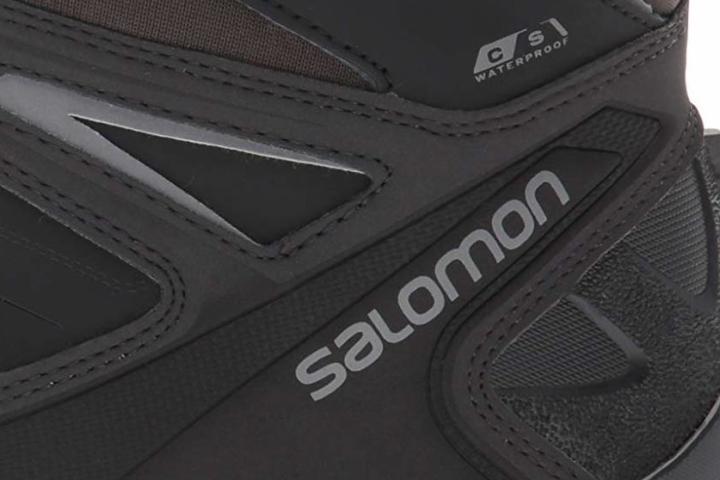 Salomon X Ultra Mid Winter CS WP notable features
This mid-cut footwear from Salomon's X-Ultra series lets you tackle freezing weather conditions, tromp through deep snow, and walk on icy sidewalks with ease and comfort. All these are made possible by Salomon's waterproof system which consists of a Nubuck leather upper, ClimaSalomon membrane, and wool and faux fur lining.
Another notable feature is the non-marking winter Contagrip outsole that provides a strong grip and traction on different surfaces.
The shoe also incorporates a PU-coated leather upper and protective toecap which enhances durability, and an Advanced Chassis™ that maximizes motion control.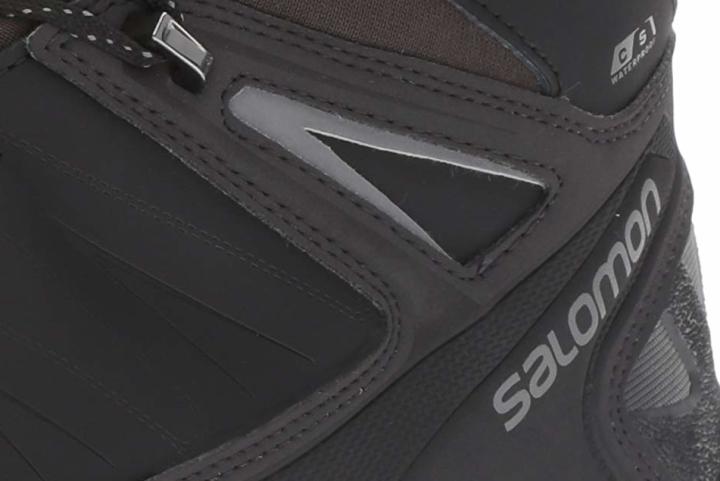 Size and fit
The Salomon X Ultra Mid Winter CS WP, which is available for men and women, features a leather upper that conforms to the shape of your foot after wearing it for some time. The lace-up closure system allows for a more secure fit.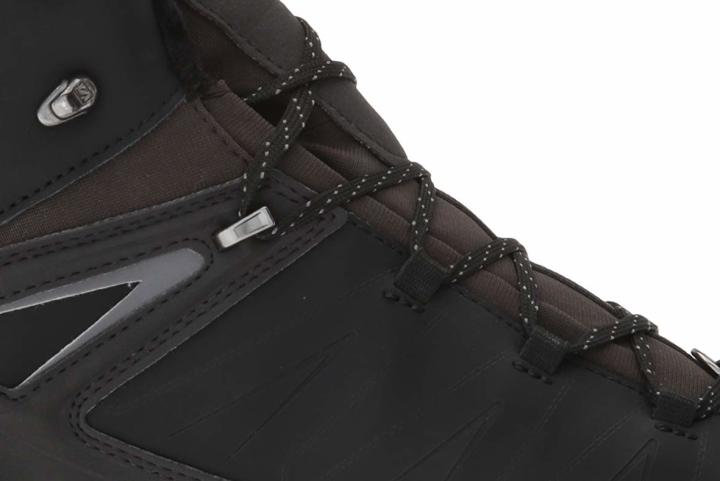 Excellent surface traction
Contragrip is a super durable Salomon technology that provides quality performance on different surfaces, from slippery, snow-covered lands to muddy and grassy terrain, rocky mountains, and more. It is made from rubber compounds with varying densities. For instance, areas that are susceptible to wear and tear have denser compounds while those that need to be more flexible (like the central column) have softer compounds.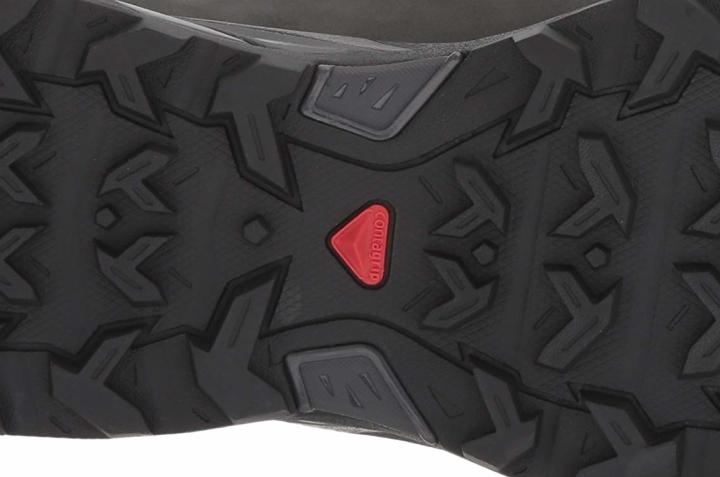 Provides protection from sharp rocks or stones
The lugs are deep enough to create a better grip and traction. They are also spaced appropriately which protects the foot from discomfort caused by stepping on sharp rocks or stones.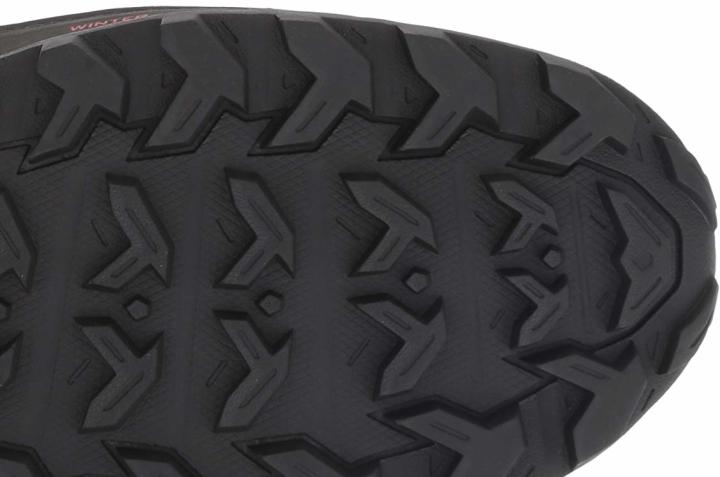 Provides support and stability
This winter boot from Salomon uses EVA foam which is has lightness, durability, and flexibility. Between the midsole and outsole is a lightweight Advanced Chassis that helps you control your movements and protect your foot from push-through. It also has a molded shank that provides support and stability.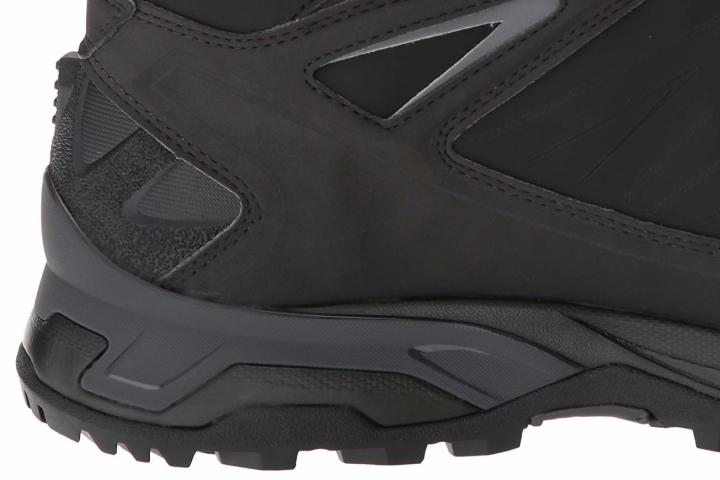 For an even more comfortable stride, the shoe is equipped with a soft, durable, and breathable insole called Ortholite.
Excellent ankle support
This snow boot from Salomon goes above the ankle and provides better ankle support. It's sturdy and makes a good shoe for navigating rocky trails. This mid-cut model is highly suitable for long hikes where you might be carrying heavier loads.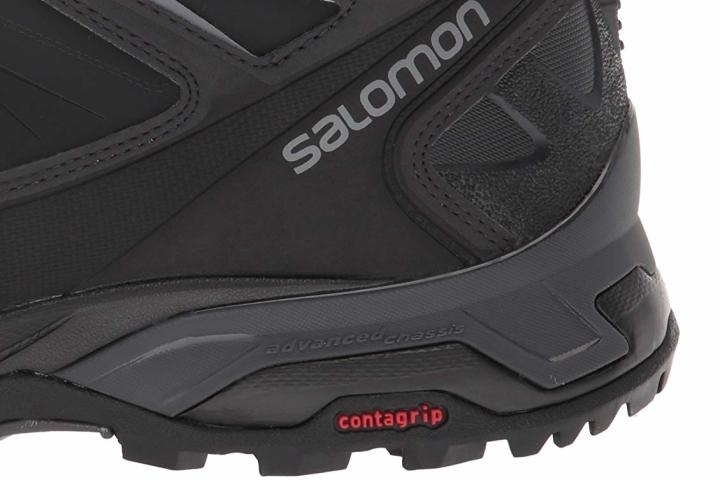 Waterproof
The shoe upper is constructed using premium full-grain leather so it doesn't wear out easily even with heavy, rugged use. This winter-ready Salomon X Ultra shoe is lined with a ClimaSalomon™ membrane that keeps water or moisture out. What's more, there are little hooks where you can attach your gaiter if you're using one.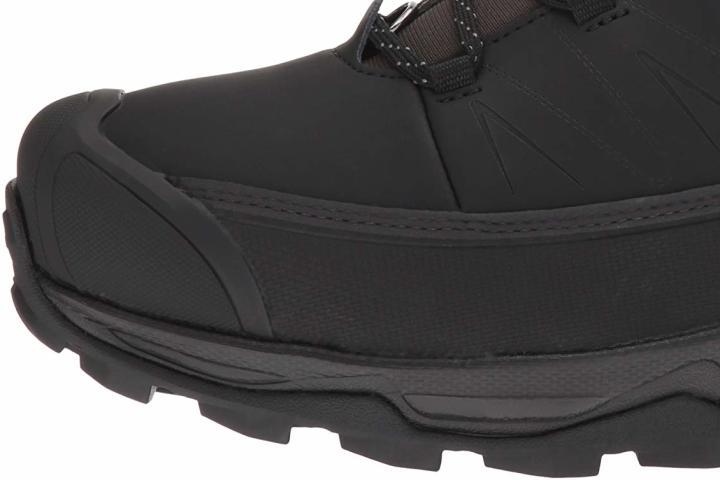 Offers toasty insulation
Furthermore, the boot comes with a 200-gram Thinsulate™ that offers toasty insulation without the added weight. It also features a protective toe cap, mudguard, and gusseted tongue which keep your foot clean, warm, and cozy during your snowy adventures. Lastly, the flat laces reduce pressure points over the instep for a comfortable fit.