Verdict from 2 experts and 100+ user reviews
6 reasons to buy
Breathable coverage is provided by the 3D Mesh upper.
The Sensifit overlay system wraps around the foot in a secure but customizable way.
Runners appreciated the inclusion of the Sensiflex stretch panels, which support the foot while also encouraging flexibility.
The Quicklace system was welcomed by many runners because it made it easier for them to adjust the tightness and looseness of the fit.
Underfoot cushioning is handled well by the plush and durable full-length foam unit.
Anti-abrasion rubber with non-prominent gripping lugs make the outsole useful on both the trails and the roads.
2 reasons not to buy
A few runners noted that the toe area was a bit tight.
The ankle collar is too high, which caused cuts to the skin, said a wearer.
Bottom line
The X-Mission 3 trail shoe from Salomon gives runners the grace and power to traverse many types of surfaces with ease. Durable components allow the foot to be protected from any immediate danger, and trail-optimized sections help in performing exceptionally well on unpredictable terrain. Still, it can function on the roads, making trail-to-asphalt transitions quite easy.
Tip: see the best trail running shoes.
Our reviews
Salomon has a great reputation for making incredibly versatile trail shoes, so I decided to give the X-Mission 3 a spin.
I was most attracted to the X-Mission 3 because they encompass a multi-surface grip tread that allows me to run confidently knowing that my shoes will be able to withstand various types of running surfaces.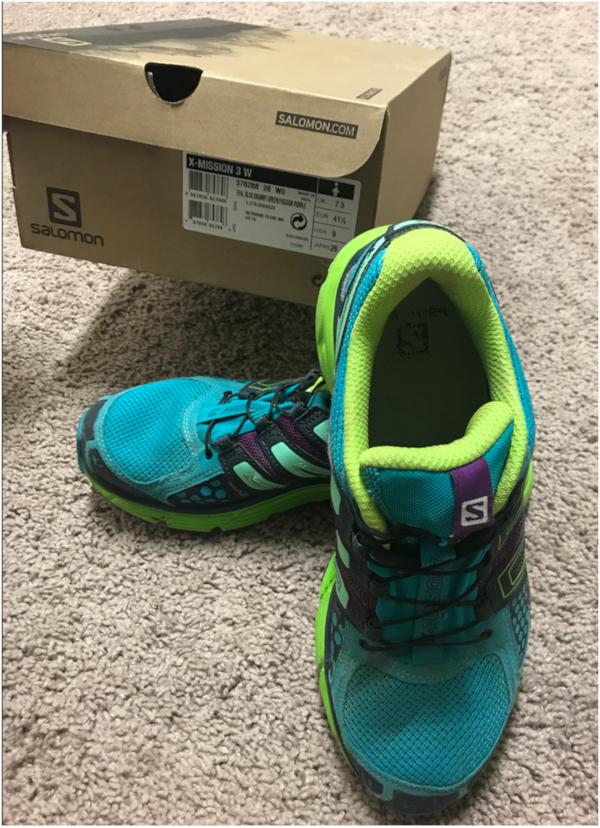 While running in these shoes, I enjoyed the slightly more aggressive tread/lugs than your typical running shoe. This shoe was great for runs with unpredictable terrain, yet still suitable and comfortable on road runs.
On a more personal note, I was very impressed when I ran on muddy and wet terrain and did not slip or slide due to the impressive multi-surface grip. I had no trouble transitioning from trails to asphalt, as this transition appeared to be seamless; the shoes remained comfortable on all surfaces!
Specifications
The Salomon X-Mission 3 shoes have a breathable mesh upper and significant cushioning in the footbed, therefore allowing for a more comfortable feel while running even on the rockiest of trail environments.
The shoe features a 10mm drop midsole height which is a pretty standard heel-to-toe drop for running shoes. The shoes are a bit on the heavier side, weighing in at 250g.
I had the guts to run a few races in these shoes. I ran a 5k trail race in these shoes. The grip was perfect, but the sheer weight of the shoe made me realize they are best suited for training purposes instead of racing purposes.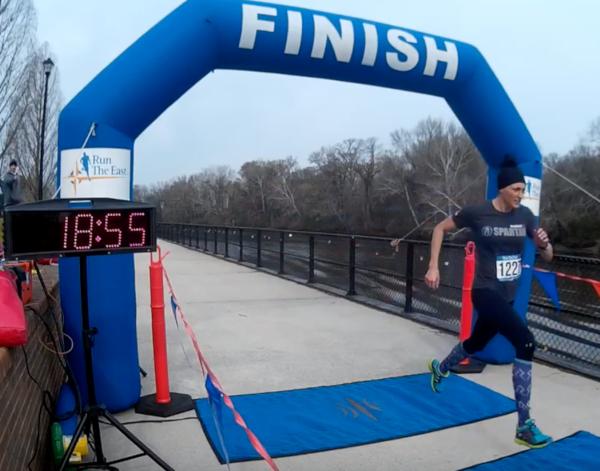 Despite knowing they were pretty heavy, I even tried a road race in them, and they were very comfortable to run in even with the slightly more aggressive lugs than your typical running shoe. My only complaint, again, was heaviness.
Comfort
Despite being "heavy" I never once felt like these shoes need to break-in to be comfortable. These were comfortable right out of the box. This was a huge plus for me!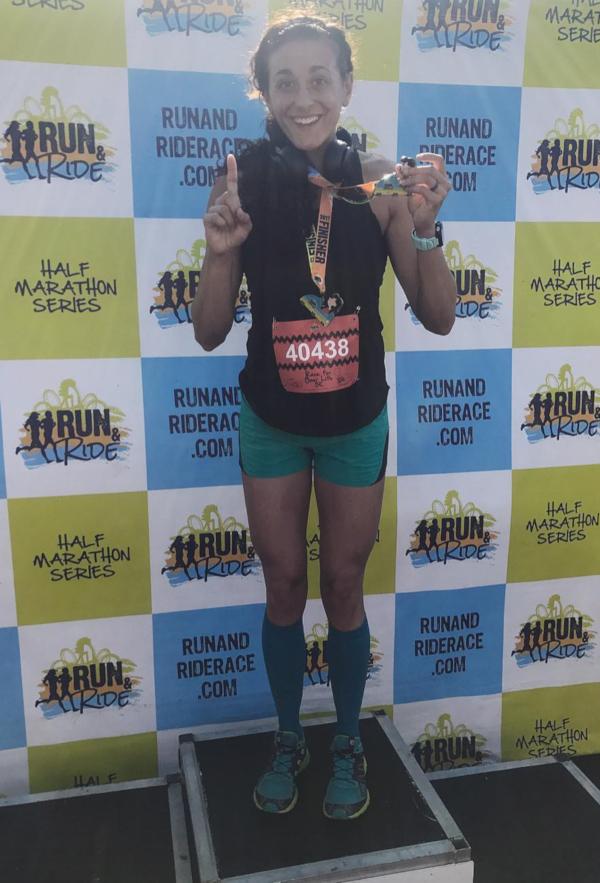 Salomon X-Mission 3 has a sensiflex fit which makes the shoe feel snugger. The sensiflex fit really hugs and cradles your foot and keeps it in place.
This type of fit is appreciated for both running and hiking especially on dicey terrain. Thanks to the sensiflex fit, I wasn't vexing about rolling my ankles (which is typically due to improper shoe fitting).
Special Features
I love that the tongue is gusseted which not only permits the tongue to stay in place but also kept debris from entering my shoes.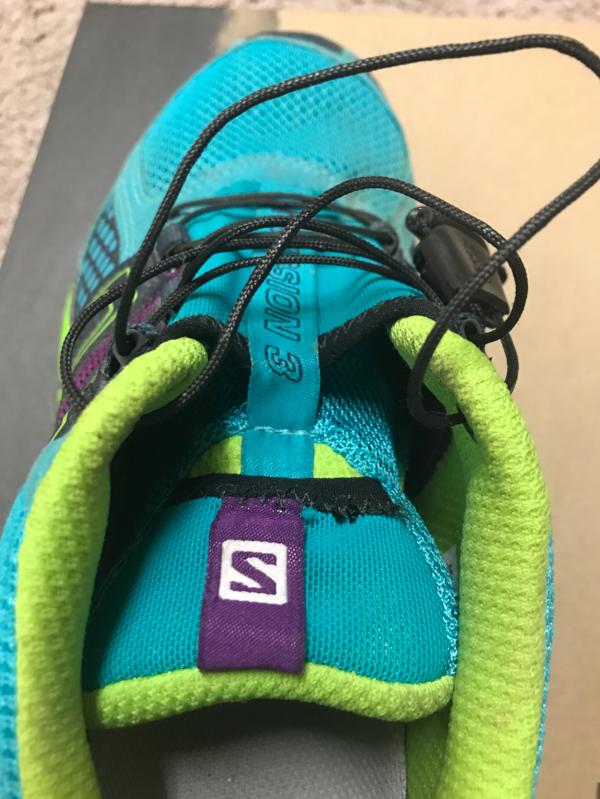 Salomon is notorious for their quicklace system. This eases your mind about never having to worry about an untied shoelace.
The laces are adjustable and incredibly thin. Essentially the eyelet stays in place once your personal desired fit is chosen.
At first, I was pretty confused about what to do with the excess laces but quickly learned that you simply roll them up and tuck them inside in the elastic-bound mesh pocket found on the tongue. It was pretty cool actually!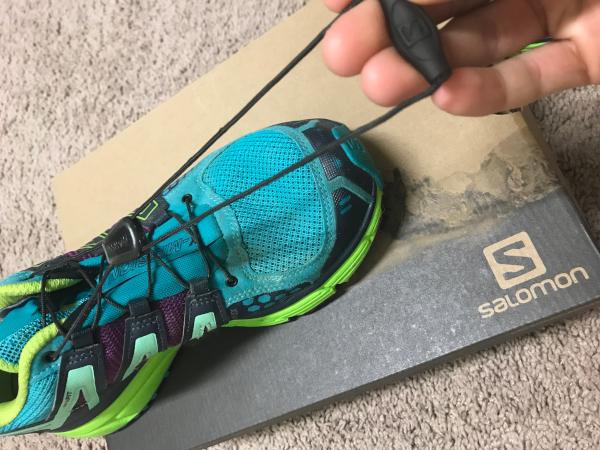 The forefront of the shoe even includes a TPU cap to protect your toes from injury if you accidentally kick a harder surface during your runs. I know it saved my precious little toes a few times kicking roots and rocks on technical trails.
Sizing
I neither have a narrow, nor wide foot; thus I believe the shoe fits perfectly to size. Despite the heaviness of the shoe, it does not appear to be bulky and is quite aesthetically pleasing. I enjoyed the fact that the Salomon X-Mission 3 can offer a variety of colors for both men and women.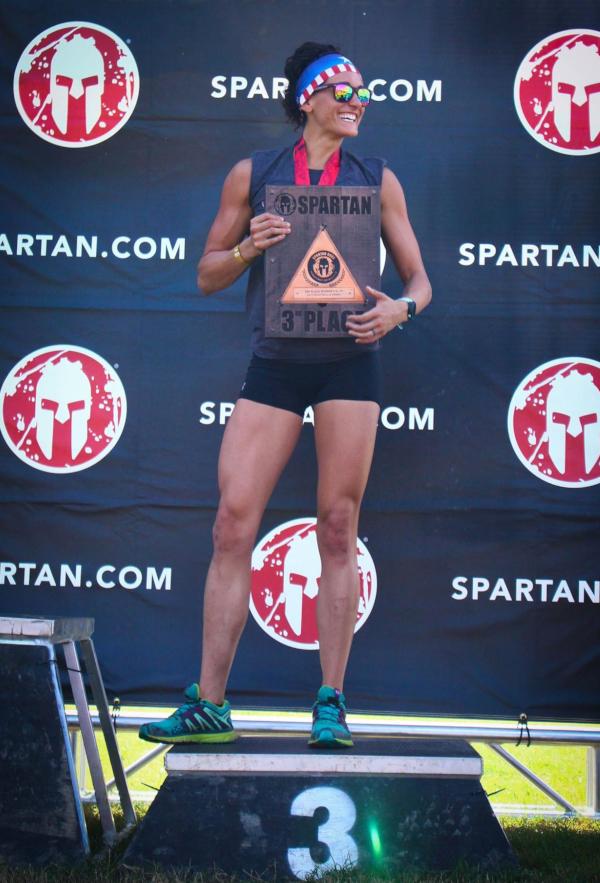 These shoes have proven to be versatile and beyond comfortable no matter what type of terrain was under my feet. There are many positive aspects to this shoe.
After only 150 miles, I noticed some significant wear to the treads which were a lot quicker than I had expected.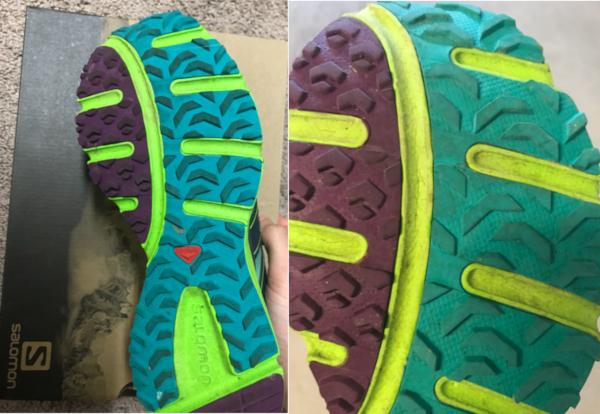 Possibly if the shoes were strictly utilized as a trail only shoes, perhaps the tread would sustain more longevity?
Also, even though I love the idea of the quicklaces, they are very thin. I had the misfortune of them breaking on me which was disappointing because there isn't really a means to replace them. I remedied my shoes with an old lock lace latch, but the laces were too thin to keep the shoes tight.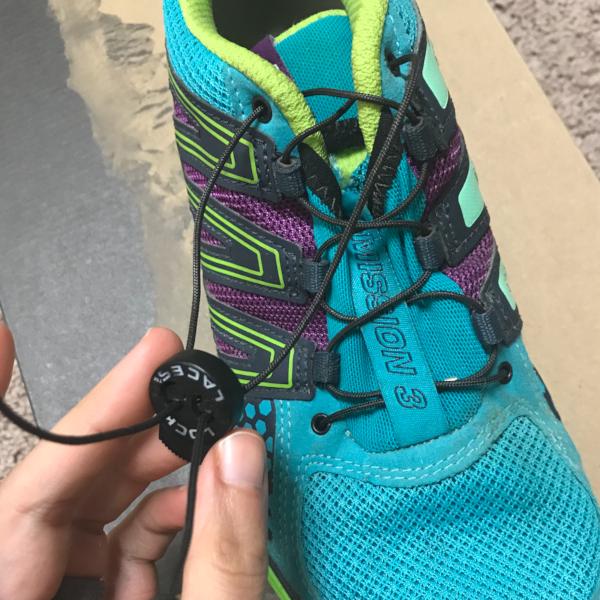 Furthermore, despite the shoe performing well on muddy terrain, this shoe is mostly ideal for dry conditions because when the shoe becomes wet, it absorbs water, increases in weight, and does not dry quickly.
Pros
Comfortable right out of the box
Great for varied terrain
Sensiflex fit keeps the shoe snug
Cons
Heavier than I'd like
Quicklaces break somewhat rather easily
Early tread wearing
Don't dry quickly when wet
Conclusion
Ultimately, this shoe is ideal for training purposes with mixed terrain. The comfort and fit of the boots are right on par, but improvements to the quicklaces and possibly a lighter version would easily make this shoes a fan favorite for those who transition from road to trail amidst their running excursions.
Good to know
The Salomon X-Mission 3 renders the wearer engaged when it comes to handling the various types of terrain that are going to serve as challenges during off-road adventures. Made from high quality components and materials, this model ensures the comfort and security of the foot, while ensuring its own longevity and efficacy over time.
The upper unit of this running shoe utilizes a breathable fabric to keep the foot cool and dry. It covers the dimensions of the foot well, securing it and keeping it free from any accidental shoe removals. An overlay system moves in tandem with the adjustments made to the lacing system, essentially causing the coverage to be as snug and customizable as possible.
Trail-specific defense mechanisms are added to this shoe. A TPU cap is placed in the forefoot area and it's meant to protect the toes from being hurt by debris and surfaces. Even the tongue has been optimized to protect the interior from the invasion of tiny rocks and other small objects.
A full-length foam unit serves as the main cushioning system of the Salomon X-Mission 3. Made from a responsive and durable compound, it ensures the comfort of the foot while taking each step. An anti-microbial coating has been added to the sock liner, which helps when it comes to maintaining a clean and healthy interior.
Abrasion-resistant rubber is placed in the outsole unit. It's able to shield the rest of the sole unit from wear and tear, thus keeping the shoe functional even after many uses. The outsole is also capable of holding onto wet ground, which makes it great for those who want to tackle muddy or slippery paths.
Same as in the popular Salomon Sense Ride 2, this shoe uses the Contagrip HA which is a rubber material that's highly resistant to abrasion. It protects the sole unit from wear and tear, keeping it effective and unfettered from immediate harm. It holds onto many types of surfaces well, because it has gripping lugs that are not too prominent. Roads and trails won't become issues for this rubber compound.
The Wet Traction Contagrip adds more grip when it comes to surfaces that are slippery or wet. The wearer then becomes more confident when tackling puddles, muddy areas, and other tricky terrain.
The mid-sole unit features injected Ethylene vinyl acetate or EVA as its main cushioning system. It runs the entire length of the shoe, so it is able to provide support for the entirety of the wearer's foot. It's durable, as well, thus it is able stay efficient and reliable even after many uses.
Above the main cushioning system is the Ortholite Sock Liner, an add-on that offers some more cushioning to the immediate underfoot. It has anti-microbial and anti-moisture properties, so odor and sweat won't be able to affect the interior environment.
3D Mesh is a material in the upper that's durable and breathable. It allows air to easily go in the shoe in order to provide a well-ventilated running experience for the wearer. It also wraps around the foot in a snug manner.
The Sensifit is a stitched-on overlay system that assists the upper unit in wrapping around the foot and securing it. Connected to the lacing system, it makes the coverage more customizable.
The Asymmetrical Quicklace System made from double Kevlar fibers make wearing and removing the shoe much easier. It doesn't require any tying or raveling; it just needs to be pulled and tucked in a convenient lace pocket.
A Protective TPU Cap is placed in the forefoot section. Its job is to prevent the toes from getting bruised or injured when running.
Two stretch panels called the Sensiflex provide the natural expansion of the foot with support. It also allows the forefoot to flex more naturally, while also maintaining support.
Rankings
How Salomon X-Mission 3 ranks compared to all other shoes
Popularity
The current trend of Salomon X-Mission 3.