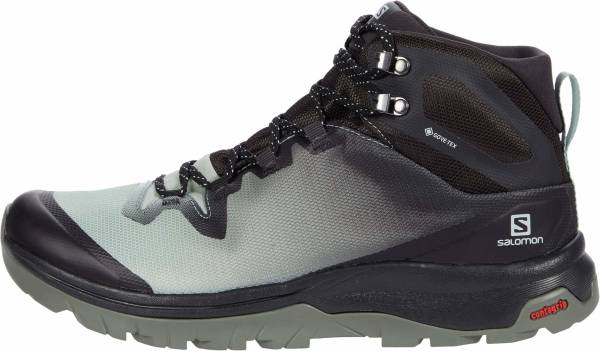 Female hikers who require lightness and comfort when going outdoors may find this Salomon product to be an endearing prospect. Indeed, the footgear's ability to block water and provide ankle support also adds to its charm. However, the boot's problematic laces may cause annoyance because of its tendency to untangle during a hike. Overall, the Salomon Vaya Mid GTX may exceed expectations for women, as long as its laces are replaced.
---
Verdict from 3 experts and 100+ user reviews
6 reasons to buy
Countless Salomon Vaya Mid GTX users attest that it is an insanely comfy boot for hiking.
A majority of female adventurers commend it for being a lightweight piece of gear.
Its waterproofness garners approval from a lot of verified purchasers.
More than a handful of outdoor lovers report that the ankle support of this Salomon offering is phenomenal.
A couple of buyers attest that the Vaya Mid GTX's break-in period is close to none.
According to a minority of shoppers, its outsole gives sufficient grip.
3 reasons not to buy
Several outdoor enthusiasts blast the Salomon Vaya Mid GTX's laces for untangling easily during a hike.
A verified consumer says that it doesn't feel sturdy against harsh trail conditions.
Some purchasers find its upper to be too warm.
Bottom line
Female hikers who require lightness and comfort when going outdoors may find this Salomon product to be an endearing prospect. Indeed, the footgear's ability to block water and provide ankle support also adds to its charm. However, the boot's problematic laces may cause annoyance because of its tendency to untangle during a hike. Overall, the Salomon Vaya Mid GTX may exceed expectations for women, as long as its laces are replaced.
Best price from 30 shops
We earn affiliate commissions at no extra cost to you when you buy through us.
66% say it's true to size.


Our reviews
I was in the market for a new summer hiking boot. Something that would offer some ankle support but still be nice and nimble.
I am a former field biologist; it used to be my job to hike different wild places, collecting data for scientific institutions. I've therefore gotten through numerous hiking boots, and I've tried at least 12 different brands.
I usually opt for a pretty traditional boot. But I've recently started cutting the weight of my backpacking gear. This led me to realize how heavy my boots were. Did I really need a boot that weighs about 2 percent of my body weight? The Vaya answered: no.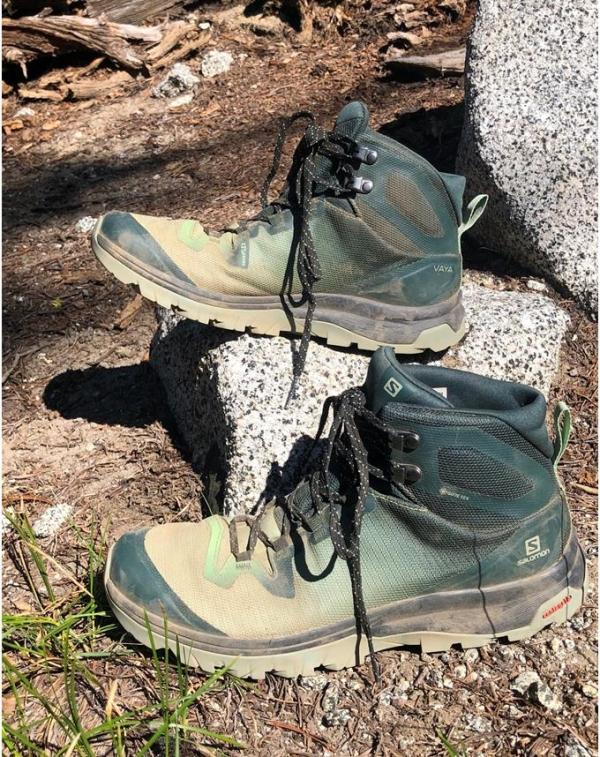 I love trail and road running shoes from Salomon. When I heard that Salomon has applied its technology to hiking boots, I was intrigued. And I'm not disappointed!
The women's Salomon Vaya Mid GTX is a lightweight hiking boot with a 9mm heel-to-toe drop. The Vaya is easy on your feet and your budget, priced at the same level as many higher-end trail running shoes (RRP at time of writing: $160).
I took this shoe on a few different summer hikes and backpacking trips over various terrains. I walked through streams and meadows, over rock slabs, and clambered up and down mountainsides.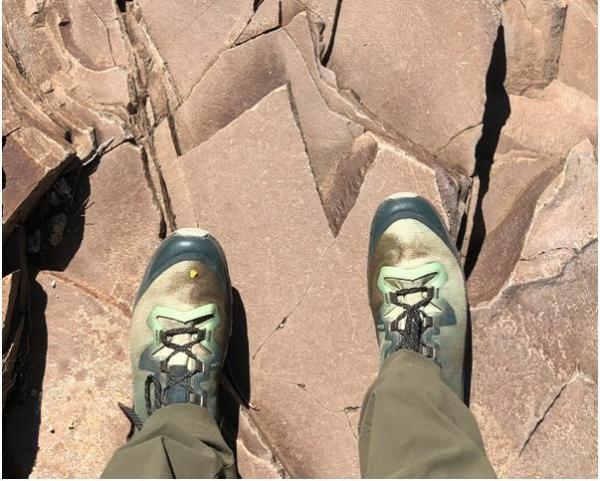 Outsole
The Vaya's rubber Contagrip tread performs well and seems durable. This shoe stays exactly where you place it and performs beautifully on steep terrain. I was also thankful for it on wobbly log river crossings!
The tough tread provides a reliable grip on many different surfaces. The lugs do not attract a lot of debris.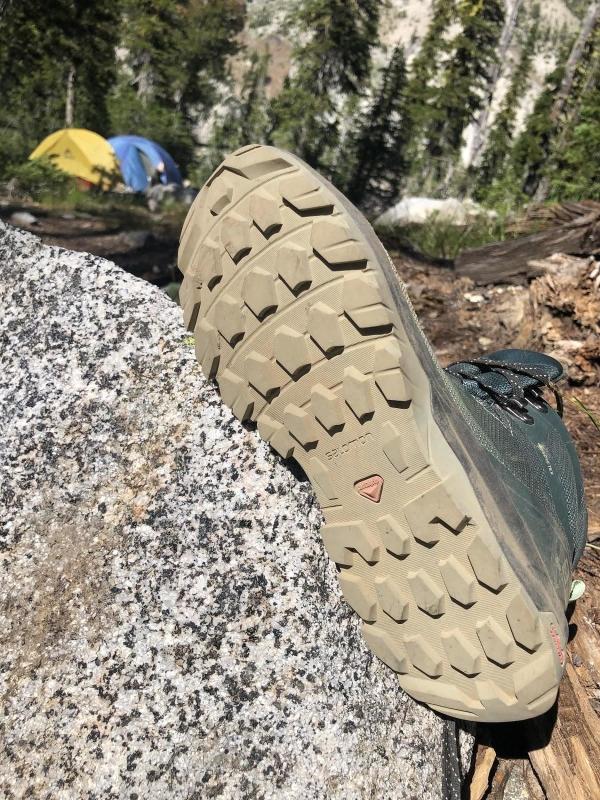 Midsole
The midsole is beautifully constructed to allow the forefoot to flex. On sections of granite on one backpacking trip, I would have preferred more cushioning, but generally, this is a very comfortable shoe.
The Ortholite insole is pretty standard and does not add much to the shoe.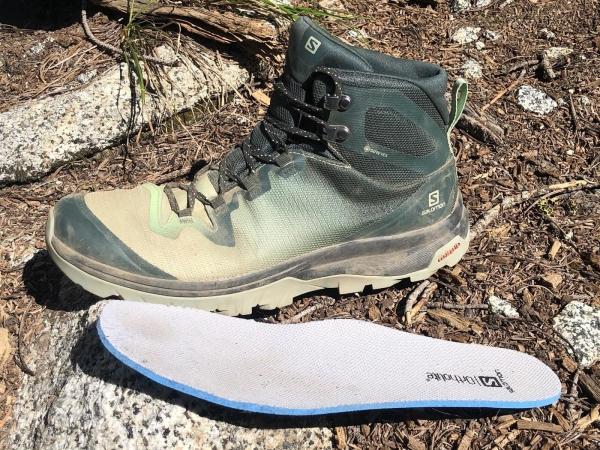 It will not protect you quite like a traditional hiking boot, but it also won't weigh you down on the trail...that feels like a reasonable trade-off.
I may add a thicker insole for those adventures where my feet might benefit from a slightly softer landing. On long descents on rocky trails, wearing 25lbs of gear on my back, I felt the ground a little more than I wanted.
Upper
The welded upper offers a smooth, flexible, but secure fit. Salomon calls this a waterproof boot, I would call it water-resistant. It did hold up through quick stream crossings but is not fully waterproof.
Anything beyond a brief, shallow dip, and I ended up with soggy socks. It takes a surprisingly long time to dry out and is not as breathable as I had expected.
Thanks to a Gore-Tex membrane, the Vaya is waterproof up to where the laces begin.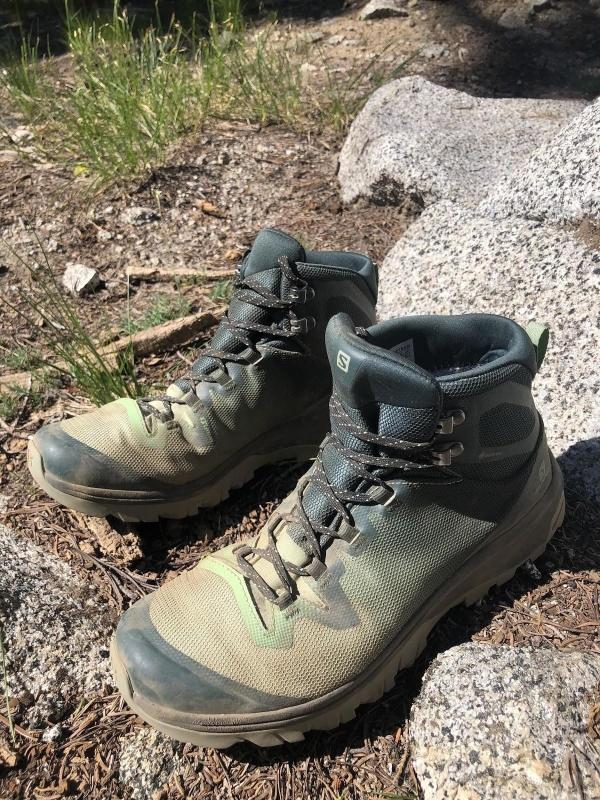 The Vaya heel counter is so flexible that I'm not sure it serves much of a purpose, other than keeping debris out, perhaps. For me, it was super comfortable, with no rubbing.
Indeed, this shoe has little to no break-in period, it's flexible from the get-go. Not a blister in sight (and I'm pretty prone to those). The outside of both ankle bones felt a little irritated after the first 3 miles, but this improved quickly.
The extremely soft heel counter and heel tab make for easy foot entry and removal.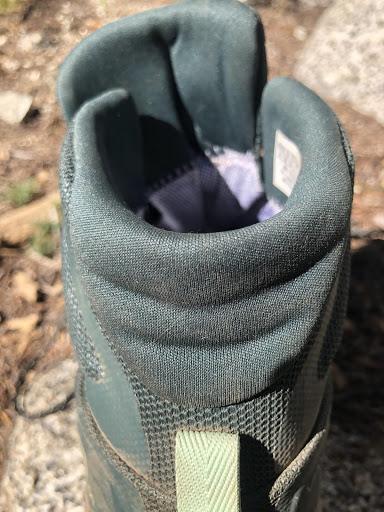 The laces are stupidly long, I don't understand why.
They are flat and do stay tied, but you have to spend a while tying them out of the way.
I don't love the Vaya laces. They do stay secure, but are excessively long, requiring triple tying to keep the wearer from tripping on them.

Aesthetics
I love the aesthetics of the Vaya. It is a unique, modern boot that still looks perfectly at home in the wilderness.
The pale green of the forefoot lends itself to staining easily, but as it's a hiking boot, I don't consider this a big problem! After my first hike, that bright pale green has become slightly muted.
This is a smart-looking shoe that I expect to have broad appeal. There are two colorways available. Shown here is the ombre Green Gables/Spruce Stone option.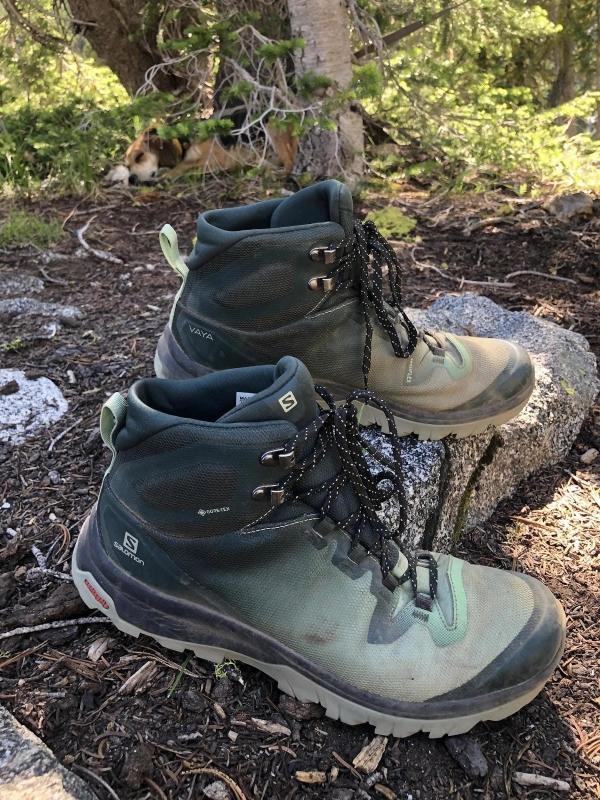 Pros
Lightweight
Comfortable, flexible
Reasonable price
Cons
Not waterproof
Lacks breathability
Overly long laces
Conclusion
The low weight (0.73lb or 330g per pair of women's size 7, according to Salomon) of the Vaya might make it feel somewhat insubstantial to those who are accustomed to a heftier shoe.
Yet it feels high-quality and durable. Its weight and midsole design (where Salomon's running shoe technology shines) means I can go fast yet remain stable. I love the Vaya Mid GTX!
I can safely hike at a fast pace in the Vaya. This shoe helped me to keep up with my dogs!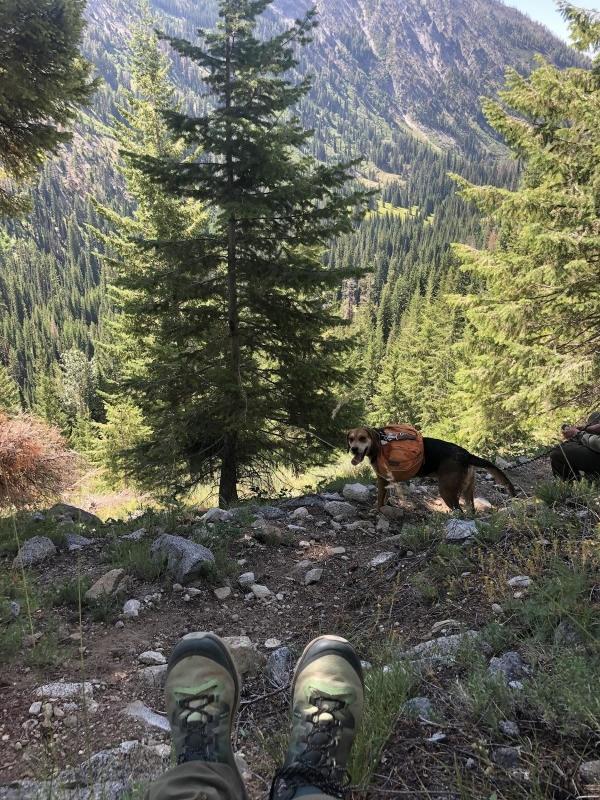 In sum, the Salomon Vaya impressed me from the very first mile. I won't hesitate to reach for it next time I head out for a hike or a backpacking trip.
For backpacking on steep, technical trails, I'll consider a different insole. I doubt I'll ever go back to a heavy, traditional hiking boot for summer adventures. Also, if you don't need the ankle support, you can opt for the Vaya Low GTX to go even lighter.
Updates to Salomon Vaya Mid GTX
The Vaya Mid GTX is a lightweight Salomon boot that's engineered to aid female adventurers to complete their day hiking pursuits. Its synthetic upper is lined with a Gore-Tex membrane to render protection from wet conditions.
This piece of outdoor gear from Salomon features a high-performance EnergyCell midsole made of ethylene-vinyl acetate (EVA) for cushioning and stability. Its Contagrip MD outsole is crafted to keep outdoor lovers surefooted on virtually all types of terrain.
Size and fit
The Salomon Vaya Mid GTX is a mid-top hiking boot made specifically for women. The welded upper is paired with a patented Sensiflex technology, which consists of two stretch panels on the forefoot zone. These components grant extra room in the toe box while providing a supportive and glove-like fit.
This Salomon boot comes with a soft collar construction. This component wraps around the ankle and provides a comfy and ergonomic feel around it. Its conventional lacing system, meanwhile, delivers a customized lockdown to the wearer.
Outsole
This lightweight outdoor boot for hikers uses a proprietary Contagrip MD outsole from Salomon. It is made of a durable compound that is engineered with an emphasis on long-term wear. Its profile is filled with a pattern of aggressive lugs to deliver grip on varied terrain. The wide spaces between these lugs shed dirt and debris for optimal traction. Moreover, the sole's front tip extends upwards to shield the user's toes from various trail hazards.
Midsole
The Salomon Vaya Mid GTX features a trademarked EnergyCell midsole made of EVA foam. This lightweight material yields a cushioned ride while reducing impact from rough ground conditions. An Ortholite die-cut insole is positioned on top of the midsole for added cushioning and arch support. Its design also wicks moisture to optimize air circulation inside the footgear.
Upper
The women's Salomon Vaya Mid GTX is equipped with a synthetic upper lined with a layer of mesh and textile fabric. The combination of these materials creates a plush in-shoe environment. A Gore-Tex laminate is embedded into the upper to prevent water from entering while preserving breathability.
A pair of stretch panels called Sensiflex are positioned on both sides of the forefoot zone. They enable the user's toes to flex naturally while maintaining support. The Vaya Mid GTX's toe box contains a rubber cap to provide durability and added trail protection.
This Salomon boot for hikers uses a combination of fabric eyelets and metal hooks to help the wearer manage its fit. A counter is found at the rearfoot zone for heel support and security. The collar houses a pull tab at the back to give users easy on and off.
Nice to know
- Those who require a burlier pair for backpacking may consider the
Lowa Camino GTX
.
Rankings
How Salomon Vaya Mid GTX ranks compared to all other shoes
Popularity
The current trend of Salomon Vaya Mid GTX.