Many consumers lauded Salomon Predict RA's excellent fit and quality. Aside from its structure, they loved the technologies integrated into the shoe. Although one of the users had issues of it being unresponsive during his activity, others still recommend the footwear as a good option when looking for a trail running shoe. Overall, the Salomon Predict RA gained appreciation because of its amazing performance on different running surfaces.
---
Verdict from 12 experts and 100+ user reviews
6 reasons to buy
A significant number of consumers commented that the Salomon Predict RA is comfortable.
The majority of the users said that the running shoe is well-padded.
It provides an excellent fit, based on some reviews.
According to a purchaser who tried it, the shoe is true to size.
Several reviewers admired its excellent quality.
Based on some reviews, the shoe has a wide toe box.
1 reason not to buy
One of the users said that the shoe is not responsive.
Bottom line
Many consumers lauded Salomon Predict RA's excellent fit and quality. Aside from its structure, they loved the technologies integrated into the shoe. Although one of the users had issues of it being unresponsive during his activity, others still recommend the footwear as a good option when looking for a trail running shoe. Overall, the Salomon Predict RA gained appreciation because of its amazing performance on different running surfaces.
Best price from 30 shops
We earn affiliate commissions at no extra cost to you when you buy through us.
95% say it's true to size.

Our reviews
What is the first thing that comes to mind when you think of the brand Salomon? Is it trail? If that's the case, it's time to take another look at Salomon!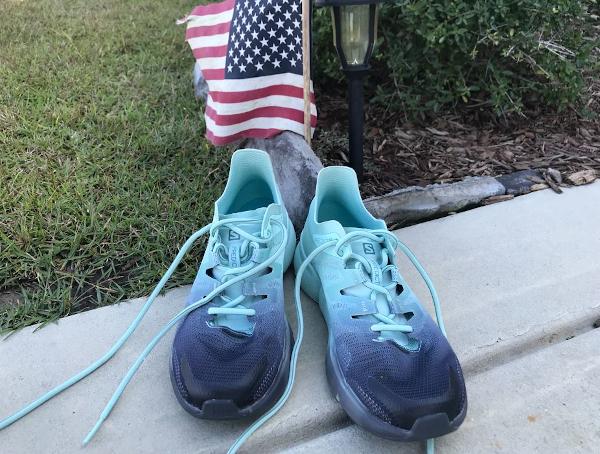 Although Salomon is a staple brand in the trail running realm, they broadened their horizons by adding a new stability road running shoe line.
The Salomon Predict RA is a great addition, as it adds a stylish element to stability running shoes, which is almost unheard of.
Overview
Most individuals who are familiar with Salomon are no stranger to the Speedcross trail running line. I've owned numerous pairs of Salomon's trail running shoes, so I was elated to see more road running shoes made by Salomon.
A few years ago, I owned a pair of the Sonic RAs, so I wanted to see how the Predict RA would compare. The long and short is that the Predict RA is a unique stability shoe that changes the way you think and feel about stability shoes.
Specifications
Here is a quick break down of the Predict RA shoe specifications:
| | |
| --- | --- |
| Weight | Women: 8oz, Men: 9.4oz |
| Heel-to-toe offset/drop | 10mm |
| Type | Stability, road running |
| Cushioning | Cushioned |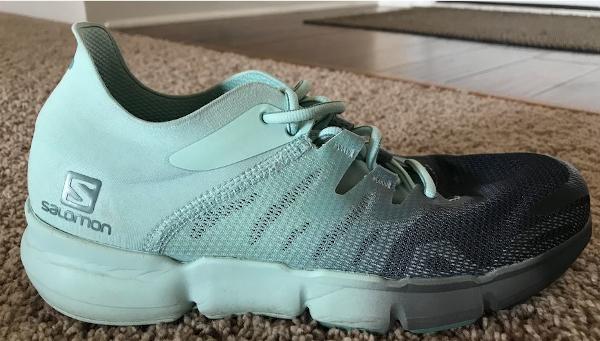 Upper and aesthetics
Comprised of a single layer mesh, the Predict RA is breathable and soft to the touch. The Predict RA upper has what Salomon calls a 360° Articulated Fit.
This means the upper compliments the grooves of the midsole for a better overall fit and feel of the shoe.
Light, breathable uppers
Also, it is important to note that the mesh upper isn't form-fitted to your foot, so make sure to lace up those shoes tight if you want good lockdown. This can cause some bunching at the base of the laces though.
Upper bunches near the base of the laces when laced tightly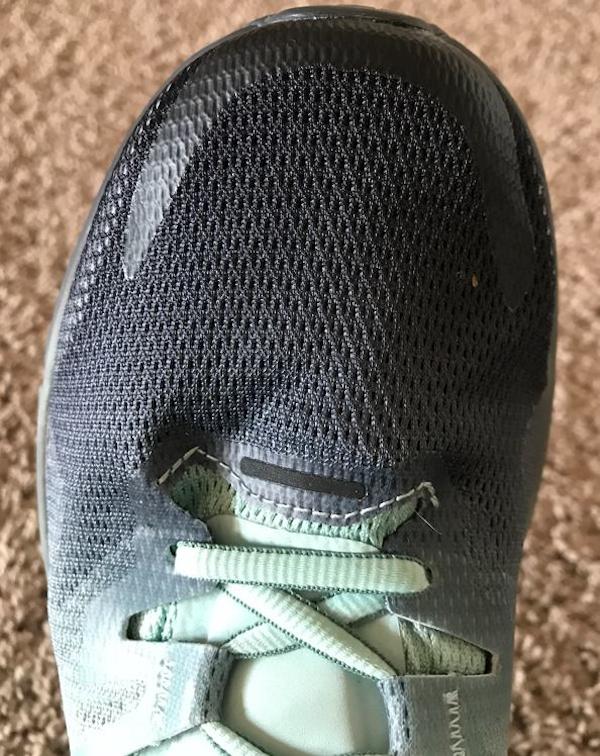 If you are familiar with the Sonic RA, the upper of the Predict RA is not as snug. Due to the copious amount of room inside the shoe, I believe those who need shoe inserts would have enough room to accommodate those if need be.
Otherwise, I do like how the Predict RA has zero overlays and only has reinforced stitching where you would need it.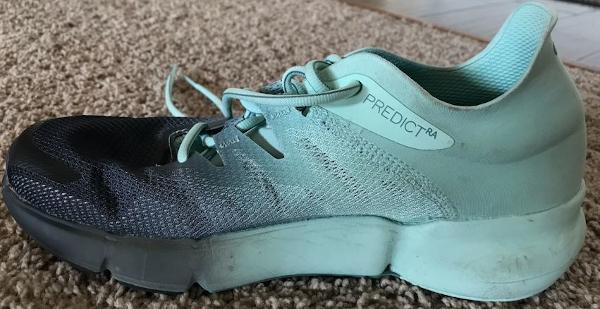 The heel counter is a 3D molded heel cup, which is seamless in design. The fit of the heel could have been more snug as well. I had a lot of room in the heel, and I would have liked to see more lockdown.
Moreover, the heel counter came up too high on my Achilles, and I didn't like how it felt while wearing low cut socks.
Heel counter of Predict RA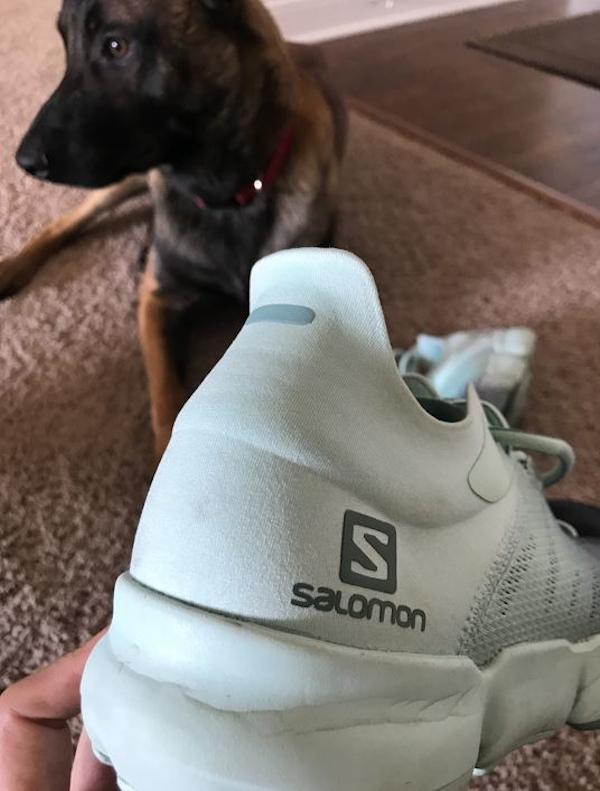 When I opted to wear a crew sock, I didn't notice it as much, but I only have three pairs of running crew socks so that only becomes problematic if I didn't do the laundry, haha!
I suppose you could use the large curved heel counter almost as a pull-tab if you so desired to help put your shoe on.
Curved heel counter
In addition, the tongue is also made of molded material with slight padding. It has a large unique wing shape.
Sadly, the tongue was cumbersome and failed to stay in place. It would shift laterally during each run—not a deal-breaker, just a little frustrating.
Wing-shaped tongue internal and external views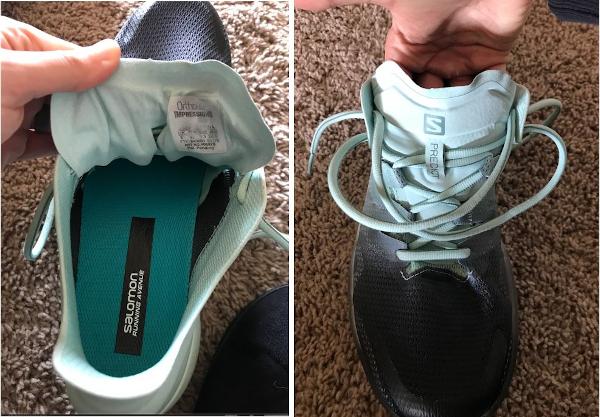 Conceivably, the aesthetics of the Predict RA are either you love it or you hate it. The aesthetics have an ombre look, which I think looks cool.
Oddly enough, I think the aesthetics of the shoes looked better in the box than they did on my feet. With that being said, I loved the overall look of the Predict RA, but I felt they made my feet appear really large.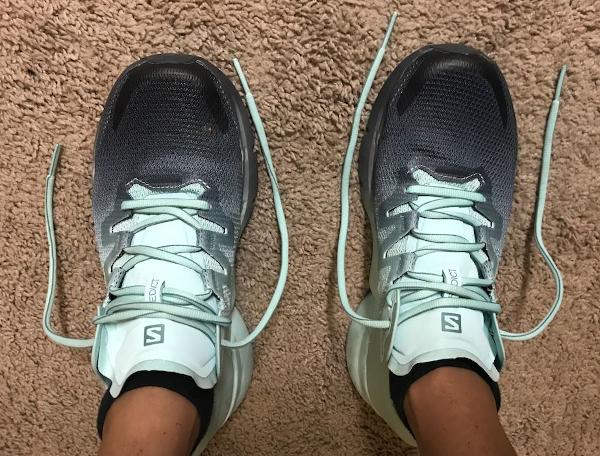 Midsole and outsole
The Contagrip rubber outsole of the Predict RA uses 10 independent platforms, which are designed to adapt to your body. Allegedly these independent platforms are activated when needed.
The outsole is decoupled to increase the flexibility of the shoes. Furthermore, there are anatomically mirrored grooves in the midsole that are intended to encourage forward momentum.
External and internal view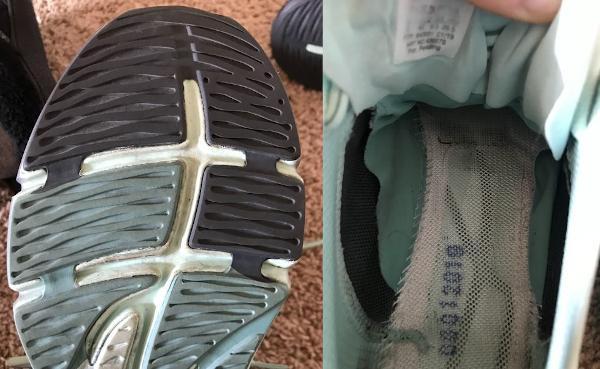 The midsole has Energy Cell+ foam is designed to help you feel good from the ground up. Reading about this technology initially made me really excited to try the Predict RA.
Honestly, I don't think you will notice this technology much while running in the Predict RA, though. I didn't notice any glaringly obvious techs about the shoe while running in them.
In fact, it felt like a normal running shoe would. This really isn't a bad thing. I thought I would feel some of these technological advances, but I can't say that I did.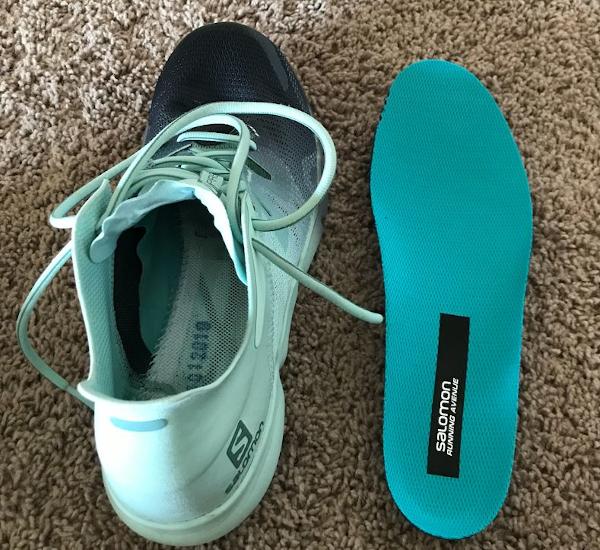 In addition, the "cushioning" was a surprise to me because Salomon categorizes the Predict RA as a cushioned running shoe. I found the cushioning to be somewhat firm, especially in the midfoot.
Ironically the Predict RAs felt good when walking around in them, but running was a different experience. As a neutral midfoot striker, I found myself yearning for more cushioning, specifically in the midfoot region of the Predict RAs.
Predict RA outsole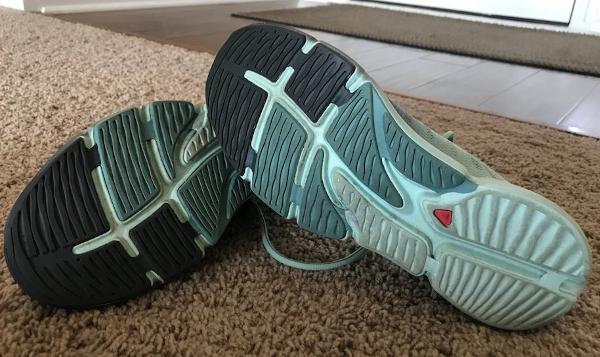 Sizing
Typically, I wear a size 9.5 in Salomon, yet a 9 (or maybe even an 8.5!) would have fit better. I fluctuate between a 9 and 9.5 for various running shoe brands.
I was expecting to wear a 9.5 since that is my size for the Salomon X-Mission 3, the Sonic RA, and the Speedcross 4. I believe there are sizing inconsistencies for the Predict RA.
Shoe runs large. Pointing to where my great toe stops in the Predict RA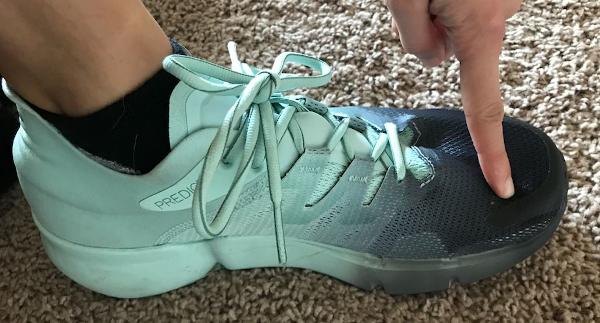 As always, it's best if you can try any running shoe on first to find your correct size, but here is my size chart of various shoe brands for comparison while choosing the right size for yourself:
| | |
| --- | --- |
| Salomon | Usually a 9.5 |
| Hoka One One | 9 |
| Reebok | 9 |
| Asics | 9 |
| Brooks | 9 |
| Altra | 9 |
| Nike | 9 |
| Inov8 | 9.5 |
| Saucony | 9.5 |
| New Balance | 9.5 |
| On Running | 9.5 |
| Topo Athletic | 9.5 |
| The North Face | 9.5 |
| Mizuno | 9.5 |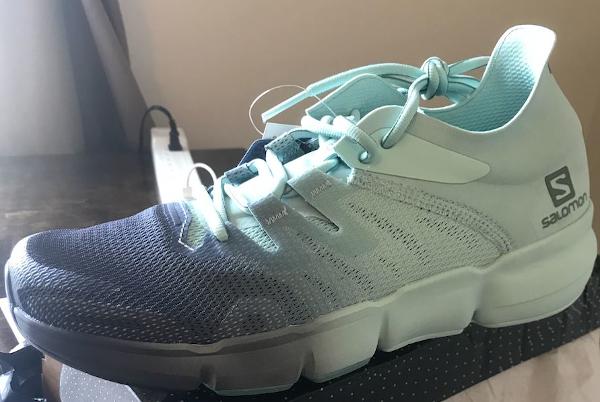 Performance/improvements
I really wanted to like the Predict RA, but I have mixed feelings. I solely used the Predict RA for road running and didn't test the shoe on many uneven surfaces or varying terrain outside of asphalt and concrete.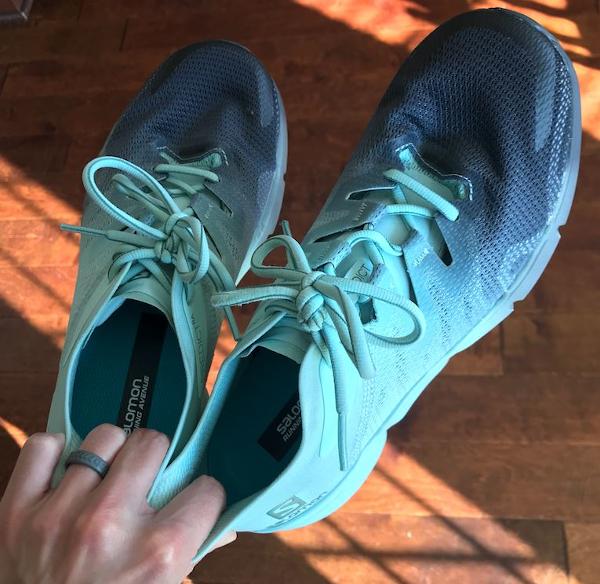 Despite being classified as a cushioned shoe, I found the Predict RA to be cushioned, yet somewhat firm. I am not opposed to firm running shoes, but I was expecting more cushioning specifically in the midfoot.
I found the cushioning in the heel to be more "plush" than the midfoot region. With that being said, I believe heel-strikers would benefit from this more than midfoot/forefoot strikers.
For me, the cushioning was ample enough for runs up to 5 miles, but for longer runs, I would not choose the Predict RA. I was left wanting a little more cushioning in the midfoot on longer distance runs.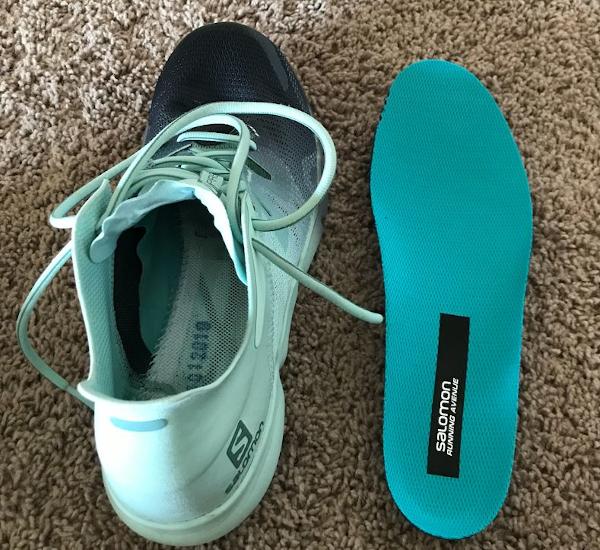 As mentioned, I had some issues with the tongue and heel counter, but I wanted to say that I am not a fan of the shoelaces on the Predict RAs.
They are thick, long, and untie very easily. My shoelaces always looked piled on my feet because I tried to basically triple tie them due to their long length.
Triple tied to keep my laces from untying while running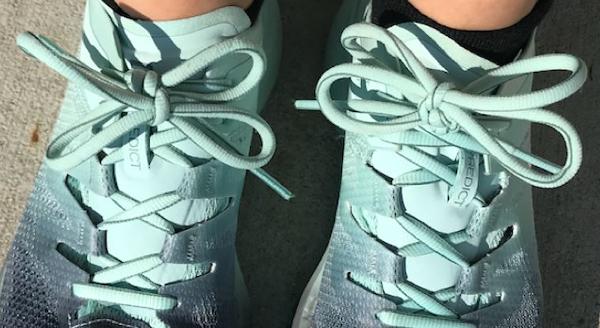 The upper has a looser fit, so I would lace my shoes tightly to get my desired lockdown feel. This caused the laces to become even longer, as well as caused some bunching of the upper near the base of the shoelaces.
On a few runs, the bunching caused irritation and blistering on the top of my great toe where the upper rubbed due to bunching.
Otherwise, I like the eyelets for the shoelaces, but I think I flat lace at an appropriate length would have been more comfortable.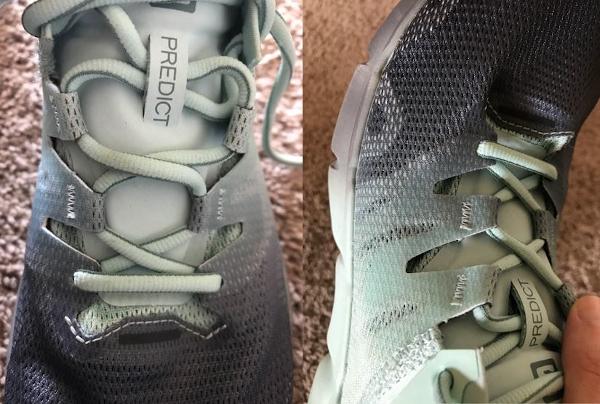 In total, I logged nearly 61.5 miles in the Predict RA, and overall, I found them to be clunky, especially during up-tempo runs. At a glance, the shoes look nimble and light, yet I didn't get that feeling when they were on my feet.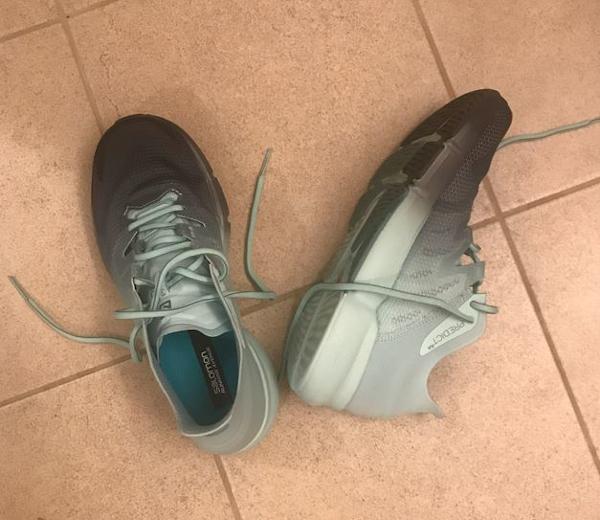 The Predict RA feel heavy on my feet despite being 9oz. Over time, I realized the shoe simply worked best for slower-paced recovery runs.
At around 30 total miles of running in the Predict RA, I decided to transition them in my rotation solely for recovery. After doing this, I found myself enjoying the Predict RAs at slower-paced recovery runs.
The energy return on the shoes is somewhat low, and I didn't get that snappy feel I desired in a daily trainer.
4mile recovery run with Onyx and my Predict RAs
My Rating: 81/100
Aesthetics: 9/10
Comfort: 7/10
Cushioning: 5/10
Durability: 8/10
Performance: 7/10
Value: 7/10
Breathability: 8/10
Pros
I like the ombre colorway
Seamless breathable upper
Reinforcements only where needed
Best for recovery or slower-paced runs
No overlays on the upper material
Cons
Inconsistent sizing
Desired more midfoot cushioning
Bunching of upper when locking down the shoe
Tongue slippage
Uncomfortable heel counter
Break-in period required
Feels bulky/clunky
At fast paces, the shoe feels heavy
Issues with heel collar rubbing Achilles
Excessively long shoelaces
Best for runs < 5 miles in length
Pricey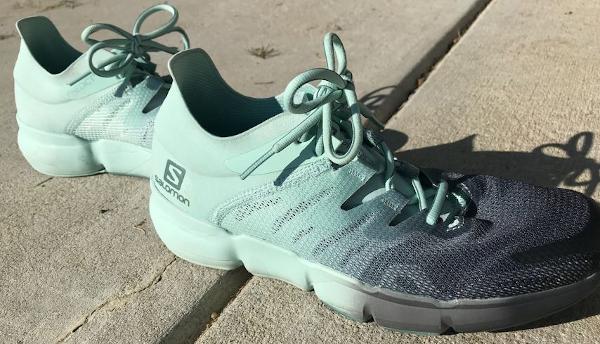 Bottom line
I really wanted to love the Predict RAs, but there are a few issues I'd like to see resolved in the next iteration. I found the Predict RAs best for recovery runs, and I would have liked to see more cushioning in the midfoot region.
The decoupled outsole was designed to make the shoe feel more flexible, yet I'm not sure if you'd even notice it!
It seems like Salomon had great intentions with all of the added technology. However, these updates weren't glaringly obvious while running in the shoes.
My running buddies are waiting for me to lace up!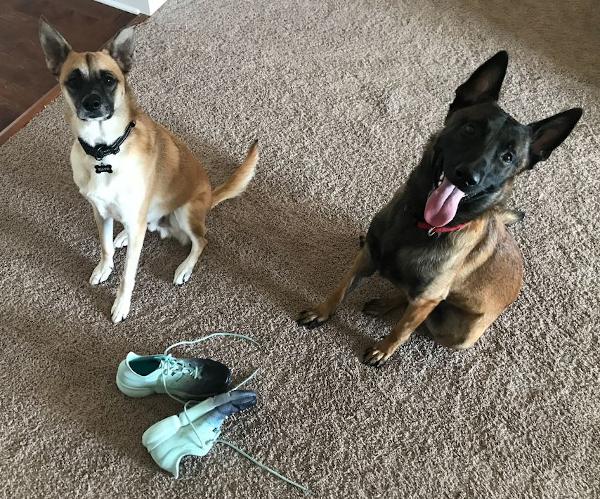 The best thing, for me, about having a birthday, is that as well as getting an inspiring variety of running themed birthday cards, I also get some extra cash. And that always means the opportunity to buy some new running shoes, clothing and/or equipment.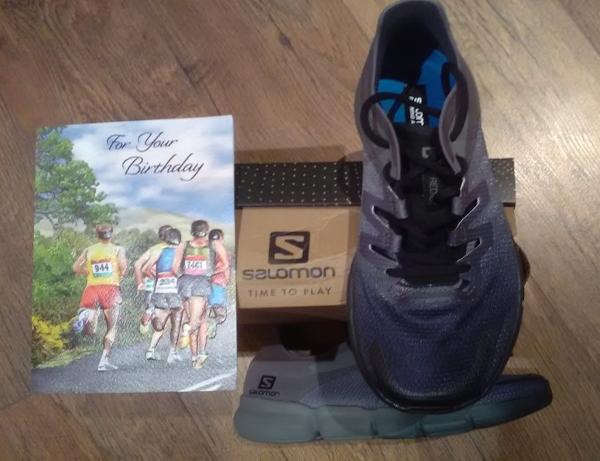 This birthday, I needed some new road shoes and went for the Salomon Predict RA, which came in at the price of £125
It is a high-end shoe; but from the reviews I read and watched, I was optimistic they would bring me some high-end results!
WARNING - Honesty Alert! This must surely be one of the most technically advanced and truly unique running shoes you'll ever find. And, in reviewing the Salomon Predict RA, I must be totally up-front and honest with you.
There's such a huge amount of technology behind the design of the shoe that I genuinely found it difficult to understand what some of it meant. I felt you almost needed to be some kind of 'shoe-scientist' to fully understand what Salomon was saying.
And sadly (I think), I'm no 'shoe-scientist'—So, I'm not going to try and bluff my way through it to sound like one.
But, I am a passionate ultra-distance runner. What you will get from this review is my genuine 'layman's' experiences, thoughts, and honest opinions based on 300+ miles of testing on a variety of surfaces, including roads, treadmill, beach, rock and light trails.
And, I sincerely hope that this honest appraisal will give you the helpful knowledge and insights you need to decide whether you 'buy' or 'don't buy'.
First observations
Immediately when I first unboxed the Salomon Predict RA, I was really struck by the understated colour scheme. For me, the dark, almost black with a hint of blue front, gently fading into a light grey at the back, really worked.
I know some reviewers would have preferred bolder and brighter colours, but I really appreciated what felt like the 'modesty' of the shoe.
The Salomon Predict RA mysteriously gave me the sense that its powerful performance would defy its understated appearance—I don't know why I thought this, I just did!
As always, the first thing I did when I got the shoe out of the box was to conduct the obligatory weigh-in. I knew they felt light, but I needed to know exactly just how light.
9.3 ounces (263.6 grams)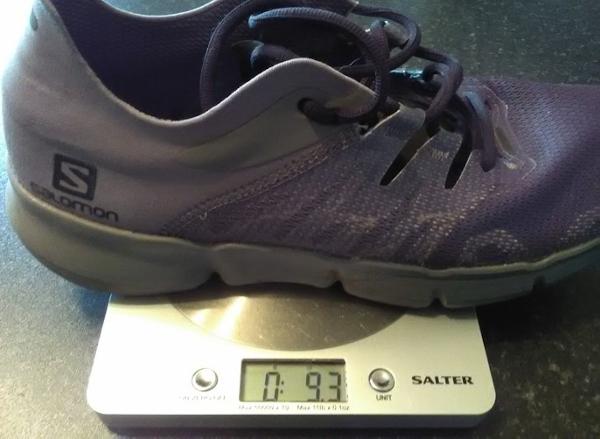 For a highly cushioned road shoe that could potentially take the average runner through the marathon distance, that was light. For comparisons, the Nike Air Zoom Pegasus comes in at 9.9 ounces and the Nike Zoom Vomero at 10.85 ounces.
These are both shoes that I've run marathons in, but in saying that, I felt the Pegasus was probably better suited for a half-marathon. My best ever marathon time of 3 hours 28 minutes was actually run in a pair of Nike Zoom Vomero's.
So 9.3 ounces is a very light shoe and got me quite excited.
But is it a shoe that can get the average runner over the marathon distance? I'll tell you later how it performed.
The next feature I was interested in was the soft heel counter. This was something I had read about in various reviews and was very curious to see and experience.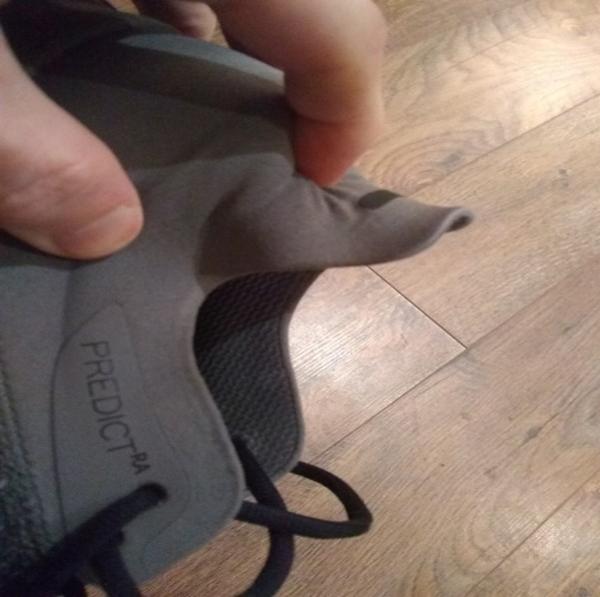 On examination, the top half of the heel counter felt very soft, lightly padded and even slightly stretchy. The lower half of the counter is much firmer, similar to a traditional shoe.
During my first run on the treadmill, I took this picture to show you how the heel cup works when you're actually running.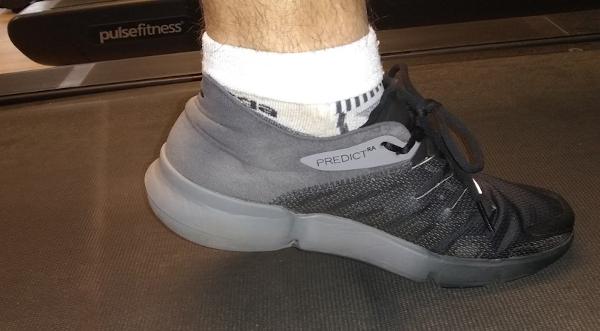 It was very unusual, but I have to say, extremely comfortable and still gives great support and a very secure fit.
The Salomon Predict RA has a 25 mm stack height at the heel with an 8 mm drop. This is a pretty standard drop for most running shoes and works well for runners who want to do longer-distance runs, and use them for the gym and/or for walking.
A major feature of the Salomon Predict RA is the outsole. Salomon calls it 'ultra decoupling'—There's that 'shoe-science' talk! But that means the bottom of the shoe is broken into 10 zones and these 10 zones correspond to the 10 major joints in the foot.
Hopefully, you can see the 10 zones in this picture.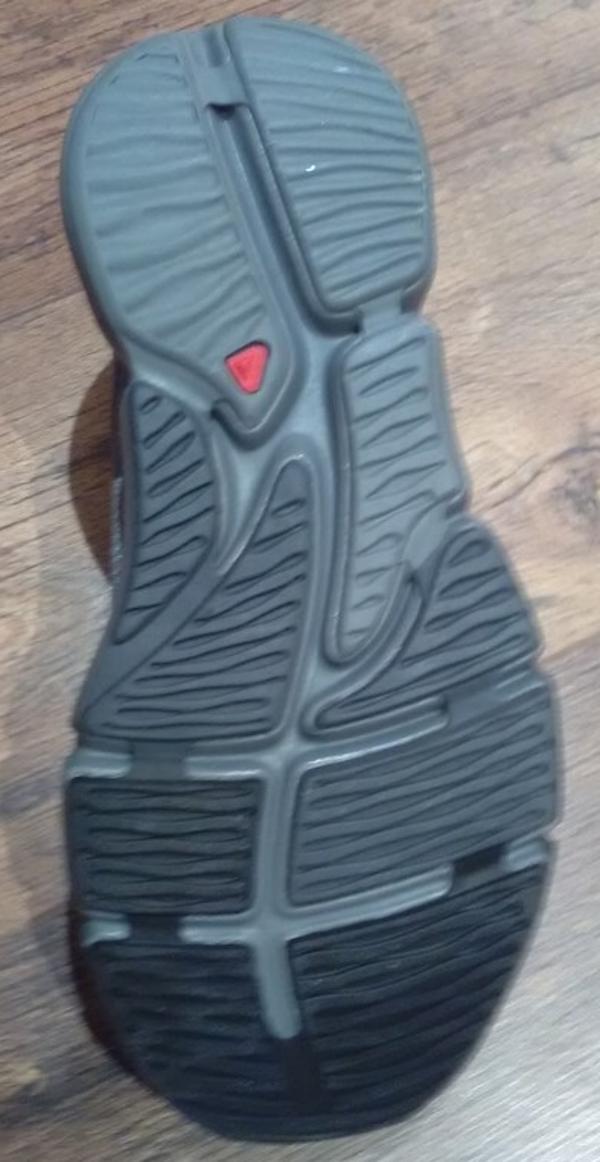 This design is intended to allow your foot to roll naturally through the stride and provide support as and when you need it. And, I was very interested to see whether these 10 zones would bend and move according to the movement of my foot—more on this later.
As well as being highly cushioned, I also noticed the outsole was incredibly flexible and even stretchy; way beyond anything I had ever experienced before.
Just take a look at this.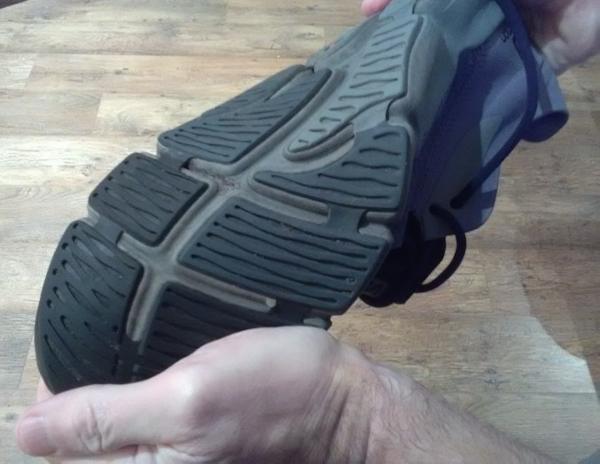 I've never had a running shoe with an outsole that could bend and flex like this.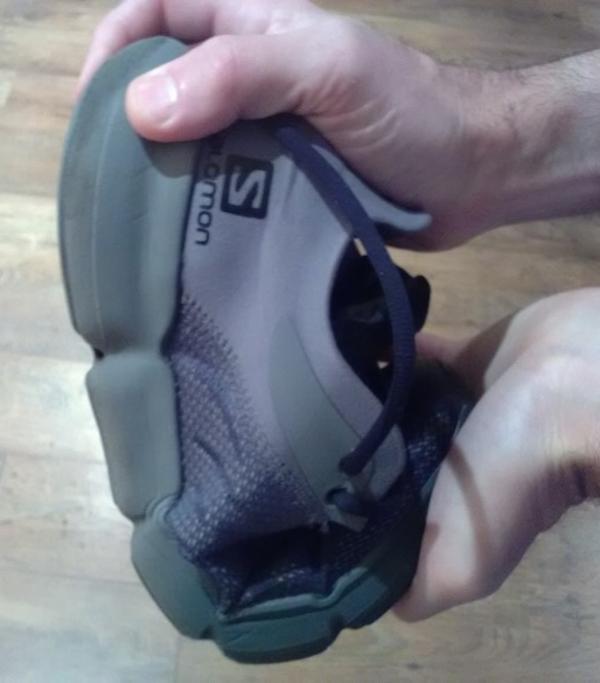 The tongue is semi-attached to the upper and thickly padded, and this prevents any excessive compression on the foot.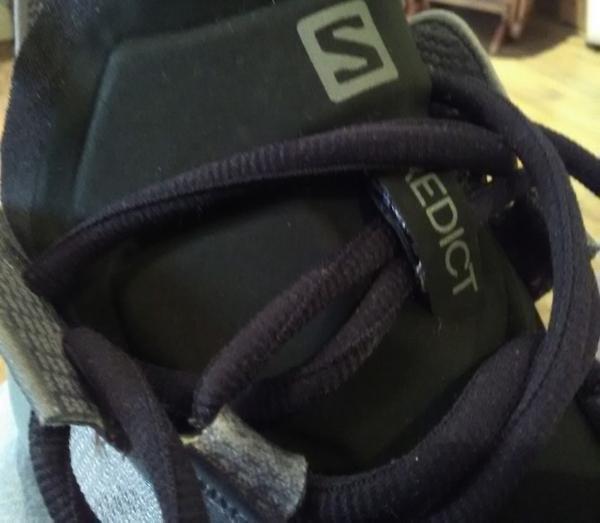 Sadly, the Predict RA doesn't use the Salomon quick-lace system that you get on many of their trail shoes, and that, (in my view) is a real shame.
However, in saying that, the traditional lacing system that it has was more than adequate at comfortably securing my foot in the shoe and didn't slacken off, even on the longer runs and when wet.
It's worth mentioning that the insole is a detachable, quality, and cushioned Ortholite insole, which is great if you want to take it out for drying and/or hand-washing.
Finally, in terms of the upper, it is a mesh of various densities and highly breathable.
From 'unboxing' observations to '0n-the-foot' first impressions
The first thing I noticed when I put the shoes on was comfort. This shoe was super comfortable.
It had a beautiful surround fit that seemed to welcome and envelope my foot like a lover's hug! It is much better than what can often be your foot needing to adapt to a firm shoe, that welcomes and envelopes your foot like a …. 'non-lovers' hug!
My experience with the 'non-lovers' hug is that it often leads to a painful experience, especially on those longer runs.
The soft heel counter, foot-wrapping upper and padded tongue genuinely embraced my foot and worked with it rather than against it. I have to say, they felt like the most comfortable running shoes I've ever put on.
And, I'm sure this is a result of all the 'shoe-science' technology Salomon have put into this product. And although I don't fully understand it all, I definitely appreciated it all.
The fit, in general, felt true to size, and the only question I had was over the toe box. The toe box was so generous that I actually thought about down-sizing.
However, I decided not to as I suspected this would just lead to my toes being pushed right up to the front of the toe box. And, this can cause all sorts of pain, especially when going downhills.
If you have a wider foot, then you'll probably be very much at home in this shoe. If you're not, you may have to use thick socks, which in the winter months can be fine.
But, in the summer months, I'd much rather be able to run in thinner socks—something to keep in mind.
The forefoot has a very soft mesh, and thanks to a firm and high toe protection bumper at the front, the shoe gives a right level of toe protection and overhead room. This is really important for an everyday, high volume shoe.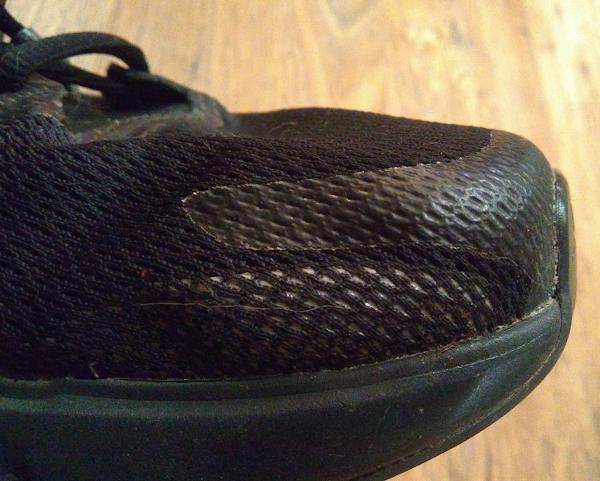 Once you start upping mileage and long runs, you've got to look after those toes. Continually losing toenails may be a great badge of honour, but it can stop you running and can definitely turn your planned long run into a non-planned short run!
This high toe protection bumper means your toes won't rub the top of the shoe, and you should keep all your toenails! Remember these are high-volume shoes, so you really do need that good fit.
The midfoot has the same mesh as the forefoot but seems to be slightly more open. Again, this will aid ventilation and help stop the feet overheating.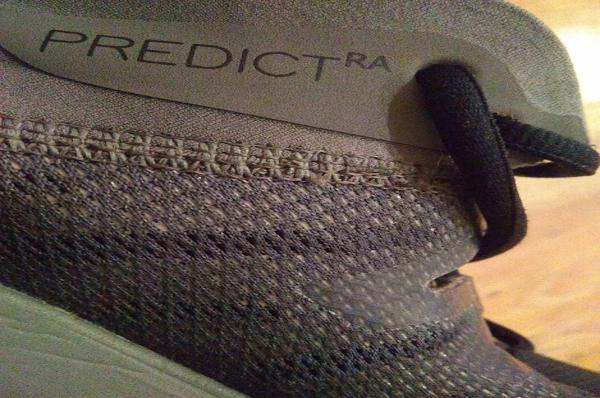 Unlike many other Salomon shoes, the Predict RA has no Endofit bootie, but to be honest, I don't think it needs it. You somehow still get that great Salomon Endofit feel without the actual Endofit!
So, there you have it, a 'layman's' description of the Salomon Predict RA. It is a shoe with a great deal of science behind it and many daring new technical advances from a company who's not afraid to try new things.
And, if you're into the shoe science technology thing, then definitely do visit the Salomon website.
But, does all this science and all technology really make a difference to the average runner?
Well to find out, I decided to put the Salomon Predict RA through 300+ miles of roads, treadmill, beach, rock and light trails. And, try to take them up to the marathon distance.
On top of this, I wanted to test their 'everyday' durability and 'high volume' durability (which is one of their big selling points), so I did those 300+ miles over a 3-month period.
Let the testing begin
My first run was on the treadmill. I planned for and did a gentle 10k at 9-minute mile pace. The shoes were great. I have to say they needed absolutely no break-in time whatsoever—it felt as if I'd been running in them for weeks.
The cushioning was great, the flexibility was great, the comfort was great, and I even got a sense of the ultra-decoupling technology at work.
I could feel my foot gently roll as it landed after each stride—very subtle, but the shoe definitely moved and bent according to each movement of my foot. The feeling was quite weird, definitely not something I've experienced before, but I quickly got used to it.
Importantly, the shoe still gave me great support and this inspired me to get out on to those roads and light trails.
The only nervousness I had was with the amount of room in the toe box area. Even with wearing thick socks, it still made the shoe feel like it was too big for me, but the dilemma was that the rest of the shoe fitted perfectly.
I decided to try and address this issue by inserting an additional (very thin) insole under the original one.
So, after adding that thin insole and walking around the house for a while, I decided to head out on the road for an 11-mile moderate pace (9-minute mile) run.
Out on the road, I really began to experience the ultra-decoupling technology to a greater measure—especially when the surface was slightly uneven.
This technology brings a whole new dynamic to your running experience. And, it feels like your foot is working in perfect concert with the shoe and the shoe responding to the variety of unevenness you experience on the road.
The Salomon Predict RA responded to each and every movement of my foot and provided a very good level of both cushioning and support throughout the run.
Another thing I noticed was that as I ran, I could also feel and experience the ground underneath my foot (as when wearing an ultra-light shoe), but I still had that deep, soft cushioning quality, that I love and need for longer runs.
My foot seemed to roll smoothly across the surface of the road in what felt like a very natural way, and overall, the sensation was amazing—I was very impressed.
At the end of this run, I had no feet or toe soreness. And, I was confident that I could begin to up the distance and volume of miles.
The next run I did was over a distance of 18 miles. This time, I decided to try them out over a variety of surfaces, including roads, light, smooth trails, light but uneven trails, some compact sand/beach and rocks.
I found the shoe performed really well over all the smoother, more compact surfaces (as before). But, when it came to the uneven surfaces, they didn't perform so well.
The shoe did flex and bend with the landscape. But, it didn't give me the level of support that I would need over this kind of surface.
On the rocks, I found I could feel the sharpness of some of the rocks through the sole and throughout this run me feet did begin to hurt
I can see two main reasons for this. Firstly, and most importantly, the shoes are not designed for off-road running.
Some road shoes will work on light uneven trails and rock, but I think the Salomon Predict RA is a very specialist shoe and explicitly designed for the road and treadmill.
The second reason was that, for me, the toebox was just too roomy, and I found my foot did move around a little too much.
From there, I decided to focus on 10k to half-marathon runs and only on the treadmill and road. This is where the shoes performed at their best.
They coped easily with both the distance and the mileage volume. Over this period of testing, I averaged 40 miles per week in the Salomon Predict RA and did my longer multi-surface runs in my New Balance Gobi shoes—I love those NB. Gobi's and you can read a review I did on them here.
Despite trying a variety of socks and various thicknesses of the insole, I just couldn't deal with the extra toebox volume. It left me having to dial in the laces much tighter than I'd normally do. And on occasions, this left the outsides of my midfoot a little sore, especially on the longer runs.
For me, I wouldn't be able to cover the marathon distance (26.2 miles) in these shoes and would be limited to about 40 miles per week. However, I did decide to try an 18-mile road run just to make absolutely certain.
As expected, after about 12 to 14 miles, I could feel my feet start to hurt on that same midfoot area. I covered the distance, but the last few miles were not much fun.
I need to stress that this is purely down to me not being able to get that 'right' fit. And, I think that if I could, the Salomon Predict RA would be very capable of taking me through the marathon distance.
I was a little disappointed with this, but continued on with the remainder of the testing period, to assess their levels of durability. And, by the end of 300+ miles, I can tell you that the shoes were still in amazingly good shape.
There was very little wear-down of the outsoles, even at the heel area, which for me always appears at the outer edge. The shoes still looked like they had many, many more miles of running left in them.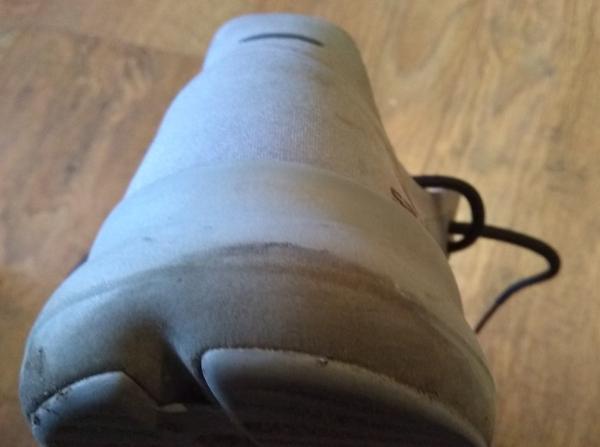 As for the levels of cushioning and support, well, they felt very much the same as when I first got them—and that is quite remarkable.
In terms of the fabric, similarly, there was very little to virtually no signs of wear and tear whatsoever—again, amazing.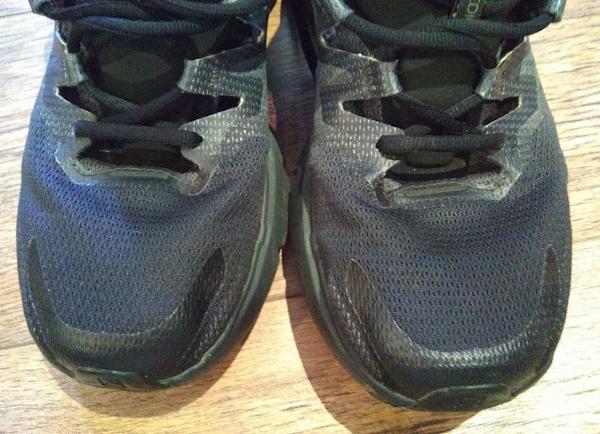 I've had several pairs of Salomon trail shoes, and I have to say, they do seem to last for a very long time. It would seem that the Salomon Predict RA is built to last too.
So what has the Salomon Predict RA given me?
My journey with the Salomon Predict RA was a very mixed one. I so wanted these shoes to work for me—I had hoped they would take me through the marathon distance and be capable of handling 60+ miles per week.
I had even hoped they would be able to handle a variety of surfaces. But, now that I think about it, maybe I was being unrealistic!
However, I have found a pair of running shoes that are absolutely unique and over a 5k to 10-mile distance on the treadmill, road and/or hard-packed sand, are a complete joy to run in.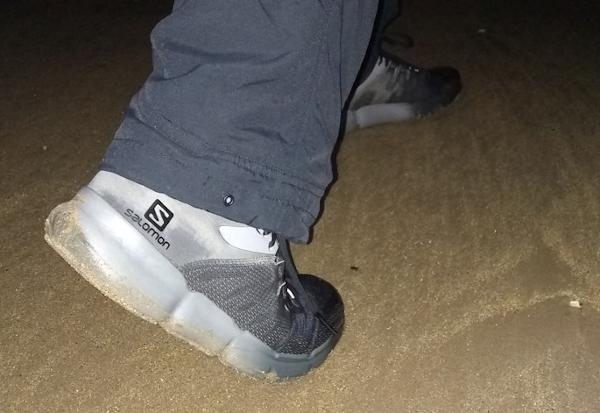 They actually make a great walking shoe too!
However, part of me wishes I did try a half size smaller just to see if it would have given me that 'right' fit. You never know, for my next birthday, I might just do that.
My Conclusions
So, there you have it: an average runners' experiences, thoughts and opinions on a highly technical and unique running shoe based on 300+ miles of testing.
The Salomon Predict RA is definitely a shoe like no other!
If you're looking for an everyday, high-volume running shoe for the road, treadmill, and/or gym, then this is definitely shoe worth looking at.
It will easily get you up to the 10 mile+ distance, be capable of 40 miles per week and give you a great deal of durability. It's very possible that if you get this 'right' fit, then it could get you through the marathon distance and support you through 50 to 60 miles per week.
One thing I was aware of is that the Salomon Predict RA would be a great shoe to help you safely increase your weekly mileage. Increasing weekly mileage can often lead to injury, and you definitely want a shoe that gives great cushioning and support as you attempt this.
The Salomon Predict RA has unique and effective cushioning, and with its 'ultra decoupling' technology at work, it will also keep your feet supported in all the right areas. The Salomon Predict RA would be a very safe shoe for increasing your weekly mileage.
If you're looking for a road shoe that can also handle some uneven light trails; then this is not the shoe to buy. In my view, smooth light trails 'yes' but uneven trails 'no'. There are other shoes out there that will do this much better than the Salomon Predict RA.
The toebox: I just wish that the toebox area wasn't as roomy. But, then again, if you're looking for a roomier toebox, then this might just be the perfect shoe for you.
My advice would be to try it on before you buy it or order two sizes with the agreement of sending one pair back. It's a lot of money to spend on a running shoe, but with the right fit, you'll definitely have a great shoe to run in for a very long time.
Lastly, remember, this is a high volume, everyday shoe, and it's not a lightweight racing shoe. If you're looking for a lightweight shoe that will inspire you to run fast, then this is not it.
The Salomon Predict RA will give you a lightweight shoe, but it's a lightweight shoe designed to give you a high level of 'targeted' support and comfort each and every day or time you take them out for a run.
My scores for the Salomon Predict RA
Price: 7 out of 10 - It is a shoe that doesn't come cheap.
Fit: 9 out of 10 - If I could have got the toebox fit, then I would have given them the perfect score. The fit across the rest of the shoe was just amazing.
Cushioning & support: 9 out of 10 - Again, if I had that 'right' fit and I didn't have to dial in the laces as much, I think this would have been another perfect score. The level of cushioning and support for such a lightweight shoe is really something special.
Performance: 10 out of 10 - This is not a race day shoe and doesn't give you that race day feel. It's definitely designed as a high volume, everyday shoe and delivers sustainable cushioning, comfort and support day in and day out.
Durability: 10 out of 10 - If after 300+ miles, a running shoe looks and feels very close to how it did when you first got it, then what other score can you give it!
Final comment
Try them before you buy them—this has been my only regret.
The Salomon Predict RA is a very technologically advanced shoe and is absolutely amazing to run in. Get the 'right' fit, and you could have the best shoe and running experience you'll ever have!
Happy running!
Notable Elements of the Salomon Predict RA
- The Salomon Predict RA features the EnergyCell+ in its midsole. This lightweight material aims to provide excellent energy return without sacrificing durability and underfoot protection.
- The upper section uses a breathable mesh that is specifically designed to keep the foot dry and sweat-free while running.
- The shoe also features the Wet Traction Contagrip outsole. This is a notable material designed to deliver impressive grip on varied trail surfaces.
Size and fit
The Salomon Predict RA runs true to size and. D - Medium is the available width option for the men's version while B - Medium is for the women's version.
Outsole
The Wet Traction Contagrip is integrated into the outsole of the Salomon Predict RA. This component of the footwear aims to deliver unmatched grip, especially on slippery and wet conditions.
The outsole also comes with Independent Support Platform design that is vital in providing enough cushioning while guiding and letting the foot propel forward when needed.
Midsole
Featured in the Predict RA is the EnergyCell+. This material is described as a lightweight foam that is meant to provide long-lasting rebound. With this technology, better energy return is experienced by the user.
The molded Ortholite Sockliner is utilized in the Salomon Predict RA. The goal of which is to provide additional underfoot cushioning.
Upper
A single layer mesh is used in the upper of the Salomon Predict RA. This component of the shoe delivers lightweight breathability. This is significant in keeping the foot cool and dry throughout the run.
The shoe also comes with a Soft Molded Heel Collar. Salomon added this material to for added comfort and for a more secure fit.
Rankings
How Salomon Predict RA ranks compared to all other shoes
Popularity
The current trend of Salomon Predict RA.