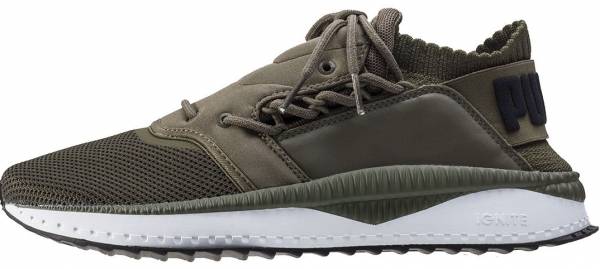 Design-wise, the Puma TSUGI Shinsei sneaker is one futuristic-looking sneaker that doesn't scrimp on features from its Ignite foam which provides shock absorption and knitted material for a lightweight and breathable upper. Like most Puma shoes, it delivers superior performance, breathable and lightweight materials and good looks.
---
Verdict from 100+ user reviews
8 reasons to buy
The majority of buyers find the Puma TSUGI Shinsei extremely comfortable.
Lightweight materials make this a comfortable sneaker for any activity, say most observers.
Several online reviewers claim they get value for money with quality materials like evoKnit and Ignite Foam.
Many reviewers praise the futuristic design and leather detailing of these trainers as they look good in the gym or on the streets.
According to most customers, the Puma TSUGI Shinsei's price is affordable considering it's a stylish shoe with premium materials.
Numerous customers of the Puma TSUGI Shinsei leave positive reviews about the shoe's heel wrap and lacing system that helps maintain perfect fitting.
Some users praise the super soft and stretchy evoKnit material that feels like wearing an actual sock.
A few customers observe that shoe construction is solidly supportive and durable.
2 reasons not to buy
Some commenters are bothered with the Puma TSUGI Shinsei on feet as the sock-collar can be a little irritating because it rubs the ankle.
A couple of bloggers note that the Puma branding at the heel back is too big and should have been toned down by placing only the Cat logo instead.
Bottom line
Design-wise, the Puma TSUGI Shinsei sneaker is one futuristic-looking sneaker that doesn't scrimp on features from its Ignite foam which provides shock absorption and knitted material for a lightweight and breathable upper. Like most
Puma shoes
, it delivers superior performance, breathable and lightweight materials and good looks.
Best price from 30 shops
We earn affiliate commissions at no extra cost to you when you buy through us.
87% say it's true to size.


Size and fit
The Puma TSUGI Shinsei is fitted using a unique lacing system on the lateral side of the pump. Also, the stretchy heel back strap and sock-like heel wrap are also placed to ensure the secure fit of the shoe.
Puma TSUGI Shinsei Style
Aesthetically appealing, the Puma TSUGI Shinsei projects a modern sneaker style that is patterned after the cutting edge design and silhouettes popular in Japan. The sneaker exudes minimalistic color schemes from all-white to all-black designs that are further enhanced by the unique side lacing system.
What is probably noticeable is the edgy lacing system which features structural loops on opposing sides which eventually meet on top to secure the lock.
Styling the Puma TSUGI Shinsei sneaker is an easy endeavor since its colorways are very versatile in blending with various clothes. The Puma TSUGI Shinsei black colorway, for example, may be best paired with dark joggers, jeans, or chinos for a cool athleisure look. The Puma TSUGI Shinsei white colorway, on the other hand, maybe a great option to wear with denim, chinos, and other casual wear. The white colorway also works well for summer clothes because of its contemporary details and accents. With the almost flexible colorways, wearers will not have a hard time styling up the modern Japanese-inspired sneaker design from Puma. Whether it's a women's or men's Puma TSUGI Shinsei sneaker, this kick can definitely be pulled off fashionably with almost any outfit.
The Puma TSUGI Shinsei shoes have recently become a bestseller for the brand because of endorsements made by singer-songwriter The Weeknd. The support from the Canadian singer also boosted the shoes' popularity among the younger generation who wanted a hip and fashionable sneaker for both gym training and after gym activities like going to the mall or strolling the streets of the city.
Notable Features
For an innovative shoe that looks forward to the future of sneakers, the Puma TSUGI Shinsei sneaker delivers ultimate comfort and flexibility because of its two notable features. First, the shoe has a proprietary evoKnit material and mesh upper that keeps the shoe lightweight, flexible and breathable. Second, the shoe features an Ignite Foam which gives energy return aside from offering great comfort and flexibility.
Puma TSUGI Shinsei History
German footwear manufacturer Puma has long been a game changer regarding shoe design. From designing the best soccer spiked shoes in 1948, when it was formally established by Rudolf Dassler, to the time, it introduced Velcro-strapped shoes in 1968 and lace-less technology with the Puma Disc in 1991, the brand has always remained on top of innovation.
And what better way to introduce innovative shoes than by combining German and Japanese technology and inspiration for its 2017 shoes. With the introduction of the Puma TSUGI Shinsei, designers, led by Puma Sportstyle creative director Heiko Desens, have created the future of the brand's sneakers.
The name in itself is a unique ninja-sounding name, Tsugi which means "next" and Shinsei and which means "rebirth," sparks positive growth and energy to the brand whose recent collaborations with celebrities like Rihanna has resurrected it from being a sports shoe brand into an even popular lifestyle name.
The Puma TSUGI Shinsei is part of the new designs that Puma has capitalized so much since 2015 by not only focusing on making their sneakers as successful casual kicks but also improved them by introducing new material and technology in the designs. Among those innovative materials and technology introduced in this modern sneaker are the Ignite foam, evoKnit and a breathable mesh upper that captured the interests of sneaker fans. These innovations have also catapulted the brand into a lifestyle sneaker powerhouse in 2017 with the success of these Sportsyle designs such as the TSUGI Shinsei and the Rihanna-endorsed Fenty line.
Additional Info
Celebrities spotted wearing the Puma TSUGI Shinsei include American rapper Dave East.
Several collaborations were made by Puma for the TSUGI Shinsei with retailers Kith and Staple.
The shoe brand has also released last July 2017 a Puma TSUGI Shinsei 90s pack which involved designs in flashy and vibrant colors for the summer.
Other variations of the Puma TSUGI Shinsei sneaker include Puma TSUGI Shinsei Raw with more knitted material on the upper and Puma TSUGI Shinsei Nido with more leather overlays than the original.
Puma collaborated with Canadian musician The Weeknd, and the result of this partnership is The Weeknd x Puma TSUGI Shinsei Nido which has more leather overlays in blue and red colors.
The side lacing system effectively combines with the flexible heel wrap for adequate support and hold.
Popularity
The current trend of Puma TSUGI Shinsei.