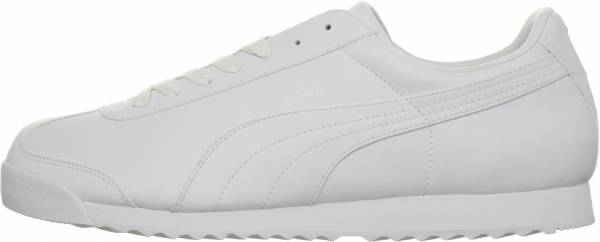 A certain kind of nostalgic feeling brings back wearers of the Puma Roma to the 1970s. Now more regarded as a lifestyle sneaker than a performance track shoe, the Puma Roma remains comfortable with moderate arch support. It is also perfect for long walks.
---
Verdict from 100+ user reviews
8 reasons to buy
A lot of users appreciate the stylish and timeless look of the Puma Roma.
It offers good arch support which has impressed many users.
Some buyers love the T-toe rubber shape of the outsole as it protects the toes from sudden bumps.
It is among the Puma sneakers that are perfect for long walks because it is lightweight, according to the majority of wearers.
Some wearers appreciate the nostalgic feeling of wearing the design that brings them back to the 1970s and 1980s.
Customers have shared that the synthetic leather upper material stays spotless for quite some time.
Shoe owners appreciate the heel support that the Puma Roma provides.
From the Puma Roma collection, this classic sneaker is available at a budget-friendly price that is appreciated by many.
3 reasons not to buy
Several users say that it takes a few days for the shoe to break in.
The upper and sole of the Puma Roma easily fall off, according to some.
Some critics have noted it lacks foot ventilation, making the foot sweaty.
Bottom line
A certain kind of nostalgic feeling brings back wearers of the Puma Roma to the 1970s. Now more regarded as a lifestyle sneaker than a performance track shoe, the Puma Roma remains comfortable with moderate arch support. It is also perfect for long walks.
Best price from 30 shops
We earn affiliate commissions at no extra cost to you when you buy through us.
28% say it's too small, 68% say it's true to size.




Size and fit
The Puma Roma is available in women's and men's sizing. To provide a snug and flexible fit, a lacing system is installed. Also, it has a low-top silhouette that permits the ankle to move without any restriction.
Puma Roma Style
In terms of style, the Puma Roma is a track shoe that has transitioned well into a lifestyle sneaker with its sleek silhouette and color palettes. While it is no longer used primarily as a jogging or gym training companion, these trainers have remained consistent in what it offers – that is a lightweight shoe with a comfortable midsole.
This classic sneaker doesn't easily go out of style or out of trend and projects a cool and clean look for lovers of Puma retro sneakers. It bridges those who have worn the shoe in the 1970s to the 1980s to those who have for the first time encountered these popular sneakers with vibrant new colors and a finer-looking synthetic leather finish. To top the vintage look, Puma designers added a rubber midsole and outsole for added durability, stronger grip, and traction.
Notable Features
The Puma Roma's classic looks maybe its most notable feature aesthetically but its superior cushioning and T-toe construction remain the most recognizable features. The shoes soft cushioning provides superior comfort while the arch support gives wearers protection from injuries and stability while wearing the shoe. The synthetic upper material, meantime, gives it a lighter upper material for easy cleaning and use.
Puma Roma History
Puma traces its roots from the Gebrüder Dassler Schuhfabrik (Dassler Brothers Shoe Factory) founded in 1924 in the small town of Herzogenaurach, Germany. Rudolf Dassler and his brother, Adolf "Adi" Dassler were the co-founders of the shoe company. They were also the masterminds behind the spike-soled shoe that American track star Jesse Owens wore in the 1936 Summer Olympics.
However, the fame of the Dassler Brothers factory was short-lived when the two brothers went on separate ways and decided to build their own shoe companies. Rudolf decided to build his own shoe company which he initially named Ruda in 1948, but eventually changed to Puma Schuhfabrik Rudolf Dassler or simply called Puma.
Moving forward several decades later, Puma established itself as among the most recognized brands in the world creating sports shoes for the world's top athletes. However, the brand also shifted into more fashionable shoes as it crosses over as a lifestyle shoe manufacturer.
Resurrected from Puma's extensive archive, the track shoe Puma Roma was first released in 1968. It was specifically designed for sprints and hurdles and other track and field sports. The shoe was initially designed with a padded nylon-suede material.
The shoes were re-issued in the 2000s now with a padded tongue and better arch support. An added improvement is the use of a synthetic leather upper and a more modern color palette from the original all-white when it was introduced.
Nice to know
Puma Roma variations were created in the past years to include Puma Roma Natural Warmth, Puma Roma Basic, Puma Roma Basic Holographic, Puma Roma OG Natural, Puma Roma x OG Natural, Puma Roma Basic Metallic Safari, Puma Roma Basic Geometric, Puma Roma Basic Geometric Camo, Puma Roma Glitter and models for kids, pre-school and juniors.
The brand also collaborated with European car maker Ferrari which created the Puma Roma Ferrari in all-black and all-red colors with a visible Ferrari logo on the lateral side.
Popularity
The current trend of Puma Roma.