PUMA Enzo 2 is a great gym shoe option with an affordable price tag. However, its elastic straps may get in the way of fast-paced workouts. It won't be a problem if you mostly do stationary exercises such as lifting, rowing, and other types of weight training. But it's better to stay away from this PUMA shoe if you jump, sprint, and lunge a lot.
Pros
Plush comfort
Solid base for heavy lifts
Little to no break-in time
Grippy
Durable
Lightweight
Breathable
Cheap
Cons
Narrow
Poor lockdown
Not for running or cycling
PUMA Enzo 2 review
The Enzo 2 from PUMA has the potential to be a great fitting shoe for your training needs, but it falls a bit short. With branded elastic cross straps, they are convenient to slip on and off but do not give you a very secure heel feel.
If you are a lifter focused on bigger heavier lifts and you plan on keeping your feet most on the ground, the Enzo 2 provides a good solid base for you to lift from, while providing comfort for your feet. However, if you are more of a dynamic trainer, who likes to move and shift with box jumps, sprints, walking lunges, or anything along that path, the Enzo 2 might not be the best bet for you with the elastic heel.
The shoe looks good and feels good in a general sense, but once you start moving, things can be different, and once age sets into the elastic a bit, it might make for a very different experience.
Who should buy it
This shoe is ideal for you if you:
want a solid foundation for lifting or training
want minimal arch support
perform more static, heavy workouts
want a classic, clean looking shoe
Who should NOT buy it
Don't buy the PUMA Enzo 2 if you:
Fit not built for wide feet
The Enzo 2 is a more narrow shoe not built for those with wide feet. It has a great feel on the front of the shoe, but with the elastic straps on the back of the shoe, it can feel a little odd for those with very narrow feet. When you are using this shoe for what it is made for, lifting and training, it feels solid and secure.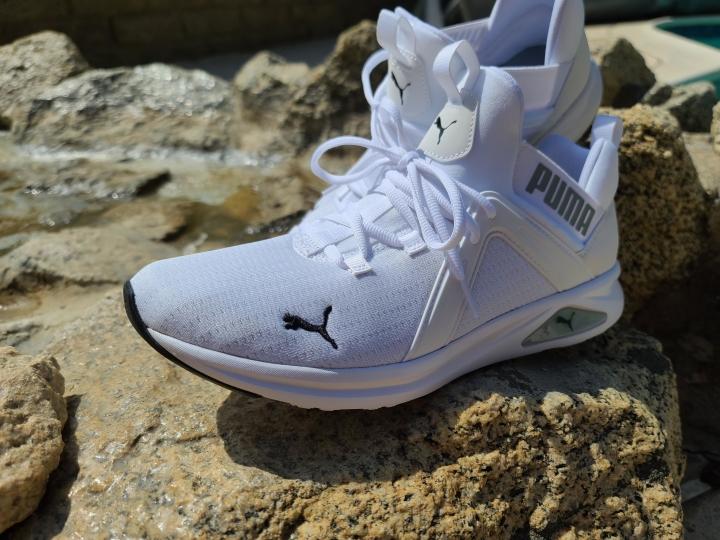 Lockdown issues in the Enzo 2
I've said it before in the review, but as far as an overall lockdown or fit for these, you might feel, as I did, that while the elastic bands on the back of the shoe make it very easy to slip this shoe on, or slide them off, that in the long run, the elastic bands may prove to be the weak link in an otherwise great shoe.
Solid comfort with good grip
If you want a shoe that you are going to feel and look great in the gym with, then the PUMA Enzo 2 is pretty close to that. They feel great for lifts, but when you are breaking down a bit more of the dynamic workouts like box steps, you might not feel like they are 100% along for the ride.
On the ground they give a great solid base, letting you get the most out of your heavy lifts, and walking around they feel good on your feet, but if you move around on your feet for your training, they might not be down to go with you.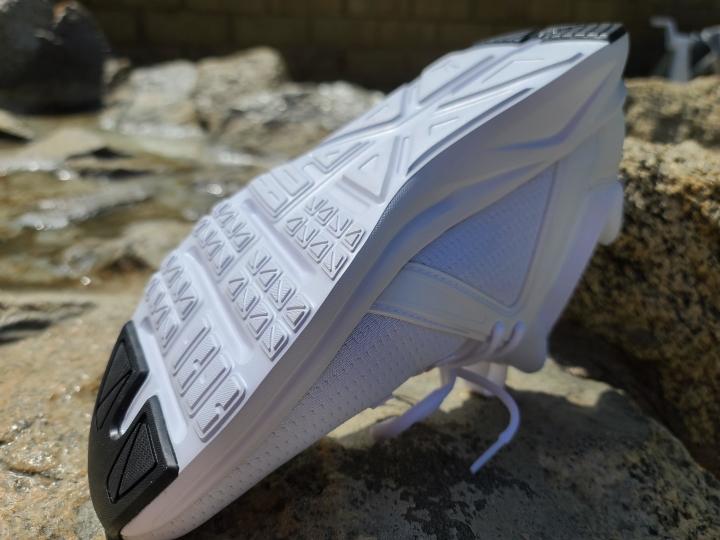 Lift in comfort with the PUMA Enzo 2
The Enzo 2 gives you a great comfortable cushion for you to move around in. With the SoftFoam+ inserts, you will feel like you are walking on a bit of a cloud, and that pays off in a big way if you like to put weight over your shoulders. My feet were thanking me for that after a few heavy squat or deadlift sets.
It is built for dynamic training
I train 4-5 days a week, and I love to keep my workouts as dynamic as possible. The PUMA Enzo 2 kept up pretty much for everything. The heel looseness didn't bug me, as it was mostly not noticeable, but for someone who wanted a tight fit all around their foot, these would not be a great choice.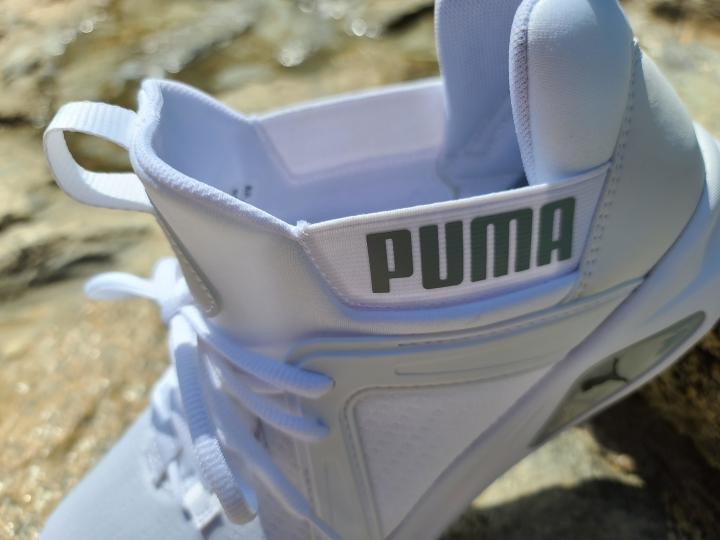 Little to no break-in time
Pop these on, and begin your training. Popped these on the first day and got right to it, squats, walking lunges, box jumps. The shoe felt great doing all of them right out of the box. After a week and change, and several lifts, they feel just as great.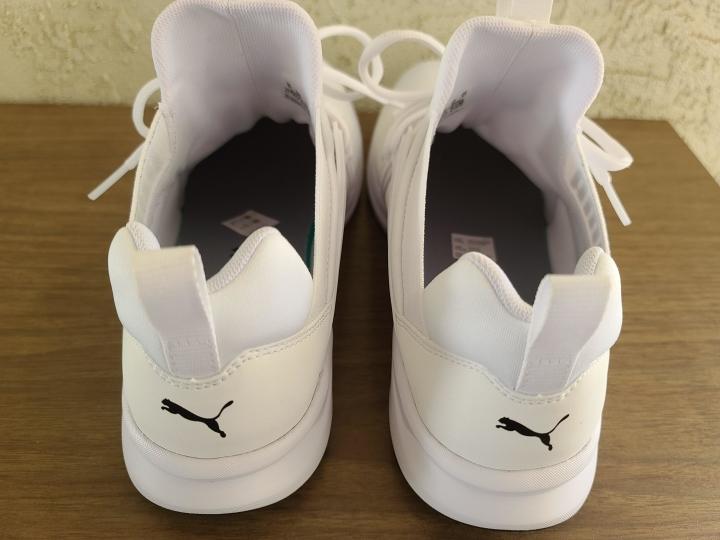 Weight is not an issue
The Enzo 2 tips the scales at approximately 10oz/283g, which is pretty competitive compared to other training shoes (average weight of 10.8oz/308g). From the lightweight material that makes up the body of the shoe and the light sole, anyone would be happy with how light this shoe is.
Great durability
After two weeks of training in this lightweight training shoe, the Enzo 2 feels just as great as the first day I put them on. I wouldn't say I am the hardest on my training shoes, but I am definitely not taking things easy on them. I would expect this to be a great shoe for months to come, as I continued to break them in and wear them for all my training.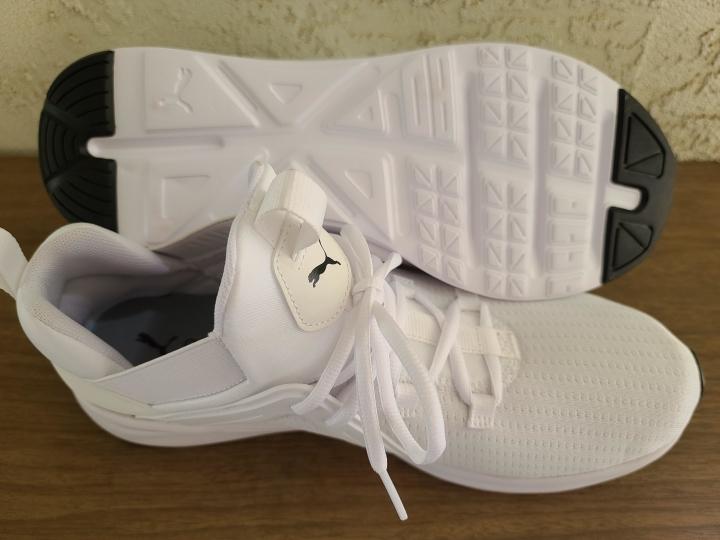 Superb breathability during intense workouts
Breathability was not in question for the Enzo 2, with the mesh construction of the shoe, it provides amazing airflow to your foot, allowing your feet to stay cool, even on warm days or during intense workouts.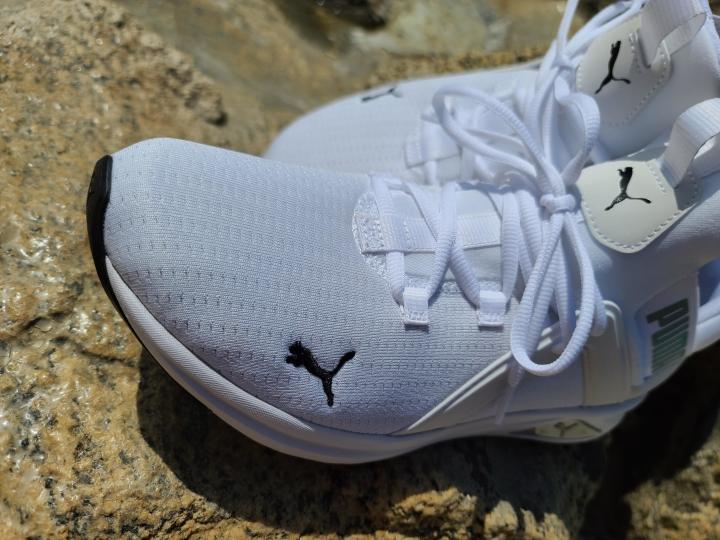 Moderate price, but it fits.
At $70, these are not on the higher end of the price market. These are approximately $27 cheaper than other training shoes and really you get a decent deal on these.
Aside from the elastic bands, these shoes are pretty well constructed. I don't think you are getting a steal on these shoes, but you are definitely getting what you paid for.