Verdict from 16 experts and 14 user reviews
6 reasons to buy
A majority of buyers testify that the On Cloudrock Waterproof is a delightfully comfortable hiking boot.
Its lightweight construction amazes numerous outdoorsy individuals.
Based on a bunch of consumer reviews, this On product provides ample support to the ankles.
A handful of users say that the footgear's liner is effective in preventing water intrusions.
Its breathability leaves several shoppers astounded.
A minority of customers mention that the lacing system of these mid hiking boots is very easy to use.
3 reasons not to buy
Several purchasers find the On Cloudrock Waterproof to be an expensive piece of outdoor gear.
Its deep grooves irk a few wearers for accumulating mud and debris in them.
Some users claim that it does not give sufficient grip on slippery terrain.
Bottom line
Hikers who are in need of a lightweight pair that renders loads of comfort on the trail may want to look into the Cloudrock Waterproof. The ankle support and waterproofness of this outdoor-centric On offering also obtain positive remarks from buyers.
On the other hand, there are those who feel dismayed when they saw how expensive it is. All in all, the On Cloudrock Waterproof may end up being an ideal investment for individuals who are seeking the advantages it offers.
Tip: see the best hiking shoes.
Our reviews
Hiking is one of my preferred activities especially in the Summer and when I'm on holiday.
Last Summer I went for some very demanding hikings in the Apennines and because of time pressure, I ended up buying a cheap pair of shoes which turned to be far from comfortable and not waterproof at all. They were just fine and I regret it.
Then, I came across On Cloudrock Waterproof and they changed my life.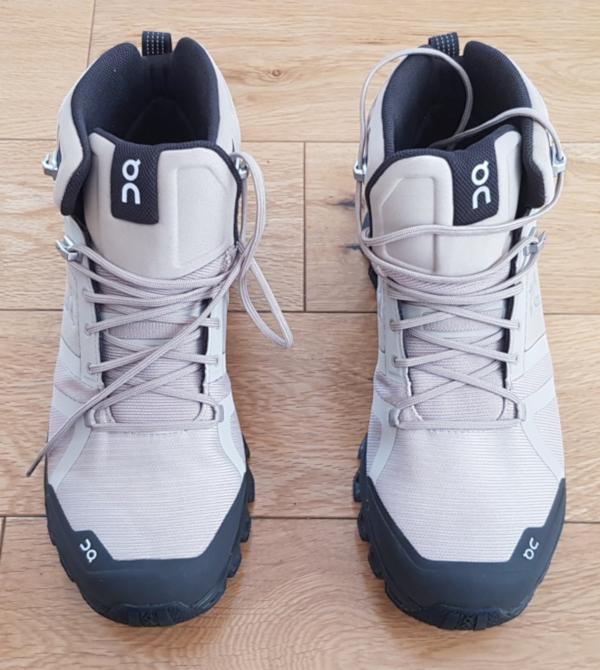 On Cloudrock Waterproof is a hiking boot suitable for a wide range of weather conditions from wet to very hot weather.
It's not the shoe that allows you to walk very fast, but overall it is one of the most complete in the market.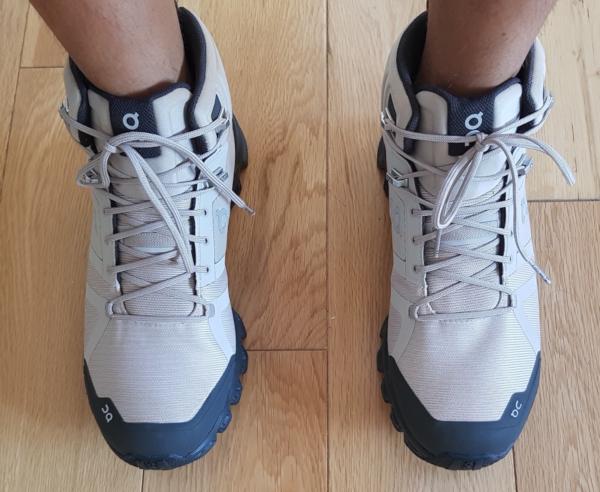 Outer sole
Let's start from one of the most important components of a hiking shoe, the outer sole.
As the whole shoe, it is not very flexible, but it provides the grip that is needed especially when walking on gravel. Despite some wide holes and gaps, stones rarely get stuck in the outer sole.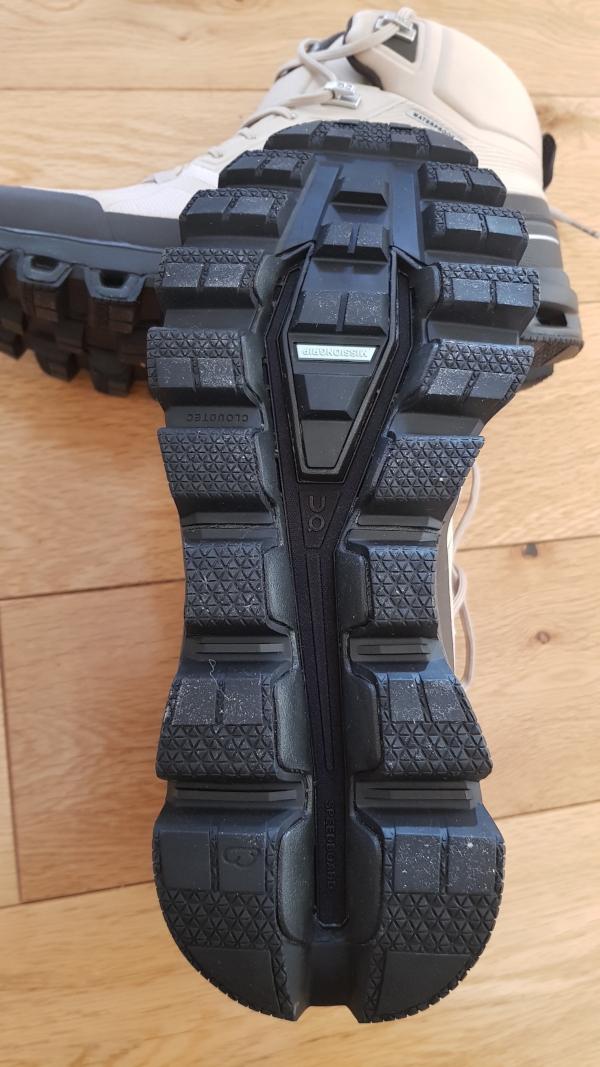 Also, the material of the outer sole it's not too hard as it looks, in fact on wet conditions it doesn't get slippery at all, and despite it's not a hard one it's very durable.
Upper mesh
Again, as the whole shoe, it tends not to be very flexible, but it does the job right without creating blisters and it shields your feet from water.
With these shoes, you can explore very wet paths or walk under the rain, or in the mud, without too many concerns of getting your feet wet.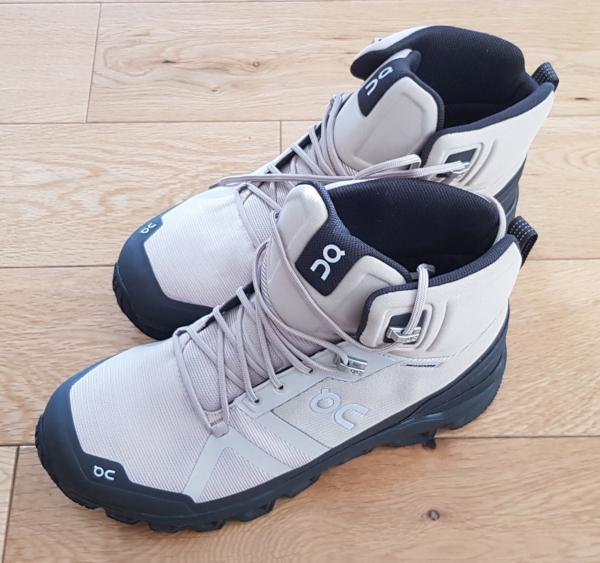 Personally, I did not test it on snow, but I'm confident that even snow it's not a matter of concern.
Size
This shoe is very true to size and even if at the beginning it is very rigid, the more you walk on it, the more it adapts to your feet. Personally, I feel blessed to have such supportive and rigid shoe that doesn't generate any blisters on my feet.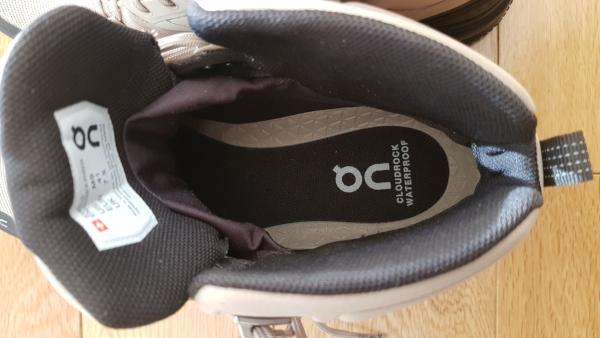 Conclusion
On Cloudrock Waterproof is a versatile boot suitable for hiking at a comfortable pace and in case you have to cross a small water stream, mud or rain, you are well covered.
It's not suitable for fast hiking paces, but on the other side, you have an extremely good grip and support.
The materials are top quality, and definitely, it is a hiking boot worth to try.
More specifically, On Cloudrock Waterproof is a lightweight speed hiking/fastpacking boot, somewhere in between a trail running shoe and a hiking boot, which is going to be used with minimal equipment.
The boot is about 30% lighter than a traditional hiking boot, but still able to provide the right support to get through most technical terrains.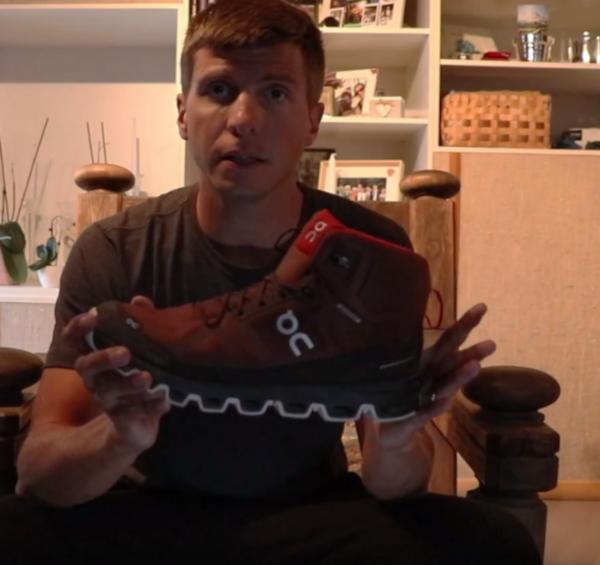 ON Running has mainly focused on design and performances for this shoe.
It is visually impressive and very good looking from its first sight. Even when you'll look into the detail (as for every ON Running shoe I've used so far), you'll notice that the shoe is perfectly refined from every angle.
What I've noticed on their older shoes is the nice construction tends to get damaged quite quickly. But so far, after more than 50 miles of usage on all kinds of terrains, the shoe is intact.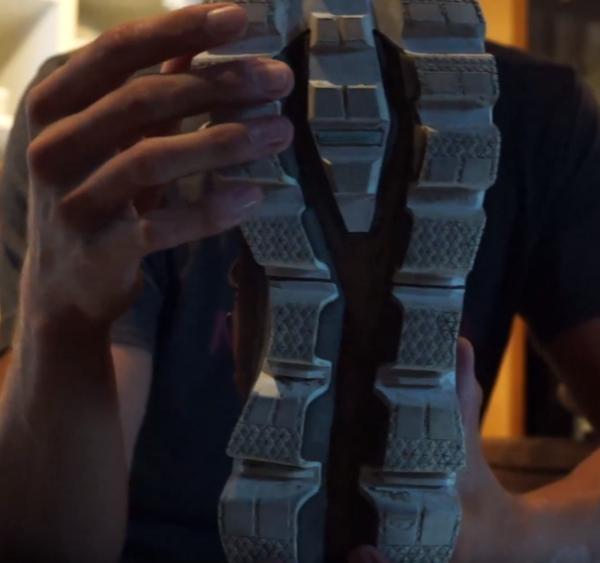 Their fancy good looking made me first think of a perfect boot for hipster hiker/backpackers who put a lot of attention on the style of their equipment to ensure the best pictures for Instagram.
But no, this shoe isn't only about style. Performance is the other big factor.
I've made my longest hike with them on a 20 mile with more than 8000 feet of elevation in 7 hours on the toughest Swiss mountain trails, and my feet felt great after it — no blisters, no pain... just great.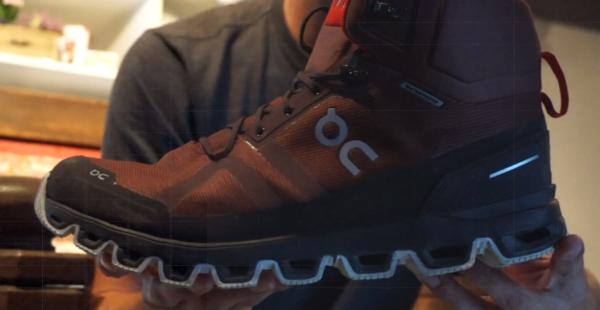 The Cloudtec technology sole is simply amazing. The pods that provide air cushioning in between the midsole and outsole ensure incredibly comfortable support even after several hours on trails.
In addition, this technology is not only providing cushioning, but also a lot of traction on the ground since the pods are working not only vertically but also horizontally.
What I usually disliked about this Cloudtec technology on other shoes is the "stone suction" issue. Stones and mud tend to get stuck into the sole easily and quickly, which is annoying.
But this problem did not seem to appear with this boot, so this is a great improvement by ON.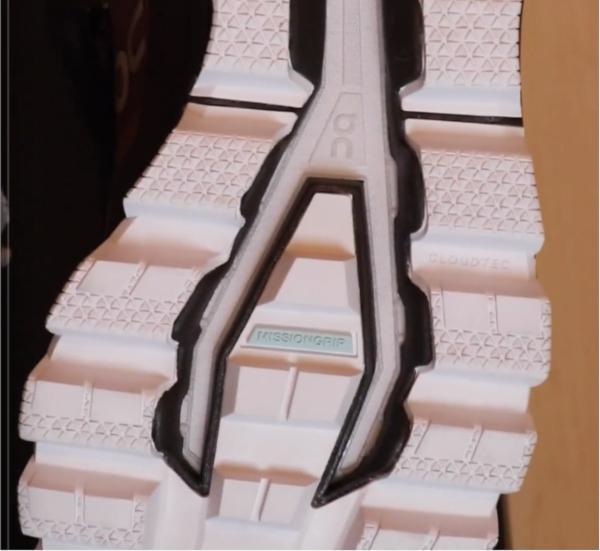 The Missiongrip outsole works very well on every kind of surface. It might be just a little slippery on flat & wet rocks, but so far, apart from the ones using Vibram megagrip outsoles, I have not found any shoe being able to stick on this kind of surface.
The midsole is made from a resistant hard plate that will protect your feet from every kind of sharp stone which might slip into the pods, especially while running downhill preventing every kind of pain.
The inner sole is removable, which makes it easier to clean and dry your boots. Plus it has some extra cushioning on the heels which will help a lot to prevent pain, especially on the last downhills when your feet are sore.
A multi-layered protection wraps the lower part of your foot from heel to toe with some extra reinforcement on the toe tip and heel counter which really allows you to run and tackle into rocky trails with no concerns.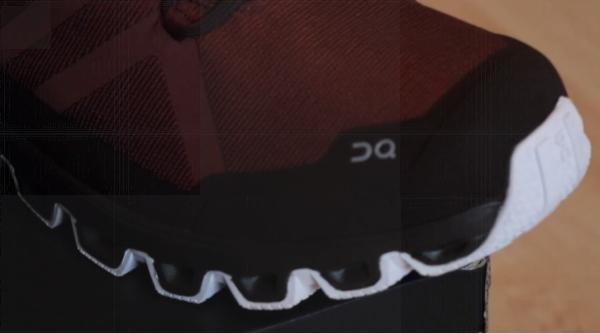 The upper sole is soft and comfy and 100% waterproof. I've tested them by putting my feet directly into a river for more than a minute and not a single drop of water came on my socks.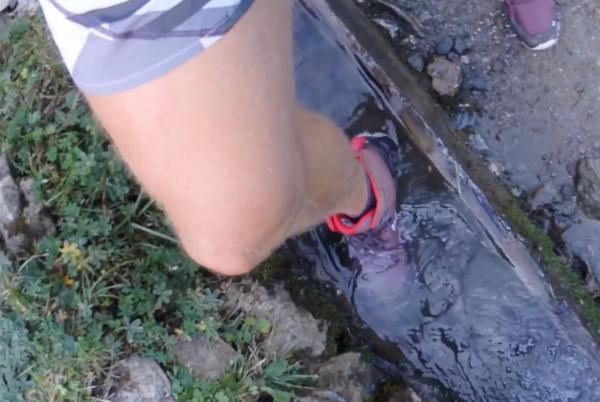 The ankle support works well. Since it is a speed hiking boot, it has nothing to do with the firm support you might be used to have on a traditional boot. You'll have much more freedom of movement but with still a little help to prevent twisted ankles.
Another thing you'll notice is how easy they are to slip on. An unusual but lovely feeling for a hiking boot.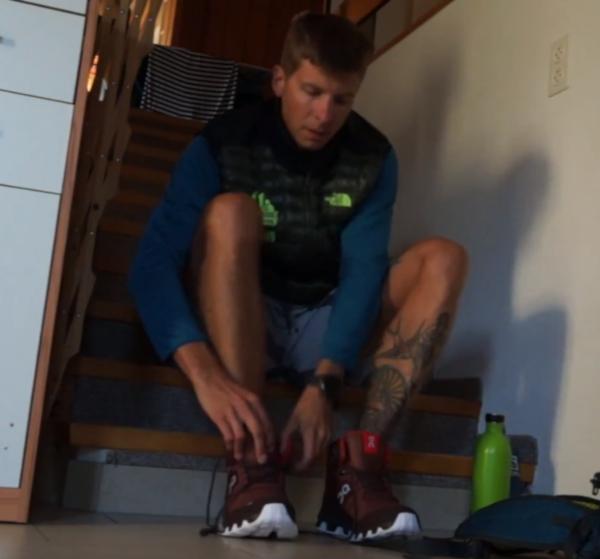 Shoe lacing is maybe one of the few things that still need some improvement.
The feet are very well tightened but the laces are way too thin. Considering this is a waterproof boot that will be used even in the worst weather conditions, probably with hand gloves, they will be difficult to use.
The other negative thing about this boot is the price. More than 220 dollars is very expensive!
Other competitor's alternatives with the same specs. (e.g. Hoka Speedgoat Mid WP, or Adidas Terrex Fast Mid GTX) are about 30 to 40% cheaper.
Reasons to buy
Stylish design
Lightweight
Overall comfort, cushioning and grip
Excellent impermeability
Reasons not to buy
Very expensive
Shoe laces are too thin
Overall
If you do not care about budget and you are looking for a super stylish and performing lightweight boot for your hikes, this shoe is made for you.
I would not recommend them for pure backpackers who plan to go for huge journeys through very long trails or crossings, which will take more than 2-3 days. You'd better opt for a more traditional hiking boot with much more overall support to help you carry heavier loads on your back.
Good to know
-The On Cloudrock Waterproof is a hiking boot built for speed hiking adventures set in adverse weather. Its synthetic mesh upper contains a waterproof liner to give protection from the elements.
-This On product comes with the brand's patented Zero-Gravity Cloud to supply the user with a cushioned ride. The boot's Missiongrip outsole delivers traction on virtually all types of terrain.
The Cloudrock Waterproof is a mid-top hiking boot that comes in men's and women's versions. It features On's proprietary FlexLock system, which allows the laces to be tied in a single motion. It can also be tied traditionally to give a secure and personalized lockdown. The footgear's tongue and collar are padded to promote a comfortable fit.
This lightweight hike-centric offering from On uses a Missiongrip outsole to keep users stable over uneven terrain. Its rectangular lugs contain a triangle pattern to prevent slippage, especially on wet surfaces. The outsole's sticky rubber construction aids wearers in staying secure over virtually all types of ground conditions. Its front tip extends upward to provide protection from various trail dangers.
The Cloudrock Waterproof enables outdoor enthusiasts to tackle uneven trails with minimal impact, thanks to its Zero-Gravity Cloud midsole. It is made of ethylene-vinyl acetate (EVA) to give lightweight cushioning and shock reduction. The hiking boot comes with On's trademarked Speedboard footbed for a smooth transition, especially when tackling downhill conditions. It also delivers arch support and extra comfort underfoot.
The On Cloudrock Waterproof is equipped with an upper made of synthetic mesh. This material imbues the footgear with lightness. A waterproof membrane is integrated into the upper to provide protection from wet trail conditions and rainy weather. It also allows excess moisture to pass through, making the hiking boot breathable.
The boot's front end features a toe cap to provide protection and durability. Its rear section has a molded counter, which helps lock the heel in place. The Swiss-engineered FlexLock system employs a series of metal eyelets and hooks for fit management. A pull tab can be found at the back of the collar to give wearers easy on and off.
The Cloudrock Waterproof and Moab 2 Mid Waterproof are both rubber -trimmed mesh boots designed for hiking. Shown below are some of the qualities that set these two hike-centric offerings apart.
Upper. The Moab 2 Mid Waterproof's upper is composed of suede leather and mesh fabric. The combination of these materials imbues the footgear with breathability and durability. It is lined with an M Select Dry membrane to prevent water intrusion while allowing excess moisture to escape. Moreover, it has a rubber toe cap upfront for extra protection against accidental bumps and other trail dangers. The On Cloudrock Waterproof, as previously stated (see Upper section above), comes with a synthetic mesh upper. This breathable material allows excess heat and moisture to escape, making the shoe ideal for warm weather conditions.
Midsole. The Merrell Moab 2 Mid Waterproof comes with an EVA midsole to render a cushioned ride and impact reduction. It is paired with the brand's M Select FIT.ECO+ footbed to give wearers arch support and extra comfort underfoot. An Air Cushion feature is found in the heel section to deliver shock absorption and added cushioning over uneven terrain. Meanwhile, the On Cloudrock Waterproof's Zero-Gravity Cloud midsole is made of lightweight EVA foam to deliver a cushioned ride.
Outsole. Merrell's Moab 2 Mid Waterproof carries a Vibram TC5+ outsole to supply traction on virtually all types of ground conditions. It has 5mm-deep lugs, which keep users stable on wet and dry surfaces. The outsole's front tip extends upwards to protect the wearer's toes from stubbing. On the other hand, the On Cloudrock Waterproof uses a Missiongrip outsole for ground adherence on most types of terrain.
Fit. Both the Merrell Moab 2 Mid Waterproof and the On Cloudrock Waterproof are designed for male and female hikers. The former comes with a conventional lacing system, which allows wearers to personalize its fit. The latter is equipped with a Swiss-engineered FlexLock system to help users gain a customized lockdown.
Outdoorsy individuals who require a sturdier pair for a multi-day trip may want to look into backpacking boots. Among the options that may be explored is the Salomon Quest 4D 3 GTX.
Those who value ankle flexibility and comfort for day hikes may want to check a pair of hiking shoes out. One of the choices that may be considered is the Adidas Terrex Swift R2 GTX.
Rankings
How On Cloudrock Waterproof ranks compared to all other shoes
Popularity
The current trend of On Cloudrock Waterproof.