Our reviews
I usually shy away from mid-to-high top hiking boots because anything that isn't low like a sneaker will always give me blisters. However, I took a chance with the Sapphire Mid's because I wanted extra support for hiking in Patagonia.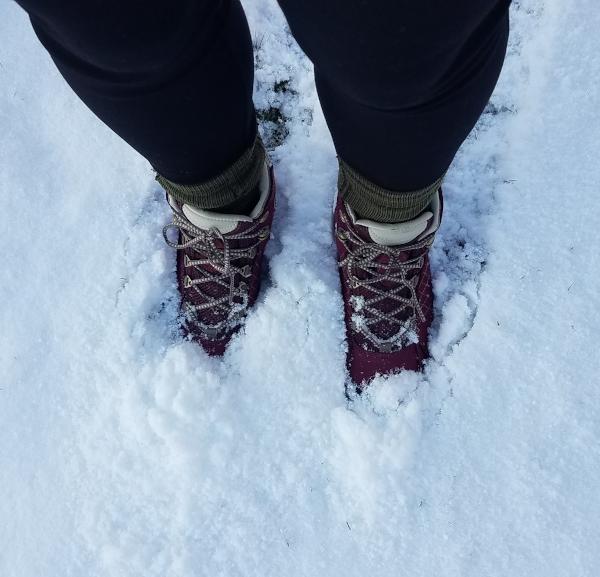 I was also looking for a boot comfortable enough to walk in and around town, so I would not have to pack so much footwear for a round-the-world trip.
I have worn these boots for weeks straight (wearing no other shoe) in all sorts of environments: walking in airports, sitting on a plane, driving cross-country, walking on dirt, pavement, snow, ice, hiking on rocky terrain, hiking through streams and mud, snowshoeing, and more.
The bottom line is I almost love them.
Through the hundreds of miles of various terrain I've put these through, the waterproofness of the leather is still holding true. All seams are intact, and with a little bit of scrub to get off mud and dirt, they still look like new.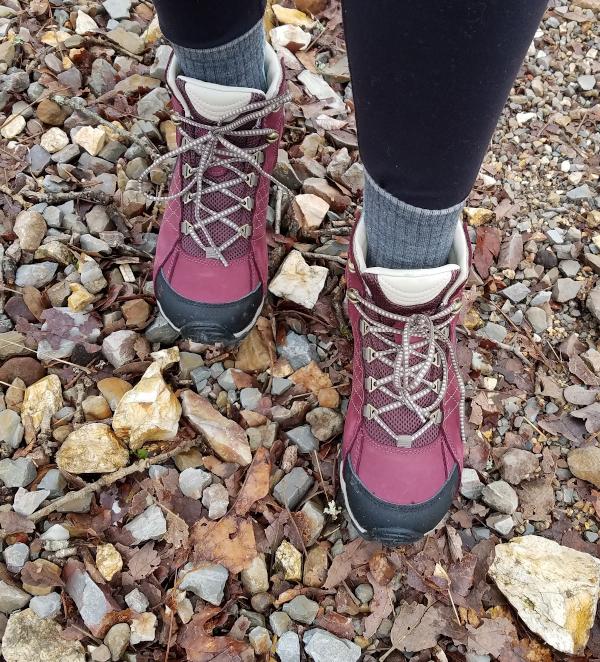 Because the tongue is partially attached near the bottom, you have a fairly high water line. My feet were never wet while in snow, streams, puddles, or rain.
Considering the support underfoot, I find them mid-to-high support with quite a bit of flex, which is great for walking around town.
I ended up getting these in the Boysenberry shade (and later found out my friend has the same exact pair!), and I love the color. It's a unique color, and lately, I've been digging wine/red onion shades.
Plus, it matches just about any color of hiking pants and goes well with jeans for a casual look.
As far as comfort, these are almost perfect. My feet, like most people's, are not the same. My right foot's inner arch needs more support than the left and is flatter. My right foot is taller than my left, so I need more vertical space mid-foot for my right.
I also have a very wide toe box on both feet. Considering all of this and when I was hiking 30 + km per day for a week straight, these boots did not affect my feet negatively.
My right arch was totally fine—which is extremely rare for me (usually, I have to buy little gel arch support stickers). My toes had room, and I had no rubbing and could feel no seams on the inside of the boot against my foot.
However, they are not perfect. I did end up getting blisters on my heels as I ALWAYS do in anything that isn't a low-top. I had to wear moleskin eventually.
This was due to breathability. This boot claims to be breathable, but it could be much better. Whether I wore thin or thick socks and whether it was 70 F or 25 F, my feet did start to sweat eventually. This makes the skin on my heels soft and easy to blister.
Even on long hiking days, the moleskin would start to slide off because of the sweat. It would no longer stick. This is normal for my feet, so I didn't expect these to be miracle boots. For this reason (and one more), this is why I don't love them 100%.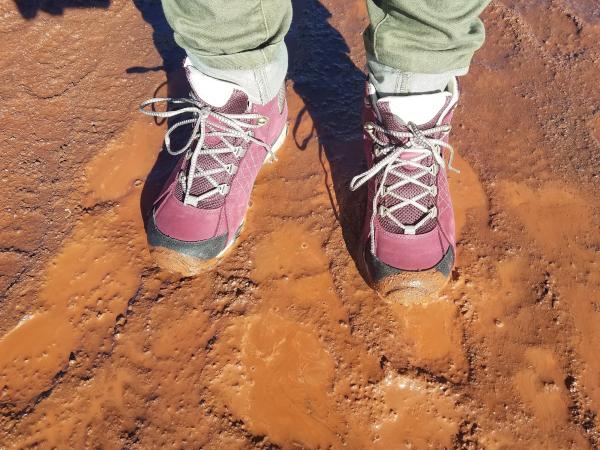 Also, because my feet are used to low-top hiking boots, my upper ankles were not used to having the thick boot material cinched up around them.
For the first few times, my upper ankle/lower leg bones were a little sore because they weren't used to it. This was the only "break-in" I had to do, but it was more for my feet and not the boot.
(It's like when you don't wear thong sandals for a long time and then wear them, the space between your big toe and the second toe feels weird at first).
Additionally, please note that my feet were still sore at the end of these long hiking days, but I do not attribute it to the boots, I attribute it to the distance and terrain.
Many of the hundreds of miles I've worn these on hiking were are rugged, rocky trails. Rocks of all sizes, sometimes scrambling on big boulders, some ankle twisters, and easy to slide pebbles.
The support was great, and I never lost stability. I am a slow uphill, fast downhill hiker. Having the support going down was awesome—I never lost my footing once.
I don't like to use trekking poles as they just get in the way for me and are one extra thing to carry. I trust my legs and feet, and when I have good traction to trust, I can almost run down the mountain. These boots provided that.
After all the miles they have seen thus far, the bottom soles do not look that worn considering much of the rocky trails would have destroyed many other shoes.
These boots have gone around the world with me, and for the most part, they were my primary shoe. However, I did have two other shoes with me, so when I wasn't wearing these, they were packed away.
I was able to fit them into a 35 L pack with all my clothes and gear (for three months) just fine. The top part of the boot could be folded a little into itself to have a smaller profile for packing or, like I do, I stuff them with socks and small items.
The insoles come out easily if you need to let them air out. I did this because of the sweat problem, and I found that because of the lack of breathability, the boots did carry on an odor rather quickly. This was surprising to me since I have never had shoes/boots smell before.
The last point I'll make is the second reason why I don't love these: the laces. They are thinner, and many other people have had negative feedback about it.
I do like the fact that they are thin, and they have somewhat of a glossier, slick finish to them. This makes them very easy to lace up. You can pull the two ends, and it gets tight everywhere, not just at the top, so you have to tighten each rung individually.
I found that using either of the top three notches, there is plenty of lace to tie them off. The third from the bottom does leave a lot extra though.
Unless I was doing fast, rocky downhill hiking (when I would have them laced to the top), I preferred to have them laced at the second from the top. At first, the laces would not come undone, but I was wrong.
About half of the time the laces come undone on their own. Thus, I have to double-knot them, so they don't. I hate having to double knot my laces because you can't easily take them off.
I find I have to double knot 90% of the shoes/boots I own. I have yet to find specific laces that do not come undone.
Overall, I definitely recommend these boots. I would buy these again, and hope I get many more years out of them. Plus, Oboz partners with Trees for the Future!
Oboz Sapphire Mid BDry notable features
The Oboz Sapphire Mid BDry is designed with women's fit and comfort in mind. It's a nubuck boot lined with a waterproof membrane for protection against wet elements.
The Swiftcurrent sole unit renders cushioning and traction, thanks to its EVA midsole and sticky rubber outsole. Its rockered profile creates a smooth roll-off motion.
Size and fit
The Oboz Sapphire Mid BDry is a true-to-size day hiking boot for women. It is manufactured in whole and half sizes and comes in standard (medium) width only. Fit customization is made possible by its lace-up closure.
The brand's engineers indicated that this gear fits a low volume foot. It has a sculpted midfoot and a specific forefoot and toe box design.
Outsole
The Oboz Sapphire Mid BDry employs a tacky rubber outsole. The hiker has aggressive lugs which bite into ground surfaces, whether wet or dry. Its textured finish prevents the build-up of mud and other trail debris, hence maintaining its grip over various terrain types. Its upright extension at the toe area enhances protection against knocks.
Midsole
Featuring the Swiftcurrent midsole, this hiking boot carries an EVA midsole. This rubber-like material gives cushioning and comfort to the user. It is paired with a TPU chassis for support and an ESS plate situated at the forefoot for protection. The brand-owned O Fit Insole holds the foot and optimizes support.
Upper
The durable nubuck leather upper of this mid-cut day hiking boot comes with a BDry waterproofing system. It is a membrane which prevents penetration of water during wet encounters while allowing moisture inside to escape.
Flexibility is maintained, thanks to the asymmetrical style of the collar. It allows the boot to move together with the ankle's motion. A strip of leather covers the midfoot to heel region and the toe. This reinforcement amplifies protection on the trails.
The closure system of the Sapphire Mid BDry includes webbing loops, metal hooks and a lace. The heel strap aids in easy on and off.
Compare popularity
Interactive
Compare the popularity of another shoe to Oboz Sapphire Mid BDry:
Oboz Sapphire Mid BDry video reviews