Northwave has hit the bulls-eye in the looks and functions department with the Tribute 2. Every element applied has a purpose and works efficiently. However, you are likely to be disappointed if you are used to super stiff triathlon bike shoes. If you are, you can check out the very stiff tri bike shoes.
Pros
Excellent craftsmanship
Comfy and cozy fit
Convenient Velcro straps
Great for quick transitions
Stiff soles
Adequate power transfer
Well-ventilated
Appealing design
Cons
Forefoot strap opens inward
Midfoot flap catches on the crank
Who should buy the Northwave Tribute 2
The Northwave Tribute 2 is a triathlon cycling shoe best recommended for:
triathletes, road bike enthusiasts, as well as mountain bikers
both road bike and MTB pedal systems that use cleats with 2 and 3-bolt standards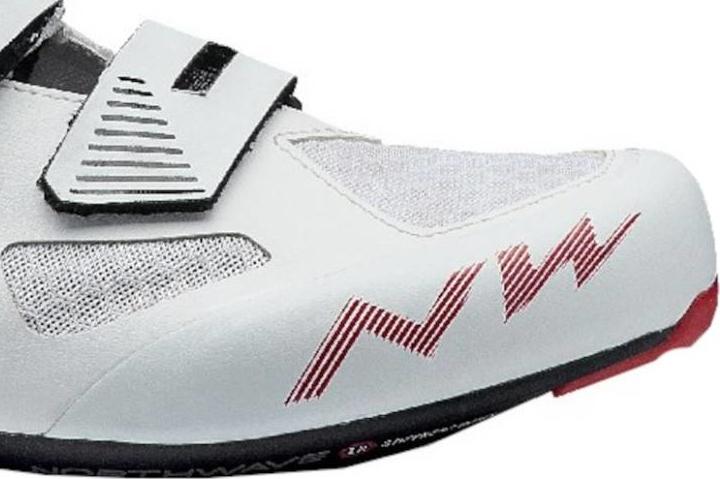 Provides easy transitions
The Northwave Tribute is a triathlon cycling shoe that features essential components needed exclusively for the sport. It is lightweight and provides easy transitions and excellent drainage and airflow.
Please note that this particular model employs composite soles, while a full-carbon version is also available. If you like this shoe, but need more rigidity in the soles, check out the Northwave Tribute 2 Carbon shoe.
Tribute 2 offers sufficient stiffness for power transfer
The NRG Air Carbon reinforced sole of the Tribute 2 triathlon shoe comes with a full-carbon insert. This provides an ideal degree of stiffness on the outsole. It also delivers better efficiency and comfort.
More importantly, it facilitates power transfer through the pedals as you power the two wheels for longer distances.
Annoying midfoot strap rubbing
However, one reviewer finds the additional flap design in the midfoot strap annoying, as it "catches on the crank arm."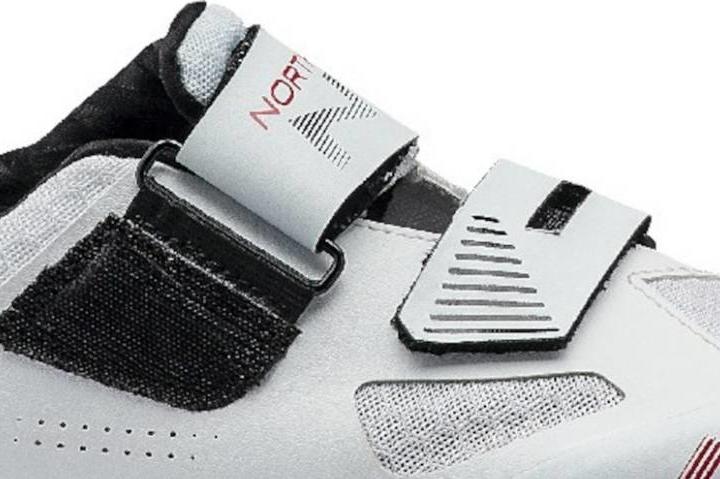 If you don't mind hearing the clicking noise as the extra strap rubs against the crank, this cycling cleat delivers a solid performance.
Allows excellent airflow
The outsole for the Tribute 2 features 5 vents that allow excellent airflow around the foot. This makes it ideal for training and competing in hotter triathlons of the season. It has microfiber and vent holes in the outsole for breathability and drainage.
A reviewer applauds the shoe for keeping his "sweaty feet" dry and comfortable while training indoors for hours without air conditioning.
Offers arch support and comfort
When it comes to supporting, the anatomical arch support of the shoe is made of thermoplastic polyurethane (TPU) material that perfectly contours to the foot. It has an adaptive shape on the bow arch.
This specific design makes it ideal for all cyclists of all types of foot. It also adds comfort for all-day cycling.
2 and 3-bolt cleat compatible
This Northwave shoe is 2 and 3-bolt cleat compatible. But a 2-Bolt cleat inner-plate is not provided.
The shoe also comes with a Speedplay adapter compatible with the shortest distance between pedal and foot. This means that an optional adapter can be installed.
Other triathlon cycling shoes you may want to check
Mavic Cosmic Elite. This shoe would best suit seasoned triathletes who want to exceed their previous race performance.
It is equipped with a combination of a modern dial and dual strap closure. However, if you require top-notch breathability in your footgear, the Tribute 2 might do a better job in this department.