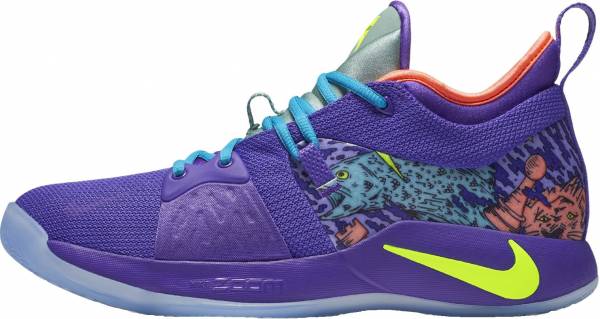 Overall, the Nike PG2 is a solid on-court performer and arguably better than the first. Everything about these basketball shoes just works, and all the performance-oriented enhancements are on point. Right off the bat, wide-footers feel the improvement with the shoe's fit. Players also welcome the enhanced cushioning and traction. So, if you liked playing in the Nike PG1, then the PG2 is right up your alley.
---
Verdict from 14 experts and 100+ user reviews
9 reasons to buy
For just $110, the Nike PG2 is an insanely good on-court performer according to a significant number of buyers. They just love everything these basketball shoes have to offer.
Despite being cheap on paper, nearly all testers agree that the materials work really well. It's flexible, durable, breathable, and requires little to no break-in time.
A lot of wearers praise how comfortable these Nike basketball shoes feel.
Many users just really enjoy wearing the PG2. They are saying that it is comfortable to wear all day, every day.
Like the Nike PG 3, these Paul George basketball shoes are very supportive and have excellent lateral stability, several testers remark.
Most reviewers are surprised that the Nike PG2's traction bites the floor really well. They are saying that it is even better than the PG1.
The cushioning also improved, many testers are claiming. The PG2 is more responsive and has more bounce to it than the Nike PG1.
A good number of users are happy that these Nike basketball shoes are true to size and wide-feet friendly at the same time.
The lockdown is fantastic, most players report.
4 reasons not to buy
A lot of buyers just don't dig the Nike PG2's silhouette. They claim that it looks like a child's shoe.
Some players are reporting that the cushioning feels underwhelming and it provides a rough ride.
A few wearers are complaining that these Paul George shoes run narrow and feel really tight. Players have a similar complaint regarding the Harden Vol 3's fit.
Most testers are warning that the PG2 is meant for indoor hooping. They observe that the outsole is soft and frays easily.
Bottom line
Overall, the Nike PG2 is a
solid on-court performer
and arguably better than the first. Everything about these basketball shoes just works, and all the performance-oriented enhancements are on point. Right off the bat, wide-footers feel the improvement with the shoe's fit. Players also welcome the enhanced cushioning and traction. So, if you liked playing in the Nike PG1, then the PG2 is right up your alley.
Best price from 30 shops
We earn affiliate commissions at no extra cost to you when you buy through us.
94% say it's true to size.






Profile of the Nike PG2
Regarded as one of the league's best two-way players, Paul George needs a basketball shoe that can keep him focused on both ends of the floor. His second signature basketball shoe does just that.
"The thing I can do is go after the best players in our league and shut them down in the shoes. That's the goal. That's going to be the best way to highlight the PG2 and show all what they can do performance-wise," Paul George said in a press release. "I got my hands full, but I got the right shoes for the job."
With performance updates to bring his game to the next level, the Nike PG2 is made for the game's most versatile athletes. These basketball shoes have a light yet durable upper that delivers enhanced comfort and containment while its updated Zoom Air cushioning responds to your every move.
Performance
Cushion. The Nike PG2 has a soft foam midsole with a low-profile 10-millimeter Zoom Air unit to provide a smooth, responsive, and stable ride all game long.
In the forefoot, the larger Zoom Air bag offers increased on-court responsiveness and comfort to keep your every step lightning fast. A 6mm foam sockliner is also designed to enhance underfoot comfort.
Traction. The Nike PG2 has a full-length rubber outsole that features an updated traction pattern to deliver improved grip on a variety of surfaces. This new and improved traction allows you to move quickly on both ends of the court. The outsole also has pistoned zones that flex as you move.
Fit
Length and Width. Reviewers agree that the Nike PG2's fit is true to size. Normal, narrow, and wide-footers are suggested to order their exact size. However, it is still best to give these shoes a try in-store to get the right fit.
Lockdown. Nike decided to forego the forefoot strap that was used in the PG1. Instead, the new dynamic wing design of the Nike PG2 keeps your forefoot secure and locked in.
These forefoot straps are engineered to provide you with much-needed stability during quick changes in direction. The PG2's lacing system also feed through these mesh bands to deliver a locked-in feel.
Extended lace loops, an updated traditional tongue, and an inner collar offer a more dynamic fit.
Material
Depending on the Nike PG2's colorway, the upper is made of either mesh, synthetic, and/or leather materials.
The mesh provides a lightweight feel and enhances breathability. An inner sleeve wraps your foot to provide unparalleled comfort while a thick sockliner offers a plush feel underfoot.
Style
Nike designer Tony Hardman returned to create the second iteration of Paul George's signature sneaker. During the design process, George and Hardman came up with five guidelines to ensure that the Nike PG2's influence extends to both basketball and sneaker culture.
The PG2 now boasts a sleeker design than its predecessor. Without the prominent forefoot strap, these signature Nike basketball shoes allow you to be faster on your feet.
Signature details include George's PG-13 logo that can be seen on the insole, tongue, and heel tab. An inverse Nike Swoosh caps off the shoe's sleek silhouette.
Special Colorways of the Nike PG2
Despite building so much hype around the PG2's launch colorway, Nike only released a few other hues before unveiling the PG 2.5. The Swoosh also released a handful of PE colorways for Nike-sponsored events such as The Academy and EYBL.
Anthracite/Hot Punch-White-Wolf Grey 'Hot Punch'
Blue Lagoon/Hyper Violet/White/Black 'South Beach'
Dark Obsidian/Kinetic Green/Navy 'Home Craze'
Nike PG 2 EYBL 'Camo'
Nike PG 2 'The Academy'
Olive Canvas/Light Silver/Watermelon/Obsidian 'ACG'
Pure Platinum/Wolf Grey/Aurora/Neo Turquoise
Nike PG2 'All-Star'
After Demarcus Cousins suffered a season-ending injury, Paul George was named as his replacement in Team LeBron in the 2018 NBA All-Star game. To mark the occasion, Nike added the PG2 to their 2018 All-Star collection.
The 'All-Star' colorway looks to George's hometown of Palmdale for inspiration. Grey represents the desert, orange for the sunset, and green for the nature around the area. These Paul George basketball shoes also feature a custom graphic on the sockliner and five purple PG logos on the heel to commemorate each of his All-Star selections.
Nike PG2 'Mamba Mentality'
Nike released a special edition PG2 to celebrate "Mamba Day" 2018. Taking inspiration from Bryant's Prelude Pack, these Paul George basketball shoes are dressed in Cannon, Volt, and Purple Venom. The heel is adorned with a unique graphic that illustrates some of George's hobbies such as fishing and chess.
Nike PG2 'NCAA'
The Nike PG2 'NCAA' made its on-court debut during the 2018 NCAA Division I Men's Basketball Tournament. Sharing a similar color theme to the "Net Collectors Society" Pack from 2016, the 'NCAA' colorway features a simplistic white upper with black accents. Finishing off the March-Madness-inspired theme is a multicolored outsole.
Nike PG2 'Playstation'
Paul George loves playing video games, and it's no secret that his favorite console is the Sony PlayStation. "I just had a knack for video games," explains George. "As soon as I discovered PlayStation, I was throwing hints here and there to my dad — cutting out the clipping of a video game, cutting out the clippings of the PlayStation, leaving it on his dresser. I remember on Christmas morning, I unwrapped my gift, and sure enough, it was the PS2. I've been a PlayStation guy ever since."
This limited-edition launch colorway features heaps of PlayStation-specific nods. "We worked directly with the PlayStation team on every aspect of this shoe," Hardman describes. "One thing that they provided, which was really cool, was the starry graphic from the dynamic theme that will be available for your PlayStation 4 with a code from the shoe. It's a beautiful graphic, so we made it the sock liner."
Featuring graphic prints inspired by the PlayStation controller buttons and a light-up tongue, the Nike PG2 'PlayStation' colorway perfectly connects two of Paul George's passions.
Nike PG2 'Taurus'
Nike is celebrating Paul George's birthday by launching a zodiac-inspired colorway of the PG2. Dubbed the PG2 'Taurus,' these basketball shoes feature a combination of black, white, and sola red. The Taurus constellation is placed on the left tongue to complete the design.
Nike PG2 'The Bait II'
It is no secret that Paul George's favorite hobby is fishing. So, as a nod to his off-court pursuits, Nike launched a clean white-based edition called 'The Bait II.' This colorway features a white upper with OKC-inspired blue and orange accents. An icy translucent outsole completes the shoe's silhouette.
Rankings
How Nike PG2 ranks compared to all other shoes
Popularity
The current trend of Nike PG2.