The Nike Kobe 10 has good traction, cushioning, lockdown, support, and stability. Its only drawback is its relatively cheap materials and ridiculously high price. Overall, the tenth installment of Kobe Bryant's signature line is a solid performer.
Pros
Exceptional traction
Lasting comfort
Fits true to size
Supportive
Responsive and protective cushioning
Durable upper
Excellent lockdown
Light and breathable
Cons
Outsole not for outdoor games
Expensive
Who should buy the
Nike Kobe 10
The Nike Kobe X might benefit you if:
A basketball shoe that stays comfortable for several hours of wear is what you are after.

You are looking for footgear snug enough to prevent heel slippage.

A companion for playing hoops with ample ventilation to maintain a healthy foot environment is what you prefer.
Profile of the Nike Kobe 10
"The Kobe signature line allows us to think bold with provocative concepts that spark conversation," Nike Creative Director and VP of Innovation Eric explains. "Kobe's tenth shoe is a super light, responsive, and purposeful look at high performance, high design, and high style. The work is exciting, and the collective teamwork around the project is contagious."
The Nike Kobe 10 celebrates Bryant's maniacal focus, extreme confidence, resilience, and ability to strike with precision.
Bryant's mental focus is legendary—his grueling workouts, mastery of technique, the pursuit of victory, and fixation on excellence. "I like trying to do something as perfectly as possible," he explains. "And it's crazy, I know, and it's not necessarily the healthiest thing in the world. But it's what I enjoy." This kind of maniacal approach has elevated his game to a level that only a few athletes have matched.
On the court, Bryant is a "stone-cold killer." He thrives when the pressure is at its highest, and the game is on the line. "When I think about Kobe, the word that really, really comes to the surface is 'heart,' Nike Designer Eric Avar says. "He just has this unbelievable will to be the best and make people around him the best."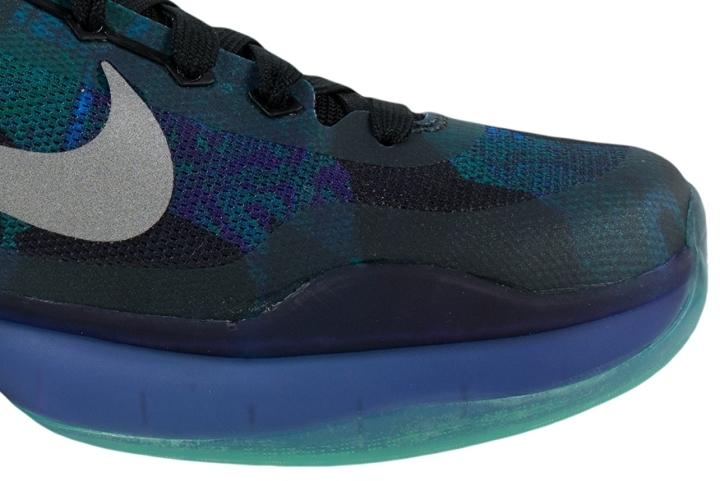 Despite suffering from career-jeopardizing injuries, the Black Mamba always finds a way to strike back. "You have these moments where you doubt whether you're going to be able to get through this," Bryant said of his rehab. "I just look at it as a process: if you stick to it, you trust in the fact that eventually, it's going to go your way."
Bryant's tenth signature sneaker has been crafted with the same laser-like focus and passion; matching his heart and precision on the hardwood.
These low-top basketball shoes boast a mix of support, stability, and traction. The tenth Nike Kobe is armed with a seamless textile upper, hybrid cushioning, and advanced traction system to help Bryant slice through the staunchest of defenses.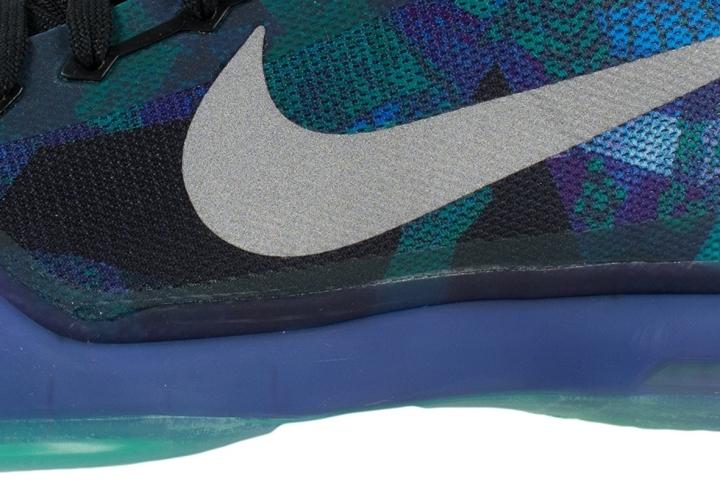 Performance
Cushion. The Nike Kobe X is driven by superior performance. These Kobe Bryant basketball shoes boast a hybrid cushioning system that combines Lunarlon, Nike Free-inspired grooves, and a heel Zoom Air unit that enhances natural movement. This combination provides a responsive ride that is firm, soft, and flexible.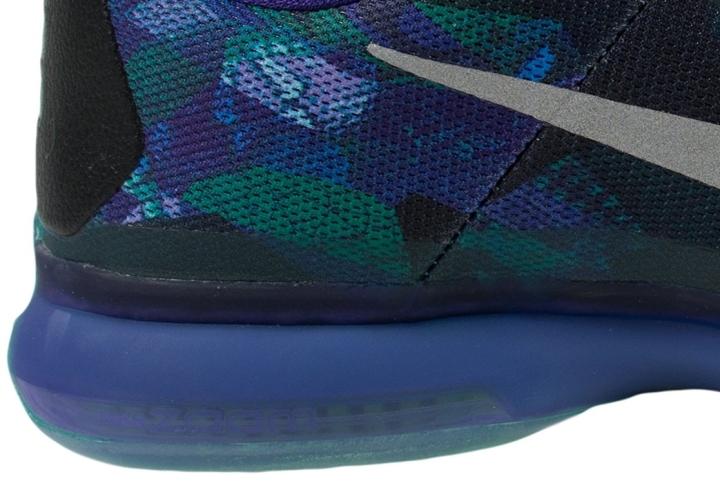 Traction. The tenth Kobe's traction was developed under Swoosh's four-part formula—surface type, surface ratio, design pattern, and rubber composition. Because of this, the Kobe 10 has what can be considered as the most effective traction system Nike basketball has created in its 43-year history.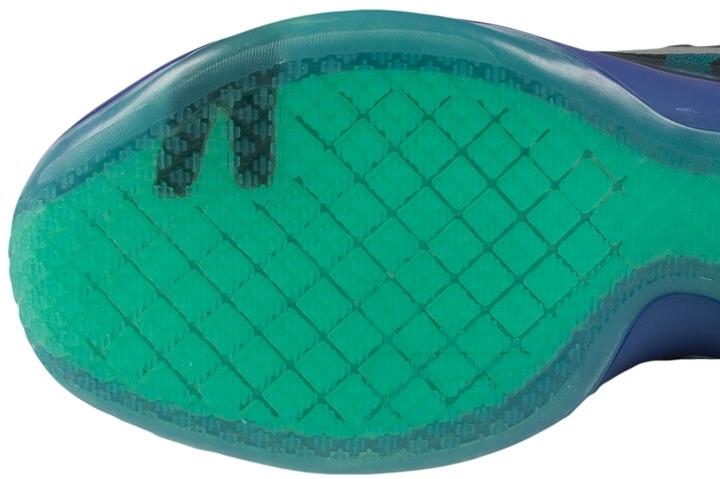 Similar to the treads on performance racecar tires, the Nike Kobe 10 boasts hundreds of "nodules" that grip the floor. This new traction system works with the Nike Free-inspired midsole that splays and flexes; providing maximum grip without any distractions.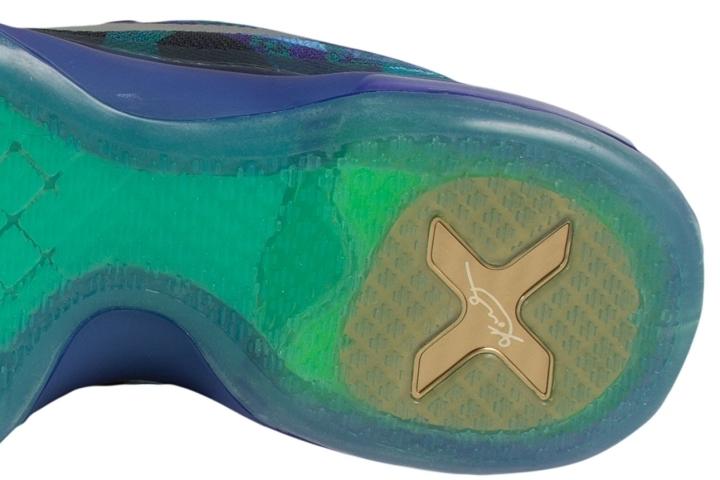 Fit
Length and Width. These low-tops from Nike reportedly run true to size. However, wearers are warned that the Kobe X runs a little narrow at the forefoot.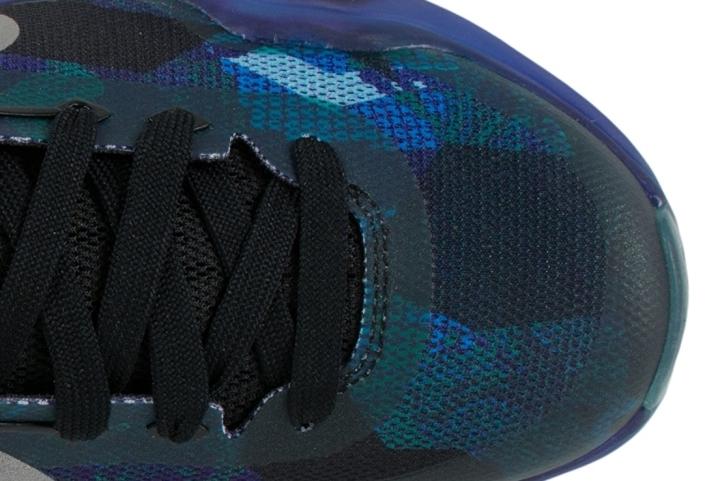 Lockdown. These signature Nike basketball sneakers feature a lace-up closure that proffers a comfortable fit. At the forefoot, a carbon fiber shank increases support and responsiveness while cutting and accelerating.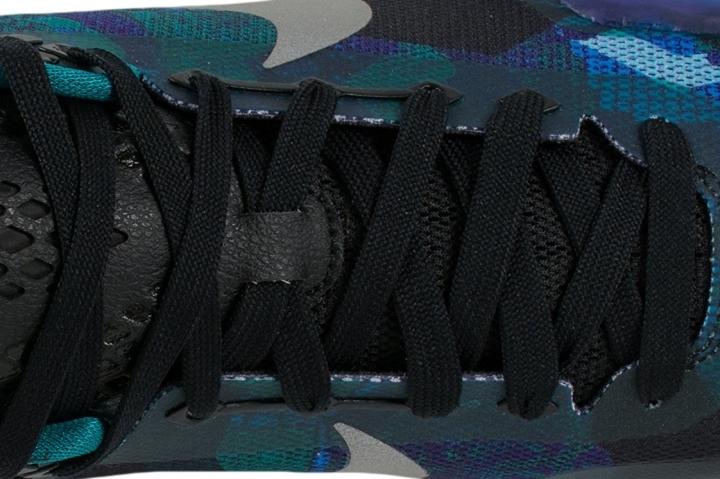 Material
The Nike Kobe 10 features a seamless textile upper that provides lightweight support and breathability. Unlike traditional mesh, the Kobe 10's advanced textile is stronger and more durable. Inside, a mesh cleatie increases the shoe's ventilation while also providing a comfortable fit.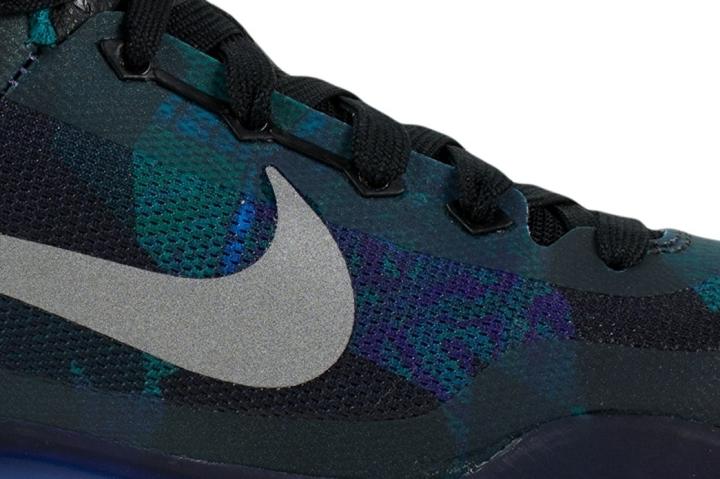 Style
According to Kobe, "Innovation drives you to new places. The KOBE X combines strong design from the past together into a modern look for the future."
The Nike Kobe 10 features a new open-weave design that is inspired by the pattern and strength of sharkskin. The tongue boasts a nubuck fabric with a mamba-inspired snake scale pattern.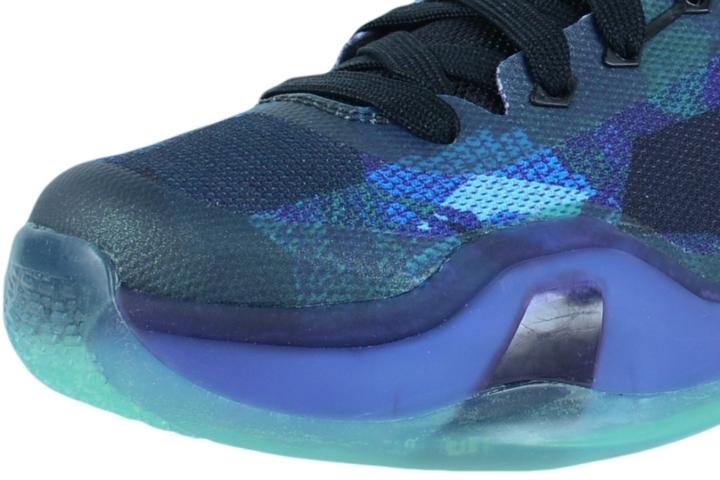 The left heel features red lines that represent Bryant's resilient return after a devastating Achilles injury. Doctors used four feet of stitching thread to repair his torn tendon.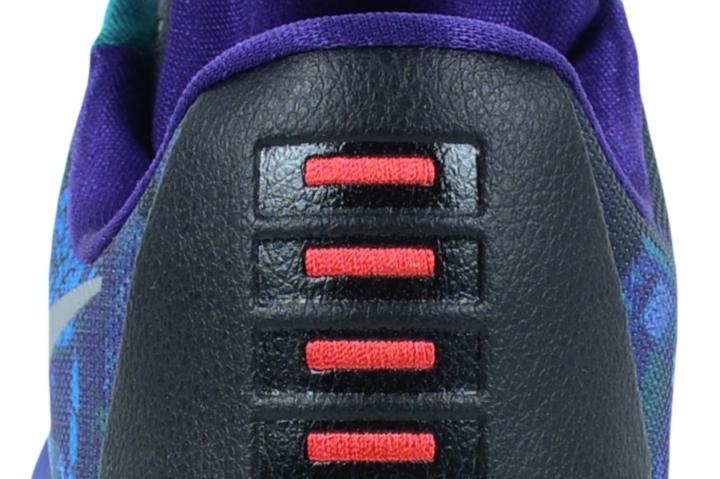 Colorways
Kobe Bryant's tenth signature basketball shoe with Nike is available in the following colorways.
Black/Black-Persian Violet-Volt 'Blackout'
Black/Bright Crimson-Anthracite
Black/Bright Crimson-Black-Metallic Gold
Black/Crimson
Black/Metallic Silver-Rdnt Emrld-Dark
Black/Multi-Color-Volt 'All-Star'
Black/Radiant Emerald-Dark Grey-Metallic Silver 'Liberty'
Blue Lagoon/Black-Vapor Green '5 AM Flight' aka 'Blue Lagoon'
Deep Emerald/Metallic Silver-Green Shock
Emerald Glow/Reflect Silver-Court Purple
Hot Lava/Sunset Glow-Black 'Easter'
Metallic Gold/Black
Merlot/Metallic Gold-Villain Red-Total Orange 'Silk Road'
Poison Green/Sequoia-Squadron Green-Volt 'Green Vino'
Soar Blue/Metallic Silver-Deep Royal Blue-Green
Teal/Black-Bright Citrus 'Flight'
Teal/Reflect Silver/Black/Wolf Grey
Tumbled Grey/Night Silver-White-Black
University Red/Reflect Silver-Photo Blue
University Red/White-Bright Crimson-Hot Lava 'Majors'
White/Black-Wolf Grey
Nike Kobe 10 '5 AM Flight'
The '5 AM Flight' colorway is inspired by Bryant's 40-foot early morning jump from a diving platform. The leap symbolizes his perseverance to overcome adversity and face fear head-on.
Nike Kobe 10 'Blackout'
This colorway pays tribute to Bryant's relentless workouts that require mental and physical perseverance. "When I'm really feeling it…. I work out until I black out," Bryant says.
Nike Kobe 10 'Silk Road'
Bryant has connections to both Europe and Asia. He spent his childhood in Italy and as an adult, enjoys traveling to Greater China. Because of this, the legendary Silk Road is used as an inspiration for one of Kobe X's colorways.
Nike Kobe 10 'Vino'
Bryant understands that on-court success can only be achieved by solidifying the trust and bond between teammates. The Kobe X 'Vino' colorway is inspired by the Lakers' off-court team dinners with wine.