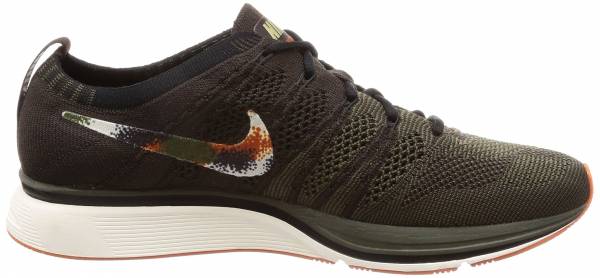 The Nike Flyknit Trainer sneakers utilize the innovative Flyknit technology to produce lightweight and breathable shoes that spell comfort. Based on many reviews, the sneakers are stylish and are excellent for lifestyle use. The kicks would also be perfect for most gym or training activities so long as those don't require having a stable base. Don't expect much padding from these sneakers as they're supposed to be as light as can be, which is not a bad tradeoff at all.
---
Verdict from 100+ user reviews
8 reasons to buy
Many reviewers are calling the Nike Flyknit Trainer shoes 'comfortable' with one user likening them to wearing socks.
Some have commented that the Flyknit Trainers from Nike feel light on the feet, much like walking barefoot.
A lot of testers have said that the kicks look amazing and would be great for leisurewear.
One of the many positive comments about Nike Flyknit Trainer sneakers is that they're very breathable.
According to some consumers, the shoes are suitable for any activity that does not need a stable base.
Some testers have expressed happiness that the shoes came out in a variety of colorways.
One user has noted that Flyknit Trainer casual shoes look and feel very durable.
A satisfied buyer has commended the sneakers' grip which helps him plant his foot firmly on the ground even on cold, wet, and slippery days.
3 reasons not to buy
Based on many reviews, the heels of the Flyknit Trainer casual shoes keep on slipping.
Many feel that since the shoes have a low tongue design, the laces are not secure enough to keep the feet in.
Some think that the shoes did not have enough cushioning in the soles.
Bottom line
The Nike Flyknit Trainer sneakers utilize the innovative
Flyknit technology
to produce lightweight and breathable shoes that spell comfort. Based on many reviews, the sneakers are stylish and are
excellent for lifestyle use
. The kicks would also be perfect for most gym or training activities so long as those don't require having a stable base. Don't expect much padding from these sneakers as they're supposed to be as light as can be, which is not a bad tradeoff at all.
Best price from 30 shops
We earn affiliate commissions at no extra cost to you when you buy through us.
83% say it's true to size.







Size and fit
Nike Flyknit Trainers are unisex shoes. They utilize a FlyWire lacing system that not only securely closes the shoes but makes the entire uppers of the shoes adapt to the shape of your feet. Heel tabs provide an easier way to get them on or off the feet.
Nike Flyknit Trainer Style
Nike's Flyknit Trainers are versatile shoes that combine function and fashion seamlessly. With the wide range of colorways that range from subtle and low-key to bold offered for this silhouette, there's something to suit every taste and preference.
The lightweight Nike Flyknit Trainers are good performance shoes but work best as leisurewear. Follow the style guide below for tips on how to wear them:
Casual days mean comfy clothing.
Men - A short-sleeved button-down polo shirt, ripped jeans, and a bomber jacket would look amazing on days when you just want to hang out.
Women - These shoes would look cute with denim shorts, a tie-dye cropped shirt, and your favorite designer bag.
These sporty kicks can be worn for smart-casual occasions.
Men - Style up these sneakers with black pants, a white tee, and a grey blazer. The atmosphere colorway would be perfect for this.
Women - Black pants, a black turtleneck, and a camel overcoat would look good when paired with the triple black, siren red/Persian violet, or night purple colorways.
Notable Features
The most striking feature of the Nike Flyknit Trainers is their use of the renowned Flyknit technology, which has recently made the transition from using manufactured polyester to recycled polyester as the yarn core of its shoes. The Flyknit technology now makes use of recycled PET bottles to produce new yarn and convert these into the fabric. Fact nature lovers would surely appreciate.
Breathability and lightweight comfort are key characteristics of these sneakers too. But performance aside, these kicks would not disappoint when it comes to the style department. In fact, you'd be almost guaranteed second and third looks (maybe a few surreptitious glances too) when taking these babies out for a walk.
Nike Flyknit Trainer History
The Flyknit was first introduced in February of 2012 on the Nike Flyknit Racers. It was a revolutionary method of making shoes using just one piece of fabric and where every stitch is micro-engineered to create form-fitting, light, and seamless uppers. This technology came about from four years of research as well as 40 years of applying knowledge gained from working with runners.
The Flyknit aimed to reduce as much weight as possible by trimming away all unnecessary parts and produce a shoe that would give the feel of a sock but with much more support. Fyknit shoes on average weigh about 2oz lighter than cut-and-sew sneakers.
The Flyknit tech also made it possible to do away with everything that wasn't considered essential, while at the same time, no sacrificing of benefits. In fact, it was so successful at cutting off unnecessary material that more than four million pounds of waste have been reduced when you compare it to other shoes that use the cut and sew method. Since Flyknit fabric now also use recycled polyester yarn, 182 million bottles have been diverted from landfills for use in making the material.
The stage was set where this revolutionary new fabric was to be tested, and there was no better event nor place for it than the London Olympic Games. The athletic world was already used to such fabrics as mesh and waited with bated breath what this new tech was all about and how much of it was different. They weren't disappointed. The shoes were just as they were advertised to be: breathable, light, and fit so well that you might as well be barefoot. Nike's Flyknit Racer weighed only 160 grams, 19% lighter than the lightest shoes runners favored at the time—the Nike Streak 3.
The second model to be outfitted in the Flyknit was Nike's Lunar Flyknit Trainer HTM, debuting in the same month as the Flyknit Racer. This limited edition HTM release (designed by the magic trio of Hiroshi Fujiwara, Tinker Hatfield, and Mark Parker) combined the Flyknit with Lunarlon soles for extra responsive shoes that gave an enhanced fit.
Due to the overwhelming response to the tech and the impressive looks of the shoes, the Flyknit technology has since been applied to various Nike shoes spanning six categories that include basketball, soccer, training, U.S. football, sportswear, and running. The tech fully merged sports and fashion that it was hard to see where one began and the other ended.
The new Flytech system
The tech has not simply been dormant. It has continued to evolve. From the traditional way of manufacturing the fabric by knitting flat uppers then attaching them to the midsoles, a new advancement in tech now allows for the whole fabric to be constructed in the 360-degree form to entirely wrap the user's feet. Nike calls this Flyknit 360.
Anatomical forms that mimic the shape of the feet are used for the new weaving system. A thermoforming process that adds shape to the fabric and provides support underfoot follows next, resulting in a Flyknit that feels so much more like a second skin. And because this new process wraps the feet completely, in-shoe movement is reduced while speed and mobility are emphasized.
Nike's Flyknit tech is here to stay. And it looks to break more new boundaries yet.
Nike Flyknit Trainer Shoes
Nike Flyknit Trainer sneakers first dropped in July of 2012. Many Olympic athletes wore them to the medal stands, but the kicks really achieved fame after Michael Phelps climbed the podium six times to receive his medals wearing a bright-yellow pair of shoes. Suddenly, everyone wanted one, never mind the slightly more expensive price tag these kicks carry.
The sneakers paved the way for the sock shoes we see in the market today, somehow similar in look and feel except these still contained laces and tongues. The shoes feature Nike Zoom Air in the soles for lightweight comfort and usually contain dual-toned midsoles.
Flyknit Trainers originally launched in a White/Black colorway along with nine other additional colors including "Volt" (the ones Michael Phelps wore).
In 2013, Nike released new colorways for the silhouette but also stopped the circulation of the shoes in that same year. Fast forward to 2017, to celebrate the silhouette's 5th anniversary, Nike brought Flyknit Trainers back by dropping a white/black OG along with several more colorways. A second reissue of the OG kicks came out in February 2018.
Colorways
2013 was a prolific year for Nike Flyknit Trainers in terms of colorways released, which was maybe a kind of goodbye treat for fans of the sneakers since the shoes would be discontinued before being reissued years later. April saw neo turquoise and bright crimson/white shades drop which contained flat laces instead of the tube ones previous models sported.
August saw three colorways dropping. These are squadron blue/white-pink flash, squadron blue/white-blue glow, and black/white-blue glow-volt. The pink and blue kicks had half the shoes covered in squadron blue while mostly pink graced the forefoot. The other Squadron blue colorway had a blue-on-blue theme while the black, white, and blue glow sneakers featured multi-colored uppers that were complemented by a blue stripe running across the sneakers' white midsoles.
September's release had two bright colorways that had neon inflections. These are the pink flash/laser orange-raspberry red and chlorine blue/volt-dark obsidian colorways. The former featured vibrant pink and red uppers complemented by orange Swoosh logos and balanced by white midsoles. The latter colorway, meanwhile, saw predominantly blue uppers contrasted by bright yellow Swoosh logos and resting atop clean white midsoles.
After becoming discontinued for three years, Nike's Flyknit Trainer came back as casual shoes, and they did so with a vengeance. The retro runners released on July 27, 2017, in its OG color, black/white. Other colorways popped out one after another for every month thereafter, including cirrus blue (September) bright citron (October), night purple (a deep purple tonal colorway in November), and medium olive (a green hue in December). These releases featured round laces similar to the silhouette's 2012 models.
A very cool-looking triple black colorway came out in the early part of 2018 alongside a new rendition of the famous OG colorway of black and white but with uppers that are more based on black rather than white.
March, meanwhile, was the time of bold colors. Cargo Khaki/bright citron and siren red/Persian violet were strong and eye-catching shades that would be a direct contrast to what would come out a month later from the brand. The atmosphere colorway was all about subtlety wrapped in soft tones of grey and blue while the white/gum colorway evoked crispness and clean fun with its classic, timeless finish.
This Nike silhouette seems unstoppable which is a blessing indeed for its fans who treat the shoes as cult classics. Other colorways have been released, and it is to be hoped that still others will be in the future.
Nice to know
The Nike Flyknit Trainers weigh in at around 8.4 oz.
During Nike's SNEAKRS app released in Europe back in August of 2017, highly sought-after silhouettes from that year were restocked and sold in limited quantities.
The six sneakers included the Nike Flyknit Trainers in OG form along with the Air Jordan "Space Jam," Nike Air VaporMax in triple black, Air Max 97 "Snakeskin", Air Jordan 1 "Gotta Shine," and Air Jordan 1 "Royal."
Waffle patterns on the rubber outsoles provide traction.
High-wear areas contain reinforced outsole pods for added durability.
Popularity
The current trend of Nike Flyknit Trainer.