I have been both surprised and impressed by how good the Nike Epic React Flyknit is. It's a very fast shoe that I've found myself reaching for when I know I want to get moving. It's not perfect by any means but this is the closest I've ever got to putting my minimal shoes away for good.
Pros
Incredibly responsive
Very comfortable
Supportive upper
Toe room
Effective lacing system
Lightweight
Fast
Cons
Crazy heel shelf
Upper is too open for debris
Too much arch support
Quite expensive
Nike Epic React Flyknit review
I'm a tall, medium build, supinating, fore-midfoot striker and I train mostly in barefoot/minimal shoes.
But because I enjoy trying new things out so much I'll give anything a go at least once… enter the Nike Epic React Flyknit!
Because on the face of things, the React looks like something designed more for its look than its function, I thought I was going to hate it.
In fact, I sort of wanted to hate it. The problem is it's annoyingly good!
Responsive ride, mile after mile
React foam technology - according to Nike, "The Nike Epic React Flyknit combines a Nike React foam midsole with a Nike Flyknit upper to deliver a lightweight and soft yet responsive ride, mile after mile".
Nike React foam gives 13% greater energy return than Nike Lunar foam, while still delivering a soft and snappy ride.
As a direct comparison to the Nike LunarEpic Flyknit 2, the Nike Epic React Flyknit is 5% lighter, 11% softer and provides 10% more energy return (though I'm not sure how much energy return you get from Lunarlon cushioning so can't compare).
Mileage expectancy
Nike state that the shoes cushioning still feels like new after roughly 300 miles. So these should last for a decent amount of time.
Optimized traction in the Epic React Flyknit
Nike has only put rubber in places where it says it's critical. According to data they collected, they've put the grip on the toe and heel only.
It is like wearing slippers on a mattress
According to Nike the "flyknit material contours to the shape of your foot, creating a snug, hug-like feel".
With the bootie-style construction, the tongue is seamlessly part of the upper. This eliminates the pressure a traditional tongue puts on the top of your foot.
Combined with the bouncy-soft feeling of React underfoot, it's like you're wearing slippers on a mattress.
Design overview of the Epic React Flyknit
I find the overall appearance of these Nike runners to be quite ugly. Perhaps a sign of my age, but I really just do not understand the need for the insane heel (more on this later on).
The upper in general is appealing and looking down on them from above they look quite nice and understated.
Once you look at them from the side there's a little bit more going on but it's still nicely subtle. There's a Nike tick overlay but that's about it and as you move to the back end it's a different story. For me personally, it's all too odd!
I quite like the wrap around the heel with the word Nike on it and I don't mind the use of colors and accents, however, I'm not totally convinced that the combinations are always good together.
I'm much more a fan of plain colors with the occasional complimentary highlight or accent color.
But I suppose it all comes down to personal preference in the end. Some of my work colleagues really like the look of the React, but it's mostly the younger chaps.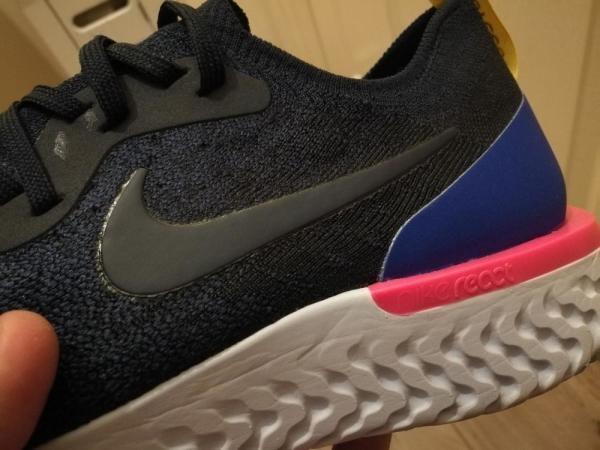 It is very comfortable
Looking at the shape of the toe box I thought that my feet would feel squashed but the flyknit upper of the React is very comfortable. The material stretches nicely to accommodate my feet and I haven't once felt as though my toes don't have enough room in them.
One drawback about the upper being so breathable is that it's exposed to sand and debris getting in. I do a lot of my running along the seafront and there's inevitably always going to be sand.
I haven't had any make its way into the React yet, however, I know it's just a matter of time. I certainly won't be taking these on the sand itself because that's a definite recipe for blisters.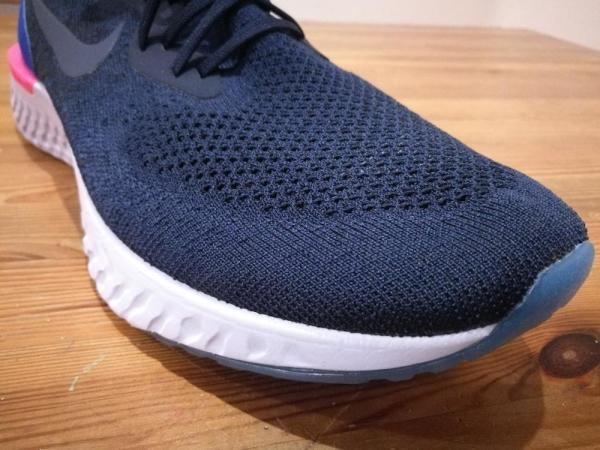 There is reinforcement in the areas where the lace holes are, which I assume are there to give some strength to the flyknit material and stop it stretching or tearing.
Overall, the upper feels very lightweight but good quality and I don't think it'll get too easily damaged.
Unless of course, you're mad enough to want to take these road runners on the trail, but the upper being damaged might be the least of your problems in that case.
Nice flat wide laces
The laces on the React are nice flat, wide ones.
They grip well and because they're flat they don't cause any unwanted pressure points along the top of my foot when I'm strapped in.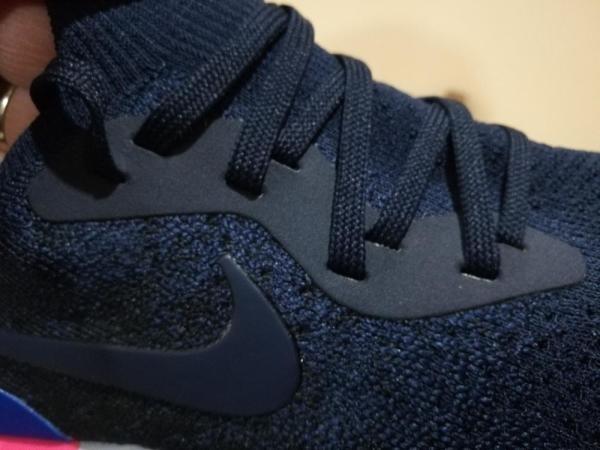 Nice heel counter
The heel counter is nicely designed. It hugs the back of my foot really well. The wrap around on the outside offers some extra stiffening. There's also a suede inlay inside the heel which is meant to reduce slippage.
I've not found that the suede makes too much difference. My hunch is that if these shoes fit correctly, they'd be stuck like glue!
Seamless upper of the Epic React Flyknit
Because of this, there's not really much of a collar to speak of. It's a very thin and flexible, elasticated material that wraps nicely around the ankle.
There's also a pull tab to aid with getting your heel in but I've actually found it harder to use that then to pull the collar back and push my foot in that way.
Integrated upper
As with the collar, the tongue is integrated with the rest of the upper. It's very comfortable and you don't get any pressure spots from it at all.
There's enough elasticity in it that it doesn't bunch up when I tighten the laces and the tab at the top of it is sufficient enough to grab hold of when putting the shoes on.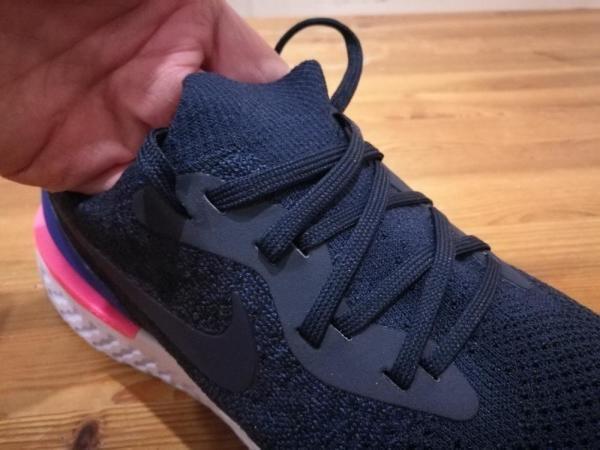 Sole of the Epic React Flyknit
The gals & guys at Nike have created something really interesting here.
As soon as I found out that the React had a new foam technology and that they had spent a lot of time and money collating data to figure out the perfect sole design, I was excited to try them out!
One of the first things you'll notice is that there are a whole load of numbers that Nike mention about the foam but to be honest they all mean nothing really unless you have another load of numbers to compare them to.
So that aside, the main points to take from the sales bluster are that the foam should feel very soft but also have a very good energy return to it.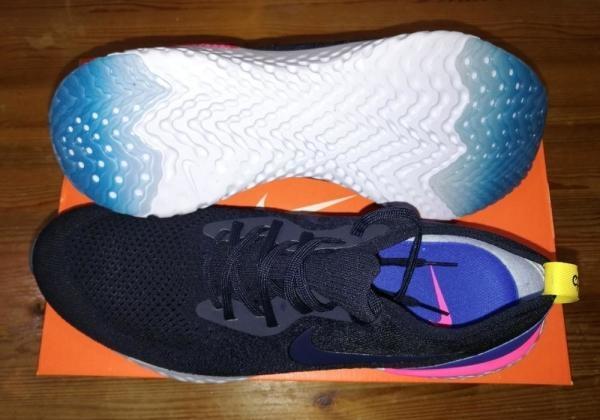 I have to say that as skeptical as I was, the foam technology doesn't disappoint!
The first time I put the React on my feet I was stunned by how springy they felt, but also how cushioned they were when I wasn't bouncing about the place.
The first run I took them on I got a PR for 2 miles. Needless to say, these shoes are fast ones!
Nike also claims that the shoes will feel like new even after 300 miles but only time will tell on that one.
Because the outsole rubber is only at the very end of the toe and the heel I was a bit concerned at first. It means that as a fore-midfoot striker I land on the foam with every stride.
To begin with, I thought that the foam was wearing down really quickly, especially on the outer edge where I land first, but on closer inspection, it's barely worn at all after 53 miles of almost pure road running.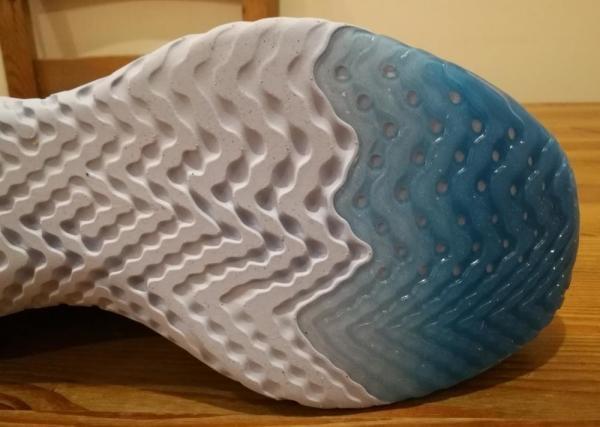 I do think that the midfoot area would benefit from some rubber and if the heel shelf was gone the weight difference would be negligible. For the most part, I think Nike has done a great job here.
My one major problem with the sole build is the 10mm heel to toe drop. It's just way too much for me personally. If the drop was more like 5mm or less than I wouldn't be able to fault the sole at all.
Another issue I have is the big heel shelf thing. The only thing I can see that it's doing is adding weight. Nike claims it's for stability, but if you're landing that far back on your heels i think something may have gone wrong somewhere.
For me, as a midfoot striker the heel doesn't see any action whatsoever so it's redundant.
Support of the Epic React Flyknit
There's a little too much in the way of arch support for me personally.
It's not overwhelming but my feet are used to no support which meant the underside of my feet felt a bit sore after a few runs where the arch support had been pressing on them.
Thankfully, it's not a crazy high arch where the sole is so soft and it doesn't cause too many issues.
Flexibility
The front half of the React sole is nicely flexible but once the sole starts to really thicken up it all gets a lot stiffer.
I can't say it's been an issue for me though and I've enjoyed the relatively free feeling I get when I'm wearing these.
When I think back to when I was testing the Inov-8 Parkclaw 275 GTX's these are infinitely more flexible!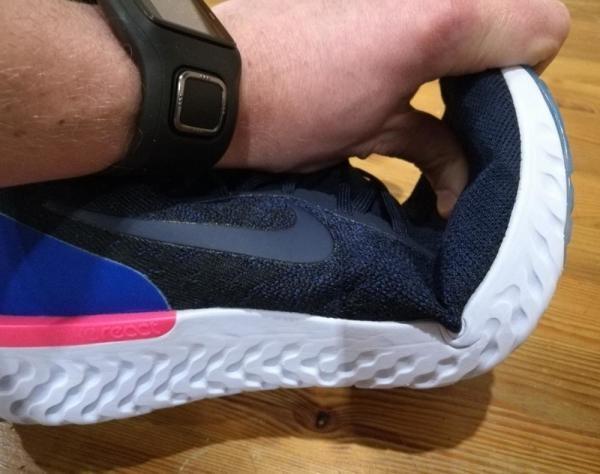 Simple but effective tread
The React have a very minimal zig-zag type tread in the two small sections of outsole rubber. It's simple but effective.
Grips well on all weather
The shoe seems to grip really well on the road and in all weather conditions. Occasionally in the wet surfaces, I have slipped a bit however that isn't because the tread isn't grippy, it's because it's not there!
On the odd couple of occasions that I've had to cross some grass or mud, things have got pretty sketchy. It goes without saying that you really don't want to be taking these off-road.
Where I mostly run in the dark, I also had the misfortune of hitting some dog poop and we all know that there's nothing that can grip on dog poop. The React is no different.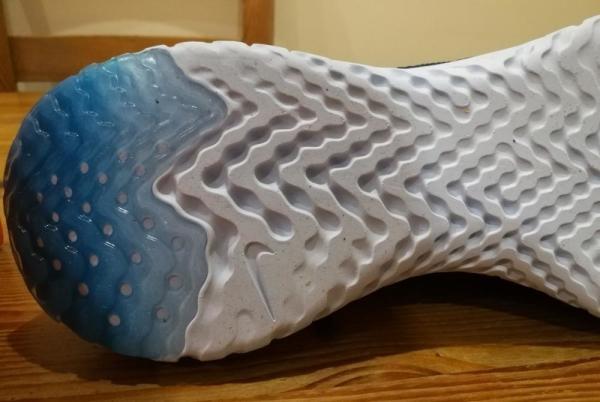 Fit & comfort
As I've mentioned before, I decided to go half a size bigger than my usual size in these shoes. I thought my toes would be cramped in the toe box. I definitely think I made a mistake.
Because the 11.5 is a bit lose on me, my feet slip about a bit too much when I'm running along and I've been getting a lot of hot spots and blisters.
I can't say for certain if a smaller size would have cured this but it definitely would have helped at least.
Overall, they fit well and are very, very comfortable.
Even though I am a fan of minimal shoes like the Vivobarefoot Stealth 2, I can almost live without the ground-feel for the amazing level of comfort the React offers!
Surprising amount of toe space
To look at you'd think they would feel tight but my toes splay nicely in these when I run. The Flyknit material is stretchy enough to allow freedom whilst still offering enough support that my feet don't feel unstable.
Snug heel fit
The fit on my heel is snug and very comfortable. It's not too loose and not too tight.
The suede layer also ads a nice bit of added comfort even if that's not really what it's for.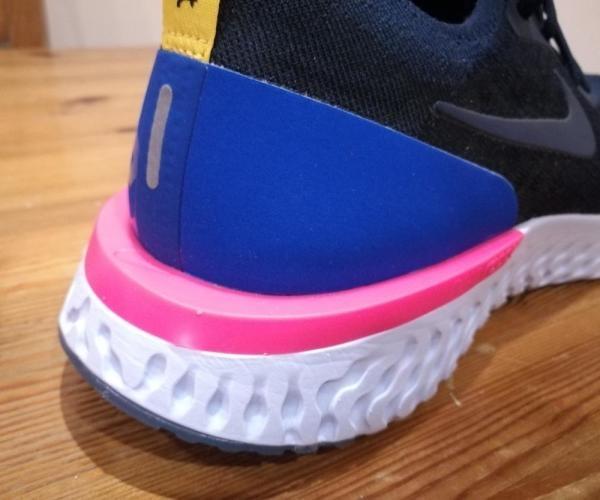 Epic React Flyknit performance
In summary, I have been very impressed with the performance of the React.
I haven't worn them as my day to day shoe as I find them far too cushioned and way too weird looking but for running they are pretty "epic."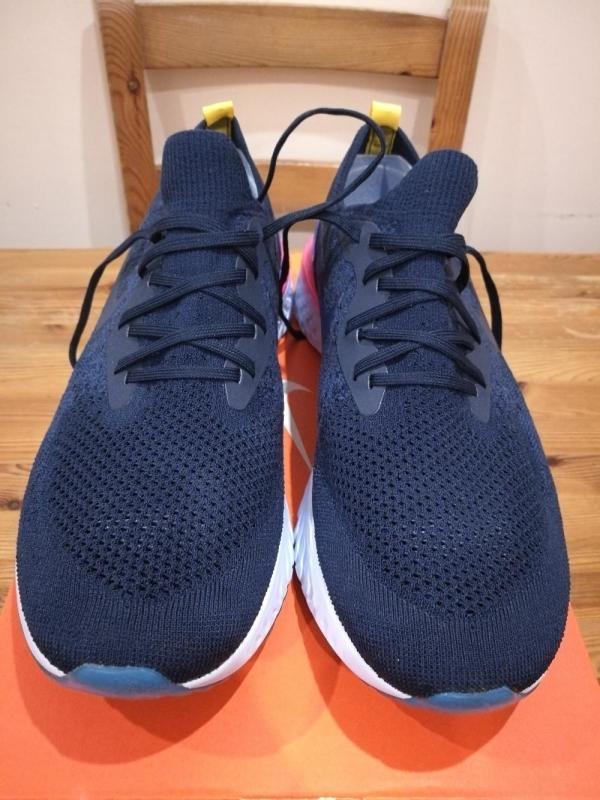 On the road
The React being a road shoe was designed to work specifically on the road and it really excels here. Gripping well and giving great responsiveness mile after mile.
No matter how tired my legs have gotten on hard training runs, I've never felt as though the React were weighing me down at all.
If anything, it felt more like they were the thing propelling me onwards!
For speed
I've been training quite hard recently. Putting in a lot of tempo runs and interval sets for an upcoming 7 mile, multi-terrain race I'm running in. I've pretty much used the React for all of my training in place of my usual barefoot training shoes.
These beasts might not be the lightest on paper but they feel really light on my feet and they feel really fast!
So far during my training tempo sets, I've set new PR's at 2 miles, 4 miles, 6 miles and 10k. The only one to elude me so far is my 5k time which I'm sure I'll be able to beat fairly soon too!
Needless to say, the React is a great shoe for speed training and intensive runs.
For distance
I haven't really hit too many long runs in the React but it seems to fair pretty well.
Its lightweight nature means it's not laborsome to run in, however, a lower drop shoe would have been preferable for very long runs.