According to football players, this Nike cleat is stylish, comfortable, supportive, and durable and is a good all-around football cleat that gets things done on the field. Many are quite pleased with the overall aesthetic and performance of this second Alpha Menace Elite which is perfect for defensive and all-around players to execute their plays successfully.
Pros
Great style
Superb comfort
Great for defensive and all-around players
Durable for intense plays
Worth the price
Lightweight
Excellent traction for explosive movements
Secure fit
Excellent traction
Cons
Not great for players who wear an ankle brace
Limits ankle movement
Requires break-in time
Who should buy the Nike Alpha
Menace
Elite 2
This Nike football cleat is a good match for you if:
You play a defensive position and are looking for a shoe that offers power and agility
You are after a football cleat that is lightweight and can manage intense plays
You prefer a boot that offers excellent traction for smooth performance on any type of turf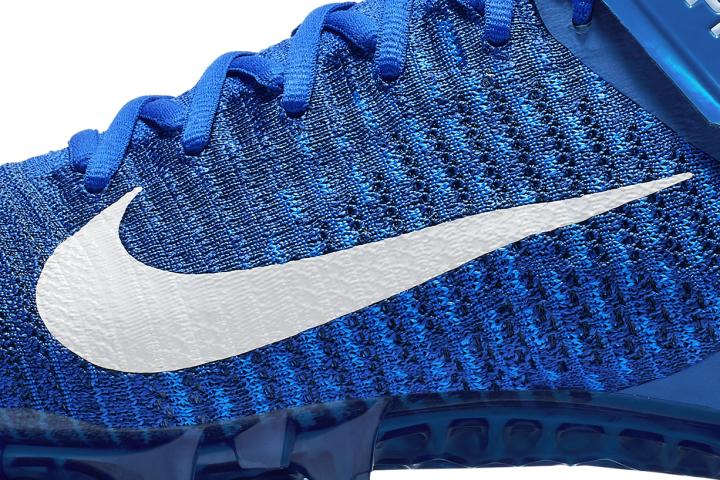 Who should not buy the Nike Alpha Menace Elite 2
Footballers mentioned that this Nike Alpha Menace cleat limits their ankle movement and requires a break-in period. The Nike Alpha Menace Shark and the Nike Alpha Menace Varsity offer good ankle and heel support.
Nike Alpha Menace Elite 2: Power and speed
Many athletes mentioned that the Nike Alpha Menace Elite 2 enables them to sprint on the field without any worries. Most of them attested that it gives them great support, containment, and stability.
Breathability at its finest
Footballers love the second Alpha Menace Elite because of its breathability. At the midfoot, players also mentioned that the hook-and-loop strap ensures a snug fit.
Fits true to size...
Many athletes praised this pair as it offers a comfortable one-to-one fit and accommodates their feet snugly. However, some also mentioned that this pair is not ideal for athletes who prefer to wear an ankle brace during games.
...but needs break-in time
Several footballers have complained about the stiffness of the cleat, which restricts their movements on the foot and ankle. However, some have mentioned that this issue has been fixed after wearing the pair many times.
Stability and flexibility in one? Check!
People who bought this pair commented that they can maneuver the ball for tricks smoothly due to the stability and flexible grip this shoe brings on any playing surface. This is made possible because of its data-engineered outsole plate.
Great support? The Alpha Menace Elite 2 does not
disappoint

!

Footballers attested how the Nike Alpha Menace Elite 2 leaves no room for heel slippage as it cradles the foot completely. It makes sense given that the shoe boasts an internal saddle with sidewalls wrapped upwards to contain the foot.
Plus, several find the shoe's support and responsive feel top-notch.
Perfect for quarterbacks
With its long, triangular studs that grip the ground with ease, quarterbacks find it easy to change directions and dodge defenders in the pocket.
Nike Alpha Menace Elite 2: Built for multidirectional threats
All-around footballers have nothing but praise for this shoe. Several players commented that the Nike Alpha Menace Elite 2 protects and locks their feet onto the footbed, which is perfect for multidirectional threats.
Excellent sole for the key player
Key players in the field praised this pair as it protects their feet from the worst hits and tackles on the field and enables them to run faster due to it being light. Some also mentioned that the shoe shows no sign of wear and tear even with frequent use.
Made from advanced technology
Equipped with TPU yarns on the forefoot, players attest that it adds strength and protection to the vulnerable areas of the foot. Since this material is flexible, durable, and wear-resistant, athletes mentioned that the shoe protects their toes from getting crushed should it get stepped on or during a collision.
[/outsole]
Additional Info
The Nike Alpha Menace Elite 2 features a Phylon midsole that offers lightweight cushioning.
Pull tabs at the heel and tongue allows for easy on and off.
These football shoes are designed for Pros such as Saquon Barkley and Russell Wilson.
Special Colorways of the Nike Alpha Menace Elite 2
The second Alpha Menace Elite arrives in the following color options:
Black/Black/Total Orange/Bright Crimson
Black/White/Dark Grey
College Navy/White/Blue Void/Deep Royal Blue
Game Royal/White/Photo Blue/College Navy
University Red/White/University Red/Bright Crimson
White/Black/Wolf Grey
White/Bright Crimson/Black/Bright Crimson
White/White/Black/Bright Crimson
White/White/Wolf Grey