Nike Air Zoom Streak LT 4 review
82
The Corescore is a score from 0-100 that summarizes opinions from users and experts. Below shows the distribution of scores for all track & field shoes.
Verdict
The Steak LT 4 is a good road shoe with so much potential. The sole is really really good. So good that I'm finding it hard not to wear these shoes despite them being too tight for me.If you're looking for something that'll pretty much do everything from long runs to tempo runs to race day, then this could well be the shoe for you.
Pros
Lightweight
No frills
Fantastic sole
Great grip
Responsive
Cons
Too tight
Could be more responsive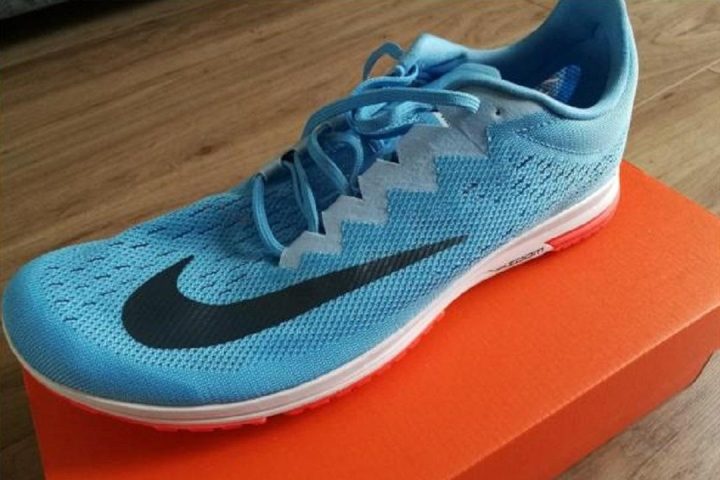 71% say it's true to size.
Comparison to similar track & field shoes
| | | | | | | | |
| --- | --- | --- | --- | --- | --- | --- | --- |
| CoreScore | | | | | | | |
| Users rating | | | | | | | |
| Experts | | | | | | | |
| Best price | | | | | | | |
| Ranking | | | | | | | |
| Popularity | | | | | | | |
| # of colorways | | | | | | | |
Nike Air Zoom Streak LT 4 review
I'm a tall, medium build, supinating, fore-midfoot striker and I train mostly in barefoot/minimal shoes. But I'll try anything once!
In my epic hunt for a racing flat that would not only be suitable for race day but also do well over long runs and on the odd bit of off-road, I came across the Nike Zoom Streak LT4. Yes, I know, another ridiculously long name for a shoe. One that I'll be referring to it as the Streak LT4 for the rest of this review.
Although not entirely a true flat racing shoe, the Streak LT4 seemed to tick most of the boxes, and I was excited to see how they matched up to my specific needs. Could these be the racing version of the brilliant Epic React Flyknit I've been hoping for?
Tech Specs
Weighing180g approx and size 11 UK, EU 46 (weighed by me)
Zoom Air located in the heel consists of low-profile pressurized air pockets that flex on contact for responsive cushioning
Cushlon LT is a full-length midsole foam that delivers plush, resilient cushioning
TPU Shank is a thermoplastic unit in the bottom midfoot for improved heel-to-toe transition
Green Rubber outsole provides durable traction
Waffle outsole design in the forefoot provides multi-surface traction and a touch of cushioning
Flymesh offers lightweight breathability and seamless support for an adaptive fit
Internal Arch strap provides a snug and secures midfoot lockdown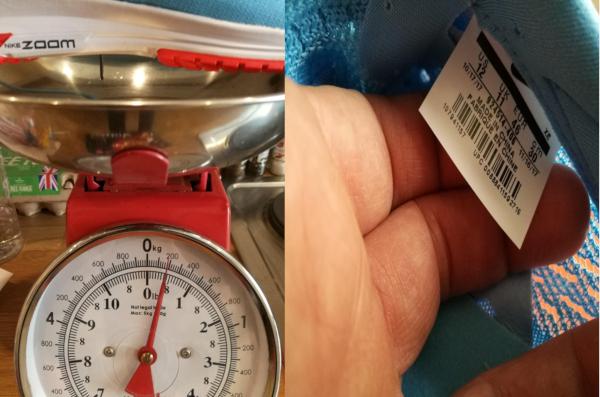 Design overview
Out the box, the Streak LT look pretty flashy. I'm a huge fan of a good orange and blue combo, but I'm not totally convinced that Nike got it right with these shades. I would much prefer the upper to be in the darker blue.
The orange of the sole looks great and holds up surprisingly well after substantial use. The Streak LT is a very light shoe; it genuinely surprised me when I first picked it up. But when you look at the design of this road shoe, you can see how Nike has made it so light.
Anything unnecessary has been stripped away, and you're left with something that's responsive and light yet still good for longer runs.
Upper
When I chose the Streak LT4 as my next shoe, I was aware that they were going to be fairly narrow. But as soon as I got these out of the box, I knew they were going to be really tight. I wasn't wrong!
The material of the upper looks as though it might have a bit of giving in it, but in reality, it just doesn't. Couple that with the internal arch straps and there's just no stretch to it at all!
I was honestly disappointed when I put them on for the first time. I'd hoped for an upper closer to Flyknit of the Epic React, now that would have been something on this shoe.
There are plenty of holes in this unforgiving upper to allow air through. However, they'll pretty much let anything in if you get unlucky. I haven't had too many issues with this, but the potential is definitely there.

Laces
Laces are one of the things that can make or break a shoe for me. Unfortunately, the laces on the Streak LT are really quite poor. You can't just tie them up with a classic bow, they fall loose after a few steps.
I've ended up having to double knot them all the time, and that's just unnecessary hassle. Nike definitely should have supplied better. For shoe lacing techniques, click here.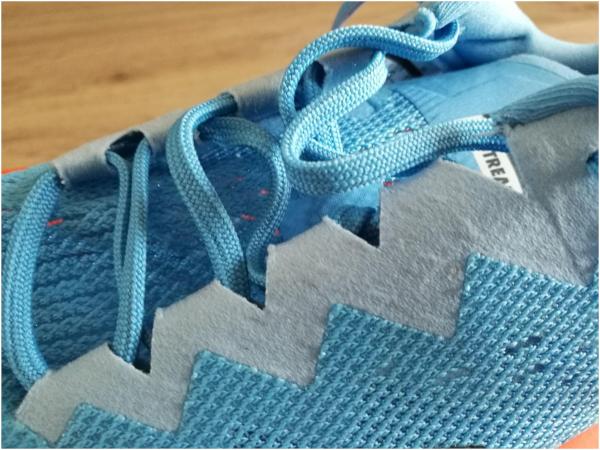 Heel Counter
There almost isn't one - but hey this shoe doesn't need one. The heel counter in the Streak LT is very minimal. I'm not even convinced it's a proper counter, but it does the job of providing structure and support. The heel is secure yet soft, it's fantastic!
Collar
The Streak LT has a very slim, padded collar. It's not intrusive or uncomfortable, yet it seems to hold my foot in snugly. To be honest, with the shoes on, you wouldn't even think about it because it's just right. Goldilocks would be very happy!
Tongue
There isn't much of a tongue on the Streak LT. It's more of a flap to hold on to while you pull them on. The rest of the tongue is mostly joined to the rest of the upper. But it has a strange internal strap on each side called an internal arch strap that is meant to lock the midfoot in.
I'm not sure what good the straps do, but they definitely make getting these racing flats on quite cumbersome because it makes them tight.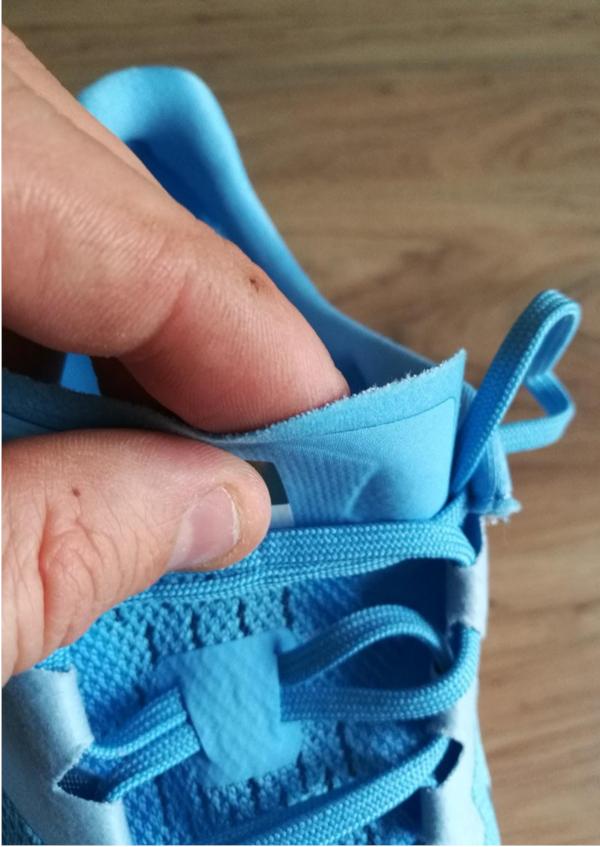 Safety
Nothing to write about here really, but for me, this is the ideal. I'm not a fan of reflective strips and rock plates. The Streak LT is a very minimal shoe, and it does what it needs to well.
Sole
The sole on the Streak LT is a little bit special. Having run on a variety of surfaces in a few different conditions, I can say that it doesn't disappoint.
It's designed with a curved sole that looks amazing. Now I'm not sure what this element of the shoe is meant to achieve, but I've found that the wear on the sole is a lot more even because of it.
I've also found that it doesn't control my foot landing as much as most other standard running shoes. Because of the curve, my foot is allowed to touch on the outside and smoothly roll down to a natural position.
The sole is responsive yet cushioned and although it's not the most flexible I find it to be very comfortable. I even smashed out an 11 miler in these, and the sole carried me every step of the way brilliantly. I'd go as far to say that the sole of the Streak LT 4 might be the best of any shoe I've reviewed to date.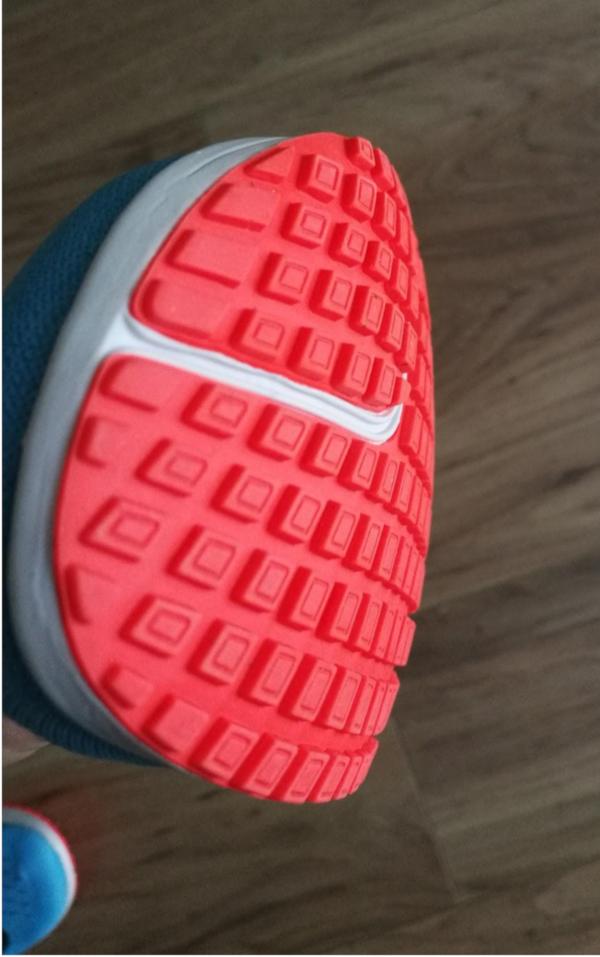 Support
The sole has adequate support, the arch isn't intrusive or uncomfortable and the drop being nice and low means that my feet sit very comfortably in them.
Flexibility
The Streak LT isn't the most flexible but then there is a plastic shank running through most of the sole. I haven't noticed any problems in this area.
However, and even though usually I'd mark a shoe down for lack of flexibility. I find the sole on the Steak LT to be good in a lot of other ways that it doesn't seem to matter so much.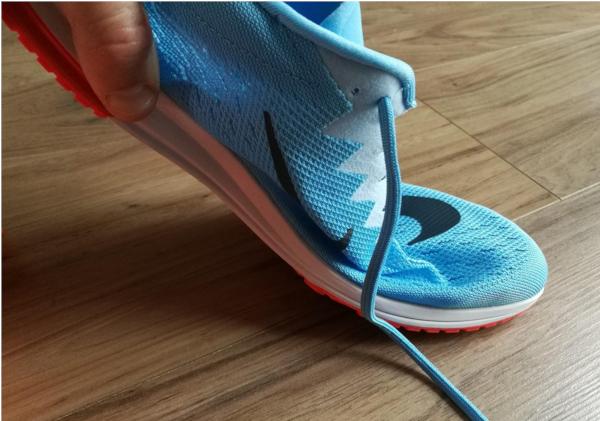 Tread
The tread of these road shoes is what Nike call a waffle pattern. It's not overly aggressive however it's no racing slick.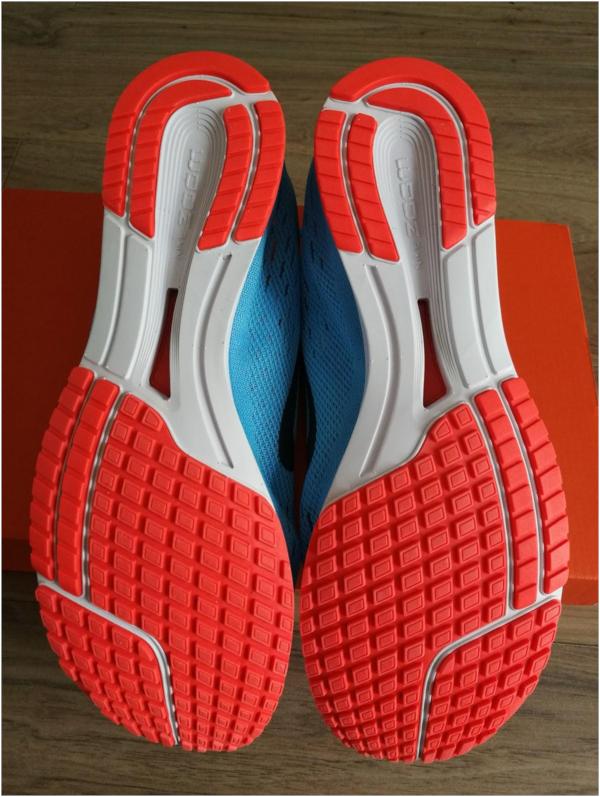 Grip
In a word - fantastic!
Initially, it felt as though there wasn't going to be much grip. However, after a couple of runs, the sole bedded in, and it's really, really good!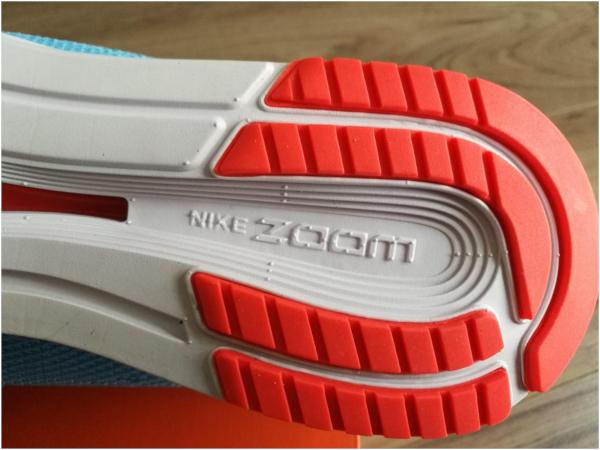 Fit & comfort
The Streak LT isn't uncomfortable, but they're not comfortable and never will be. If it weren't for the fantastic sole on this shoe, I would have struggled to do more than 1 mile in these shoes before giving up.
The upper is very tight and very restrictive. I know that these are meant to be sleek speed runners but I really don't understand how making them so tight could possibly help to improve any aspect of running.
The fact that they're so tight has slowed me down. I even swapped back to my Vibram KSO Evo's for a run and instantly moved faster. I can only put this down to my feet being so restricted and unable to function as efficiently as possible.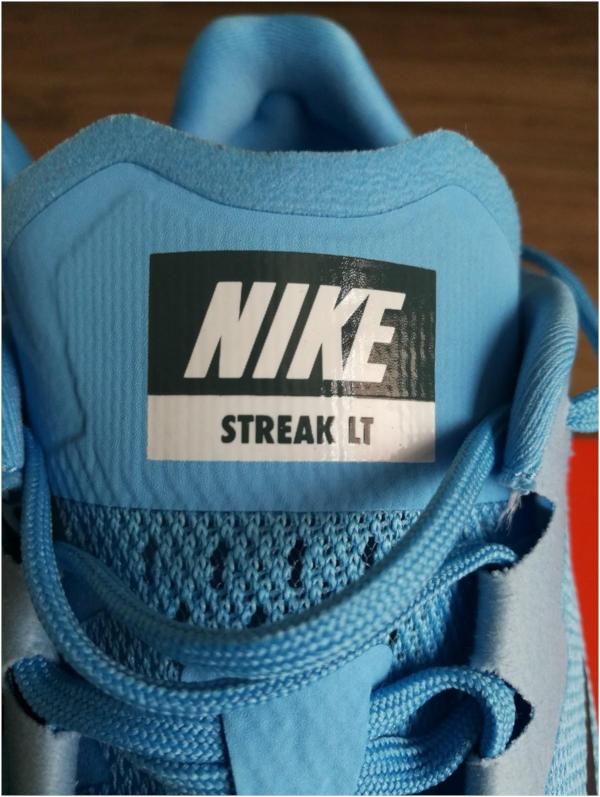 Toe box
There almost isn't one. These road shoes are very restrictive in the toe area. There is nowhere near enough room for my toes to splay properly.
Although I haven't found this to be too much of an issue and have pushed out some long runs, I'd still much prefer more space in the toe box.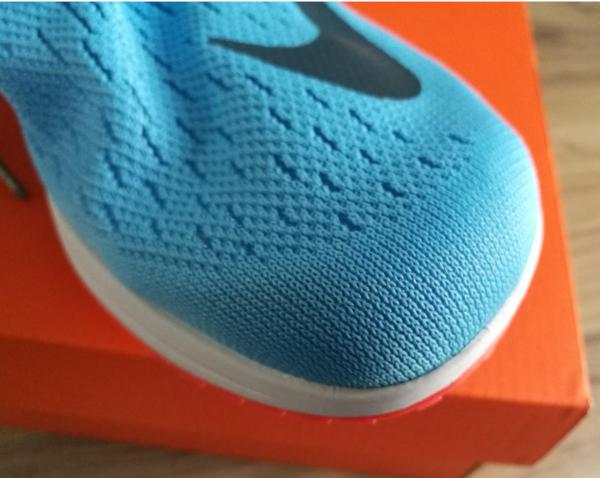 Heel
The heel on the Streak LT is actually very good. It holds my foot well without being overly bulky or hard. Although it's a feature that I'd usually skim over, I have to say that on this shoe, I think it's a standout. It does what it needs to, and it does it well.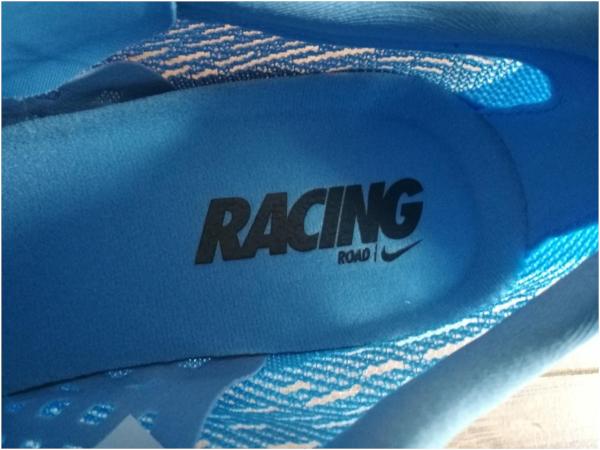 Performance
Even though the Streak LT is a very tight shoe, I cannot knock their performance. Overall, I've been impressed especially with how well they do over longer runs.
On road
As a road shoe, you'd expect these to do well here and they're not a letdown. They grip well in the wet or dry and provide a nice responsive ride with just a touch of ground perception. I've thoroughly enjoyed my miles on the road in the Streak LT.
Off road
I've not hit too much off-road with these speedy shoes. But they've coped well with the small amount I have done. They grip well on gravel and grass, though I cannot comment on wet off-road surfaces as I didn't ever face any.
For speed
The Streak LT is touted as a speed shoe, and it's not too bad at it. But I'd say that it could definitely do better. I'd say that the non-speed Epic React Flyknit feels like a faster shoe and I think that's down to the technology in the sole.
That being said I did enjoy some quick runs and some tempo runs, and they held up well. I think the fact they're so tight held me back a lot though.
For distance
Strangely, I really liked these for distance runs. The tightness seemed to be less of an issue at slower speeds and they held out well. Because they're so light and have a nice low drop, I found them to be very efficient and that helped me to maintain pace over any distance.
Compare popularity
Interactive
Compare the popularity of another shoe to Nike Air Zoom Streak LT 4:
Nike Air Zoom Streak LT 4 video reviews