Our reviews
I have to confess: It was love at first sight, and I knew I need to have it even though I had just bought a pair of running shoes two weeks ago. The color combination of olive green and black upper matched with a pumpkin orange sole gripped me and refused to let go.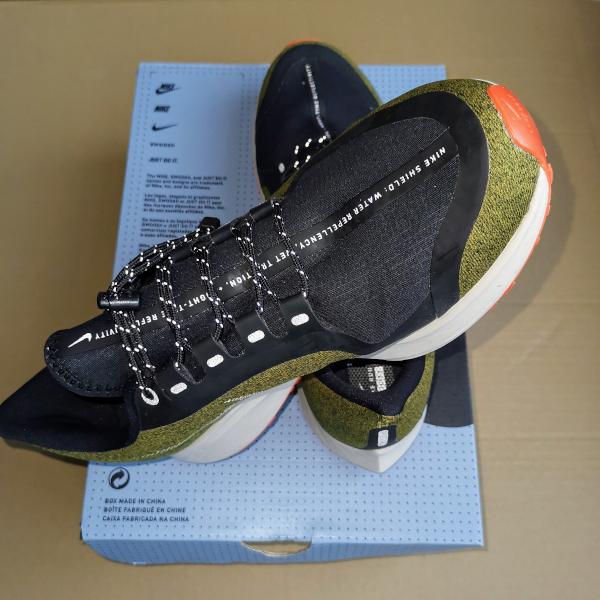 Reasons rallying me to buy it:
My race will be held in the night, likely to rain as year-end is the wet season
Better grip for wet grounds
No more soaked wrinkled toes
It's always nice to have an extra pair
It is one of the most recommended models by runners online
So, I slipped it on; The collar wraps around my ankle like a glove, my feet feel like they are walking on a mattress, and the rest is history.
First run impression
As most seasoned impulse shoppers will know, reality bites when that giddy feeling of the first love has died down and when you put the product to the test.
So, I waited till the condition is ripe to have my first run in the shoes. Finally, the rain came in the evening where I was scheduled to train.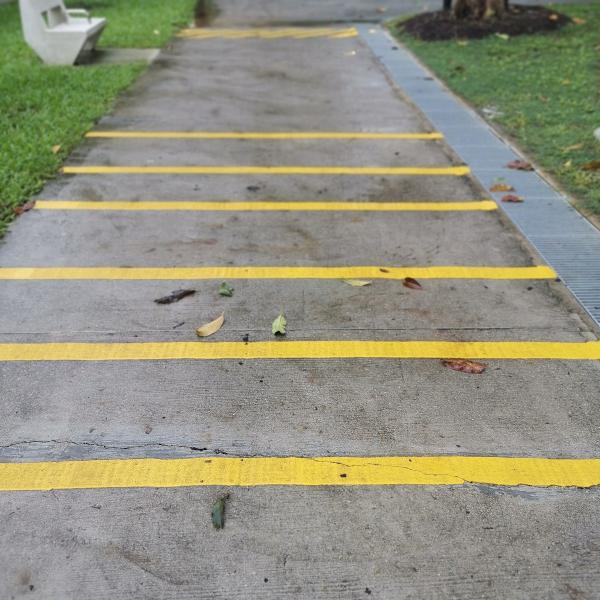 The shoes were easy to slip in, and snugged my feet comfortably, unlike some other Flyknit models where I have to wriggle to get my feet into the shoes.
Also, the fit was so tight that I felt my feet had been wrapped around by a rubber band. I had worn a pair of orange synthetic socks to match the soles.
And, did I mentioned that you don't have to tie your laces for this pair of sneakers. It also has a hook on the laces where you can secure it onto your shoes, so the laces would not be dangling around as you run. No more stopping to re-tie your laces when you have forgotten to do a double knot initially.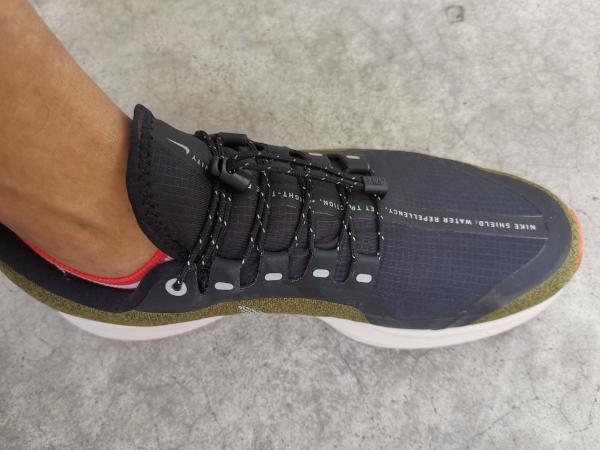 Another thing that struck me on my first run was that the soles had been sprayed with some sticky adhesive so that you could have a better grip in wet conditions. I have to confess the initial feeling was weird running with a sticky sole, but it gave me the confidence to have a strong stride.
When I did my warmup run, it was still drizzling, and the shoes were true to its intended function, I was able to keep my socks and feet dry.
During the warmup run, my feet, though dry, begun to heat up. Suddenly, it struck me how Nike was able to make this shoe water repellent—simply by having a non-breathable upper.
Luckily, the heat did not build-up to the extent that I felt my feet were on fire. The heat was still bearable for a 10km run on a drizzle cooling night in Singapore. After the 10km run, I found the padding provided by both insole and outsole was nice.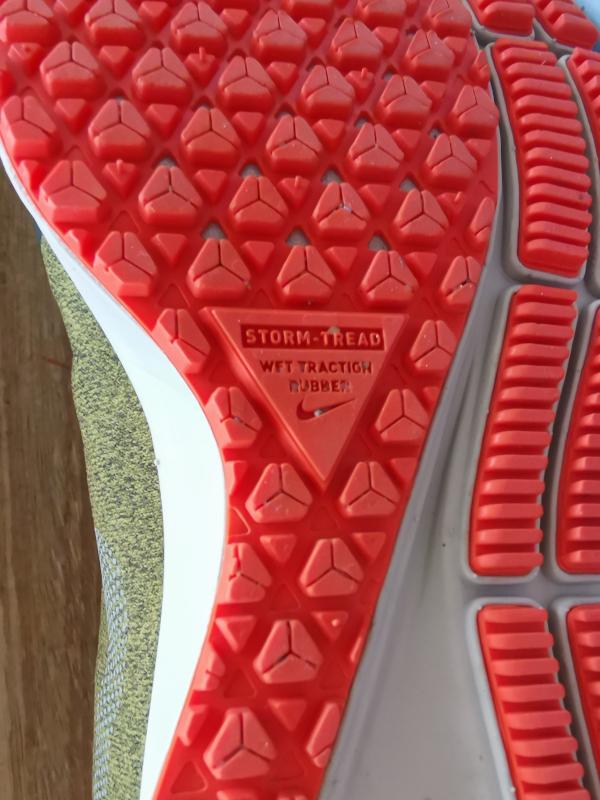 My body was not in a shock that it has been pounded after the run, which I normally feel when wearing other shoes that are designed close to the ground or with insufficient cushion.
In my opinion, the fact that the shoes were well-cushioned helped me in my recovery for the following day.
After 40km when the heart had settled
After the fuzzy feeling has finally dissipated, and the heart was no longer skipping a beat, I could be more objective with my evaluation.
I discovered that the non-lacing system could be both a blessing and a curse. I need to consciously to pull and tighten each tier to have the tight fit throughout the run, especially so for my right foot.
Once when I didn't do so, after a couple of kilometers into my run, I felt the fit on my right foot was loosening. In the end, I injured my right knee with a compensated gait throughout the run.
Unlike other running shoes I had in the past, the heel collar and the tongue of Pegasus 35 Shield gave me no abrasion issues.
The fitting of the shoes is true to size. The toe room is just right, so you don't have to get half a size bigger for longer runs where your feet may expand.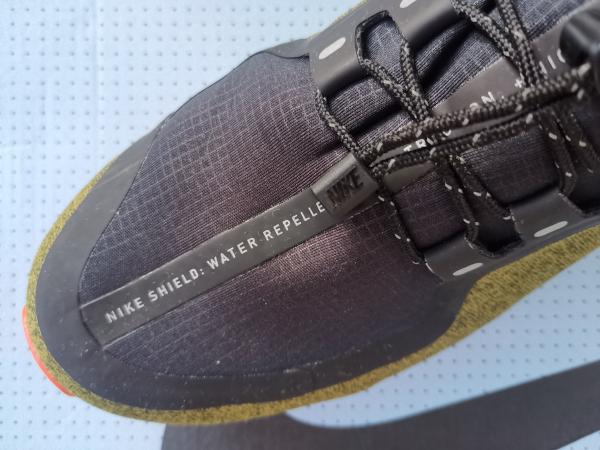 You may also want to know that the sticky pad feeling didn't last forever. After a few runs, the stickiness was gone.
But the outsole using Nike's Storm Thread and wet traction rubber, it not only holds up well in wet asphalt ground, but it also tested well on painted lines and muddy grounds.
To me, this is important, as I don't have to slow down or tiptoe and could confidently maintain my pace with no danger of slipping running over such conditions.
Verdict
Is this the perfect shoes? Nope. But I certainly have no regrets buying it. I definitely will not wear it any daytime run unless I want my feet to be cooked.
But, it is my go-to shoes for evening and wet weather run, and I also use it for circuit training in an air-conditioned studio.
And for the nitpickers, you may want to know that tiny pebbles may be trapped inside the triangular spikes in the outsole. But, this is not a concern for me.
For runners living away from the equator, Pegasus 35 Shield will be your perfect companion in winter.
The slogan of the biggest athletic shoe manufacturer in the world is "Just do it". And, I have to say they did it… They fooled me into buying another pair of their running shoes even though I told myself countless times that I will never buy a pair again.
Nike, like Adidas is a huge company. They have a great history, and they have all the resources in the world to make great shoes.
But, somehow, they seem to fail over and over, especially in comparison to some other lesser-known brands.
Why is that? My theory is that when a company grows and its stock goes public, it starts to move its focus from customer satisfaction to stockholder dividends and profits.
Nike became famous in late 70's and from then on just kept growing. Their shoes were high quality and were innovative and as time went by they made some excellent marketing moves.
From then on, the company exploded, and their fanbase was the entire world. They became so big that they can put their logo and name on basically anything, and it would sell.
One of their best selling shoes is definitely Air Pegasus. Pegasus was introduced in 1983, but I bought my first pair in the late '90s.
I had no idea what to expect from that shoe. I was quite young and practicing running. After spending a year with that shoe, I was sorry to let them go.
I have to say, since then, I became a sucker for Nike. They were light but sturdy, and the more I wore them, the more I like them.
For some unknown reason after that pair, I couldn't find a pair of Pegasus (on-line shopping was at its beginning) and slowly but surely I forgot about them until—Pegasus 28.
Walking around shops, I stumbled upon them and immediately bought them. They seemed great, and I started putting on miles but they seemed flimsy and low quality.
My feet and my calves started to hurt more and more but I just couldn't believe my favourite shoes were somehow to be blamed.
When the new model came out, I bought it thinking that it would be ok. But, it turned out my injuries were getting worse.
The shoes gave me zero support, and it seemed that the sole would lose its properties around 200 km mark.
So, from the outside, the shoe would look almost brand new, but the sole, especially the forefoot cushioning, were non-existent. The more I ran in them, the more pain I would feel.
Few years have past and for some unexplained reason my foolish sentimental thinking made me give another try to Pegasus shoes (also many positive reviews that I read)
So what is my verdict on brand new Pegasus shoes with Shield technology?
Design
The shoe still looks nice. You can wear it with literally anything if you choose the right colour. It is both modern and old fashioned in a good sense

Sole
The sole is good and soft at first, but it seems low quality. The designers were interested more in "out of the box" good feel instead of longevity and foot protection.
Fit
The fit was good, but when you do longer runs and your feet get swollen, they become too tight. Maybe go a half size up, but then they will become loose. To conclude, it's mediocre.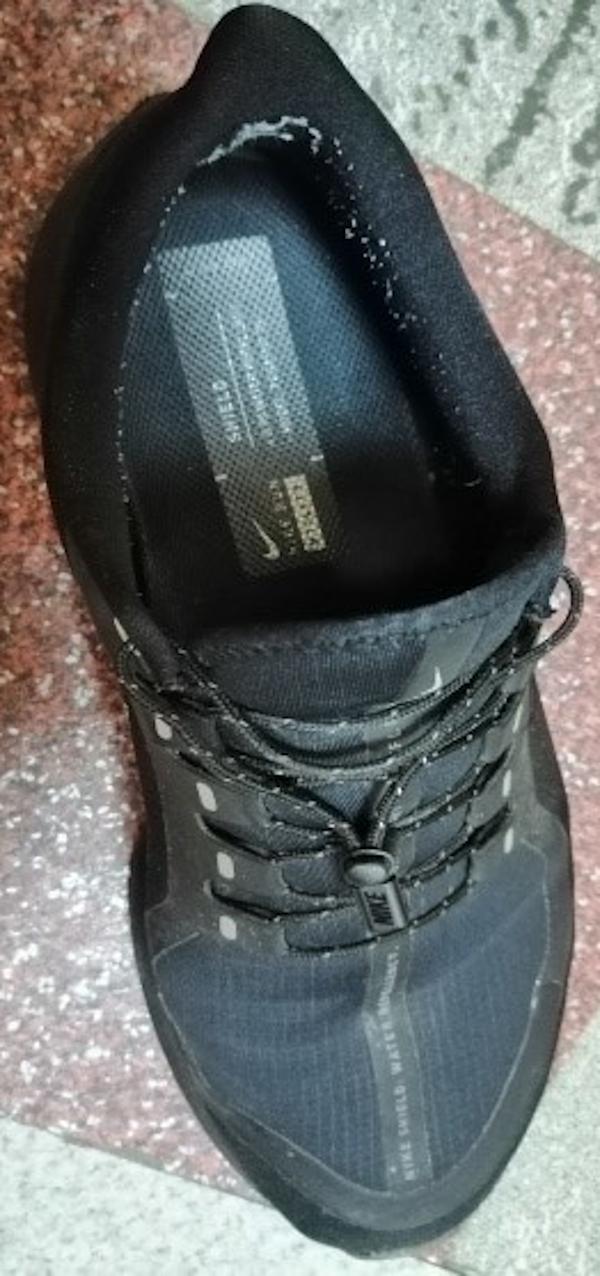 Traction
It seems to be decent, but since the entire shoe feels cheap, I wouldn't test it too much in bad weather.
Ride
I like the 10 mm heel to toe offset. I believe that is the magic number.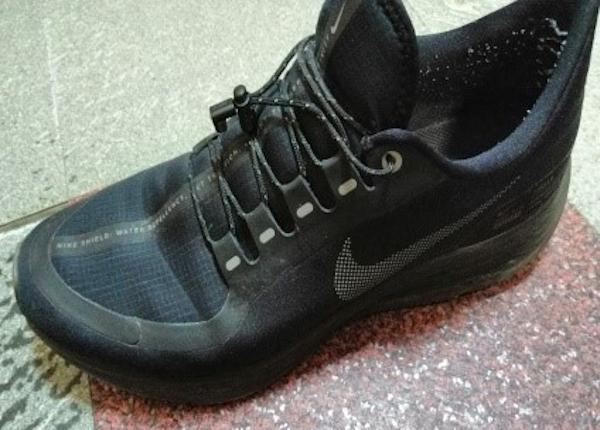 The shield works well, but it does not work miracles. So, if it is snowing or raining, your feet will get wet.
Pros
Heritage and design
Discounts can be quite good
Cons
Bad cushioning especially in the forefoot
Feels cheap
Heel cup could be better
Lacks any kind of stability
Usage
I would use this shoe as a lifestyle shoe and a running shoe but for a very short period, and only if you are a neutral runner.
To conclude, it seems that you cannot make customers and stockholder happy since customers want value for their money and stockholders to want you to buy as many shoes as possible.
It is basically a low-quality shoe, and it seems that 36 will be the same.
I decided to buy these shoes as snow season was fast approaching in the Midwest. I needed something to provide traction on slippery surfaces and keep my feet dry. I have worn these shoes during and after heavy snow and rain.
They have been reliable on many different types of terrain including grass, roads/asphalt, trails, treadmill, and rubber track. They have 250+ miles on them, and I can tell they have a lot more to give! If you are looking for a comfortable, durable shoe to wear in all conditions, the Nike Air Zoom Pegasus 35 Shield is a great choice!

Upper & comfortability
These shoes were comfortable from the moment I put them on. These shoes run true to size. I am typically a 7 in women's, and these shoes in a size 7 were just right.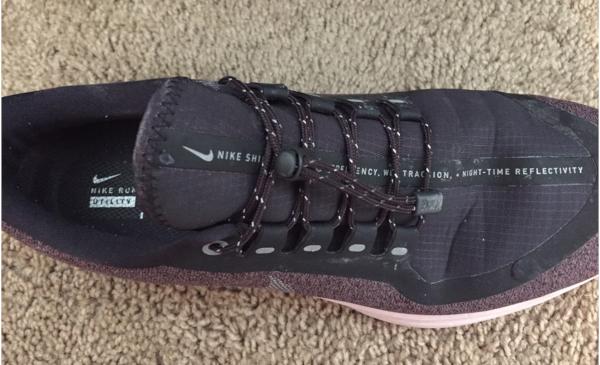 I love the toggle design instead of the typically tied laces. Some may find the laces to be too long depending on the runner's preferred tightness but I did not have a problem in this area.
The shoes easily slide on and off but do not feel too big when running. They are easy to adjust. This is especially nice as it allows for a quick adjustment in bad weather.
On the other hand, I did notice some soreness on the top of my feet after some runs. I believe this was from pulling the laces tighter, but not evenly distributing the tightness. This is not a deal-breaker for me, but maybe something to consider!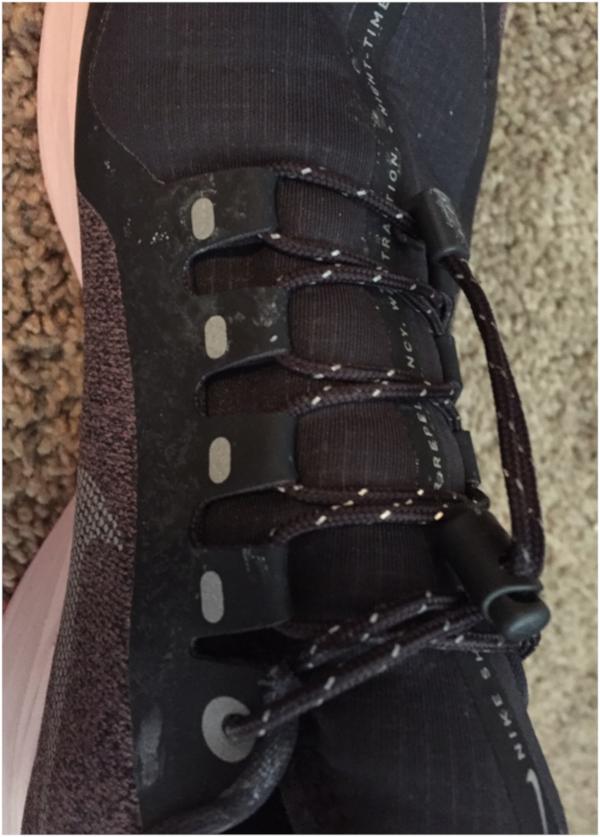 Drop & cushioning
This model has a 9.4 mm drop for the women's shoe. I typically prefer a lesser drop to encourage a midfoot strike but did not have any problems with this model.
The firm cushioning of this model provided an average energy return. I would not recommend these shoes for faster-than-tempo running. I would recommend this shoe for any length of run.
Outsole & durability
The shoe has excellent durability. I have worn this shoe in heavy rain and snow, and the outside still looks great!
The shoe has kept my feet dry in snow and rain- I am continually impressed. I never got a blister even while running 18 miles on a rainy day. I was worried about my toes getting cold on the runs with a lot of snow, but not with the strong outer layer protection of these shoes.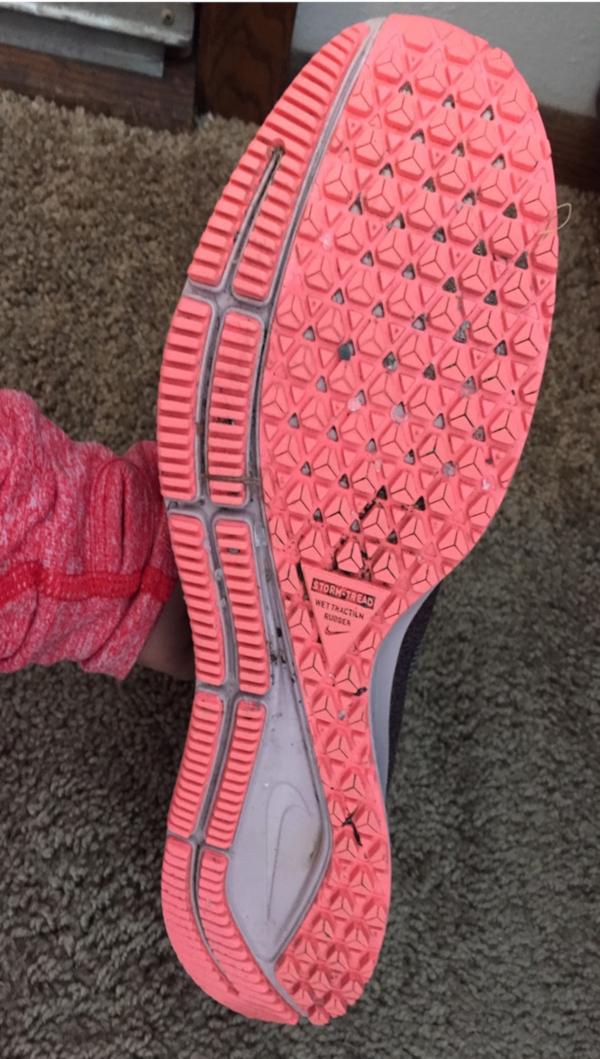 The shoe has great traction and has been reliable on the roads, treadmill, track, grass, and trails. I grab these shoes right away if I am worried about slippery roads or uneven terrain.
The stylish look of the shoe is different than the typical trail/durable running shoe. Though durable, the shoe is still lighter.
Pros
Extremely durable
Perfect for any length of run
Great in all types of weather
Great on all types of surfaces
Comfortable from the start
Cons
I typically prefer other shoes for faster-than-tempo running
The design of the upper, while easy to adjust, may cause soreness on the tops of feet if the tightness is not evenly distributed
Bottom line
These shoes are fantastic for rainy and snowy weather. They have proven to be the most durable running shoes I have ever owned!
I would recommend anyone to try these shoes if they are concerned about keeping their feet dry or having enough traction to run on difficult surfaces. This is a great training shoe or racing in tough conditions for any length of run.
My only cautions are not to pull the laces too tight and to evenly distribute the lace tightness across the top of the foot.
Updates to Nike Air Zoom Pegasus 35 Shield
The latest iteration of the Nike Air Zoom Pegasus Shield features a completely new design, from top to bottom. The enhancements aim to provide runners not just better protection for winter running, but also for a smooth and responsive ride for the road.
The upper uses a completely new material for warm and efficient water-repellent coverage. The lightweight and sturdy upper elements will keep the foot dry even on wet running conditions. The seams are also sealed to prevent water from entering the shoe.
The Nike Air Zoom Pegasus 35 Shield also features a new lacing design. It now has a toggle lacing system, which is designed to allow the runners to easily adjust the fit on cold, wet running conditions.
This running shoe also has a redesigned Cushlon midsole, which aims to deliver durable and responsive cushioning. This midsole element works well with Nike's full-length Zoom Air unit.
In the outsole of the shoe is the Storm-Grip Wet Traction Rubber, which is strategically used to provide reliable traction on slippery and wet surfaces.
Size and fit
The Nike Pegasus 35 Shield runs true to size. It offers a medium fit in the heel and midfoot. The forefoot is a bit narrow but it should not be an issue for medium-footed runners. For those with a wide forefoot, they might find the forefoot a bit constricting. The shoe is available in a medium width for both the men's and women's versions.
Outsole
The water-repellent version of the Nike Air Zoom Pegasus 35 makes use of the Storm-Grip Wet Traction Rubber. It gives durability and reliable traction on varied surfaces. It won't disappoint even on wet surfaces.
Rubber Crash Rail is placed on the lateral side of the outsole. It acts as a cushioning device which aims to encourage a smoother transition. It also enhances flexibility whenever necessary.
Midsole
Nike's notable Zoom Air unit extends in the entire midsole of the Pegasus 35 Shield. It provides reliable underfoot cushioning, protecting the foot in every landing. As a result, a smooth and responsive ride will be experienced.
Along with the Zoom Air is the full-length Cushlon foam. It is formulated to give runners plush, resilient cushioning.
Upper
The upper of the Nike Air Zoom Pegasus 35 Shield features a water-repellent upper and the seams are completely sealed. It aims to keep the foot dry without affecting comfort and breathability. The lightweight upper materials come with reflective elements to increase visibility on dark routes.
The toggle lacing system aims to deliver quick lace adjustment, especially on cold running conditions. The new lacing system enhances overall fit and midfoot security.
The tongue and heel collar are moderately padded, providing the foot an enhanced security without compromising comfort.
Compare popularity
Interactive
Compare the popularity of another shoe to Nike Air Zoom Pegasus 35 Shield:
Nike Air Zoom Pegasus 35 Shield video reviews