Who should buy it
Nike's Air Jordan 1 Elevate Low is perfect for people who
Consider comfort and freedom as non-negotiables
Are into unique and uncommon yet still very casual sneakers
Love to have an extra sole height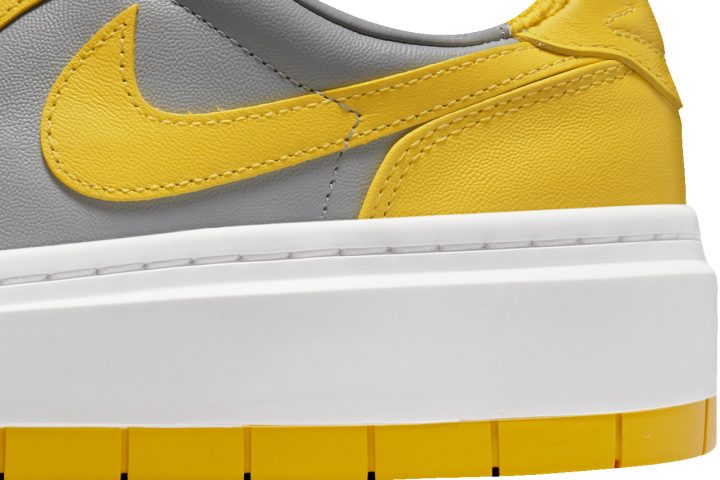 Who should not buy it
Those who dislike leather sneakers that crease easily would enjoy the Nike Air Jordan 1 Low G more than the AJ1 Elevate Low. If you like comfy sneakers that do not require a break-in period, go for Nike Air Force 1 Shadow. Also, if you are not a fan of sneakers with chunky soles, check Nike Dunk Low or Air Jordan 1 Low instead.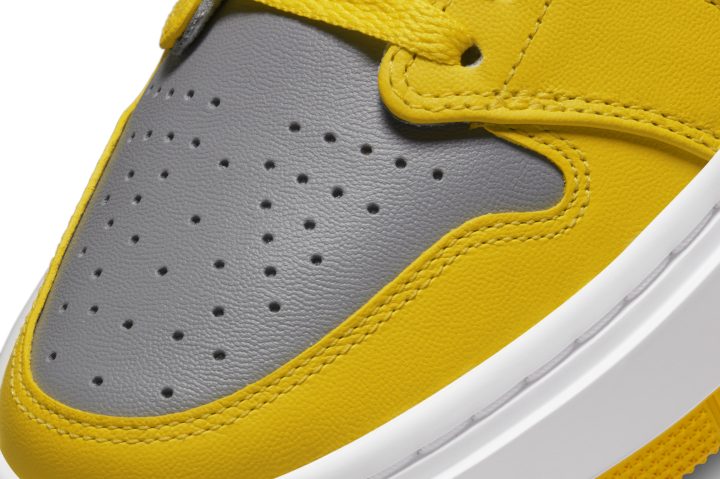 Elevate Low vs AJ1 Low
Similarities:
Looks a lot like Air Jordan 1 Low (minus the platform height), and they both feature premium leather material.
The same huge platform as found in Air Force 1.
Differences:
The insole found in the Elevate Low is comfier than the one in AJ1 Low according to a tester.
Elevate Low gives "Air Force 1 vibes" as a sneakerhead has reported, thanks to its extra sole height.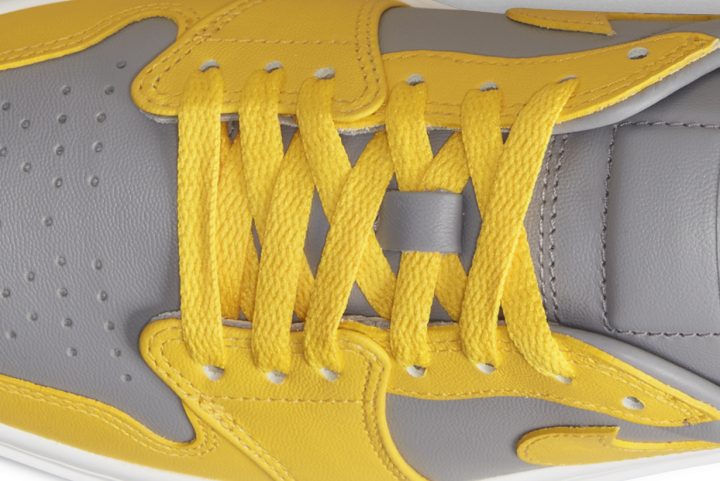 Half a size down for a snug fit
Feet width varies for each person, but one lady turned into a fan of the Elevate Low as, according to her, these are the "best-fitting shoes Nike has ever made!" This is not the case for everyone, though.
Before shopping, you should consider these tips that were backed by many other reviewers of the shoe.
If you want a regular (exact) fit, go half a size down
If you want a bit more toe room, go true to size
If you have wide feet, go half a size up.
Major kudos to the soft leather material
Air Jordan 1 Elevate Low features a comfort that "cannot be overestimated," as per one of the admirers of the pair. Many praised the footwear for its smooth finish. One of the on-foot reviewers even commended the shoes for having a "super duper soft" upper leather.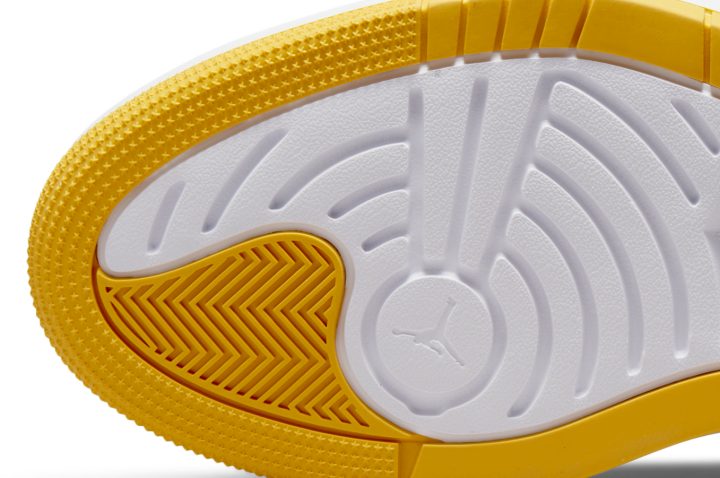 AJ1 Elevate Low features a massive platform for an extra confidence boost
The size of the sneaker's platform is roughly 4.5 cm which is an unusual amount of platform height. Ultimately, this feature turned many sneakerheads obsessed! Sneakerheads were so crazy about Elevate Low's platform that an expert wasn't able to hide his excitement about the "really hefty" and "chunky chunky sole" of the shoes.
Apart from giving you extra height, the shoes are something you can easily slip on and add to your staple collection. Additionally, one tester suggested that the pair makes an "everyday kind of shoe."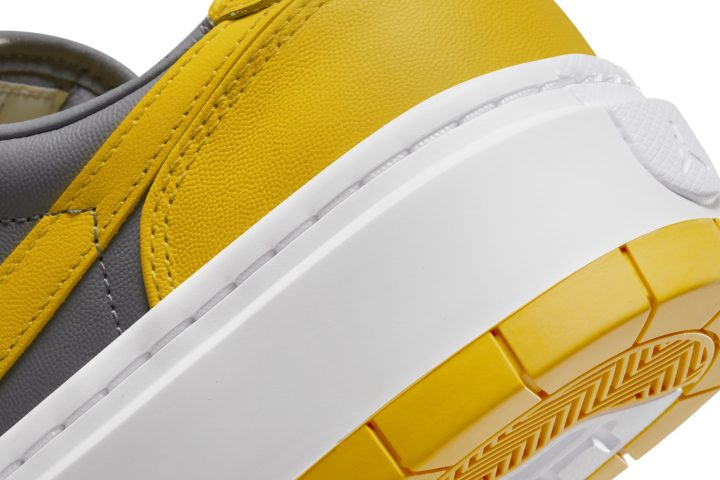 Initially has a stiff tongue
According to one of the users, the Air Jordan 1 Elevate Lows are "mega comfortable" once you have broken them in. At first, the tongue of the shoes is inflexible and can be painful, but after 3-4 times stretching the material, they become more pleasant to wear.
Feels premium but creases easily
Because of the shoe's very soft leather, it undoubtedly feels premium, a fact supported by many users and reviewers. However, like other sneakers, creasing is inevitable, especially when you are always wearing them.
Walking for a long time which, of course, requires bending of the foot, results in the wrinkling of the AJ1 sneakers. Due to this, a tester stated that she wouldn't want to take the AJ1 Elevate Low for long walks.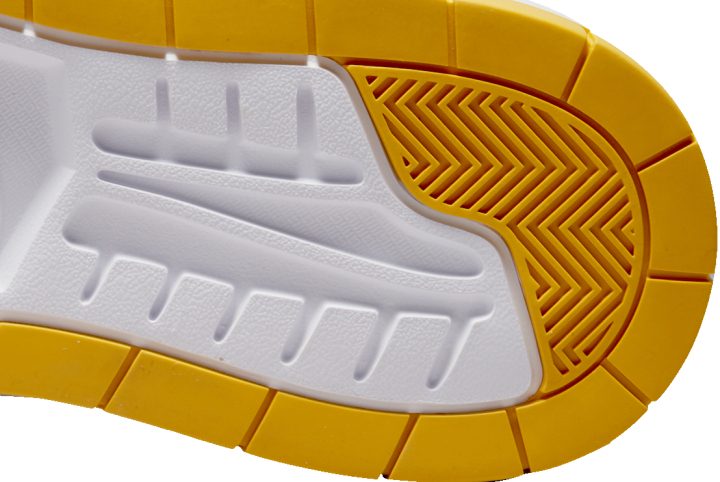 Air Jordan 1 Elevate Low are not your typical sneakers
Even with the resemblance to the original Jordan 1 Low, the Elevate Low is labeled to be different and unique by multiple testers because the sneaker has a big unusual platform. A shoe collector finds it "crazy" and "ridiculous" when only looked at and not worn. But once he tried it on, he was impressed with how good it looked on foot.
An admirer couldn't believe the shoe's attractiveness, and he had "never seen anything like it." A sneakerhead even commended the brand by stating, "Nike went an extra mile" in trying to be different. It seems it's hard to resist something so eccentric because a sneakerhead, who is into different styles, commented that the Elevate Lows are "effin' dope!" Other people who love to stand out really loved these sneakers.
Pretty dope cork insoles
These sneakers have an awesome cork sock liner that naturally absorbs shock giving your feet the support it deserves. A reviewer mentioned that the cork liner of the Elevate Low has anti-microbial properties, which, according to her, fight foot odor. These attributes impressed many people and made another reviewer state that the cork insoles are "nuts!"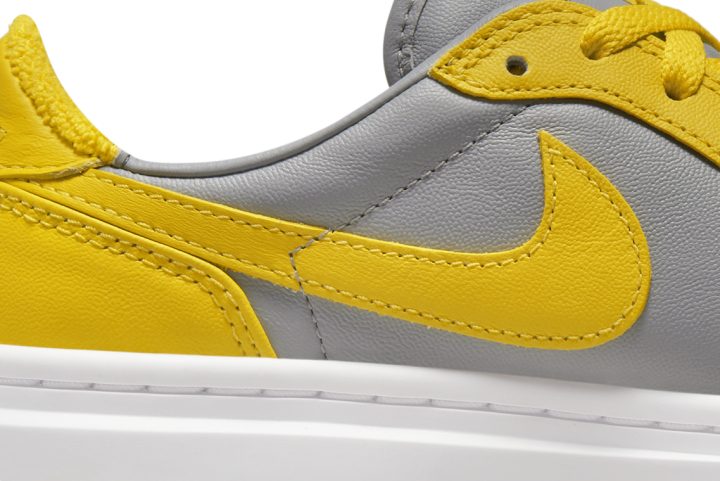 Timeless colorways
The main reason sneakerheads and enthusiasts are fascinated with the shoes is their classic color combinations that are easy to pair with just about anything. A lot of people are so captivated by the colorways that they purchase more than one pair. One comment we read that perfectly summarizes how people feel about the offered color combinations is "colorways are fire."
Air Jordan 1 Elevate Low colorways at the moment include Cement Grey/White/Varsity Maize and White/Sail/Dark Beetroot. Bonus colors were also released under the Special Edition offerings. These include Onyx, University Blue (UNC), Gym Red (Bred), and Wolf Grey colorways.
Air Jordans without the Air Jordan Wings logo
One of the first things you'll notice with the Air Jordan 1 Elevate Low (aside from the HUGE platform) is the absence of the classic Air Jordan Wings logo at the back of the shoe and the Nike logo on the tongue. The part where the wings are usually found still has patterned wings sewn into the shoes, but the logo itself is now missing.
People liked this new and again, not the very typical appearance of the shoes. They liked how the simple detail gave the whole shoe a neat look. A reviewer favored the simplicity and "subtleness of the branding" of the shoes.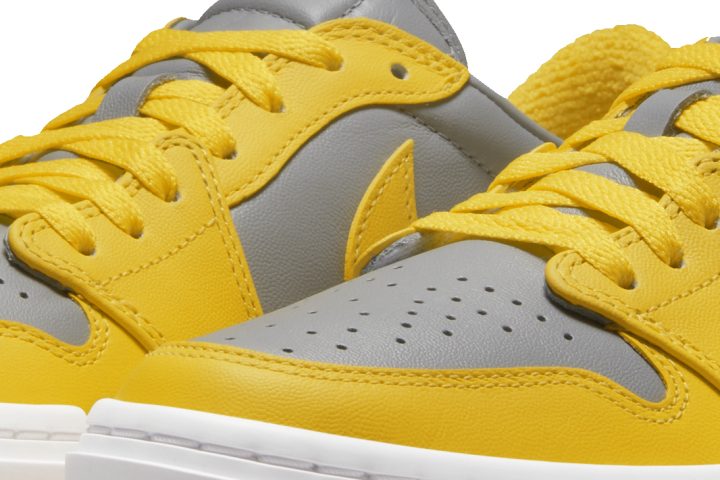 Perfect casual sneakers and more
Since the Air Jordan 1 Elevate Low has a great selection of well-thought-out colorways, the shoes are very versatile and match various outfits. If you plan to wear the pair (instead of just keeping it on display), know that it looks gorgeous for "training and casual wear," as mentioned by one of the reviewers. A reviewer with a laid-back style also added that the shoes go with different types of pants.
The versatility of the Elevate Low is highlighted in the review, where it's said that they also go along with "crazier styles." Any outfit would "fly, no doubt" with these sneakers, as a sneakerhead has added. Many also agreed that it is the perfect "spring and summer shoes."
Even men love the AJ1 Elevate Low
The sneakers are originally made for the ladies, but if guys can correctly find their size equivalent to women's, then there is absolutely no reason they can't style the shoes as they please. A guy who tested the sneakers recommended that other men go one and a half sizes up if they also want to cop them. A lot of on-foot testers of the sneaker were men, and all of them didn't mind wearing them. It is an exclusive women's sneaker, but it does look dope on all feet.
Compare popularity
Interactive
Compare the popularity of another shoe to Air Jordan 1 Elevate Low: