Our reviews
New Balance is relatively a newbie in the soccer cleat industry – having been introduced only a few years back. They came out all guns blazing with the Visaro and Furon. The Visaro was built for comfort and control and it garnered rave reviews. The Furon, however, was one of the most hated boots to have ever been released.
It looked fantastic but was plagued by complaints of an overly stiff upper and was deemed too uncomfortable by customers and players alike. The latter 2 iterations, the Furon 2.0 and 3.0, didn't fare much better.
Surely New Balance can't mess up a boot 4 times in a row, can it?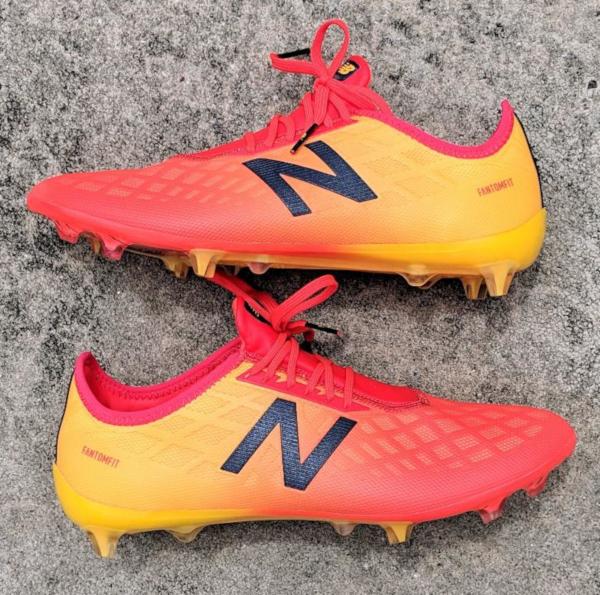 Furon Unboxed
In hand, the Furon 4.0 actually looks pretty decent. Nowhere near as sleek and sharp as the 3.0 but it could hold its own in a beauty contest.
I went for the "flame red" colourway but should have settled for the more handsome white and red of the Otruska pack.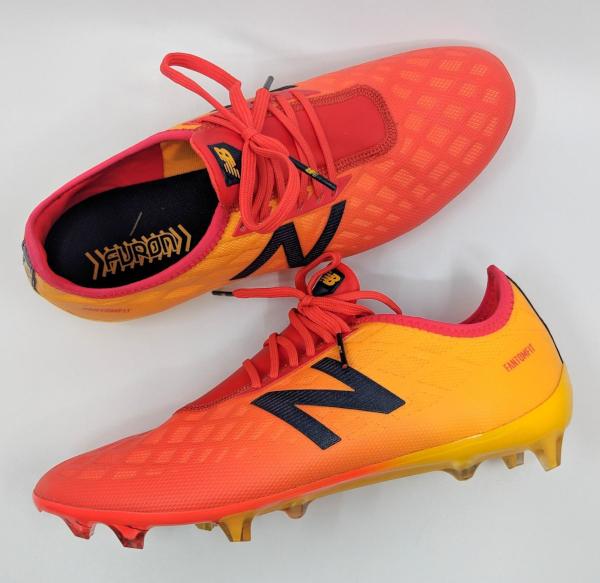 The flame red treatment makes the boot look a little cheap and the build quality is a mixed bag. The synthetic upper looks premium and they kept the gorgeous soleplate from the 3.0 with its sharp lines and aggressive stud pattern.
That upper is one of the thinnest in the business as you can see light passing through it if you held it up against light and looked through the mouth.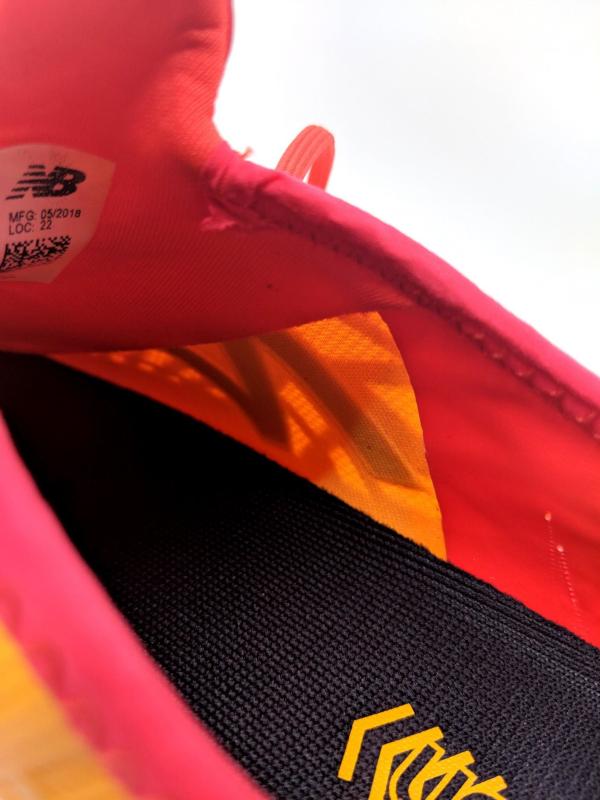 Brownie points to New Balance on making sure that upper is thinner and softer than before.
But it's the other elements around it that devalues the Furon 4.0. I'm not a fan of the faux leather tongue nor the stitching around the mouth of the boot and the lace area. The inner heel area is covered with some kind of PVC lining which feels underwhelming like a lower grade boot from 1999, let alone 2019.
Despite that thin upper, the boot feels heavy for a speed boot due to that soleplate. Not a great first impression when a speed boot is made to feel light and liberated.
Great fit but odd lacing system
Like most speed boots, the Furon is a snug fit and was surprisingly comfortable the first time I put it on.
New Balance made an odd decision to shorten the lacing area and to only have a few lace loops higher up the tongue. This meant that I lost some lockdown closer to my forefoot where most boots extended their lacing to.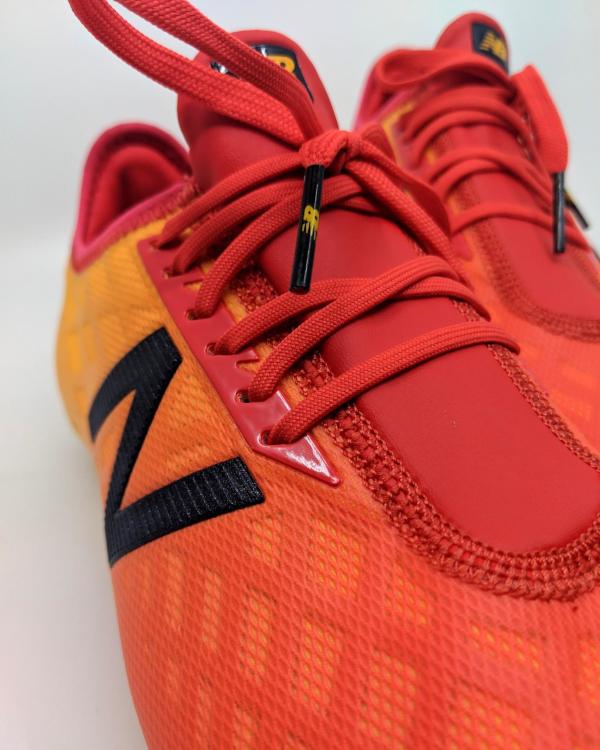 It didn't affect me much due to my moderately wide feet but it would have been good to revert to a regular lacing system to accommodate players with slimmer feet – most of whom are the core speed boot audience who need extra lockdown.
Unbalanced performance
The upper softens up very quickly and its thin nature made shooting, passing and dribbling really engaging.
You feel very close to the ball and light on your feet. However, don't expect the webbed design and texture to aid with grip. The plasticky upper is quite smooth and it might take some players by surprise if your first touch isn't good.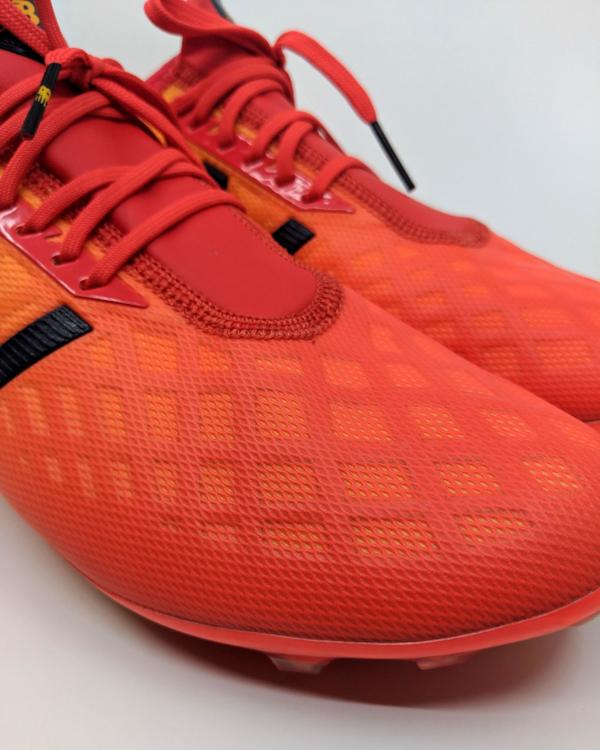 The soleplate is stiff and is built for a responsive feedback – snapping back into place with every stride. I liked how aggressive the stud pattern was, helping you go from 0 to 100 easily with the blades that dig in deep into the ground for maximum traction.
A nice touch on the soleplate was the mini jagged ridges that are installed just under the toe area which are meant to help with more traction. Did they work? I can't tell but hey it looked cool.
Stud pressure wasn't a problem for me on artificial grounds (AG) as the length of the studs hit the sweet spot to be compatible for both AG and firm natural grass without causing any discomfort to your sole.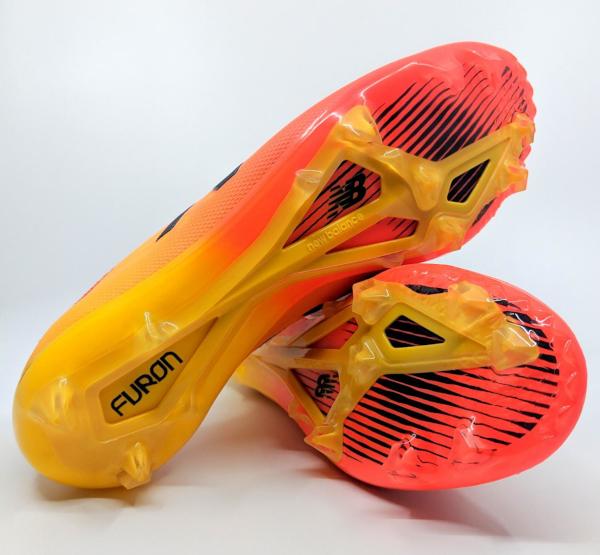 Where I had problems was with the PVC heel lining. It caused major abrasions around both my Achilles heel which meant that I was done with the boots after an hour. It was a big shame as I was just starting to enjoy playing in the Furon 4.0.
I wasn't the only one facing this problem as many other football boot bloggers took notice of this very same issue. The last time I had such an issue, it was more than 15 years ago. This is not acceptable as boots today should not, and do not, cause abrasions like this.
Why New Balance would include a plastic lining around the heel area when modern boots have a knitted or synthetic suede lining, is beyond me but this is a deal breaker by today's standards.
New Balance needs to step it up
Based on my experience with the Furon 4.0, I think New Balance has made some big strides forward with the boot. Finally, the upper isn't stiff anymore. The fit is snug and comfortable and I genuinely had fun playing in it.
But whatever goodwill they have built up with these improvements have gone down the toilet with that heel lining. Why would I go through all that pain to break in the Furon 4.0 when I can buy a speed boot from a more popular rival brand (like the Nike Mercurial Vapor or Adidas X18.1) for the similar price with better looks and quality?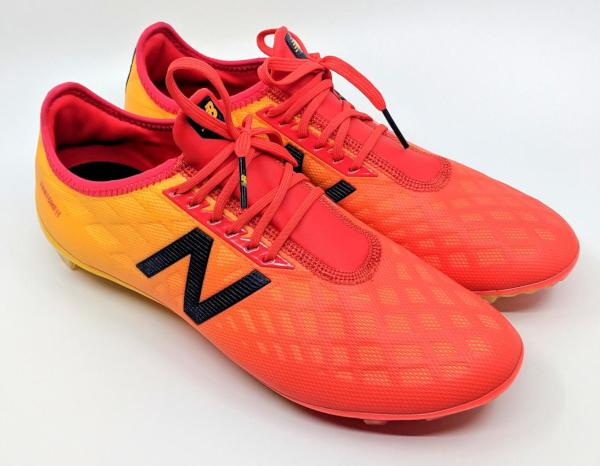 It's 2 steps forward and 1 step back for New Balance as they continue to shoot themselves in the foot with odd design decisions. That heel lining, the lacing – all easily avoidable issues if they just stuck to the basics.
An optimist might say that at the end of the day, they still managed a step forward but I wonder how much more failure they can bear until New Balance calls time on their underwhelming football boot division. They're not far from getting back into the game.
A lower price point and relegating the PVC lining to the sin bin would be a good start. But if they're going to continue shooting themselves in the metaphorical foot, they might just need a sit down before starting on their journey again.
Features of the New Balance Furon 4.0 Pro Firm Ground
Launched from the renowned Otruska pack, the New Balance Furon 4.0 Pro Firm Ground best suits the player who has the need for speed, acceleration, and accuracy. This soccer cleat infuses a number of innovative technologies in its design to enable wearers to outperform the competition and finish victorious.
Among this soccer cleat's innovations is its unique upper that combines Fantomfit Tech with Hydraskin touch membrane. This innovation is also found in other Furon models, like the Furon v4 Destroy Firm Ground. This upper construction makes for a soft and supple upper that conforms to the form of the foot. The upper also utilizes a lightweight mesh material with a textured detail that enhances ball feel.
This soccer cleat also shows off a shorter lacing system that paves the way for an enlarged contact zone. It also highlights an elasticated stretch mesh with PU (polyurethane) coating that allows for easier entry on the foot. Matched with a PU sprint spike inspired heel collar, this shoe enables maximum ankle mobility alongside unmatched comfort.
The insole of this soccer cleat utilizes a removable Ortholite foam. This foam offers excellent underfoot cushioning for unmatched comfort. With its shock-absorbing qualities, foot strain is greatly minimized, so wearers are able to endure longer playing hours.
The base of this New Balance soccer cleat highlights a TPU (thermoplastic polyurethane) sole unit inlaid with a nylon frame. This works to increase stiffness and give directional toe-off texture. The sole also features a firm ground stud pattern that facilitates speed and acceleration.
Size and fit
Equipped with the Fantomfit tech and Hydraskin touch, the New Balance Furon 4.0 Pro Firm Ground utilizes offers a snug wrap around the foot. The fit is further improved by a central lace and a mesh collar that provides comfort.
Outsole
The base of this soccer cleat is lined with a TPU outsole fitted with a nylon frame. It also utilizes a stud pattern meant to deliver traction and acceleration on the firm ground pitch.
Upper
The upper of the Furon 4.0 Pro Firm Ground utilizes a combination of the Fantomfit tech and the Hydraskin touch membrane. This design allows the upper to offer a form-fitting wrap around the foot for supreme comfort. The fit is reinforced by a central lacing system located over at the midfoot. Meanwhile, an expanded cleanlace contact zone facilitates high shot accuracy.
Special Colorways of the New Balance Furon 4.0 Pro Firm Ground
The New Balance Furon 4.0 Pro Firm Ground is available in several colorways including:
White/Flame Red
Black/ Bright Cherry
Additional Info
This soccer cleat weighs 8.2 ounces.
Compare popularity
Interactive
No popularity data available for this shoe at the moment.
New Balance Furon 4.0 Pro Firm Ground video reviews