Who should buy the Fresh Foam X More
Trail

v2

Get this New Balance trail shoe if you are after exceptional cushioning, protection and all-day comfort for your long runs on moderate trails. Best when the pace is not rushed, but performs well even when you need some speed.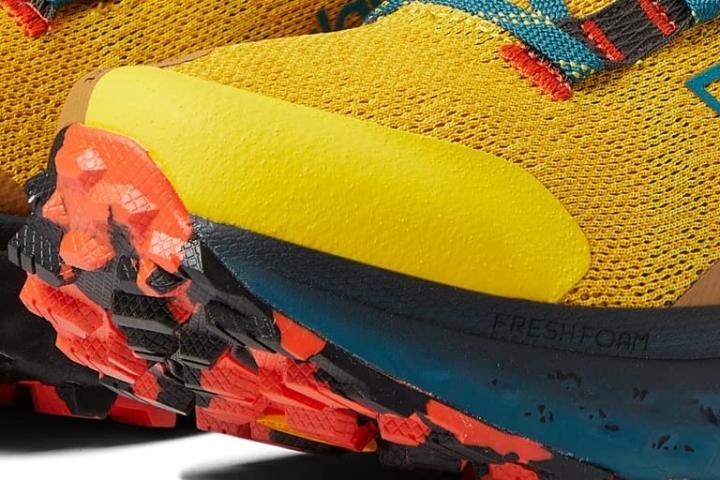 Who should not buy it
Not the best shoe if you: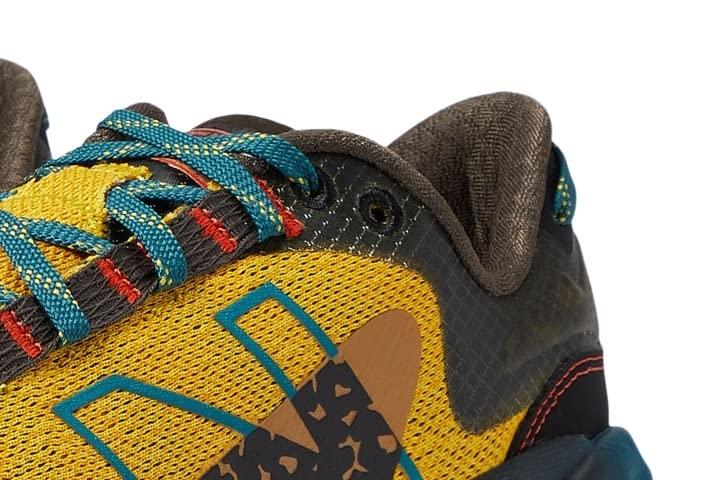 More Trail v2 vs. v1
Looking at the previous iteration of this shoe, it's clear that major improvements have been made. Despite gaining some weight (0.7oz or 20g) the X Trail More V2 has a better lockdown on the upper, is a bit more at ease on technical terrain and, most of all, has way more traction.
Bad drainage and breathability
As reviewers found out, the X Trail More V2 does not ventilate well, nor drain water enough: a tester said that on raining days its weight increased drastically. Another runner commented that on longer runs they'd be concerned about their feet "pruning up from sweat."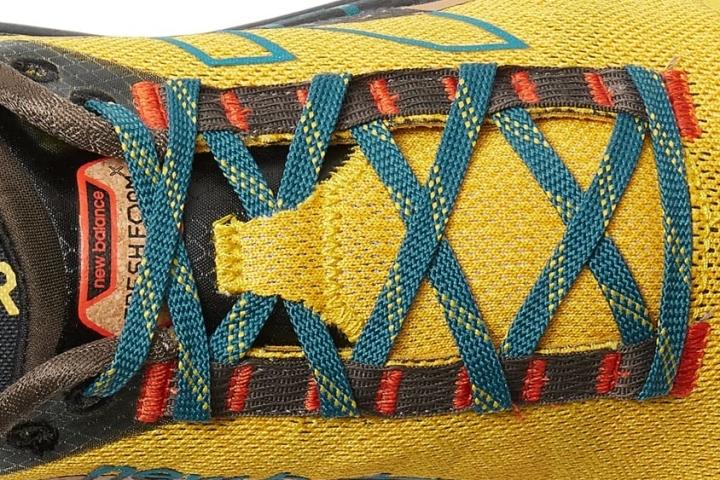 Secure lockdown in the X More Trail v2
As mentioned before, the upper has been revisited and now offers a much more secure lockdown. An experienced tester said that it really held their foot in place and had no issues whatsoever.
Superior softness
All reviewers agree on the comfort that this midsole provides. They have said that:
the "softness of the foam is apparent and very comfortable"
they enjoyed the "feeling of soft airbags"
they "never experienced dreamier

cushioning.

"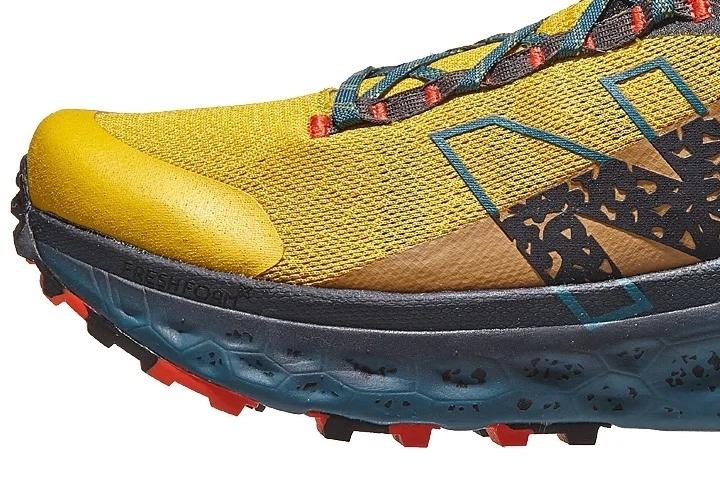 More Trail v2 does absorb shocks
The amount of cushioning is all the more useful when running downhill. A reviewer was surprised how these shoes are shock-absorbing and "felt noticeably less banged up after long descents."
This New Balance Fresh Foam is very tall
The More Trail V2 has a very high stack (33 mm). The average height for a trail running shoe is around 25 mm. A runner said the shoe feels tall and another expert experienced some near-ankle roll. However, most testers said that this was not an issue, it just takes some adjusting for runners who are not used to this height.

Amazing on wet rocks and mud
The grip on the New Balance X Trail More V2 has improved significantly compared to the previous version. Experienced runners found out that it's now amazing. As one of them said, it is a "stellar grip" and works great on grass, gravel and it's not bad on roads either. Even on wet rocks this shoe performed really well. A runner tested it on mud and said it "never once lost traction," though some of it got easily stuck underfoot.
Stability is very good
The Trail More v2 has a wide platform that allows for good stability in most situations, be it easy terrains like fire roads, or moderately technical trails. A tester described this perfectly: "the stack height didn't take away from the shoe - I felt stable and in control running downhill and on technical trails."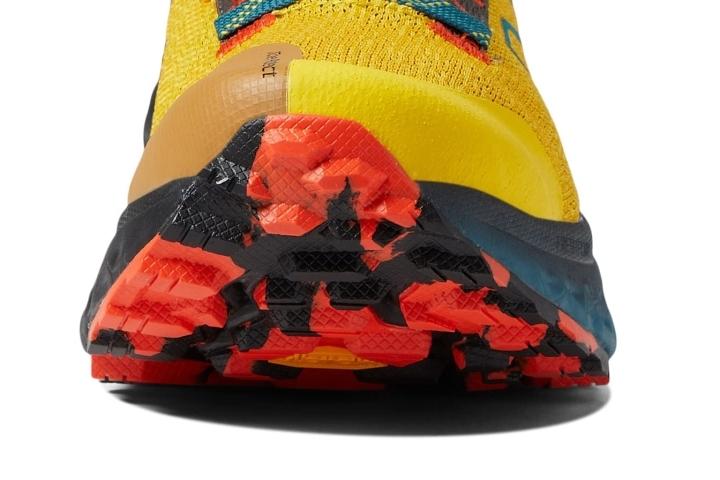 Best for the long-haul
Comfort and cushioning make this shoe a great choice for long distances. As a runner put it, it works "amazingly well for long runs." Another expert added that this is "definitely a shoe [he]'d wear for a hundred-mile race."
Not just for slow runs
According to a tester, this New Balance feels quite nimble and responsive, which makes it versatile enough to handle both slow and faster paces. Another runner went further and said that during some strides they felt like a "total badass throwing gravel behind" them.
All about protection
This shoe provides fantastic protection underfoot, thanks to the massive amount of Fresh Foam and its high stack. A runner also appreciated that, when kicking rocks or roots, toe protection is really good.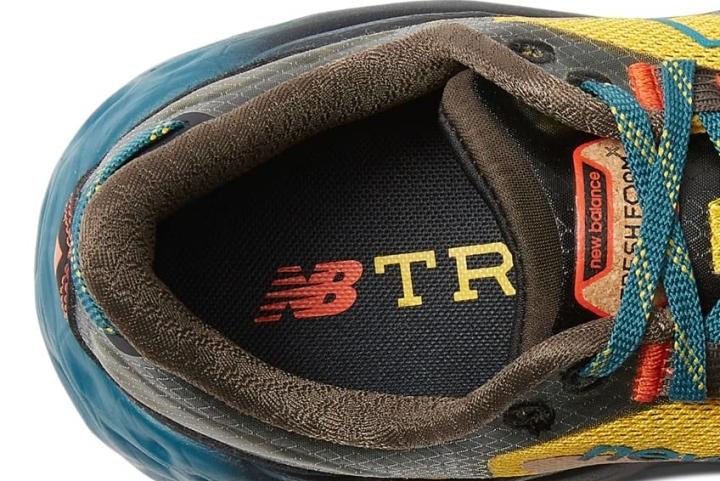 This is a heavy New Balance trail shoe
If you take the average weight of a New Balance trail running shoe, which is 10.2oz (290g), you notice that the X Trail More v2, with its 11.6oz (330g), is considerably heavier.
The X Trail More v2 runs a bit narrow
Experienced runners said this shoe fit is true to size, even though it runs slightly narrower than other New Balances trail running shoes. For those with medium feet, it felt "ridiculously comfortable."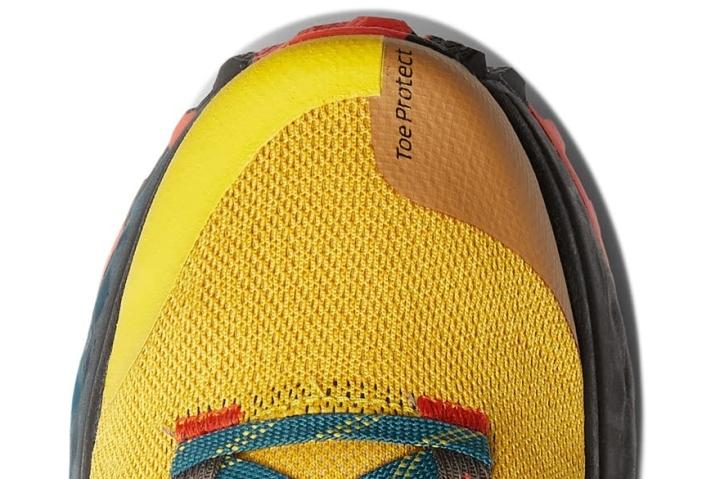 Functional and good looking
This shoe was praised by many runners for its look, which resembles that of a sneaker. An expert was put off by its big stack height, but even if they didn't like it too much, eventually they found out that "function beats fashion" and he was "sold after running a few minutes in it."
Compare popularity
Interactive
Compare the popularity of another shoe to New Balance Fresh Foam X More Trail v2: