Who should buy the New Balance Fresh Foam X Lav V2
This tennis shoe from New Balance is worth considering if you are one of the following:
an intermediate-to-advanced racquet sports player who trains regularly
a player who values a stable, well-cushioned platform over lightness and speed
a wide-footer (the shoe has a fairly roomy toebox in a standard width and also comes in Wide)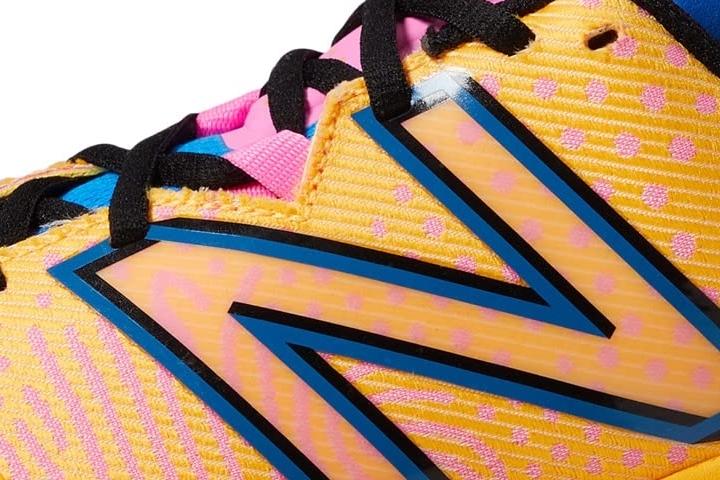 Who should not buy this tennis shoe
The Fresh Foam X Lav V2 is not the best option when it comes to out-of-the-box comfort and breathability. Here are some nice alternatives from NB that do better in these departments:
Both require a minimal-to-no break-in period, have more breathable uppers, weigh lighter, and cost less.
Fresh Foam X Lav V2 reveals itself after breaking in
All reviewers agree that New Balance has considerably "beefed up" the Lav V2. They say that the shoe got stiffer and more restrictive. Some emphasize that the plush cushioning is still there but you need a substantial break-in period to experience it full force. One of the testers even claims that the Lav V2 needs more break-in than any other NB tennis shoe he's owned.
It took anywhere between 6 hours to 3 weeks to "forever" for the wearers to break in the shoe. For most of them, the trainer became more comfortable and flexible, but some are "still finding a lot of discomfort" or feel like the shoe "had room to break in" after 3-4 weeks of wear.
Many reviewers also complained about the discomfort caused by the shoe's plastic outer shell which created pinch points throughout the foot.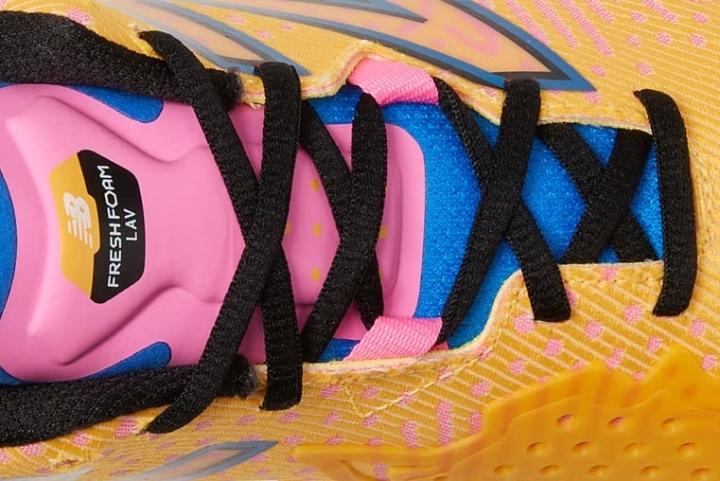 Generous toebox space
Aside from the fact that the shoe is available in Wide, it also comes with a roomy toebox. "More so than most shoes these days" and " incredibly wide compared to all other NB tennis shoes," according to the reviewers. This was highly appreciated by players with wider feet as some of them didn't even need to get the wider version.
Unfortunately, for people with narrower feet, this became a problem as the excess toe space caused the foot to move around more in the shoe throughout the game.
No more heel slips but the collar is now too high
The shoe's raised collar has been extensively criticized for rubbing on the ankle bones: "blisters on all my ankle bumps," "chafed me all up," and "pinching uncomfortably."
Even loosening up the laces didn't seem to solve the problem. So, it makes sense to wear tall socks with the shoe.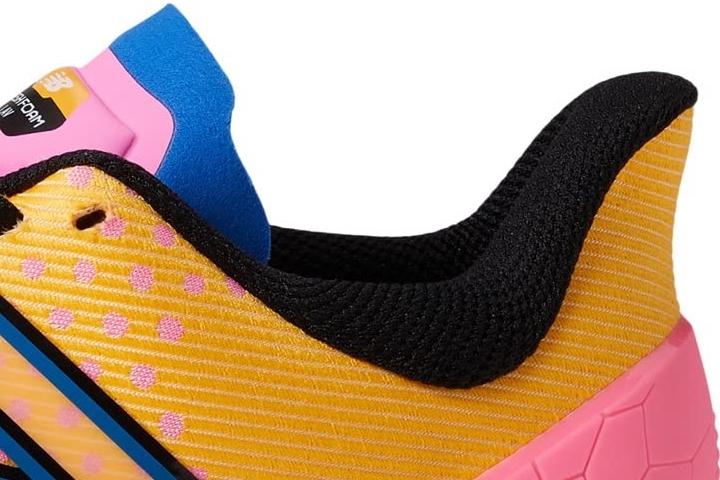 Mind-blowing Fresh Foam X cushioning
A substantial layer of cushioning has become the shoe's best selling point. Not a single review came without praise given to the comfort-loaded Fresh Foam. A shoe expert who cut the Lav V2 in half measured the heel stack of this shoe at 30 mm! He also called it an "absolute beast" for the "ton of buoyancy under the heel."
Testers shared how this foam helped them make big steps when running and getting down for the ball as well as springing back from the low position. To some, this reminded of Nike's GP Turbo.
What makes Fresh Foam even more amazing is that the players felt less pain in their body:
"I find my ankles less sore the following day"
"Say goodbye to sore feet after a hot 2.5-hour match"
"Play for hours without pain anywhere in my body"
Even those suffering from plantar fasciitis are recommending this NB shoe because of the nice and plush heel cushioning that it offers.
However, if you have flat feet and overpronation, the Fresh Foam Lav V2 is not your best bet. Its high and soft platform causes the foot to roll inwards too easily. So, you should either look for a shoe with a more solid arch support or use custom orthotics.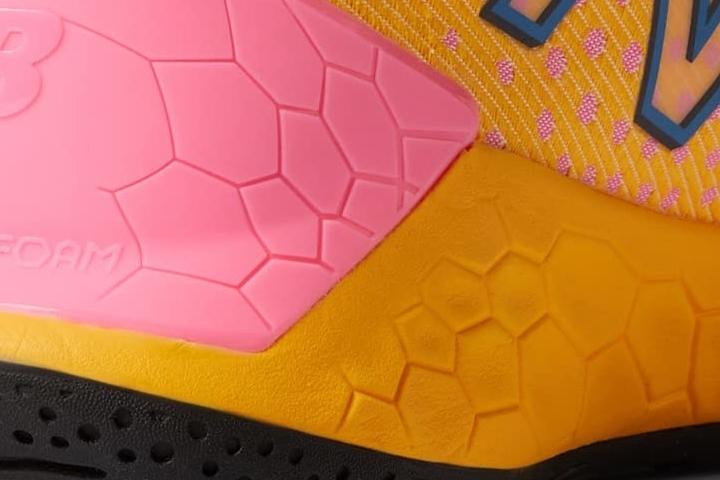 Stability is the second name of Lav V2
A lot of reviewers commented on the amazing stability characteristics of the New Balance Fresh Foam Lav V2. The more experienced players took note of the wide rubber flanges on the outer side. According to one of them, it provides "a wider footprint and a higher-than-typical level of stability." Another expert reports that he was able to "really throw [himself] into the corners" as he felt a ton of stability.
Other reviewers mentioned that the shoe is extra supportive for quick stops and doesn't let your feet roll over the sole when you stop short. One also felt "super surefooted" in the Lav V2.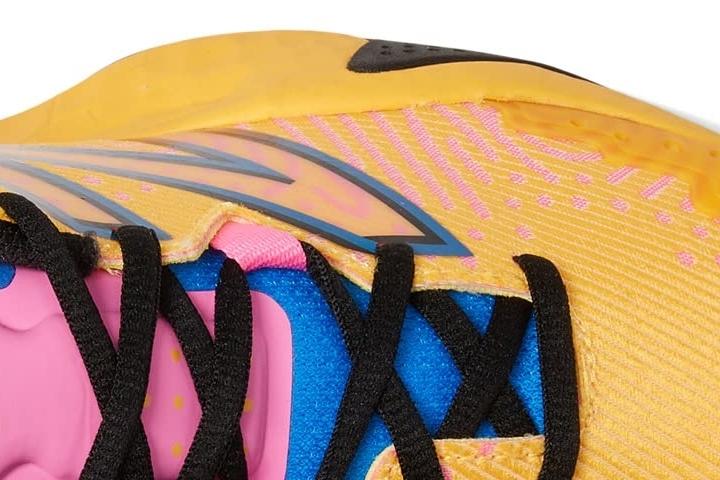 Durability is alright but could be better for $150
Opinions split regarding the longevity of the Fresh Foam Lav V2. About half of those who had tested the shoe's durability said:
"solid enough to last a while"
"a ton of life"
"enduring" for holding up for 5.5 months
and even "most durable [they]'ve worn" after the shoe had held up for 5 months of 6-8 hours of play per week
On the other hand, more than a few playtesters reported that the sole started peeling away from the shoe after about 10-12 hours of court time. So, they had to get a replacement pair given the 6-month outsole durability warranty.
One avid player also warns that if you toe drag, the shoe does not have enough toe protection. He plays about 8 hours a week and had gone through the shoe in about 3 months.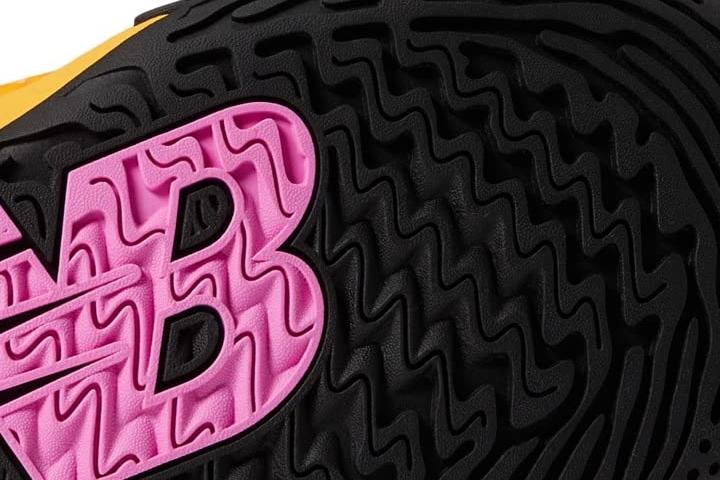 Traction is excellent!
On a lighter note, the Ndurance rubber outsole provides a top-notch grip, according to the reviewers. They didn't experience any slippage issues, be it an initial push-off or a quick stop. "I'm gripping the court with some authority," shares one of the experts.
Several players also found that the shoe has a perfect balance between "grip and slip." One of them was able to slide out of hard stops "in a very controlled manner."
Quite light for a stability shoe
The Fresh Foam Lav V2 is not a heavy shoe. At 13.8 oz (392 g), it doesn't make it into the lightweight tennis shoe range (12.7 oz / 361 g on average). However, the reviewers immediately noticed that it is lighter than the original Lav (14.5 oz / 410 g).
Most tennis players are also surprised with how much support the shoe manages to provide without feeling clunky.
Not a shoe for warm weather. Gets hot!
Unfortunately, the shoe did not meet the expectations in terms of breathability. As the upper is beefed up for comfort and durability, it affected the ventilation. Here is what the wearers say:
"could use some more ventilation in toe area"
"a bit hotter than I was expecting"
"on days over 85 or so, I can't use these for more than 45min"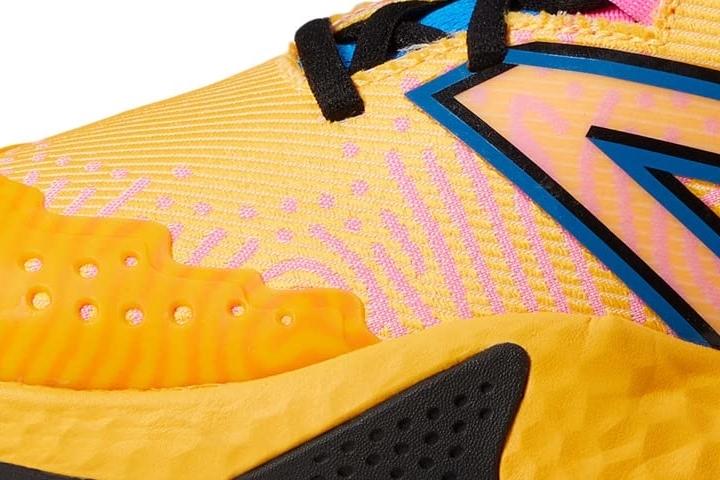 NB Fresh Foam Lav V2 has got the looks
From a visual standpoint, the Lav V2 is an impressive shoe. Many people reported receiving compliments every time they wore the shoe. They also like the vibrant color options.
Also, the overall design was inspired by the New Balance OMN1S basketball shoes.
Compare popularity
Interactive
Compare the popularity of another shoe to New Balance Fresh Foam X Lav V2: