The 880 v11 is one of the best daily trainers that you can get from New Balance. Amazingly comfortable and well-cushioned, it will help you cover any distance up to a marathon. Straight from the box, you get an equally enjoyable experience in the upper and underfoot. And that's not to mention the beautiful aesthetics coming with it.
Pros
True to size
Secure foot lockdown
Responsive and cushioned
Very comfortable
No adaptation period
Impressive grip on wet surfaces
Minimal wear after 100km
New Balance Fresh Foam 880 v11 review
The New Balance Fresh Foam 880 v11 is a very comfortable running shoe suitable for high mileage runs. It offers a responsive and cushioned ride while delivering excellent grip on varied surfaces.
With its impressive performance and nice-looking design, the New Balance 880 v11 is a sure win.
Who should buy it
The Fresh Foam 880 v11 is recommended for runners who:
need a shoe for long-distance runs
are heel strikers
prefer a cushioned ride
Who should NOT buy it
Look away if you are:
a runner who needs stability (the New Balance 860 line offers stability features)
into tempo work and need more of a speed shoe (we suggest looking at New Balance Fresh Foam Beacon v3)
The Fresh Foam 880 v11 fits true to size
The New Balance Fresh Foam 880 fits like advertised. My 10.5 size felt correct with just the right amount of toe room.
Responsive and cushioned
I can't mention enough how the shoe feels like running on clouds. Despite being very cushy, the shoe felt like it is returning energy with each footfall rather than absorbing it. Besides that, the top of the heel curves away so that unlike other shoes it can never dig into your Achilles tendon.
It's an aesthetically pleasing shoe that provides a comfortable ride. I really enjoyed my first 100 km with the shoe because it is one of the most cushioned shoes I have had in a long time.
Very comfortable
The heel is snug and the top of the heel curves away from your Achilles forming the most comfortable heel I have had in a shoe. The toe box was spacious enough and felt super comfortable.
Secure lockdown
There are extra lacing holes so lots of options to adjust to secure the feet. My feet were locked in with no slipping yet never any pressure points.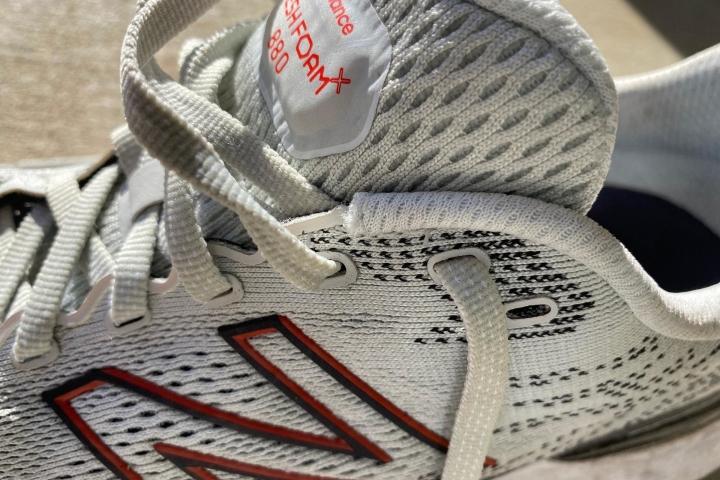 Best for heel strikers
If you are a heel striker you will really like these shoes. The rear part of the sole has just the right cushion to allow the foot to strike then roll through the stride. I am usually a mid-foot striker, but due to a calf injury, I tested the shoe mostly with heel striking.
Requires no adaptation period
There isn't anything I found that would require any adaptation to stride or strike with this shoe. It's fairly conventional in that sense. It may depend on the individual but nothing about this shoe would force any adaptation.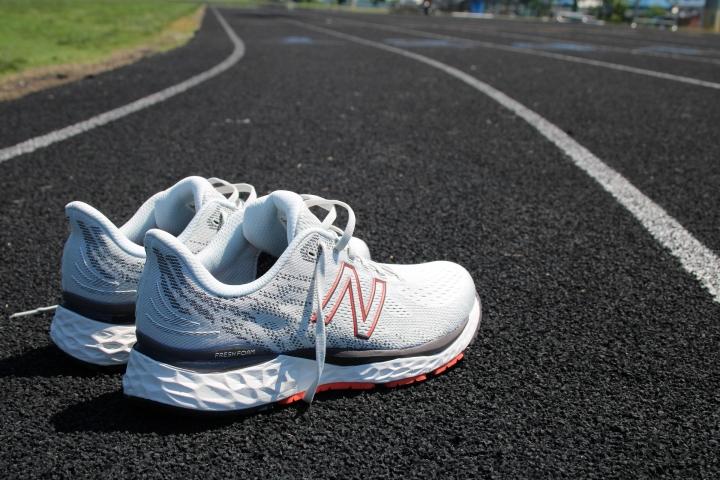 Impressive grip on both dry and wet surfaces
In the 100 km I ran, the weather was fairly dry, however, one occasion presented a light rain which tends to make the pavement greasy. The grip on dry roads and the track was perfect. No-slip at all. On the one rainy day I found that, despite the slippery wet pavement, the shoe felt like I had suction cups on. No-slip at all! I found that to be a pleasant surprise.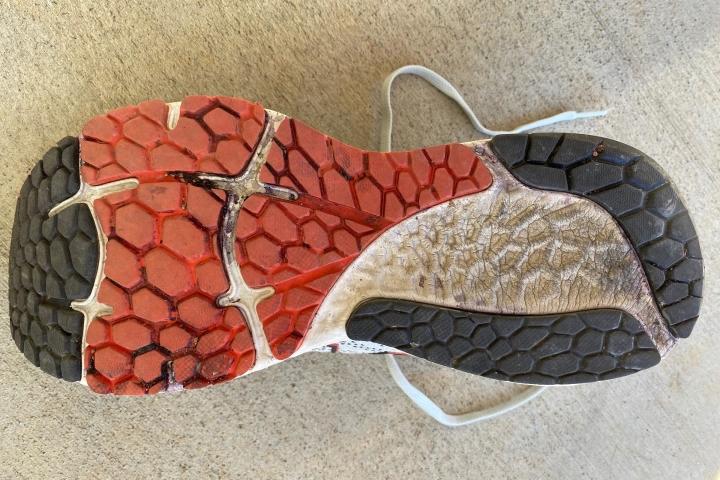 The Fresh Foam 880 v11 is great for long runs
During my 100 km test, with varied pace from 4:50 to 6 min/mile, I ran on:
80% on roads
10% on hard gravel trails
10% on track
The shoe is great for the bulk of your training days and could probably work for tempo, but you may want to go to a less cushy shoe for speed work. It's personal preference really.
Not for warm days
The New Balance 880 v11 has a mesh upper that gives average breathability. On a very hot day, my feet were very sweaty and the shoe was quite damp after.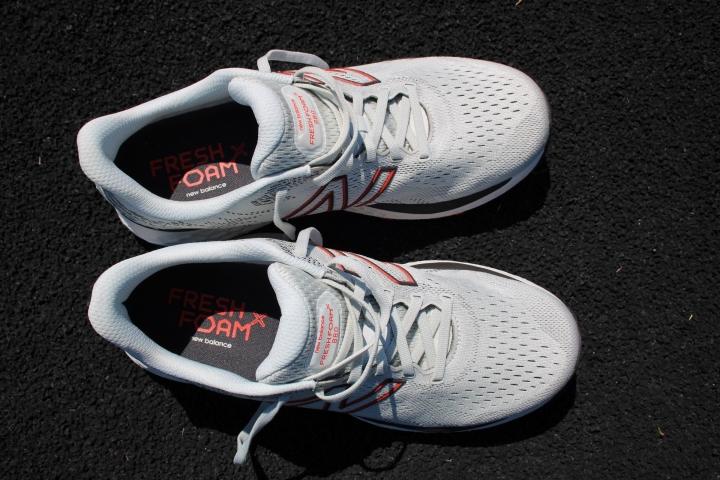 Minimal wear after 100km
So far the wear has been minimal however it would require a longer test period and perhaps 500 to 600 km of further running to determine value based on wear.
Aesthetically nice
The New Balance 880 v11 has an attractive look. It's not unconventional but it's fresh in the white upper with red and black soles that I tested.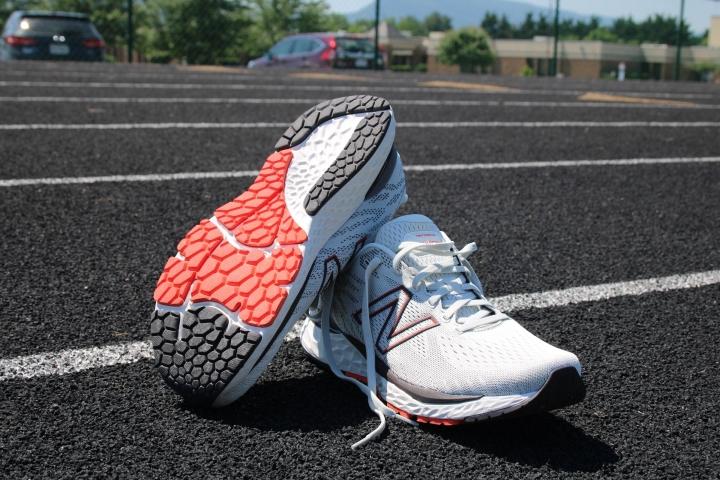 Competitive price
Cushioned neutral shoes have an average price of $127. Retailed at $129, the New Balance Fresh Foam 880 v11 is competitive with other cushioned neutral shoes.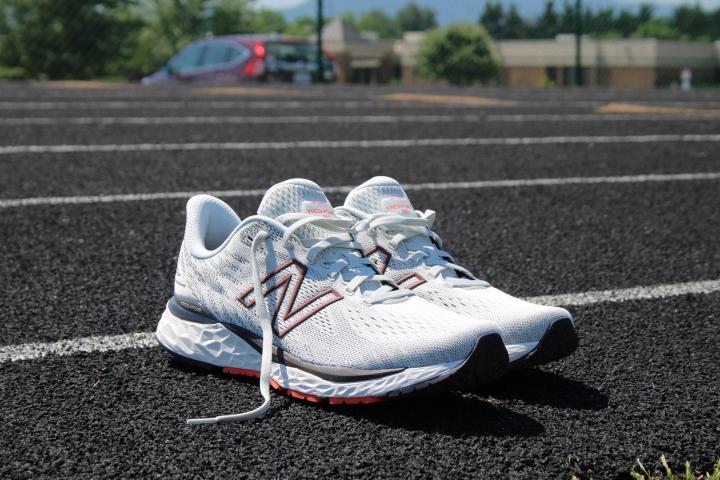 Conclusion
I would definitely go for the New Balance Fresh Foam 880 v11 again. Having worn New Balance since the 1970's I can attest that their shoes have come a very long way and represent the state of the art in running shoe design well.