85
The Corescore is a score from 0-100 that summarizes opinions from users and experts. Below shows the distribution of scores for all running shoes.
Verdict
New Balance has managed to create a stability shoe that bucks the trend of stability shoes. The arch isn't overly intrusive, it's not too heavy, it doesn't try to force you to run in a certain way, it's not painful to run in. I really can't rate these shoes highly enough. If you're looking for a stability shoe, look no further!!
Pros
Durable
Supportive
Brilliant technology
No gimmicks
Highly comfortable
Cons
Quite a lot of padding
Not very flexible
Runs small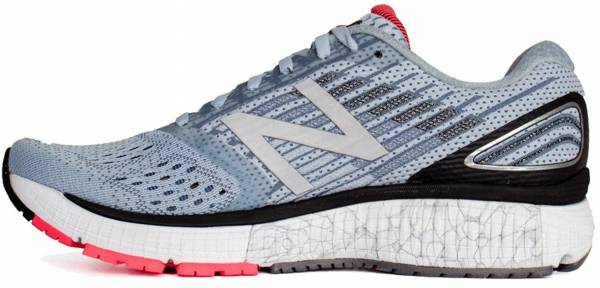 76% say it's true to size.
Comparison to similar running shoes
New Balance 860 v9 review
I really like the look of the 860v9. The colours are nicely understated and they don't seem like they're trying too hard. Which I much prefer! I really like the embossed style 860 on the heel and the fact that there are not loads of hideous reflective strips all over the upper.
I'd happily wear these as a day-to-day shoe (if I didn't already have a day-to-day shoe of course)!
Tech Specs
UK11 weight 380g
10 mm drop
Blown rubber outsole
Dual density midsole
No-sew material application
Synthetic/mesh upper

Breathable, comfy upper
The 860 v9 has a very breathable mesh upper. It's comfortable and has enough given in it that it allows my feet to spread. It's not too padded which I really like and I really like the overlays on the outside of the shoe. All in all, I really like the upper of this road shoe.
These are just, meh! Yes I know that's not really a thing but I'm sure you get the picture. Nothing special with the laces. Nothing bad, just nothing good. Moving on.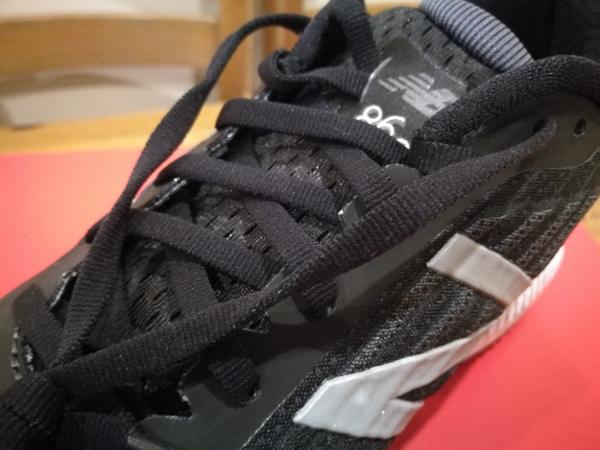 The 860 v9 has a very solid heel
I'm not usually a fan of this as I prefer a more flexible sock-like heel. Having said that I really like how secure I feel in these shoes. I didn't once feel any movement and my first run in them was 13.2 miles long! Stellar performance.
Secure heel lockdown
Whilst more padded than I would usually like I can't really complain too much about the collar. It's soft and comfortable and locks my ankles firmly in place.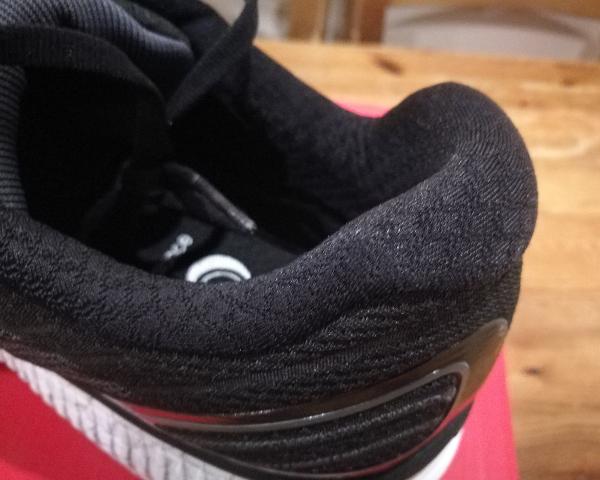 It does what it says on the tin really. Soft and padded enough to provide comfort across the tops of my feet yet light enough that it doesn't add too much unnecessary weight. It also does a fine job at keeping out the crud (grit etc.. from the road).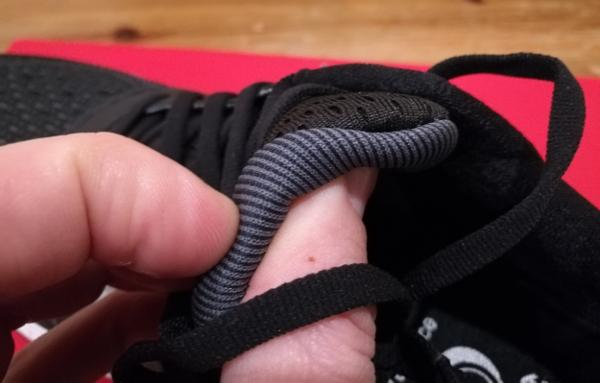 Very little to say in terms of safety on these stability shoes from New Balance. On the upper at least!
They have a very slight reflective N on their sides however it's not very reflective so I don't think it's there to make the shoes more visible. That's about all there is, to be honest. More on 'safety' in the next section.
The New Balance 860 v9 has a very flat sole
It is clearly aimed towards road use however it seems suitable for use on some light trails and gravel tracks too.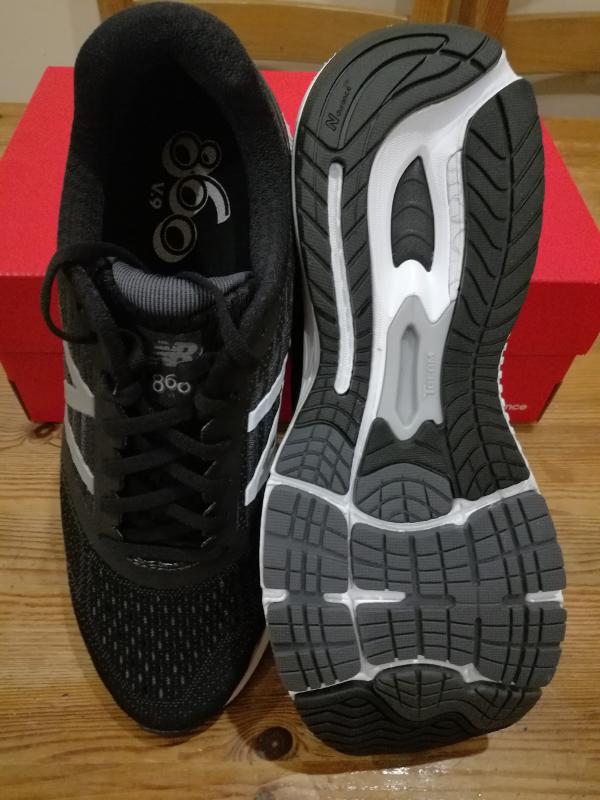 There's something called a T-Beam moulded into the midsole.
New Balance says that this technology "features a lightweight, flexible TPU shank designed to deliver greatly enhanced torsional stability and arch support. This is achieved through a unique central beam structure."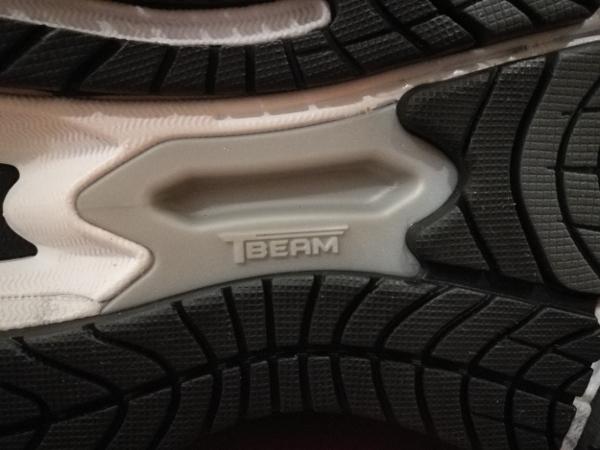 I'm not completely sure what that means but I think it could be why the shoe feels a stiff in the sole as it does. Usually, I'd say the more flexible the better, but for some reason, the 860 v9 feels great because it's so solid.
100 times better than the technology used on the Kayano 25!
This is where this shoe really, really shines. What New balance has done with the midsole on the 890v9 is something else!
The inner edge of the midsole is stuffed with not only a harder compound of foam but more of it too, look at the photos below. You can visibly see the height difference. This means it's virtually impossible for your ankle to roll inward too far and cause an injury. It's brilliant!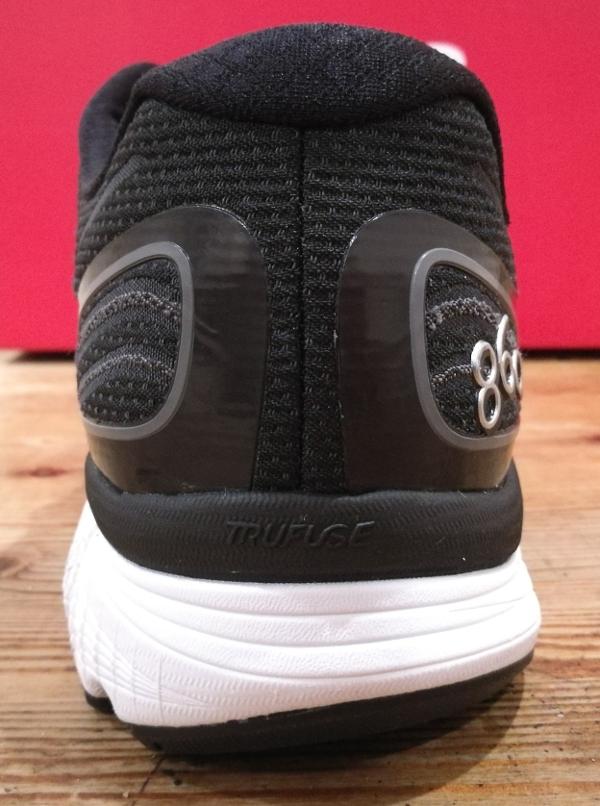 It is not flexible
From the best feature to the worst. This shoe is not flexible.
I mean it doesn't try to be or claim to be. It almost makes not being flexible a plus point. But for me, it never will be. I had to push pretty hard to get the toe to flex. Better than some, worse than most.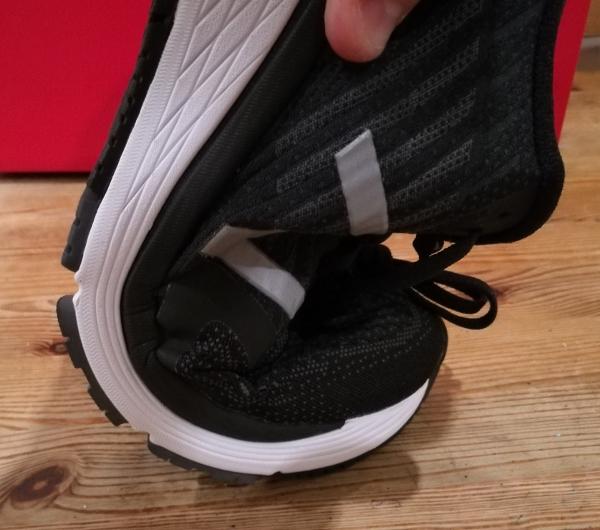 Less aggressive but durable outsole
Designed for the road the 860 tread isn't aggressive at all. It is however very durable.
When I checked the bottom of these beasts after my first run I honestly couldn't see any wear. None! This is a first for me as I usually wear the outside of the midfoot on most of my shoes very quickly. More plus points to New Balance!
Grippy enough for roads in all conditions. It does pretty well on the light trail too. I can't fault it! Hard-wearing and grippy. What more could you ask for?!
Really, really comfortable
I can't really stress this enough, these shoes are really comfortable. One thing that let them down slightly is that they did seem slightly too small. I'd probably suggest going a half size bigger in these than usual but it wasn't a killer, just marginally too close on the toes of my bigger foot.
There's not a tonne of arch support unlike other stability shoes or even conventional running shoes for that matter. This is a welcome surprise and it certainly doesn't limit the 860 in any way. It makes them far more comfortable!
Other than this they're pretty great! They hug my feet at the same time as locking them down. It's a win-win.
Sufficient toebox
The toe box is adequate, though not the roomiest. I'd prefer a bit more space in there though I didn't feel overly constricted.
I didn't get any toe pain on any of my runs which is a good sign and the upper material provides enough flex that my feet could splay a bit more than in other conventional shoes.
Performance
I'd say that the focus for these road shoes was longer distance runs. You're not going to break any speed records in them anyway, let's just say that.
They perform admirably over most distances but I really enjoyed running in them at slow paces for long runs. My first 13.2 mile run in them was brilliant.
I didn't notice their weight whilst running and actually think that they helped me to maintain a good steady pace. It's hard to explain but perhaps the technologies built into the 860 v9 really do work!
On road - Ideal for the road, the flatter the better but they can cope with pretty much anything and any weather. Top scores!
Off road - If you're looking to hit some light trails and paths these are fine. Though they certainly shouldn't be your first pick. You'd be much better off with a dedicated trail shoe like something from Inov8 for example.
For speed - No, no, no!
For distance - Great! I could run in these all day long and still keep going. I'm not sure if I've run in a shoe that's better suited to long slow runs as these before!
Compare popularity
Interactive
Compare the popularity of another shoe to New Balance 860 v9: