Verdict from 7 experts and +100 user reviews
6 reasons to buy
The color schemes available for the New Balance 860 v8 were lauded for being trendy and agreeable to the eyes.
Most consumers noted that the available widths accommodated their preferences.
Several users stated that the stability mechanisms worked well when it came to delivering a stable ride for overpronators.
A few people welcomed the toe box, as it was wide enough to accept natural toe-splay.
Some heavyset testers noted that the underfoot cushioning system was steady and comfortable enough to alleviate knee issues.
It's true to size, according to a lot of runners.
2 reasons not to buy
Some runners observed that this running shoe looked big and felt heftier than the previous iteration.
A few purchasers reported that the underfoot platform was awkwardly stiff.
Bottom line
The 860 v8 from New Balance received an overwhelmingly positive response from runners. They welcomed its appealing design, its comfortable construction, and its stable underfoot experience. Even stout individuals found the experience very agreeable because they remained steady and well-supported on the ground. This road shoe was lauded because of its efficacy. A few complaints arose, but they weren't very detrimental to the image of this excellent update to the 860 series.
Tip: see the best running shoes.
Our reviews
When I tried the stability shoe with a notable degree of support.
So, if you want to move from a motion control shoe to a less supportive shoe, this model will help that transition.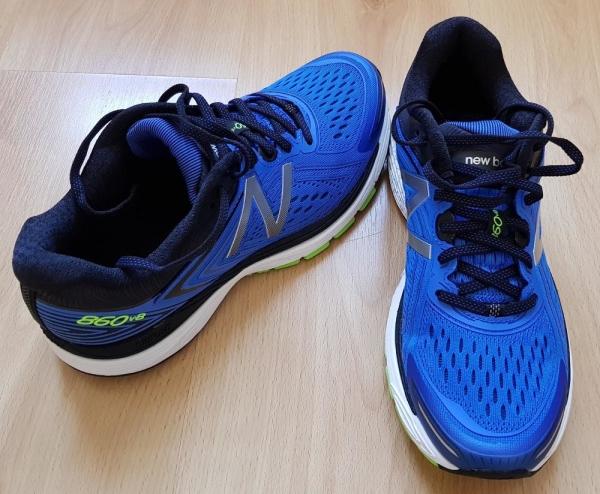 Specs
Support - Stability
Heel to toe drop - 10mm
Heel height - 31mm
Forefoot height - 21mm
Upper
The upper is of very good quality. There is not much plastic in its make-up and it is very soft.
New Balance has a good track record for creating these kinds of supportive shoes where the upper makes you feel as though you are just wearing socks. Usually, I don't get that 'sock' feeling in supportive shoes.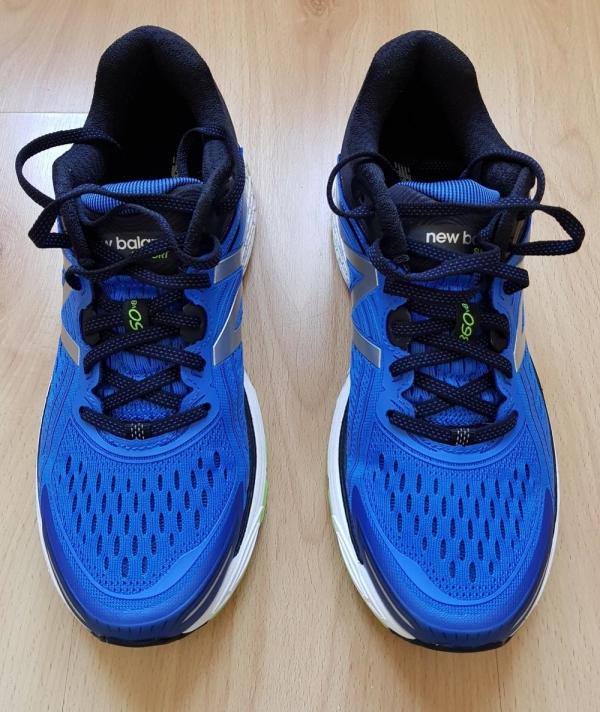 Fit
As mentioned above, the 860 v8 is a very comfortable shoe and is true to size.
However, there isn't a lot of room for your toes, so it's not a model suited for people with a wide foot or big toes.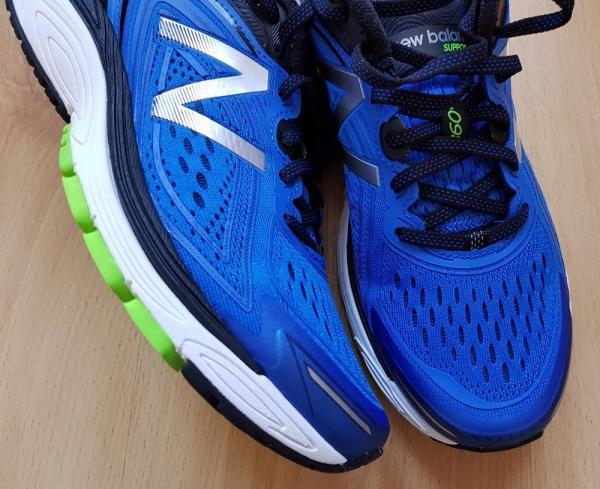 Insole, Outsole and Stability Support
The insole provides a fair amount of cushioning, and the support will correct your stride. However, I believe that this shoe offers something in between motion control and stability rather than simple stability. I would call it stability plus.
The outsole is not soft, providing a firm ride, and the material seems to be very durable. You have to log plenty of miles to see any signs of wear on the outsole.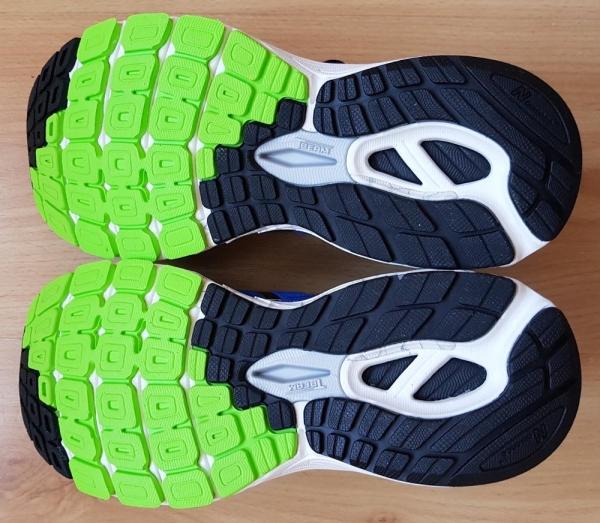 Personally, I haven't run hundreds of miles in these shoes, but the overall durability seems above average, especially for the outsole.
My guess is that the 860 v8 can last 600km (370 miles) without any issues.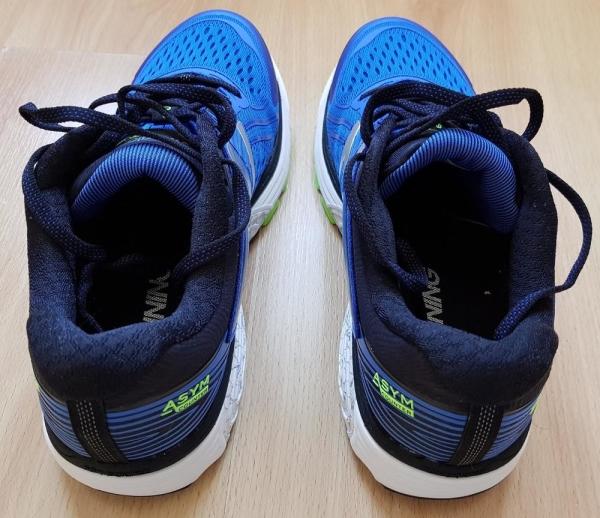 Runner Profile and Workouts
The 860 v8 is definitely a shoe for runners with marked pronation and for those who are coming from motion control and want to move to a shoe with less support.
In terms of workouts, the 860 v8 is suitable for everyday easy running to steady running. If you want to do speed session on a stability shoe you should consider the Adidas Tempo 9.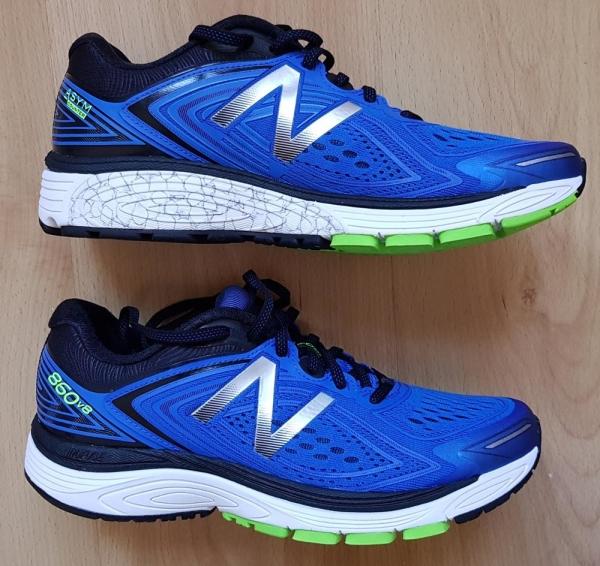 Pros
Big stability degree
Quality materials
Cons
Weight, the 860 v8 is not a light shoe, UK 7 is 300g
Very firm ride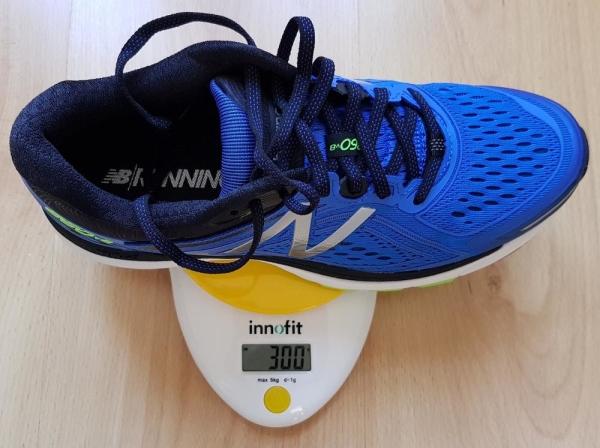 Conclusion
I would recommend the New Balance 860 v8 only for runners with serious pronation, otherwise, I would go for a shoe with less support and a less firm ride.
Unfortunately, the high degree of support comes with a fairly heavy weight, but at the end of the day, it is acceptable.
The quality of the materials undoubtedly justifies the 860 v8's price tag, and New Balance offers the shoe in a wide array of bright colors, so you don't have sacrifice a cool design even if you have to go for a supportive shoe.
I had previously been running in New Balance 890, but I felt that the toe box was too small and tight. Each step felt a little stiff/hard.
I run about 45 miles a week, and many of those miles are on the road. So, I usually feel better in a cushier, more comfortable ride. I decided to check out the New Balance 860.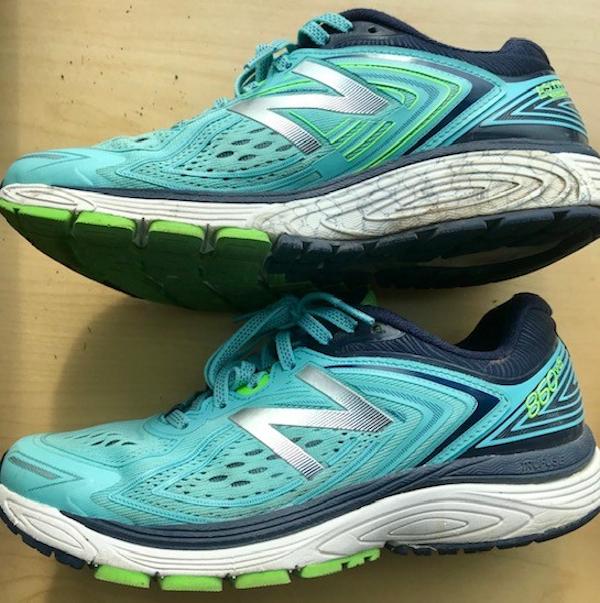 Besides, I have a neutral foot, and I decided I wanted a little more support on my feet. I'm also just on my feet a lot during the day (I'm a medical student).
After a long day in flats, I need something bouncy and comfortable.
Why I love this shoe
I've run about 100 miles on this pair, and I absolutely love them. Unlike similar Asics shoes I've had, these do not feel clunky or heavy.
They come in stylish color choices and honestly don't look lame or nerdy. Even in thicker, cotton socks, my toes have enough room to move around.
The mesh on the top of the shoe is fairly thin. So, my feet are also able to breathe while I'm finishing up a longer, hotter run.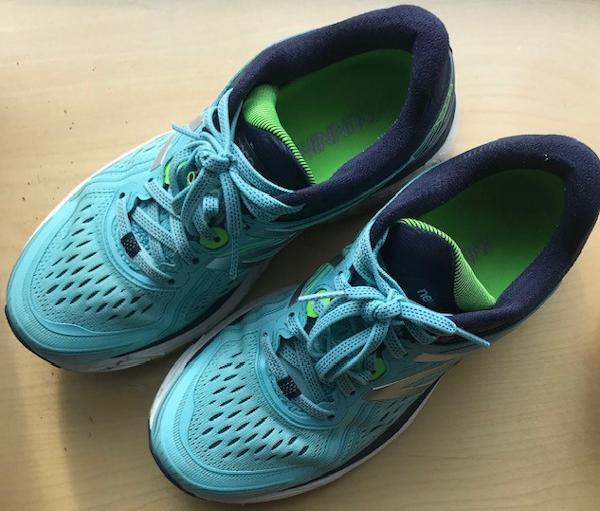 I have also tried even more cushy shoes like Asics Cumulus and find that those are almost too cushy.
I definitely like that the 860 are stable, and I don't feel like I'm sinking into the ground every time I take a step.
Shoe specs
New Balance boasts:
276 grams (9.8 oz)
10 mm drop
Engineered mesh
Dual-density midsole
Blown rubber outsole
Stability post
No-sew details
TRUFUSE

ACTEVA (compression molded foam) and ABZORB (superior foam cushioning and compression set with rubber) in the midsole

Synthetic/mesh upper
Another reason why I love New Balance shoes in general—they are true to size/style/comfortability/and function.
Any limitations?
Like a good scientist, I always must include limitations to any shoe. Honestly, the only thing I can think of is that the outsole wears down quickly.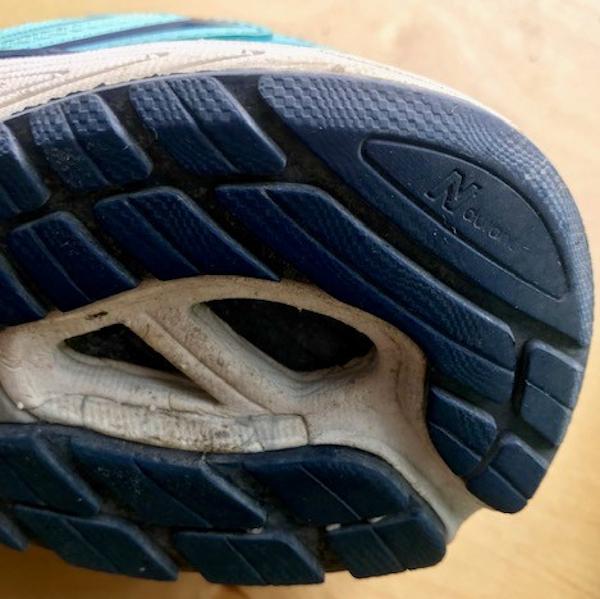 After about 300+ miles, I would call it quits. It's a good investment of a shoe but only lasts about that long.
Why I'll buy it again (and again)
Overall, I would rank this shoe a 95/100! This is definitely a solid trainer that I will come back to time after time.
I have done faster workouts in this shoe and do not feel slowed down by its weight or feeling clunky. It has enough bounce that I can slog out a long run or pick up the pace at the end.
Unfortunately, I believe they changed the design of the 860 v9 and v10 of this shoe. The v10 version looks like more of a "flyknit" outer mesh.
Whatever is left of this version is being sold at a discount price and at limited color options, but the newer versions (as always) seem to look a lot cooler and fashionable.
Either way, I would highly recommend this shoe to any long-distance runner with a neutral foot. If you are new to New Balance, I would try out this stable and comfortable ride.
Good to know
The New Balance 860 v8 is a stability shoe that's designed for the runner who has overpronation. It features some components that keep the foot steady and comfortable during the running session. The midsole has a full-length foam that works in conjunction with a stability post to ensure smooth and uncomplicated steps.
The façade mostly looks the same as the one from the previous version, but there's a more noticeable focus on printed overlays rather than the stitched ones. There still are stitched sections, but they serve as reinforcements. Engineered Mesh continues to provide a seamless wrap.
Two types of rubber are used in the outsole unit. Reinforcing critical sections is a highly durable compound that staves off aggressive wear and tear, while the forefoot has a more responsive material that is even capable of adding springiness to each toe-off.
The forefoot area of the outsole makes use of a blown rubber compound. It provides traction and protection against abrasion. But it also adds some cushioning and responsiveness because it has a bouncy nature. It aims to energize each toe-off, that's why it's placed in the front section.
Ndurance is made out of rubber that's highly resistant to abrasion. It covers the sections of the sole which are more prone to wear and tear. It's also designed to last long.
Flex grooves are patterned across the outsole. They make the rest of the platform more flexible and devoted to the inherent bending capacity of the runner's foot.
TruFuse is a foam component that's made out of the amalgamation of New Balance's ACTEVA and ABZORB technologies. This dual density foam is firm on top yet soft at the bottom, so its goal is to provide a steady yet responsive underfoot experience. The same midsole material is also placed in the New Balance 860 v9.
A stability post is added to the medial side of the platform. It aims to deliver support and steadiness to those who have overpronation. It even has a non-prominent design that blends with the color scheme of the full-length foam unit.
The New Balance 860 v8 features an engineered mesh upper. This material has a cloth-like quality to it, thus bringing a sock-like fit to the wearer. Visible ventilation pores accommodate environmental air into the foot-chamber, delivering a fresh and dry running experience in the process.
Overlays are printed onto the façade. They add some visual flair, but their primary purpose is to provide a secure foot-wrap. Some sections are bolstered by stitches, but they're not separate layers that add bulk to the shape of the upper.
An external heel counter locks the foot in place and prevents it from exiting the shoe accidentally.
The padded tongue and collar bring cushioning to the top portions of the runner's foot. They also prevent in-shoe wobbling.
Rankings
How New Balance 860 v8 ranks compared to all other shoes
Popularity
The current trend of New Balance 860 v8.