Verdict from 2 experts and 100+ user reviews
7 reasons to buy
Numerous buyers lauded the comfort they experienced when wearing the New Balance 517.
The shoe pleased many consumers with its accurate fit: it ran true to size and required no break-in period.
It was considered an excellent companion for both gym use and daily wear by a significant number of people.
New Balance crafted this trainer with a lightweight construction which satisfied a lot of purchasers.
Most users expressed contentment with the product's reasonable price point.
More than a few testers reported that the shoe breathes well and keeps the foot fresh.
Those who required an extra wide option were satisfied with the way it fit them.
2 reasons not to buy
Several purchasers complained about the eyelets tearing within the first few uses of the trainer.
A few people griped about the quality of the insoles which lacked proper cushioning.
Bottom line
The New Balance 517 received lots of positive feedback for being a comfortable, well-fitting, lightweight, and breathable training shoe. It served well for both working out and everyday walking. On the downside, a minority of buyers were disgruntled by the easily torn eyelets as well as the poorly made insoles. But overall, the shoe was considered an excellent value for the money, especially given its affordable price tag.
Tip: see the best workout training shoes.
Our reviews
I worked hard to get through school, establish myself in a career, and eventually to raise a family. All the while, I maintained a commitment to the fitness lifestyle. If someone had told me during my early 20s that I needed to spend $130 on a single pair of running shoes, I would have laughed them out of the room.
Covering rent and daily living expenses was hard enough. That $60 pair that was on sale for $40 would have to work, and it would have to last a full year or more.
Even as I grew older and became established in my career, I still questioned the need to suddenly start spending more on my exercise shoes just because I could. Was there really any benefit to doing so?
I tried a few more expensive pairs and, while I enjoyed them, I realized that they were not fundamentally all that different than the better budget models I had used over the years. Did I like expensive shoes? Yes.
Did I really NEED them? Not exactly.
Why budget shoes?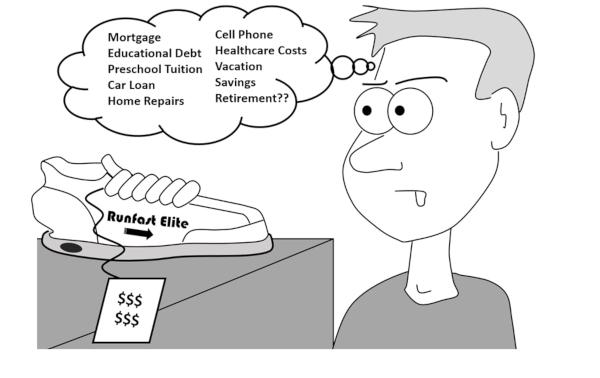 Let's face it, starting and maintaining a fitness routine can be daunting in many ways. It can be hard to figure out what to do and what equipment you really need. There is no need for it to take a huge dent out of your savings.
We live in a world full of choice, a staggering amount of information, and few real filters. Specialty exercise shoe brands boasting new technologies at prices in excess of $150 per pair of shoes seem to keep popping up.
Running-specific stores sell the fitness lifestyle as an expensive and exclusive commodity not available to everyone. I'm here to tell you that you don't need to buy into all of the hype to be fit.
I know budget shoes because I have lived in them for 20+ years. I have worn them on long runs, intense weight training sessions, and offroad adventures from age 22 until now (and I plan to continue to do so until I can no longer walk!).
This isn't just one of those reviews where an "expert fitness person" decided to try budget shoes to see how they'd do before returning to the expensive ones. I know these products very, very well.
I'm going to show you some shoes that will give you a solid bang for your buck and get you moving more. I have put all of these shoe models through the ringer and can tell you that they worked for me.
Although not everything works for everyone, I do believe that what you'll see below will be effective for many people. I hope you enjoy these reviews and contribute to the conversation by posting your own comments on budget models that have worked for you.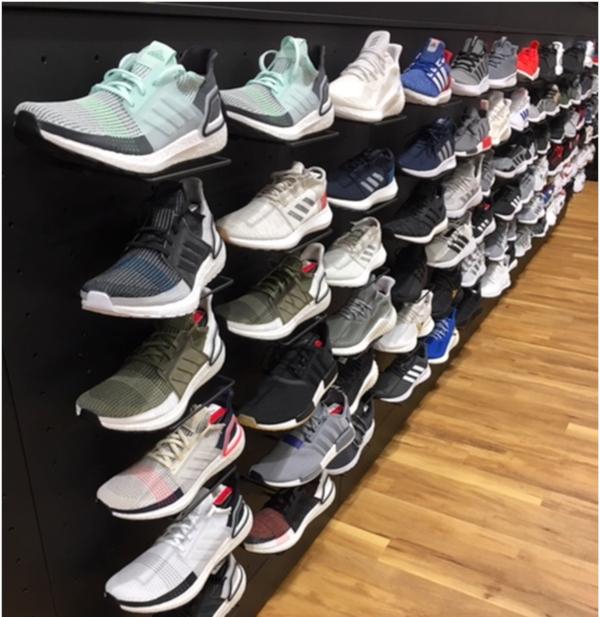 The categories
I will be recommending shoes in three separate categories: cross-training including weight lifting; road running/fitness-walking; and outdoor adventure (which includes trail running).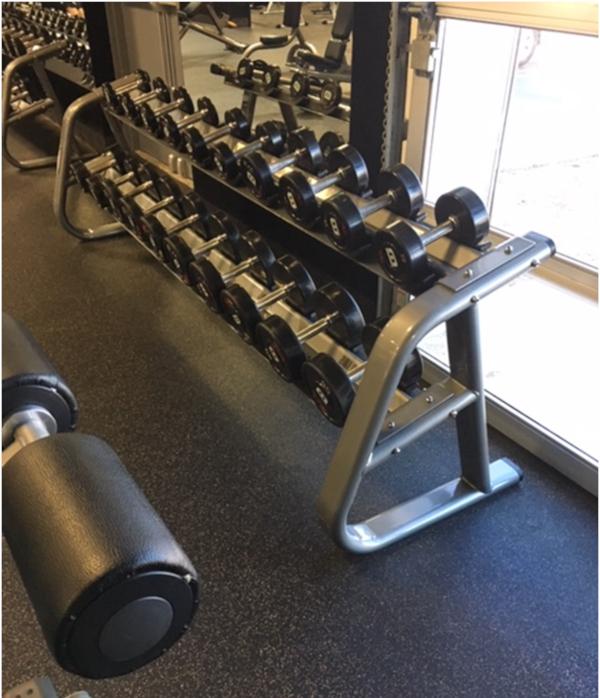 These all take place in different types of environments (as you can see from the pics below) and, as such, it's best to use shoes specifically designed for the type of activity you will be doing.
Cross-trainers may not perform effectively on a trail, and running shoes are not the best choice for weight training (more on that below).

What is a budget shoe anyways?
As the price of top-of-the-line shoes keeps increasing, it's hard to pin down exactly what a budget shoe really is. What's interesting, though, is that shoes in the $60-$70 range haven't really changed all that much in several decades.
My first-ever pair of $60 ASICS running shoes, which I bought in 1998, was designed very similarly to my current pair of ASICS Gel Excites. Shoe companies which invest a great deal of resources into creating flagship models that cost $120 or more often use similar designs for their shoes that retail for less.
Other companies seem conscious of the fact that not everyone is going to spring for that $150 pair, so they create lower-priced options that still work very well for the average fitness-minded person.
I will say that I do not consider any shoe that retails at a suggested price of over $100 to be a budget model. Generally, a budget shoe that provides any sort of value retails at a manufacturer-suggested price of $60-$70.
Buying a shoe with a suggested price below $50 is likely to be dicey (although it's very common to find shoes with an MSRP of $60-$75 on sale for $50 or less!). So, I'll be focusing this writeup on models that start at a suggested price of $50 and cap at $100.
The caveat
Not every model shown will be the latest in its series as of the time that this article was written. But, I believe that it shouldn't matter much to you. Almost all of the shoes featured here are part of a particular line or series (for example, the ASICS Contend is now up to its 5th iteration).
Often, I have used multiple models in the series (for example, ASICS Contend 1 and 3) prior to the model I am reviewing (ASICS Contend 4). Where possible, I have tried on the latest model at a local sporting goods store so I can offer insights as to how the line may have changed.
But the fact is, by the time you read this, there will probably be another new version of that model available. What's important in most cases is the way the shoes are designed overall, rather than the latest features they offer.
On to the shoes…
Cross-training (including weight lifting)
The Winner: New Balance 517 (typically retails for $50-$60)
The Runner Up: Reebok Yourflex Train (typically retails for $30-$60)
Third Place: Nike Free Train (typically retails for $100 or less)
I'm in the gym between 4 and 6 times a week, and almost every workout involves a significant component of strength training either using weights or body-weight. I use cross-training shoes exclusively for this type of exercise because I have learned that running shoes make terrible weight trainers (see below for more on that).
I like having a pair of shoes that can take me from cardio machines through strength training and dynamic motion exercises, depending on what I am doing that day.
Why Cross-trainers?
With their elevated heels, lack of lateral stability and generally soft cushioning, running and fitness-walking shoes are designed to push you forward. This is great when hitting the road or trail, but not so good when you are looking for a stable platform for weight lifting or high-intensity training.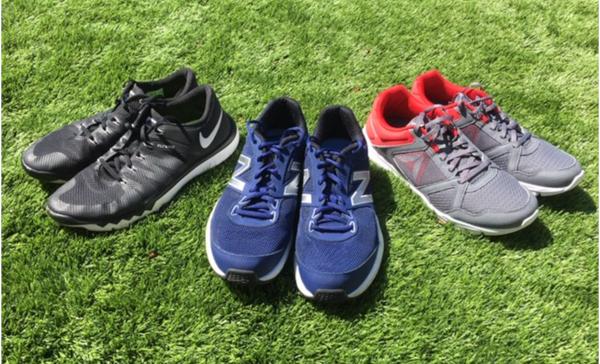 Therefore, if you're planning to use the weight room at the gym or to do any activity outside of running or walking, I would highly suggest buying a pair of cross-training shoes. These are designed to provide side-to-side stability and a firmer, flatter platform for pushing weight.
You want your feet to feel locked-in and grounded. As a bonus, cross-trainers can also usually be used on cardio equipment like elliptical machines. Save the running shoes for the next time you pound the pavement or trail!
The New Balance 517
This shoe exceeded all of my expectations in its category. It works great on cardio machines while possessing the requisite stability and lateral support to handle any weight routine I might tackle.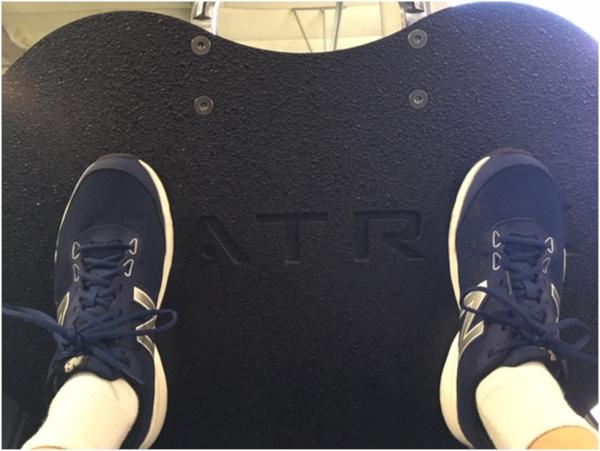 This shoe is incredibly durable and sturdy. I have been using my current pair for the better part of a year now, and they have withstood some punishing workouts to become my top pick for gym newbies and seasoned gym rats alike. I use them for my heaviest lifts, and they always come through like a champ!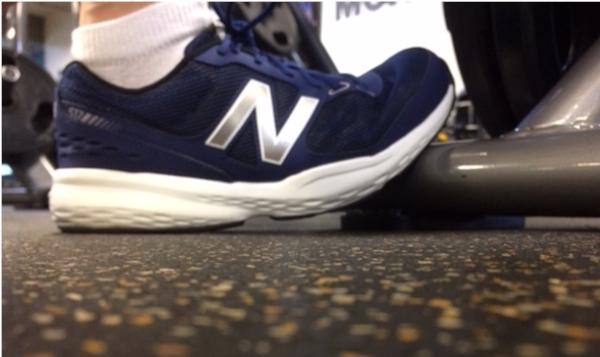 Pros
The ABZORB foam, which comprises the midsole provides firmer support than some of the foams used by other brands, which creates a great platform for lifting weights.
The outsole is flat and provides great traction to grip the gym floor.
The sole unit is wider than the upper, creating secure foot stability and a feeling of balance during lifts. It is also thick enough to cushion the foot for walking-based workouts.
The stock insole is removable, allowing replacement with any manner of aftermarket insole.
The uppers are roomy but still snug and are perforated to be breathable.
Cons
The heel is somewhat elevated over the toebox. Not a huge deal, but I still prefer an even flatter shoe for certain lifts like squats and deadlifts.
They have a bit of a "dad shoe" look, which is fine for me (I am a middle-aged dad after all!) but may not appeal to those looking for a more modern design.
The Reebok Yourflex Train
Reebok is having its moment right now, since its resurgence over the past decade as a brand dedicated to everyday fitness. Although the brand's association with the CrossFit movement has driven the company to produce some higher-end shoes, they also maintain a great line of budget-friendly models that can be used for general fitness training.

Of these, the Yourflex Train is one of the best value shoes available. With its low-profile design and minimal heel-to-toe drop, this shoe has proven excellent for weight training activities such as compound exercises, squats, and deadlifts.
It also can be used on cardio equipment, although the relative thinness of the sole does not make it my first choice for that. I typically use this shoe on days when I know I'll be focusing mainly on weight training or HIIT-type activities. The version I currently own is the Yourflex Train v10.
Pros
Low-Profile design keeps the foot close to the ground (or weight machine foot rests), providing a stable base for weight-lifting.
True to its name, this shoe is very flexible.
A firm and snug yet very soft and padded heel cup hold the foot in place during motion.
The upper is breathable, light-weight, and provides snug lateral support.
The insole, which is removable, is made from a memory foam material which is quite comfortable. I replace it with firmer arch support due to flat feet.
These shoes are affordable on virtually any budget.
Cons
This shoe is not the most durable model, depending upon planned use. If used in the gym it holds up very well, but if you use it for walking around, you will find that you'll be replacing them fairly quickly.
The thin, flat sole is great for weight lifting and HIIT-type workouts as well as elliptical usage but isn't recommended for any running of more than a mile or so due to the lack of cushioning. This isn't really a "con" though unless you plan only to own one pair of exercise shoes that you plan to use for all activities (not recommended!).
The Nike Free Train
Nike is an established brand, and its Free series is well-known for offering a close-to-barefoot feel. My pair of Nike Free Train shoes are already a few models sold (they upgrade often) but has proven durable.
I prefer these for workouts where I will be doing a lot of jumping, squatting, and any sort of compound motion designed to strengthen multiple muscle groups. The barefoot-like design provides excellent connection with the ground for stability and support.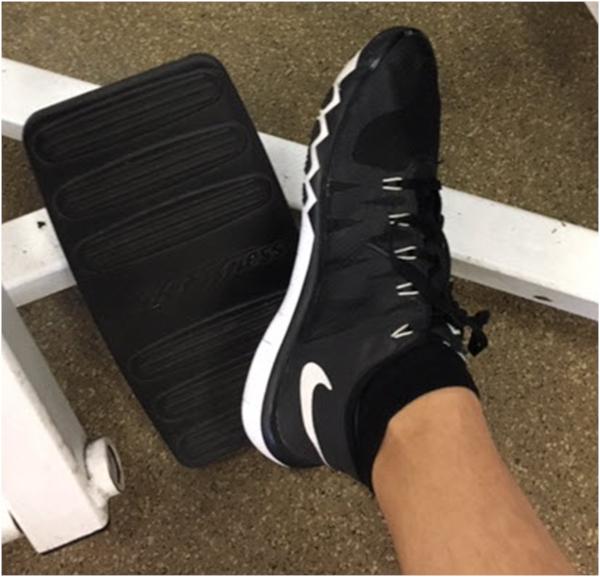 Of the shoes in this category, the Nike Free Train is the most expensive. Newer versions are generally $100 when not on sale. These shoes don't offer much beyond the much less expensive Reebok Yourflex Train in terms of support and cushion, although they do seem more durable.
If you are willing to spend a little more, this shoe is a very good choice and will probably last a decent amount of time if use is primarily in the gym.
Pros
Of the three models I recommend, these are the most flexible and natural-feeling.
The uppers are well-constructed and hold up to abuse in the weight room. They are also very breathable.
The shoes provide a surprising amount of arch support for a minimally-designed model and have kept my foot well aligned through many hard workouts.
Cons
The outsole lacks some traction, which would be helpful in the gym floor.
As with most Nikes, the shoes could use more room in the toe area.
These shoes are more expensive than the others in this category, without providing much more in the way of features.
The Dud (a shoe to avoid)
In my search for good training shoes at a budget price, I have tried a number of different models. Some were better than others.
The worst I tried was the ASICS Gel Craze 4. This shoe was extremely tight in my size, especially in the toe box, to the point that it was painful to wear. One-half size up proved to be too long for my feet.
Perhaps buying a wide width could have helped, although my feet do not measure as wide on a Brannock device. The poor fit made the ASICS Gel Craze 4 a no-go for me, but these may work for you if you have very narrow feet.
Road running & fitness walking
The Winner Brooks Launch ($100)
The Runner Up ASICS Gel Excite ($50-$70)
Third Place ASICS Gel Contend ($50-$70)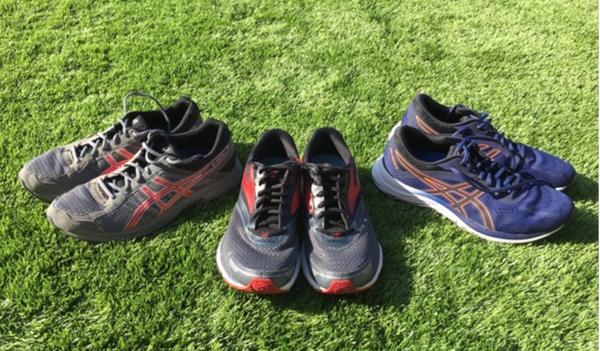 I am certainly not the first reviewer to suggest that some budget running shoes are actually a suitable choice for those of you who pound the pavement as runners or fitness-walkers (typically, running shoes will work for both running and fitness-walking).
I would imagine that those who may be low-mileage runners (up to 3 or 4 miles per running session, a few times a week) are probably not going to need a top-of-the-line running shoe. I'm one of those people.
Now in my mid-40s, my distance running days are behind me. I tend to prefer fitness-walking most of the time, and only run a 2-3 miles a couple of times a week. For me, a budget shoe is perfect.
I will say that those of you who want to run marathons may want to invest in the first shoe on this list, the Brooks Launch, which retails for $100. Those who have more modest goals will probably do just fine with the ASICS Gel Excite or ASICS Gel Contend.
The Brooks Launch
The Brooks Launch is my favorite-ever running shoe, and I credit my discovery of this model with my renewed interest in running in my mid-40s. I have spent the past year putting miles on my Launch 4s, and after a few hundred or so they are still in very good shape.
I am now in possession of a new pair of Launch 6s, the latest model, and they fit and feel exactly like my 6s. Below you can see my Launch 4s on the left (after a year of wear, not looking bad!) and my brand new 6s on the right.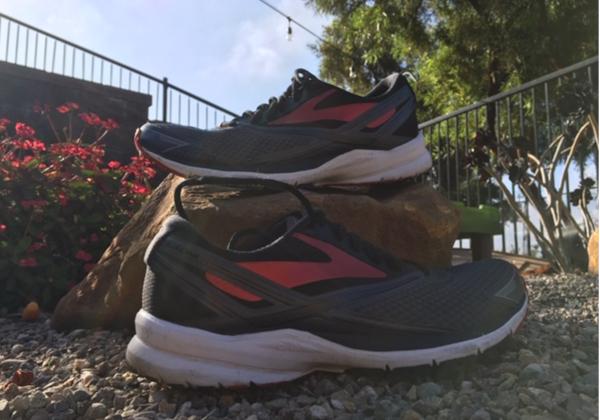 Why do I like this shoe so much? For one thing, Brooks didn't try to do too much with this model. The outsole is very traditional, with a 10mm drop (standard for running shoes before the minimalism movement earlier in the 2010s) and a stable support area at the midfoot.
The cushioning is excellent and, as a plus, it's environmentally friendly (will break down quickly in the landfill). The upper is breathable and very light, with a rigid heel cup to lock the foot in place.
The outsole has just enough traction for the road. Finally, the fit is spot-on for marked size and width. As a neutral runner, I can't imagine a better design than this one. I have run further in the Brooks Launch than I ever thought I could at my age.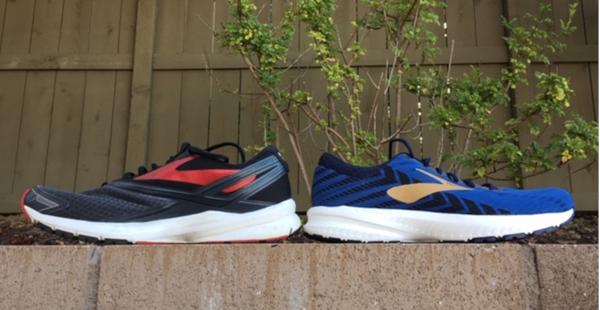 Pros
Excellent yet very simple design.
Responsive cushioning that provides just enough bounce.
Great fit in marked size.
Supportive without being too stiff.
Great traction for the road.
Cons
At $100, this is the most expensive shoe on my list. However, you can always look for a prior year's model at a discount (more on that later).
The ASICS Excite
I have used the ASICS Excite for years, more as a walking shoe than as a runner. However, the latest version (the Excite 6), pictured above, seems to have upped this model's game to create a budget shoe that really works for running.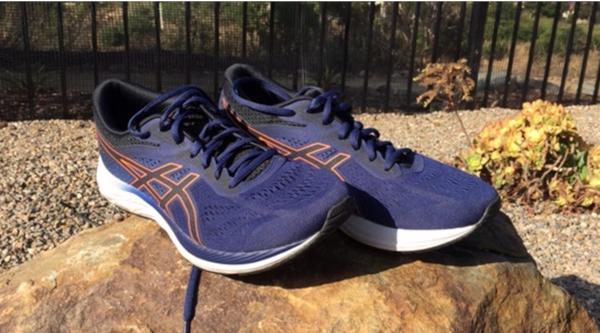 ASICS did so by adding a new kind of cushioning called Amplifoam to the midsole which, when paired with the Gel unit in the shoe's heel, creates a very springy and responsive ride.
The new version also includes a stretchy upper that accommodates a slightly wider foot such as mine quite nicely. Often on sale for under $60, this shoe should be number one on the list of any new or lower-mileage runner. I bought my pair to use for walking and casual wear but have ended up enjoying running in them too.
Pros
Great cushioning provided by the midsole, where the traditional Gel heel unit is merged with bouncy Amplifoam.
Fantastic fit in marked size.
Stretchy upper that accommodates a greater variety of foot types.
Light and breathable.
Rigid heel cup to prevent unwanted side-to-side movement in the shoe.
A very wallet-friendly price tag.
Cons
Really none (t this price point, they are probably the best value you'll find in a running shoe).
The ASICS Contend
There really isn't that much to differentiate the ASICS Excite from the Contend other than the shape of the shoe. The newest version of the Contend (the Contend 5) includes a mixture of Amplifoam and Gel in the sole just like the Excite.

It is priced similarly to the Excite as well. I used the Contend 4 (pictured here, now my gardening shoes after over a year of use) for walking and low mileage running.
They proved to be very durable and supportive. The sole of these shoes is somewhat stiffer than those of the Excite, making them a good choice for entry-level or low-mileage runners who over-pronate.
The only flaw in this model is the toebox, which has narrowed as the models have evolved. The toebox of the Contend 1 and 2 was much wider, and worked well for me.
The Contend 3 and 4 slimmed the toe area down a bit which wasn't ideal. The Contend 5 appears to be following this trend as well. Note that the shoes will stretch a bit over time, but those with wider feet may have trouble getting a comfortable fit.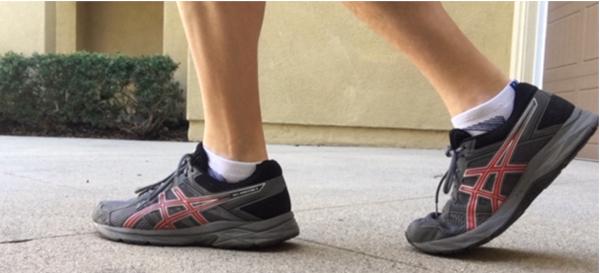 Pros
Great cushioning provided by the midsole. In the latest version (which I do not own), the traditional Gel heel unit is merged with bouncy Amplifoam.
Decent fit in marked size.
Light and breathable.
Rigid heel cup to prevent unwanted side-to-side movement in the shoe.
A very wallet-friendly price tag.
Cons
The toe box of this shoe is somewhat narrow, although it did stretch out over time.
The shoe is a bit stiff, which works for those of us who need extra support but may not be ideal for those looking for a more natural running experience.
A note on Saucony
A number of review sites online over the years have praised the Saucony Cohesion as being an excellent budget running shoe. I have used earlier models of this shoe but have found that the quality of that model has decreased over time (somewhere around version 10), which is why I don't have them on my list.
However, Saucony does make a solid budget running shoe called the Stratos, pictured below. I have used these shoes in the past and liked them, although I didn't find them to be as durable or supportive as comparably priced ASICS models.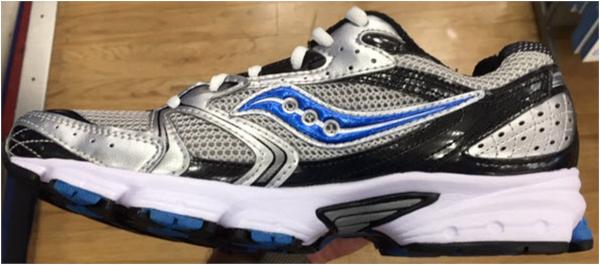 The Stratos is designed like earlier versions of the Cohesion, with an arch plug for support and traditional heel design. It is so-so on durability but is an excellent performer. It retails for $70 but can usually be found for less.
The problem with this shoe is finding a pair. I have only ever seen it at Southwest U.S. retail chain Big 5 Sporting Goods. So if you live near a Big 5 or want to order online, this shoe might be a good bet for you.
Outdoor adventure
The Winner: ASICS Gel Venture ($40-$70)
Second Place: New Balance 410 ($50-$70)
Outside the Box: Teva Hurricane XLT2 ($40-$70)
Out in nature is where I most like to be. Whether it be hiking or trail running, I always enjoy myself when I am off the beaten path. I am fortunate to live in a place full of trails that cut through mountains and undeveloped land.
This allows me to get out and explore, often with my kids. Below is a look at the shoes that have supported me on my many outdoor adventures over the years.
Note that I tend to hike in trail runners because they have all the support I need for hiking yet are versatile enough for running too. I'd rather have one trail shoe that does it all. I do have an old pair of hiking boots that I take out for the more difficult trails, but they don't get that much use anymore.
The ASICS Gel Venture
This is the best trail running and hiking shoe I have used to date, beating out much more expensive models from The North Face and Saucony that I have tried. I am actually on my third pair of these right now.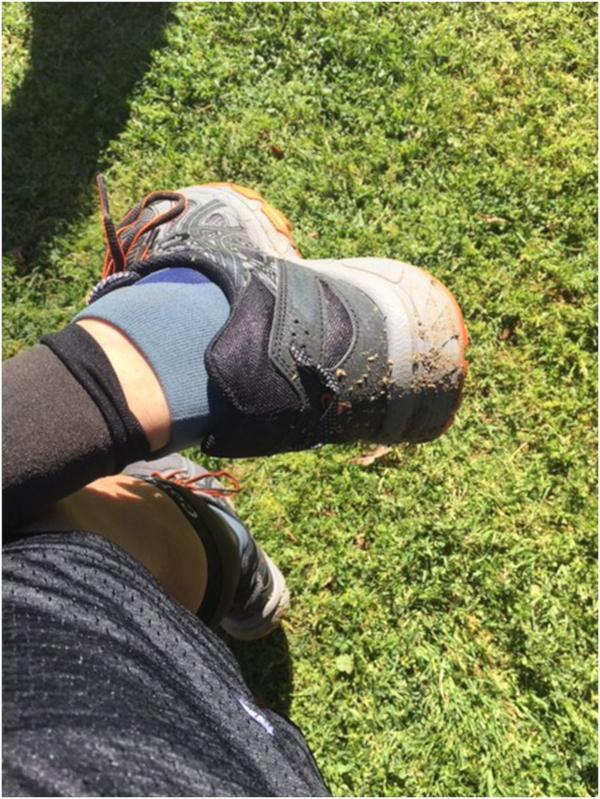 I wore the first pair into the ground with 18 months of hiking and running. Below is a picture of what they looked like close to the end of their lifespan. The tread was pretty flattened by the end of the 18 months, but the shoes were still intact.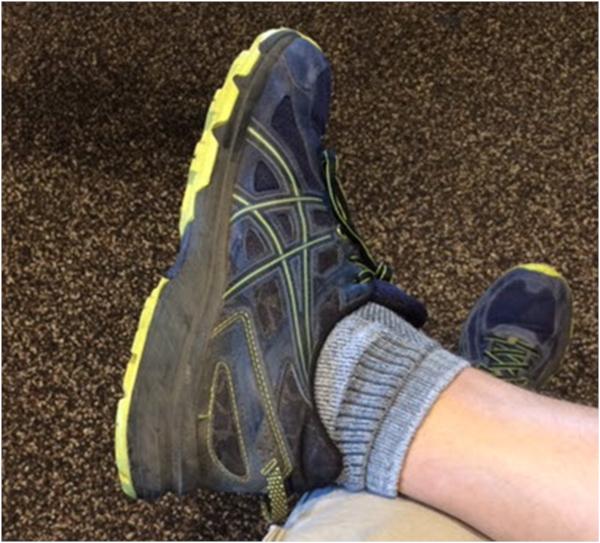 I bought the third pair (shown in the top photo and below) to run a challenging trail race in the Spring of 2019. The race took me on some steep ups and downs, gravelly areas and lots of ruts which could easily have caused a twisted ankle.
The shoes performed excellently with plenty of traction and a very secure fit that allowed me to tackle the challenge with confidence. No, I didn't win the race (despite the pic below) by I did alright for my (middle) age category.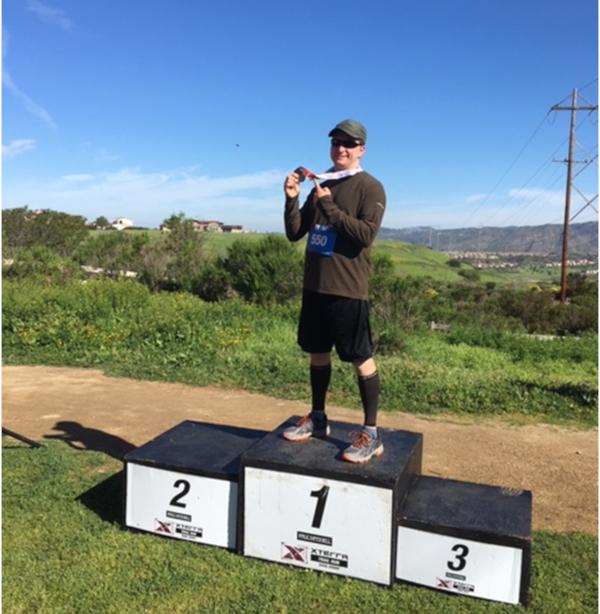 Pros
Excellent fit, locking my feet in place with no heel slippage.
Superior traction for rough terrain.
An arch plug for torsional support.
Thick sole for protection from the trail.
Hard, supportive heel cup.
A price that's hard to beat for so much value.
Cons
The v6 was missing the extra lace hole at the top of the collar that is a staple for many ASICS shoes. This has been reincorporated in the v7.
The v6 ran very big, so I had to go down a half size for the best fit. This seems to have been corrected in the v7.
Variation in quality between pairs. My first pair of this model was excellent, but the second one didn't fit as well and felt stiffer. The third pair fits and performs like the first one (excellently).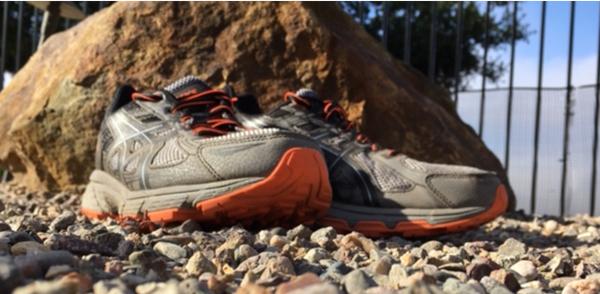 Note: As of the time I am writing this review, ASICS has just released a seventh version of the Venture which I haven't yet tried. I did try on a pair at a local sporting goods store to see how they fit.
The seventh version doesn't run quite as large as the sixth, so I would take my typical ASICS size in them (9.5 in the v7 vice 9 in the v6). The seventh version brings back the extra lace hole at the collar for a more secure fit and reduces the volume over the midfoot for a very snug midfoot lockdown.
The toebox also appears wider in the v7. Otherwise, the seventh version feels and looks just like the sixth iteration. I will certainly consider buying a pair when my current pair of the v6 is worn out. Given their durability, it may be a while.
The New Balance 410
Disclaimer: I don't own the exact version pictured here. In fact, New Balance makes so many versions of this shoe that it's a bit of a head-scratcher why they don't simplify and have just one.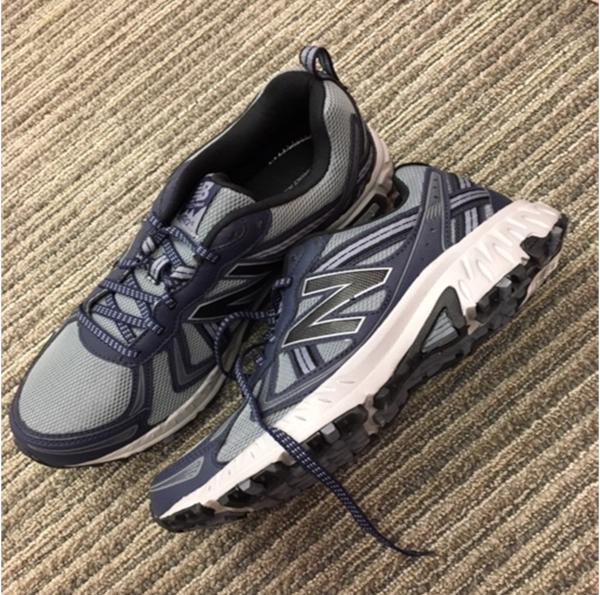 I saw this same basic shoe listed under three different model names at each of three major retail chains. The predecessor model I used was called the 461, shown below on my feet on a day when I was about to embark on what became a 12+-mile hike in the Joshua Tree National Park.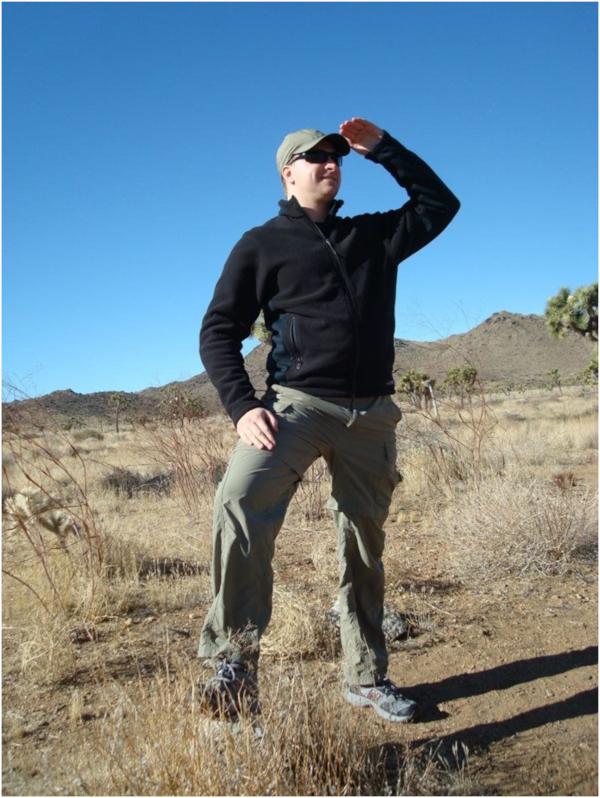 The design of the 461 was virtually the same as that of the shoe that is now numbered410.
Like I did with my ASICS Ventures, I put the New Balance 461s through a ton of use and abuse. Not only did they support me through that weekend at Joshua Tree where I must have put 20-30 miles on them, but I also used them for road running, mountain hiking and even the gym for nearly a full year.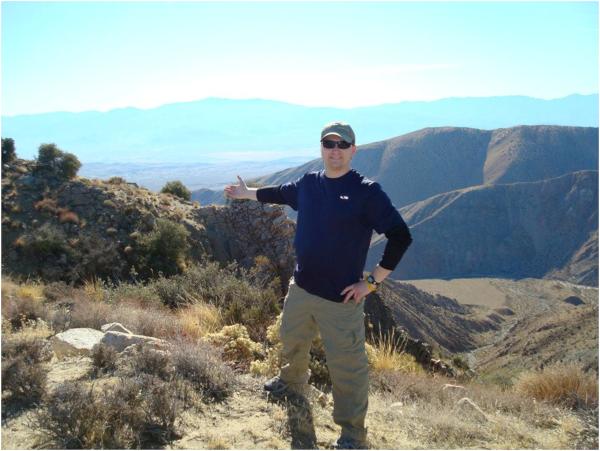 I even trusted my feet in them for a night hike where the only light came from flashlights and the moon. These shoes handled it all without any issues, providing reliable underfoot support and traction until they finally wore out.

Pros
Excellent fit, with plenty of room in the toe box area.
Solid support with a rubber arch plug to create torsional rigidity under the midfoot.
Superior traction for any terrain.
Thick sole for protection from the trail.
A rigid heel cup to prevent unwanted foot motion within the shoe.
A price tag that's hard to beat.
Cons
What's up with all the model numbers? New Balance seems to name the same basic shoe by several different numbers depending upon where they are sold, which is confusing to me as a buyer. It can be hard to know exactly what I am getting.
The Teva Hurricane XLT
Sometimes, outdoor adventuring involves water. Above is one example, but I also enjoy kayaking and general beachgoing. Some of the beaches near me open onto hiking terrain, so I sometimes turn a hike into a beach excursion and vice versa. It's nice to have a shoe that can handle all of this.
Enter Teva, which specializes in sport sandals that can actually be used for hiking as well as water sports.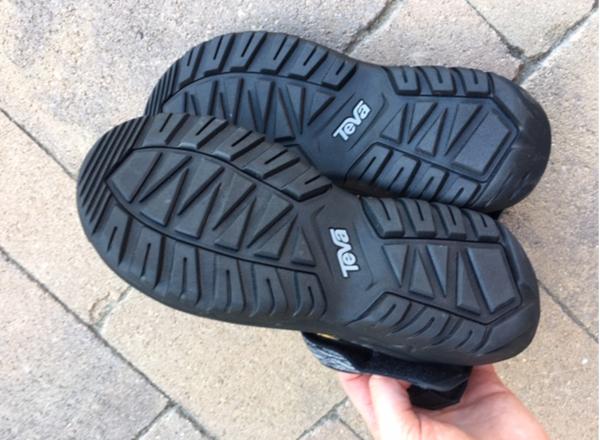 I bought my first pair of Teva sandals when I was in college during the mid-1990s and wore them everywhere. Over the years, I have owned many pairs. The Hurricane XLT is simply the latest in this line, and they don't change much (which is good).
I love the tread on these (pictured above), which gives me a sure grip over rough terrain and wet surfaces. I also love the solid arch support that these shoes provide (see the arch area of the shoe, pictured below).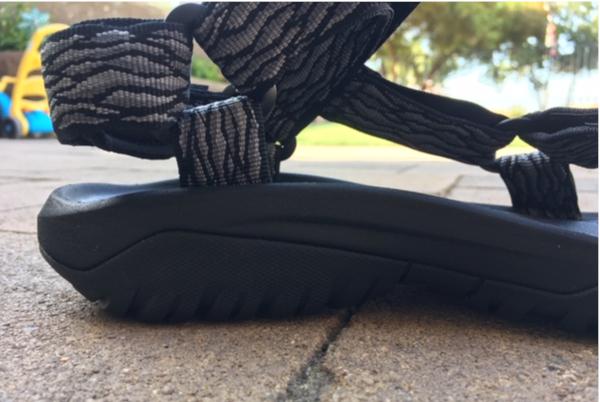 Pros
Extremely versatile, will take you from water sports to light hiking with no issue.
Superb arch support, providing comfort for all-day wear.
Thick sole for protection from the trail.
The top-sole is very soft underfoot.
The outsole is lugged for traction.
The upper is very adjustable for all types of foot shapes.
Cons
The sizing on Teva models is not terribly consistent. The XLT runs very large. I usually wear a size 9 in sandals but had to buy the XTL in a size 8 to get the right fit.
Other tips for saving money on sport shoes
Here are some other tips that I have used over the years to keep within a budget and still get solid performance out of my fitness shoes:
Consider buying last year's model
The internet gives you access to a vast array of shoe-selling websites, some of which carry prior year models of expensive running shoes at a discount.
Keep an eye on models that you like, and when a new model comes out, look for sales on the previous version. This is how I have bought my Brooks Launch shoes for years. I am typically wearing shoes from the previous year when I run.
Consider minimally worn used shoes
I know, I know. Yuck! Someone else had their feet in them first. Get over it. You can always wash them (no dryer though!), spray them out with vinegar and water (a disinfectant), or replace the insoles.
Just make sure the wear is minimal. If you are buying online, see if you can get the seller to disclose how long the shoes were worn before they came to you. Also, some specialty running stores will sell minimally-used returned shoes at a steep discount.
Just make sure that the tread is even, and the cushioning is still springy when you buy them. I have found amazing deals this way over the years, and currently, have some pairs in the rotation that I bought secondhand.
Lift weights in Converse All-Stars or Vans
Lift weights with any other flat-soled shoe. A flat sneaker of any kind (brand name or other) is perfect for providing a stable base for weight-lifting.
You probably won't be very comfortable if you use them for cardio-type workouts, but if you are just pushing or pulling weight, they should do fine. Flat-soled shoes are particularly good for getting into a nice deep squat or deadlifting. You'll see many power-lifters in these shoes.
Run barefoot on the beach (although I wouldn't try this on concrete)
You can run barefoot on any other soft surface where bare feet are allowed. Although not for everybody, this technique can strengthen foot and leg muscles in a unique way.
True barefoot running (with no shoes at all) is the best way to save money on running shoes! Just look out for rocks, bees, or litter.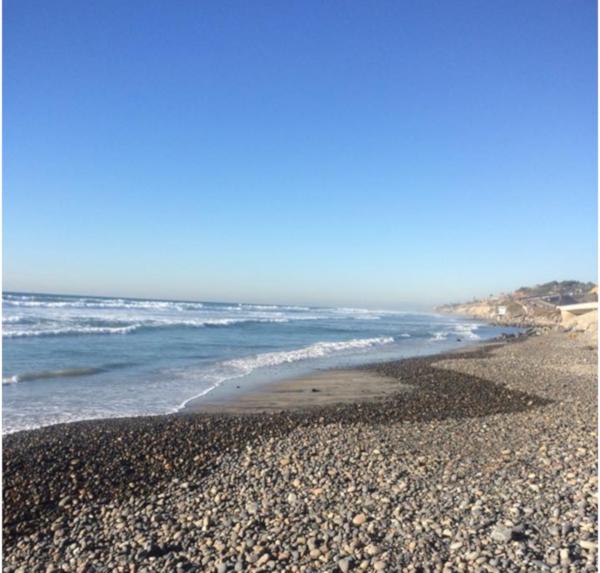 Summary
To conclude this article, you don't have to have a big shoe budget to be active! That is the key takeaway here.
After many years of exercising in budget shoes, I can say that there exists cost-effective footwear for nearly anything you want to do. From running to weightlifting to hiking, the models discussed in this article should have most people covered.
This is especially true if you are new to fitness and want to try being active without worrying that you'll waste money. I hope that you found this article helpful, and I wish you much happiness on your fitness journey!
Are you interested in starting a fitness routine involving a variety of activities from walking to weightlifting?
Or, are you a more experienced gym rat looking for a solid and durable training shoe that won't break the bank? Either way, the New Balance 517 is a great option to consider.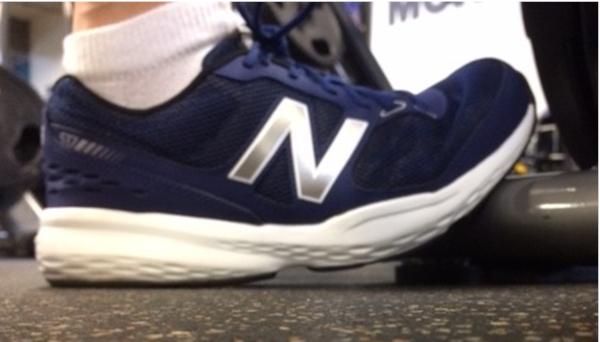 I'm a fitness enthusiast in my mid-40s and was looking for a general trainer that I could wear in the gym. Recently, I've been guilty of wearing my running shoes for weightlifting because, really, who wants to have to change shoes after a warmup treadmill jog?
It's well known, however, that running shoes do not make the best footwear for weight training. For one thing, running shoes don't generally possess much lateral support (that means support for side-to-side foot movement) since they are designed only to promote forward motion.
Running shoes also tend to be very built up in the rearfoot area. This design is great for cushioning the heel during a run but can destabilize you during lifting, which may compromise your form or even lead to injury. I decided to buy a new pair of cross-trainers so that I could enter the gym prepared for any activity.
For a decade or more, I wore shoes like the below for my weight training sessions.
I wanted a trainer with a similar level of support and structure to the above, just with a more updated look and greater breathability. I found this in the 517.
Aesthetics
The New Balance 517 is a traditional New Balance trainer with some updated features. Instead of the leather material which is found on some of the legacy trainer models made by New Balance (such as the popular 608), the 517 is mostly constructed from a synthetic mesh which is perforated and very breathable.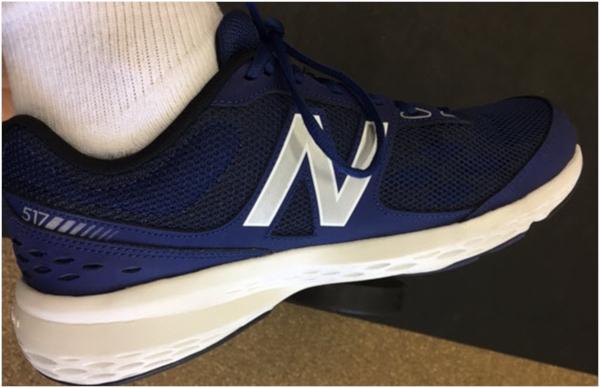 The color contrast between the upper and the sole gives the shoe a bit of a more modern look than classic leather trainers. The shoe also has a slightly sleeker profile than some of its boxier New Balance brethren.
Although the 517 is certainly not designed with a younger consumer in mind. It also doesn't exactly scream "dad shoe."
Although I am solidly within the "dad shoe" demographic (mid-40s father of two here) and have no problem wearing a gym shoe that doesn't look contemporary, it is sometimes nice to have something that appears a little more current.
Fit
I have a medium-to-wide foot and found that most medium-width trainers I tried from brands like Nike, Reebok and Under Armor were simply too narrow for my feet.
Instead of buying a wide-width shoe in one of those other brands, I opted for the New Balance 517 because it runs somewhat wide in medium width. The shoes are roomy enough to be comfortable without being loose.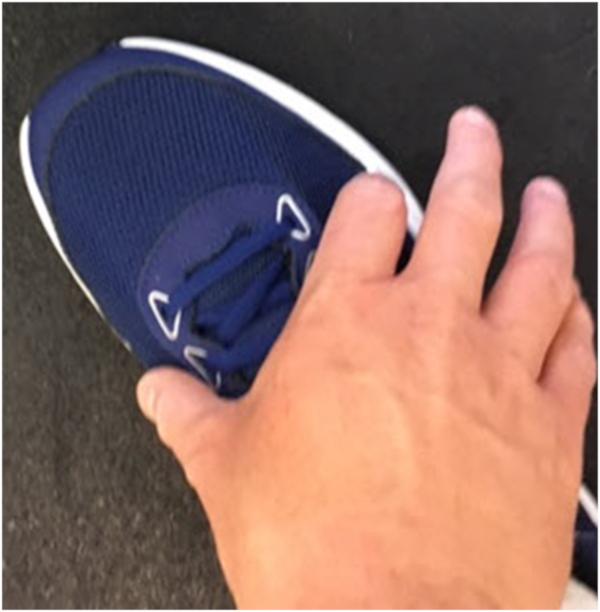 The wide toe box allows for toe splay, which is useful during training activities. I really like the lacing system, which provides ankle support by providing an extra lace hole at the collar area of the shoe.
The length of this trainer is perfect in my typical athletic shoe size, which is a 9.5. Note that I take a size 9 in casual and dress shoes, but go a half-size up for gym, running and hiking shoes to ensure sufficient toe room.
Upper
The upper is made from a perforated, highly breathable synthetic material. The midfoot area is built around a support cage which holds the midfoot in place. This gives the shoe a snug feel and provides a decent amount of lateral support.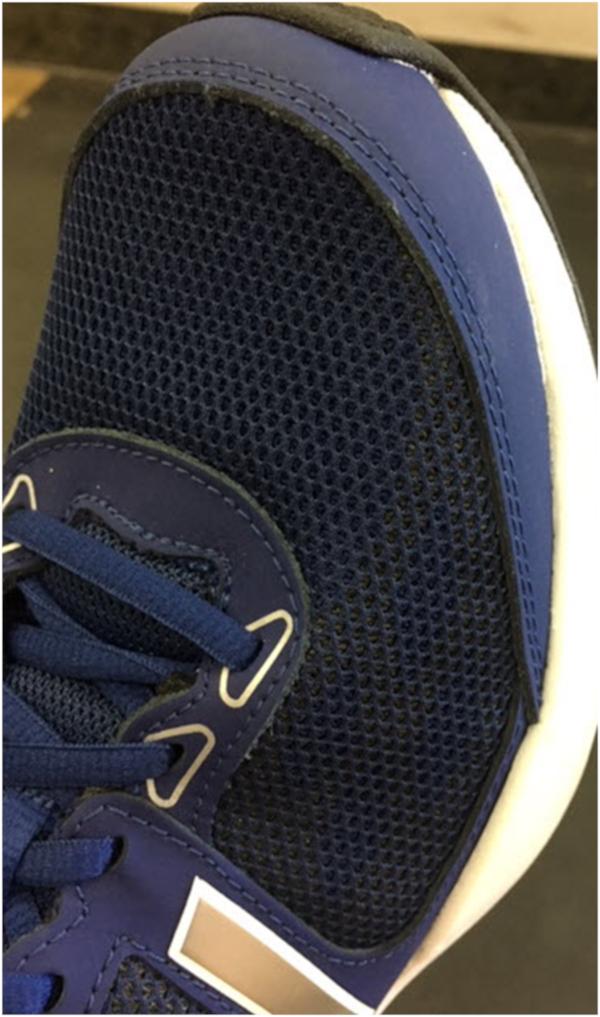 The heel counter is semi-rigid and prevents unwanted side-to-side motion of the rearfoot during fitness activities. The lacing system and padded collar provide solid ankle support, as described previously.
Midsole
The midsole is constructed from a foam material called ABZORB, which has been a staple of many New Balance models for years. The ABZORB foam provides cushioning but is also very firm, which is perfect for supporting the feet during weight training.
There is a bit of heel-to-toe drop here (looks like about 10mm), which may not work for people who prefer a truly minimalist experience during fitness activities.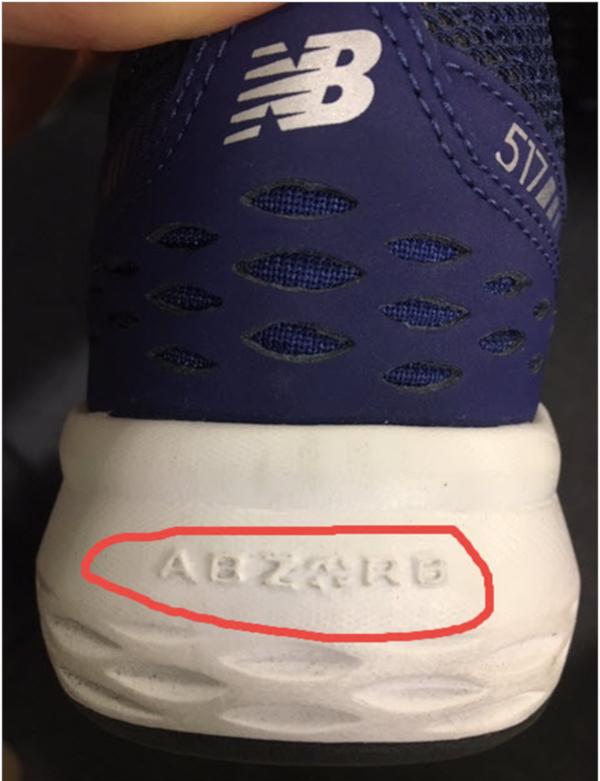 However, this bit of heel lift makes the shoe comfortable for cardio activities, especially anything which might involve jumping or quick movements (like a cardio class). This makes the shoe versatile and a good choice for those of us who like to vary our workouts.
Since I was curious to learn more, I found this little video describing the ABZORB technology on the New Balance website.
Insole
The shoe comes with a memory foam stock insole that is easily removable. The stock insole is soft and provides a cushion. It is, however, not at all contoured. I replaced the stock insole with my doctor-prescribed orthotics (Superfeet brand) with no issue.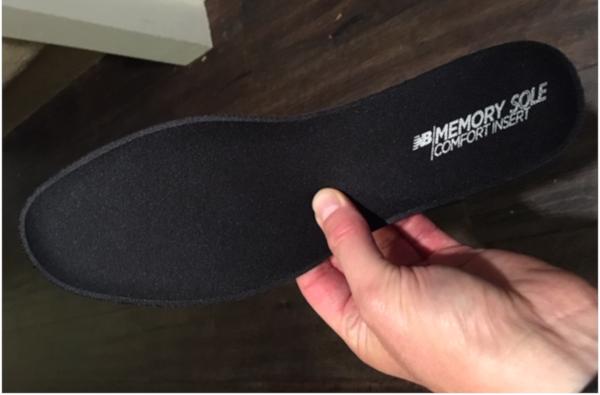 Outsole
The shoe's outsole is designed to provide much-needed traction on the weight room floor. The hard rubber includes textured areas on the heel and forefoot that prevent slipping.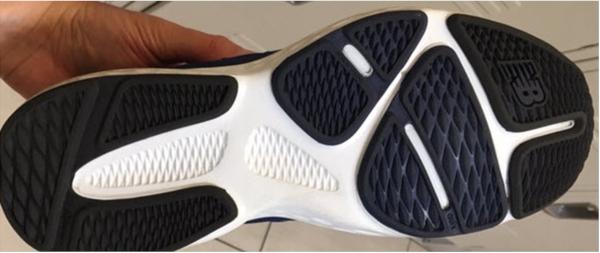 The flex grooves in the forefoot allow the shoe to bend nicely around the toe area. The bottom of the shoe is flat and wider than the upper, which gives the shoe a very stable feel.
Given the shoe's design, I imagine that it could even be used for some court sports.
Pros
The New Balance 517 trainer is designed with some excellent qualities:
A supportive yet breathable upper with the ability to lace the shoe tight around the ankle area
A firm yet cushioned midsole that provides solid and dependable underfoot support for a variety of activities from walking to weight training
An insole that can be easily removed to accommodate an orthotic
A durable hard rubber outsole that provides a solid, flat platform for weight lifting
An excellent fit in a medium width
A modern aesthetic when compared with classic white leather New Balance trainers
Sold at a great value price point
An overall design that works for a variety of activities, from weightlifting to cardio activities, even some court sports
Cons
The shoe does have a few drawbacks depending upon your intended use:
The 517 feels heavy, especially when compared with some of the other trainers on the market
The heel-to-toe drop of these shoes is a bit higher than I would prefer for squats and deadlifts, for which I generally like to wear a flat shoe like the Converse All-Star
This shoe does not work for jogging; on days when I want to run on the treadmill before I lift weights, I still need to bring two pairs of shoes to the gym
Overall, these drawbacks are minor considering how much use I get from these shoes. However, if you are considering buying the New Balance 517, keep in mind that it is a training shoe and not a running shoe.
It is designed to provide support for a gym workout and maybe some walking or a casual game of racquetball. If you plan to go running, I suggest that you buy a different pair of shoes for that activity.
Bottom line
The New Balance 517 is a supportive gym trainer at an excellent price point, which will work for beginners as well as more advanced gym rats. These shoes are well-suited for weight training and walking, as well as other gym staples like elliptical machines or fitness classes on a hard floor.
The overall feel of the shoe is sturdy and supportive, with the right combination of materials to keep you focused on your workout rather than on your feet.
I very highly recommend the New Balance 517 to anyone with even a very casual interest in fitness, since it is one of the most versatile workout shoes I have ever used.
Good to know
This athletic trainer was designed for men who stay active throughout the day. It is ready to support them in both daily walks and gym sessions.
The mesh upper helps the interiors stay fresh and free of sweat. At the same time, the padded collar and tongue brace the foot in a cozy foothold.
The EVA foam ensures underfoot comfort by absorbing shock and providing cushioning with each step. The foam is protected against wear-and-tear by the rubber outsole at the bottom.
The New Balance 517 comes in men's sizes only. It is reported to run true to size and fit as expected. The available range of sizes for this model goes from US 7 to 15, with half sizes in between.
Most training shoes from New Balance are offered in multiple width variations to accommodate different foot shapes. This trainer is no exception as it is offered in a standard D - Medium profile as well as in a 4E - Extra Wide one.
The shoe is designed with a round toe box to offer ample space for the toes to move and spread. The generously padded tongue and collar hug the ankle area for support. A traditional lace-up closure can be used to regulate the tightness of the foothold.
The Ndurance rubber compound lines the bottom of the shoe to protect it against abrasion. This rubber material is also described as non-marking. It means that it does not leave scuff marks on polished floors.
The outsole sports an indoor tread which implies that it is most effective on indoor surfaces. Its rubber lugs are meant to bite smooth gym floors to provide traction. But if you are in search of a workout shoe that is also ready for the outdoors, be sure to take a look at New Balance 624.
The rubber extends up at the shoe's forefoot to cover up the toe area. It forms a bumper and additional protection for this high-abrasion area.
Several multi-directional flex grooves are placed in each part of the platform. They help the sole unit become more flexible and move more seamlessly with the foot.
A lightweight EVA foam unit serves as the primary cushioning component of the New Balance 517. Its responsive nature allows it to squeeze upon impact and quickly restore its shape once the pressure is taken off. This characteristic creates a safe underfoot buffer for high-impact exercises.
Extra padding is offered by a Memory Sole insert. It is a soft polyurethane unit which easily molds to the shape of the wearer's foot. Since it is removable, it can be taken out for a firmer experience or replaced with custom orthotics, if necessary.
Breathable mesh fabric is used as the main upper material. It is responsible for keeping the foot chamber ventilated by allowing fresh air inside the shoe.
Synthetic leather overlays are added for support and protection. They cover the heel, the eyestay, and the toe box as these areas are the most prone to abrasion. Additionally, these overlays give the upper its structure.
On the inner side, this part of the shoe is lined with breathable textile. It contributes to a comfortable in-shoe experience and prevents undesirable skin chafing.
The trainer sports a low-cut silhouette meaning that the collar lies below the ankle bones. This design is typical for most workout shoes as it doesn't hinder the freedom of movement in the ankle joint.
If you don't mind the "dad shoe" vibe in your trainers, then we recommend checking out the 624 model or the 608 v5 trainer. Both shoes have received high marks from the buyers, primarily for their comfort, support, durability, and versatility. Their synthetic leather uppers and monochromatic color options create a classic sporty look which is easy to combine with various casual and athletic outfits. Both models are available in a range of width options, from Narrow to Extra Wide. Performance-wise, these trainers are equipped with the brand's proprietary ABZORB cushioning unit in the heel section. It helps to dissipate the shock from high-impact activities more effectively than the regular EVA foam.
Rankings
How New Balance 517 ranks compared to all other shoes
Popularity
The current trend of New Balance 517.