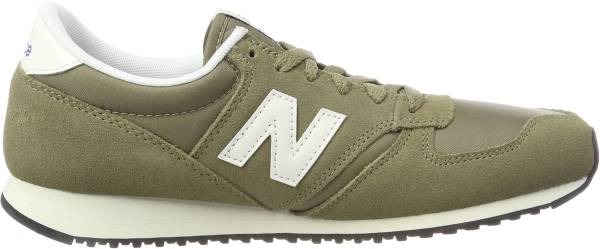 Comfortable retro-styled kicks at a budget-friendly price. That's the New Balance 420s. The running-inspired features of these lifestyle kicks mean you get lightweight footwear with all the stylish flair of a leisure one. The shoes also come with a wide array of impressive color schemes. Add to that a good amount of cushioning, care of the REVlite system, and wearers are now ready to face their everyday adventures. It also helps that these sneakers are incredibly versatile.
---
Verdict from 100+ user reviews
8 reasons to buy
Many buyers like the stylish appearance of the New Balance 420 sneakers.
Plenty of purchasers have mentioned how comfortable they found these low-top shoes.
A small number of 420 owners like how lightweight these shoes are.
Multiple color options are available for men and women. Some users admire the bold colorways of these kicks from the New Balance brand.
A lot of people are happy with the fit of these New Balance 420 shoes.
A few online shoppers expressed satisfaction with the quality of this model.
A handful of customers called the 420s "versatile."
According to a couple of reviews, these low-tops are durable.
3 reasons not to buy
A buyer complained that the toe part of the shoes easily gets stained.
The leisure shoes do not breathe well, according to one user.
There is no arch support in these kicks, one tester has complained.
Bottom line
Comfortable retro-styled kicks at a
budget-friendly price
. That's the New Balance 420s. The running-inspired features of these lifestyle kicks mean you get lightweight footwear with all the stylish flair of a leisure one. The shoes also come with a wide array of impressive color schemes. Add to that a good amount of cushioning, care of the
REVlite system
, and wearers are now ready to face their everyday adventures. It also helps that these sneakers are incredibly versatile.
Best price from 30 shops
We earn affiliate commissions at no extra cost to you when you buy through us.
39% say it's too small, 57% say it's true to size.






Size and fit
New Balance 420s feature a lace-up front closure construction. This allows a custom and snug fit. Although the shoes are now remade as lifestyle sneakers, their running background is very much evident because of the nice hold and support they deliver.
New Balance 420 Style
The New Balance 420s were revised to achieve a modern look. The shoes now come with suede and mesh uppers or sturdy ripstop fabric and premium pigskin leather. They embody a sporty look with a sleek fit. These kicks look great with the typical jeans and shorts. The uppers are fused with rubber outsoles, allowing the wearer to be ready for various activities.
New Balance 420 sneakers were revised to achieve a modern look—a sporty one with a sleek fit. And since they're retros, this means that they're extremely versatile because retros look good with almost anything. Please see below some of our style tips for these sneakers.
Men
Deep blue selvage denim jeans, a white tee, a navy nylon rain jacket, and New Balance 420s in a navy blue shade are the perfect ensemble to watch a game.
Black cargo pants, a sweater, and New Balance 420 shoes in red (red with blue) look good for hanging out with friends or going to your class.
Khaki pants, a polo shirt, and New Balance burgundy 420 shoes—we're thinking of the 'cream with burgundy' shade, so the red is not too overpowering for the outfit—is a nice ensemble for church or a family outing.
New Balance 420 kicks in black (black with white & grey) paired with black pants and a button-up shirt would do for casual Fridays or a trip to the bar.
Women
Mix sporty and formal by wearing New Balance 420 shoes in a grey colorway (cru grey) with a deep green knit top, green skirt, and a deep charcoal coat for a stylish Friday getup at work.
New Balance 420s in a burgundy color would pair well with blue jeans, a white top, and a long cardigan in an old rose shade, perfect for meeting up with your girlfriends.
A light green dress, a camel overcoat, and New Balance 420 shoes in green (green with grey) is such a stylish outfit for taking a trip downtown.
Your favorite jeans, a comfy tee, a long dark coat, and possibly a scarf as well, will be styled up by donning New Balance 420s in pale pink.
Notable Features
If there's one thing New Balance is known for, it's quality shoes at an inexpensive price point. The New Balance 420 silhouette embodies this brand trait and throws excellent style into the mix. The premium pigskin leather covering, along with the durable ripstop fabric, gives these shoes a definite classy look. Of course, it also helps that these kicks, apart from having a cool retro style, also boast a wide range of color schemes to suit everyone.
Comfort is maximized by way of the REVlite cushioning system that provides the same durability and responsiveness as other heavier foams but at a 30% lighter weight. Put all of these features together, and you get one sophisticated model that any discerning sneakerhead would be pleased to add to their collection.
New Balance 420 History
New Balance's 420s are classic runners that were first released in 1982. The shoes' design was inspired by classic running shoes from the 70s and 80s, and this can be seen in the 420s' low soles and slim profile. New Balance developed the 420s under the neutral plane concept. The company describes it as the normal position of the foot in motion and at rest.
When the New Balance 420 shoes were first released, they were considered very futuristic in terms of stability and shock distribution. This was made possible by the ENCAP technology that the brand utilized for the midsoles. ENCAP is a polyurethane shell made with an EVA core that ensures a smooth and stable ride for the user.
The 420s were marketed then as sneakers designed to further protect the foot. The shoes' design has not changed in 40 years, but they have undergone a few updates. The shoes' first updates included an EVA wedge and midsoles that gave a higher degree of durability plus better stability and shock dispersion. The counter was beefed up to reduce the occurrence of injuries from too much overpronation.
The shoes also had a sway bar toe piece which increased the stability of the forefoot. This component was supposed to lessen the chances of ligament, muscle, and tendon injuries.
The original 420 runners featured an extended saddle that promoted the natural gait cycle of the athlete. The shoes also used the brand's proprietary Lunaris Pillow—these are Evazote and memory foam-based insoles that are able to mold to the unique contours of the wearer's foot for a personalized fit. They were added as an extra measure for comfort and shock absorption.
The uppers of these shoes were made of a combination of suede and mesh which made for lightweight footwear that's perfect for the sport of running.
The new 420s
In April of 2008, New Balance reissued the 420s as lifestyle sneakers. The shoes made their grand return in four colorways, which included the color schemes of the original. This reissue came right after the heels of the re-released 320 sneakers.
While the new releases featured new midsole technology (REVlite) and material upgrades—the 2008 models feature pigskin leather and ripstop fabric uppers—they still embodied a vintage appearance. The combination of sporty character and fashionable chic ensured that these retros would appeal to a new generation of sneaker wearers.
New Balance 420 sneaker collabs and unique releases
The New Balance 420 silhouette has been the subject of quite a few collaborations with an eclectic mix of co-collaborators ranging from a supermodel to a fabric sourcing business.
In 2009, a year after the reissue of the 420s, New Balance teamed up with design agency and fabric sourcing company, DDC Lab, for a modern reimagining of the classic runners. The result was a deconstructed silhouette utilizing several materials that when put together sounded just a little bit bizarre. The shoes contained nylon Mectex PU, Italian suede, pigskin lining, and Wolverine waterproof leather. However, these somehow worked, and the result was a brilliant take on the retros complete with cutout branding and soles in eye-catching shades.
Within the same year of the New Balance x DDC Lab collab release, New Balance launched the retro runners again. This time bearing new materials such as see-through Schoeller fabric, dubbed the Schoeller 420s, and metallic nylon, called the Metal-Infused 420s. The shoes that utilized the Schoeller materials were available in three colorways, while the sneakers with metal-infused uppers were offered in two color schemes.
The brand was silent with the 420 silhouette for a few years until the year 2012, which is the year of the Summer Olympic Games to be held in London. New Balance revisited the 420 along with the NB 574 and came out with the "Road to London" collection. The two iconic NB models were splashed with different lively variations of shades taken from the Union Jack.
The year 2012 also marked the release of the K-Way collab on New Balance's 420 shoes. K-way, a company that specializes in producing lightweight, packable jackets for the rainy British weather, took its waterproof nylon fabric and covered the 420s with it. It also made sure to keep the retro shoes in tonal form (with only the white NB branding on the sides for color contrast). Each of the four colorways came in the classic shades of the K-Way jacket.
For 2013, New Balance decided to team up with hipster backpack manufacturer, Herschel Supply Co. The Canadian company dressed one model in a red shade while keeping two others in neutral tones, although all three featured pretty paisley prints in their linings and Herschel-influenced details on the lace deubre. Caramel leather accents on the 'N' branding and on the heels provided all the contrast the kicks needed.
This same year, a New Balance 420 silhouette for women and men came out courtesy of the brand's collaboration with supermodel Heidi Klum. Called the HKNB 420s, the unisex shoes featured a slightly slimmer profile with lightweight white suede and canvas uppers and coral linings and laces.
While the 420s by New Balance continued to receive a few new colorways, probably nothing could compare with the 2015 release in terms of uniqueness. In a spark of creativity, and maybe just a bit of weirdness as well, New Balance gave the model iridescent snakeskin uppers with translucent soles and sparkly black heels and 'N' side panels.
Additional Info
The silhouette was remade in various versions, including Re-engineered, Deconstructed, and Engineered Knit among others.
There's a version of the New Balance 420s, which has uppers made of flexible and breathable mesh.
Fun fact: The 420 is one of skater Marquise Henry's favorite kicks to skate in.
The brand saw an opportunity to create a new silhouette that's more skater-friendly and from the classic 420 sprang the Numeric 420 or NM420.
Popularity
The current trend of New Balance 420.