Verdict from 19 experts and +100 user reviews
8 reasons to buy
The comfort level of the Mizuno Sky Waveknit 3 has received various levels of praise. Some say wearing the shoe feels like walking on clouds, while others report it is the most comfortable shoe they have ever worn.
The XPOP midsole of the Sky Waveknit 3 is responsive, bouncy, and it performs just as well as it claims, according to some reviewers.
The shoe has a soft platform that helps ease the impact of running on hard surfaces, a user states.
Several wearers agree that the shoe offers excellent arch support.
A couple of users think the upper is breathable while still providing a secure fit.
Many buyers are impressed with the stylish appearance of the Sky Waveknit 3.
The lightweight quality of the shoe makes it ideal for hot, summertime runs, according to one commenter.
The shoe is flexible enough to be worn right out of the box, a few wearers have suggested.
1 reasons not to buy
The Mizuno Waveknit 3 is an expensive running shoe, as observed by some purchasers.
Bottom line
The Mizuno Sky Waveknit 3 has received many positive feedback from runners, including the shoe's comfortability, supportive structure, and reliable features. Some, on the other hand, have disliked that the shoe is high-priced. Despite this, many users still consider the Sky Waveknit 3 as recommendable as it is "worth every penny," and that, because of it, they would buy more Mizuno running shoes in the future.
Tip: see the best running shoes.
Our reviews
The Mizuno Sky Waveknit 3 is an interesting offering from the team at Mizuno. With an all-new tooling and knit upper, how does this road warrior perform?
Let's take a look!
The look
My first impression of the new model in the Sky line was definitely a positive one. The hybrid lacing system is a nice touch, and adds a cool detail to cleanly break things up a bit.
The upper is strikingly similar to the Waveknit R3, invoking speed with the knit support ribs that fade from dark blue in the back to royal blue from the mid foot forward.
The midsole of the Sky Waveknit 3 is one of my favorites aesthetically. The waves that taper from the back to front is a dynamic look from the company who first made Waves, many years back.
The multi-density foams used in the midsole also allow for unique color blocking and contrast, which has been utilized well. The new XPOP is a nice touch of visible technology that brings a hint of color on the outsole.
First take
When I put the shoes on for the first time, I immediately noticed how well-cushioned the Sky Waveknit 3s are. A plush ride is usually expected from a shoe at this price-point, but the cushioning seemed more multi-dimensional than other shoes on this plane.
There's an active transitional feeling from heel to toe, rather than just a cushy slab underfoot. The flat outsole that doesn't have an arch under the midfoot is reminiscent of the Brooks Glycerin and has a similar ground-contact profile.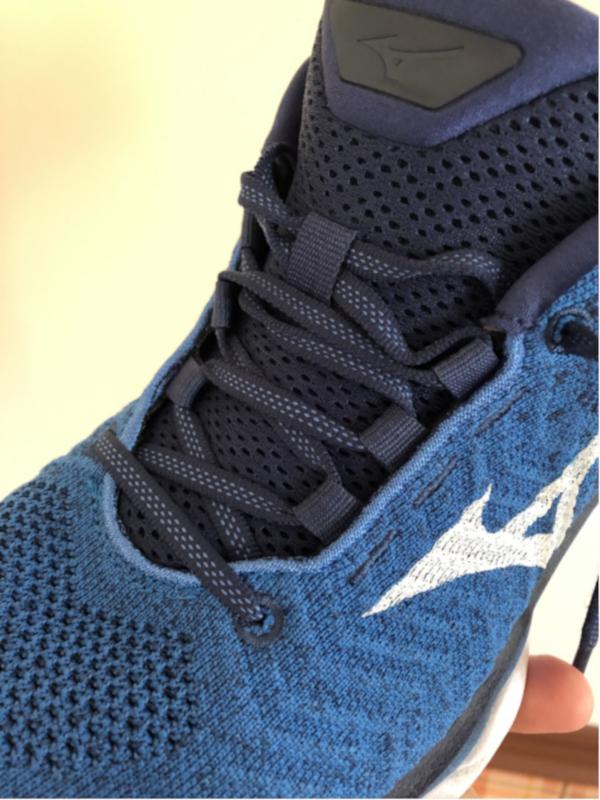 Regarding the upper feel, the Waveknit structure is a comfortable alternative to an open mesh. There's a form-fitting aspect of the material that adapts to the overall shape of the foot, which can be beneficial to fit a wide range of runners.
The padded collar and tongue provide comfort where it's needed, especially when laced up snug. One thing that I noticed was how wide and roomy the toe-box was. Along with the length, the Sky Waveknit 3 runs a touch bigger than other Mizuno knit shoes I've worn.
Run it
The ride of the Sky Waveknit 3 is plush, as I had mentioned. Being more of a mid-foot striker, there's a bit of the cushioning that's lost on me, but there's still plenty of impact protection up front and under the arch area.
What's nice is that it's not super mushy, but fairly responsive. There's a level of versatility in the midsole construction, in that the shoe performs well at slower paces, as well as shorter tempo runs.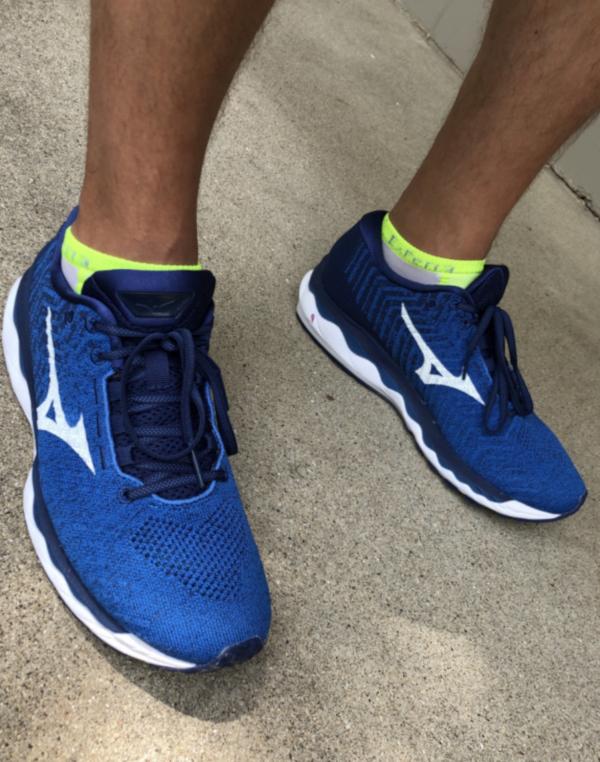 In fact, it almost seems as if the shoe has a mind of its own and gets more excited, the faster my pace gets.
Regarding traction, I had no issues on a variety of surfaces, both wet and dry. There's enough articulation in the rubber pods to make it through damp sidewalks, and would likely work well on gravel trails, as they did well in rocky construction zones.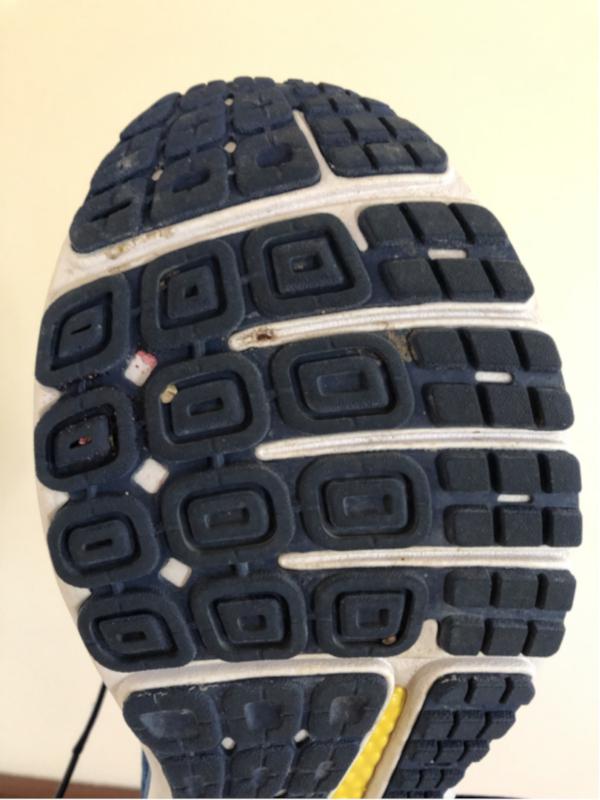 As was mentioned earlier, the lacing system is a hybrid, using standard eyelets at the top and bottom, and gillie lacing in the mid foot. The gillie eyelets do offer more of an even lockdown fit, as well making for quicker fastening.
While there was an opportunity to tighten up the Waveknit Sky 3s, the overall fit of the shoe was a little bit larger than I expected. Though my heel didn't slip, I very well could have gone a half size down.
That being said, ascensions weren't an issue, as I was able to climb hills without discomfort. With a little over a thumb's width of room at the toe, there was a little bit of uncomfortable rubbing at the end of my toes at the end of longer runs.
Overall
The Sky Waveknit is a quality offering from Mizuno. From an aesthetic and basic comfort standpoint, the shoe is aces.
It's a little bit heavier than I had expected, but to be fair, it is a highly cushioned shoe. The only qualm I had probably had to do with the fit and could be remedied by going down a half size.
I would recommend trying them on in store to see how well they fit. Moving forward, I would definitely consider the Sky Waveknit 3 as a go-to shoe.
Mizuno's running shoes are turning heads in 2019! The Wave Sky WaveKnit 3 model has a comfy knitted fabric paired with a tri-layered, well-cushioned midsole.
Runners beware because this "Wave" attraction isn't just temporary! Once your feet get physical with Mizuno's comfort inside, you'll realize why the double takes!
Statistics
Type: Neutral road/track trainer
Weight: Woman = 8.3/Men = 10.9
Colors: Woman = black, red, blue, light gray/Men = black, blue, gray, light gray
Drop: 10mm
Price: $160.00 (above average price but upscale provision)
Favorite features
Extreme foot stability/cups heels
Durable knit/quality padding
Firm cushioning/great flexibility/withstands long runs
Toe box/fabric
The Wave Sky WaveKnit 3's were built with comfort in mind!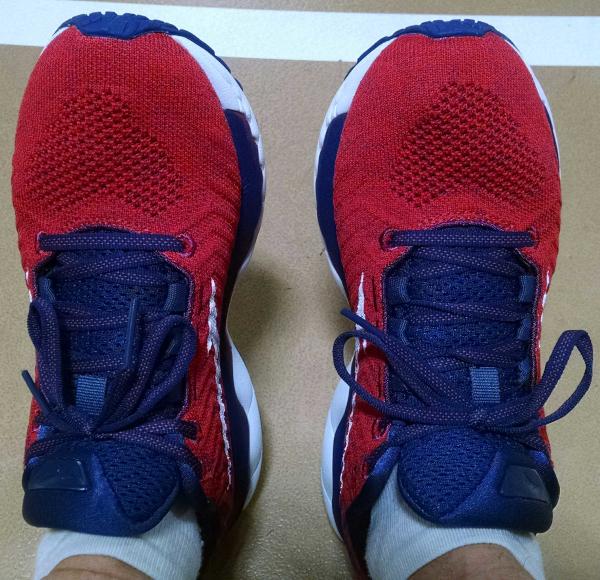 Runners will experience smooth, breathable toe boxes perfect for hot summer runs. Numerous ventilation holes strategically placed throughout the upper allow air to flow effortlessly.
The waveknit fabric is durable and even rugged to touch. However, once your feet slide in, runners will feel immediate comfort.
Over time, the uppers conform to a glove-like fit the longer you wear them. I have ample toe room because I buy one size larger, which also allows for foot expansion. My feet never slid around, so no friction or blisters ever developed.
Many shoes need aired out or require odor balls or tea bags to absorb excess moisture. I was pleasantly surprised after hot summer runs, Wave 3's never felt heavy with sweat.
The typical perspiration odor was significantly less too! I definitely give Mizuno's waveknit fabric and toebox a thumbs up!
Forefoot flex
Before buying running shoes, examine how well the shoes naturally bend while walking around the store. Pick up a pair of Mizuno Wave Sky Waveknit 3's and compare flexibility.
Bend right at what podiatrists call "the forefoot flex line". I believe this flexible allowance helps me run with a noticeably smooth easier gait. I'm relaxed and feel proper forefoot absorption, which helps to eliminate excess jarring or pounding.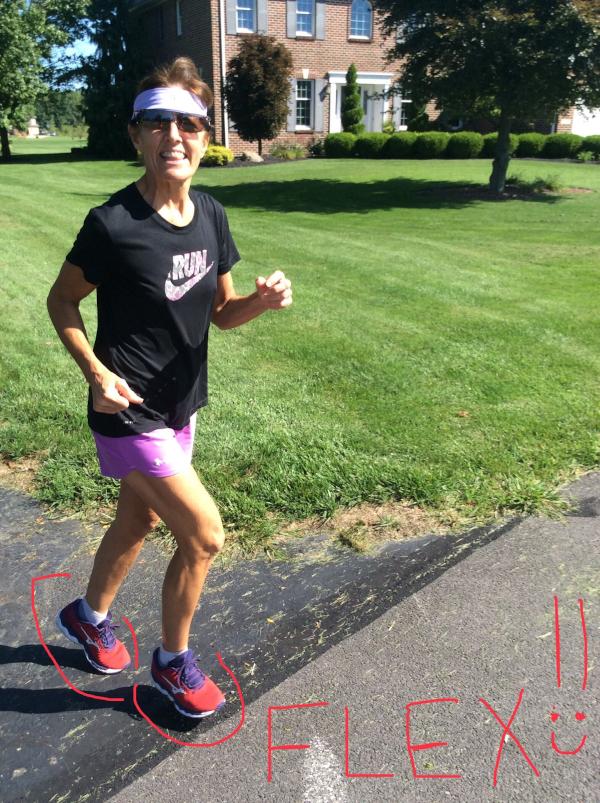 Understandably, today's hype is all about running injury-free. Doctors may recommend more cross-training, such as biking or elliptical. It's important to know many injuries also occur from inadequate running shoes.
Recently, I've experienced injury myself by developing runners knee. Poor running shoes definitely contributed to my diagnosis.
Ironically, the longer I ran in Mizunos Wave Sky Waveknit 3's, the more appreciative I became. After doctor visits, physical therapy and four months of nothing but Wave 3's, I'm finally making a comeback!
If I had to choose one favorite feature, it would have to be Mizuno's flexibility!
Tongue/eyerow/laces
Mizuno's tongue is generously proportioned and extremely well-padded. Runners will notice how wide and effortless the tongue lays out against the foot without twisting, turning, or bunching up.
Compared to other brands, the extra width and length are very much appreciated! They're easy to grab onto and even carry around by the tongues if you'd like. Mizuno did not skimp to save a buck that's for sure!
Examine the eyerow, and you'll notice a unique eyelet pattern in the middle. Instead of the standard straight-line eyelets, they've incorporated middle loops. These assure the shoelaces close snuggly across the top of the foot.
Speaking of shoelaces, Wave Sky Waveknit 3's are sturdy and squared instead of round. While either shape is fine with me, I'm a stickler when it comes to length.
Thankfully, Mizuno gave adequate length to make double knotting easy. As a bonus, the laces are stitched and patterned to match with the colors of the shoes.
Midsole
Wave Sky may have gotten its name from the good looking, cool, wavy midsole. Mizuno describes an "XPOP PU Foam" with other foam waves.
Regardless of the details, runners will find all three foams to be a plush, smooth, responsive ride. There is a lightweight feel, and the longer I run, the more attached I become.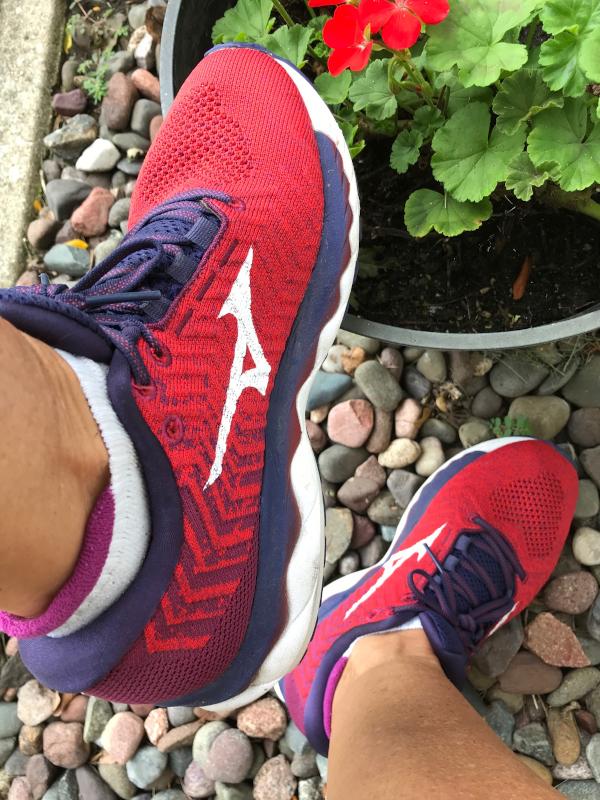 I did break my Sky 3's in slowly by adding an extra mile or two each week. Eventually, they survived the 13-mile long run test successfully with no recourse.
Mizuno Wave Sky Waveknit 3's provide much-needed relief to my former runner's knee injury. My physical therapist even said, "those are really good shoes!"
Outsole
Today, my Mizuno's we're making a funny noise as I was walking out the door. Finally, I figured out the non-slip suction cups were taking hold of the hardwood floor!
Now, I've had running shoes grip before, but these Waveknit 3's were gripping like no other!
This brought my attention even more to the shoe's traction during each run. On dry roads and the indoor track, Mizuno's grip gives way effortlessly.
Then one day, after a good rain, I found the outsole performed great on wet pavement, but not so well on the white and yellow road lines. When I crossed over the road, I slipped a bit, so I was extra cautious watching my steps.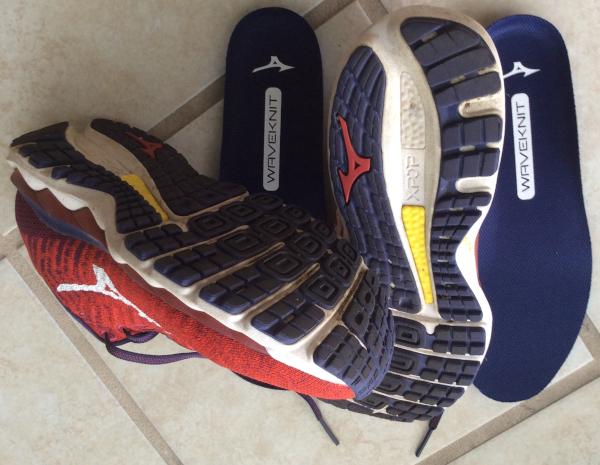 This made me question how Mizuno Wave Sky Waveknit 3's would perform on snow and ice during the winter months. I'm not in any hurry for sub-zero temperatures, but when they do arrive you can be sure I'll give Mizuno a run for their money!
Until then, I'm confident these waveknit outsoles can withstand a couple hundred more miles easy. Take a look at how new and barely run down the tread is.
Notice that the tread is starting to wear off where I heel strike, but after 300+ miles, this is nothing compared to other brands. I believe Mizuno manufactures one of the best outsoles around.
Heel counter/Topline collar
Wave Sky's back heel counter may be one of the strongest made in the running shoe industry. The backs are extra sturdy, and even after ramping up miles show little wear and tear.
Mizuno constructed a firm heel counter runners can count on to lock and hold both heels in securely in place every time.
Wave Sky Waveknit 3 also provides ankle support and extra stability. The topline collar has above average cushioning and instant comfort.
Whether it's a 5K, 10K, or half marathon, the heel counter and top-line collar stay intact. Today, my Wave Sky 3's are certainly something to wave about!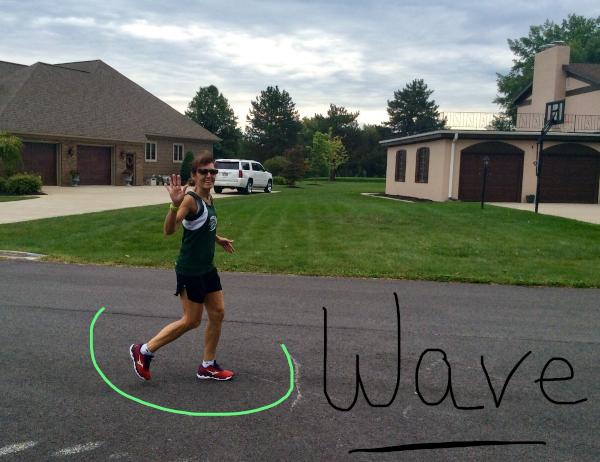 Conclusion
Consumers should know Mizuno Wave Sky Waveknit 3 earned a spot on Runners World "Best Cushioned 2019 Running Shoe" list.
The Waveknit 3 fabric and wavy designed midsole design are attractive on the outside. But, it's the padding, cushioning, and tri-foams inside that truly count.
I highly recommend runners to check out Mizuno's website, read and watch the reviews on RunRepeat and their official YouTube channel. Then, ask for a pair of Mizuno Wave Sky WaveKnit 3 at your favorite running store!
Try them on, feel the flex and cushion. Run around the store. You won't be disappointed!
Happy running!
The Mizuno Waveknit 3 is an absolute upgrade from last year's model. It got everything I loved from the R2s, and it's improved on the bits that I didn't fancy so much.
As far as I can tell, there hasn't been really any extreme changes from last year's model. The major change that I've noticed is that the cushioning seems way less stiff than last year.
This one change has improved the ride of the shoe incredibly. The previous version seemed like I was running on concrete slabs all the time, but with the new version, I can actually enjoy the slight stiffness of the midsole.
As far as everything else, it seems like the weight hasn't changed much. The upper is still the fantastic Waveknit, and even the outsole pattern is exactly the same.
Quick facts
⦁ Fits true to size
⦁ Weighs ~10.5 ounces (size 10)
⦁ Has a Waveknit upper
Waveknit technology
The Waveknit is one of the things that makes this shoe so enjoyable. It's so important that it's even in the name of the shoe.
Essentially Waveknit is a knit upper that conforms to the shape of your foot. It's like a second sock (the sock is the best way I can describe it because it is so comfortable).
It's nice and soft while taking the shape of your foot without suffocating your foot. There's no rubbing at all or hotspots. Really my only complaint is that it's a bit thick, and that might make the shoe get hot during runs in warm temperatures.
The ride
Running in this shoe pretty much felt like running in the R2s. The major difference I noticed was the softer cushioning. It's not Hoka plush, but compared to the R2s, it's way softer.
It's still pretty firm but a lot more manageable. The firmness gives the shoe a bit of a push forward like a spike plate. This feeling is pretty much needed as the shoe doesn't make you feel fast at all.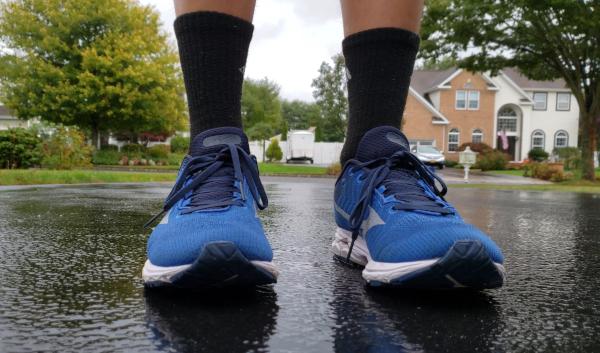 There's no real pop when you run in these shoes. While there is no pop, it doesn't feel like your running in dead shoes either.
It's just a nice medium shoe really. If I had to describe it, it would be a spicy saltine cracker. It's sort of boring but not really. That's why I like to use these shoes for slower type runs and even long runs.
On sixteen mile runs, I don't really care about having a fast, bouncy, run. I just needed to finish the run. The Waveknit R3s helped me do that. Even on two-hour sessions, my feet didn't ache or anything.
Longevity
As of this review, I currently have 110 miles logged onto these shoes, and the ride still feels the same as out of the box.
I even used the shoe for a week and a half straight without rotating it out with another shoe. This didn't let the cushioning rest or anything, and the shoe still feel fine.
The outsole of the shoe has shown basically no wear. It's like I didn't even run with the shoe at all. It's got a fair bit of rubber covering the outsole, which is probably why. I can confidently say the traction and outsole won't wear down anytime soon.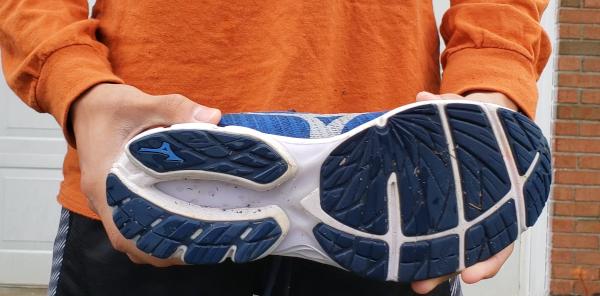 Verdict
I'll continue to use this shoe. However, it's going to be used for only long runs and slow-paced runs for me.
The weight isn't really heavy, but I prefer using lighter shoes with pop for any fast type workouts.
The Mizuno Wave Sky 3 is a game changer right from the start. To begin with, the Sky 3 is very different from the Sky 2.
It is not merely a reiteration; it is a reinvention! With changes to the mesh in the upper, the midsole, and the outsole, the Wave Sky 3 is a sequel that outshines the original.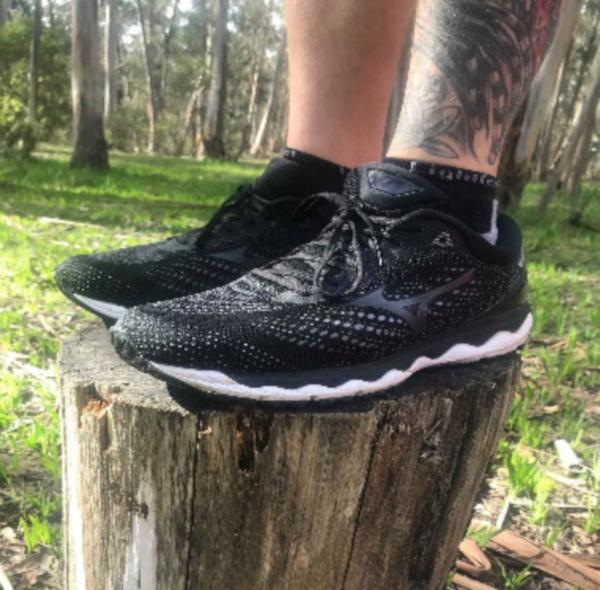 Upper
The new two-layered engineered stretch mesh features reinforced weave around critical areas of the midfoot and forefoot. It has a functional heat pressed logo around the midfoot saddle that supersedes the old-style stitched on a vinyl look of the previous model.
The leather toecap stitched on to the front of the predecessor has also been replaced by reinforced weave in the mesh. These changes have resulted in an overall modern look of the shoe with a significantly more comfortable fit.
For me, the fit is more generous through the instep and yet still very snug and supportive with no tight spots. This is a critical improvement for those who wish to fit an orthotic into the shoe.
Inner lining
Within the lining of the Sky 3, there are less palpable stitch lines, and the material is silkier than its predecessor. This benefits those who have any issues with sensation and who may be prone to blistering, especially if they were to wear the shoe barefoot.
The cushioning around the rearfoot and heel collar has remained relatively unchanged. It is both plush and snug; this provides a comfortable cushioned feel around the ankle bones and Achilles tendon.
Midsole
Here is where there has been the most significant change since the previous version of the shoe. The Wave sky 3 is the first version of the wave sky range, not featuring the thermoplastic midfoot wave plate that has been featured throughout the Mizuno range for some time.
This change has resulted in slightly less torsion resistance through the midfoot and slightly more flex through the rearfoot. Functionally this change has, in my opinion, been a massive improvement to the shoe.
There is now a smooth rear to forefoot transition when walking or running at no sacrifice to stability, weight, or cushioning. I would go so far as to say the new foam wave is a vast improvement on its predecessor.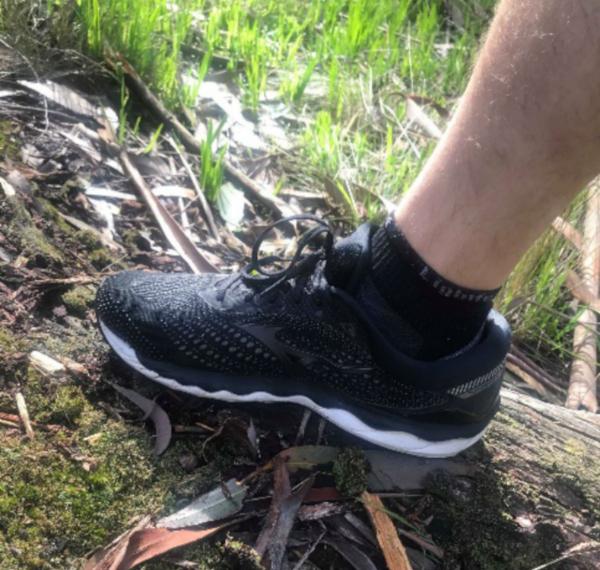 For tech-heads who want more here, it is: The midsole is a combination of 3 elements, U4ICX, U4IC, and X-pop. The full-length top layer of Plush U4ICX provides ultimate cushioning.
The bottom layer of responsive U4IC EVA foam provides shock absorption, and to top it off, between these layers within the midsole is a PU component called X-pop, which rebounds explosively while running, helping to drive you forward.
When I first ran in the Sky 3, I felt like I was running on pillows packed with gunpowder. This is my new favourite midsole overtaking the Brooks ghost by a margin of additional propulsion.
Heel counter
The heel counter is classic Mizuno - solid medially and laterally, perfect for orthotic wearers, even thick ones.
It is a combo of internal and external components with that beautiful Wave Sky logo emblazoned across the back. Tough, durable, and supportive, it provides that nice locked-in feel, many runners love when looking for a stable running shoe.
Outsole
There are some notably awesome improvements here. First and most importantly, there is now full-length ground contact. What this means is that there is no section across the shoe where the outsole leaves contact with the ground.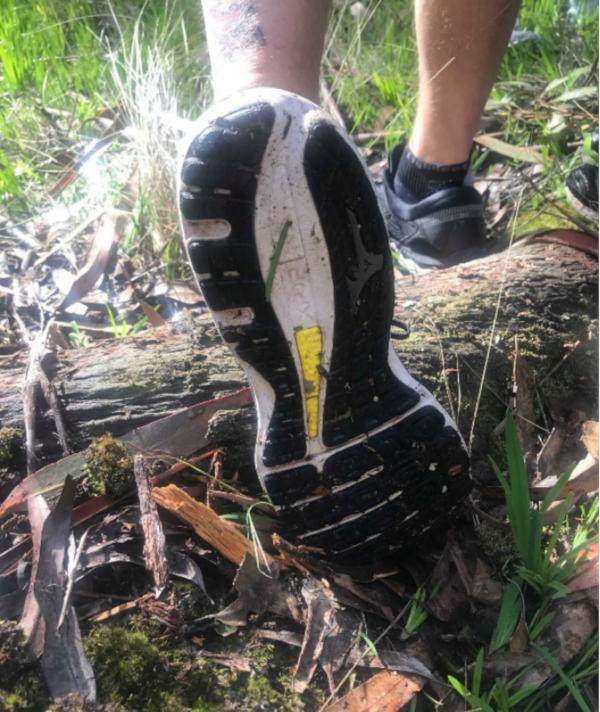 The benefit of this is, of course, maximum traction resulting in optimal stability. This means that anyone who may have any balance issues would feel safe and stable, making this shoe brilliant for runners at any level.
The other thing that this full-length contact does is really enhance that smooth transition from heel strike to toe off. The other notable feature is the addition of extra flex grooves in the forefoot, once more enhancing the smooth ride of this deluxe runner.
Overall
The Sky 3 looks great straight out of the box, sleek and lean; its shape reminds me of a great white shark. My first feel notes were: Stable ground contact, bouncy, best downhill runner, smooth midfoot transition, great forefoot cushion, explosively propulsive.
I've run over 100km so far, and its one shoe I'll continue to run in after I finish my review. From day 1, it has been sublimely cushioned and supportive for my 90kg frame. After the distance I've run, it's still as good as new in all aspects.
I've run between 5km and 14km with no issues at all. The terrain I have tested it on has been road, gravel, wet mud, grass, and footpath, and it has been fantastic on all surfaces, even holding nicely on the mud.
The US Men's size 9 weighs in at 310g and has wave Sky has a 10mm heel pitch, it is a neutral running shoe, so it is perfect for anyone, orthotic wearers and neutral runners alike.
Comfort, propulsion, stability, durability, and flexibility all are near perfect! This is one of my two favourite running shoes of all time. I highly recommend you take the leap and join me in the Sky!
The Mizuno Wave Sky Waveknit 3 is a very good neutral running shoe that has flown under the radar for most shoe reviewers and running media. It has proven to be an outstanding trainer for all runs at a steady pace.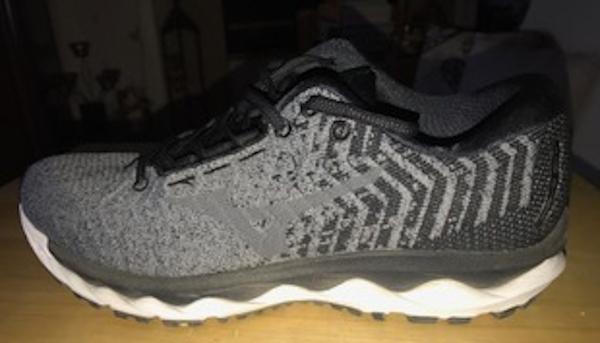 While I don't use it for intervals on the track, if you can only afford one training shoe, I suggest you buy this one.
Commentary
These days all you hear from the shoe manufacturers, shoe reviewers and the media is cushioning. The manufacturers all seem to have new and improved midsoles.
Before this shoe, Mizuno utilized the plastic wave plate in the heel in almost all of their running shoes. You won't find the plate on the Wave Sky. Mizuno has jumped on the new and improved midsole cushioning bandwagon.
Their midsole for the Wave Sky is named U41CX Strobel foam. Just try saying that quickly, and I dare you to define this foam without looking it up.
So, Mizuno just calls it XPOP. I call it ahhhhhhhh because it feels so soft and is responsive enough not to feel like I have pillows strapped to my feet.
While every manufacturer seems to have no problem with adequate cushioning under the heel, cushioning under the ball of the foot has been problematic.
Either there is a lot of cushioning as on the Hoka One One trainers, or there is virtually no cushioning. Too much forefoot cushioning has resulted in "rocker" design to assist the foot from moving from the heel to the forefoot to get some responsiveness.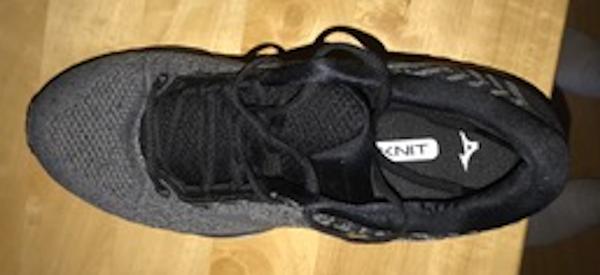 Shoes with minimal forefoot cushioning allow for plenty of responsiveness (racing flats). However, these will leave you with very sore feet if you run long distances.
Mizuno's forefoot cushioning proved to be a happy medium for me. I had plenty of responsiveness and didn't experience the "pillow" effect, but, after long runs, my feet felt fine.
Besides the nice ride from the midsole, the knit upper is very comfortable. The sock liner and heel padding are soft without being bulky.
The curved last worked very well for my high arched feet. I also really liked the wide toebox. However, be advised that in heavy rain, your feet will get wet.
The sole of the shoe shows no wear after 70 mile,s and the X10 carbon rubber grips well on wet surfaces. I expect the sole to last at least 400 and likely 500 miles.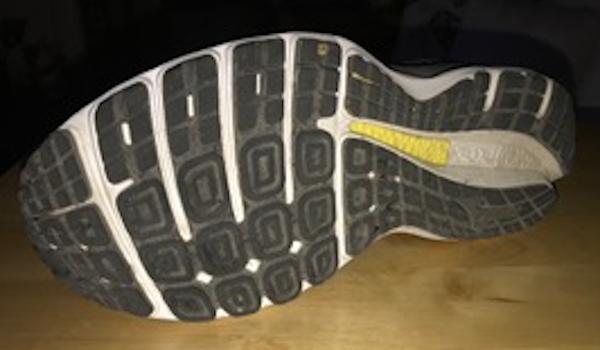 that this upper is knit, and I would suggest you keep an eye out for holes or tears.
Would I buy it again?
Wave Sky is my favorite training shoe of 2019, and I would buy another pair without hesitation.
Weakness
Note
It can be hard to find this shoe in running stores—I had to special order mine from Transports. I always go to this store before buying shoes, and they've been happy to order shoes for me.
Most running stores are happy to order shoes for their customers. I don't know Mr. Amazon or Ms. Running warehouse, but, I do know Bev at Transports. Please support your local running store.
Okay, so the title of this review may make you think that I have an unnatural passion for these shoes, but I assure you that is NOT the case.
The Mizuno Wave Sky Waveknit 3 are actually hot and heavy shoes to run in. It's not all bad though, so please keep reading. This is a high-quality max-cushioned shoe.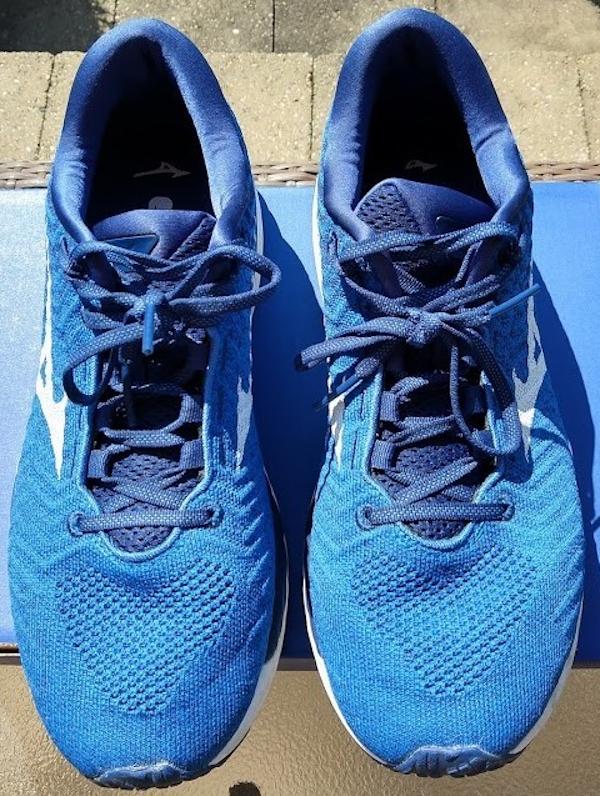 Also, what is up that the name? It's a mouthful, so I'm just going to call them the Waveknit 3 from now on.
Specs
Weight: 11.0 oz / 312g (men's 9), 9.6 oz / 272g (women's 8)
Stack Height: 33mm (heel), 23mm (forefoot)
Heel to toe differential of 10mm
Support: Neutral
Removable premium sock liner
Note: Doing my measuring with my men's size 12, the weight came in at 13.3oz (377g)
Build Quality
Upper
The Waveknit upper is made of thick and durable material that helps secure your foot in place but offers very little breathability. The material is thick, and the only comparison I can make would be Corduroy.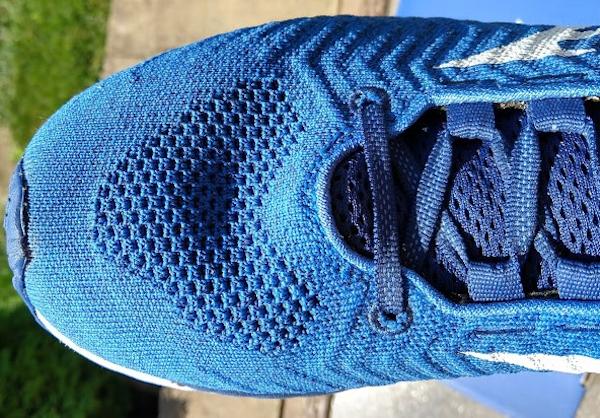 With so many shoe brands now offering breathable knit or mesh uppers, I found this to be a surprising, if not odd, deviation of that trend.
Running during the summer in these has been less than enjoyable as my feet would get extremely hot and uncomfortable. I look forward to testing them out during the wintertime where I think this material would be more appreciated.
I would not call the toe-box roomy, but I did not have any issues with hot-spots or blistering. The upper seemed to mold around my foot (not stretch), which was unique. That being said, if you have a wider foot, you may want to ½ size up.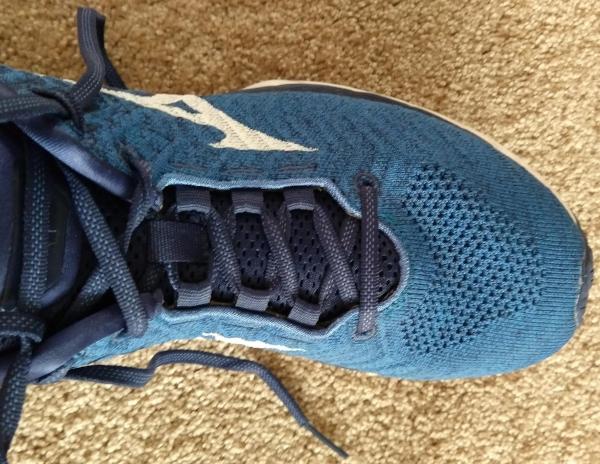 The laces are flat and lightly textured, and I had no issues with them becoming untied during runs. The length of the laces is plenty long (maybe too long) to allow for lace lockdown.
The lacing system eliminates eyelets in the mid part of the foot and does a fantastic job of holding your foot in place.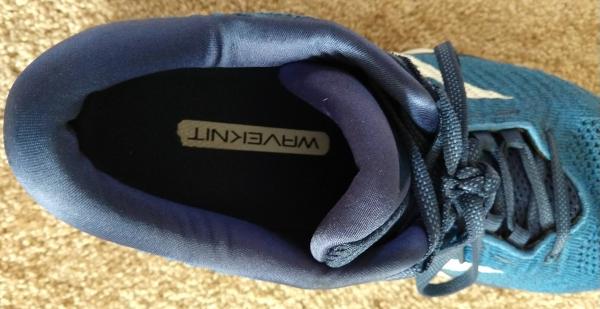 The heel collar and tongue are thickly padded. Couple this with their maximum cushioned sock liner and the step-in feel is one of the best features of this shoe. Your foot feels secure without having to tighten down the laces, which, ironically, makes this a very comfortable walking shoe.
On the downside, there is no reflective material on these shoes, so if you run outside in the dark, keep in mind that these will not help you with visibility.
Midsole
The Waveknit 3 uses three different foams. Two are fused together in a wave pattern with one (called U4icX) being softer and lighter and the other (called U4ic) being denser and more shock-absorbing. The third foam is called XPOP, which provides energy return in the same manner as react or boost.

This combination of foam provides a unique experience while running or walking. There is a plushness or cush you feel in each step, but you don't get that sinking-in feeling because of the bounce back provided by the XPOP.
Outsole
The Waveknit 3 uses a durable carbon rubber outsole called X10 that allows for longer wear. I have put over 50 miles of running and several more walking in these shoes, and there is minimal wear showing. This outsole should last for hundreds of miles.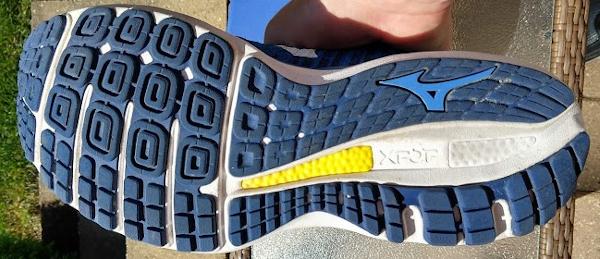 The flex grooves in the forefoot provide exceptional flexibility for a very comfortable toe-off while running.
Design
Currently, Waveknit 3 comes in four colors for men and women. Black, Campanula-Silver, Quiet Shade, Flintstone-Vapor Blue are choices for men. Meanwhile, Black, Citadel-vapor Blue, Glacier Gray-white, Purple Potion-white are available for women.
Despite the fancy color names they are pretty toned down and conservative color offerings, which I'm okay with. No bright colors, just a variety of blues and greys, save for one reddish color on the women's offering.
These shoes are stylish enough where you could wear them as lifestyle shoes. I've been rocking my Campanula-Silver pair with shorts and polo during the summer.
Comfort & fit
These run fairly true to size based on the size 12 pair I received. But, there is not much extra room to work with, so you may want to consider ½ sizing up.
I had no issues with the toe-box, and my toes never felt pinched or cramped. The wider base at the forefoot provided stability despite the large stack height.
As mentioned before, the step-in feel of this shoe is great. The padded tongue and heel collar hug your foot, and the premium sock liner adds even more comfort.
Sadly, your foot will get warm in this cocoon of comfort, so make sure you wear socks to absorb the sweat.
The ride
The midsole is bouncy, which I really enjoyed with my only complaint being the heel was a tad squishy, especially noticeable on downhill running.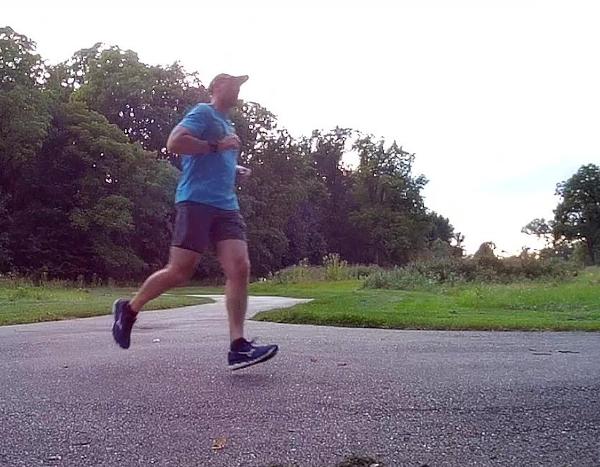 When running in this shoe, you are rewarded more as a heel striker than someone who is a mid to forefoot striker due to the overly plush 33mm heel.
The weight of the shoe made it hard for me to run fast and during long runs. Moreover, as the miles built up, they felt like weights on my feet.
The outsole gripped without issue on road, grass, and lite trails. The only problem I noticed was, on some wet terrain, there was a bit of slippage on concrete, but I had no issues on wet grass.
Lockdown on the shoe was fantastic; my foot stayed in place without any concerns, no moving around or hotspots during my runs. Despite the stack height, there were no stability issues while hugging tight corners.
Price
At the time of this review, the Waveknit 3 is going for USD 160. Comparable brands like the Hoka Bondi and Altra Paradigm are priced at USD 150, making the Waveknit 3 at the upper end of the price range with the Saucony Triumph ISO (also $160).
The Waveknit 3 has been made with high-quality material, and I can tell a lot of engineering has gone into making this shoe and would explain the high price tag.
Suggested improvements
Lose weight. If Mizuno would apply some or all of the following suggestions, I believe it would significantly enhance the shoe. The upper needs to be thinner and more breathable, and that will help drop some weight.
The heel is extremely plush, too much so in my opinion. And, I'd love to see them shave a couple of millimeters off it, and make this shoe an 8mm stack height; this would also drop weight.
The carbon rubber outsole is great, but if this was applied to high wear areas only, it would be another way to drop weight, albeit at the cost of durability.
Thin out the tongue to enhance breathability and drop weight. The premium sock liner is nice but not necessary with such a plush midsole; a thinner sock liner would also lose weight.
Conclusion
If you are looking for a max-cushioned shoe that you can use as a daily trainer and will last for hundreds of miles, the Waveknit 3 may be for you.
The Waveknit 3 is an exceptionally well-built shoe; it's very durable and should last at least 400 miles, if not more.
That being said, this is not my kind of shoe; it's way too heavy and lacks breathability. I'll probably use this shoe for recovery runs or walking.
With a price tag of $160.00, there are so many other options at or below that price point that I would prefer.
To be honest, I have never worn Mizuno. I know the brand, but just never thought about giving them a go. So when I had the opportunity to try their newest version of the Wave Sky, I jumped on it, or rather, into it, with both feet!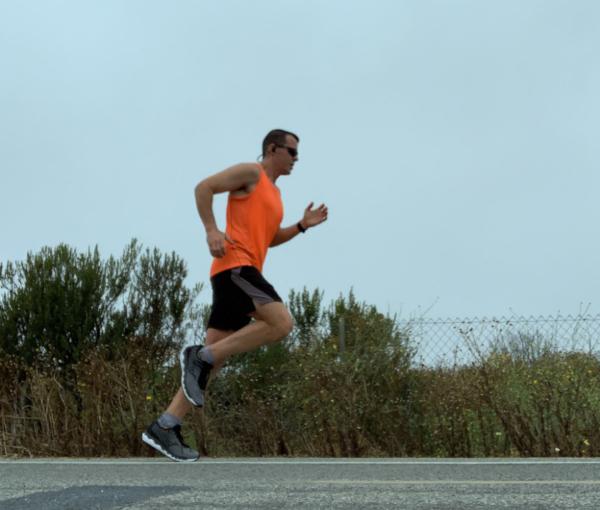 Design
Several years ago, when shoe companies started manufacturing their shoes with knit uppers, I was very skeptical at first. Not only was it foreign to me (as I was used to leather, plastic, nylon, etc.), but in my opinion, they were, well, not the most attractive designs.
They looked like my grandmother crocheted her own running shoes. Then, as more companies joined the bandwagon, the designs became more creative and more attractive.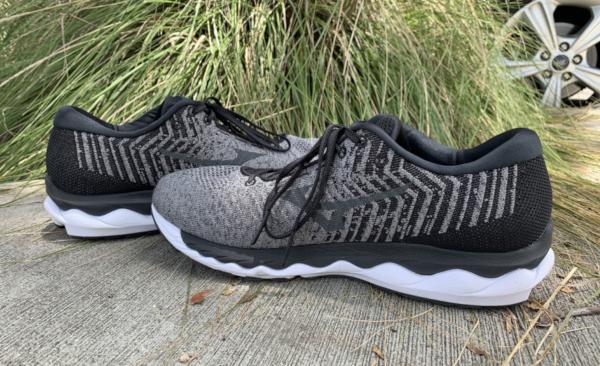 Now, most of the competitive running shoes have some kind of mesh knitted upper, and not only are they extremely comfortable and form-fitting, but sleek and stylish.
The Mizuno Waveknit's are no exception. It's a clean and simple design with gradient zig-zagged lines fading into the color of the shoe's upper.
The shoe is made very well, from the quality of the knit upper, the silky finish on the tongue and around the ankle, to the curvy waves of the sole. Every detail has been addressed.
Comfort & durability
My first run in the Mizuno Waveknit's was a 12 miler. Nowadays, with the way shoes are built, you really don't need to break them in all that much, unlike shoes from years ago when they were not made of softer and more pliable materials.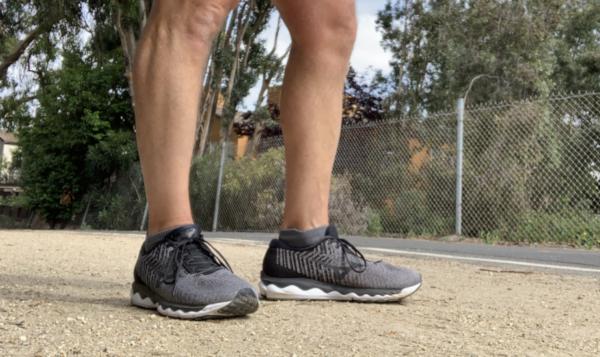 I slipped these on, and I could feel the comfort and nice fit. A highly cushioned shoe, the midsole uses a combination of two different foams: XPOP PU (a polyurethane foam) and the Mizuno Foam Wave.
Whatever the case may be, as I am certainly not a shoe scientist, it provides a very comfortable ride and foot strike. That combined with a sturdy rubber outsole, the Mizuno Waveknit provides ample grip and traction.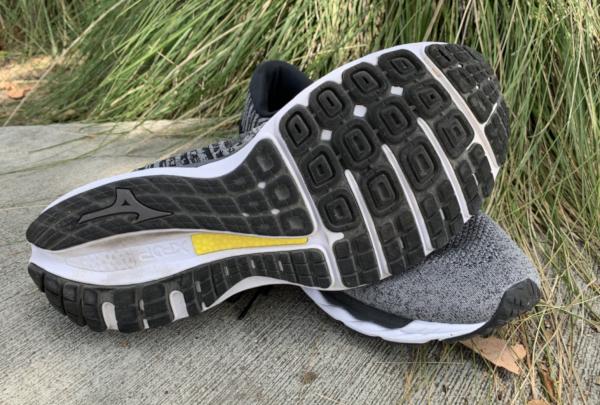 The sole is also bulkier and wider than most shoes I own, providing a sturdy and solid running experience.
The upper is constructed of a mesh knit, which is conducive to more breathable feet and, in my opinion, more comfortable feel in general - less rubbing and less constrictive. They really conform to your foot, are pliable and have enough room for your toes to breath and not create any friction against the front toe box.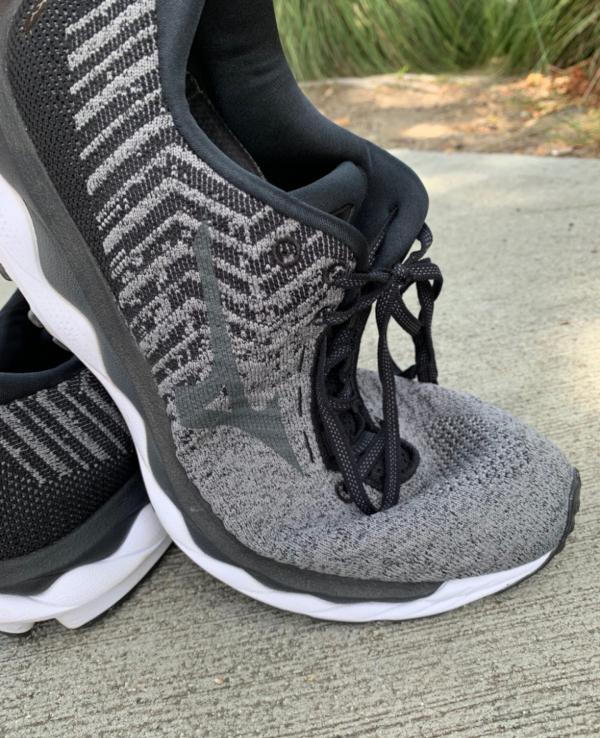 Performance
They felt great right out of the box. A bit heavier than some of the other shoes I have in my collection. I think these are great for recovery runs, mid-distant, and long runs if you don't have any race pace intervals mixed in.
These would not be my go-to shoes for speed work, but that is just my opinion. However, they are pretty flexible for a bulkier and more cushioned shoe and are quite responsive. Definitely my go-to shoes for recovery or easy runs when I want my feet to feel great and relaxed.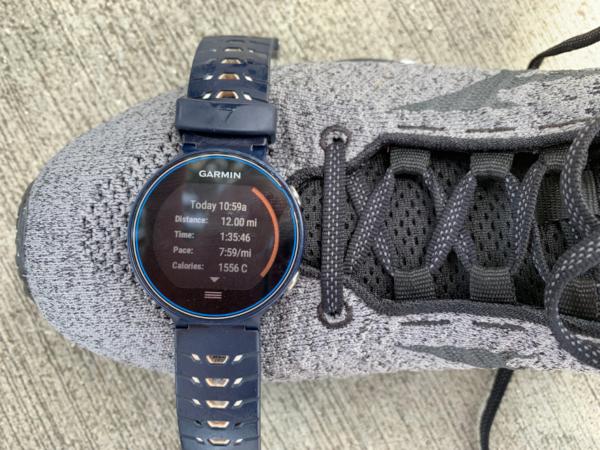 Conclusion
The Mizuno Wave Sky Waveknit 3's are an extremely comfortable and sturdy shoe built for high mileage and the mid to long run. A tad on the heavier side of most of the shoes I own, I would wear this shoe on recovery days or on runs that I want just to enjoy.
Mizuno has really paid attention to detail from design to construction and has created a solid running shoe in their lineup. I look forward to trying out some more Mizuno models!
The Mizuno Wave Sky Waveknit 3 includes some major changes from the last release of the shoe. Its predecessor, the Sky 2 even had a different name—note the lack of a "Waveknit".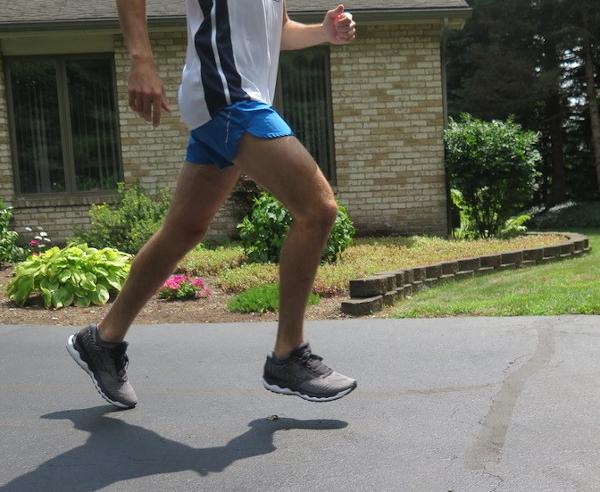 This references the new, knit upper material in the Sky Waveknit 3.
Mizuno also got rid of the Pebax plate that they use in almost every training shoe they make. Replacing the plate is two layers of foam, cut in a wave-like pattern that is easily visible on the shoe.
The shoe also debuts a brand-new midsole foam called XPOP, which is Mizuno's attempt to keep up with the recent trend in energy-returning midsoles, like Adidas' Boost foam.
Unfortunately, the word "attempt" just about sums up this shoe, in my opinion.
While I laud Mizuno's attempt to improve through radical changes in one shoe, the Sky Waveknit 3 doesn't excel at anything other than comfort.
It feels heavy and clunky on foot, and that doesn't change much whether your pace is quick or easy. The upper is comfortable but also feels like there is just too much material and weight used.
Make no mistake; This is a comfortable and soft shoe. But there are other comfortable, well-cushioned shoes out there that don't feel as clunky as the Sky Waveknit 3.
Appearance
The black colorway is understated but in a good way. The waveknit upper material has a heathered texture with bits of dark gray sprinkled throughout, matching the dark gray Mizuno logo on the side.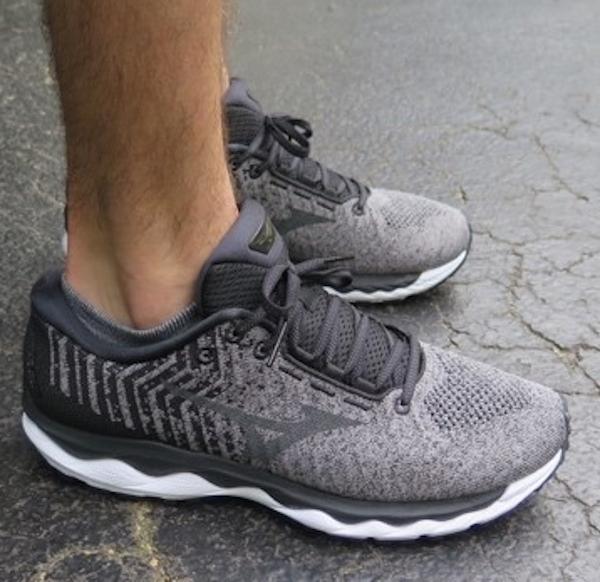 The midsole of the shoe has two different black and white foams that mesh seamlessly with each other in the shape of a wave.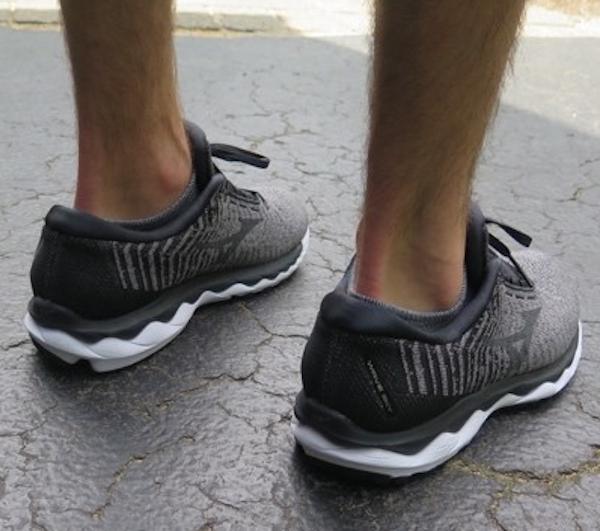 The shoe does look a little chunky overall, but this is a heavily-cushioned shoe, after all.
Upper material and fit
The knit upper material and fit of the shoe is incredibly comfortable. But, it feels as if Mizuno had to use too much material to achieve this comfort.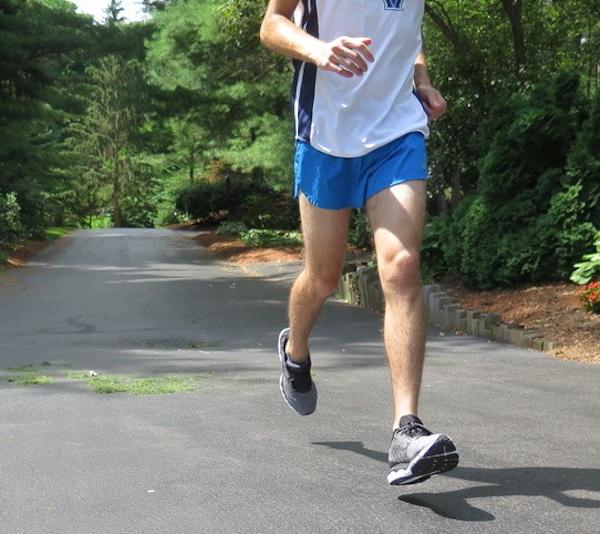 The tongue and ankle area are thick and plush. But, I wish they had cut down on the materials a little to save some weight.
The knit upper has plenty of tiny holes in the toe box, making the shoe fairly breathable.
Outsole
The outsole of the shoe is one part that hasn't changed since the last iteration. It remains Mizuno's X10 blown carbon rubber.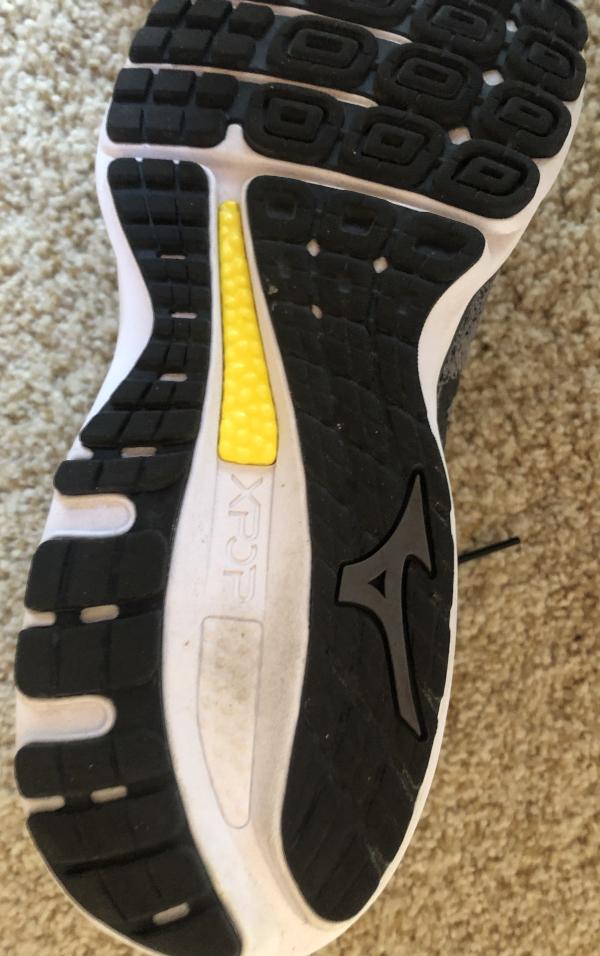 The material is exceptionally durable, but it doesn't provide much grip on slippery surfaces. I found myself slipping a little through toe-off on pavement that was barely even damp.
Mizuno did sneak in a cool little peek at the bright yellow XPOP foam by splitting the outsole under the arch.
Midsole and ride feel
The midsole is where Mizuno's innovation took place. The Sky Waveknit 3 uses a combination of Mizuno Foam Wave and XPOP in the midsole.
The Foam Wave is comprised of two different foams—one light and soft and the other for stability and absorption.
Mizuno then added a full-length insert of XPOP, which is made up partially of TPU pellets (the same material used in Adidas' Boost).
This concoction of foams certainly makes for a soft shoe, but it also feels very heavy.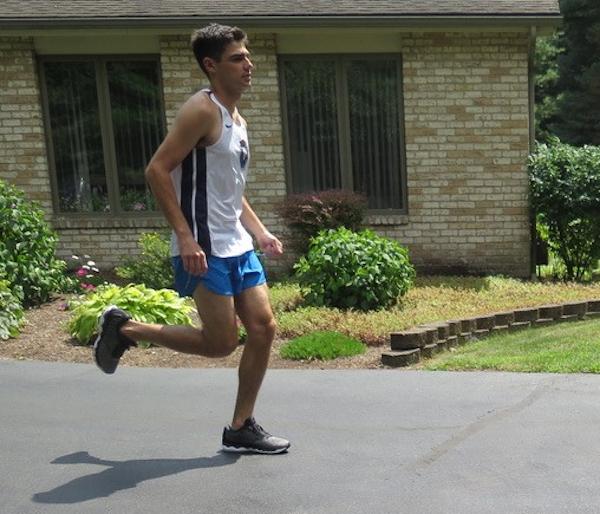 There isn't as much energy return as I would like. The shoe doesn't offer up much spring at slower paces, and at faster paces, it almost feels like it's pulling you down into the pavement.
Conclusion
The Mizuno Sky Waveknit 3 is an amazingly comfortable shoe, but other than that, it doesn't offer many perks. If you are looking for a slow, well-cushioned shoe, then this will do the job.
But, you can also find other shoes in this class that will give you comparable cushion and comfort and also give better energy return.
This shoe is fine for long, slow runs, but it isn't useful for much more than that.
If you are in the market for a neutral running shoe that is flexible, responsive and has quality cushioning you, may want to check out the Waveknit3 by Mizuno. First impressions are important if you are going to spend in excess of $150 on a running shoe so let's look at this 10.9oz shoe right out of the box.
The first thing you notice is the knit upper, which is a stretchy, breathable construction and is made to conform to the foot for a snug, stable fit. The weave in this material keeps the foot coon on those long, hot road runs.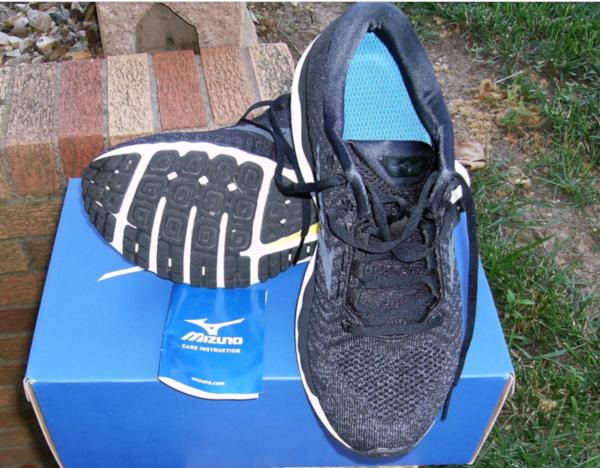 The Waveknit3's tongue, heel tab, and heel collar are thicker and softer when compared to another popular running shoe. This helps make the Waveknit3 a comfortable, snug fit from heel to forefoot for almost every foot shape.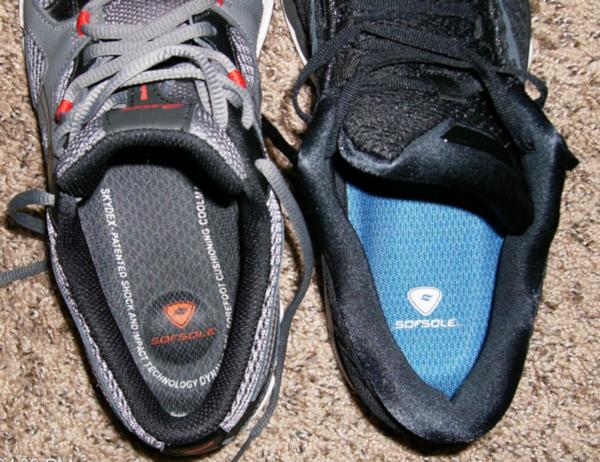 The toe-box is a bit pointy and snug for my liking, but when compared to other running shoes, this seems to be the current trend for the most part. I would prefer a bit more rounded, allowing for more room in that area. This is especially important when during the heat of summer, the foot tends to swell a bit during a longer run.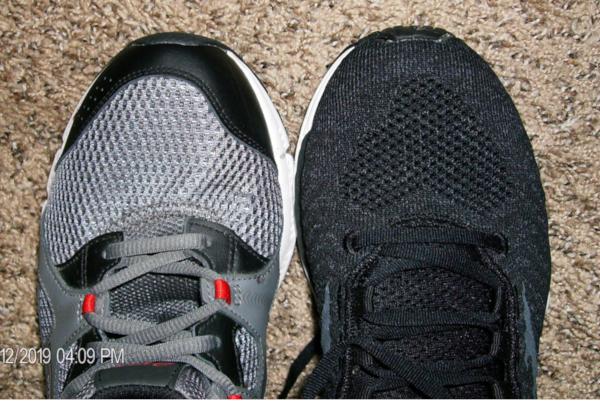 The insole from the factory is very thin and, in my opinion, doesn't really offer much in the way of comfort or support for the foot. I removed it and replaced it with another aftermarket product.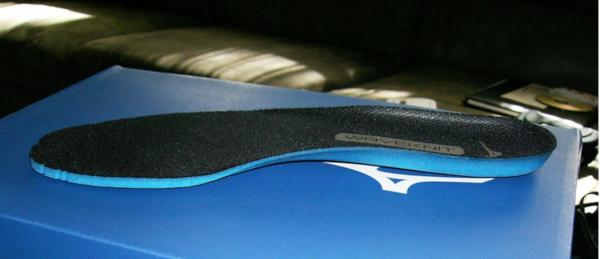 As mentioned before, the Waveknit upper is a tightly knitted stretchy synthetic yarn. It is soft, yet provides a stretch so as not to be too tight around the foot.
There are 5 flex grooves in the forefoot on the outsole. My research revealed these flex grooves allow the foot to move more naturally from the heal to the toe-off portion of a stride. During my test runs, I did notice a smooth transition from heel to midfoot to toe-off.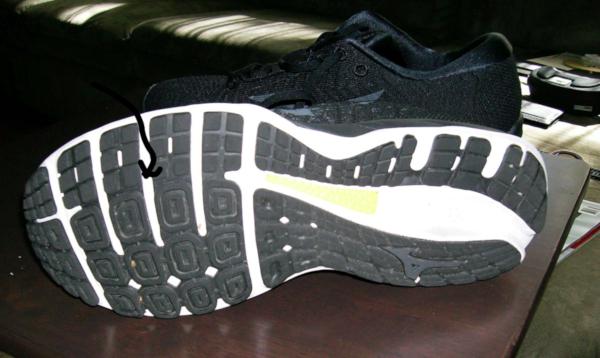 What's new on this model
This model is not a major make-over from the R2 model. However, it does offer XPOP polyurethane (PU) midsole foam which provides that smooth, supportive ride during the run.
As mentioned before, the upper construction does offer an adaptive fit which allows more of a natural foot movement. There is a 10mm heel-toe offset which is a bit more than most other Mizuno models have had.
This model is not a lightweight shoe at 10.9oz, so some will feel it is not a good choice for race day. Great quality and consistency are a trademark of Mizuno, and this model of the shoe continues that trend of great quality and consistent performance.
Now, let's take this shoe on the road and see what it does.
On the run with Mizuno Sky Waveknit3
After taking them out of the box, I immediately went for a short 2-mile walk just to get a feel for the fit of the shoe. I found it conforms well to my foot and is a supportive shoe with a good cushion heel to toe.
As suspected, the toe box is a bit tight, but not so much as to be uncomfortable. Just enough that I wouldn't want to do a very long run in them. This walk was done on the pavement, so the support and cushioning were important.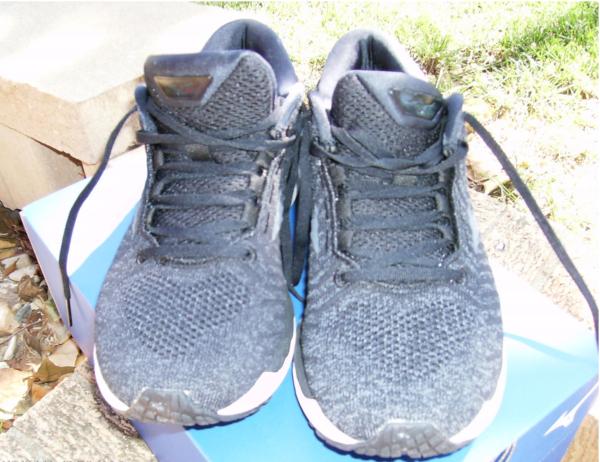 Next, I laced up for a 3- mile run on pavement. I felt the Waveknit was comfortable and supportive. The pavement was hot on this run and I felt like my feet were able to breathe due to the material used in the construction of the upper.
The weight of the shoe wasn't a real factor doing this low mileage. When researching this model, I read about the flex grooves located in the forefoot of the outsole. I could feel the comfortable movement of my foot during the pushing off phase of a stride, which is what these grooves were designed to do.
I also did some speed work (100m, 200m, and 800m) and found the shoe performed quite well. The cushioning was important during these tests as the track really beats up a shoe and feet. This is not a trail shoe, so I didn't take to the trails at all. I did run on a grassy surface, and this shoe provides great stability and support.
My next run was 5- miles that were a combination of flats and hills. The shoe performed well, however, if you've been using a lightweight shoe prior to using the Sky Waveknit3, you will notice the weight difference towards the end of a longer run.
The remaining runs performed with the Sky Waveknit3 were short to medium runs. My feet felt comfortable and well supported throughout these test runs.
Overall
If you are a neutral runner and seeking a supportive, well-cushioned and stable shoe, the Mizuno Sky Waveknit3 might be the shoe for you.
Good to know
The new Sky Waveknit 3 from Mizuno presents a combination of reliable technologies that aim to deliver a "floating" experience. It offers both style and functionality, appealing to users who highly regard aesthetic, while also targeting long distances. This neutral running shoe provides a comfortable cushioning and promotes natural movement.
This shoe uses Waveknit in the upper, which is known for its sock-like fit. This material provides a soft sensation and a dynamic stretch. The Waveknit is paired with AIRmesh for optimum airflow inside the shoe.
Mizuno employs several features in the sole unit for the ultimate functionality and performance of the Sky Waveknit 3. The midsole's construction is spearheaded by the new XPOP foam and a variety of the brand's proprietary technologies, all of which guarantee high-level responsiveness and a consistent transition phase. Meanwhile, the outsole's popular X10 rubber delivers durability and comfort simultaneously.
The moderate structure of the Mizuno Sky Waveknit 3 allows the shoe to accommodate runners with low to medium foot volumes. It is also offered in a wide range of sizes. The Sky Waveknit 3 is available in Medium width for both the men's and women's versions.
Mizuno's X10 outsole is made from a trusty carbon rubber, thus ensuring durability, especially at the heel and forefoot areas. Additionally, the X10 rubber equips the shoe with the necessary traction to efficiently carry out the transition phase. It is also characterized by a flexible quality, as it allows an easy and natural movement.
The outsole has an integrated ventilation system called the Intercool. It effectively prevents heat and humidity from building up inside the shoe, thus keeping the runner cool and dry.
The Mizuno Sky Waveknit 3 introduces the all-new XPOP, a next-generation foam made from polyurethane (PU). This material brings to the shoe a responsive quality, as well as an ultra-soft feel without sacrificing performance.
The U4ic serves as the main midsole component of the Mizuno Sky Waveknit 3. This full-length foam gives the shoe the cushioning and shock absorption for a smooth running experience. The U4ic boasts of being 30% more lightweight compared to other midsole materials. A variant of the U4ic, known simply as the U4icX, could be found in the heel area. It provides an additional layer of underfoot cushioning, which results in softened impacts during footstrike.
The Mizuno Foam Wave is also another new introduction to the brand's running shoe line. It ensures a smooth-sailing activity over pavements. It also contributes to a stable ride. Combined with the XPOP foam, these two features provide the shoe with the floating sensation it boasts of.
SmoothRide Engineering gives midsole a rocker-chair effect. It reduces the rates of acceleration and deceleration for a more consistent transition.
The AIRmesh is a soft and smooth upper material the equips the shoe with a comfortable, skin-friendly sensation. It is made from a lightweight fabric, which contributes to quick airflow through visible pores in its surface. Aside from breathability, the AIRmesh also offers flexibility as the soft material allows for unrestricted movement.
A new Waveknit upper construction delivers comfort and natural mobility. Although tight-knit, the material is known for its stretchable quality. It is designed to continually adapt to the shape and movement of the foot.
How Wave Sky WaveKnit 3 compares
Corescore: 54-57
3 shoes (0.32% of shoes)
Corescore: 58-61
6 shoes (0.64% of shoes)
Corescore: 62-65
15 shoes (2% of shoes)
Corescore: 66-69
19 shoes (2% of shoes)
Corescore: 70-73
55 shoes (6% of shoes)
Corescore: 74-76
60 shoes (6% of shoes)
Corescore: 77-80
210 shoes (23% of shoes)
Corescore: 81-84
264 shoes (28% of shoes)
Corescore: 85-88
207 shoes (22% of shoes)
Corescore: 89-93
94 shoes (10% of shoes)
Price: £40 - £70
114 shoes (12% of shoes)
Price: £70 - £100
268 shoes (29% of shoes)
Price: £100 - £130
272 shoes (29% of shoes)
Price: £130 - £160
170 shoes (18% of shoes)
Price: £160 - £190
60 shoes (6% of shoes)
Price: £190 - £220
35 shoes (4% of shoes)
Price: £220 - £240
10 shoes (1% of shoes)
Price: £250 - £270
1 shoes (0.11% of shoes)
Price: £270 - £300
2 shoes (0.21% of shoes)
Price: £300 - £330
1 shoes (0.11% of shoes)
Weight: 100g - 133g
6 shoes (0.77% of shoes)
Weight: 134g - 166g
16 shoes (2% of shoes)
Weight: 167g - 200g
41 shoes (5% of shoes)
Weight: 201g - 234g
113 shoes (14% of shoes)
Weight: 235g - 268g
195 shoes (25% of shoes)
Weight: 269g - 301g
212 shoes (27% of shoes)
Weight: 302g - 335g
134 shoes (17% of shoes)
Weight: 336g - 369g
47 shoes (6% of shoes)
Weight: 370g - 402g
12 shoes (2% of shoes)
Weight: 403g - 436g
3 shoes (0.38% of shoes)
Weight: 437g - 437g
1 shoes (0.13% of shoes)