Merrell Moab Adventure Lace
True to Merrell shoe tradition, the Moab Adventure Laces are comfortable footwear that function well, whether used as lifestyle shoes or as a walking/hiking ones. The shoes are perfect in width, durable, contain excellent arch support, and come with grippy soles. They are also lightweight and completely comfy right out of the box. The only real drawback is that the colors can be slightly different from their pictures online.
---
Verdict from 1 expert and 100+ user reviews
10 reasons to buy
Most people who've tried on the Merrell Moab Adventure Lace sneakers say they love the all-day comfort.
Many reviewers call the Moab Adventure Lace sneakers "well-made" because of the solid but flexible construction.
Several buyers of the low-top footwear have praised the perfect fit.
Plenty of users like the design of the Merrell low-tops. They added that the leather construction, non-boot style eyelets, and standard looking laces make the shoes look less like a hiker.
The lifestyle footwear has "awesome arch support," say some purchasers.
A few individuals have mentioned how durable the Merrell Adventure Moab Lace shoes are.
A pleased user has noted how grippy the soles of these shoes from Merrell are.
One person is delighted with the lightweight feel and breathability of the casual shoes.
A consumer has recounted how happy he was with the shoes' excellent price.
A purchaser has mentioned that the Adventure Moab Lace shoes need no breaking in and are comfy right out of the box.
2 reasons not to buy
A few people have reported that the shoes' colors are a bit off from what is pictured.
The toe area of these classic Moab iterations is a bit narrow says one person.
Bottom line
True to
Merrell shoe
tradition, the Moab Adventure Laces are comfortable footwear that function well, whether used as lifestyle shoes or as a walking/hiking ones. The shoes are perfect in width, durable, contain excellent arch support, and come with grippy soles. They are also lightweight and completely comfy right out of the box. The only real drawback is that the colors can be slightly different from their pictures online.
Best price from 30 shops
We earn affiliate commissions at no extra cost to you when you buy through us.
85% say it's true to size.

Our reviews
I am fortunate to live in a part of the United States that is full of undeveloped land, including a significant amount of mountainous areas. Over the years, the trails have become my favorite place to be.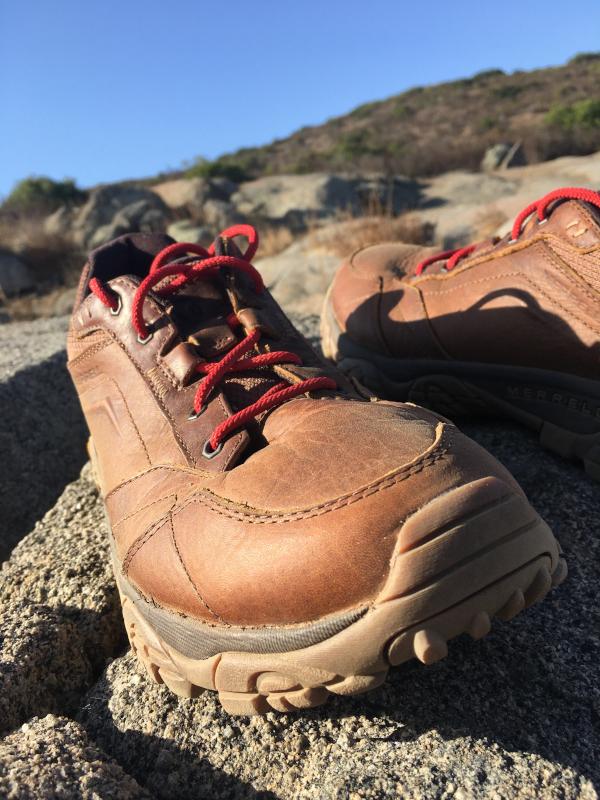 It doesn't take much to get outdoors and enjoy the beauty of nature, but a solid pair of shoes made for the rigors of hiking is essential.
I typically trail run and sometimes hike in budget trail running shoes such as the Asics Venture series. But, I do find that my feet feel better on longer hikes with a more supportive structure and heavier lugging for rocky terrain.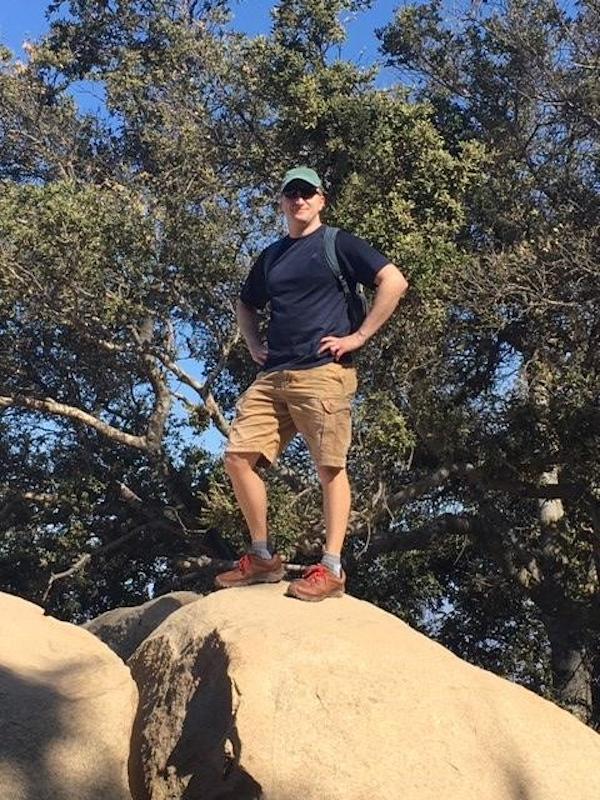 Trail running shoes do not always offer these features since they are designed to be lightweight. In terms of hiking footwear, Merrell is one of the few shoe brands for which I will pay a bit more, given the quality of their products.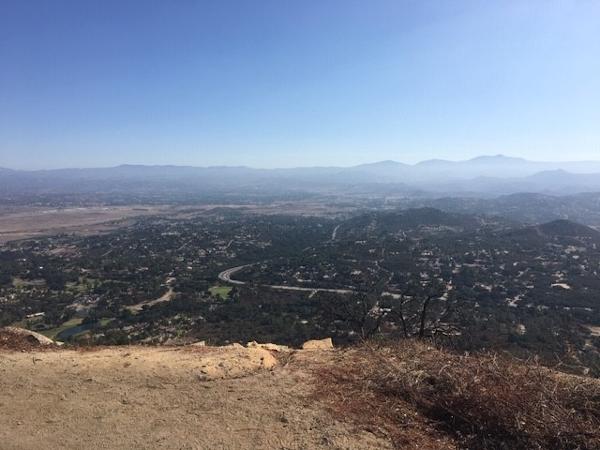 I have used earlier versions of the Merrell Moab style in the past and found them to be excellent for long hikes and very durable. The Moab Adventure Luna Lace has been no exception.
I tested the Merrell Moab Adventure Luna Lace on several trails in my part of the world. These trails include some with rocky, loose terrain and very steep inclines/declines.
Most of these trails are located in and around the Poway and Rancho Bernardo areas in San Diego County where I live. I have probably covered 40-50 miles on-trail at the time of this review.
Throughout this article, you will see pictures of the type of terrain on which these shoes were tested.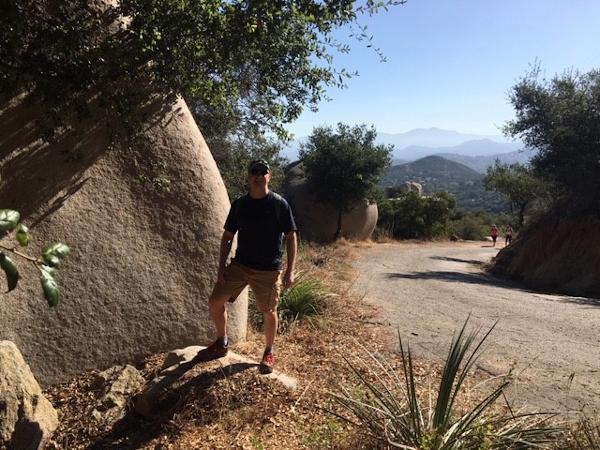 So, if you're interested in a shoe that is perfect for trail novices and hiking experts alike, look no further than the Merrell Moab Adventure Luna Lace!
Below you will find a detailed review describing why I like these shoes so much, with some general tips as to what to look for in a hiking shoe.
What should you look for in a hiking shoe?
As a frequent hiker, there are some particular features that I look for in a hiking shoe. It should ensure that my feet will feel supported and that I can minimize the chance of injuries while on the trail.
After all, I want to enjoy nature and the physical challenge of hiking, not be thinking about my feet!
A lugged outsole
The outsole is what makes or breaks a hiking boot or shoe in terms of its utility on the trail. Just about any athletic shoe outsole will work for walking on paved areas, but a whole new set of considerations comes into play when you trek onto loose, uneven terrain.
The importance of proper footwear increases all the more when dealing with areas where you may encounter steep inclines or declines. A lugged outsole with raised bumps will help you feel sure-footed and minimize the risk of slipping and falling.
As someone who has hiked for a long time and in a variety of footwear, I can tell you that my worst injuries have always occurred when wearing shoes without enough traction.
A firm but flexible midsole
A good hiking shoe will include a midsole that bends and flexes with your feet but also offers enough rigidity in the midfoot area to prevent unwanted twisting of the foot during the gait cycle.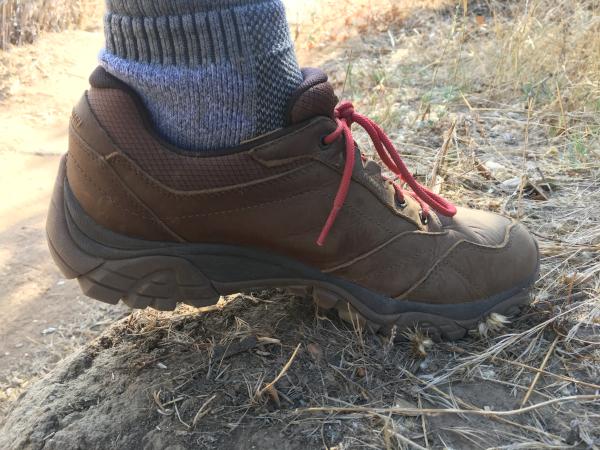 I look for torsional rigidity at the arch area of the shoe, which I test by trying to twist the shoe with my hands. If the arch area remains unbent during the twisting, then I know that the shoe has adequate support.
Also, I like solid cushioning in my hiking shoes, either EVA or some other kind of foam.
A removable insole
Most higher-quality hiking shoes include a stock insole that can be removed from the shoe. As a flat-footed person, I need to replace stock insoles with a more supportive aftermarket model.
Even if you are not flat-footed, the shoe's insole is the first thing to wear out in many cases, and the shoes will last longer if it can be easily replaced with a cushioned model.
A durable, protective upper
It's easy to scrape a foot when hiking on rocky terrain. The shoe upper should be made of a rugged material (synthetic or leather, or often some combination of the two) that will offer excellent protection from the elements.
You should try on the shoes carefully to make sure that the shoe does not rub your foot uncomfortably in any areas. Rubbing can cause blisters or hot-spots.
A rigid heel cup
This feature is significant for preventing blisters. The heel of the shoe should be hard and firm and should hug your rearfoot tightly. Too much slippage in the heel leads to painful blisters.
Also, an unstructured heel cup can make your foot wobble in the shoe, which is also a recipe for blisters and foot pain. The way I test this when buying a pair of hiking shoes is to push on the heel with my finger. If the heel collapses under the pressure, I do not buy the shoes.
Toe bumper
Stubbing your toe on a rock is very painful. Most hiking shoes and boots include a rubber bumper at the front of the shoe to protect your toes from rocks.
A sufficiently roomy toebox
If your hiking shoe or boot makes your toes feel squeezed, you've found the wrong pair. Look for a style that gives your toes ample room to spread out. Cramped toes lead to injuries, so let those piggies spread out in the shoe as much as possible. For some people, a wider-width shoe may be necessary to make sure you have enough room.
Now that you know what to look for when choosing a hiking shoe, it's time to see how the Merrell Moab Adventure Luna Lace measures up.
Overall aesthetic
The Merrell Moab Adventure Luna Lace is a very traditional hiking shoe, with a leather upper and very rugged outsole. It is a technical hiking shoe and sure looks that way.
The leather is soft and supple (more on that later), making this hiking shoe nice enough to wear casually for those who do some walking as part of their daily routine.
One detail I like about these shoes is the option to use red or brown laces. Merrell includes two pairs of laces with these, allowing the wearer to choose their aesthetic. I, for one, love the red laces, which give the shoes a unique look.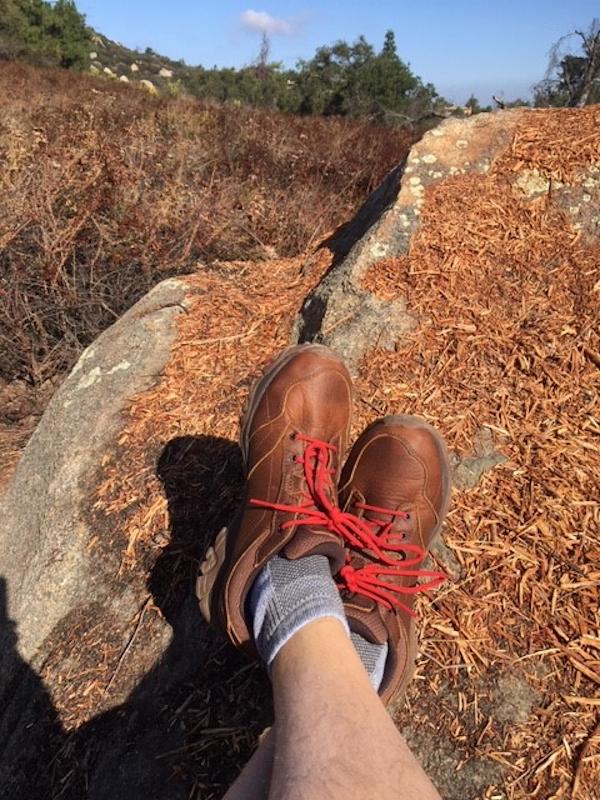 Overall, the Merrell Moab Adventure Luna Lace looks and feels ready for adventure.
Fit
The Merrell Moab Adventure Luna Lace fits excellently in my typical athletic shoe size of 9.5. The rearfoot and midfoot of the shoes are sufficiently snug to hold my feet in place and prevent slippage in the shoe.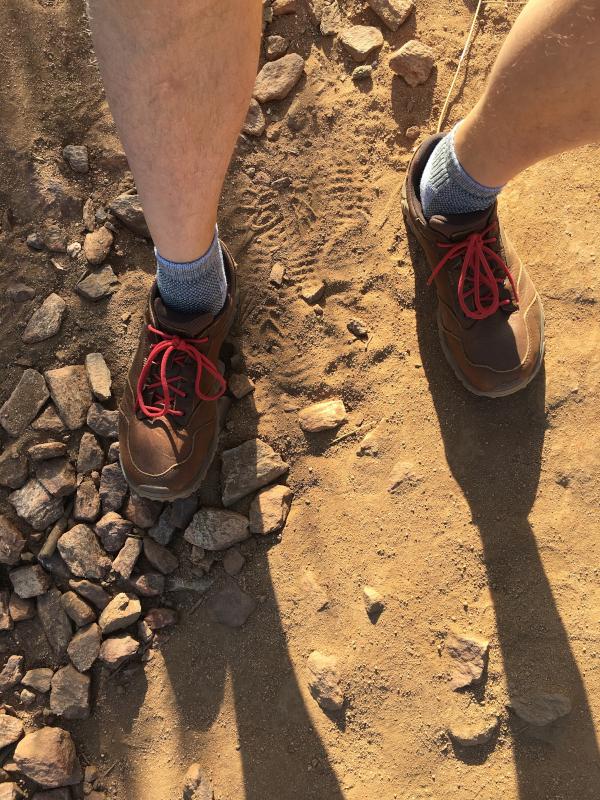 The toebox on this model is quite roomy, allowing my toes to move without feeling cramped. There is about a thumb width of space between the end of my big toe and the end of the shoe.
This space is exactly what I look for in any athletic shoe to make sure that my toes don't bump the end of the shoes during motion. I couldn't ask for a better fit.
Weight
These shoes did not feel overly heavy despite the leather construction and thick lugged outsole.
Of course, hiking shoes are almost always going to be heavier than a running shoe, so this might take some getting used to if you are new to hiking and used to cross-training or running shoes. But I was surprised at how light these shoes felt even towards the end of a long hike.
Upper
The upper is made of supple, soft leather that felt broken-in from minute one of wear. The leather upper is one of the best features of the Merrell Moab Adventure Luna Lace.
It is very durable and tough and doesn't scratch as easily as I had expected (I found this out when scrambling up a boulder which scraped my toes!). It also looks very nice can be easily cleaned with a damp towel.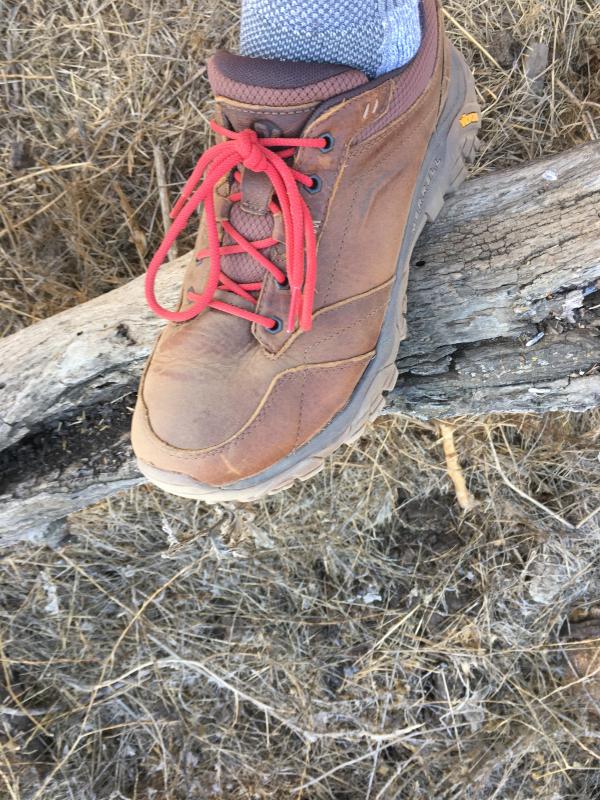 I also find the shoes to be breathable, which was a concern I had when choosing a leather model. At no point did my feet feel uncomfortably hot despite hiking on warm, sunny days.
Heel cup
The heel cup on the Merrell Moab Adventure Luna Lace is rigid yet padded to keep my feet free from unwanted motion inside the shoe. The heel does a good job locking the foot into place.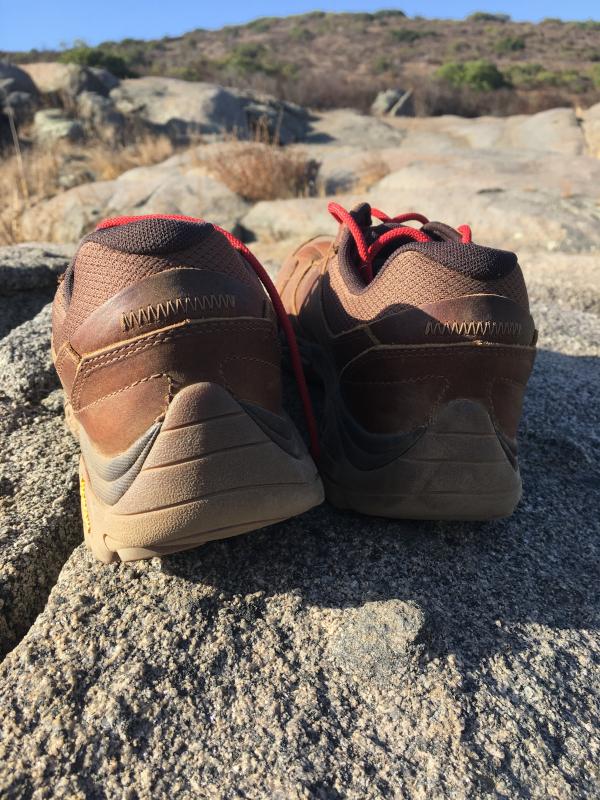 I do wish that there was an extra lace hole at the collar of the shoe to lock the foot in even more snugly. But, the design of these shoes does work for me as-is.
The heel of this shoe is equipped with an additional detail, which is very helpful on the trail; a rubber heel bumper slopes upwards from the outsole to cover the lower heel.
This helps propel the foot forward while protecting from rocks and debris that may get kicked up during the gait cycle. This external heel bumper is also very helpful for rock scrambling.
Midsole
The midsole is comprised of a thick layer of EVA foam, which provides ample cushioning for nearly any outdoor activity.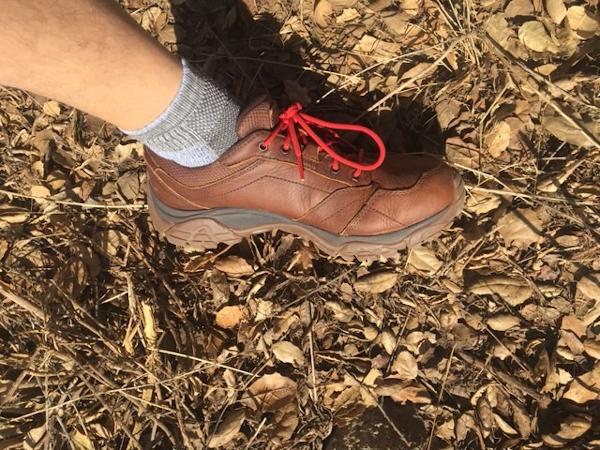 There is sufficient torsional rigidity in the arch area of the shoe to prevent the foot from twisting during the gait cycle. The midsole is slightly sloped from heel to toe to promote forward motion.
Insole
The shoe comes with a soft and nicely contoured stock insole that is easily removable. The stock insole is soft and provides a little cushion. It appears to be designed around a neutral or medium arch.
I replaced the stock insole with my doctor-prescribed orthotics with no issue. I did find that the shoes provide a lot of support even with the stock insole in place. The stock insole may be fine for some people until it wears out.
Below, the shoes are pictured with the aftermarket insoles included.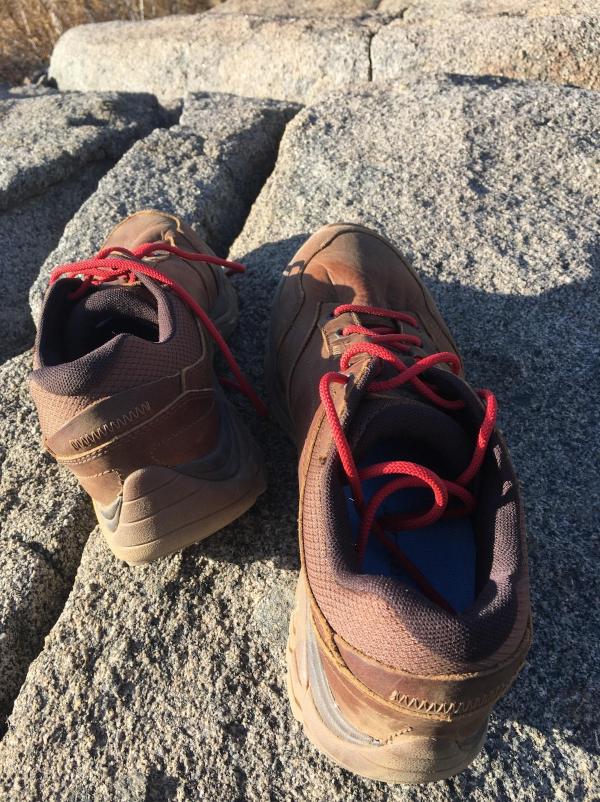 Outsole
The outsole is where the Merrell Moab Adventure Luna Lace shines. The outsole is made with Vibram, a material that is very highly durable and will likely last for years of regular hiking (based on my prior experience with it) before eventually wearing out.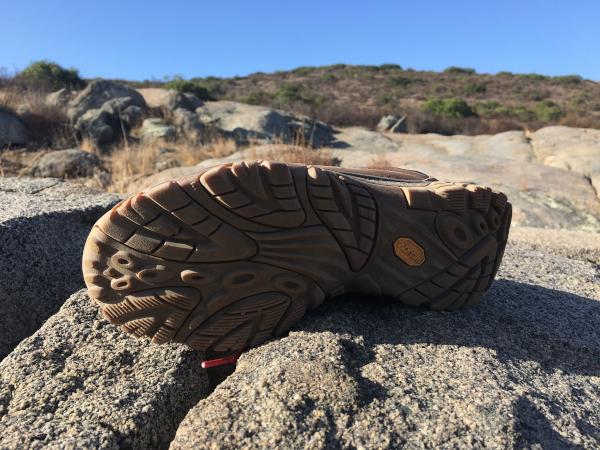 The lugs on this model are wide and deep, providing excellent traction on the trail even in treacherous conditions. I used them for scrambling up and down loose, rocky terrain as well as boulders, and I never felt unstable.
Additionally, the outsole extends beyond the toe of the shoe, creating a much-needed toe bumper, which prevents toe stubbing. It also includes the external heel bumper discussed above.
Pros
The Merrell Moab Adventure Luna Lace is designed with mostly excellent qualities:
An outsole that provides excellent traction even when used on very rough undeveloped terrain in mountainous areas. The addition of Vibram ensures durability, giving the shoe a longer lifespan than some models, which do not include this material. The outsole is also designed to protect the toe area from stubbing;
A supportive upper made from supple and durable leather that needed no break-in period;
A rigid heel cup that holds the foot in place within the shoe and includes a heel bumper for extra protection and traction;
Great support from the EVA midsole that prevents the shoe from twisting and bending under the arch area;
A firm yet cushioned midsole that provides solid and dependable underfoot support;
An insole that is very contoured and can be easily removed to accommodate an orthotic;
An excellent fit in a medium width;
A decently lightweight for a hiking shoe; and
Solid value despite a higher price point than the budget shoes I typically use.
Cons
The shoe does have a couple of minor drawbacks:
The shoe would benefit from an extra lace hole at the collar, which would lock the heel in place even more securely; and
The shoe is a little expensive compared to some of the budget models I have used in the past, retailing in the $75-$110 range.
For me, neither of these cons were significant. The absence of the extra lace hole did not cause my feet any pain since the heel cup and lace area of the shoes are pretty solidly-built.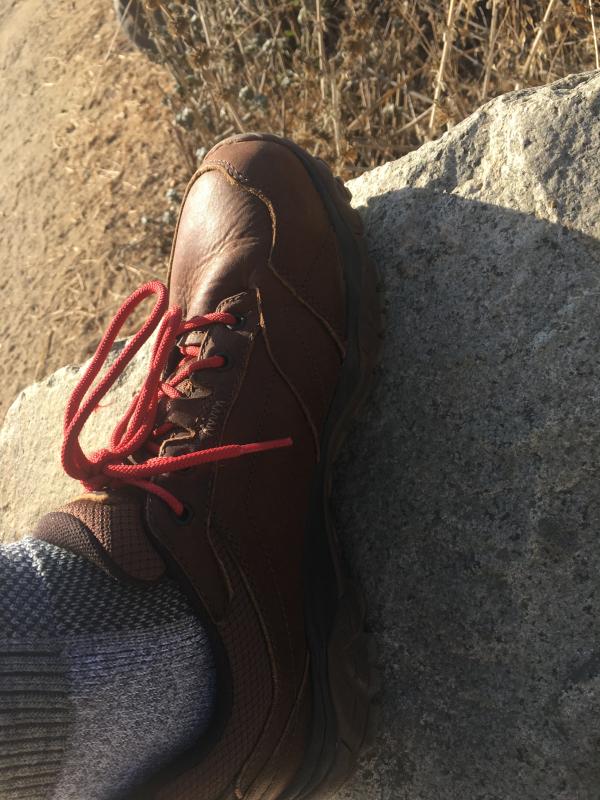 The price of the shoes is also not a big problem given how durable they are. I plan to be hiking in these shoes for at least 2-4 years before they get retired to gardening and yard shoe status. That makes the shoes an even better value than a $60-$75 pair that only lasts a year or two.
The bottom line
The Merrell Moab Adventure Luna Lace is a superb hiking shoe and an excellent value. This model should work for beginning hikers as well as those of us with more experience.
If you are looking to explore nature, I can think of no better model of shoe to get you started.
Size and fit
The Merrell Moab Adventure Lace shoes street-ready sneakers with hiking inspiration. The low-top shoes feature mostly nubuck uppers that provide ample sidewall support for the user. Mesh material around the collars and on the tongues give the shoes ample ventilation, for sweat-free feet during short walks or hikes.
The closure system is composed of round laces, hexagon-shaped eyelets, and a set of lace pulls. Another lace pull can be seen on the tongues to keep them from shifting in place.
Contoured footbeds provide comfy cushioning for the feet.
Merrell Moab Adventure Lace Style
The Merrell Moab Adventure Laces are ruggedly good looking shoes that would be at home traversing the city pavements or the trail grounds. Wear them with jeans, cargo shorts, or canvas pants.
Notable Features
The Merrell Moab Adventure Lace utilizes the Vibram outsole technology, which gives the shoes slip-resistance under all weather conditions. The tech also provides stability and durability to the footwear. FIT.ECO contoured EVA footbeds enhance the plush feel of the sneakers while keeping odor under control.
Merrell Moab Adventure Lace History
The Merrell Moab Adventure Lace traces its roots back to the classic Moab. The name Moab is actually an acronym for 'Mother of all Cleats' and, since their debut, the shoes have been a favorite among outdoor enthusiasts who needed support, superior performance, and versatility. Merrell brought the footwear back more than ten years later in a reboot called the Moab 2.
The company also brought out other versions of the legendary Moab silhouette including the Moab Adventure Lace. This iteration carries a few likenesses to the old classic with their lightweight feel, grippy Vibram soles, and superior cushioning that give all-day comfort for long hikes.
Additional Info
The Merrell Moab Adventure Lace features mesh and nubuck leather uppers.
The shoes weigh about 737 grams and feature a protective rubber toe cap and rand, breathable mesh lining, and molded arch shank made of nylon.
Popularity
The current trend of Merrell Moab Adventure Lace.