Merrell Moab 2 Ventilator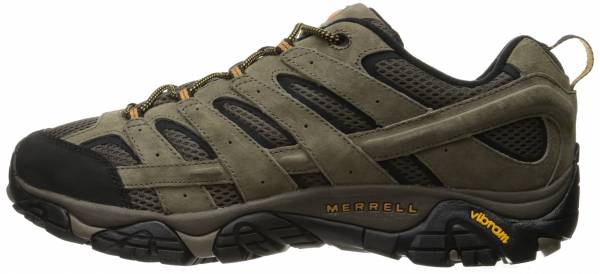 The Moab 2 Ventilator sports day-one comfort, support, and versatility in a reasonably priced package. This Merrell hiker also receives great acclaim and applause for having excellent longevity and a superb overall aesthetic. However, its list of commendable features reveals a couple of setbacks, mainly because of its heel slippage. Its scrawny stock insole didn't help bump its reputation either. To conclude, considering its slew of satisfying features, the Merrell Moab 2 Ventilator is still worth checking out.
---
Verdict from 11 experts and 100+ user reviews
8 reasons to buy
A couple of experts give the Merrell Moab 2 Ventilator a high rating for its fantastically grippy outsole.
It performs well on backcountry hikes and city walks alike, according to an abundance of users.
A lot of wearers commend its stellar level of comfort.
Hordes of consumers find their Merrell Moab 2 Ventilator hiking shoes pretty easy to break in.
Droves of outdoor enthusiasts appreciate its affordable price tag.
Numerous adventurers like how well the Moab 2 Ventilator supported their arches.
Its astonishing durability makes believers out of dozens of verified owners. Even those who just bought it couldn't express well enough their confidence in its long-wearing construction.
A good number of patrons laud the hiker's incredible lightness.
4 reasons not to buy
A significant percentage of Merrell loyalists are crestfallen as they experienced heel slippage due to the lacing system's insufficient number of eyelets.
A handful of wearers are not at all impressed with the shoe's breathability.
The men's Merrell Moab 2 Ventilator receives criticism from some adventurers for its not-so-cushy default footbed.
Width-wise, a small group of testers find the hiking gear a little on the restrictive side.
Bottom line
The Moab 2 Ventilator sports day-one comfort, support, and versatility in a reasonably priced package. This Merrell hiker also receives great acclaim and applause for having excellent longevity and a superb overall aesthetic. However, its list of commendable features reveals a couple of setbacks, mainly because of its heel slippage. Its scrawny stock insole didn't help bump its reputation either. To conclude, considering its slew of satisfying features, the Merrell Moab 2 Ventilator is still worth checking out.
Best price from 30 shops
We earn affiliate commissions at no extra cost to you when you buy through us.
87% say it's true to size.







Updates to Merrell Moab 2 Ventilator
Belonging to Merrell's line of Moab 2 shoes, the Moab 2 Ventilator is a versatile piece of hiker designed to give wearers a balanced performance on the trail with an airy kind of comfort. Unlike its predecessor, the original Moab Ventilator, this new model now features an upper made of performance-grade suede leather with mesh panels. This improved structure optimizes comfort and breathability.
Merrell designers streamlined the hiker's lacing system. Compared with the previous iteration, this new edition comes with one less pair of eyelets.
A welcome update in the Moab Ventilator's successor is the way its heel zone and lateral perimeter are constructed. They have enhanced structural form and support thanks to the thicker overlays covering them.
Underfoot cushioning comes from the Moab 2 Ventilator's chunky midsole and default insole. They are part of the shoe's sole unit which also consists of a nylon shank and an aggressively lugged outsole. This unified sole is rockered both at the heel and forefoot to grant wearers enhanced strides over level terrain.
The second-generation Moab Ventilator is armed with the Vibram TC5+ rubber outsole, replacing the old version's Vibram Multi-Sport outsole. It connects hikers to the ground and offers traction on wet and slippery ground surfaces.
Taking the place of the Moab Ventilator's contoured insert in this latest offering is the M Select FIT.ECO+ footbed. It is scientifically designed to provide ample support around the heel and arch regions.
The Merrell Moab 2 Ventilator inherits its predecessor's toe bumper for extra forefoot protection. This time, however, it is made of heavy-duty rubber instead of synthetic leather.
Size and fit
The Merrell Moab 2 Ventilator low hiking shoe is built for both male and female outdoor adventurers. It can be purchased in full and half sizes with an option for a standard or wide width. Its fit is customizable, thanks to its traditional lace-up closure. It relatively runs true to size.
Outsole
The Merrell Moab 2 Ventilator is equipped with the Vibram TC5+ outsole to provide hikers with adequate surface adherence. The rubber compound used in its creation, TC5+, gives it the capability to stick to a variety of outdoor surfaces, be they wet or dry. It is engineered with multi-faceted lugs (with a depth of 5 mm), allowing it to bite into loose- or soft-soiled terrain. The space between these lugs is wide enough to help the outsole channel out water, thus preventing the foot from hydroplaning.
Outside surface traction, this sticky component also provides additional forefoot protection. This secondary function is made possible by having its front end extend all the way up to the tip of the upper's toe box. The cupped design of its heel zone, on the other hand, gives the footgear even more structural integrity as well as improved support around the heel region.
Midsole
This hiking shoe from Merrell uses a stout yet springy midsole to grant users a steady balance on the trail with as much comfort underfoot as possible. It is made of EVA (ethylene-vinyl acetate)—a foam-like material that, by design, can withstand considerable weight, stress, and wear and tear. A molded nylon shank is embedded within the confines of its medial section, giving its wearers additional arch support and extra protection against sharp terrain hazards. Merrell engineers also furnished it with a company-exclusive air cushion technology at the heel to bolster the shoe's ability to mitigate shock on every landing.
Adding to the cushioning offered by the Moab 2 Ventilator's protective midsole is the M Select FIT.ECO+ footbed. Its inclusion translates into not only bolstered comfort but also improved heel and arch support.
Upper
Housing the foot in the Merrell Moab 2 Ventilator is the footgear's part performance suede leather, part mesh fabric upper. Its overall design lends the shoe a grounded look with a touch of modernity. The word "ventilator" in its moniker revolves around the hiker's breathable mesh liner which wicks away moisture and promotes airflow for a cool and comfy in-shoe feel.
The toe area is reinforced with a rubber cap to protect users against knocks and bumps. Its bellows, closed-cell foam tongue prevents unwanted entry of trail debris. A heel pull tab makes on and off easy while the webbing and metal eyelets permit quicker closure.
Merrell Moab 2 Ventilator vs. Merrell Moab 2 GTX
Merrell's Moab collection is a series of sturdy shoes built capable of responding to the challenges hikers face in their day-long outdoor pursuits. Among such heavy-duty kicks are the Moab 2 Ventilator and the Moab 2 GTX. The points below will shed light on some of their similarities and differences.
Upper. Both products in this head-to-head sport low-top uppers with strikingly similar aesthetics; they both have breathable mesh panels with leather overlays. That said, the Moab 2 Ventilator uses authentic suede leather as opposed to the Moab 2 GTX's synthetic sort.
Liner. Mesh fabric lines both hikers' interior walls, creating an airy kind of in-shoe environment for the user. However, only one of them—the competition—has a waterproof liner courtesy of Gore-Tex.
Breathability. The Moab 2 Ventilator and the Moab 2 GTX both have breathable liners. The healthy number of mesh vents on each also makes going from point A to point B a breezy affair. Do note, however, that some individuals find Gore-Tex-lined shoes to be a bit stuffier than their non-GTX counterparts.
Asking price. Neither the Merrell Moab 2 Ventilator nor its competitor has a lofty price tag. That being said, the featured shoe is cheaper than its rival, making it an enticing product to those looking for a more affordable option. Hikers who frequent wet environments, however, might want to opt for the more expensive Moab 2 GTX.
Heft. The Moab 2 Ventilator and its waterproof adversary don't differ much when it comes to weight. While neither of the shoes is particularly heavy, the second-generation Moab GTX is lighter by about 40 g.
Color options. Online retailers list both shoes in a wealth of colors to choose from. The Merrell Moab 2 Ventilator, in particular, has more than a handful of color choices, and some of them deviate from the grounded category (like browns and grays) and into the spunky "greens and blues" territory.
Care and maintenance for the Merrell Moab 2 Ventilator
Using the Moab 2 Ventilator as careful as possible may not be enough to prolong its shelf life, and while the practice sounds like a neat idea, doing so somewhat defeats the purpose of its existence—rugged use. Whether worn daily or used occasionally, this Merrell piece will reach a point where cleaning it is necessary. The following are ways to extend its longevity:
After each use of the Moab 2 Ventilator, owners can rid it of superficial substances (dirt, dust, foliage debris, etc.) with the use of a soft-bristled brush or a similar tool.
If caked with mud and other sticky substances, the product may be washed in warm water with some mild detergent. It is recommended to remove the laces and the insole prior to washing. Since the shoe is hydrophilic, it must be rinsed thoroughly with clean water.
Allow the Moab 2 Ventilator to dry at room temperature. Expedite the drying process by leaving the footgear as open as possible and stuffing its confines with newspaper. Do not expose the hiker to a heat source or direct sunlight.
To prolong the vitality of its upper, treat its suede overlays with some leather cream (gel-based leather conditioners may also be used). Remove any surface dirt using a soft-bristled brush before treatment.
Merrell Moab 2 Ventilator frequently asked questions
Is the Moab 2 Ventilator waterproof?
This shoe built for day hikes is designed to give its wearers a cool and comfy experience on the trail. Its construction is devoid of any kind of waterproofing, however. For adventures in wet environments, try the Moab 2 GTX.
Does the Moab 2 Ventilator have a boot version?
Yes, the second-gen Moab Ventilator has a mid-cut variant, called the Moab 2 Ventilator Mid. Other than the height of their collar shaft, overall weight, and pricing, the two have no other notable differences.
Can the Merrell Moab 2 Ventilator be used for activities other than hiking?
This outdoor gear is engineered for adventures on the trail where the terrain may or may not be well-maintained. That said, it is versatile enough to be used for other pursuits, such as gardening, strolling at a nearby park, and light fieldwork.
Other Moab offerings by Merrell
Merrell Moab FST 2. This low-cut piece is intended for those who require an athletic kind of performance while out in the wild. Its upper, which is a combination of nubuck leather and mesh fabric, is engineered in such a way that gives the shoe a kind of futuristic look. It is built with Fit and Superior Traction in mind (FST) in order to provide its users with a nice blend of comfort and security on their day hiking adventures. It is also designed to grant trail enthusiasts ample ventilation thanks to its breathable liner made of mesh.
Merrell Moab Edge 2. This hiking footgear promises day-one comfort in its amply breathable upper made of mesh and TPU (thermoplastic polyurethane). It comes engineered with two Merrell-exclusive technologies: M Select Fresh and M Select Grip. The former proactively wards off the stink, while the latter delivers adequate surface traction on various types of terrain. It is also built with a nylon shank for more underfoot support.
Merrell Moab 2 Vegan. As its name implies, this Moab shoe is completely vegan-friendly. From its fully synthetic upper down to its rubberized outsole (courtesy of Vibram), this low-top hiker is built free of any animal substance. What it doesn't lack, however, is a stabilizing midsole with a molded nylon shank for added arch support, a grippy Vibram outsole promising sufficient grip on virtually all types of surfaces, and a breathable mesh lining for all-day in-shoe comfort. It also has a kind of tongue that prevents intrusive debris from entering its confines.
Nice to know
-MOAB stands for "Mother of all Boots." It is one of Merrell's collection of outdoor shoes.
Rankings
How Merrell Moab 2 Ventilator ranks compared to all other shoes
Popularity
The current trend of Merrell Moab 2 Ventilator.