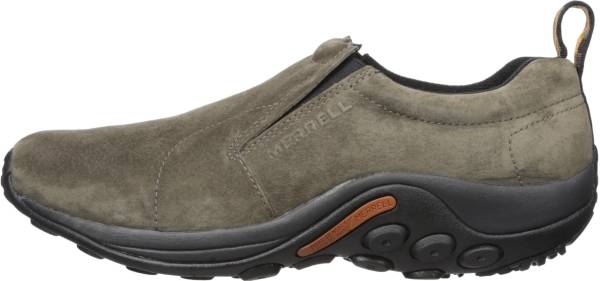 In line with Merrell footwear tradition, the Jungle Moc is an ultra-comfortable lifestyle shoe that features trail-ready elements making it a versatile pair that functions well on both urban and rugged terrains. This shoe boasts durability, excellent arch support, versatility, and convenience. Not to be outdone is its minimal aesthetic that exudes a mature vibe, perfect for on-the-go individuals who want to look put together in an instant
---
Verdict from 100+ user reviews
12 reasons to buy
The Merrell Jungle Moc is available in a number of neutral colorways.
A large number of reviewers described this sneaker as very comfortable and ideal for all-day wear.
Its design and colors are versatile, which several shoe users appreciate.
The shoe runs true to size.
Some purchasers commended the pair's well-built construction and high-quality materials.
It is very durable and lasts a long time despite heavy usage, according to a number of wearers' opinions.
Most consumers appreciate the convenience that the shoe's slip-on construction provides.
This slip-on shoe breaks in nicely and hugs your foot comfortably, based on a couple of commenters' observations.
The suede leather upper keeps feet warm attested some wearers.
A number of consumers applauded its stylish aesthetic.
A couple of reviewers said that they hiked in this pair and it didn't disappoint.
The pair is worth every penny, according to many buyers.
2 reasons not to buy
Some wearers wished that the shoe had more ventilation.
A few wanted more color options for this shoe.
Bottom line
In line with
Merrell footwear
tradition, the Jungle Moc is an ultra-comfortable lifestyle shoe that features trail-ready elements making it a versatile pair that functions well on both urban and rugged terrains. This shoe boasts durability, excellent arch support, versatility, and convenience. Not to be outdone is its minimal aesthetic that exudes a mature vibe, perfect for on-the-go individuals who want to look put together in an instant
Best price from 30 shops
We earn affiliate commissions at no extra cost to you when you buy through us.
84% say it's true to size.





Size and fit
The Merrell Jungle Moc is available in both men and women's sizes. The gentlemen can select from sizes 6 to 16 while the ladies can choose from sizes 4 to 12. The sneaker runs true to size.
It is a slip-on shoe with a suede leather upper that's reported to fit snug at first but would eventually shape after the wearer's foot after a few uses.
Merrell Jungle Moc Style
The Merrell Jungle Moc is a low-top pair that's crafted with a sleek upper and rugged-looking outsole, offering a balanced and versatile look that blends a sophisticated casual vibe with the brand's outdoors-inspired heritage. This kick would look great with almost any casual ensemble such as jeans, khakis, and shorts. It would also look great with outdoor apparel for a scheduled quick camping weekend with the family.
Notable Features
The Merrell Jungle Moc is best known for its impeccable versatility both in style and purpose, and this is the reason most consumers continue to patronize the shoe even after 20 years since its introduction. The pair's pig suede leather upper enhances the shoe's aesthetic and at the same time provides warmth during colder seasons. The shoe also utilizes the brand's M – Select FIT.ECO contoured footbed for excellent support and cushioning. Lastly, the Merrell Air Cushion placed in the sneaker's heel further established the optimal comfort that it provides.
Merrell Jungle Moc History
Over thirty years ago, a skilled shoemaker named Randy Merrell became popular amongst outdoor enthusiasts for his well-crafted footgear made for the outdoors. Randy's passion for creating and manufacturing high-quality handcrafted cleats made him the go-to for people who are seeking first-rate outdoor footwear. To further cement his reputation, Randy received recognition for "best hiking cleats" by the Backpacker Magazine.
Years later, following the brand's success, their inventory naturally progressed into expanding to other market groups without forgetting their core value of premium quality, functionality, and optimal comfort. The brand now includes Merrell lifestyle-based shoes that fuse the brand's roots in the outdoors and performance.
One of the brand's many offerings is the Merrell Jungle Moc, First released in 1998, this shoe made history as it created the "After-sport category" of casual shoes. This low-top slip-on shoe was said to be the first to combine technologies from the brand's performance models with casual design and materials. Its molded footframes, Merrell Air Cushioned heels provide excellent comfort and fit perfect for after a hard day's play. The shoe is revered by so many and still favored by consumers up to this day.
Additional Info
The Jungle Moc also comes in wide width and waterproof versions.
A heel pull-tab aids in easier on and off.
This shoe weighs 1lb 9oz.
Rankings
How Merrell Jungle Moc ranks compared to all other shoes
Popularity
The current trend of Merrell Jungle Moc.