The Lake MX238 is an MTB shoe that offers plenty of power transfer and premium features. Highlighting its good points are its comfort and high quality. On the flipside, possible design complications may turn off some consumers. Overall, the MX238 is a high-performing mountain bike shoe that works excellently on dry seasons and trails.
Pros
Rigid sole unit
Comfortable fit
Efficient fit adjustment
Premium quality
Reliable traction
Breathable
Cons
Inconvenient underside holes
Leather upper
Who should buy the Lake MX238
Enduring dynamic off-road cycling and conditions, the Lake MX238 shoes are perfect for spontaneous and dynamic mountain cycling. It might suit you well if:
A cycling shoe that offers excellent energy transfer that prevents foot injuries is what you prefer.
You are looking for a shoe for biking that provides a well-fitting experience.
A well-ventilated cycling companion that lets your feet stay fresh during the ride is what you are after.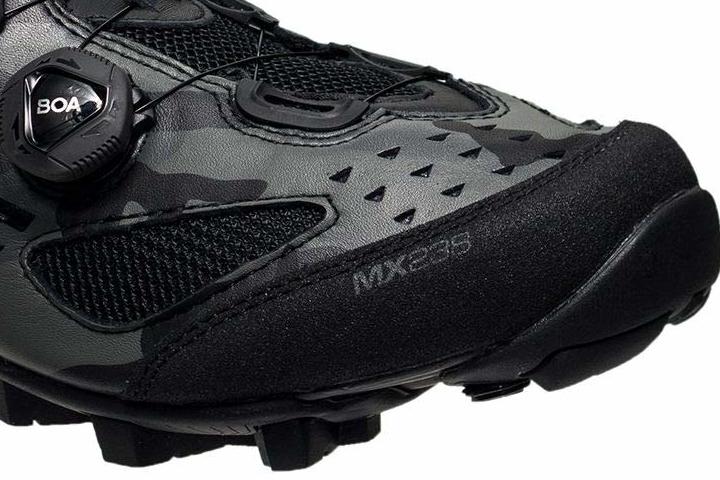 Who should not buy the Lake MX238
Look past the Lake MX238 if a cycling shoe resistant to water is what you prefer. A reviewer gripes about the two holes placed in the soles as they let mud and water inside the shoe. Moreover, folks looking for a shoe that also provides a comfy upper experience regardless of the situation might have to look elsewhere. A user expresses worry about the leather upper getting soaked and feeling uncomfortable during rides. On the other hand, Lake offers a wide range of cycling shoes that could meet a variety of needs.
The versatility of the Lake MX238
The Lake MX238 is suitable for mountain bike racing, daily training, cyclocross, and enduro, thanks to its well-thought design and construction.
Excellent energy transfer
The majority of owners affirm the Lake MX238's stiff soles that yield accurate power transfer onto the bike.
Fantastic comfiness
Almost all of the users rave about the mountain bike shoe's impeccable comfort.
Fit and go
Plenty of reviewers commend the BOA dials for their accurate and on-the-go adjustments. It provides them with enhanced comfort throughout the ride.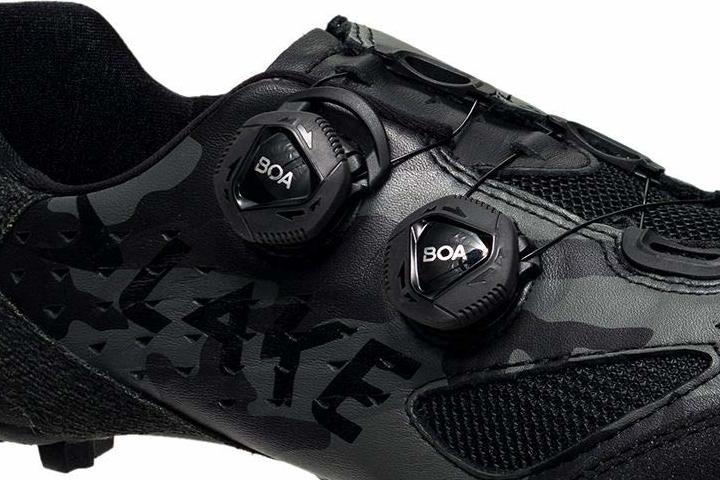 Thumbs up for the craftsmanship
A significant number of cyclists applauded the MX238 for its top-notch materials and excellent workmanship.
Mightily biting the surface
Folks in the cycling community observed that Lake MX238's underside offers a kind of off-bike grip that strongly bites the surface.
Breathe in and out
Some reviewers commend the shoe as it provides wearers with a level of ventilation that sufficiently delivers a healthy environment for the feet.
What makes it a powerful mountain bike shoe?
The Lake MX238 employs several features that yield high performance and efficiency. Check them out below:
It uses the brand's MX Competition last designed with a shape that lets the foot expand and supports it as well for high-pressure cycling.
Helcor abrasion-resistant leather upper is durable against scrubs and scraping.
Hook lycra heel lining grips on the foot which prevents heel slipping during hike-a-bike sections.
100% carbon fiber soles for optimal power transfer.
Removable traction lugs for renewable grip.
Additional toe spike holes that further enhances traction.
Dual BOA dials for light and accurate fine-tuning.