La Sportiva Solution review
The Solution is my go-to shoe for hard bouldering and single-pitch climbing at the gym or the crag. I have higher arches and a slightly wider forefoot and find the fit on these shoes is perfect for me. Armed with the Solution, I know I can trust my feet on the tiniest, most technical features while climbing.
The La Sportive Solution is worn by many professional climbers such as Adam Ondra, Brooke Rabatou, Alex Honnold, and Sasha Digiulian; after a couple of climbing sessions, it's easy to see why the Solution is used by the best climbers in the sport to tackle the hardest routes and problems of the sport.
If you are looking to get a performance climbing shoe that will complement your progression into more difficult climbing indoors or outdoors, then I highly recommend the La Sportiva Solution!
Who should buy it
The Solution is the perfect shoe for a mid to high-level climber looking to acquire an aggressive performance shoe. The shoe will provide stability and confidence on extremely technical face climbing and overhung routes, and make heel and toe hooks a natural go-to move.
Who should NOT buy it
Consider other models if you are:
new to climbing (consider a less aggressive, entry-level shoe like the La Sportiva Tarantulace)
looking for an all-day shoe to climb multi-pitch or cracks (in this case the La Sportiva Muira is worth checking out)
The Solution fit like a glove, for me
For me, this climbing shoe fit exactly as I expected based on my sizing history of other La Sportiva shoes. In relation to my typical tennis shoe size, I go down a half size. I like my climbing shoes to fit like a glove without being excessively painful and these are just about perfect.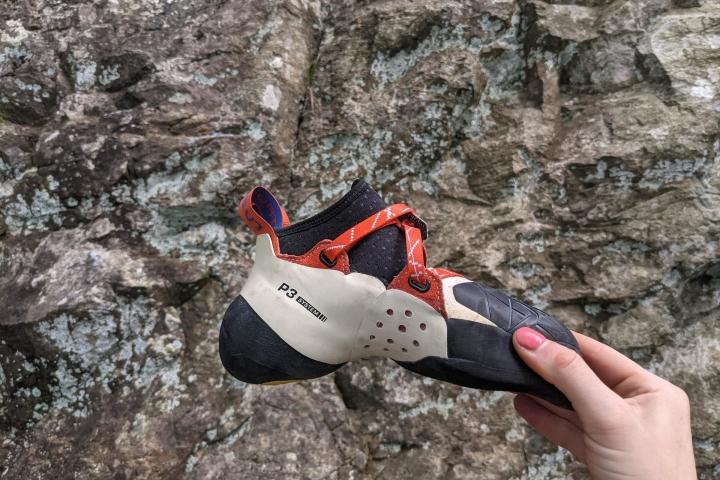 The shoe is a little hard to get on, but once I get the heel locked in, It's exactly what I'm looking for. The strap portion is adjustable but if the heel/toe portion of the shoe doesn't fit you right, this strap is not going to provide much flexibility in fit. My foot does stay put without having to strap down the laces due to the excellent design which cups the heel perfectly. With the laces strapped down, my foot stays exactly where it should in the shoe while climbing.
More comfortable with time
The shoe is not meant to be an all-day shoe. It is an aggressive performance shoe that comes with discomfort when worn for extended amounts of time just due to the snugness of fit. You could size up if you are looking for something more comfortable but I find that if I size up in climbing shoes I lose more performance of the shoe than I'd like.
Over time, the shoe has become more comfortable to wear for longer spouts. If these are anything like the previous version of the Solution I had, they will only continue to get more comfortable with use.
La Sportiva Solution is worth the break-in period
The Solution is made of leather which means that over time they will stretch out a bit -- typically about a half-size. The first couple of climbing sessions are going to be the most uncomfortable but as they break in the fit becomes much more comfortable for your foot. This is one of the main reasons I do not size up. Over time the shoe will stretch out slightly improving the comfort level but when that happens, you want to ensure the shoe still fits snugly enough to provide you the proper support.
Putting these shoes on the first time is a bit odd. The heel on this shoe is very snug and can be a bit off-putting if you've never worn this type of shoe before. Once you actually get your heel into the shoe, the fit is excellent and I find the design helps drastically improve my ability to use my entire foot when climbing. If you are unsure about sizing or fit, I would recommend trying these on for size or (if not possible) ordering a couple of different sizes to figure out what works best for you. The initial fit should feel snug and uncomfortably tight but it should not be painful.
Superior edging and smearing
Where these shoes really show their worth is in technical climbing. Careful footwork in this shoe will make the smallest micro-feature feel like a 3-inch ledge, and it surprisingly provides excellent support and friction for smearing despite having such an aggressive shape.
Heel and toe-hook everything!
The material covering the midsole is quite durable and I find it to be an improvement upon the previous version of the Solution. The coverage on the heel and top of the toes allows you the support to effectively heel and toe hook. Not having the full coverage rubber allows for more flexibility in your foot
Not for crack climbing
While the rubber is quite durable, it is on the softer side, and the lack of rubber along the entire sole combined with the aggressive style of the shoe takes this shoe out of the running for crack climbing. Cracks in this shoe are extremely painful to lock in and should be avoided when possible.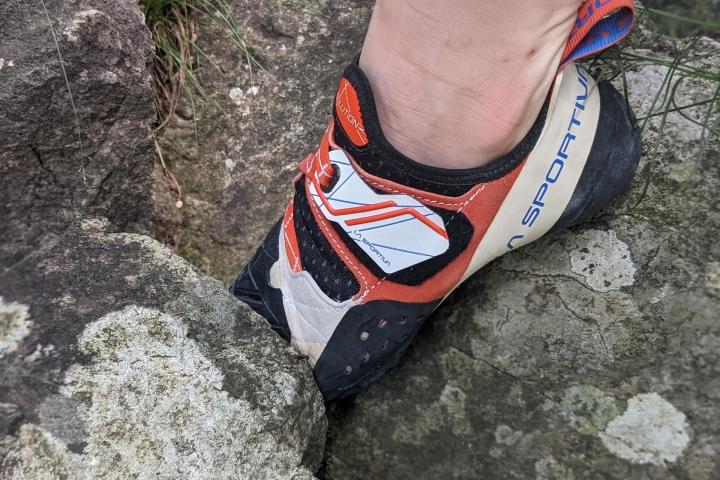 Long-lasting durability
The shoe is extremely durable. I climbed indoors multiple times as well as outdoors in the shoe. There are some signs of wear but no more than I would expect for any pair of climbing shoes. The style of this shoe begs for good climbing technique and with that, these soles will last quite a while.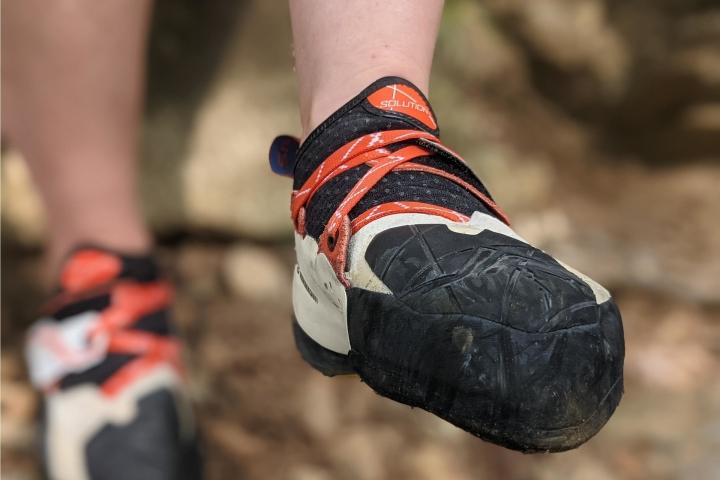 My previous pair of the Solution lasted me multiple years before a resole was required. After they were resoled, the returned product was just like new and the fit did not change at all. La Sportiva recommends resoling and has authorized resoling companies which can be found on their website, resoling typically runs about 60$ for a pair which extends the life of your great fitting shoes instead of having to replace them.
Not completely breathable
The upper portion of the shoe is mesh which does allow for some breathability, but the rest of the shoe does not. These do retain some moisture if climbing in them for an extended session, but they are removed between most climbs so it doesn't detract from the use of the shoe.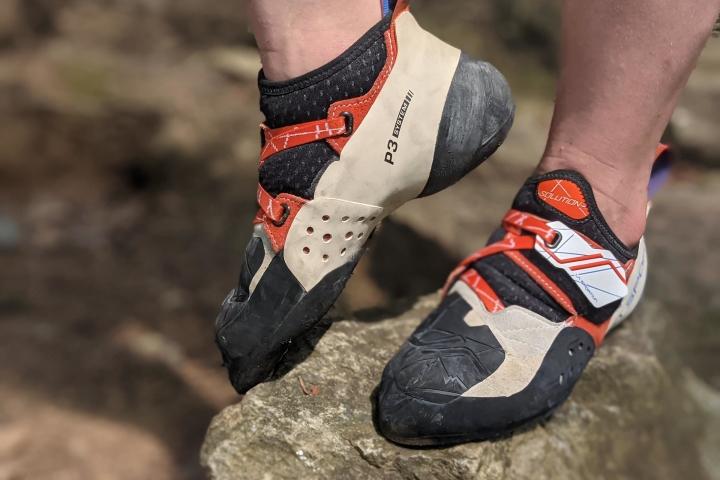 Expensive for a climbing shoe
Retail at $180, the Solution is expensive for a climbing shoe (average price is $142). Granted the fit works for your feet, you climb on a regular basis, and your style of climbing would benefit from shoes like these (technical face climbing, harder overhung bouldering, and single-pitch climbing), these shoes are definitely worth the splurge. They are comparable in price to other performance climbing shoes such as Scarpa Instinct VS, Tenaya Iati, and La Sportiva Muira VS.
Conclusion
Overall, the updated La Sportiva Solution remains one of my favorite performance climbing shoes. When I put the shoes on, I have such an increased level of confidence in all of my climbing endeavors, whether it's technical face climbing, hard bouldering, or working on overhung routes.
Compare popularity
Interactive
Compare the popularity of another shoe to La Sportiva Solution:
La Sportiva Solution video reviews