Individuals who deem comfort and support as must-haves during a water hike may find joy with this KEEN sandal. Indeed, its grippy outsole and lightness may also add to the satisfaction of using this footgear. However, there are some who detest it for offering such a small opening, causing annoyance when getting in and out of this sandal.
Pros
Delightfully comfy
Amazing underfoot support
Provides grip on slippery terrain
Dries quickly
Non-existent break-in period
Cons
Hard to wear
Narrow toe box
Lack of stitching durability
Who should buy the KEEN Solr
The KEEN Solr is a credible pair for adventure junkies to invest in because of its positive attributes. It is a solid option if you:
Prefer a hiking sandal that allows users to traverse a watery environment with excellent performance and comfort.
Prefer a hiking sandal that dries quickly after being exposed to water.
Prefer a hiking sandal that stays surefooted on wet and slippery surfaces.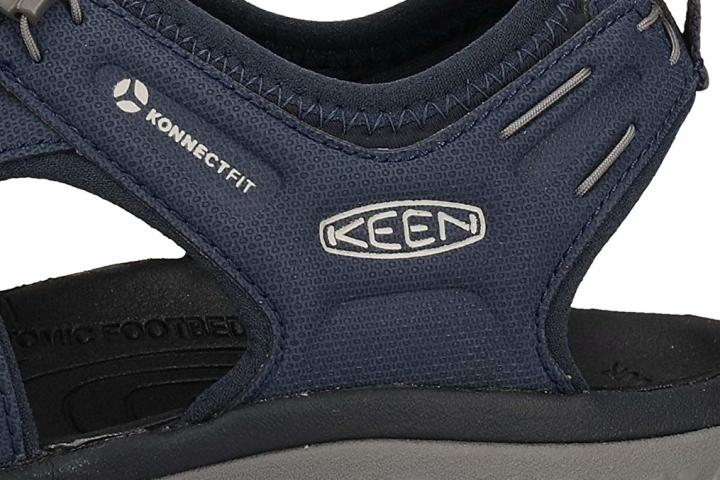 KEEN Solr notable features
The Solr, which stands for Sea.Ocean.Lake.River, is a KEEN sandal that enables outdoor enthusiasts to tackle watery environments with ample performance and comfort. Its closed-toe thermoplastic polyurethane (TPU) upper is lined with fabric that allows it to dry quickly after being exposed to water.
Outdoor lovers are supplied with a cushioned ride, thanks to its ethylene-vinyl acetate (EVA) midsole. It comes with a non-marking Aquagrip rubber outsole, helping users stay surefooted on wet and slippery surfaces.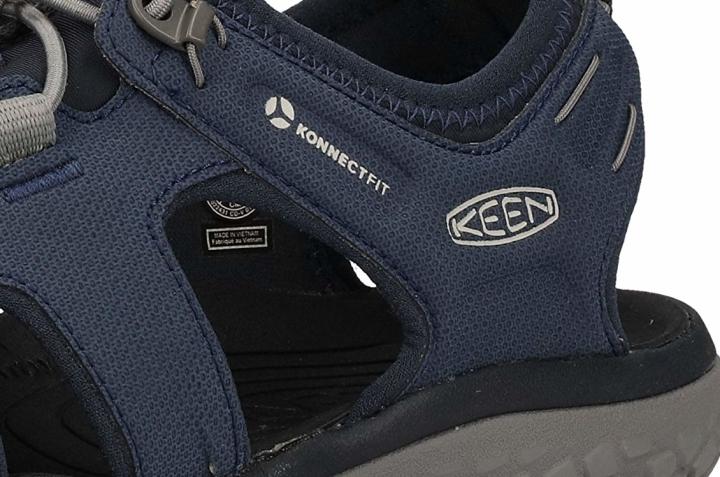 Size and fit
The KEEN Solr is a multi-sport hiking sandal that's amazing for both male and female adventurers. It uses a static lace-lock system, which allows wearers to gain a secure and customized lockdown using a singular motion. A KonnectFit technology is integrated into the upper, locking the heel in and giving a secure fit.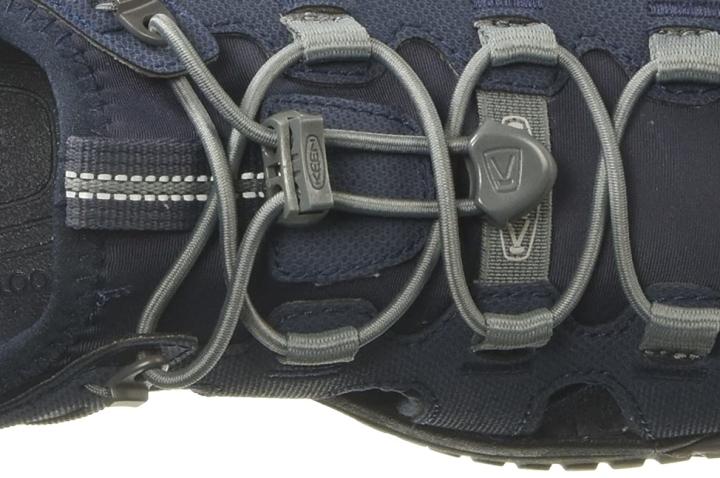 Sufficient ground adherence
This hiking sandal from KEEN features a non-marking Aquagrip rubber outsole, giving outdoor enthusiasts sufficient ground adherence. It uses numerous quadrilateral lugs that render traction on varied terrain.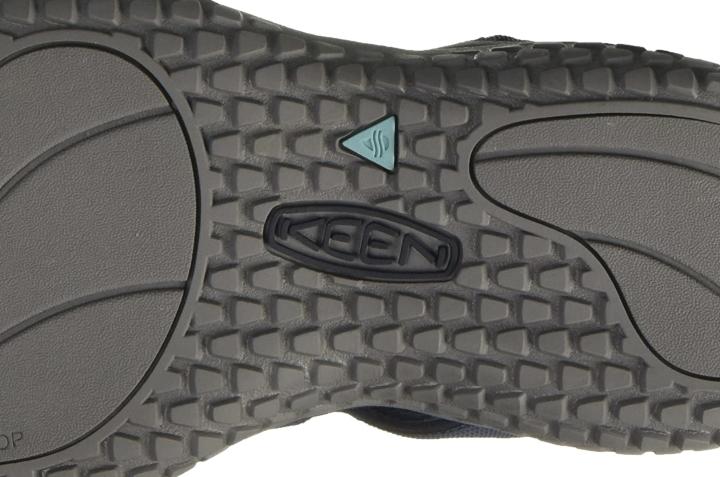 Provide optimal grip on wet surfaces
This component sports an Aqua Stop zonal piping feature that provides optimal grip, especially on wet surfaces. The outsole's front section also acts as a toe cap, which shields the wearer's toes from accidental knocks.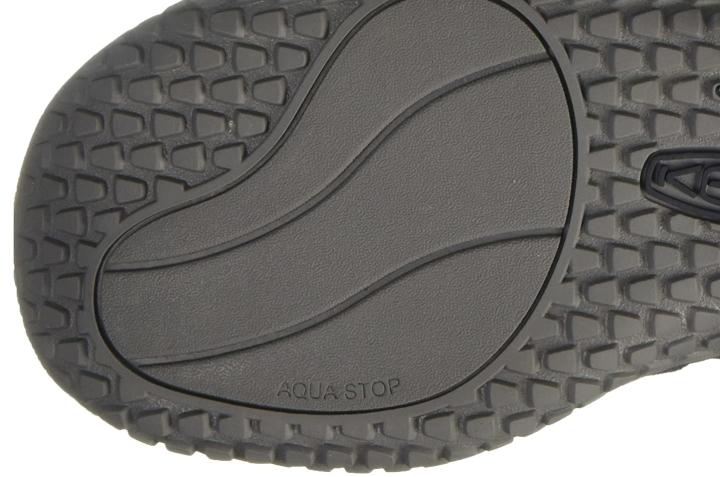 Lightweight and responsive cushioning by EVA foam
The men's and women's KEEN Solr comes with a midsole made of lightweight EVA foam. This material delivers a cushioned ride, absorbs shock, and renders responsiveness to the user's every stride.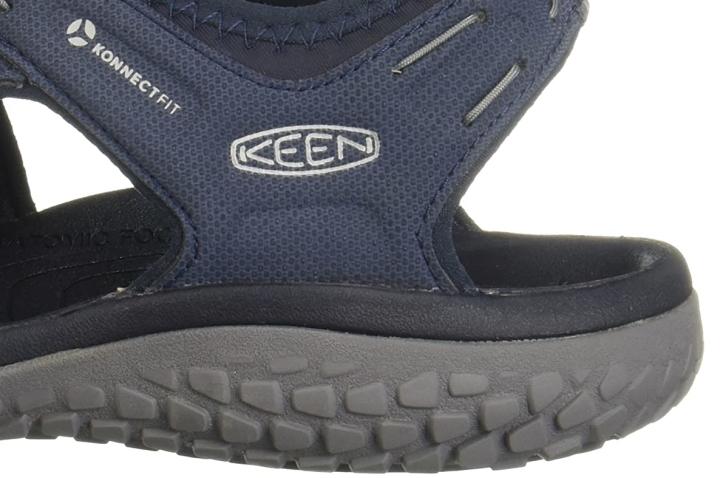 Excellent arch support
The Solr sports a footbed made of EVA that delivers arch support and added cushioning. It is treated with probiotic technology that combats odor-causing microbes without the use of hazardous chemicals.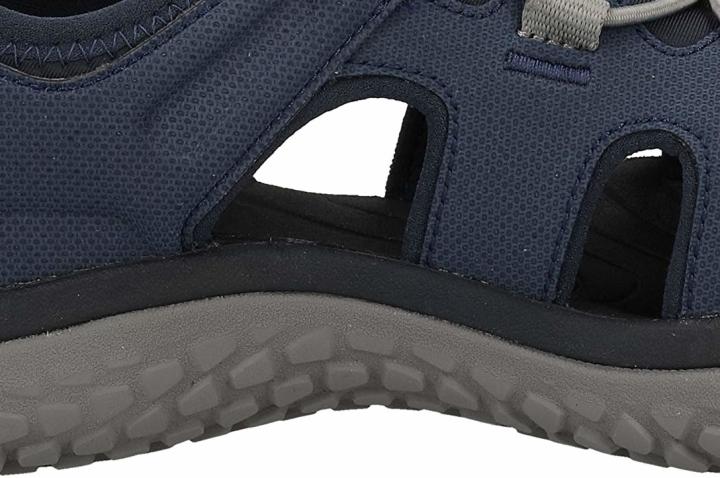 KEEN Solr provides protection from abrasion and harsh trail condition
The Solr from KEEN is equipped with an upper made of TPU. This material imbues the sandal with sufficient resistance to abrasion and harsh trail conditions. It is built using a low-profile design that optimizes ground contact. The upper also features webbing made from recycled plastic bottles, making it eco-friendly.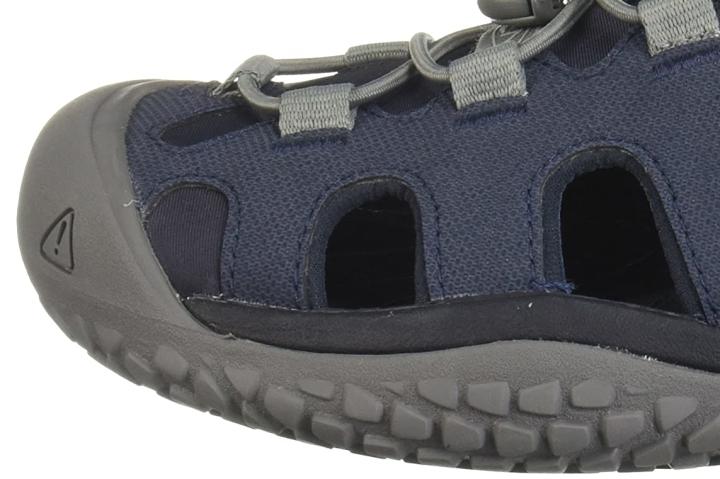 The Solr's upper is lined with a layer of fabric that allows the footgear to dry quickly after being exposed to water.
Secure fit
Its lacing system uses several eyelets and a lace bungee locker which assists the wearer in managing the sandal's fit. The collar contains padding, promoting comfort. Moreover, a pair of pull tabs are found on the collar and tongue, helping give users an easy on and off.