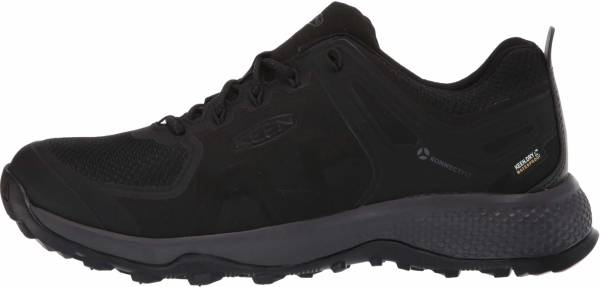 On the waterproofing front, the Explore Waterproof is something wearers can rely on. It is also an incredible hiking shoe that many can bank on in terms of comfort, which is accessible on day one, and aesthetics. That said, this durable hiker might disappoint those who value arch support above all else in their gear. Nonetheless, the Explore WP is an excellent KEEN offering whose trail-centric pros can be taken advantage of right from the get-go
---
Verdict from 3 experts and 100+ user reviews
6 reasons to buy
The KEEN Explore WP is fantastically watertight, according to about a handful of those who have bought it.
A small number of wearers adore the stylish looks of this hiking shoe from KEEN.
Based on a couple of reviews, the Explore WP provides huge amounts of hiking comfort.
The hiker's break-in period is virtually non-existent, says a patron who has used the footgear quite a few times.
An owner finds the KEEN Explore WP a good pair of lightweight hiking shoes.
Its level of durability is nothing short of magnificent, a user who has purchased it claims.
1 reason not to buy
Someone who took a chance on the Explore WP says that the shoe has underwhelming arch support.
Bottom line
On the waterproofing front, the Explore Waterproof is something wearers can rely on. It is also an
incredible hiking shoe
that many can bank on in terms of comfort, which is accessible on day one, and aesthetics. That said, this durable hiker might disappoint those who value arch support above all else in their gear. Nonetheless, the Explore WP is an excellent KEEN offering whose trail-centric pros can be taken advantage of right from the get-go
Best price from 30 shops
We earn affiliate commissions at no extra cost to you when you buy through us.
73% say it's true to size.






Our reviews
The Keen Explore Waterproof hiking shoe was instantly comfortable right out of the box. Its unassuming look hides a rugged capability.
Modest enough to wear to work on a casual Friday and tough enough to scramble up a couple of thousand feet of a mountain, the Keen Explore seems to be a jack of all trades.
Category: Hiking shoe Lug Depth: 4mm Weight: 15oz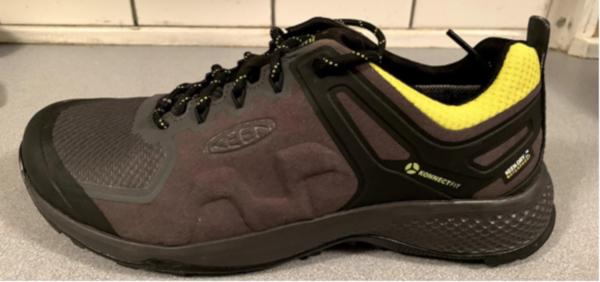 For hikers who like to move fast but desire a little more protection and waterproofing than a trail-runner provides, this is a shoe to check out. Some years ago I remember thinking that hiking boots were always overkilled in every situation I used them in.
While there is no replacing a pair of mountaineering boots on the side of a glacier, most of us don't find ourselves in that situation very often. The Keen Explore Waterproof hits the sweet spot between running shoes and hiking boots and fills a much-needed niche in the outdoor enthusiast's foot locker.
Fit
The Keen Konnectfit heel-capture system was a nice feature of this shoe. I have what I consider to be a boney heel that seems to have a tough time finding a home in the heel box of the shoe.
The Keen made my heel feel more than welcome. The shoe has a notched out heel cup style that helps to cradle the heel and give comfort and support to your Achilles tendon.
The tongue is amply padded and gave a comfortable feel for the top of the foot when laced tight. The padding in the upper worried me a little in the sense that over time it might be a little hot on longer outings on warm days.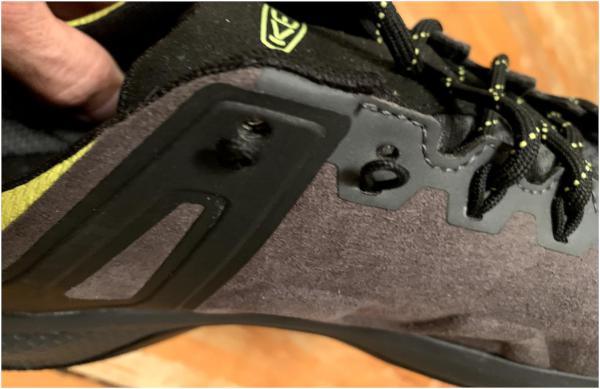 The upper mesh is pliable, breathable and comfortable but the tight weave suggests durability far beyond a knit shoe. The lacing system is reinforced with a rigid rubberized material and a lateral stability cord.
The gusseted tongue is a welcomed feature on this shoe, helping keep the padded tongue where it belongs and also keeping bits of debris from finding their way down to your foot.
The Keen Konnectfit system also creates a sort of exoskeleton on the hind quarter of the shoe, helping with stability. The solid heel provides a good amount of cushion but not too much.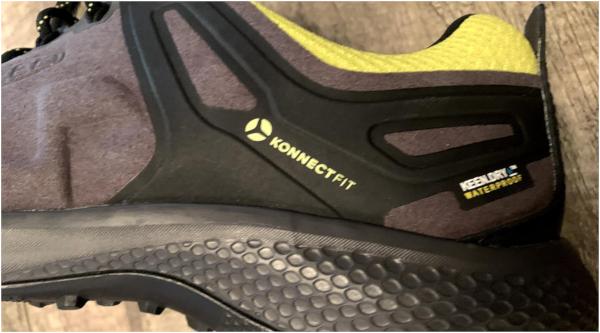 Function
The 4mm multi-directional lugs are the first thing that stands out on the Keen Explore Waterproof. The tread pattern has an excellent grip on every surface that I've used these shoes on.
From loose gravel to wet mud, to rocky talus, the Keen Explore was in its element for superb grip. The toe of the sole is well thought out with directional lateral bands for those steep moments when you're climbing on your toes. The heel has a similar design.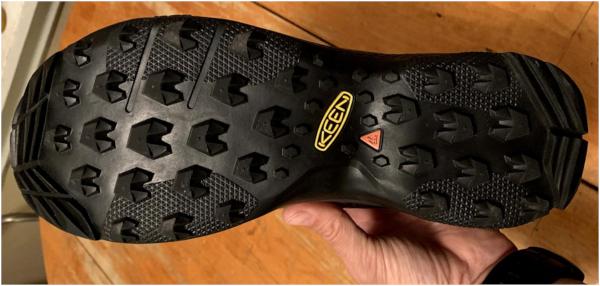 The Keen stability shank delivers support in the arch of the foot where it's needed. The reinforced toe box is an especially nice feature. It's burly and is ready for abuse. The sidewalls are made from a rugged, synthetic suede-like material that has injected cushioning to help protect the hiker from looming rocks and logs.
The KEEN Dry waterproof, breathable membrane performed as promised. It's impossible, however, to write a review about a waterproof hiking shoe and not mention its nemesis Gore-Tex.
As mentioned, the KEEN Dry waterproof did a great job of keeping my foot completely dry. That said, new technology like this lacks the pedigree of a product like Gore-Tex.
With a juggernaut on the waterproof textile industry, Gore-Tex has become an industry standard. The KEEN dry technology worked equally well, but it does beacon the question of how long will the waterproofing capabilities last on the shoe? That is a question that can't be answered just yet (at least by this tester).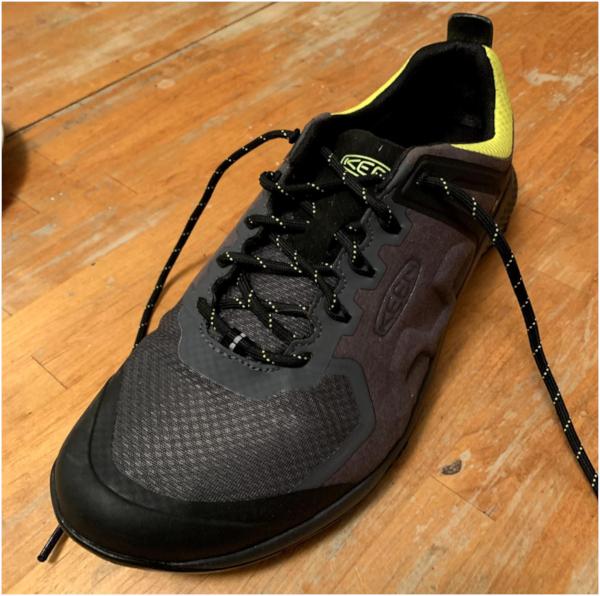 Eco-friendly
The KEEN Explore boasts that its footbed is infused with a probiotic technology that limits the need for added chemicals to dissuade odor. After 70+ miles in these shoes, they have not generated anything thing in the way of intolerable stink.
I hope this continues, and the promise of less chemicals involved in the shoemaking process is always a boon. KEEN also reports that they use an alternative chemical technology (proprietary I guess) for waterproofing instead of the classic Perfluorinated Chemicals (PFCs) that are commonly used and are generally considered carcinogenic.

Pros
Excellent traction
Waterproof
Lightweight
Cons
KEEN dry stands to be tested for longevity
A little warm on hot days
Overall
The KEEN Explore Waterproof is a great shoe. It's light enough to fast-pack, yet rugged enough to scramble up the side of a big mountain peak.
Its comfort makes a long day with a heavy pack seem less deplorable. For someone that is looking for a comfortable shoe that handles wet conditions excellently and has good support, the KEEN Explore Waterproof is one to look at seriously.
Finding its home somewhere between a hiking boot and a trail runner the KEEN Explore Waterproof gets high praise from this reviewer. At $125.00, it's reasonably priced.
To know more about Keen Explore WP, visit Keen's official page!
The Keen Explore Waterproof is an interesting hiking shoe made with high-quality materials. However, some striking design flaws make the shoe uncomfortable to hike in.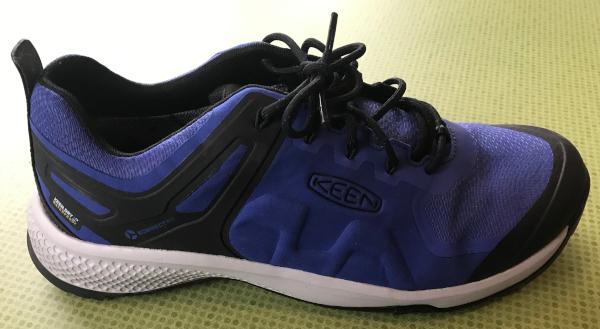 The Explore has a rugged, waterproof upper, which lacks in breathability; a perfect density midsole for all-day comfort: not too hard but not at all mushy; and an extremely high quality rugged, protective, grippy outsole.
I did not enjoy running in this shoe, but with a small update, Keen could make a very strong hiker.
To start, I would like to say this is a hiking shoe, not a running shoe. Many shoes can double, but this shoe is more like a boot than a shoe. The whole shoe is too stiff and built up to be comfortable for running.
This review will focus on what's notable about the Explore.
Traction
The traction of the Explore is quite notable. The Explore features an aggressive multi-directional, deep lugged pattern which will bite into anything.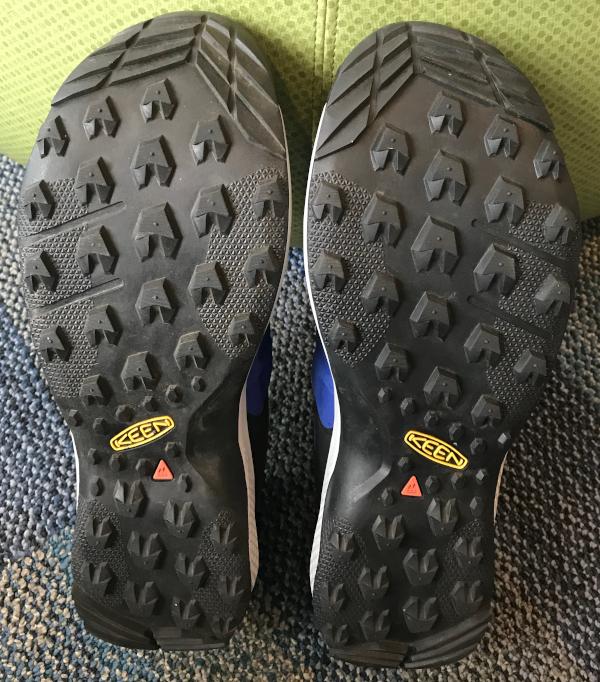 The traction works well in mud, loose gravel, snow, wet rocks, on most steep terrain. This shoe will keep you standing in sketchy conditions.
Stability
This might be the most stable low profile hiking shoe I have ever tested. I have a knack for rolling my ankle, but this shoe has an anti-roll feature.
I'm not quite sure how they do it, but every time I try to step with the outside of my foot instead of the bottom of my foot, the shoe immediately rolls back to an underfoot position. No matter how hard I try, I can't roll my ankle. This is quite amazing.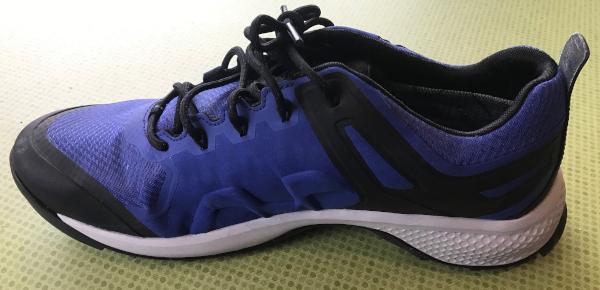 This shoe has a wide platform, is extremely stiff, and has a secure fit, all of which provide a stable ride.
Waterproof
As is evident by the name, the Explore Waterproof is indeed waterproof. The waterproof membrane works very well, and it is comfortable against the foot.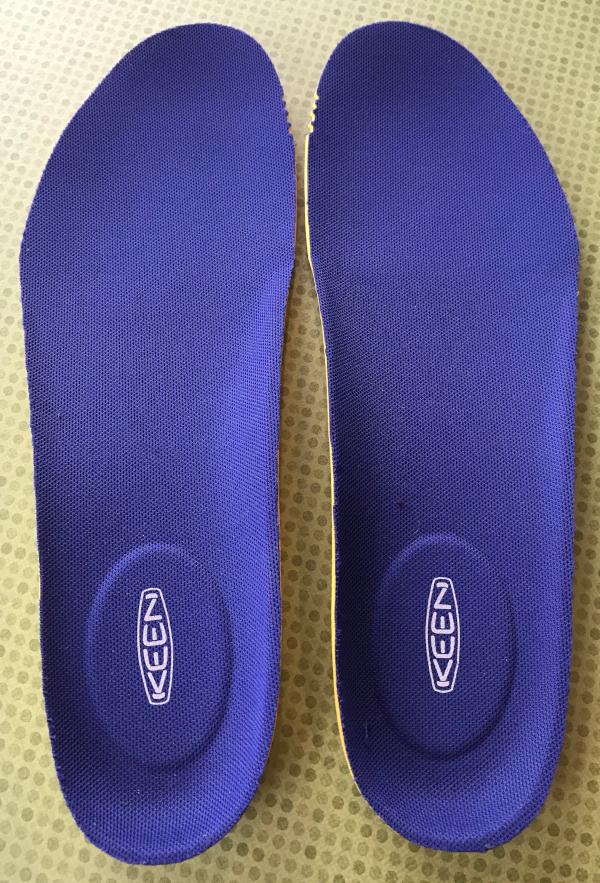 Of course, your feet will still get wet from the gaping hole your foot enters through, but it does keep your feet overall drier. The exception to this is if you are wading through multiple rivers, the decreased breathability will hold the water in the shoe.
Durability
The Explorer has an all-round durable construction. The upper, midsole and upper will last for a long time. This does come at the expense of some comfort and weight.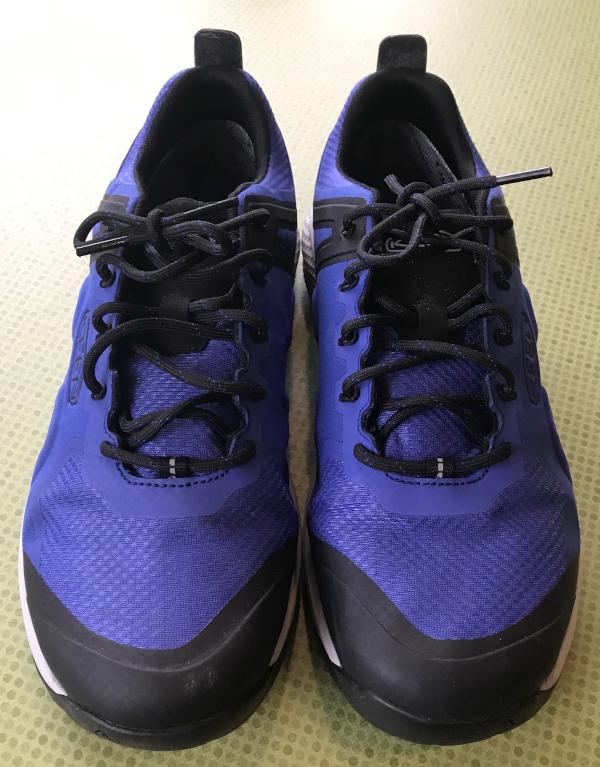 The upper is strongly reinforced, which comes at the expense of breathability. All components of the shoe could be lighter, but this design makes them more durable. This shoe will likely last at least 600 miles of hiking, depending on the type of usage.
Heel extension
The detrimental problem with the Explore is that the midsole and outsole extend too far behind where the heel sits. This, in combination with the stiff platform, causes problems during a heel strike, which most people do when walking.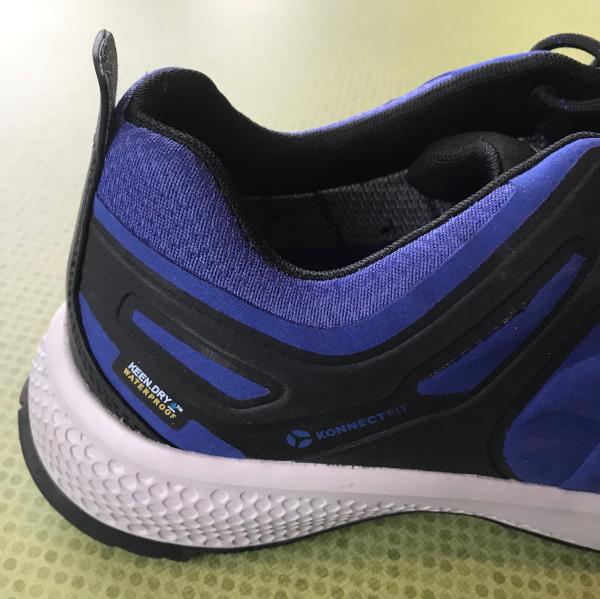 The extended heel causes your shoe to come into contact with the ground sooner, while your leg is still extended in front of you. Then, because of the stiff platform, the shoe forces itself into the more stable position of being flat on the ground.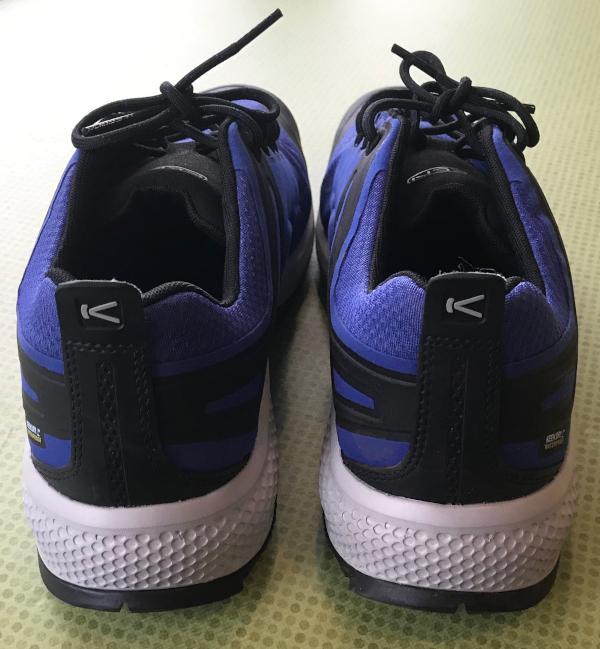 The shoe will abruptly fall flat every step you take, which is jarring and uncomfortable. This is accentuated on downhill slopes, which are almost completely unavoidable.
Hiking downhill feels like I am stomping, trying to wreck my body. This needs an update if Keen wants future success in this model.
Summary
Honestly, this is not a shoe I will continue to hike in. Though it might work for some people, I cannot recommend this shoe in its current state.
The stiff platform, coupled with the heel extension, made the shoe too jarring of a ride for me to enjoy. This shoe is still cooked up with high-quality ingredients, but this design flaw ruins it for me.
To know more about Keen Explore WP, visit Keen's official page!
KEEN Explore WP notable features
-The KEEN Explore WP, the waterproof sibling of the breathable Explore Vent, is a competent hiker built with the level of comfort found mostly in sneakers. Its engineers designed it with a kind of water repellency that is PFC-free. PFCs or Perfluorinated Chemicals may be harmful to the environment as they do not break down or degrade easily.
-It comes with two technologies exclusive to the brand: KEEN.Dry and KEEN.All-Terrain. The former delivers all-around waterproofing, while the latter provides sufficient grip performance on different types of surfaces.
Size and fit
KEEN's Explore Waterproof is a low-top hiking shoe for men and women. Its ghillie lacing promises a personalized and secure lockdown. This closure system works in conjunction with the Konnectfit system to prevent the heel from slipping out of position.
Outsole
The Explore WP hiking shoe supplies its wearers with ample surface traction through its KEEN.All-Terrain outsole. As it has a good amount of multi-sided lugs, which have a depth of 4 millimeters, trail lovers can go from point A to point B with enough footing security—especially on soft- or loose-soiled terrain. The outsole of the men's variant comes with ridge-like patterns around the rear and forefoot regions. The one in the women's pair, on the other hand, has the same parts engineered with blocky protrusions instead.
Midsole
This hike-centric offering from KEEN uses an EVA (ethylene-vinyl acetate) midsole to protect the foot from sharp and bumpy hazards and to give adventurers a steady footing on the trail. Within its confines is a lightweight shank which amplifies the midsole's capability to support the foot around the arch. KEEN shoemakers engineered it with a radial support system, leaving the Explore WP with enhanced stability underfoot.
Helping the midsole level up its cushioning game is the hiker's removable polyurethane footbed. Its eco anti-odor construction aims to keep stink-causing microorganisms at bay. Outside extra comfort, this plush subcomponent also delivers additional arch support.
Upper
The low-top upper of the KEEN Explore WP is a combination of high-quality mesh fabric and TPU (thermoplastic polyurethane). Its inner walls are made of breathable mesh. The component responsible for keeping the foot as moisture-free as possible is the KEEN.Dry technology (the same tech that makes the Targhee III Waterproof watertight).
Its closure system uses a long-wearing lace made of interwoven synthetic cords. It works with the shoe's combination eyelets to lock in the foot securely.
Rankings
How KEEN Explore WP ranks compared to all other shoes
Popularity
The current trend of KEEN Explore WP.