Our reviews
It's hiking season, friends! I was excited to get these out on the trail, but what exactly are they? Keen has developed a reputation for its hybrid models.
So are these boots? Are they sneakers? What we end up with is an incredibly versatile boot (there, I said it) that is ready to go just about anywhere.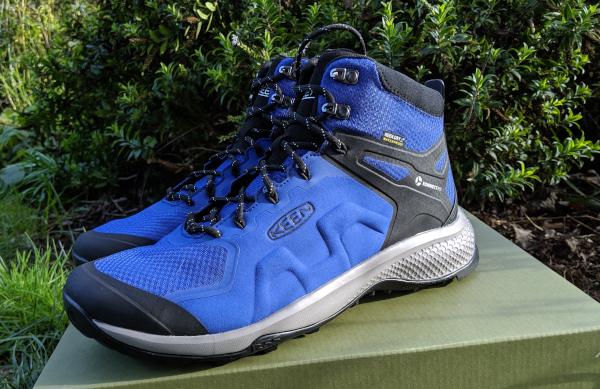 Keen describes the Explore Boot as "part hiking boot, part sneaker." This makes me so excited to try them out in all sorts of different scenarios!
The color combination seen in the photos is Mazarine Blue & Black. The non-traditional colors also communicate that these are not traditional boots.
One can notice an immediate difference between traditional hiking boots and these bad boys. These are lighter in weight with some noticeable differences in materials, as well.
The look of the boots allows for someone to take these out to the nearest trail for a day of hiking in the mud and the muck or to clean them up and head out as a commuter regardless of the weather. Okay, it's time to get these boots outside for some field work!
Upper
The upper of the Explore Waterproof Boot is a bit unorthodox, which is both visible and felt when putting them on.
At first, I was a bit skeptical of the performance mesh upper with TPU overlays; I wasn't sure just how tough this material would be out on the trail rubbing up against rocks, branches, and whatever else is out there.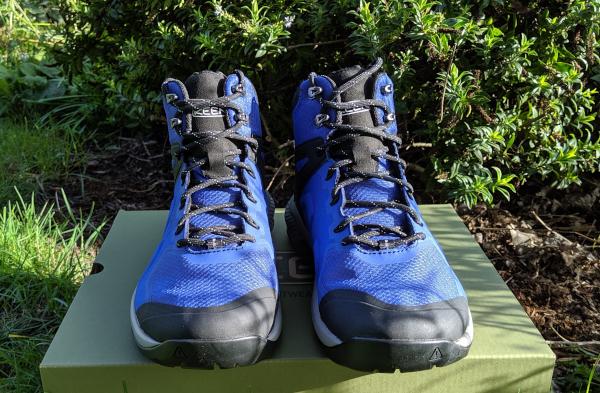 But truth be told, the upper has had no problems! I love the lacing. Keen makes sure that the laces are easy to work with, and I appreciate the 'mid' height with these boots that will secure the ankle if you desire that extra protection and stability.
The mesh itself allowed for the boots to remain generally cool and breathable. However, as I mentioned earlier, I wonder how warm they will keep my feet in the cold and snow.
Overall, I was quite pleased with the performance of the upper, even with the non-traditional materials and look.
Midsole
The midsole of the boot left me wanting a little more flexibility and comfort. Compared to other backpacking boots, these are pretty responsive. However, compared with other trail running shoes, these are pretty clunky and unforgiving.
My takeaway: sometimes, we make choices to have strength and durability to the mid and outsole in place of comfort and cushion.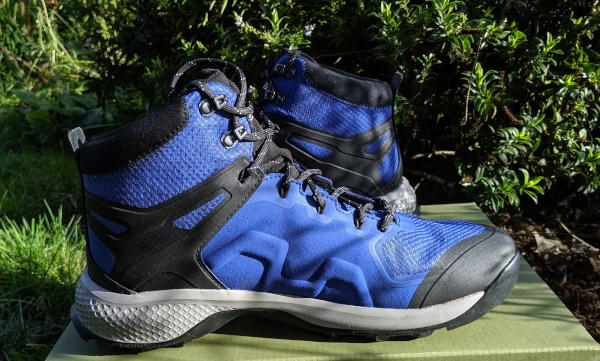 First 50 miles
The Explore Boot has a noticeably different feel that accompanies the unique look. As soon as I put them on, I could feel the lightness of these boots and the different mobility with these materials.
It did take a little while to break the boots in to feel a bit more comfortable (my feet were a bit sore with a mysterious scrape on the top knuckle of my toe the very first day), but overall they were ready to go.
There are all sorts of boots on the market, but if we are heading out into the great outdoors wearing boots, let's be sure they are waterproof. Keen makes ecological sustainability a priority, so they have created eco-friendly materials for both the odor-control of the boots as well as the waterproofing.
Living in the Pacific Northwest of the United States, one can experience just about any hiking condition on any given day. I was able to take these boots through some pretty warm and dusty trails, the mud and muck of the rainy days, and even through some streams and bogs with surprisingly deep puddles.
The waterproofing works great! I also appreciate the lacing of the boots and what Keen describes as the "Konnectfit heel-capture system." I was feeling secure even with the lighter materials.
Another thing I was happy with, was the secure and tough upper, midsole, and outsole—more on this later. One thing that I was not able to do during this review period was to get to some snow and ice. I am looking forward to seeing how they fare during the next few hikes!
Overall, I was mildly impressed with the performance of the boots. For boots, they are comfortable, versatile, steady, and light.
For shoes, they are a bit clunky and stiff. So I guess we get both the good and the bad of both boots and sneakers in this hybrid model.
Outsole
Keen continues to build upon its great reputation for its outsoles and toe protection. While these boots don't have the traditional thick piece of rubber protecting the toe, these soles go a long way in offering traction and protection on most surfaces.
I was especially impressed with their strength when hopping from sharp rock to sharp rock while trying to cross some streams!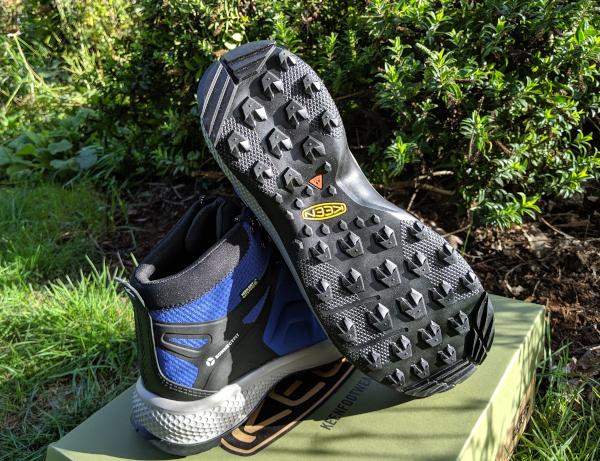 Conclusion
Overall, I was mildly impressed with this newest hybrid from Keen as they tried to combine the strength and durability of a hiking boot with the responsiveness and lightness of a sneaker (and perhaps the attractiveness as well? I leave this to the consumer).
I enjoyed feeling confident that my feet were well protected when hiking. However, I did miss the comfort of traditional sneakers.
In weather like where I live, waterproof boots are always an essential part of the wardrobe, and for that, I am most grateful. Plus, one can wear these out in the neighborhood just as easily as they can wear these out on the trail!
Happy hiking, friends!
To know more about Keen Explore Mid WP, visit Keen's official page!
My only prior experience with Keen was indirect but a positive one. About 8 years ago, while visiting the Florida Keys, my wife had purchased a pair of Keen leather sandals for taking long walks on the beach.
Sometimes the walks involved scrambling over rocks, and the sandals' robust build and protective toe bumper were appreciated.
We had never heard of the brand before, but in the intervening years, a few more of my wife's friends have also been tempted to try out Keen products and be impressed by them while the sandals are still going strong.
So, when the chance came up to test and review a Keen product first-hand for myself, courtesy of Keen and RunRepeat, I didn't hesitate.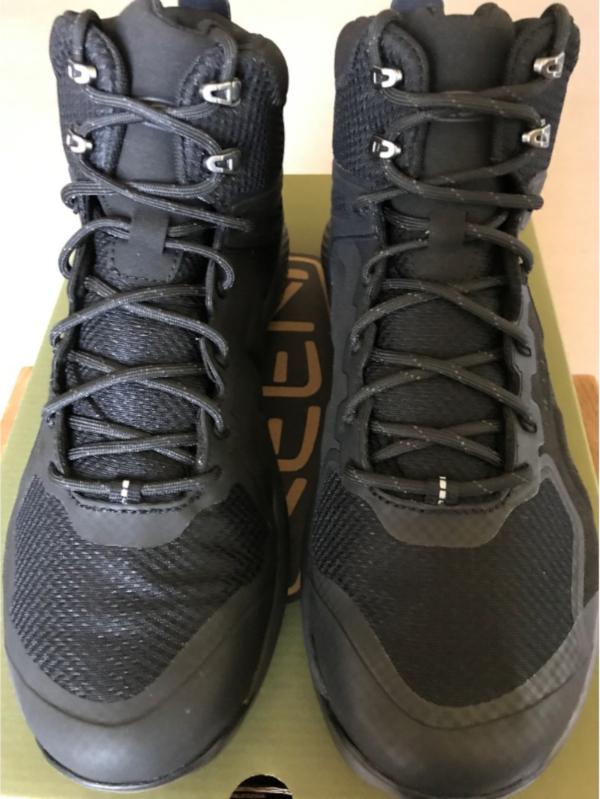 What also impressed me was the solid set of ethos that the company appeared to be founded on and operated by.
Just a year after the company was established, when the Asian tsunami disaster struck in 2004, the company diverted all of its US$1mn advertising budget towards disaster relief.
All in all, since its founding to date, the company has donated more than US$15mn to non-profit organizations and causes around the world.
From the company's website: "We seek to be a change engine for good business, as cause-leaders and difference-makers in unapologetic pursuit of our values. We are working to leave the world a better place than we found it."
We approach these three basic ways: 1) Giving Back, 2) Taking Action, and 3) Reducing Our Impact. Well. If ever a company, especially an outdoor-oriented one such as Keen, wanted to create a favourable first impression, I know of no better way!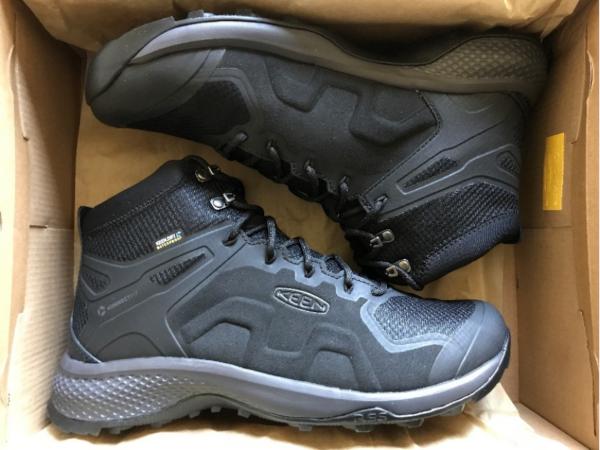 Speaking of first impressions, a bit more detail first on the boots, as outlined on the website:
Part hiking boot, part trainer
Speed hooks for easy lace adjustment
4mm multi-directional lugs for traction
Stability shank delivers lightweight support
Konnectfit heel-capture system for a locked-in feel
Dry waterproof, breathable membrane
Radial support system adds midsole structure for better lateral stability
Notch in the back for Achilles comfort
"Eco anti-odour" probiotic-infused insoles for natural breakdown of odor in sweat without heavy metals or hazardous chemicals
PFC-free water repellency for more environmentally-friendly durable water repellency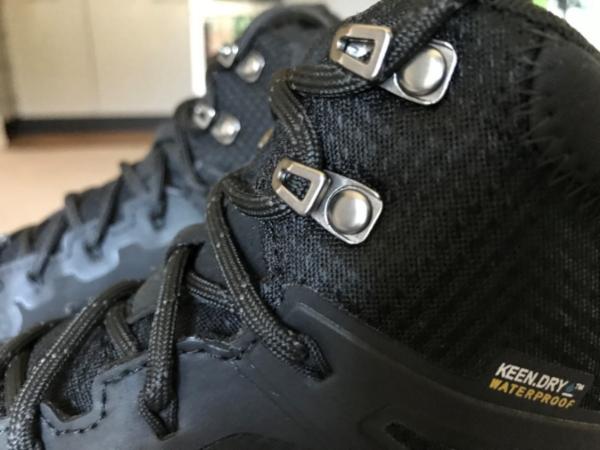 In addition, the boots feature performance mesh upper with TPU overlays for durability. Keen all-terrain rubber for higher-traction grip, EVA midsole for lightweight cushioning, breathable mesh lining, and removable PU insoles with arch support for long-lasting comfort.
Coming in the Black/Magnet colourway, the Explore boots are robust, yet light. My US 11 weighed in at 490g each, so I'd say about a good 20-30% lighter than other waterproof hiking boots.
The front five loops of the lacing are through the reinforced fabric (only without the use of metal rings). The final two loops at the ankle are robust metal hooks in a stylish grey-black colour (a nice bit of detail).
Despite the absence of any use of leather, the fabric side panels have a nice leather-like look and feel to them, while toe bumper is robust and protective.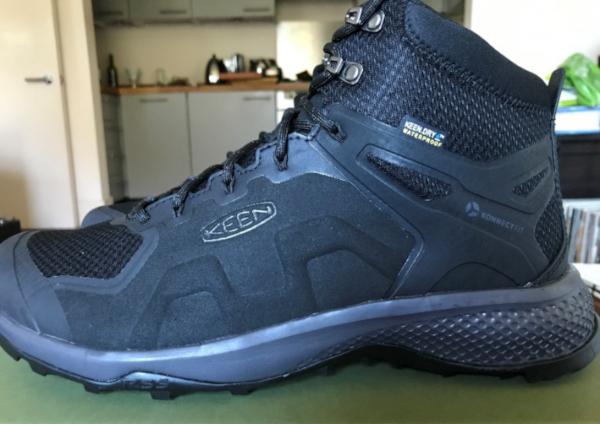 One thing that does stand out, even just holding the boots in the hands, is the chunky heel area. Indeed, the EVA on the heel, in addition to being generously thick, bulges out on either side, akin to say, a squashed melted-cheese sandwich.
Unfortunately, it turns out that this will actually affect how the boots feel during a hike, and not in a good way.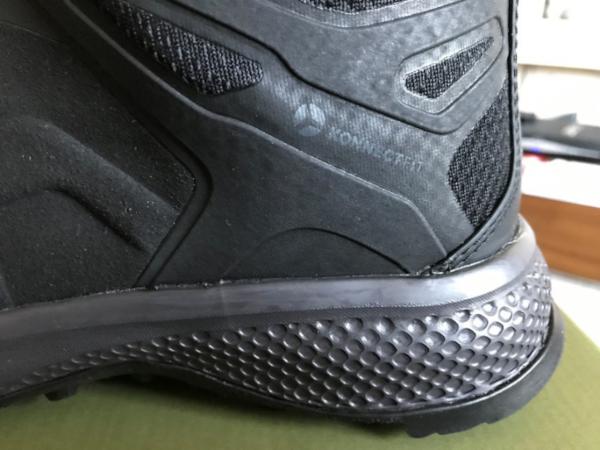 The removable insole is amongst the highest quality I've seen on a pair of shoes. At 51 grams, it accounts for more than 10% of the boot's weight and is very plush indeed.
Rather than conventional light-density foam, the insoles are made of heavy rubber-like material. It is great for holding shape and cushioning but did make me wonder – needlessly, whether the boots would run warm as a result.
Inside the boot, aside from the gusseted tongue, is a visible KEEN dry waterproof membrane.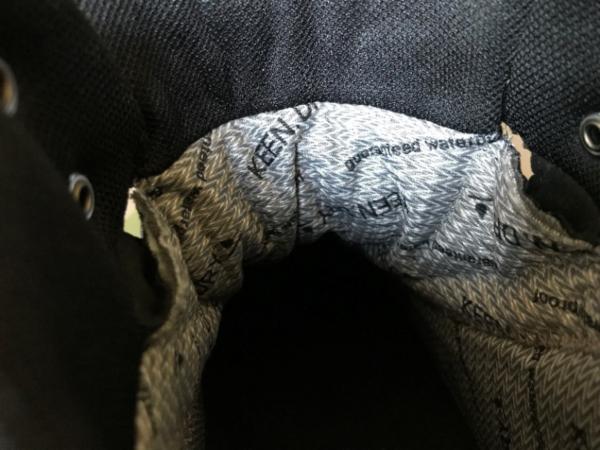 On the feet
The boots are roomy, with a generous toe area, even for my wider-than-average feet. I am UK 9.5 to 10 in running shoes, which translates to US 10.5–11 or EU 44.5–45.
I opted for UK 10, which in Keen sizing is US 11 and EU 44.5, and could easily have accommodated UK 9.5. In general, it's definitely better to be too big than too small. So I was pretty happy with the sizing.
While browsing the Keen website, I came across a user review that commented on the lack of sufficient length in the laces. Well, as it turned out, the laces did seem a little short!
When putting the boots on for the first time, there was barely enough laces to make the knot. This did improve slightly over time.
However, the padding accommodated to my feet and ankle shape after the initial break-in. Not a deal-breaker by any means, but an extra couple of inches here should make all the difference!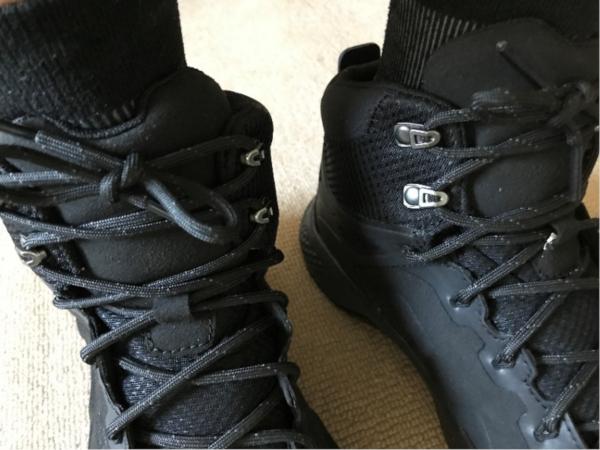 Well, there's a term I hadn't expected to be writing when discussing any shoe designed and made in the modern age: break-in.
I did find that Explore boots needed a certain amount of breaking in. It is somewhat surprising given the lightness and overall "casual" nature of the boot.
Another point that underscores the fact that Explore boots are meant for lighter use on moderate trails rather than heavy-duty hiking over more rugged mountain terrain is the outsole. This feature moderate lugs compared to the dedicated hiking boots.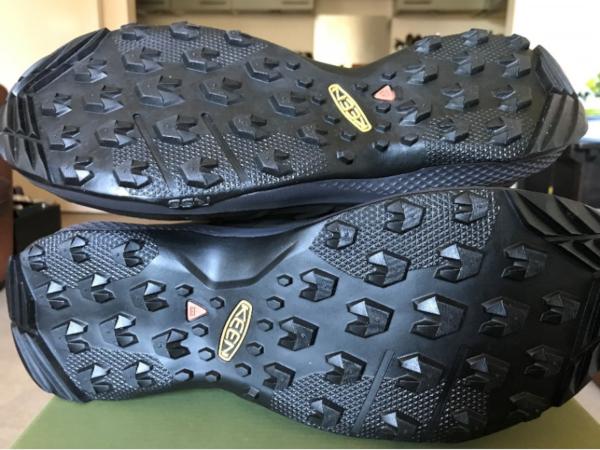 On the trails
Perhaps the most telling point about these boots is from Keen's website description of the Explore WP, which claims them to be "part hiking boot, part trainer."
It's is another way of saying that these are not designed to be dedicated (robust and heavy) hiking shoes that can take a lot of punishment on rugged and technical mountain trails.
Everything from the light build to the moderate lug and grip of the outsole suggests the ideal terrain for the Explore is on rolling trails.
The claim that these are "part trainer" however, I think, is a slight exaggeration. On feet, the Explore is unmistakably hiking boots, especially given the robust toe bumper and the chunky heel area. I'm not quite sure I'd use them for casual use in an urban setting!
I put the boots to the test over much of the walking paths around SW of London, including the River Thames National Trail, Richmond Park, Wimbledon Common, and on sections of the North Downs Way National Trail.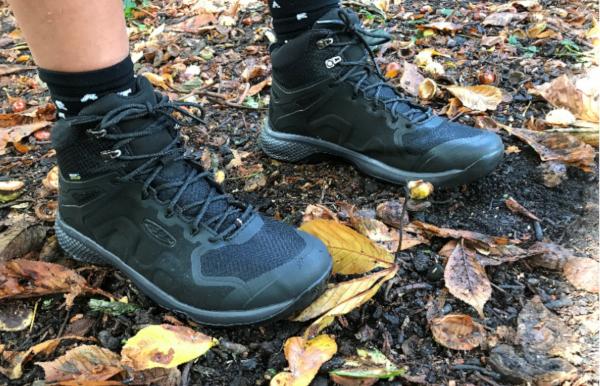 This is my summary of the main points.
The Good
The Bad

Great fit, including heel lock
Great ground feel
Good waterproofing
Comfort over time

Heel feels clunky
Slippery on wet rocks and pavement
This brings me to my single biggest issue with the Explore WP: the overbuilt heel area. As mentioned previously, the heel area caught my attention at first glance due to their thickness and chunkiness.
Alas, as it turns out, the heel design impacts not just aesthetics (I use that word since I think the overbuilt heel actually detracts from the looks) but intrudes into the realm of functionality as well. The boots, quite simply, feel "clunky."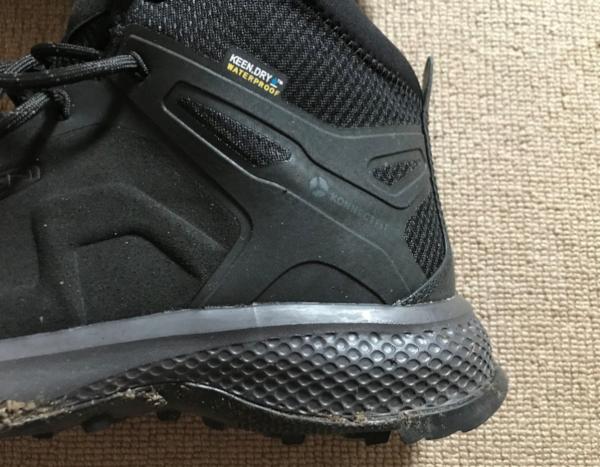 It might feel wrong to describe a pair of hiking boots as clunky since they are never meant to be agile, but another way of saying this is that I expected the boots to be a lot more nimble on the feet, given their lightness.
Indeed, "agile" is a word used by Keen to describe the Explore WP. But time and time again, I couldn't help the feeling that the boots were majorly compromised by the overbuilt heels.
The heels got in the way on flat terrain and on downhills. In fact, on flat terrain, it actually felt easier to jog, ensuring midfoot landing and therefore taking the heels out of the equation, than to go through the normal walking gait cycle.
I suppose this is testament sorts to the boots' light weight that I would even attempt to jog in them. However, the point is that heels got in the way of being able to enjoy extended hiking in the Explore WP truly.
On the plus side, the fit and comfort improved after the initial breaking in period. The heels felt locked in and secure, and the waterproofing held up, even though the outer fabric wetted out quite quickly.
Summary
This is a pair of boots I really wanted to like. Keen, as a company (as my wife can attest), makes a great product, and I admire the company's ethos.
I also wanted a pair of lightweight hiking boots for moderate trails in and around the south of England where there are rolling hills, but certainly no snow-capped mountains, a pair of hikers that could double as casual shoes on wet days.
The Keen Explore WP ticked most of the boxes and could have been an excellent pair of all-rounders, if not for the overbuilt heel.
The most appealing feature of Explore WP is the waterproofing, and the knowledge that there's a pair of boots stashed away for those foul weather hikes.
To know more about Keen Explore Mid WP, visit Keen's official page!
I'll be reviewing the exceptionally lightweight hiking boot, Keen Explore Mid WP.
In my review, I'll go through aspects of look, comfort, and performance. I tested the boot with approximately 100 miles of wear and tear.
I managed to do my proper testing in the Lake District, England where I spent several days hiking up mountains and along countryside roads.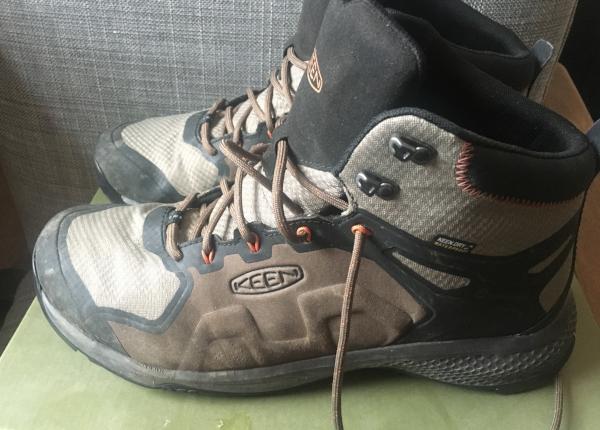 Upon first look, the boot is rather modern and techy which I like. It has a sporty looking sole with tech fabrics on the upper with sealing tape connecting each fabric.
The first time putting them on I felt it was rather snug. It's an accurate sizing but perhaps too accurate. If you like to wear thick hiking socks it might be advisable to go up half a size.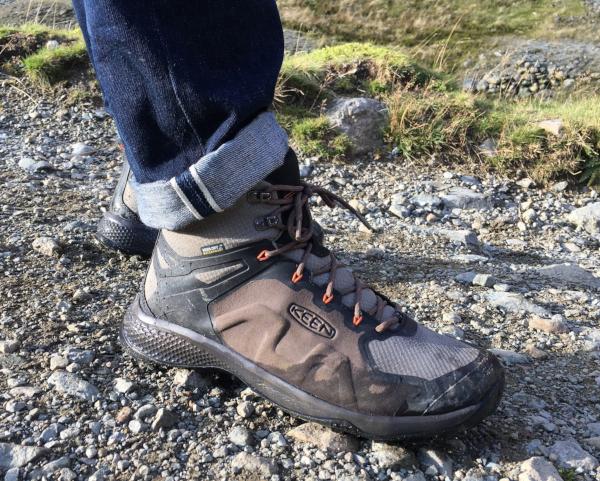 I started testing the boots by wearing them in to get a feel and break in the boot before doing a large hike. There's nothing worse than getting some blisters at the start of a hiking expedition and being cut short or ruined by blisters.
Luckily I found that I didn't need to break them in that much as I thought. The very first thing I was aware of was a sense of an air bubble in the middle on the sole/insole which felt slightly off-putting but after a few wears, it subsided.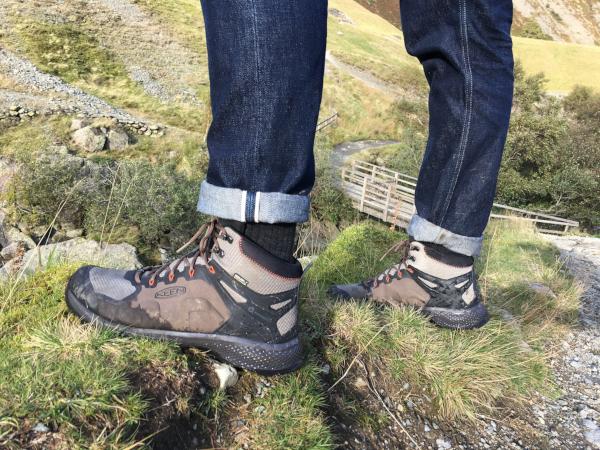 Performance & tech
It does its job as there were moments where I was walking through streams and babbling brooks and it held up perfectly (whereas this couldn't be said for others in my group).
It feels a little crunchy when putting the boot on but the breathable membrane means you won't get too hot and sweaty (says the manufacturer). Although I did feel rather toasty. Perhaps in warmer weather, it might be a different matter.
Quite narrow when putting your foot in, and despite being spacious in the toe box area, it's tight on the vamp even before I do up the laces. This might be a good thing for stability but did cause some discomfort starting out – and the hiking socks I had became redundant.
Super lightweight sole unit (Keen's own made rather than Vibram)
Because of the super lightweight sole and great cushioning, I didn't come across any moments of discomfort and wore my usual Uniqlo cotton socks, nothing special.
Although I did try on one occasion to wear some padded hiking socks which just made the shoe a little more crammed. The outer area of the sole unit wore away pretty easily after just a handful of hikes.
Konnectfit
There's something called Konnectfit which looks like Keen's own heel binding system for stability.
It does act like something that grips the heel however it's not as recognizable as a robust heel grip system you can find on other hiking boots. Although with the lightweight nature it's probably in keeping with the design.
Protective toe
There's the usual protective toe for when tackling rocky terrains.
Cushioning
It is very comfortable; the light sole unit gave me a handy percentage of extra energy to keep going whereas I'd imagine if I had a heavier boot I would be ready to get them off ASAP. Because the boot is light, it was a blessing to be wearing them and I felt as if I had changed into some sneakers when I hit the flats.
The heel and achilles area was really comfortable from the get-go which was amazing as I've had other mid hiking boots that seemed too low and put pressure on the achilles and took a while to get used to. A definite plus side.
Aesthetics
The Keen Explore Mid WP is meant to be a mid-height boot but the ankle rise is quite high and closer to a high-top than a mid.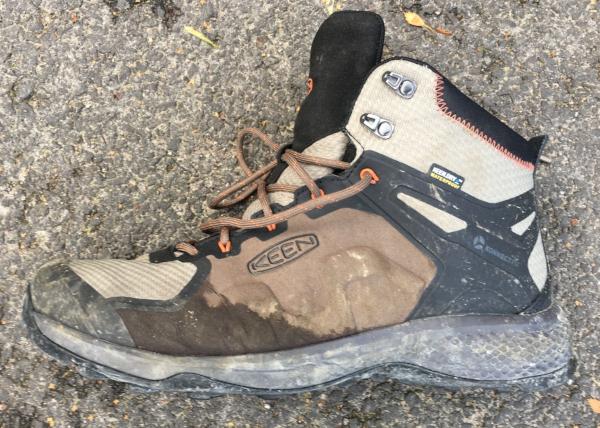 I don't see this as a complaint in any way or manner. The boot gives good ankle support compared to other mids I've tried which are quite rigid around the achilles and ankle roll.
Short laces
When doing the boot all the way up using the speed hooks I found that I didn't have much left to tie. Fine if you tend to not use the speed hooks.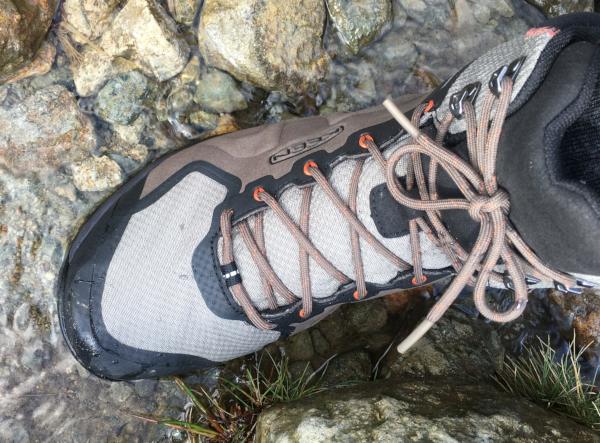 Upper
The boot creases very quickly, so if you like your boots looking immaculate then they might not be for you. The mesh upper was significantly creased after my first weekend away hiking.
Another downside was the material on the in-step and the outer got stained from the water or mud (not sure which), but it's an obvious line or marking from where I was stepping into wet areas.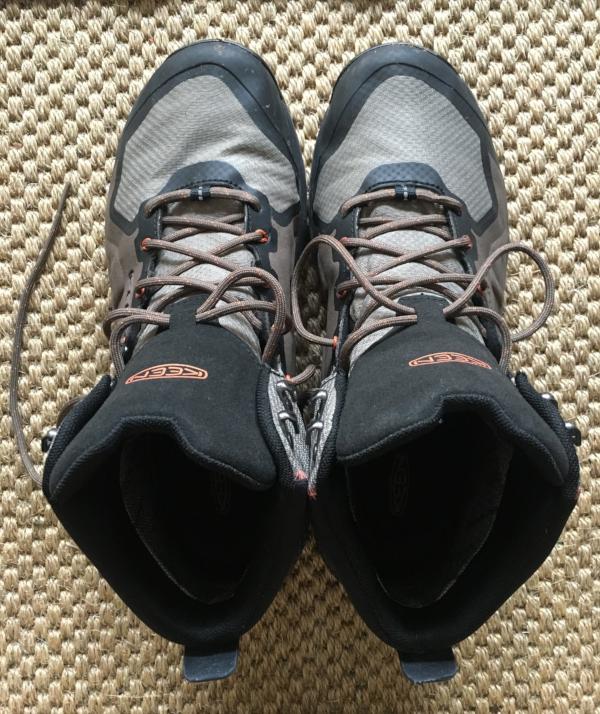 My feet were kept beautifully dry but I found this slightly disappointing as even though the boot is 'clean' and no mud markings on the sole, to have this prominent staining makes it look older than it really is.
Keen bill the Explore Mid WP boots as 'part hiking boot, part trainer'. There's an accuracy in that it's as light as and comfortable as a trainer but by no means would you take this boot to be your next trail running shoe.
It's definitely part of the hiking boot camp and will remain there. I'm very impressed with what Keen has done and made a boot that has a more contemporary feel to it.
Pros
Lightweight
Waterproof
Modern
Cons
Tight around vamp
Short laces
Conclusion
This boot is aimed at the 'urban hiker' – seemingly a person who likes to walk a lot in the city or lives in the city and goes hiking often.
It's for something to carry in a weekender bag that might help save weight, but the main benefit of that weight saving will be when you're up a mountain or halfway across a trek range.
For an urban hiker, they're still pretty chunky and I know other models I'd rather wear for style sakes, but if I was wearing for performance-related reasons only, I'd probably go with the Keen Explore Mid due to their comfort.
The lightweight nature of them is the definitive winning factor here for me.
Updates to KEEN Explore Mid WP
The KEEN Explore Mid WP blurs the divide between sneakers and hiking boots with its lightweight build, comfortable confines, and supportive trail performance. The shoemakers over at Keen opted to go PFC-free with its water-repellency, making the boot an environment-friendly product.
This hiker of a boot delivers surefootedness over a variety of terrain thanks to its unified sole system. It is designed with rockered heel and toe zones to make strides on level surfaces feel more natural. It consists of a grippy outsole and the shoe's midsole which KEEN designers engineered with a radial support system to enhance its stabilizing capability.
Size and fit
The Explore Mid WP by KEEN is an over-the-ankle boot built for male and female hikers. It comes imbued with Konnectfit—a brand-exclusive technology that holds the heel firmly in place. A safe and customized lockdown is made possible by the shoe's quick lacing system.
Outsole
With the KEEN.All-Terrain rubber outsole, trail lovers can stick to different kinds of surfaces with sufficient traction. Its engineers placed generous amounts of multi-sided lugs all around it to give adventurers improved sticking power over loose soil. These heavy-duty lugs have a depth of 4 mm.
The outsole of the men's variant has toothy ridges at the heel and forefoot for extra skid resistance on descents. In the women's version, these ridges are replaced with carved-out lugs.
Midsole
The KEEN Explore Mid WP is capable of giving wearers adequate cushioning underfoot and ground stability with its stout midsole made of EVA or ethylene-vinyl acetate. The heel part of this component is made considerably thick yet cushy to mitigate shock on impact. Its medial region, on the other hand, is armed with a lightweight stiffener (also known as shank) to double down on arch support.
Atop the shoe's chunky midsole is a removable footbed for added comfort and support. It is made of polyurethane with anti-odor treatment.
Upper
The Explore Mid WP's upper, which includes the boot's breathable liner, is a mostly mesh construction. Its protective overlays are made of thermoplastic polyurethane. Its padded collar is notched to give the ankle an even more comfy feel. To make it watertight on the outside yet breathable on the inside, Keen designers imbued it with KEEN.Dry. This proprietary waterproofing technology is also part of the Targhee III Waterproof.
Its fit management system consists of combination eyelets and a round lace. The uppermost eyelets are open hooks which allow for quicker configurations and adjustments.
Compare popularity
Interactive
Compare the popularity of another shoe to KEEN Explore Mid WP:
KEEN Explore Mid WP video reviews