Everything about the Trail Talon 235, from the great shoelaces to the aggressive tread, make it a great multi-purpose, multi-surface running shoe. If you are looking for a speedy, nimble shoe, that will carry you through a variety of surfaces, this shoe is for you. As far as durability goes, after 50 miles, I see very little wear on the tread, convincing me that this shoe will last hundreds of miles.
Pros
Lateral stability
Traction on wet and unstable surfaces
Great lockdown
Flexible
Very Comfy
Nice fit
Durable
Cons
Forefoot a little too thin for larger rocks
Easily collects dirt and mud
Inov-8 Trail Talon 235 review
I am a 41-year-old neutral runner with a mid-foot strike, about 170 pounds and 6' 1" tall.
I race all distances, from 5Ks to Marathons, and spend at least half of my year training for an upcoming marathon.
Out of the box
"Obsessed is just a word the lazy use to describe the dedicated," were the first words I read as I opened up the box, and I chuckled in agreement. I could tell Inov-8 would be a shoe manufacturer that aligned with my running passion.
The Inov-8 Trail Talon 235 is a lightweight trail shoe with an aggressive tread pattern.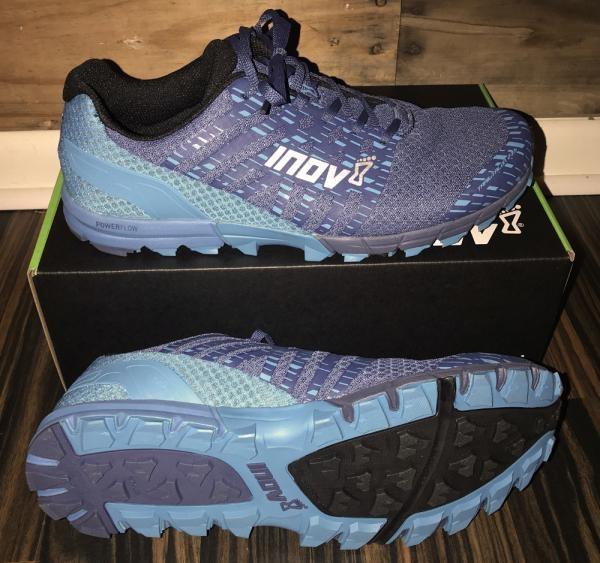 When I first noticed the triangle lugs on the bottom of the outsoles pointing in opposite directions, I thought it was odd. However, as I ran in the shoes, I realized the design was intentional and must have a specific purpose (more on that later).
Observe the additional band around the posterior of the heel; this additional support straps in the heel and provides noticeable security, eliminating slippage. The toe-box is comfortably adequate for my foot, and it sits atop a stable platform.
Lastly, out of the box, I noticed the shoe's forefoot is extremely thin and flexible. This would prove to be a major help and a minor hindrance to my trail running…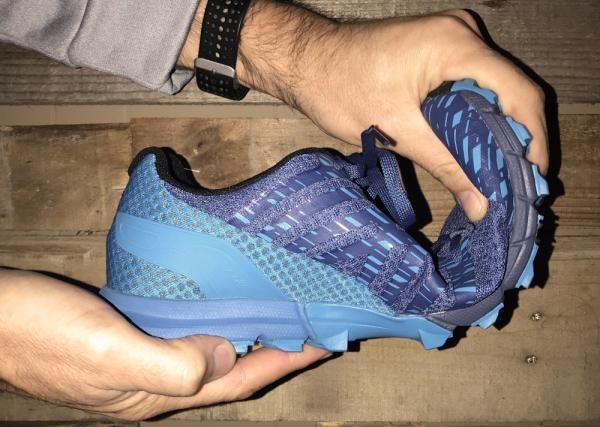 On the Trail
I took these shoes through the gamut of winter training, from post-marathon slow recovery miles to faster aerobic paces.
As of this writing, I have run in the Trail Talon 235s a total of 50 miles, and I've run on a variety of surfaces:
Some concrete/asphalt
Packed sandy, dry dirt trails
Grass covered slopes
Wet, mud and clay trails

The Trail Talon 235 performed exceptionally well
They are nimble, stable, and fast. I did not experience one instance of slippage, twisting, rubbing, or instability over the miles I ran in these shoes. I ran in dry conditions and soaking wet conditions.
The shoes are not waterproof (they do not claim to be), which allowed wet and cold feet, but because of the design, any water that made its way into the shoes was immediately flushed out, and the shoes carried very little extra water weight.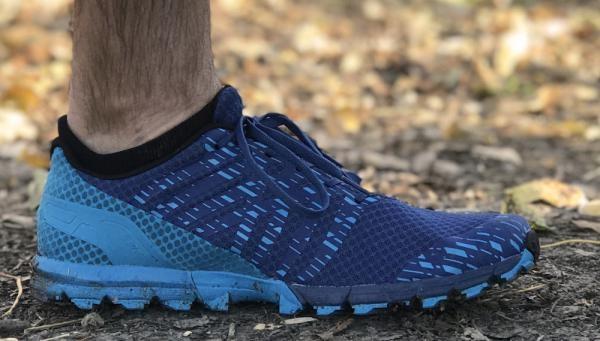 I ran on a particular trail nearby that had sticky mud, and the shoes began collecting mud on the bottoms.
At first, I was a little alarmed by the mud collecting on my shoes, but as I kept running, I noticed the mud sloughed off and I maintained grip and stability. I credit this to a good tread pattern on the outsoles, as well as its flexibility.
Though the shoes did retain a certain amount of mud, it was not too much to handle for off-road running.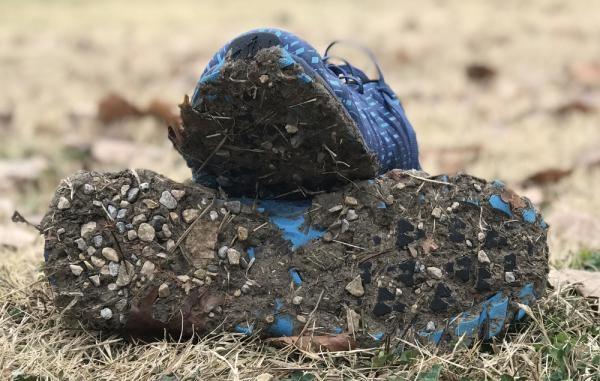 The thin sole on the forefoot definitely allows for tremendous speed and great traction, especially switching between surfaces, but it is not without sacrificing a little protection from elements on the trail.
On several occasions, I felt the sharp pain of larger stones, and even a large acorn, as my foot planted unknowingly on them. These instances caused no injury, just sharp pain through the sole.