The Inov-8 Terraclaw 250 is a neutral trail running shoe that offers responsiveness, comfort and protection. This shoe is ideal for short runs. The grip that this shoe provides is totally impressive. In summary, the shoe gained generally positive feedback but it still needs a few improvements.
---
Verdict from 25 experts and 100+ user reviews
5 reasons to buy
The Inov-8 Terraclaw 250 uses the 2 arrow shockzone technology that offers a combination of underfoot protection and responsiveness.
Most runners were impressed by the shoe's excellent fit due to the close-fitting heel that locks the shoe in position.
Based on some reviews, the Terraclaw 250 provides optimum grip.
This shoe provides maximum protection through its lightweight toe cap, forefoot overlays and diagonally sewn anti-debris tongue as generally observed by many runners.
It comes with a wide toe box, according to most reviews.
3 reasons not to buy
Some runners observed that the Terraclaw 250 is not ideal for rough terrain since it needs added protection from sharp rocks.
Limited color options.
Slight high-priced shoe.
Bottom line
The Inov-8 Terraclaw 250 is a neutral trail running shoe that offers responsiveness, comfort and protection. This shoe is ideal for short runs. The grip that this shoe provides is totally impressive. In summary, the shoe gained generally positive feedback but it still needs a few improvements.
Best price from 31 shops
We earn affiliate commissions at no extra cost to you when you buy through us.
76% say it's true to size.





Our reviews
The Terraclaw 250 is a remarkable and versatile trail runner. Are you traveling somewhere you'd like to hike, but also go for runs around town?
These are the shoes to bring: the Terraclaw 250 will easily churn out a 3-mile road run or a 50-mile trail race – and your feet will still be happy.
Note: the images shown here are from hard-loved Terraclaws that have been abused on rocky hikes, so you can see how they wear down and hold up.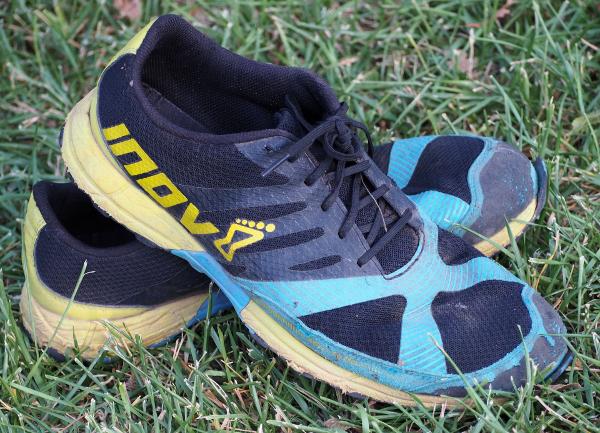 I tested the Terraclaw 250 in and around Boulder, CO and ran with them in a 50 km trail race in Park City, UT. After that pair was worn out, I purchased the Altra Superior 2.0; then, I used the Pearl Izumi E: Motion Trail N 1.
After trying out these three excellent shoes and putting them through the paces (so much that they all had to be retired/discarded), I went back and bought another pair of the Terraclaw 250.
The grip of the Terraclaw 250 was so remarkable and addictive that I found myself dreaming of the shoe when I was wearing the others. The grip of the Terraclaw 250, combined with its lightness, the balance of feel and protection, and good looks, make it top-of-class in my books.
Grip
It's like Inov-8 figured out how to clone gecko grip and put it on a shoe. These shoes are the grippiest I've ever used. "Backyard" testing in Boulder was perfect – there are rocks at all angles, particularly on Mount Sanitas.
Compared to other trail shoes I used, the Inov-8 Terraclaw 250 was hands down the best. It easily handled angles on a rock over 45 degrees, and I found it had good performance in the wet as well.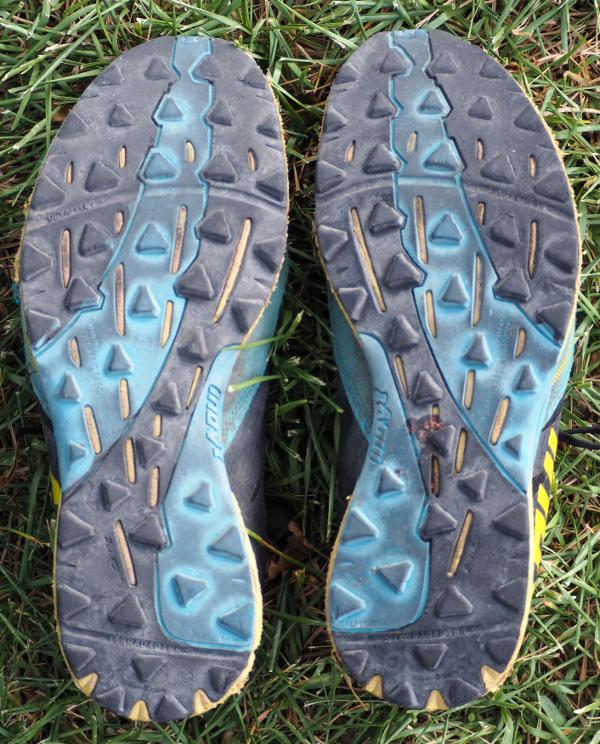 The large lugs provided substantial traction on mud and wet snow.
On roads, the Terraclaw 250 also had strong performance and could be the only shoe you need on trips or vacation (though given that the soft, grippy sole is prone to wear, limited use on roads is recommended). I love buying and trying new shoes, but the Terraclaw was so great that I had to buy a second pair.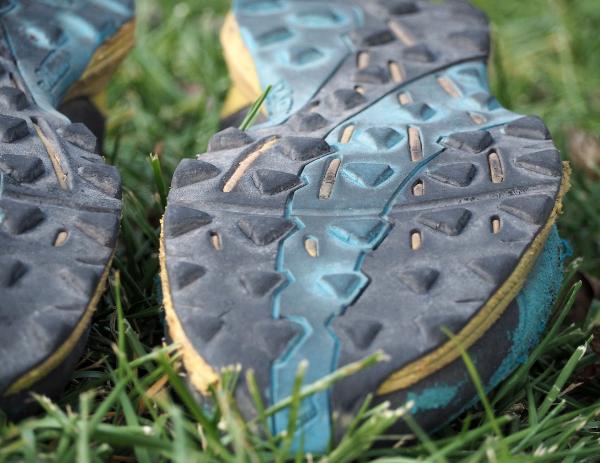 These shoes have also completely replaced my larger hiking shoes.
I would rather hike in these incredibly comfortable and grippy shoes while wearing them out than hike in a heavy more supportive shoe that is uncomfortable and rigid. The Terraclaw 250 can do it all.
Weight
The Terraclaw 250 weighs 8.8 oz, which is 1 oz more than the highest-rated trail shoe on RunRepeat – the Salomon S-Lab Sense 6 – and the Terraclaw 250 is quite a bit less expensive than the S-Lab shoe.
Protection for a nimble shoe
I am impressed with the lightness of the Terraclaw 250, especially considering it provides relatively robust protection against rocks.
There is no rock plate in the sole, so this shoe strikes an ideal balance between being flexible and allowing feel, while still providing the necessary protection. Only rarely have I encountered a sharp rock that caused discomfort in these shoes.
Comfort and feel
The Terraclaw 250 has a wide toe box that enables comfort even for those with wide feet.
There is a nice balance between how well the laces tighten the shoe, and how the foot feels free within the shoe.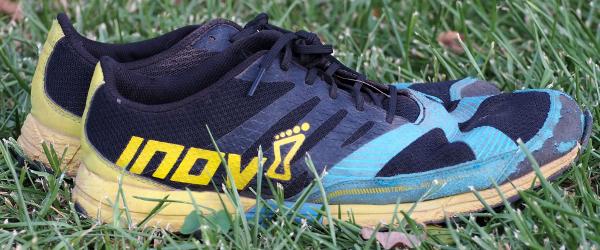 Durability
This shoe is quite minimal in design, particularly given that it is a trail shoe. The biggest weakness of the shoe is that the toe cap – the part of the sole that rises on the front of the shoe – can detach relatively quickly with stress of hiking over rocks, etc.
This is not just an aesthetic challenge; the toe cap detachment can cause issues while hiking since it can get caught on rocks or roots.
This happened on both pairs that I purchased. It is likely only to be an issue if one is hiking on difficult, technical, and rocky trails.I still consider it a minor limitation that did not prevent me from buying the shoes again (that grip!).
Waterproof
Do not buy these shoes if you require waterproof shoes. But you probably figured that. Rather than being waterproof, these shoes focus on ventilation.
Protection
As these shoes are optimized to be light and nimble, I was impressed with the modest protection provided. However, protection from rocks is not the strength of these shoes: there is no rock plate, and the side of the shoes are prone to rocks and knocks.
If your feet are sensitive and are often challenged with rocks at the side of the shoe, perhaps choose another shoe with more protection.
Appearance
The black, turquoise and electric yellow shoes I bought are fun! I've never seen another shoe like it.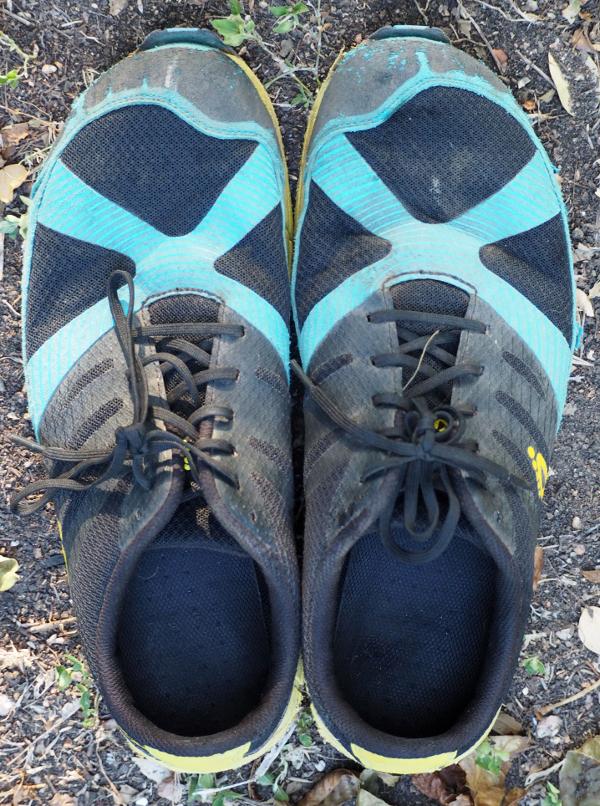 Conclusion
I was so impressed with these shoes that I've bought them twice. They're practically anti-gravity; their lightness and 8-mm heel-to-toe drop make you feel like you're flying, and their versatility is unmatched.
With all those upsides, the limited durability of the shoes (particularly the separation of the toe cap) is only a minor concern. The Inov-8 Terraclaw 250 comes highly recommended as a trail runner that can also play on the pavement and on hardcore hikes.
I like to do trail running. In this case, the longer runs and the stronger the grip, the better. Although I do some road running, I'm not comfortable with the low drop (more on that later), so I tend to go with trail running shoes.
After doing some extensive research, I chose Inov-8 as they are supposedly the grip specialists. The next question was: which one? With a good value for money, I chose the Terraclaw 250.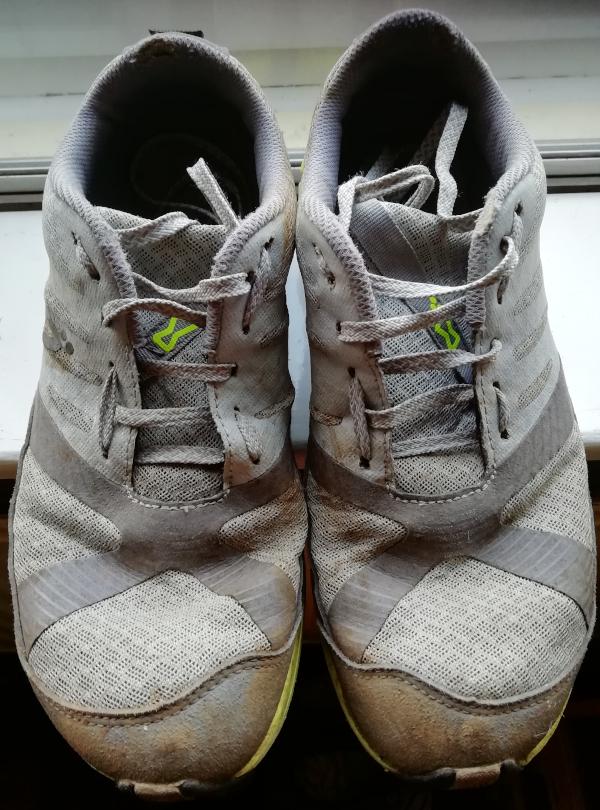 Specifications
Brand: Inov-8
Model: Terraclaw 250
Fit: Standard Fit
Size: 7.5 (UK); EU 41.5
Weight: 250g
Colours: (Grey/Lime), (Blue/BlackLime), (Red/Black)
Pronation: Neutral
Design
The design supports a wide toe box and a 10mm drop (more about that later) with a high arch and a midfoot strike with two arrow shock zone technology.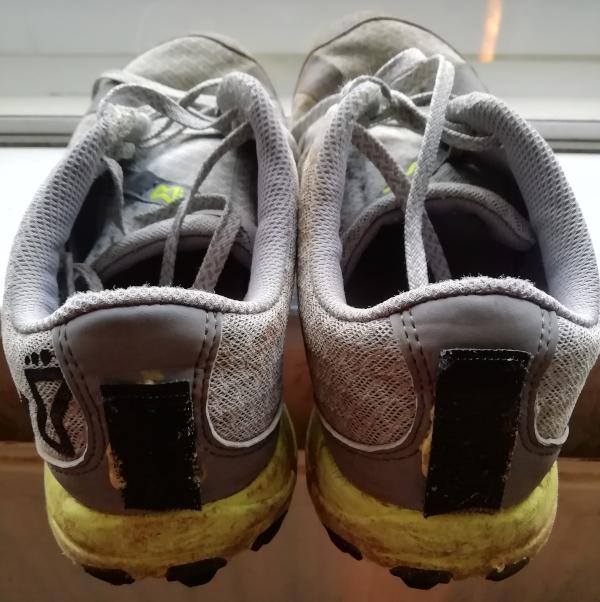 Comfort
Given the fact that my feet spread on longer runs, I went for a half-size up (UK size 7.5) than traditional shoes.
The laces (150cm) tighten up well for comfort.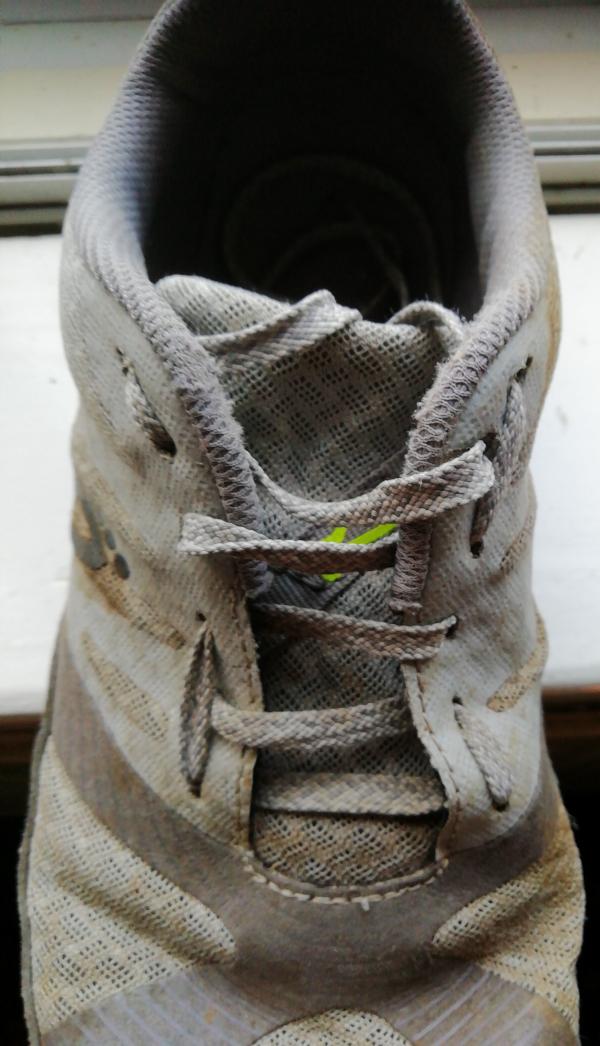 As I tend to get swollen feet on the long runs, I went for having the heel lock lacing system for swollen feet to tie up my laces. They kept my feet comfy when they did swell (but bananas also help, but that's a different story).
I tend to wear gaiters hence the black strip just below the heel arch. No matter how tight the trainers are, debris will always find a way of getting in.
Size and durability
The grip is moderate for wet and muddy trails but less so on wet asphalt. The durability of the trail shoes was adequate.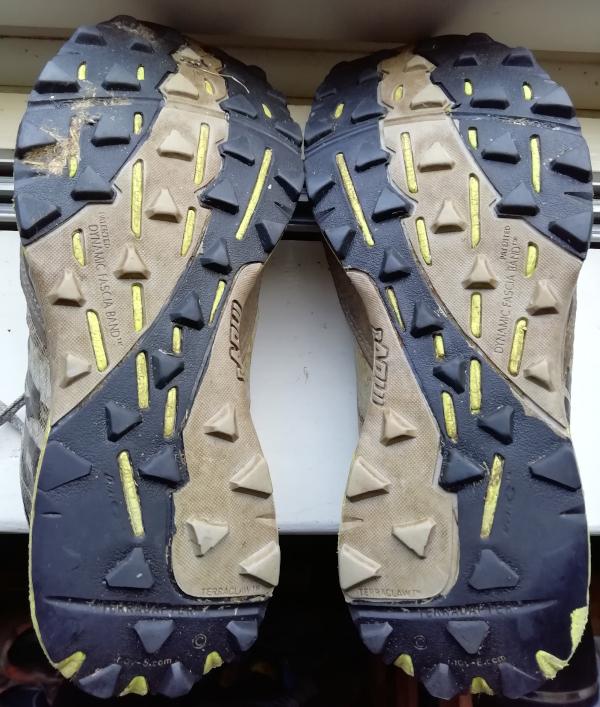 After about 300 miles of running (mainly on the road) due to having a supinator gait, the wear pattern was gone on the outer side of the sole on both trail shoes.
Performance
I have mainly used these running shoes on mixed surfaces but mainly, about 75%, on asphalt and the rest on trails. They have a good grip on moderate trails and in asphalt as long as it is not wet.
There is no loud noise when running on either asphalt or the trails.
The drop is 10mm (25mm heel stack minus the 15mm toe stack), which is what I prefer. A larger heel drop would mean this encourages a heel strike.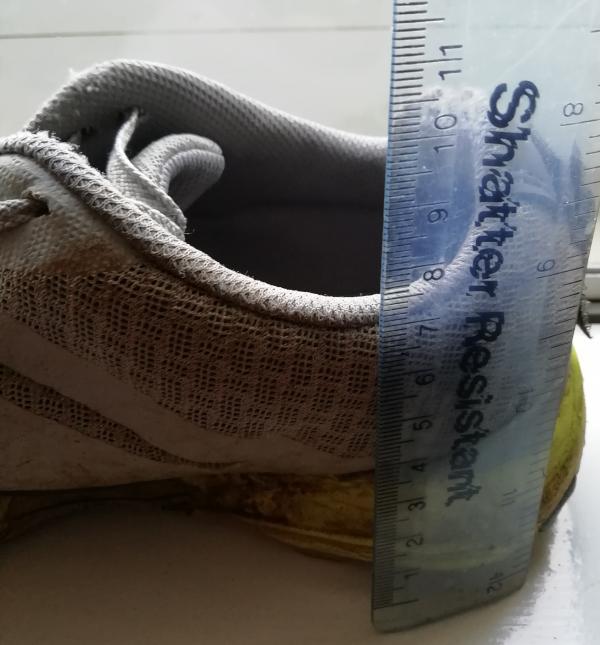 As I have a supinator gait, I'm trying not to have a heel strike where the wear pattern is neutral. This would make the trainers last longer.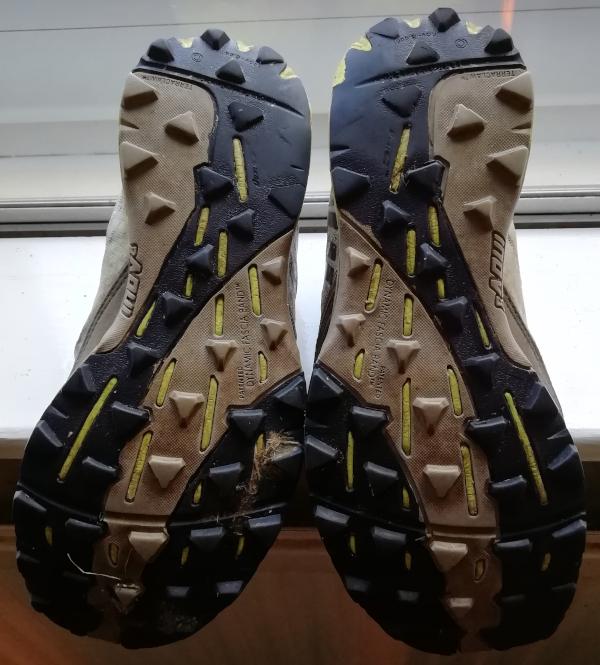 This would also increase running efficiency and speed and make you less prone to injuries, particularly in the knees and hips.
Running on uneven surfaces, particularly pebbles and stones on country paths, proved painful on the feet after a long run. After this, I had to take the trainers off, walk around for a bit to give the feet a rest before returning to the long run.
Stability on the trails is pretty good. I have a supinator gait, so I'm more likely to roll my ankles.
This happens less with the Inov-8 Terraclaw 250 as the trainer has a wide forefoot outsole (toe box). The wide toe box helps to prevent the rolling of the ankles.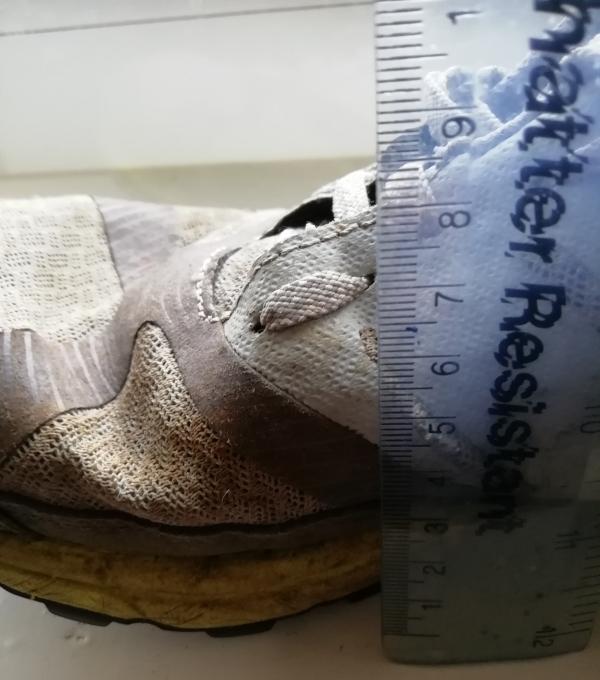 Conclusions
The Inov-8 Terraclaw 250 is designed to provide more grip on the trails. I would say that on wet asphalt the grip is not so good. On muddy trails, the grip is better but not perfect.
The wide toe box prevents ankles from rolling less frequently, but it's not perfect as well.
With a 10mm drop, a heel strike is still possible with a supinator gait.
Regardless, the running shoe has an excellent fit due to the close-fitting heel that locks the shoe in position.
Positives
Cushioning and responsiveness
Comfort
Value for money
Negatives
Slippery in the wet especially on asphalt
Not sufficient grip on the trails
Requires added protection from sharp rocks
Limited colour options
The Terraclaw 250 is one of my favorite trail running shoe. For shorter distances, I would say it is one of the best ones. It's light, flexible, and the upper is outstanding too.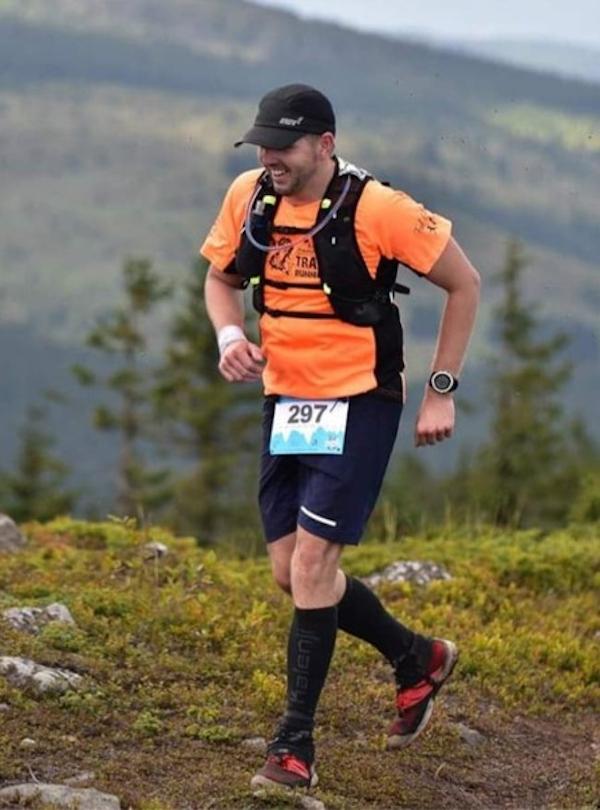 Running on the grass and easy trails on the hills in one word I would just say: perfect. It is light and has enough grip and ventilation. I did not have issues on 30–35 degrees Celsius.
I tried them on 21k on the Carpathian mountains. Well, it was just not a very nice experience in my point of view. The trails were super rocky, and I was feeling every single rock and after a couple of kilometers.
They are great but not for rocky trails or roads. I like the ground feel, and the shoes are super light and fast. In the forest, it is a good feeling to run in these shoes.
But, when rocks show up, it's not comfortable anymore. You have that discomfort feeling: step by step, you have the feeling that you are running barefoot.
Comfort
The Inov-8 Terraclaw has a wide toe box. Thes are in size 10. However, my next Inov-8 will be 10.5 to have more room when running downhill.
In this current shoe size, after a 21k and a lot of downhill, my fingers were numb after I passed the finish line. Thank God I managed without blisters.
In my opinion, they are very good up to 20k (max 30k), running on grass and light trails, running over the hills, and when it is not too much mud. I tried them on very muddy conditions also, but these shoes are not made for that.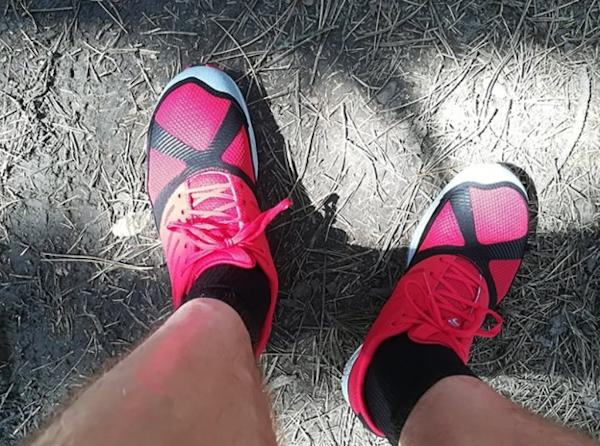 Grip
The lugs are not so big, but I'm really satisfied with the grip. Only in super muddy trails had I have the feeling of insecurity, but the Terraclaw is not for those type of trails anyway. Mudclaw or X-talon probably fit the job better.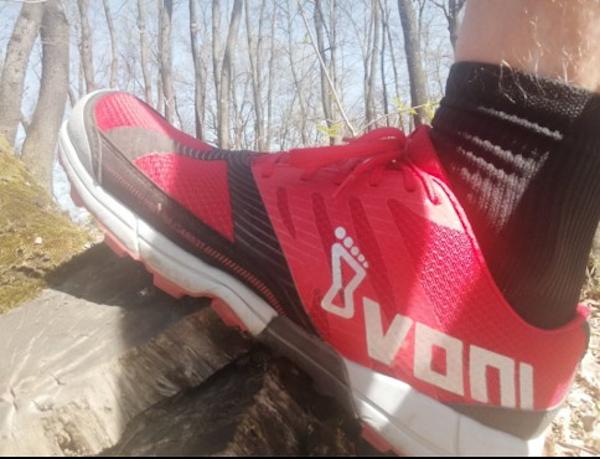 Protection
The protection for the toe box is just enough when running in woods, hills, and cross country. However, as mentioned before, protection from rocks is not one of the strengths of these shoes.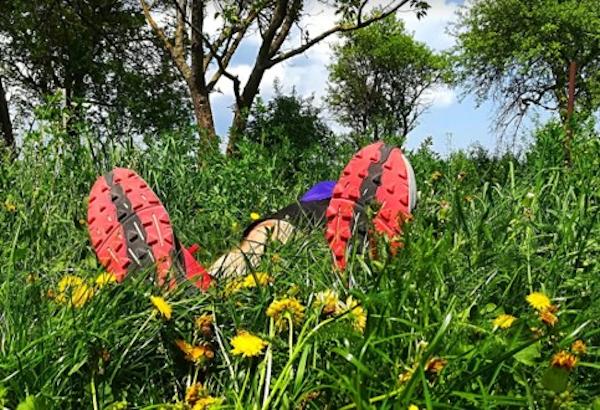 Waterproof
These shoes are not waterproof but have excellent ventilation, in my opinion. I was running in the mountains in very wet condition, and water was just coming out from them, and they were drying very quickly.
Durability
After 560 km, they still look very good and feel good. I had previously Salomon Speedcross 3, and those shoes after 320 km, they broke on my right feet.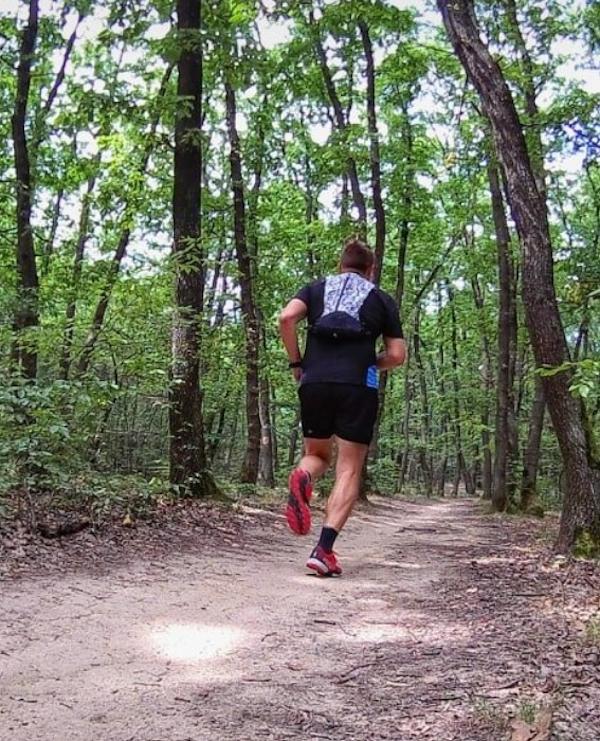 So, I think they hold up pretty well and probably hold on another 400-500 km. I have a friend with the same model, and he has more than 1100 km in Terraclaw 250, and it is still holding on.
Appearance
I have the red and black color combination, and I like them very much. The only thing I dislike in the shoes is the laces. I always have problems on how to tie them.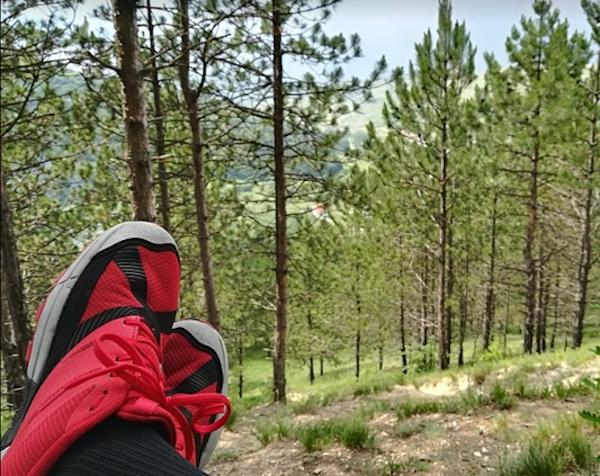 Last summer, I had a race in the forests, and I enjoyed it. The issue was that I need to stop four times to tie the laces, and I lost precious seconds. However, I enjoyed the race and probably need to search for a good lace tie system.
Conclusion
I'm very impressed with the durability and comfort of these shoes. The Terraclaw 250 is super light, which secures a very good grip on light trails and cross country running.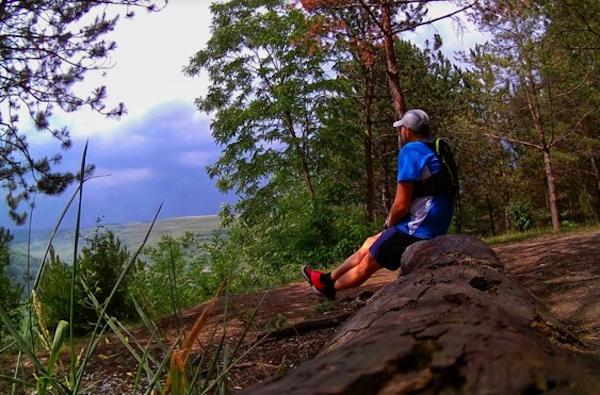 I really like the ground feel that it provides and the wide toe box was awesome too. It is very flexible, and it is the perfect pair to wear when running uphill. I would definitely buy them again.
Good to know
The Inov-8 Terraclaw 250 features an impressive grip. It uses the Dual-C Compound that is extended in the outer sole. It gives reliable grip on different terrains and enhanced shoe durability.
Solid protection is also another thing this shoe offers. It comes with a double layered toe cap that protects foot from stone bruising. The diagonally sewn tongue is also designed to keep debris from entering the shoe.
The Terraclaw 250 is available in standard running shoe length. The heel, forefoot and midfoot are of standard measurements. It comfortably accommodates runners with standard foot measurements. The forefoot offers enough space for toe splay. The shoe is available in standard running shoe widths, D and B, for men's and women's versions respectively.
The outsole of the Terraclaw 250 uses the Dual-C compound that gives improved grip and added durability on high wear areas.
The Meta-Flex groove that is located in the forefoot promotes natural forefoot flex during toe-off. The Meta-Flex groove design of this shoe is also in the lightweight Trail Talon 235 shoe and other running footwear from Inov-8.
Lastly, the stick rubber gives optimal performance, grip on wet conditions and added durability.
The injected EVA cushioning foam is found in the shoes midsole. It delivers enough amount of cushioning for a resilient rider and maximum memory retention. The Dynamic Fascia Band, which is extended from the heel to the forefoot, gives efficient energy return for a solid rebound.
The upper of the Invo-8 Terraclaw 250 features a synthetic mesh cover that delivers a lightweight and breathable coverage. It features a Met-Cradle system that gives added forefoot support and enhanced fit. The toe cap increases shoe durability while keeping the foot safe from stone bruising on trails. The tongue is attached to the upper to keep it in place while running. The X-Lock welded overlays in the forefoot keeps the foot in place while running.
Rankings
How Inov-8 Terraclaw 250 ranks compared to all other shoes
Popularity
The current trend of Inov-8 Terraclaw 250.