Our reviews
The Inov-8 Roclite Pro G 400 GTX is an ultralight, Gore-Tex hiking boot. It is designed to move fast over tough terrain. Whether you're a fast packer, speed hiker, or mountain runner, the Roclite Pro G 400 GTX is perfect for you.
With its features, the model fills the void between trail runners and hiking boots.
Updates
Graphene materials added
6 mm lugs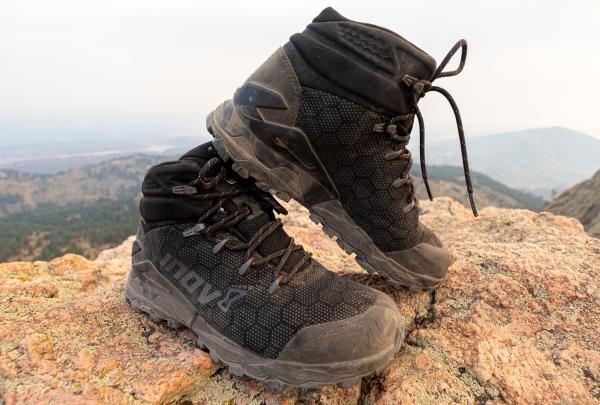 Fit
This is rated 4 on the fit scale from Inov-8, so to the wider side for them. I was worried because I really need a 5 on their scale, but this boot fits my foot well.
The laces, meanwhile, have been hard to get super tight. The lace hooks are poorly designed and have a bottom edge on them that the laces get stuck on. Given this, you really need to line up the laces with the hooks, which is slightly annoying.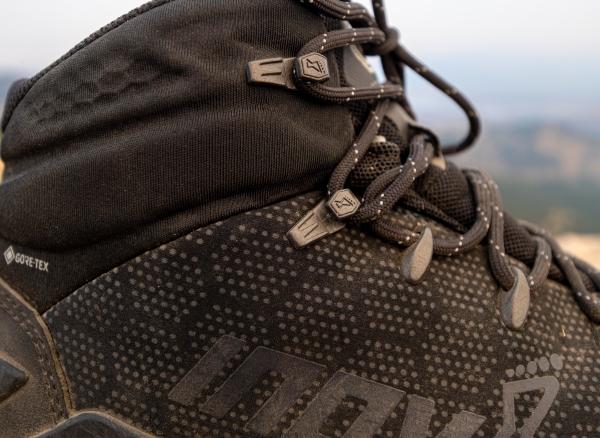 The tongue is gusseted but not all the way to the top. I actually had issues with the top of the tongue popping outside of the ankle collar.
Comfort
This is surprisingly comfy for a hiker! It fits like a stiff trail runner, but the EVA midsole is still flexible.
On foot, the runner feels light. There's really no unwanted bulkiness.
I also had zero hot spots. I ran, climbed, jumped, and hammered in this shoe for the past few weeks, and I am impressed.
Because of its rock plate, there's also plenty of protection from the terrain. However, there's an odd sense of ground feel you get from this shoe, compared to traditional hiking boots. I also like the light and fast feeling I got from the shoe.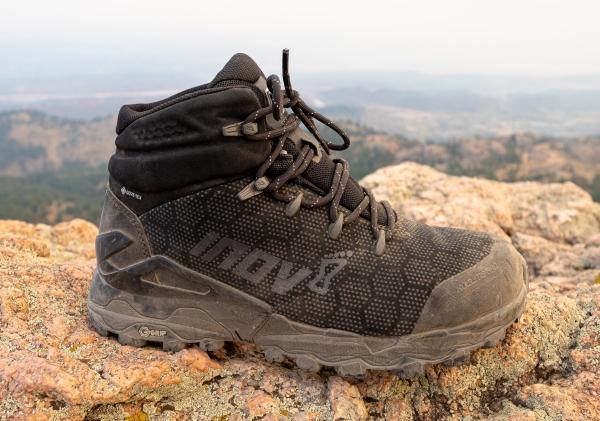 It really feels like a running shoe, but a sturdy boot. I really didn't think I needed this until I had it on my foot, and I'm loving it.
Probably the only complaint I have is the Gore-Tex. Is it really necessary? If I'm going as fast as I want to go in this boot, I think I'll want breathability, not waterproofing because I'll be working so hard.
I may feel different when using this during the winter, I guess. After all, Inov-8 is an English brand. It's a lot wetter there than in Colorado, but I would have maybe opted for less membrane and more venting or the ability to dry quickly if they got wet.
Weight
Inov-8 claims that this is 14 oz, which is pretty dang light! However, its actual weight is really 13.2 oz, which is insanely light.
The Inov-8 Roclite Pro G 400 GTX really performs well. It can go to the gnarliest peak fast and without a problem.
Drop/stack
8 mm drop
20 mm at the heel
Durability
The upper is a Schoeller ceramic-coated upper which is intended to increase durability.
Graphene is super tough. There's not even a mark on the outsoles and I've been wearing them non-stop for yard work, climbing mountains, hiking, and just walking the dogs.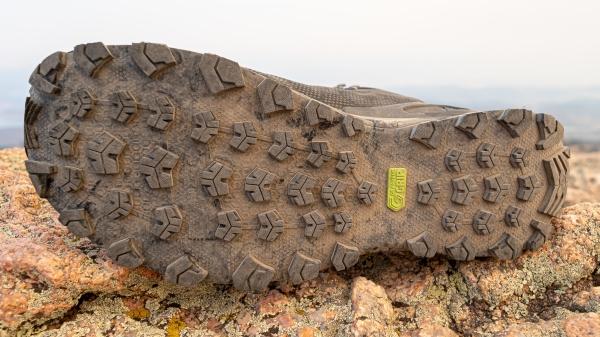 Price
$235 is spendy, but graphene, Gore-Tex, and this competes more with hiking boots than running shoes. It's a premium for a niche product like this.
Conclusion
Fast and light! This is like a tribute to Ueli Steck, in my mind. It conjures up notions of grandeur, like tagging summits and being back by lunchtime. It's well-built, light, and capable.
They continue to excite me every time I lace-up—even after a barrage of swears aimed at the damn laces getting stuck.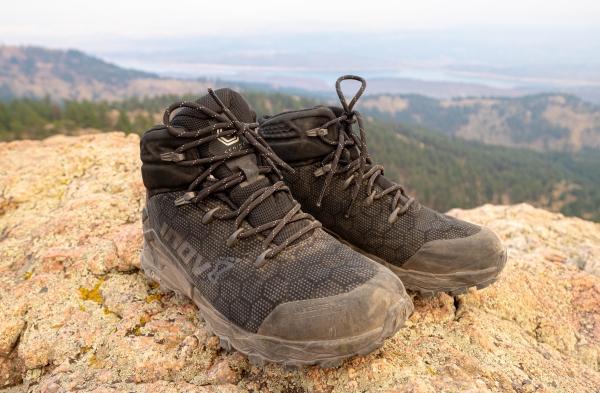 Inov-8 Roclite Pro G 400 GTX: The lowdown
Need-to-know facts:
Its ceramic-coated fabric upper gives the boot enhanced protection against sharp rocks (think talus at the base of a mountain).
Similar to approach shoes, the Roclite Pro G 400 GTX has a rubberized toe rand, allowing wearers to negotiate light elevations with bolder forefoot maneuvers.
The hiker's bootie comes with a Gore-Tex liner, which, along with the footgear's mid-cut clearance, delivers water protection up to the height of the collar.
Its aggressive heel cup and reinforced ankle cuff provide double the rearfoot support, ideal for going down tricky descents.
With its rubber outsole having water-dispersing grooves, adventurers can cross shallow streams and trample on puddles with freer mobility.
A few considerations:
Just like most Gore-Tex hiking boots, this Inov-8 offering might not be breathable enough in temperatures higher than 27 degrees Celsius (roughly 80 degrees Fahrenheit).
As it comes without a heel pull tab, slipping into the Roclite Pro G 400 GTX might be challenging for some.
Who is the Inov-8 Roclite Pro G 400 GTX for?
As a lightweight hiking boot, it is designed primarily for speed hikers needing extra ankle support.
The boot in question, with its plated yet flexible sole, is for wearers who frequent rocky and pebbly routes.
Its spacious toe box makes it ideal for hikers with a broad forefoot.
Popularity
The current trend of Inov-8 Roclite Pro G 400 GTX.