Our reviews
The Inov-8 F-Lite G 290 is an incredibly durable fitness shoe which has been designed and built with the toughest gym environment in mind.
It delivers stability and confidence during strength training, together with grip, support, and flexibility for rapid movement in a CrossFit type workout.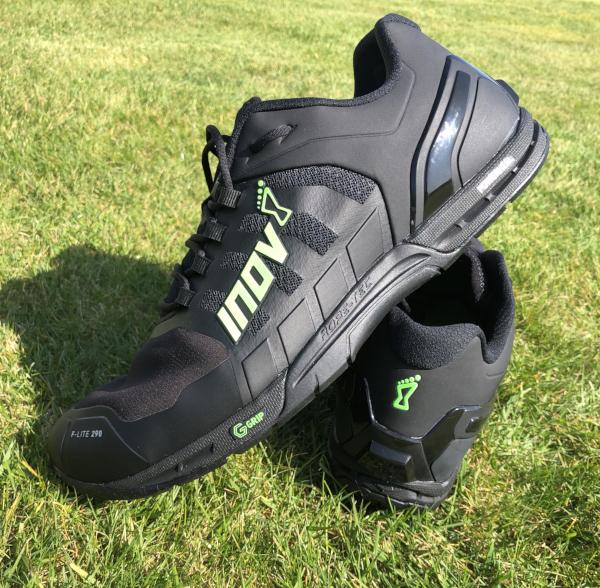 It is a comfortable, great looking shoe, and whilst I wouldn't recommend it for longer running sessions, it'll handle sprint/shuttle sessions with ease, and I'd wear it on an occasional easy run up to 5k.
If your fitness regime is primarily gym based whether that includes lifting weights, circuit training, or a combination of all of it, then the Inov8 F-Lite 290 is a great shoe that will deliver for you time after time.
Pros
Stability with ground-contact feel when lifting
Flexibility during dynamic movements
Excellent all-around gym shoe
Durability
Cons
Poor breathability can lead to feet getting hot
Introduction
Described by Inov8 as "the world's toughest shoe for the world's toughest workouts", the F-Lite G 290 incorporates graphene into its "G Grip" sticky rubber outsole to combine both grip and durability during gym and fitness sessions.
Add to this an upper of breathable mesh infused with a type of Kevlar fiber and an armored toe bumper (think bullet-proof vests), and the F-Lite G 290 has sufficient credentials to make it one seriously tough training shoe.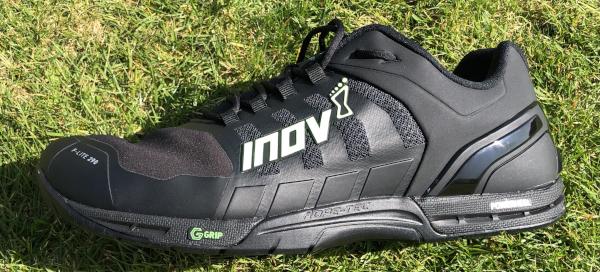 I didn't doubt the robust nature of the shoe but had to wonder how it felt to wear, and whether it was worth the £150 price tag.
Primarily a runner who also do gym/fitness sessions, I'd generally wear an old pair of running shoes for a gym workout, but I was intrigued to find out what a purpose-built shoe would add to my time in the gym.
Inov-8 are my go-to shoe for all off-road running and given the opportunity to try the F-Lite G 290, I was really keen to see how it performed in a gym environment.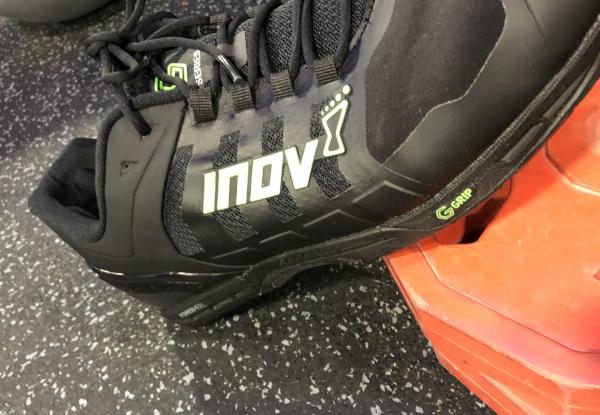 First impressions and appearance
As soon as I took the shoe out of the box, it was clear from my initial look, touch and feel that the F-Lite G 290 lives up to its "toughest shoe for the toughest workout" billing.
I was initially drawn to the heel with its exceptionally robust external heel cup, and then the internal "Heel Lock", the likes of which I'd not seen before.
The toe bumper is substantial and exceptionally durable, whilst the outsole is solid and weighty whilst surprisingly flexible.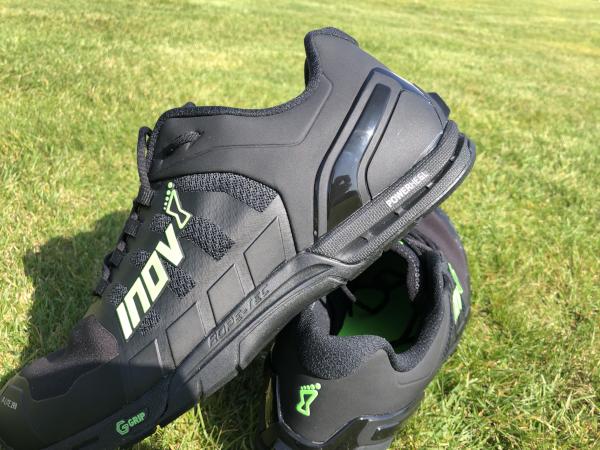 This shoe currently comes in one colorway; black with bright green "Inov-8" and "G Series" branding.
Other features of the shoe are highlighted in key areas, so in addition to the 'Heel Lock", we read of the "Powerheel", "Adapterweb", "Meta Flex" and "Rope-tec".
I must admit that I liked the unapologetic robustness of the shoe. This is markedly different from the running shoes I'm used to wearing, and which are designed to be lightweight, streamlined and cushioned.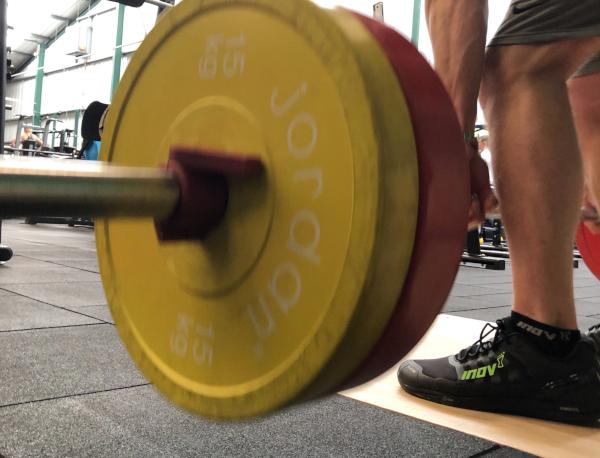 Weight
The Inov-8 F-Lite G 290 is listed at 290g (10.2oz), hence the name. This makes it comparable to a road-running shoe in terms of weight.
As expected, my UK 13 (14.0 US) shoe weighed in heavier than this, but I was surprised to find it tipping the scales at a whopping 418g (14.7oz).
This makes it a much greater increase over the "standard" shoe than my Roclite 290s which came in at 388g in my size.
Fit
Inov-8 shoes are graded in terms of fit on a 1-5 scale, with 1 being the narrowest, and 5 the widest fit (being equivalent to an extra-wide fit on other shoes).
Their fell shoes designed for more technical running are generally designed to offer a narrow, snug fit to allow minimal movement of the foot within the shoe.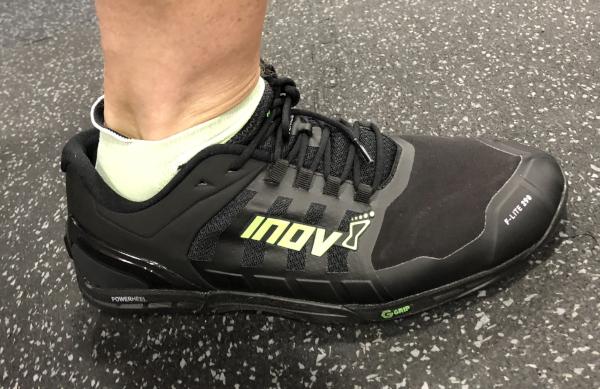 The F-Lite 290 is graded as 4, which I'm sure is comparable to most other fitness shoes. I found that it offered sufficient room across the foot and the toe box feels comfortable without being "baggy".
The length of the shoe was just okay, but left little room at the front. if you're in any way concerned about being "between sizes", I'd recommend sizing up by ½.
For comparison purposes, I tend to size up to a UK 13½ in New Balance, Hoka, and Salomon trail shoes, while using a UK 13 in Brooks, Asics, and my other Inov-8 shoes. In almost all cases, whatever the UK size, it is translated as a US 14 / EU 48/9.
Construction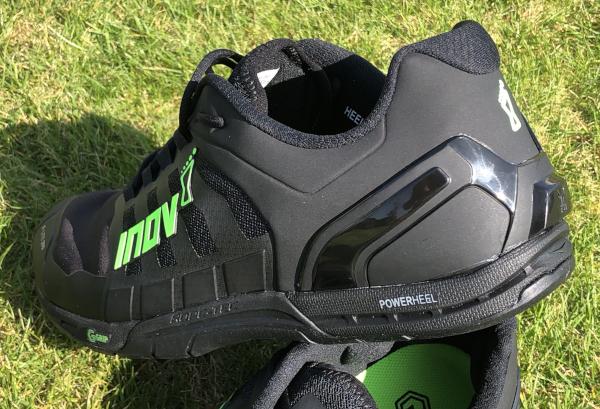 Upper
The upper of the F-Lite G 290 is created from a range of fabrics and materials.
Heel
The heel counter and surround is primarily formed from a type of rigid, polyurethane fabric with an almost rubberized feel.
Whilst this in itself seems to be extremely durable, it is further reinforced with hard plastic overlays, including a plastic "block" at the back of the shoe which bears an image of what appears to be a man doing a handstand.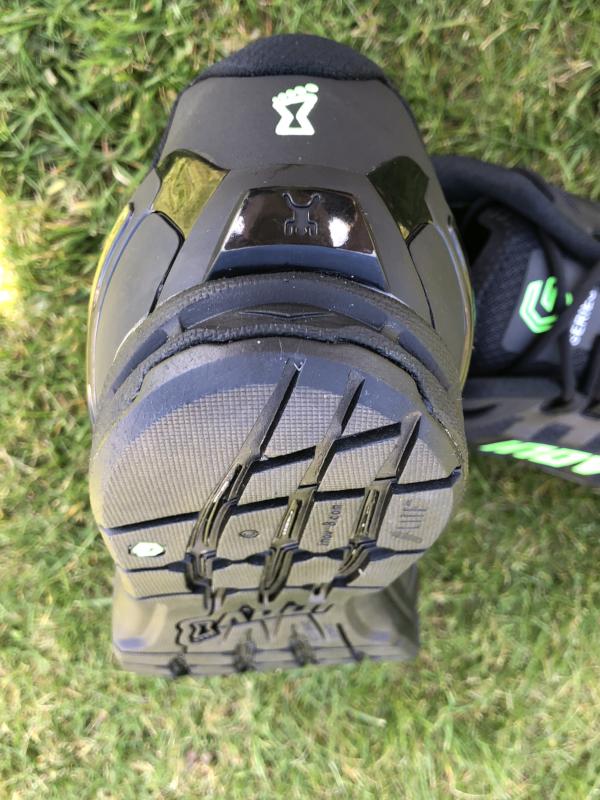 I'm not really sure of the purpose of this "block", other than perhaps to add to the robust, almost futuristic look of the shoe.
Beneath the rubberized fabric and plastic outer, the heel cup itself is similarly reinforced with a rigid plastic to provide an extremely secure and stable fit around the heel.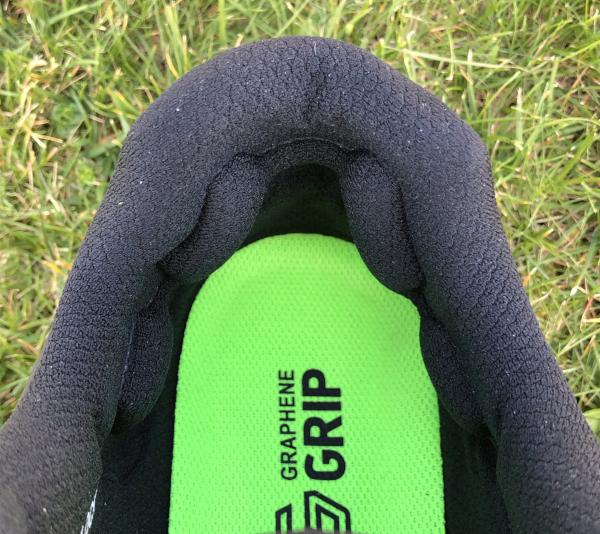 The heel collar and inside of the heel cup is extremely well cushioned, but also incorporates contouring designed to "lock in" the heel during lifting, and when "driving" through the legs in activities such as the sled push.
This contoured cushioning initially suggests an uncomfortable fit, but the way the cushioning has been designed around the contours works effectively to provide the desired lockdown without affecting comfort and movement.
I will address this further in the performance section below.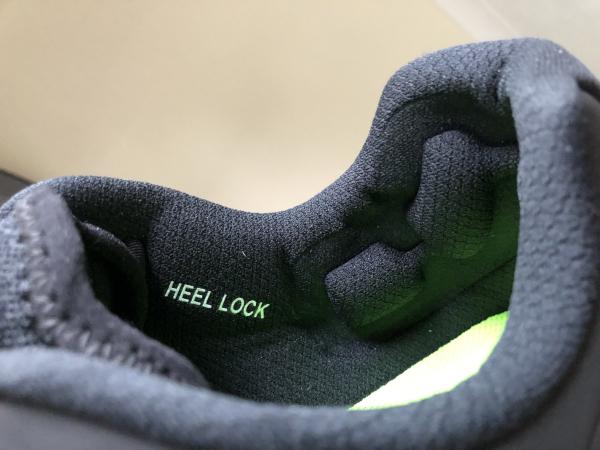 The tongue is also well padded and held in place by a bootie-type liner to provide a comfortable fit.
Saddle and front foot
The saddle of the shoe is made using "Adapterweb" engineered web with overlays for added stability and a secure fit once the shoe is laced up.
This has been effectively used by Inov-8 in many of their off-road shoes such as the Trailroc and Roclite.
In the case of the F-Lite G 290, the Adapterweb is further reinforced with more substantial overlays where the saddle meets the "Rope-tec" section of the outsole/midsole on both inside and outside of the shoe.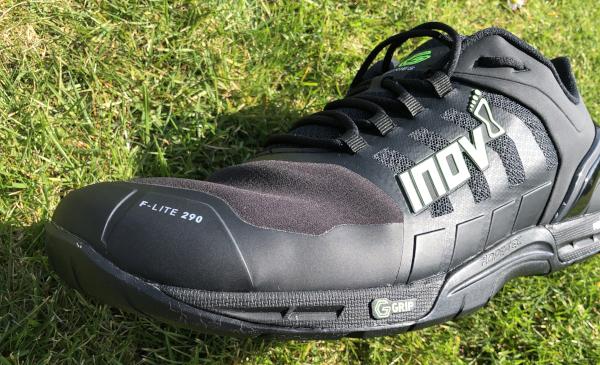 As with many of Inov-8s, the lace loops are formed of fabric loops embedded within the overlays of the Metacradle and provide a secure fit.
Moving forward, the F-Lite G 290 uses an extremely durable Kevlar-reinforced mesh over the front of the shoe.
This almost feels like neoprene and is further reinforced with a substantial toe bumper providing more than adequate protection should you inadvertently kick a misplaced kettlebell.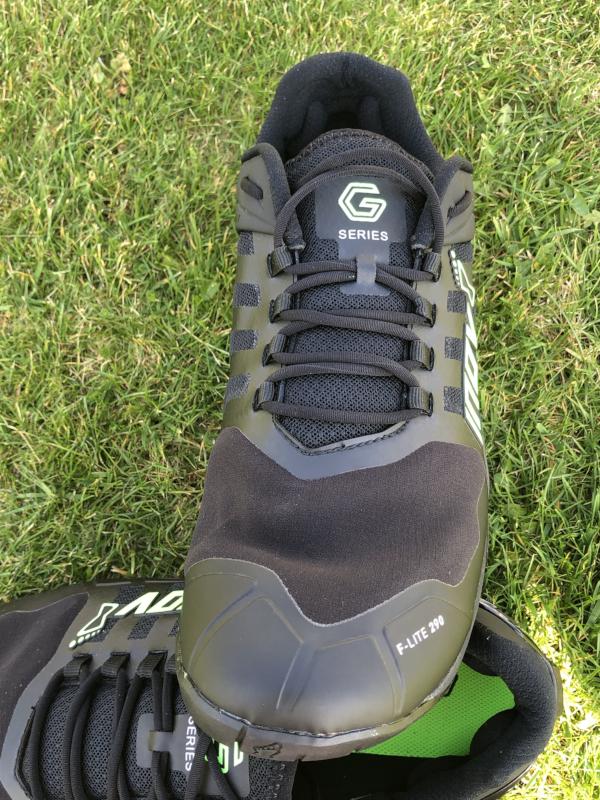 Overall, this is an extremely well-built and robust upper. In some ways, it appears to be somewhat overbuilt, especially with the external plastic around the heel counter.
But in a shoe where weight is less of a factor than durability and protection, I'm sure that the structure of the shoe will be welcomed.
Midsole
Given its purpose, the Inov-8 F-Lite 290 midsole is understandably very different from the substantial foam midsoles used in many modern running shoes.
For stability, it has a shallower footbed than a running shoe with 11mm – 7mm heel-forefoot drop.
When combined with the low-profile outsole, this provides a real ground feel.
Inov-8 uses their "Exteroflow" midsole for cushioning. This foam compound seeks to absorb shocks from the impact of fitness training sessions without the energy return that one has come to expect from a running focused shoe.
The rear of the midsole incorporates Inov-8's "Powerheel" technology which is apparently 40% firmer than the remainder of the midsole, providing greater stability in the heel.
The Powerheel midsole requires greater compression that is conducive to powerlifting and weight training exercises.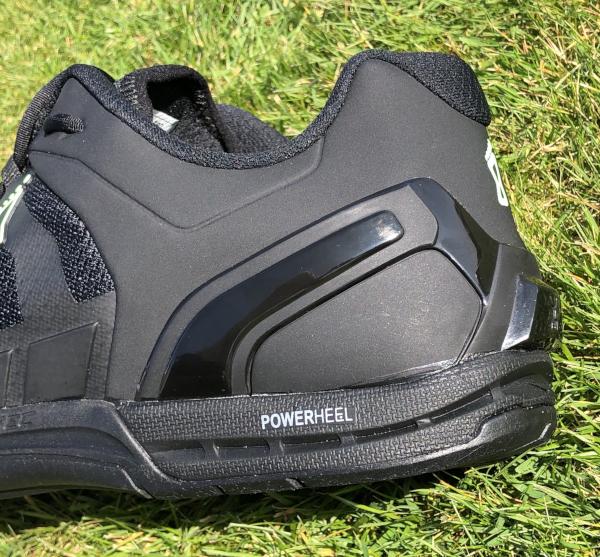 As befits this shoe, the midsole is very much oriented towards fitness and weight training.
It can be used for running shorter distances as well as for shuttles, sprints etc, but I personally wouldn't like to wear it for running further than around 5k.
Outsole
The outsole is where you'll find Inov-8's innovative graphene-infused rubber which is apparently "50% stronger, 50% more elastic and 50% harder wearing".
Incorporated into this outsole is Inov-8's "Sticky Rubber" which I have previously found to offer fantastic grip on fell shoes such as the Trailroc-270.
The outsole is deliberately low-profile to further ensure stability and ground-contact feel, whilst the "Metaflex" grooves do make them exceptionally flexible.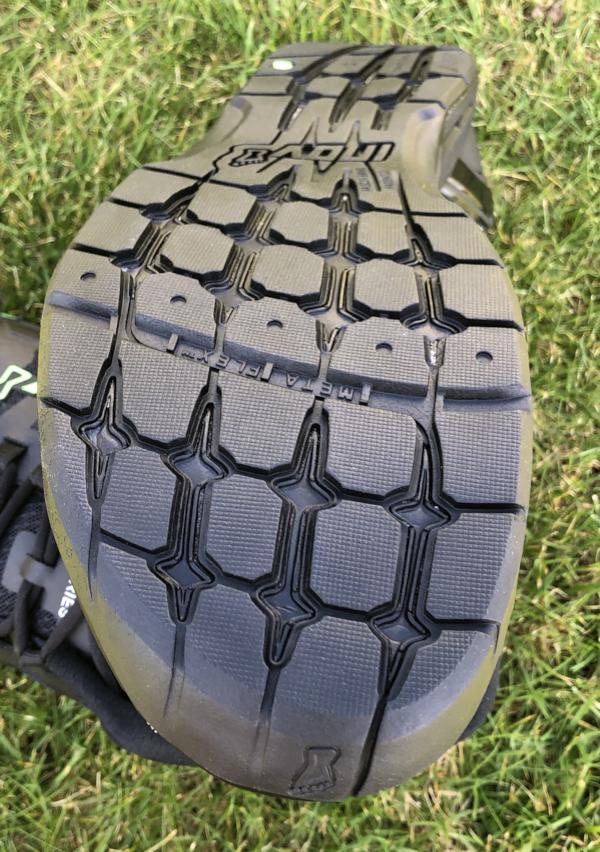 I'd initially expected the sole to be somewhat rigid and was pleasantly surprised to find it responding well to fast movements and change of direction.
A "Ropetec" guard extends from the center of the outsole to provide both grip and protection when climbing ropes.
The outsole does initially feel almost slippery on some surfaces, but once it has been "broken in", you'll find its grip to be excellent on pretty well all surfaces.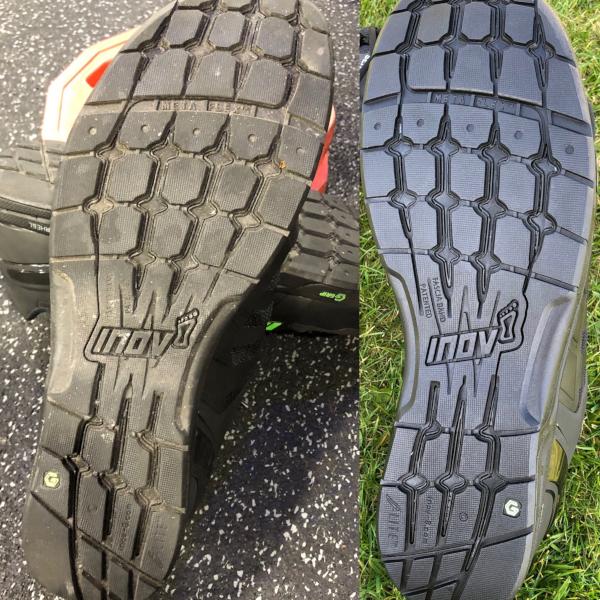 In the images, you can almost see a shiny coating in the new sole which is what causes the initial lack of grip. The "worn in" shoe, however, has a duller looking surface to the sole.
It isn't a lengthy wear-in process; in this case after a couple of miles running on the road.
This is similar in some ways to this season's F1 tires which come out of a pit stop looking shiny. That initial sheen quickly vanishes to reveal a surface offering great traction.
Performance
If you're short of time, then my experience, in brief, is that this is a fantastic fitness shoe.
Use it with confidence throughout the gym, whether for Crossfit, circuit training, lifting, weight training and any other manner of gym-based fitness activities.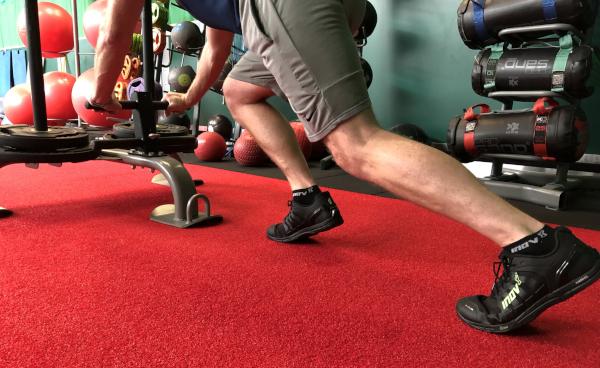 The F-Lite G 290 should outlast almost any other shoe and become ever-more comfortable the more you wear it.
If you decide to do more running, then unless you are used to a minimal shoe, I'd suggest that you invest in a separate running shoe and keep this one for the gym.
Just to clarify that I'm primarily a runner, though I regularly use weight training, indoor rowing, and circuit sessions. I have previously used old running shoes in the gym, and so cannot offer a comparison with other "fitness shoes".
Weight training & lifting
Until I tried the F-Lite G 290, I hadn't realized just how inadequate running shoes are for weight training work.
In this shoe, my foot felt securely planted. The lack of foam in the midsole means that the foot is stable throughout exercises such as squats and deadlifts.
The denser midsole in the heel also ensures minimal compression even with heavier weights.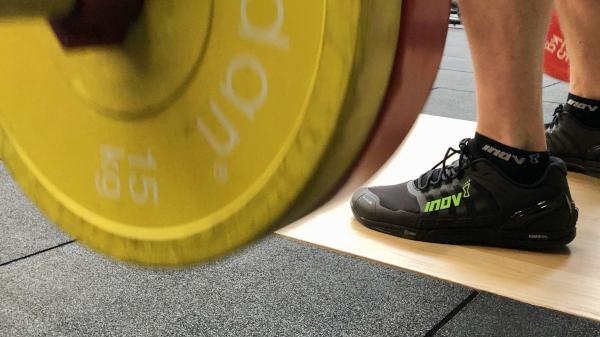 The Metacradle ensures that there is no lateral movement or foot-roll which gives far greater confidence when performing these types of exercises. Because of the heel lock, the heel is not at risk of slipping out of the shoe.
Circuits, dynamic exercises
In this category, I'd include many of the CrossFit type exercises; exercises incorporating weights and movement as well as plyometrics and shuttle runs, etc. The F-Lite G 290 excels in these types of exercises.
The shoe allows the foot to flex and spring off during exercises such as mountain climbers, burpees or plyometric jumps.
The Heel Lock works impressively when performing pushing exercises such as the "sled push" during which it would otherwise be easy for the heel to slip out of the shoe.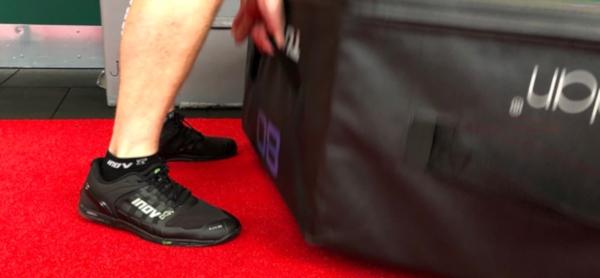 The F-Lite G 290 is more comfortable than I'd expected for rowing where I usually prefer a more lightweight shoe with more room for movement in the heel.
I had no issues in using the shoe for short bursts on the Concept 2, or up to a 5k.
The shoe is once again flexible enough, and the heel lock doesn't affect the comfort or impinge on movement for these shorter sessions, but for longer rows, I'd tend to choose a different shoe.
Running
As mentioned above, this shoe is ideal for short bursts, shuttles and quick movements with a rapid change of direction. In these circumstances, the F-Lite G 290 is probably more suitable than a traditional road-running shoe.
Unless you are used to a minimalist shoe with little cushioning and energy return, I'd suggest that this shoe is not ideal for road-running.
The features that make the F-Lite G 290 an ideal shoe for lifting in the gym render it a difficult companion for the long run.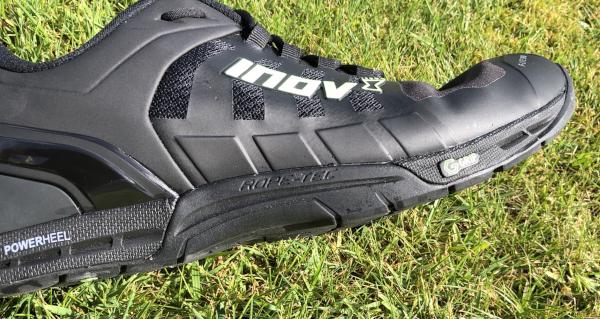 The dense foam in the "Powerheel" doesn't cushion a heel strike and isn't any more responsive as you move through to the push-off. I certainly found it energy-sapping and would unlikely use it regularly for road running.
Nonetheless, this shoe will be far more forgiving on a treadmill than on a road. If most of your running miles are done in the gym, this shoe should work as a real all-rounder
Unsurprisingly for an Inov-8 shoe, it works as an off-road shoe in dry conditions, with the "Sticky Grip" rubber compound within the sole offering excellent traction on rocks.
Durability
It's hardly surprising that I haven't been able to wear out the F-Lite G 290 in the few weeks that I've been training in it.
The shoe boasts a Graphene enhanced rubber outsole, and a Kevlar infused upper together with reinforcement provided by plastic, and tough polyurethane.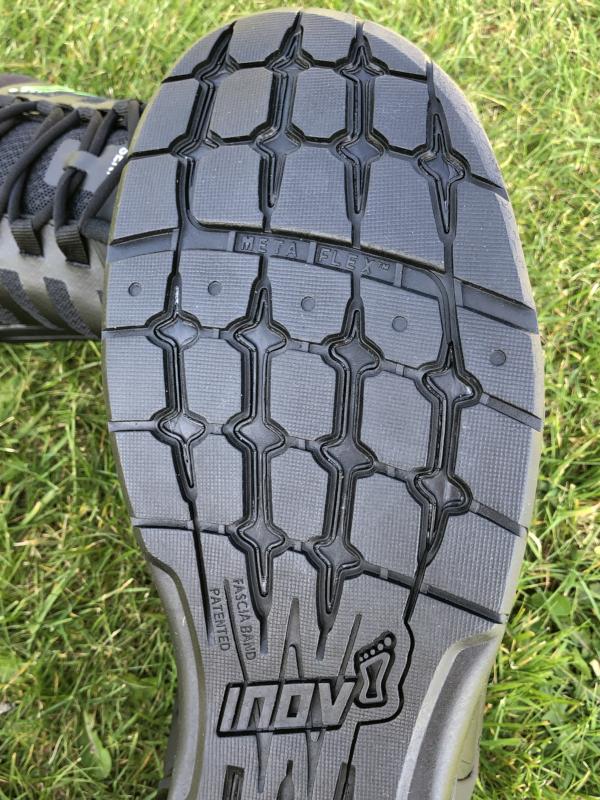 I'd be confident in suggesting that it will outlast most other shoes within a gym environment.
The one potential weakness for wear may be the cushioning around the inside of the heel, but because the Heel Lock holds the heel in place, preventing it from rubbing away the fabric, I'd be surprised if that were an issue.
Summary
The F-Lite G 290 is a fantastically durable fitness shoe which is designed and built for the toughest gym environment.
It delivers stability and confidence whilst lifting together with grip, support, and flexibility for rapid bursts of energy as required.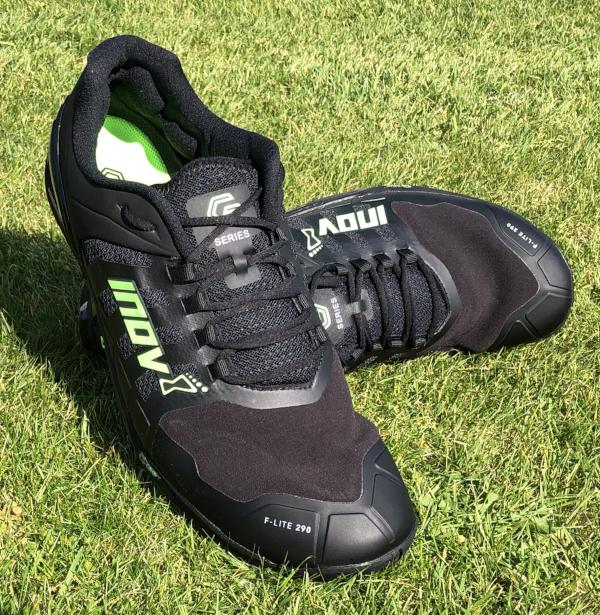 It is a comfortable shoe, although there is very little breathability within the upper (only the Adapterweb saddle is breathable).
This does mean that the foot can get hot during longer workouts or in warm weather.
My rating
This one is a little hard to rate as I cannot compare to other fitness shoes. I have however rated is in terms of quality, and suitability for purpose on a similar rating to running shoes.
If your fitness regime is primarily gym based whether that includes lifting weights, circuit training, or a combination of all of it, then I'd recommend this shoe.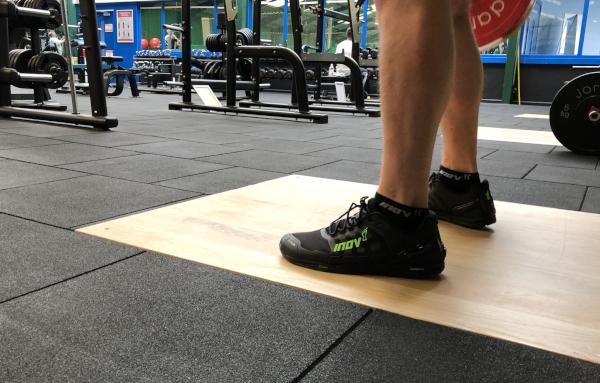 Its already being listed in some stores at £120, so is more affordable than originally, and given its durability, this shoe should prove to be a sound investment.
Whilst this is not really a running shoe, it will serve for shorter runs, especially if you are used to running in a minimalist shoe.
If you are going away for a week during which you're planning gym work, circuit classes and maybe a couple of shorter runs, then this shoe should serve as your one-shoe-fits-all solution.
No Nonsense. That's what the F-Lite G 290 is all about, just getting it done. My pair are black and remind a little of old school football (soccer) boots.
Generally, aesthetics aren't a major concern to me – performance is far more important, but if you like a stylish shoe, this may not be the one for you or at the very least. It'll take some getting used to.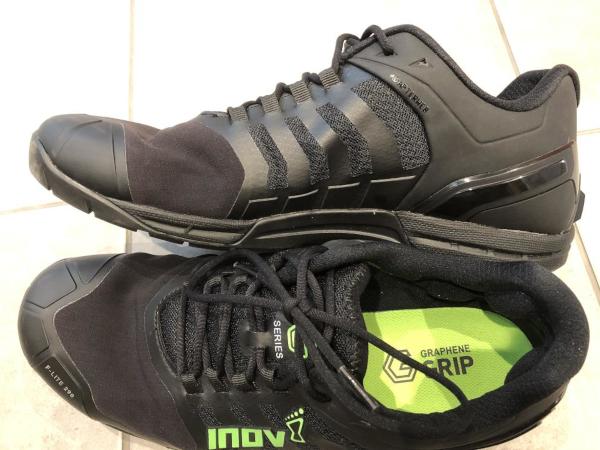 It is a little bulky in size, particularly around the toe box if not weight.
When you give the Inov-8 running shoe a good look over do you appreciate the technology and capability of the shoes, the materials feel high quality, particularly the sole (more on that later), and built to last.
So at first glance, the shoe may struggle to attract, but when you get your hands on it, you realize the effort behind the design for purpose and begin to regard its understated competence.
Fit
I have wide feet, which modern trainers don't tend to accommodate well and I normally opt for a half size up.
The 10.5 that I have felt well sized for me. They fit well for width but are a little long, so I could probably have gone a half size down.
However, the upper and laces allow the shoe to fit comfortably. There is extra padding around the heel to lock it in, which promotes a feeling of security of fit.
Upper
The body of the shoe is segmented with a Kevlar reinforced toe box leading into a mesh over the midfoot where the laces sit to form the upper around your foot securely.
The shoes are tough where they are supported but allow a great degree of flexibility which follows the form of the foot during exercise and doesn't force it into a rigid shape which makes for a comfortable experience.
With a fell akin to neoprene, initially, I was worried my feet would overheat. But the material seems to function well, and my feet weren't notably hotter than the rest of my body after an intense workout.
Midsole
I am really quite impressed with the comfort and cushioning given the low depth afforded to these trainers.
When worn barefoot, there were a couple of seams which I could feel on the instep just in front of my heel. These could become a problem with extended use, but during workouts with socks, it wasn't an issue.
Outsole
The impressive rubber for the sole is reinforced by Graphene, a revolutionary material which in this application contributes to a tough, durable yet flexible outsole.
When you first feel the material, the sole feels very hard and a little slippery which raises questions around traction issues in some circumstances given the dynamic movements incorporated in most CrossFit workouts.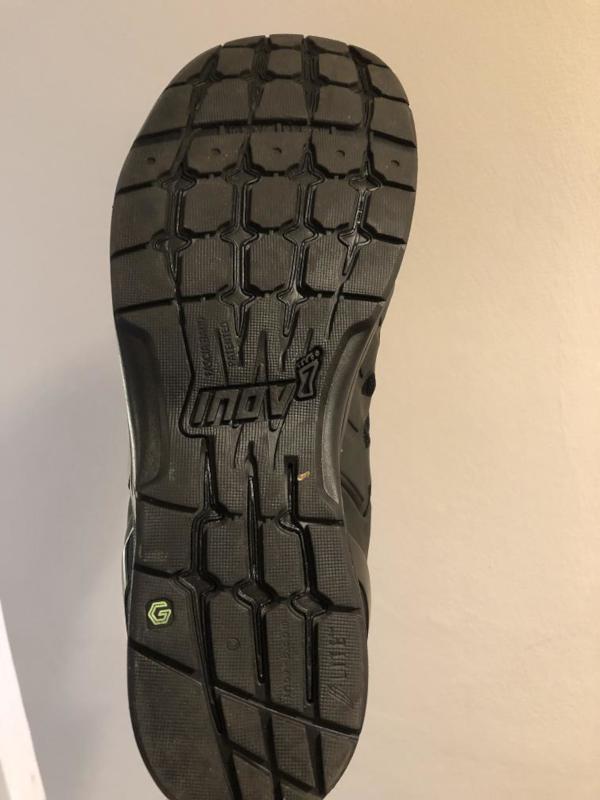 Parking the concern about the grip, for now, the hardness of the sole is very impressive, it feels like it'll last forever, but when you begin to bend the shoe, you also see it isn't at the cost of flexibility as the sole will deform to the movement of your feet.
In keeping with the trend for workout shoes, the heel is thin with a low heel to toe drop of 4mm to encourage good form. This was also interesting for me as someone keen to experiment with a more minimalist running technique which I touch on in the performance section.
Performance
These are highly capable shoes. I have used them across a wide range of workouts (CrossFit, running cycling), and they have been superb.
They provide a solid platform which really helps develop your techniques in basic exercises such as squats, jumps, lunges, and burpees.
They are robust, so they protect your toes, for example, during mountain climber sets. They have a thin layer of cushioning, which makes them relatively comfy, yet doesn't absorb much energy.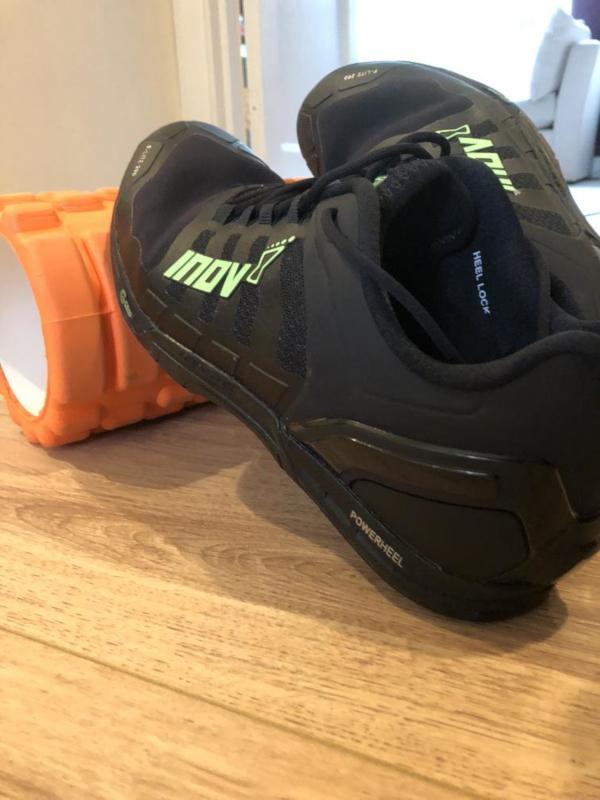 The low drop from heel to toe helps stabilize dynamic movements such as deep squats, but for me is also a great step to trying more minimalist running.
The limited mileage I have done so far is treadmill based, but I would take these on outdoor runs without much concern – unless it were wet.
My overwhelming experience with these shoes is positive. They do tick all the boxes intended, but there are a couple of concerns to be aware of. The main concern is the traction in low grip conditions, such as a wet studio or pavement.
I have done a core class on a mat and found them a little lacking, and one class I attend is a dance studio type floor with laminated wood which if wet, would make me nervous about slipping.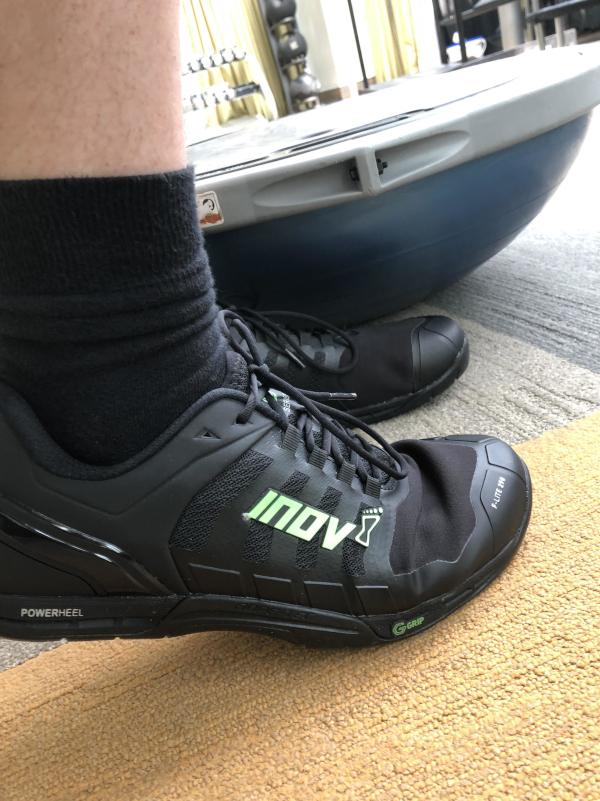 The vast majority of the time it's fine, but the compromise of that tough graphene reinforced sole does seem to be with traction in low grip circumstances and given HIIT classes get sweaty there was a concern they might slip.
I haven't had any issues as yet, and it should be said some running shoes also struggle on low grip floors.
Pros
Supportive, flexible, comfortable and protective
Versatile across exercises and workouts from weightlifting, CrossFit, and spinning to minimalist running
Cons
Slight concern about traction on lower grip surfaces
Price is not cheap at full price
Conclusions
Having previously done HIIT classes in running shoes, these Inov-8 F-Lite G 290's shine a light on how the correct footwear can enhance a workout.
They will last ages and positively affect your exercise, providing a comfortable, flexible, yet supportive and protective platform.
A key property to be aware of resulting from the hard sole material is a potential slip risk on low grip surfaces, but this is a relatively infrequent issue.
Bottom line – I will continue to use these for my workout classes; they are superb for the job.
Sturdy heels, lightweight comfort, discreet style. All 3 embody the Inov-8 F-Lite G 290.
From climbing ropes to pushing sleds, to wiggling your toes in a nice deep PR squat, this shoe allows you to do it all. It has reinforcement in all the right places, but never compromises comfort for performance, or performance for comfort.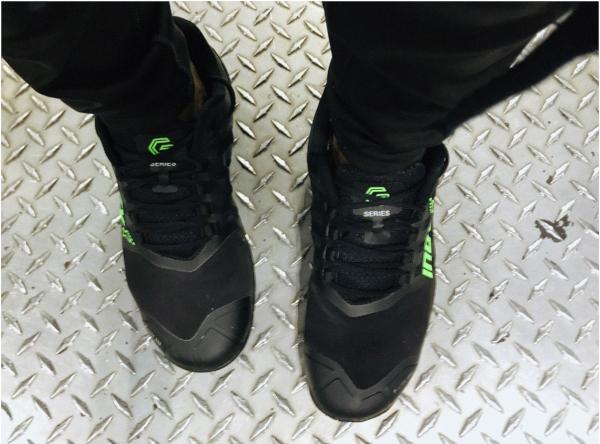 Looks
This isn't necessarily a shoe for the flashy. It's not a shoe for the weak either. Black on black on black with a splash of "Monster" green make this shoe look the part that it completely is supposed to play.
Tipping its hat to the workhorses at the gym, this shoe just wants to put in the work. From the moment you put it on to the time you are exhausted, Inov-8 has made this shoe a performer through and through.
Just like you, they don't strut around saying look at me between sets, but when you are setting new PRs, the Inov-8 F-lite 290 has your back.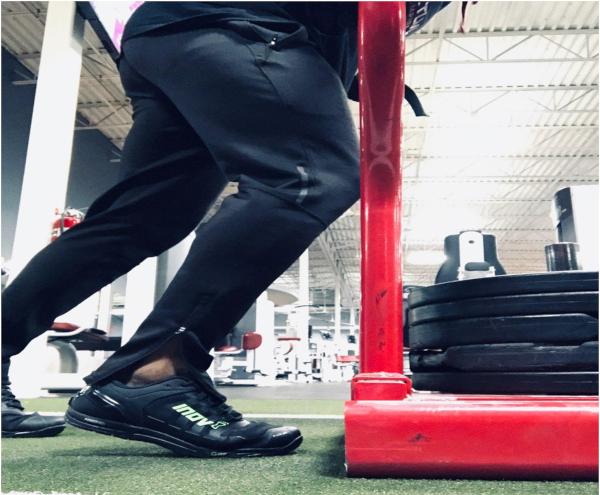 Fit
The Inov-8 F-lite G 290 is pretty true to size. If you need to, err on the side of caution in sizing. The only irritation (albeit VERY minor) was the crease in the toe-box as the foot bent back and forth.
Nothing more than noticeable, and irritant is probably too harsh a word for it. In time, I would expect this to become a non-issue.
This shoe is very lightweight, making the fit even more comfortable, yet has the firm Powerheel to absorb and hold off movement when lifting those shiny weights.
Grip
The only shoe ever made with a graphene technology developed from climbing rubbers. This sticky rubber outsole will keep you steady on a variety of surfaces.
The gym I attend has the rubber mat gym floors as well as some coated concrete, and the shoes held study in all lateral moves, burpees, and other movements where a typical gym or running shoes might not hold up as well.
Feel assured knowing that you can work out on any surface without issue. From turf to gym mats, concrete Crossfit box floors, pavement, dirt, or rubberized track flooring. The grip tech in this shoe just flats out rocks.
Grooves in the outsole provide multi-directional flexibility. This allows the shoe to move naturally with the foot but never gives away on the floor.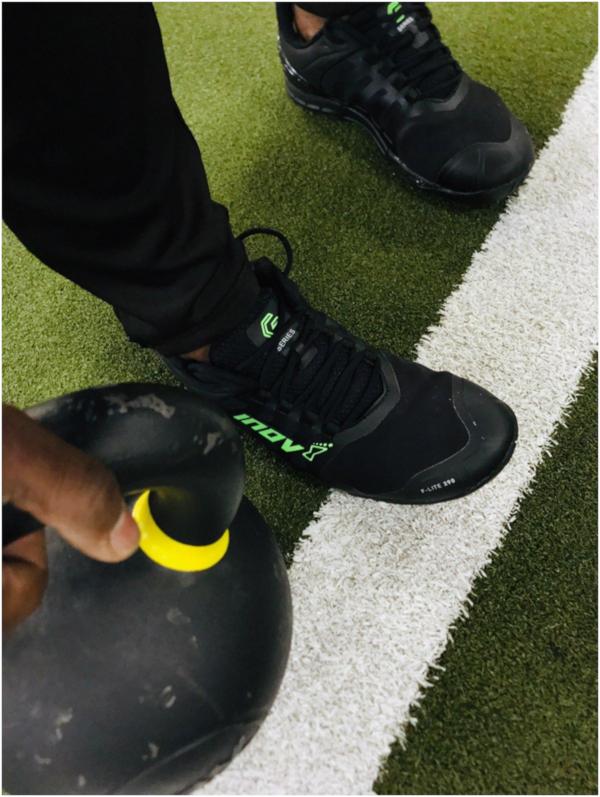 Overall verdict
Lightning fast, reactive, and weighing just 290g, the F-Lite G290 is designed to be the toughest fitness shoe for the most demanding workouts. The Inov-8 F-Lite G 290 is built for the hard-working athlete.
Functional fitness and varied, high-intensity workouts need the kind of equipment and protection that you can rely on and the F-Lite G 290 is here to work for you. Is the breathable mesh upper is enhanced with Kevlar (you know that stuff they wear in the military that saves their life?
Yeah, that kevlar to provide optimal security and durability. The meta-flex grooves in the forefoot and a new, Graphite-infused rubber outsole offer premium traction and durability that was explicitly designed to withstand your daily grind in the gym.
According to the Inov-8 website, "the Powerheel is 40% denser than the forefoot of the shoe." This provides a huge advantage in the mechanics of lifting weights.
You will notice the difference from a regular training shoe within seconds of putting them on. Also, the memory foam insert gives enough cushion for comfort without compromising the stiff sole that benefits your lifting.
Updates to Inov-8 F-Lite G 290
The first trainer ever to use graphene. The Inov-8 F-Lite G 290 is a CrossFit shoe designed to keep up with the toughest workouts available to humankind. It is launched as part of the Inov-8's G Series which highlights the Graphene Grip outsole. This graphene-enhanced rubber is described as being 50% more durable, stronger, and more elastic than the traditional rubber compound. It is also crafted to give traction on indoor and outdoor surfaces better than conventional rubber.
Impact protection with stability in the heel. The midsole uses the Exteroflow with Powerheel midsole. The Exteroflow component provides shock attenuation but is created in a way that also allows it to be responsive to movements. The Powerheel element is dense and adds stability necessary during lifts.
Same Kevlar that's used in bulletproof vests. The upper utilizes mesh, Kevlar, and synthetic elements to present a durable, flexible, and breathable support for the foot.
Outsole
The Inov-8 F-Lite G 290 is one of the three products introduced using the Graphene Grip technology for the outsole. Graphene is the thinnest material on earth but is said to be stronger than steel. It is also lightweight, which makes it a sensible component of training footwear. Graphene Grip is a graphene-enhanced rubber that is engineered to be 50% more hardwearing, more elastic, and stronger than common rubber. It also offers a better grip on indoor and outdoor surfaces. The outsole extends to the front and is welded to the rubber toe bumper, protecting the toes during burpees, sled pushes, pushups, and more.
The outsole is equipped with the Dynamic Fascia Band (DFB) technology. It replicates the location of the plantar fascia ligament of the foot and mimics its windlass mechanism to boost the energy return with each step.
The forefoot section features the Meta-Flex component. These grooves facilitate multi-directional flexibility and enable the underfoot to adapt to various movements and surfaces.
The outsole of this model extends up at the lateral and medial sides of the midfoot, creating the Rope-Tec element. This extension grips the rope during rope climbs and ensures that the person doesn't slide down too fast during descent, averting rope burns.
Midsole
The Inov-8 F-Lite G 290 employs the Exteroflow midsole with the Powerheel stability. The Exteroflow falls under the one arrow shock category. It means that is has a minimal drop, 4 mm, which translates to a medium level of cushioning with higher responsiveness in Inov-8's standards. As for the Powerheel component, it makes the heel 40% denser, providing steadiness and support during squats and weight training.
Upper
The upper of the Inov-8 F-Lite G 290 is made of mesh with the forefoot reinforced with Kevlar. The mesh fabric aerates the foot chamber. As for the Kevlar, this material increases the durability of the upper, protecting the foot against abrasions during workouts. Synthetic overlays are fused onto the upper to heighten the abrasion-resistance of high-friction areas such as the toe box and the quarters.
The midfoot is adorned with a lacing system that integrates with the Adapterweb Met-cradle innovation. The webbed eyelets create a cage-like structure that becomes taut when the laces are tightened. The fit becomes snug and the lateral stability is increased.
Found at the rearfoot is the thermoplastic polyurethane heel clip. This element holds the heel steady during dynamic movements.
The tongue and collar are both lightly padded. The tongue protects the instep against the pressure created by the laces. Aside from keeping the back of the foot comfortable and free from chafing, the collar also locks the heel down to prevent accidental shoe removal.
Compare popularity
Interactive
Compare the popularity of another shoe to Inov-8 F-Lite G 290:
Inov-8 F-Lite G 290 video reviews