Verdict from 7 experts and 100+ user reviews
9 reasons to buy
Most buyers commended the wider toe box of the Stinson ATR 4.
Some runners liked that the latest version of the Stinson ATR is more cushioned, therefore softer and much more comfortable than its predecessors.
One user said that the durability has improved in the Stinson ATR with the fourth version's new tread pattern.
Another user was impressed with the superior quality lugs that provide great traction.
Several wearers were satisfied with the performance of the Stinson ATR 4 on long-distance running: the underfoot foam provided enough comfort, and the rocker-shaped midsole delivered progressive transition and impact absorption.
It required almost no time to break-in and there is no experience of pain, according to some users.
A runner said that wearing this shoe helped alleviate the pain from their plantar fasciitis.
A couple of users felt that the Stinson ATR 4 is true-to-size.
According to a lot of consumers, the Hoka One One Stinson ATR 4 is a well-balanced and stable shoe that also provides adequate grip and level steadiness.
4 reasons not to buy
One user felt that the heel counter of the Stinson ATR 4 was too high and rigid.
Despite a wide toe box, many runners felt uncomfortable and bothered by the overlay on top of the toes; they said that it felt too stiff and that it rubbed against the sides of the toes.
Some runners felt that this shoe was lacking in responsiveness.
Several users commented that it was difficult to feel a secure fit with the Stinson ATR 4 because of its apparently loose upper construction.
Bottom line
The Hoka One One Stinson ATR 4 is an all-terrain running shoe that is suitable for neutral runners. This latest version boasts a more accommodating fit that guarantees comfort and protection no matter the surface of the trail. A shoe with a completely new structure yet the same experience of comfort and stability, the Stinson ATR 4 is guaranteed to catch the attention of runners who are after a maximal cushioned shoe for long-distance trails and ultramarathons.
Tip: see the best trail running shoes.
Our reviews
Although it comes with sacrifices—heaviness and an unavoidably awkward stack height—the maximalist cushioning of the Stinson ATR 4 makes it a great option for trail ultra-runners.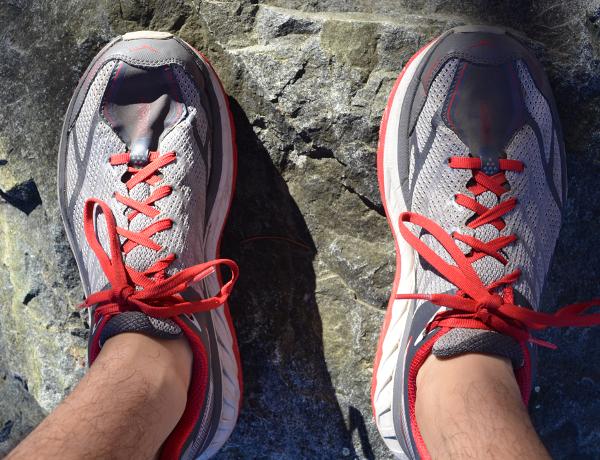 Who the Stinson ATR is great for
Hoka has made its name in the ultra-race category and won lifelong loyalty from runners with knee, hip, or other joint issues who really need the extra cushioning. For these long-distance runners who don't mind wearing heavy clown shoes (the Stinson weighs 11.8 oz for a men's size 9, with a 37mm stack height in the heel), the Stinson ATR is a terrific option.
I joke about the Stinson's massive stack height, but after about 15 miles, the extra cushioning is amazingly beneficial, and the thousands of Hoka loyalists can attest to the benefits of the extra plush foam underfoot. The amount of leg fatigue I felt from a 30-mile run in traditional shoes versus a 30-mile run in the Stinson ATR is night and day.
My recovery time from long runs was dramatically shorter in the Stinson ATR compared to more conventional stack height shoes, feeling fresh and ready to go back on the trails the next day, versus requiring as much as a week of ice baths, rolling, and rest. I'll admit, I was skeptical about the maximalist fad as a rebound from the minimalist wave a few years prior, but Hoka has proven itself in practice.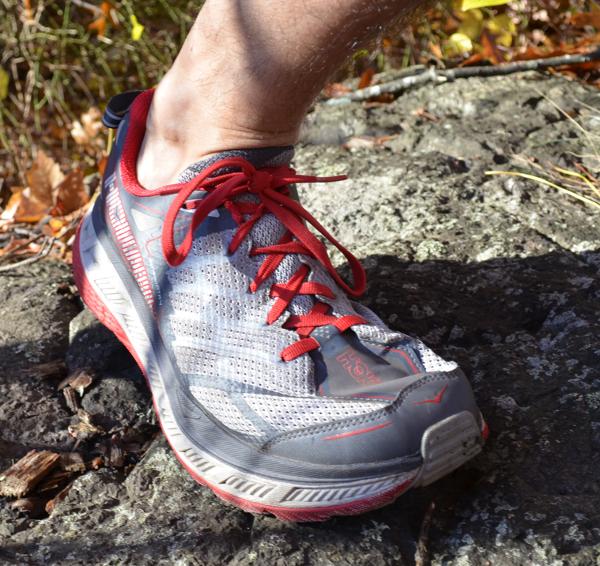 Although the Stinson's maximalist cushioning works wonders in reducing leg fatigue, it does come with sacrifices. These sacrifices start at the base of the shoe, in the outsole, which I was acceptable, but not amazing. The Stinson slipped around on rocks, leaves, and mud in a way that left me longing for other, grippier trail outsoles like those by Salomon or Inov-8.
This is especially problematic for the Stinson, which situates you so high off the ground that any slipperiness in the outsole gets compounded by the fact you feel like you're running on stilts, resulting in wobbling, misplaced footing, and injuries. I'm usually sure-footed on trails, but I rolled my ankle more than once in the Stinson.
One advantage of the outsole is that it works fine in a range of conditions, including packed dirt or gravel trails, as well as pavement. More aggressively lugged outsoles don't have this versatility. Also, the outsole held up well over 400 miles and looks like it'll far outlive the durability of the midsole.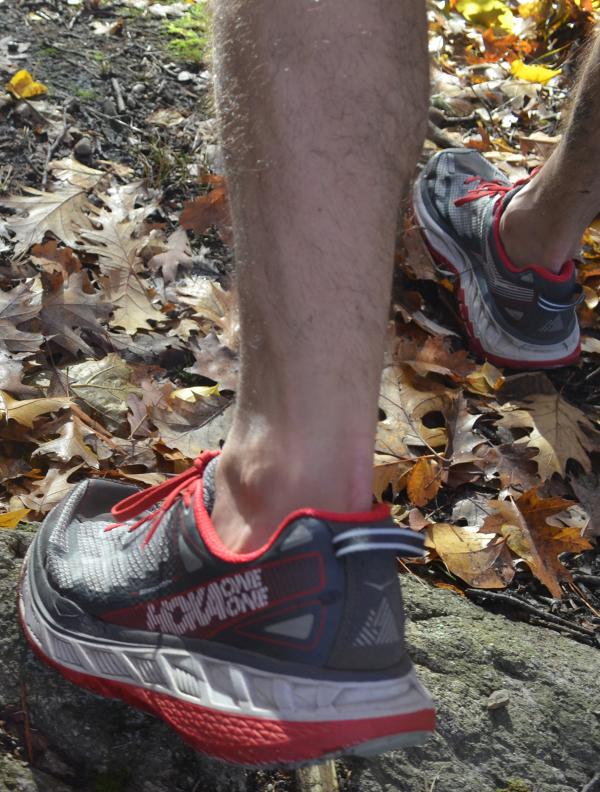 The midsole of the Stinson ATR is terrific. Soft, plush, and everything you would expect from a Hoka shoe. The midsole's rocker shape and natural 4mm heel-toe ratio give a smooth transition through the gait cycle toward toe off despite the shoe's stiffness.
And even though the midsole is extremely soft, it is also durable: it feels as soft at the start of a long run as it does at the end of the run, and it feels as soft fresh out of the box as it does over 400 miles later.
Finally, the upper on the Stinson ATR is very good. Its heel shank gives stability, and its mesh upper breathes well. The upper is mostly-seamless, so it doesn't rub uncomfortably except in one area: a rhombus-shaped overlay right above the toe box, which I found bent down and chafed the tops of my toes, becoming a nuisance especially on high mileage runs.
The last of the Stinson is well designed and stays snug in the midfoot and heel while giving space in the toe box for foot metatarsals to splay out, and for feet to swell during long runs. One final little touch I liked about the upper was the stretchy laces, which I found kept the shoe locked down even after dozens of miles, and after getting wet.
A Look at the competition
Just like the minimalist fad a few years ago, the maximalist running shoe world has become an oversaturated boom market.
One doesn't even need to look outside of the Hoka brand to find competitors to the Stinson, such as the Speedgoat and the Challenger (both slightly lighter, slightly less cushioned). Even Under Armour has a competitor, the Fat Tire, a maximalist trail shoe of similar weight and stack height boasting a Michelin rubber outsole.
But the biggest direct competitor is the Altra Olympus 3, with almost exactly the same weight (11.7 oz for a men's size 9), almost exactly the same stack height (36mm at the heel), a very similar design to the outsole, and a similar wide toe box.
I have to admit I haven't run more than a lap around a parking lot in the Olympus, but have run in the Lone Peak and Superior, and consistently find the heel-toe transition of Hoka shoes to be much smoother than the slapping sensation of Altra shoes that results from the flat, slab-like shape of Altra midsoles.
Given that you'll be spending a lot of miles hanging out on the trails in these shoes, I suggest heading over to a specialty running store yourself and trying a range of options to see what works best for your particular foot type and gait.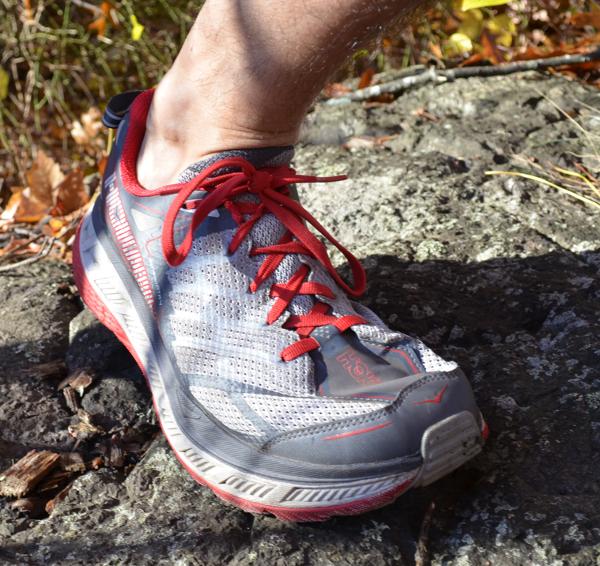 Who the Stinson is Not made for
1. People with self-esteem issues. Show up at the trailhead or walk down a sidewalk with these down pillows on your feet, and I guarantee you will get chuckles with comments of: "what are those?!" If that in any way will bother you, look for a different shoe.
Hoka has made some amazing progress from their early days in the design department, adding stylistic features that break up the profile of the shoe and make them look slightly less tall and goofy, but they still look like sneakers Ronald McDonald or the Michelin Mummy would wear. That said, most people who spend multiple hours alone running in the woods every week probably don't care what humanity thinks of their fashion sense anyway.
2. Anyone running a reasonable number of miles, or anyone without serious joint injuries should find a lower stack height shoe with less cushioning. The maximalist category of running shoes is completely unnecessary for anyone other than ultra-runners runners and presents real risks when running on trails because of how high off the ground the runner is positioned.
I'm usually very sure-footed, but in the Stinson, I haven't gone on a single long-distance run where I didn't slip, lightly twist an ankle, or come down funny on a rock because of the awkward foot positioning. It is a very clear tradeoff between maximized cushioning and secure footing. If you don't need that extra cushioning, another shoe may be a better option, like the Hoka Speed Instinct 2.
3. Runners who need some arch support to manage overpronation: the Stinson is completely neutral. That said, the heel shank and removable sock liner make it accommodate supportive inserts well. Hoka also does a better job with inserts than Altra's "natural foot shape" which typically leaves a big gap in the toe box area where inserts aren't cut proportionally wide, resulting in toes hanging over the edge of the insert, and the insert sliding around inside the shoe.
The Hoka One One Stinson ATR 4 is the latest version of the popular Stinson model.
The All Terrain name implies that the shoe is a good fit for a variety of terrain. After 190 miles in these shoes, this reviewer feels as if the shoe lives up to its name.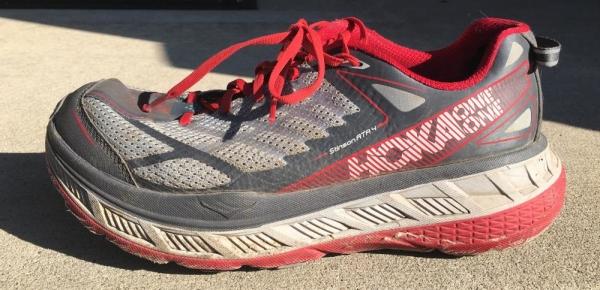 Performance
The majority of the time, I've spent in these shoes has been on mountainous terrain in western Montana. The trails have ranged from winding single track to old forest service roads. I'll sometimes connect these with sections of paved roads and pedestrian paths.
The Stinson ATR 4 has performed well on all of these surfaces. The sole and its 4mm lugs are aggressive enough to handle tough, rocky talus, yet subtle enough to ride on gentle trail surfaces without feeling overkill. On wet, muddy trail I rarely felt a lack of traction.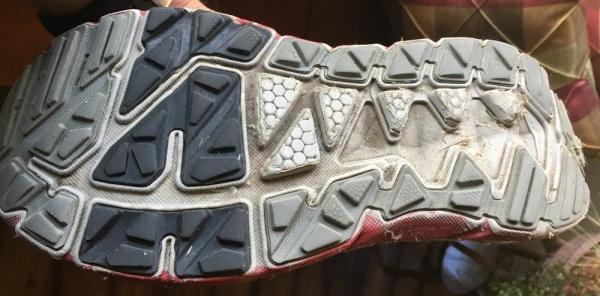 The MetaRocker technology helps to facilitate a more natural running feel and footfall. As a runner who has struggled for years to fix my sometimes heel-striking tendency, the Stinson ATR 4 works to help correct this issue and encourage smooth mechanics with a comfortable foot turnover.
The mesh upper has a soft feel on the foot. Unlike other maximal shoes that I've run in, the Stinson ATR 4 seems to hold on to less water than other brands which help to keep it from feeling heavy, even on trails with creek crossings and in the pouring rain.
Comfort/Fit
The Stinson ATR 4 has the classic Hoka plush cushioning. The "big" look of the shoe can be off-putting at first but once you get past the aesthetics the extra cushion is very welcome on longer runs and big descents.
Having done four trail runs of over 20 miles each in this shoe, I've come to enjoy the maximal cushioning and it's forgiving presence on my joints.
This shoe fits like a glove and was comfortable right out of the box. The Ortholite sockliner keeps debris out nicely and helps keep the tongue in place. The wide toe-box is a nice feature for those with wide feet or who simply like not feeling cramped.
I particularly liked this on runs that have extensive one to three mile downhill stretches. It allows for your toes to splay out rather than to be slammed into the front of the shoes.
While the shoe is on the heavier side (11.8 oz) next to other comparable brands and models, the extra ounces seemed a negligible difference to this reviewer and was unnoticed even after hours of running.
Durability/Value
The upper portion of the shoe has held up very well. The Speedframe technology wraps the foot nicely and after almost 200 miles of use shows little in the way of wear.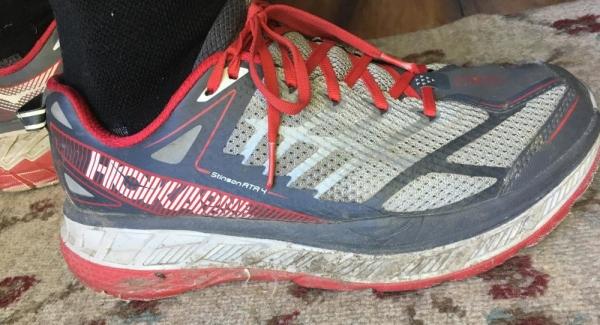 While I am always partial to a Vibram sole, like on the Mafate Speed 2, the sole of the Stinson ATR 4 holds up nicely, even after some abuse. The heel portion of the sole of the shoe is starting to reveal some breakdown but it is minimal at best.
The inside of the heel box is wearing away, but temper that with the fact that my bony heels do this prematurely to all of my shoes. I anticipate getting a lot more miles out of this shoe.
At $160.00 MSRP this shoe is a bit spendy compared to other brands. However, I think the combination of comfort, function, and durability justify the price tag.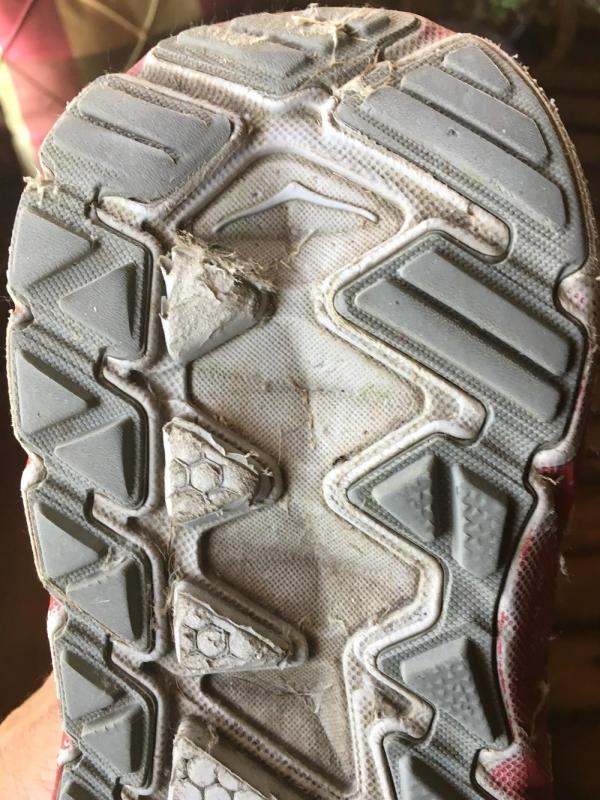 Conclusion
Overall, the Hoka One One Stinson ATR 4 is a very solid choice for a runner looking for a cushioned ride with a roomy toe box. It is extremely comfortable after the miles add up and your legs get tired.
The Stinson ATR 4 is built for long, rugged runs and will definitely hold up for the long haul. It will be my primary "go-to" shoe this season for long off-road runs as I prepare for my first trail 100K.
If someone were to design the perfect trail shoe for my feet, it would have two things. First, ample room for my toes to spread out and move around while running. Second, lots of cushioning to support both dirt and rocky trails.
I've tried many types of trail shoes, but most cause blistering on the sides, ends and between my toes because they do not provide enough room for my toes. I've tried many different combinations of trail shoes and socks, and often resort to using a combination of Glide and paper tape to protect my toes from blistering.
This problem is getting worse as I age, as my toes definitely need more room now than when I was younger. During a recent trail race, I noticed the majority of racers were wearing Hoka One One shoes.
The Hokas I tried in the past resulted in the dreaded toe blisters, but I wondered "Are my feet so weird that I am the only person who can't wear Hokas?" I decided to visit a local running store to try various types of Hokas to see if any felt good on my feet.
I tried three different models of Hokas, and it was like "Goldilocks and the Three Bears":
Hoka One One Speedgoat 2 (too narrow - not enough toe room)
Hoka One One Challenger ATR 4 (too hard - not enough cushion)
Hoka One One Stinson ATR 4 (just right - lots of toe room and maximum cushion)
First impressions
When I first tried on the Hoka One One Stinson ATR 4 in my normal size (8.5 men's), I thought I found my personal "holy grail" of trail shoes. They felt great (not sloppy) in the midfoot and heel area, and very comfortable and roomy in the toe box area.
I didn't feel any annoying seams and the arch support felt good. I especially liked the maximum cushioning and knew the balls of my feet would thank me on long runs and races on rugged trails.
Hoka One One Stinson ATR 4 out of the box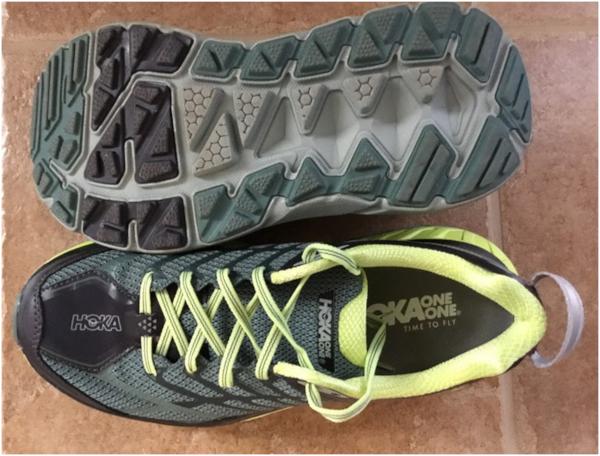 First run
During my first 13 mile trail run in the Stinson, I immediately noticed how big they were compared to my other trail shoes. I felt like I was wearing clown shoes.
I thought this maximalist shoe might require a change to my gait, but no changes were required. The Stinsons have a built-in rocker design that naturally encourages my feet to roll forward.
This not only made running more enjoyable but it also felt easier. My feet felt so great I was able to run much longer than I had planned.
The best thing about the Stinson is there were no blisters on my toes or any hot spots on the balls of my feet. I also noticed much less muscle fatigue and soreness the next day. This gave me hope I might be able to run farther on tired legs with the Stinson.
Hoka One One Stinson ATR 4 are big shoes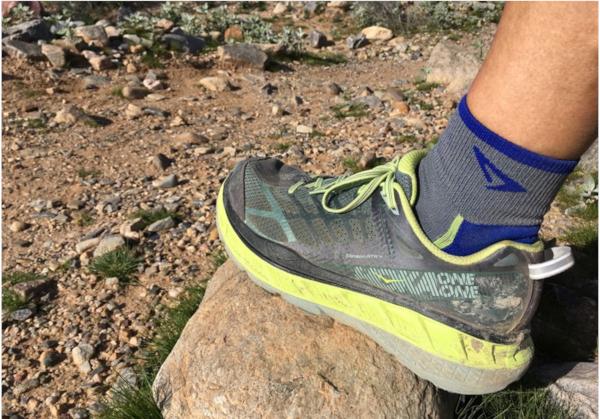 50 km trail race
For me, the true test of a trail shoe is how it performs in a trail race of at least 50km. Would the Stinson provides breathability, durability, room in the toe box, traction and responsiveness I needed for a long day on dirt and rugged trails?
In January, I wore the Stinson's for a 52 km race in Arizona, and they exceeded my expectations!
Fit
The Stinsons felt fantastic during the whole race. My feet felt secure and comfortable from start to finish. I wore gaiters with my shoes and did not have any problems with any debris (rocks or pebbles) in my shoes.
Stinson feels secure and comfortable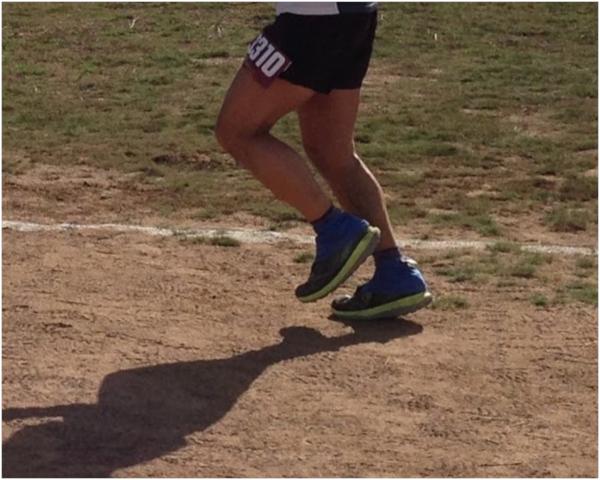 Support for Achilles
In the past, I've had problems with my Achilles' tendons when wearing low drop shoes. Although the Stinson is considered a low drop shoe, I found the 5 mm heel-to-toe drop was good, and I didn't experience any soreness with my Achilles' tendons.
Breathability
The mesh on the upper part of the Stinson let my feet breathe as the temperatures warmed up and my feet got hotter. They also dispersed water quickly when I ran through the water.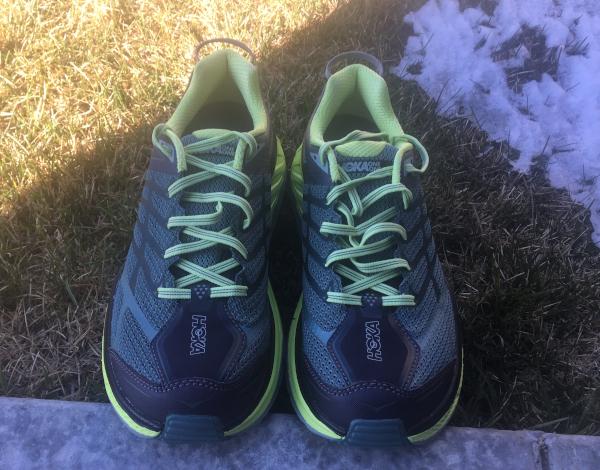 Durability & protection
The Stinson has a lot of thick material around the top of the shoe and across the toe area. This material is very robust and protected my toes from minor bumps.
Toe box
During a race or long trail run, my feet usually swell, and my toes rub against some parts of the shoe. This was not the case with the Stinson. My toes had lots of room to move around. I especially enjoyed descending rocky terrain in the Stinson as my toes were not bumping against the front of the shoe.
Cushioning
There is a lot of cushioning in the Stinson, so I was able to push off rocks without any discomfort. After a 50 km race, the balls of my feet are usually sore, but I did not feel any hot spots or tenderness wearing it.
I also usually have tired and sore legs the day after a race, but the extra cushioning in the Stinson absorbed a lot of impacts, so I was pleasantly surprised at how good my legs and joints felt the next day.
Traction & stability on dirt trails
The Stinson is a very stiff shoe, and they provided excellent side-to-side stability. I felt balanced and could easily adjust my pace due to excellent traction on dirt trails and in the muddy sections of the course.
Stinson provides excellent traction and stability on dirt trails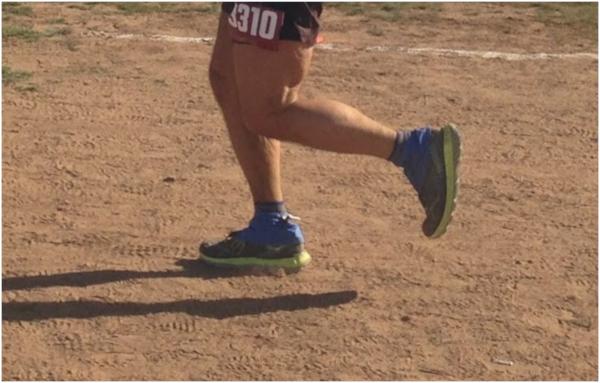 Traction and stability on rocky terrain
The Stinson provided excellent traction on rock and loose scree. The lugs easily handled rocky, technical trails and the wide base of the shoe made me feel very secure.
Responsiveness
The Stinson offer a "plush ride" and felt very soft while running. Although this reduced the amount of responsiveness (shoes did not provide a lot of spring), I will gladly sacrifice some responsiveness to gain the ability to run extra miles because of the extra cushioning.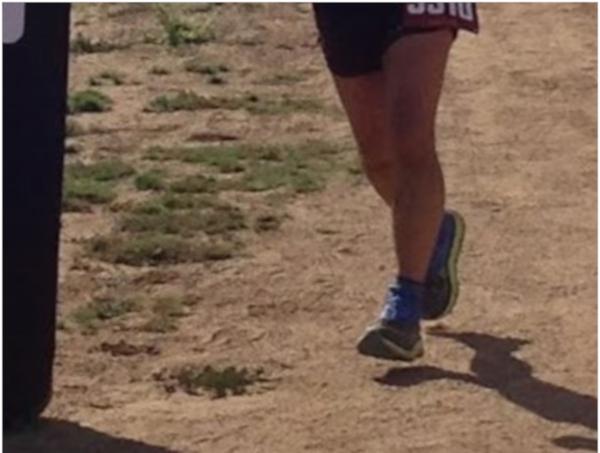 Weight
The Stinsons are heavier than my other trail shoes (Topo Athletic Terraventure, Brooks Cascadia) but they did not make my legs or feet feel tired.
Pros
Fit (secure and comfortable)
Support for Achilles (5 mm drop)
Breathability (breathable upper mesh)
Durability and protection (robust material)
Room in the toe box (happy toes)
Cushioning (excellent underfoot protection)
Traction and stability on dirt trails (good on dirt and mud)
Traction and stability on rocky terrain (good on scree and rugged terrain)
Cons
Responsiveness (lack of spring)
Weight (heavier than most)
Overall
The Stinson is a very good trail shoe for dirt and rocky trails. I have over 200 miles on them, and they still feel great. They have become my "go-to shoe" for training as I prepare for my first 100 km ultra.
Note: Unfortunately, Hoka does not make a road shoe with the same wide toe box as the Stinson. However, maybe if enough people ask for it, they will make it.
Good to know
The Stinson ATR 4 is an all-terrain running shoe from the Hoka One One. The most noticeable feature is its wide toe box, which many users have looked for in previous releases of Hoka One One, but have never found.
The shoe has maximalist cushioning using compression molded EVA and a late-stage Meta-Rocker midsole that helps in impact absorption – it's designed to look enormous, but it offers the same traditional Hoka One One cushioning that's sought after by many.
The breathable mesh of the upper unit is made with Hoka One One's unique Speedframe Technology to deliver a soft and seamless wrap. Added overlays ensure durability and protection for a total running experience.
The Hoka One One Stinson ATR 4 comes in width profiles of D – Medium for men and B – Medium for women. With more room in the toe box, this shoe aims to accommodate those with high-volume or low-volume feet.
The outsole design of the Stinson ATR 4 was designed to protect the foot from rocks and debris. It has 4 mm sticky lugs that are positioned closely together to provide a great grip in all conditions. This version has an updated stack height, heel-to-toe drop, and weight, to ensure a comfortable experience on long-distance runs.
The rubber outsole also features a high-abrasion, full-ground pod-like design to provide stability on uneven terrain. Most wearers have observed that the shoe can handle a lot of shocks, and its tread provides extra traction that is just right for brutal trails.
The high-volume midsole and the late-stage MetaRocker design provide maximal cushioning and a smooth ride for the foot. This rocker feature encourages an efficient stride and an easy foot turnover.
The shoe also includes a removable molded Ortholite insole, for added cushioning and comfort. The thickness of the shoe offers protection from side impacts and small rocks. Compared to a standard running shoe, the Stinson ATR 4's midsole has a thicker platform, so it aims to deliver excellent shock absorption and a stable ride without sacrificing flexibility. Runners who are after an alternative might want to consider the Bondi 6, which is also a Hoka One One running shoe.
There are flex grooves patterned in the midsole to keep the shoe from being stiff.
Made with reinforced open mesh using Speedframe technology, the Stinson ATR 4's upper is rugged and durable, yet soft enough to remain comfortable.
It also has added overlays to secure the foot and protect it from impact and stress, allowing the wearer to go on longer runs.
The upper also has a wider last for a more accommodating fit, especially in the forefoot and the toes. This feature allows for enhanced performance on technical terrains.
The padded tongue and collar add protection and cushioning to the top sections of the foot. They also prevent accidental shoe-removals. This design has been consistent across all the versions of the Stinson ATR, including the latest release.
Rankings
How Hoka One One Stinson ATR 4 ranks compared to all other shoes
Popularity
The current trend of Hoka One One Stinson ATR 4.