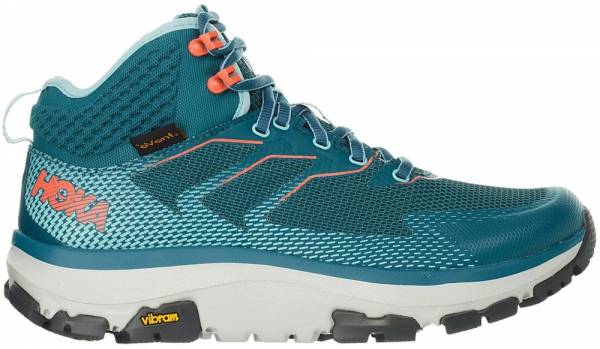 The Toa was celebrated for being a light piece of outdoor gear that bestowed loads of comfort and cushioning on the trail. The boot's waterproofness, traction, and ankle support were also commemorated by the hiking community. However, its high price and lack of arch support may cause some to turn away from this product. All in all, the Hoka One One Toa excels as a performance-driven hiker.
---
Verdict from 12 experts and 100+ user reviews
6 reasons to buy
Plenty of verified buyers rave about the cushioning granted by the Hoka One One Toa.
Its waterproof liner is effective against most wet trail conditions, as testified by numerous adventurers.
The majority considers the Toa to be an immensely comfortable hiking boot.
Its performance on rocky trails and uneven terrain has merited praises from a handful of users.
Its lightness has left a good impression on some consumers.
A minority of wearers are impressed with the ankle support provided by this Hoka One One offering.
2 reasons not to buy
Several purchasers report that the Hoka One One Toa's price was a bit steep.
According to a few owners, it didn't give enough arch support.
Bottom line
The Toa was celebrated for being a light piece of outdoor gear that bestowed loads of comfort and cushioning on the trail. The boot's waterproofness, traction, and ankle support were also commemorated by the hiking community. However, its high price and lack of arch support may cause some to turn away from this product. All in all, the Hoka One One Toa excels as a performance-driven hiker.
Best price from 30 shops
We earn affiliate commissions at no extra cost to you when you buy through us.
92% say it's true to size.
Our reviews
Disclaimer: I have received these shoes at no cost through RunRepeat.com for an unbiased and objective review based on my expertise and usage of these shoes.
I've run through a pair of the Challenger 2 ATR and loved them. Meanwhile, I have a few friends who have put some serious mileage on other Hoka shoes and sing their praises. And, currently, Speedgoat 3 is the benchmark for an exceptional trail shoe.
Hoka One One (pronounced: Hoe-kah O-nay O-nay) knows how to make top-notch trail running shoes, and is a brand you can trust when looking for a maximalist shoe for high-mileage days.
The brand is also well-established creators of road running shoes. But, I'm going to focus on their trail shoe prowess since this is a hiking shoe review.
Hoka has been making hiking boots since 2015, but this style is a bit of a new twist with the Men's Sky Toa.
Hoka is trying to make a lightweight, well-cushioned, waterproof hiking boot with a little bit of lateral ankle stability, and my first impressions are that they are off to a pretty great start!
Figure 1. Sky Toa's after 50+ miles of hiking.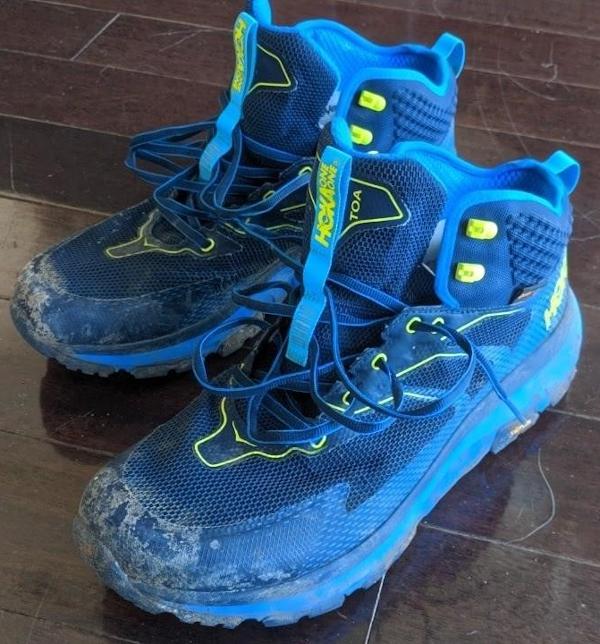 Design
The first thing that struck me when I picked these up was that the boots feel exceptionally sturdy and well-made, yet surprisingly light!
I've gone away from hiking boots almost entirely because I hated how heavy the boots for my size-12-feet always seemed to be. However, these shoes are 15 oz for a men's size 9, which is heavy for a running shoe, but extremely light for a boot with ankle support!
Another thing that I love about these shoes is the low heel-toe drop. I prefer a more neutral shoe with low or zero heel-toe drop, and I often find that hiking boots tend to have large heel-toe drops.
If you prefer your shoes to be more neutral and need a hiking boot, I would strongly recommend you consider these boots.
Upper
The upper is sturdy, synthetic, and waterproof, so these boots are excellent in the cold, but not ideal for warm weather hiking. When I got these boots, it was the end of summer, and I didn't love wearing them at first because my feet would just pool with sweat.
However, when the days got colder and wetter, these uppers began to shine. They are thin but pair well with wool socks to make for a warm and flexible upper that provides some lateral ankle support without feeling restrictive.
After 50+ miles on them, the only blemishes on the uppers are dirt from the trail, so they are durable as well!
Figure 2 shows the sewn-in tongue of the upper, which is imperative effective waterproofing.
Figure 2. Upper with a sewn-in tongue.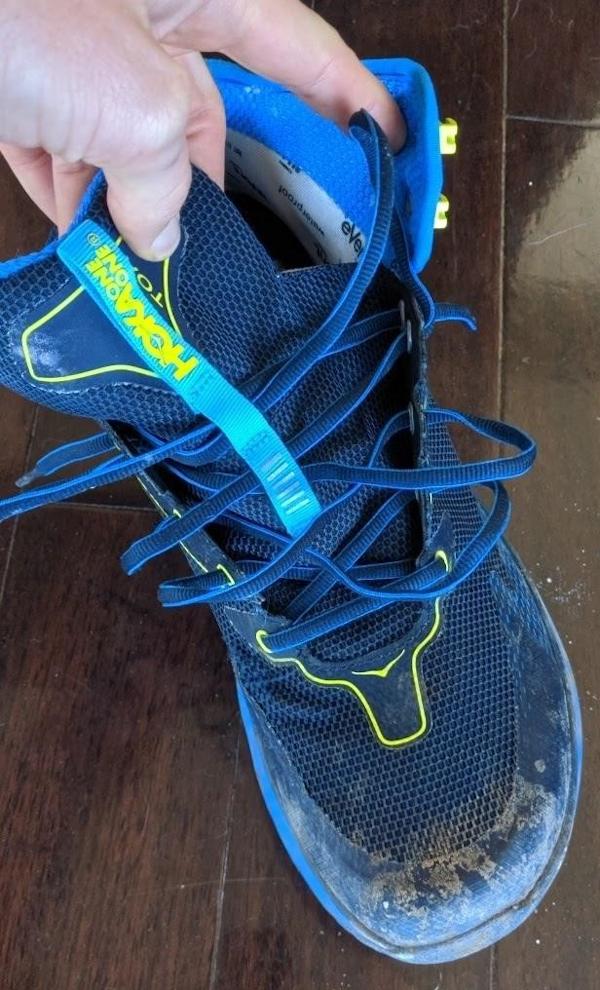 Midsole
The Hoka One One midsole is what makes this shoe stand out, as is the case with pretty much any Hoka shoe. The midsole of the Hoka shoe is never as thick as it looks from the outside, which they supposedly do to provide extra stability, feedback, and protection.
The midsole in Toa is no exception to the Hoka brand. It's responsive yet still soft so that my feet never felt tired, even if I was walking or hiking all day over rough terrain.
Outsole
The outsole is the first thing that gives me any sort of pause with this boot. It's great, but the Vibram rubber is not spread over the entire base.
Instead, it is interspersed through a moderately stiff midsole material. This gives me some hesitations about the boot's durability, shown in Figure 3 and 4. Most other hiking boots I've worn have the entire outsole made of hard, durable rubber.
However, after 50+ miles the outsoles have shown almost no signs of wear despite hiking on asphalt, rocks, mud, and limestone, so Hoka must have done their homework with this outsole!
Figure 3. The harder Vibram rubber is interspersed throughout the softer midsole material.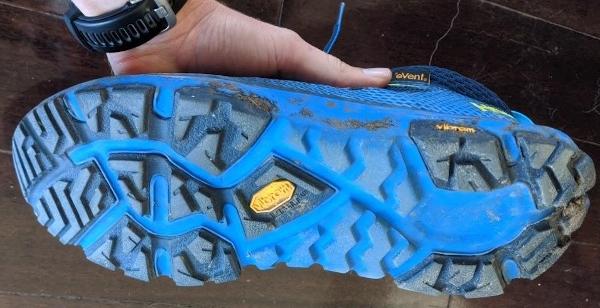 Figure 4. Another view of the mid and outsole.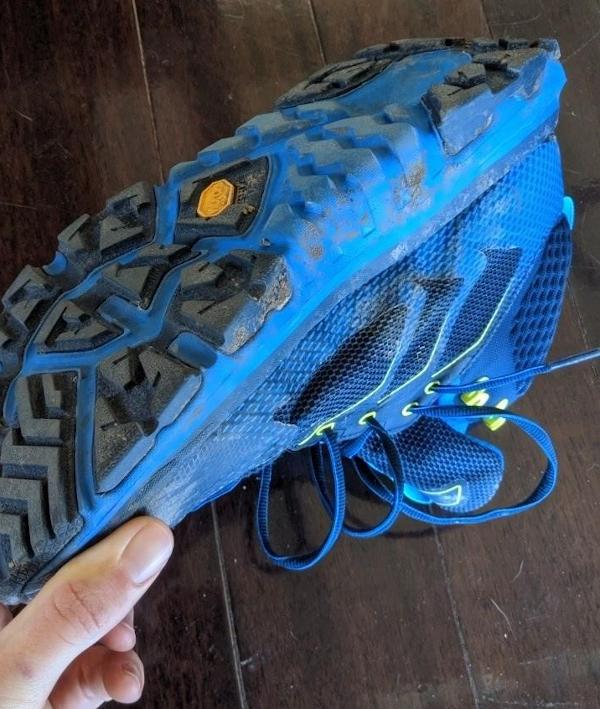 The outsole is also the right amount of grippy and has well-sized lugs. Big enough to give you confidence wherever you put your foot, but not so big that they trap tons of mud or get caught on things.
Performance
I am very impressed with how these shoes feel on the feet. The break-in period was nearly non-existent. So long as it's not hot out, you can wear them all day, as they don't feel bulky or cumbersome even if you're off the trail.
Figure 5. The boots kept my feet dry during an unexpected rainstorm we had to hike through!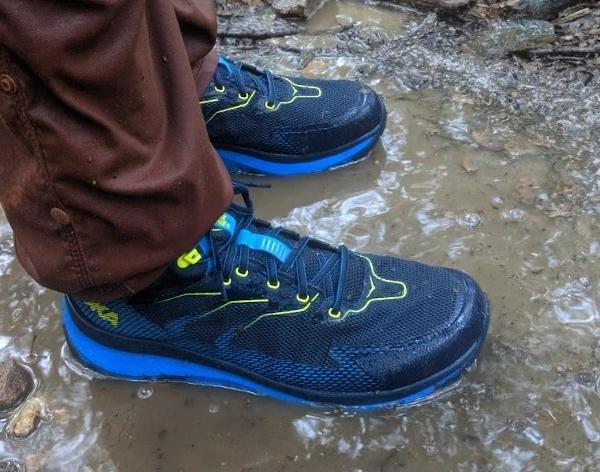 Durability
Haven't noticed a single durability issue with these boots. They are built like tanks. Time will tell if the midsole material that makes contact with the ground will last, but so far so good.
Fit and comfort
I wear a size 12 in most shoes, and these fit well. But, they are a tad tight when I wear wool socks with them—not uncomfortable, but I would probably appreciate just a little more space to accommodate the thicker socks. I would suggest going half size up if you're in between sizes.
Comfort-wise, I am blown away. They are warm enough to take them out in the snow and are light enough so that you're feet and legs don't feel tired.
The cushioning is plentiful but responsive, so you feel like you can hike really fast in them without an issue. Also, the lacing is excellent and keeps my feet secure in the boot.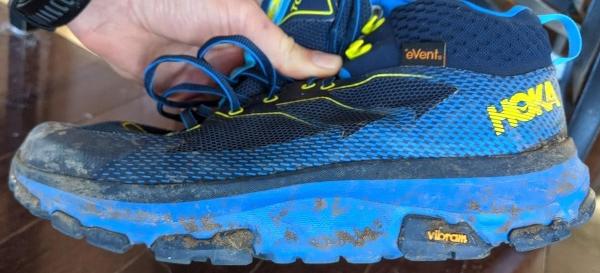 The mid-cut high tops on these boots allow for complete mobility while offering just the right amount of support and protection. These are the most comfortable boots I've ever worn for hiking.
I wear a size 12 in most shoes, and these are true to fit.
| | |
| --- | --- |
| Most Adidas shoes | 12 |
| Saucony Kinvara 5,6, and 7 | 12.5 |
| Brooks Pureflow 6 and 7 | 12.5 |
| Altra Escalante | 12 |
| Saucony Freedom ISO 2 | 12 |
| Timberland GT Scramble Boot | 12 |
| Topo Athletic shoes | 12 |
Improvements
There are a few minimal issues I have with these boots. The first is that I don't love the pull loops in the back of the boot. I love that they are included, but I wish they were made so that both attachment points were at the top of the upper.
When I put the boot on, the upper will often flop down into the boot if I don't have the laces completely loosened up. And, because the pull loop is attached at the lower point, it doesn't do an ideal job of pulling the upper out from under your foot.
This is a minor complaint though and would hopefully be really easy to fix on a future iteration of the boot.
Figure 6. Showing the pull loops in the back of the boot.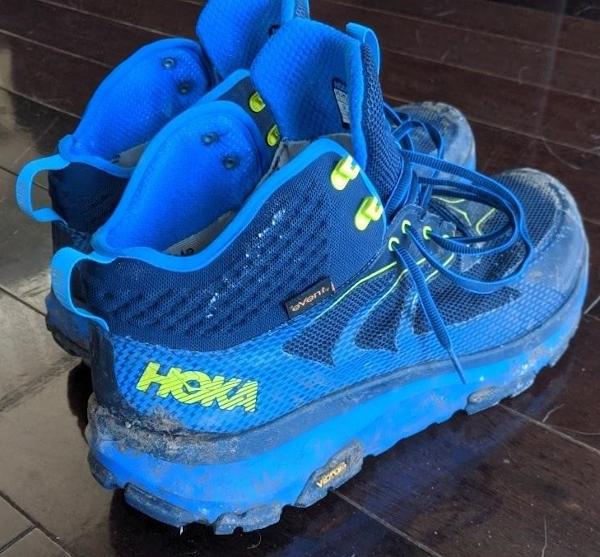 The other way these boots could be improved is to have the edges of the tongue tapered slightly more. I notice this with most high top boots.
Usually, when you lace them up tightly, there is often some uncomfortable pressure between where the high top and tongue overlap, and this somewhat the case with these boots.
If Hoka were to taper the edges of the tongue slightly more, I think that would alleviate this pressure completely. Keep in mind that this is also an extremely minor complaint, and the boots feel very comfortable even when laced up tightly.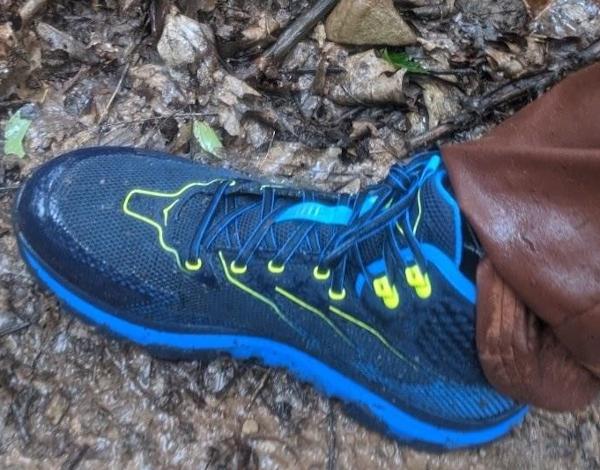 Who are these boots for?
In the promotional materials for these boots, it seems like Hoka created this product for people who want more than a trail running shoe for hikes but don't want a full-on high top hiking boot.
I think this boot is ideal for fast-packers or long-distance hikers who will be facing colder and/or wet conditions.
But, I think anyone who hikes when it's a little colder outside, regardless of the speed or distance travelled, would enjoy these boots. I even lace these boots when it's cold out for my dog's 6 am walk every morning!
Value
The Sky Toa currently retails for $170, which is on the pricey side of boots. If I were looking for a new boot though, I would strongly consider paying full price for these, because they are just that good.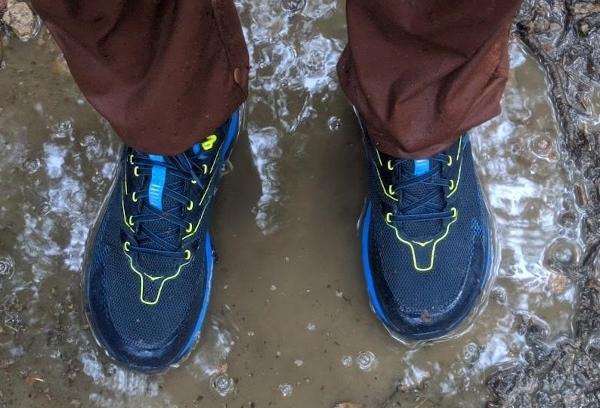 Realistically, I'm fairly frugal, so I'd probably find a boot that was on sale instead. But, I know for a fact that I would be happier wearing these boots than any other boot I've tried on.
Conclusion
I think a quick anecdote will sum up these boots best.
I was about to go to the workweek, and it was raining and just above freezing outside. So, I wasn't going to wear my dress shoes to work. Instead, I wore a pair of Timberland Hiking boots I bought last year because they look good enough to wear to work when the weather is bad.
When I got home, I took those boots off and put on the Sky Toas to take my dog on a walk to see if I would notice much of a difference. The Timberlands are fine boots that I enjoy wearing, but I noticed immediately how much more comfortable the Sky Toas are.
They are easier to walk in, more comfortable to stand in, flexible yet still supportive, a little more breathable, and even have better grip. These are exceptional hiking boots.
The Hoka One One Toa is a unique platypus that feels like a bizarre mix of hiking boot and trail running shoe, good for very specific niche conditions, but a bit awkward outside that.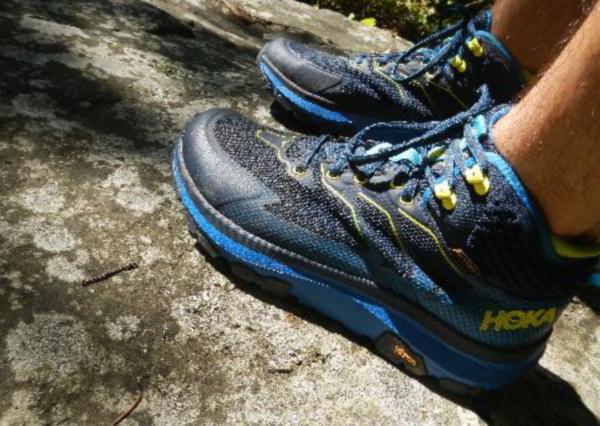 Who the Toa is perfect for
If you're going to do some fastpacking, speed hiking, or even a bit of short-distance trail running through wet conditions where extra ankle protection and waterproofing is a must, the Toa may be a good fit.
The shoe will work well for a wide range of foot shapes, and the very flat midsole is aimed at hikers with a neutral gait (although the Toa will accommodate supportive inserts).
In-depth review, from top to bottom
Hoka calls the Toa a "speed hiker," meant for fastpacking (i.e., hiking, but faster), and aimed to deliver a hiking boot that is "solid and efficiently lightweight."
The result is what feels like an odd mix between a trail running shoe and a genuine hiking boot: cool in concept, but I'm not sure how well it works out in practice.
In almost all cases I can think of, I would prefer to go one way or the other, either with a more protective, durable boot for hiking, or a lighter weight trail running shoe with more ankle mobility and a smoother heel/midfoot-toe transition for moving quickly on the trails (see the "Competition" section).
Like a platypus, the Toa occupies a very narrow niche: I can see a use for it only in a very particular set of conditions, but stray outside those conditions, and it's a bit awkward.
The following sections will go through the Toa in more detail from top to bottom and overview the specific conditions where I think the Toa might be a good choice.
Upper
If you're going out into wet conditions on slippery, technical terrain where extra ankle protection will be valuable, then the Toa's upper is great.
For a fully waterproof shoe, it is remarkably breathable. And for a mid-cut boot that offers great ankle support (a big benefit for those prone to ankle sprains), the Toa's upper has good flexibility with no noticeable pressure on the Achilles tendon or the bones of the lower leg.
That said, opting for a fully waterproof above-the-ankle upper comes with tradeoffs. Waterproofing prevents the upper from breathing quite as well as non-waterproof shoes, traps in heat, and prevents easy draining of water, so when the Toa gets wet on the inside (during deep stream crossings or heavy rain), it doesn't dry out anytime soon.
On warm, dry days, it feels a bit hot and restrictive. I personally tend to prefer water-resistant uppers over fully waterproof uppers since they're lighter, breathe better, and drain water quicker.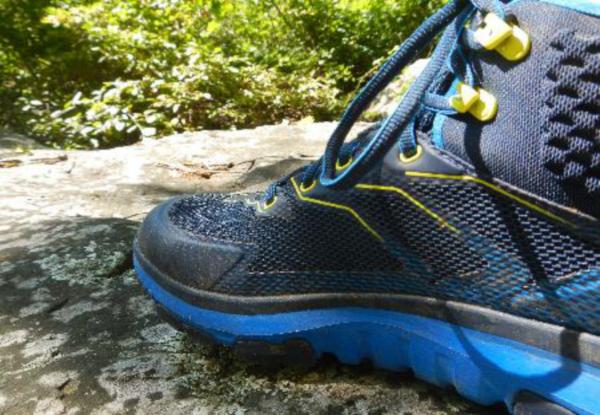 The mid-height ankle protection is another tradeoff. If you'll be moving over slippery, technical terrain where ankle sprains are a real risk or are going to be out on the trails in an area where snakebites, poison ivy, or other natural hazards are a real concern, then the extra ankle protection is well worth it.
However, for most fast packers/speed hikers, the extra rigid material wrapping the ankle will be overkill, constricting movement and trapping in heat.
I can only think of a few rare circumstances where I'd prefer the Toa's above-the-ankle design to the lighter weight below-the-ankle cut of most trail running shoes.
I tend to prefer to have freedom of motion in the ankle, and then slap on a pair of gaiters when the going gets rough than be locked into a mid-cut upper.
My last reservation about the upper is durability and protection. I personally did not have any major issues with early wear and tear, but many reviews on the Hoka Toa's webpage complain of fraying, detaching overlays, and other failures in the upper within just a few miles of walking.
I tend to believe this feedback: Hoka says it did everything possible to cut weight in the shoe, which tends to mean removing structural components on the upper and resulting in a lighter but less durable shoe.
The Toa's upper felt flimsy, especially for a hiking boot, and I can easily imagine it breaking down prematurely. I also didn't feel as well protected against jagged rocks and other trail obstacles as I do in a traditional hiking boot.
Going out in the wilderness, I usually prefer a more durable, reliable upper that I know will hold up for 1,000+ miles and keep my feet nicely protected from hazards, even if this means an extra ounce or two of weight.
Midsole
The midsole of the Toa was a bit of a disappointment. When I think Hoka, I think of the brand's famous maximalist cushioning, but the Toa is more of a traditional stack height with an average amount of cushioning.
I can appreciate Hoka's attempt to offer a wider range of options and produce a shoe that will feel more familiar to traditional hikers (not everyone wants to feel like they have mattresses strapped to their feet), but this puts the Toa in a wider category where other traditional stack height shoes just perform a little better.
The Toa ends up feeling a bit like a slightly worse knockoff of a regular stack height fastpacking shoe like the Altra Lone Peak Mid, rather than the familiar, tried and true maximalist cushioning from Hoka that we've come to know and love.
The midsole of the Toa also feels very flat—I did not feel any arch support or note any design features to ease the heel/midfoot-toe transition. All in all, the midsole felt unremarkable with just enough cushioning to remain comfortable, but nothing exceptional.
Outsole
The most impressive part of the Hoka Toa is the outsole. There's Vibram's "Megagrip" rubber providing great traction over a range of wet and dry conditions.
Unlike the upper, the outsole was also impressively durable, showing very few signs of wear after several long hikes over rough terrain. I took the boot up a mountain in a hard rainstorm with several stream crossings, but never felt like I was losing my footing even when moving at a quick cadence.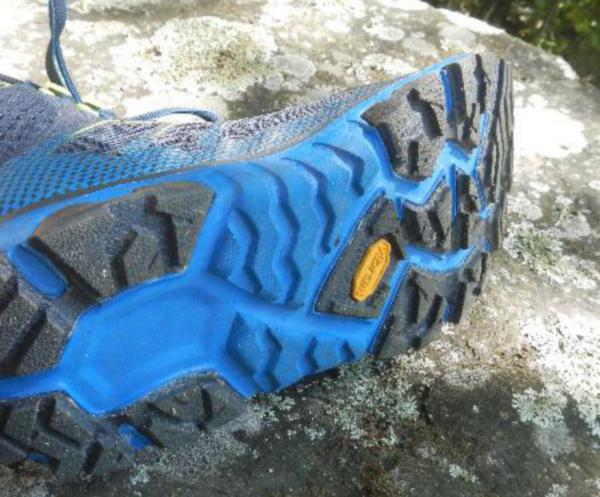 The Competition
The Toa occupies a strange niche between trail running shoes and genuine hiking boot. For all but a very narrow set of conditions, I would suggest competing shoes that are more squarely in the hiking boot or the trail running shoe camp.
One great option more solidly in the trail running shoe category is the Hoka Speedgoat Mid WP, which is also waterproof and offers robust ankle protection, but is lighter (at 12.6 oz, versus the Toa's 14.99 oz in a men's size 9) with more cushioning, and a smoother heel/midfoot-toe transition.
Another option is the Altra Lone Peak 4 Mid RSM: also waterproof with mid-height ankle protection, but lighter than the Toa at 12.9 oz and with fewer complaints of durability issues.
For those doing hiking, I would tend to suggest any number of slightly heavier but more durable and protective boots, such as the Salomon X Ultra 3 Mid GTX.
Conclusion
The Toa will be a good option for a very, very narrow set of conditions.
It's good for speed hikers looking to move fast (somewhere between a brisk walk and a light jog), over technical or hazardous terrain where extra ankle protection and grip are important), and in rainy weather (where waterproofing will be worth the loss in breathability and drainage).
Outside of that narrow band, a more durable hiking boot or a lighter weight trail running shoe will probably be preferable options.
Hoka One One Toa notable features
The Hoka One One Toa is a mid-top hiking boot designed to provide comfort and lightweight performance for fast hikes. An eVent membrane is embedded into its mid-top synthetic upper for water protection.
It uses a midsole made of Rangi foam to deliver durable cushioning and trail responsiveness. The boot's Vibram Megagrip outsole employs a pattern of multi-directional lugs to render traction on most types of terrain.
Size and fit
Hoka One One's Toa is a fairly true-to-size hiking boot for male and female outdoor lovers. It comes in standard width only. Its sizing selection includes whole and half sizes. The lace-up closure permits wearers to achieve a customized fit.
Outsole
Furnishing outdoor enthusiasts with surefootedness over rugged terrain is the Hoka One One Toa's Vibram outsole. It is composed of a Megagrip rubber compound, imbuing it with durability and resistance to abrasion. The surface of this component is dominated by heavy-duty asymmetrical lugs which provide traction on most types of surfaces. Moreover, the sole's front end reaches toward the toe box area to act as a shield against accidental bumps.
Midsole
This lightweight boot for hikers uses an oversized Rangi midsole to give a cushy ride without compromising durability. It is made of a high-volume Rangi foam which maintains shape and responsiveness after repeated compression. An Active Foot Frame allows the user's foot to settle into the midsole rather than sit on top of it, providing support and stability in the process. Also, Its default footbed grants comfort underfoot.
Upper
The Hoka One One Toa features an upper made of synthetic fabric, making it abrasion-resistant and lightweight at the same time. It is lined with an eVent membrane to keep the wearer's foot protected from wet conditions. It is also designed to permit heat and moisture to pass through, imbuing the gear with breathability.
The Toa's forefoot area is equipped with a rubber toe cap which yields robustness and extra trail protection. Its closure system consists of several eyelets and a pair of hooks to help the user manage the gear's fit. Lastly, the collar houses a pull tab at the rear to facilitate easy on and off.
Additional Info
Buyers who require more protection and robustness for backpacking excursions may take a look at some of Lowa's offerings for multi-day trips - the Camino GTX and the Renegade GTX Mid.
Rankings
How Hoka One One Toa ranks compared to all other shoes
Popularity
The current trend of Hoka One One Toa.