Hoka One One Rincon 2 review
It's almost with a heavy heart that I will give this shoe an "OK" grade, given all the things I like about it. Even if the price tag is reasonable, I can't recommend a shoe that wears so quickly.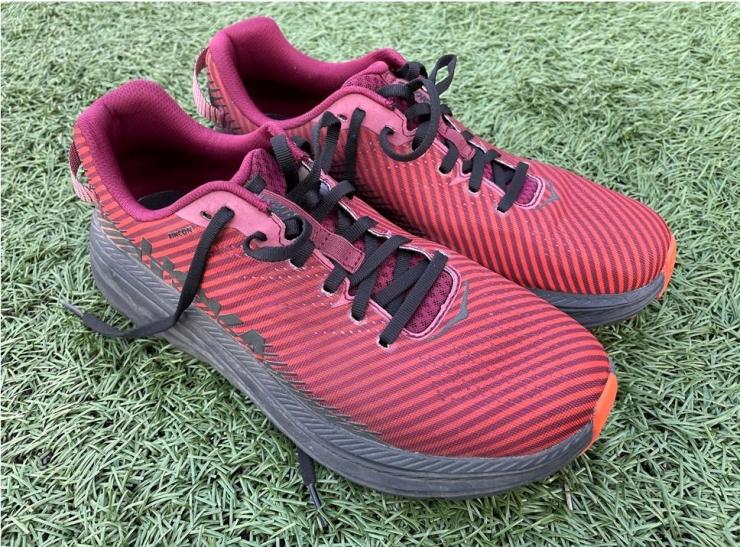 That being said, if you already have a few other pairs and want to include something a bit different in your rotation, this could be it.
Pros
extremely light
solid lace lock
soft landings
springy toe-offs
Cons
lacks breathability for summer
issues with outsole durability
feet feel tired on longer runs
What is the Rincon all about?
Hoka One One Rincon 2 is a surprising shoe. It looks bulky, like most Hokas, but its weight is really where it shines.
At about 6.5oz for a women size 9, and 7.7oz for a men size 9, this is a very light shoe. This puts it in the same league as top contenders like Nike Vaporflys, at less than half the price.
There's no carbon plate here, you'll have to look at the Hoka Carbon X for that, but it could still be a decent race day shoe. Sadly it's not all roses, and all this comes at a cost on the durability front.
Upper
We're dealing with a classical upper with the Rincon 2, and you'll get what you'd expect from a running shoe, nothing less, nothing more.
There isn't anything fancy here, no mesh, the usual fabric.
It won't give you the extra breathability you might want in the summer, but it will keep your feet warm in the winter. That makes it a good shoe to use year-round.
It is true to size, and my usual 9.5 US size fits me perfectly.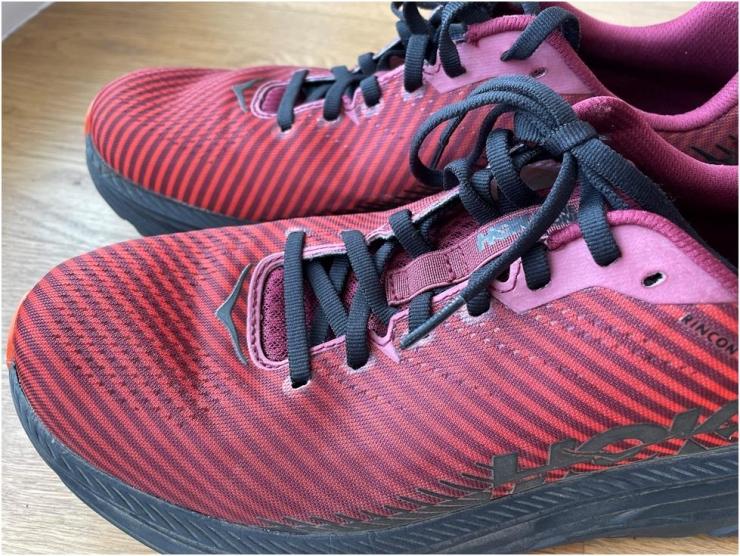 Laces & tongue
If you enjoy going for both a double knot and a heel lock, Hoka got you covered with these extra-long laces.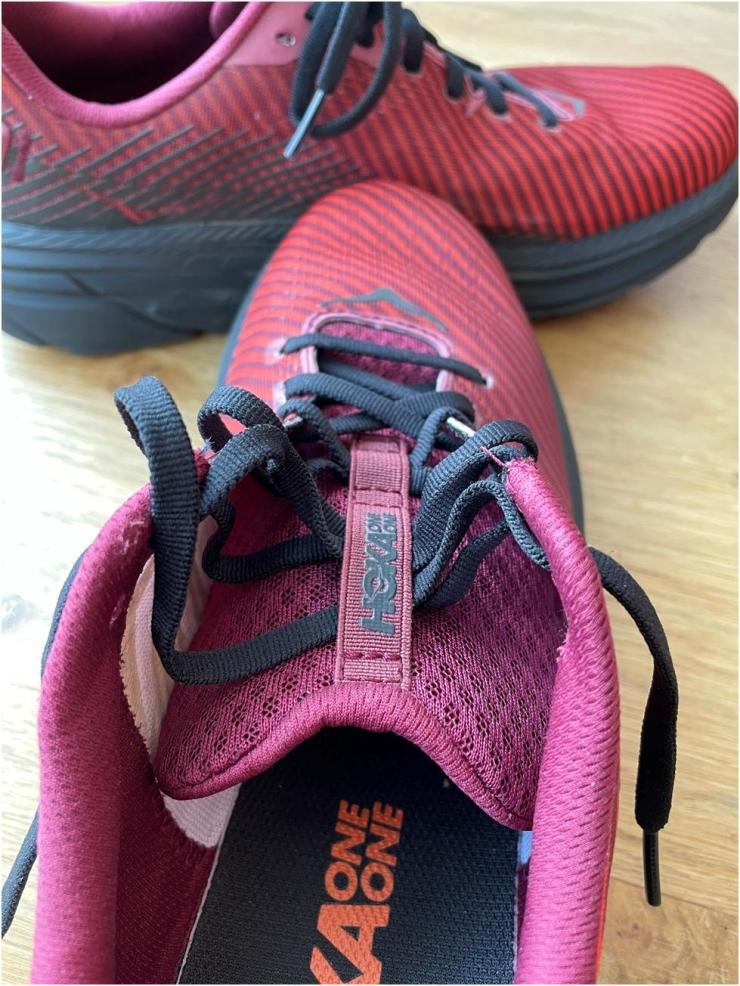 The length, combined with a slightly stretchy fabric, makes for a very solid lock, and I haven't had a single issue of the laces loosening up!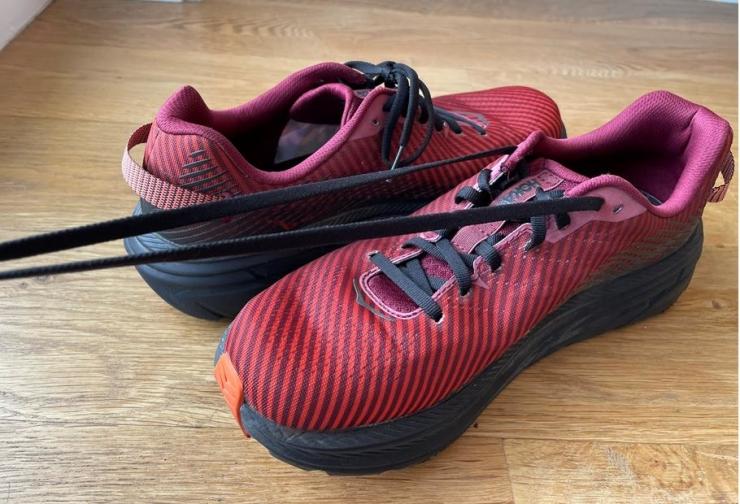 The Hoka bulk
In true Hoka fashion, we have a really thick midsole with the Rincon 2. The heel stands at 32mm and the toes at 27mm, for a 5mm drop.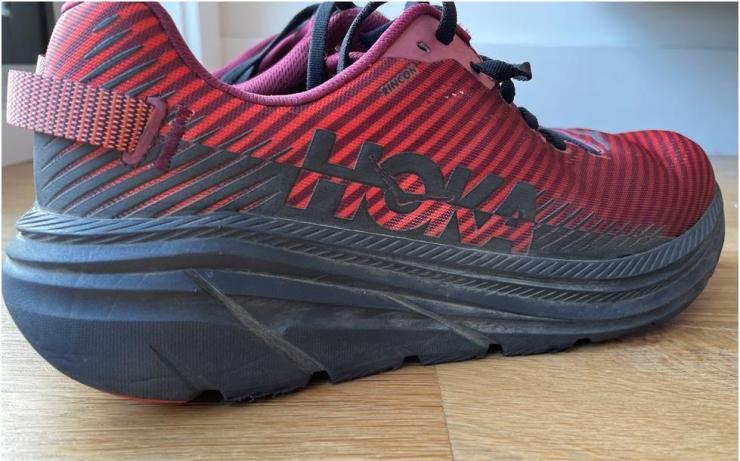 The sole is really responsive despite its thickness. I would not recommend it for a track workout because of its height and the risk it would cause to your ankles, but it could work.
The shoe feels really springy and does not have a bulky feeling, thanks to its lightweight. It is really comfortable, and the sole makes for a soft landing that provides protection for your feet.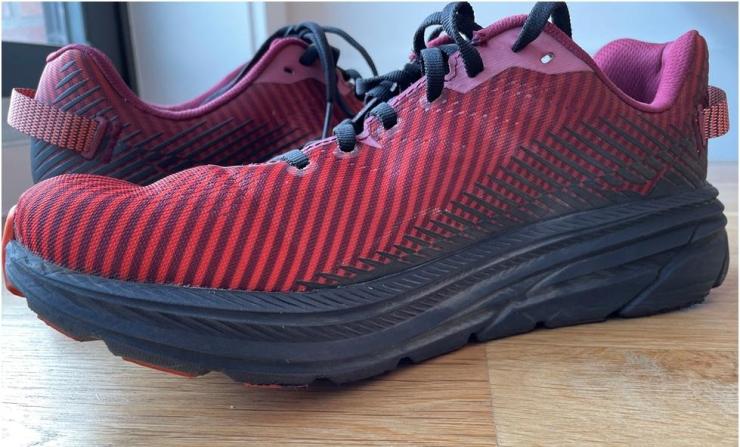 Outsole
This is where the durability issues are showing up. There is very little rubber on the outsole, which is still enough to provide good traction even on wet surfaces, but that causes the foam to wear really fast.
I ran about fifty miles in this pair, and we can already see multiple instances of the foam starting to peel.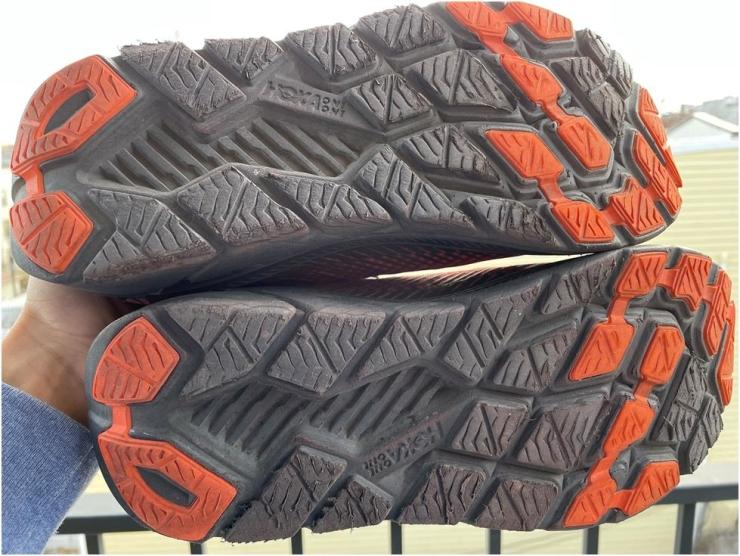 The worst part is that this happens throughout the whole outsole, inside, outside, front, and back. I estimate that I'll be able to get to maybe 200 miles and that I will have to retire it by then, if not earlier.
I guess that reducing the amount of protective rubber on the outsole was a way to make the shoe so light, but it is a significant trade-off.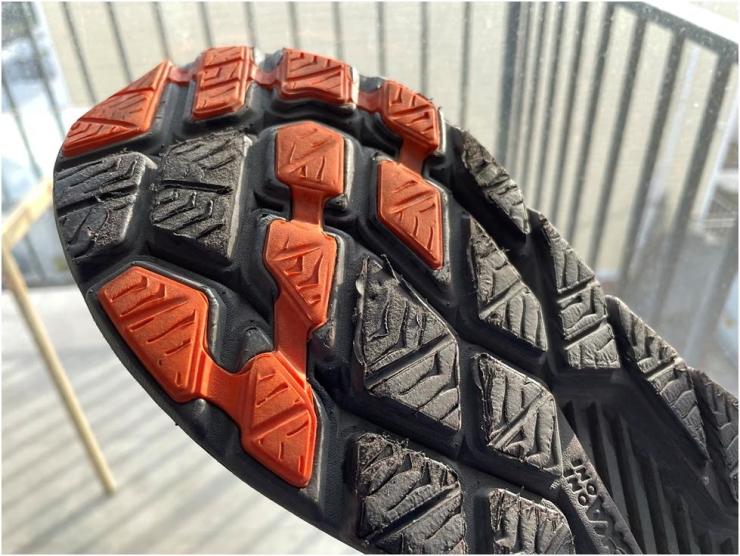 Design of the Hoka Rincon 2
I love it! Hoka usually has great colorways, but this one is really special, in my opinion. When many brands go for either extreme, bland, and muted colors or really flashy, Hoka gives us something different with this beautiful and warm dark red upper and all-black sole.
Hoka soles are really noticeable, and even if not everyone will like it, at least it stands out!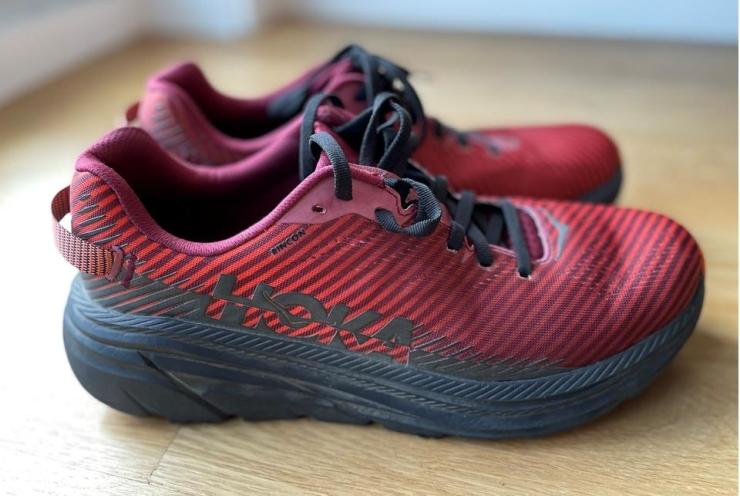 Miscellaneous
The shoe looks like it would provide a lot of support with its really thick sole, but it only provides a "regular" amount, nothing extra.
This can feel a little unexpected, and it surprised me when I wore them for a longer run of about twelve miles. My feet felt way more tired than I expected them to.
Additionally, if you're a heavy pronator, you might want to look for something that provides the support you need. It's unlikely that the Rincon will be right for you.
Tip: see the best running shoes.
Rankings
How Hoka One One Rincon 2 ranks compared to all other shoes
Popularity
The current trend of Hoka One One Rincon 2.