Verdict from 36 experts and +100 user reviews
6 reasons to buy
Majority of Hoka One One Rincon users like the fact that the shoe is incredibly lightweight.
Most of the wearers appreciate the shoe's breathability, keep them comfortable during their runs.
A number of users compare it to the popular Clifton 6 with how good the cushioning is.
A couple of wearers say that even after long hours of wearing the Rincon, their feet do not feel fatigued at all.
The shoe is said to be very comfortable straight out of the box which a lot of users like.
Some wearers like the Rincon for its unique aesthetic design.
2 reasons not to buy
One user has mentioned that the outsoles of the Hoka One One Rincon wear down too quickly.
A couple of wearers have noted that the shoe's rubber outsole is too minimal for their liking.
Bottom line
The Hoka One One Rincon is a running shoe geared toward neutral runners, but it has just a hint of firmness and energy return that allows it to be versatile for a wide range of workouts. It will appeal to runners who prefer a light, breezy feeling under their feet, no matter how fast or slow they prefer to run in it. Despite some durability issues, the Hoka One One Rincon is still appreciated for having the right amount of cushioning for recovery efforts. It is also lightweight enough for fast race days, making this Hoka shoe a versatile addition to any athlete's running shoe arsenal.
Tip: see the best running shoes.
Our reviews
Hoka One One has always been a shoe brand on my radar. Hoka is well-known for their "pillowy-soft" rides, yet the Rincon offers a whole new experience.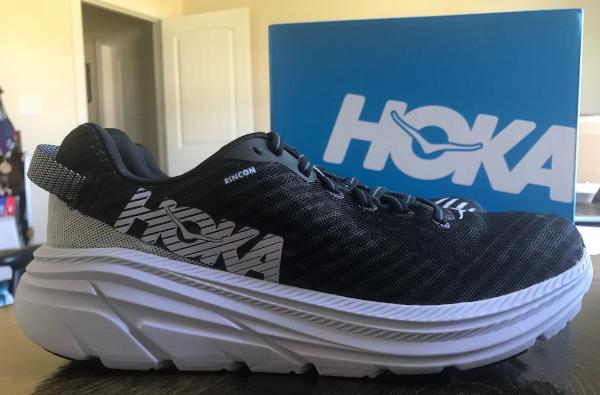 The Rincon did not disappoint due to its lightweight, springy performance and the perfect amount of underfoot cushioning that keeps you comfortable at any distance.
Overview
I've never had the opportunity to surf at the world-famous Rincon surf spot, but I'd imagine the swell would be a smooth ride. Just as the name implies, the Rincon running shoes offer that smooth ride every runner dreams of.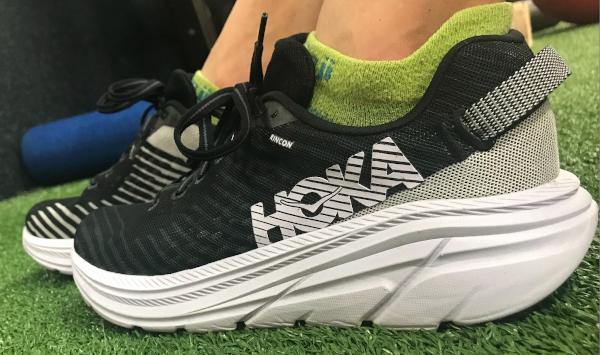 There is nothing greater than a shoe that has the perfect balance between responsiveness and cushioning. If that is what you are seeking, look no further because the Hoka One One Rincon offers just that!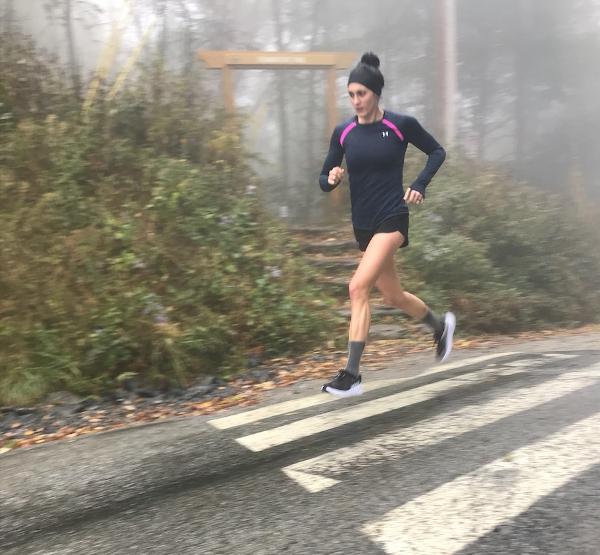 I love that, irrespective of distance or pace, the Rincon continued to feel amazing on my feet. The Rincon is versatile enough for up-tempo track workouts, yet is cushioned enough for longer distance training.
This shoe kept my feet happy mile after mile without feeling bogged down.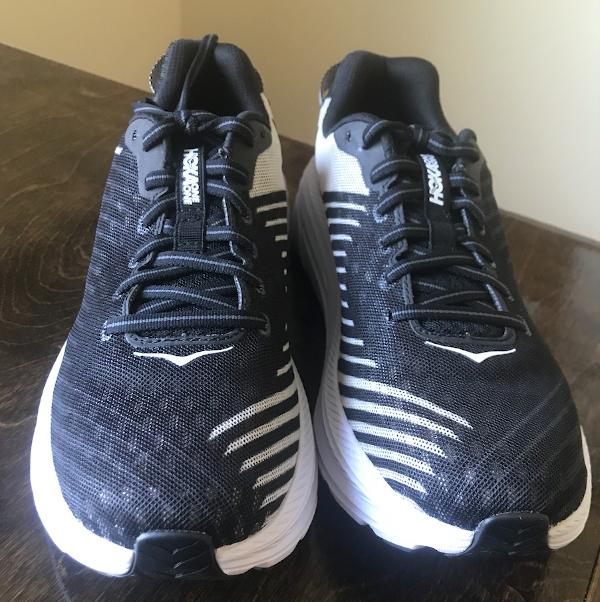 Upper and aesthetics
The Rincon's upper makes a huge difference in not only weight but in performance. The upper is a breathable as it is comprised of a single thin layer of mesh.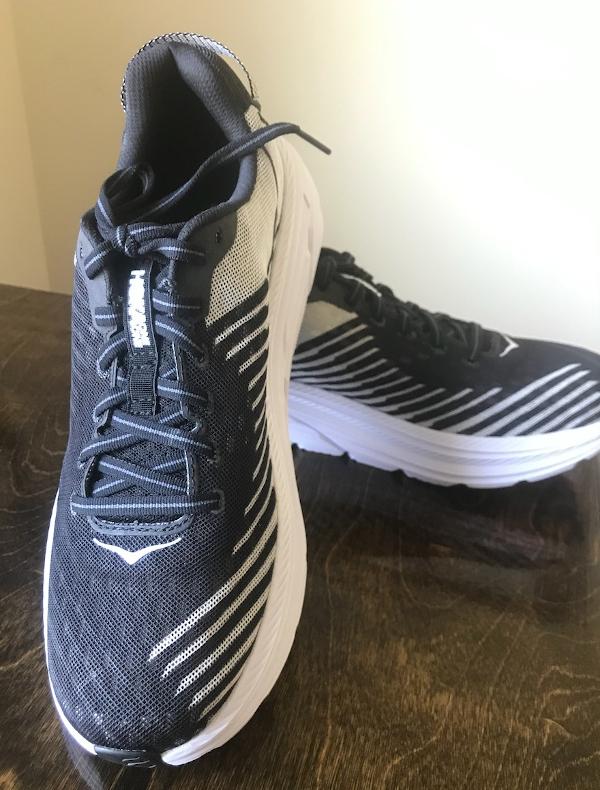 I have found with other shoes that overlays tend to cause hotspots, so I was elated that the Rincon had zero overlays! Despite being a simple single layer of mesh, the lockdown is quite snug thanks to the construction and material of the mesh upper.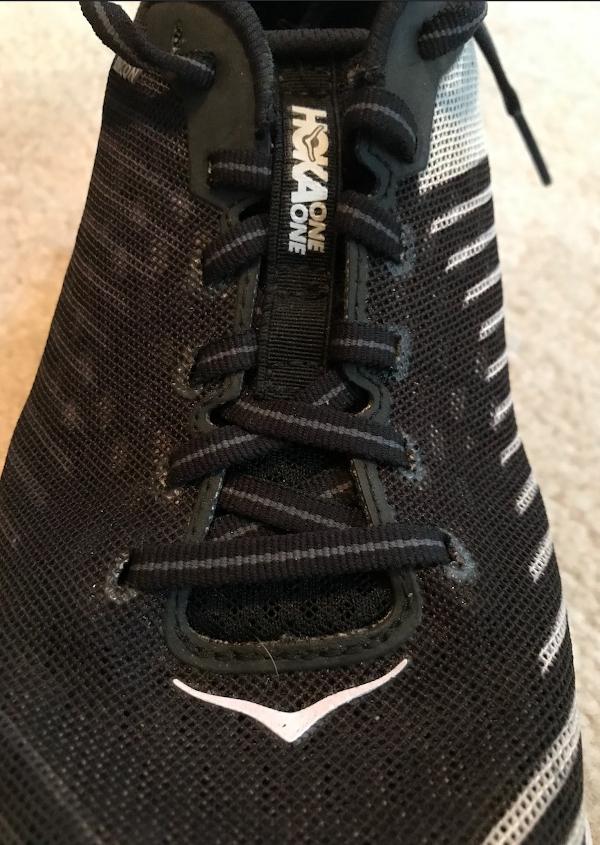 Don't be fooled; the mesh isn't stretchy like other mesh uppers seen on other brands of running shoes. It is somewhat firm, yet still flexible enough to remain comfortable.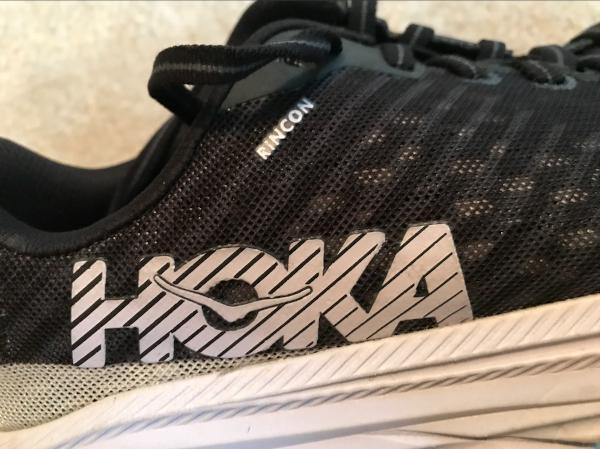 I loved that the mesh upper didn't stretch out over time and provided great lockdown even after 50+ miles.
Furthermore, the design of the Rincon is unlike the other Hoka models we are familiar to. The Rincons have a sleeker look, which makes them easy to love. I am a fan of no-nonsense designs, and the Rincons have just that.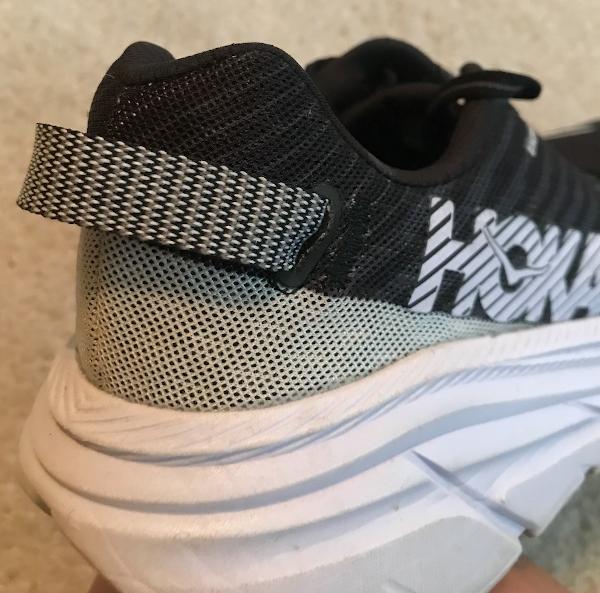 One thing additional feature that I love about this shoe is the oversized pull tab! I love the pull tab because it's easy to use and prevents crushing the heel cup when putting your shoes on.
The pull tab remains aesthetically pleasing while being completely functional. I'm a fan and use the pull tab frequently!
Midsole and outsole
As expected, the Rincon offers a cushioned ride thanks to its compression foam EVA midsole. If you aren't familiar with Hoka's Meta-Rocker, this technology encourages a more natural running gait which increases running efficiency.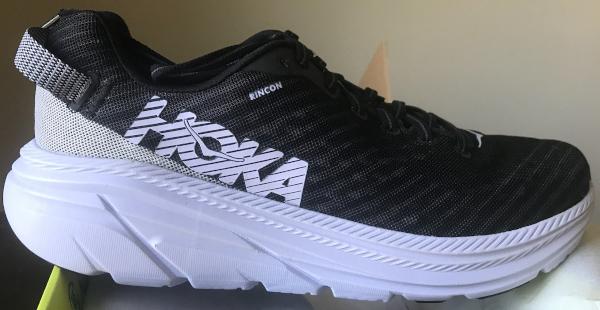 The Meta-Rocker technology boosts a smoother ride and assists with springy toe offs. Remarkably, I found the shoe to be much more responsive than I anticipated.
I expected the shoe to be "mushy," but this was not the case! To my surprise, the cushioning was just the right amount.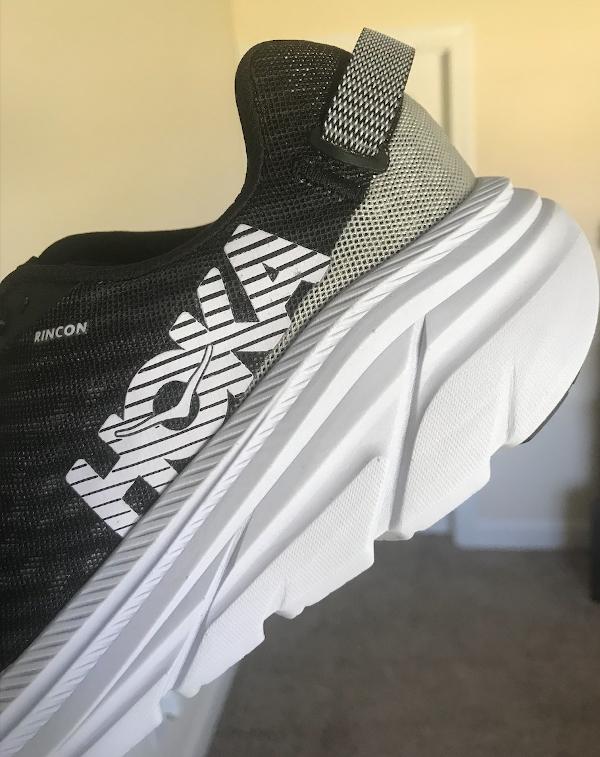 The cushioning, coupled with the Meta-Rocker, made a beautiful combination that made me feel like I was running effortlessly on air.
There are rubber pads on the high traction areas of the outsole most likely to preserve the overall weight of the shoe.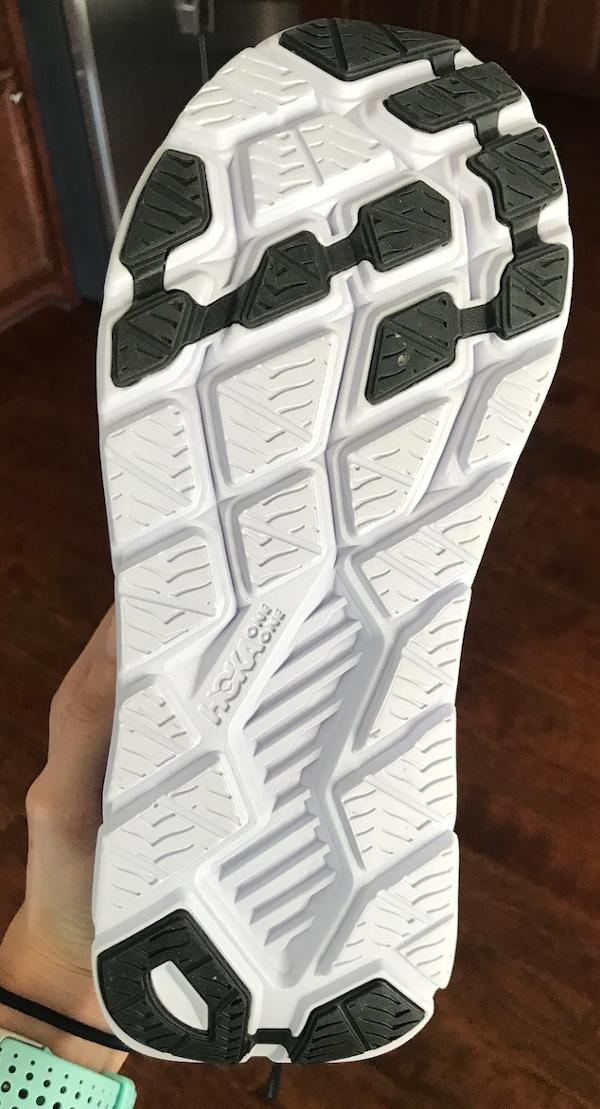 Unfortunately, the Rincon shows signs of premature wear. Therefore the Rincon may sacrifice durability for comfort due to the high amounts of exposed EVA foam.
Premature wear is shown here at approximately 20 miles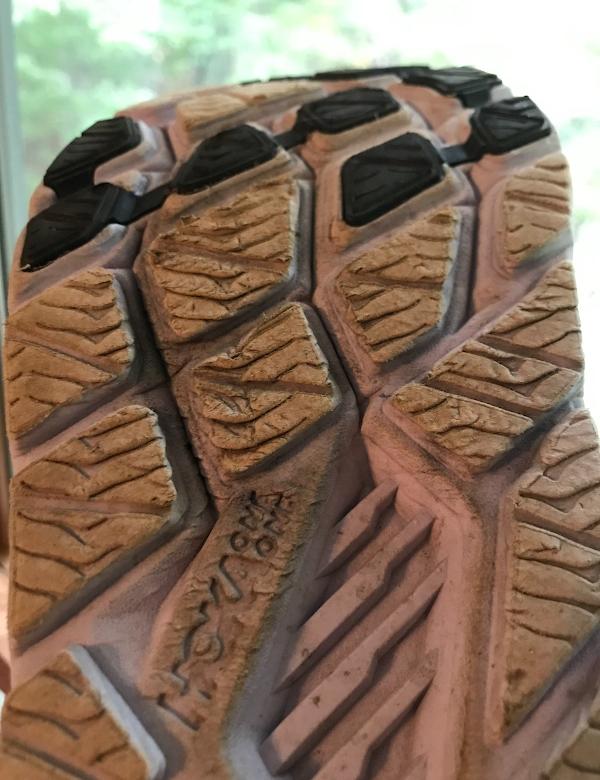 Sizing
I was a bit bummed when I got these shoes because they run big. The shoe just feels too long. Ordering them online didn't allow me the opportunity to try them on before I received them, which left me with a shoe that was too big/long.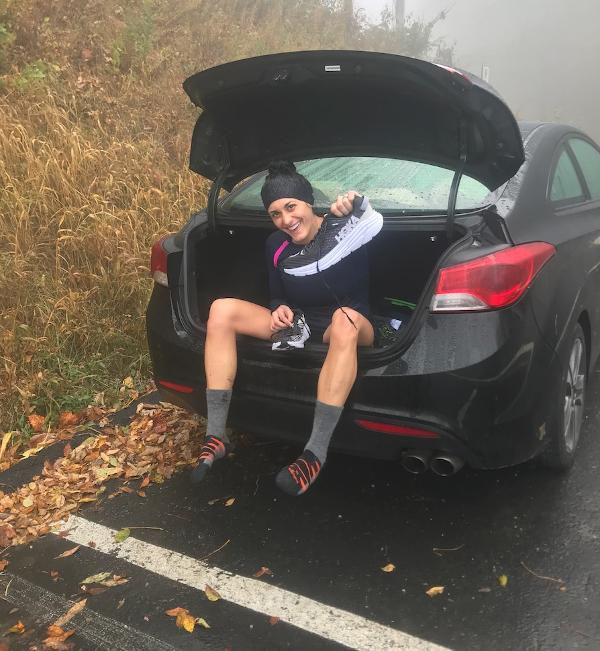 I ordered a 9.5, but a 9 would have been sufficient. Live and learn. I just made sure to wear thicker socks to mitigate the sizing error.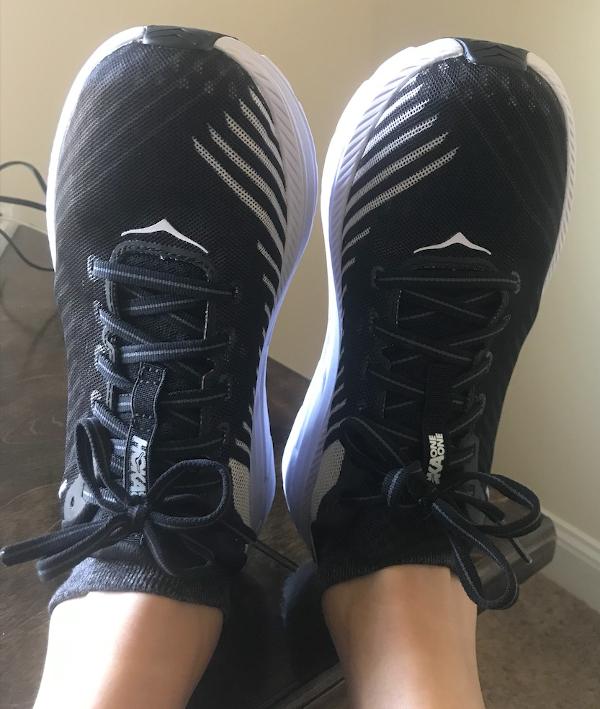 As always, it's best if you can try any running shoe on first to find your correct size, but here is my size chart of various shoe brands for comparison while choosing the right size for yourself:
| | |
| --- | --- |
| Hoka One One | Should be 9 |
| New Balance | 9 |
| Reebok | 9 |
| Asics | 9 |
| Brooks | 9 |
| Altra | 9 |
| Nike | 9.5 |
| Inov8 | 9.5 |
| Saucony | 9.5 |
| Salomon | 9.5 |
| On Running | 9.5 |
| Topo Athletic | 9.5 |
| The North Face | 9.5 |
| Mizuno | 9.5 |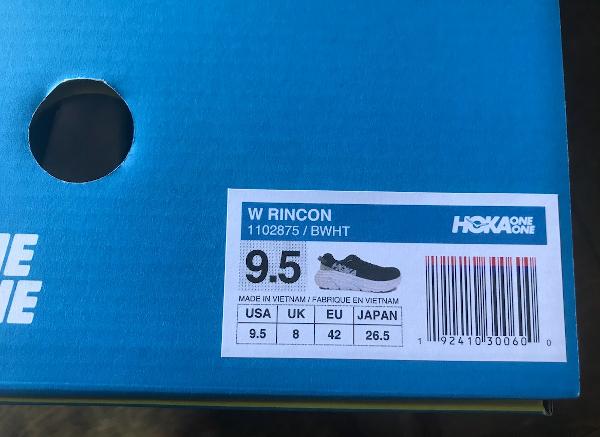 Specifications
Here is a quick break down of the Hoka One One Rincon running shoe specifications:
| | |
| --- | --- |
| Weight | 6.3 oz women, 7.7 oz men |
| Heel-to-toe offset/drop | 5 mm differential |
| Type | Neutral, Road running |
| Cushioning | Balanced (between plush and responsive) |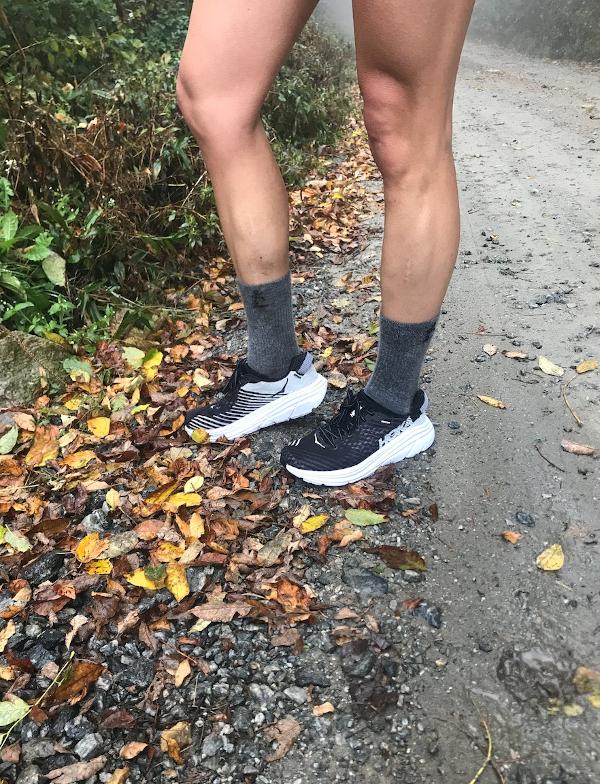 Performance/comfort
The performance of the Rincon was spectacular. I can't stress enough how much I love the versatility that the Rincon offers as I was just as comfortable doing up-tempo runs on the track as I was out on longer distance runs.
The Rincons are so lightweight that I always found myself running faster due to the lightweight nature of this shoe.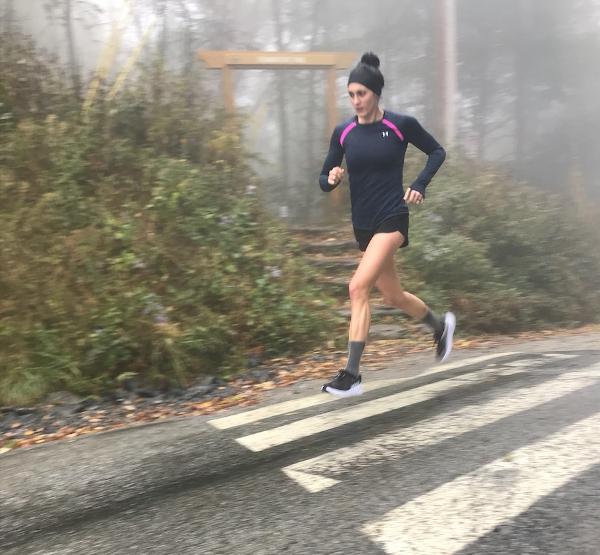 Though the Rincon is classified as a neutral trainer, I felt as though it bordered stability.
I like that the Rincon encouraged midfoot/forefoot striking due to the Meta-Rocker technology, which also facilitated greater toe-off during my up-tempo runs.
I certainly see myself using the Rincons for more road racing in the future because of their lightweight nature and springy ride. These are shoes in which I believe one can easily set a new PR in!
Wore my Rincons for a local 5K event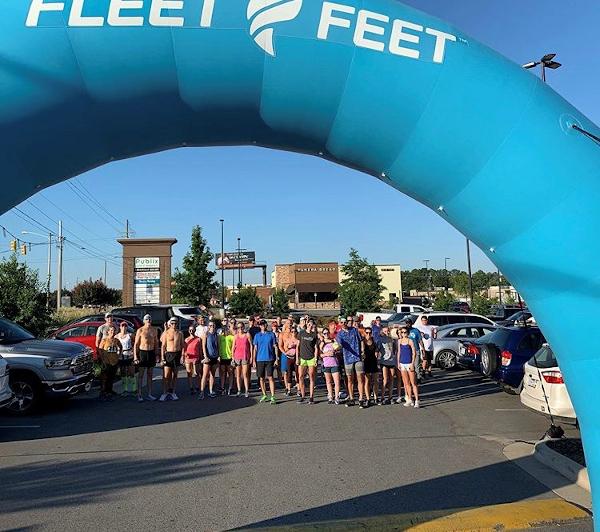 I appreciated the weight-to-cushion ratio on my longer training runs where the Rincons provided just the right amount of cushioning without compromising the overall weight.
Hoka tends to have a narrow forefoot, and I would venture to say that the Rincon is wider than other Hoka models, yet still narrow in the toe box. I do not have narrow feet, but I felt as though it was rather snug.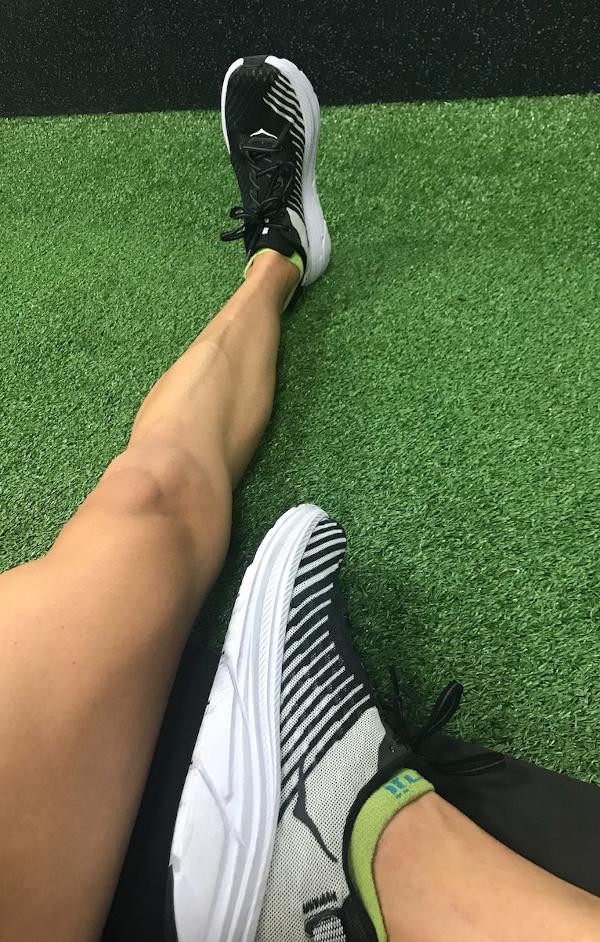 I did have a short break-in period for the Rincons as I had some issues with blistering on my great toes, but there is a possibility that this issue was due to the incorrect shoe size.
Otherwise, I was incredibly pleased with the overall performance of the Rincon.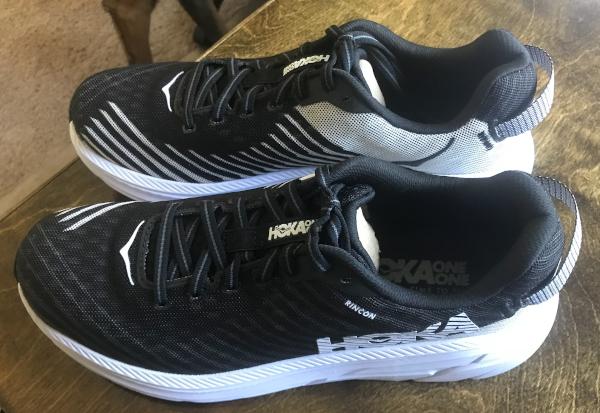 Improvements
A few suggestions I would make for improvements for the Rincon are in regards to the tongue. I constantly found myself repositioning the tongue as it would move laterally on each of my runs.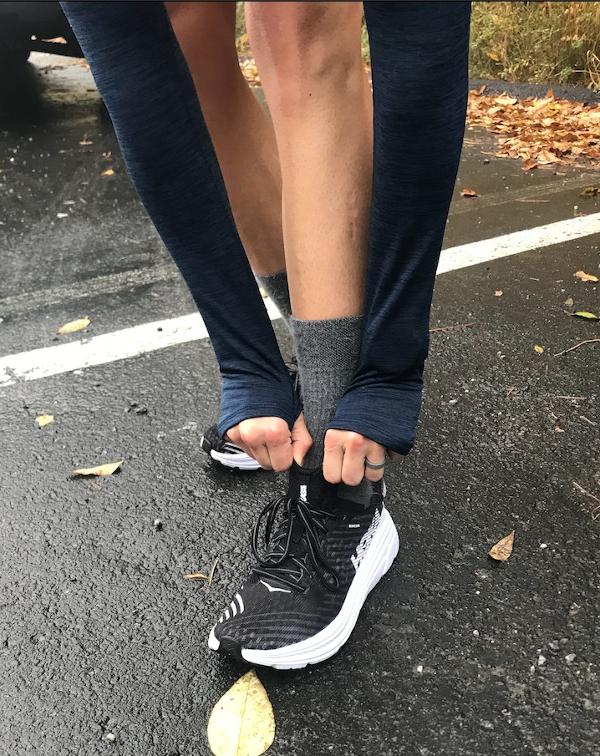 In my opinion, the tongue is on the short side, which could attest to the issues with its movement. I found myself repositioning the tongue frequently and pulling it upward to try to get it in a comfortable spot.
Perhaps in future models, a gusseted tongue would keep the tongue in the appropriate place.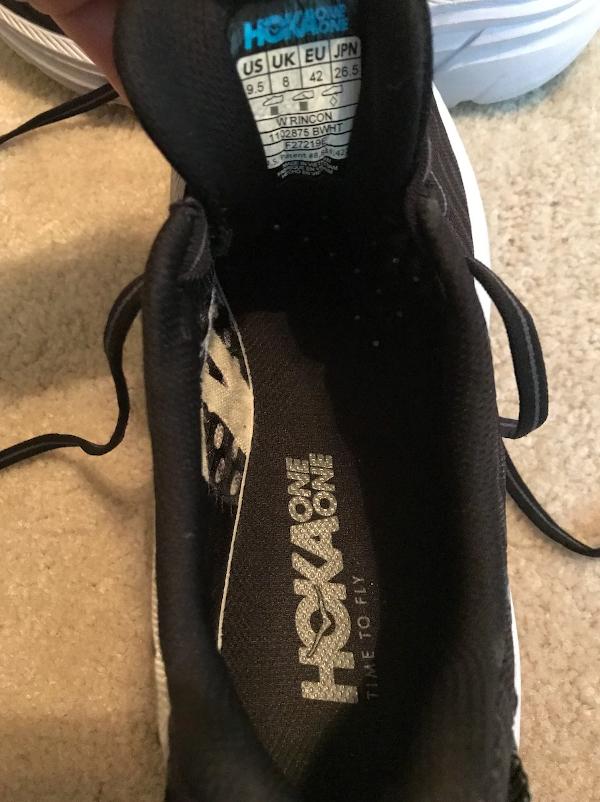 Often, when pulling the tongue upward, it would cause a bit of scrunching where the tongue originates. Also, when syncing the laces down while pulling the tongue upward caused some irritation to the top part of my foot due to the scrunching.
Showing mild scrunching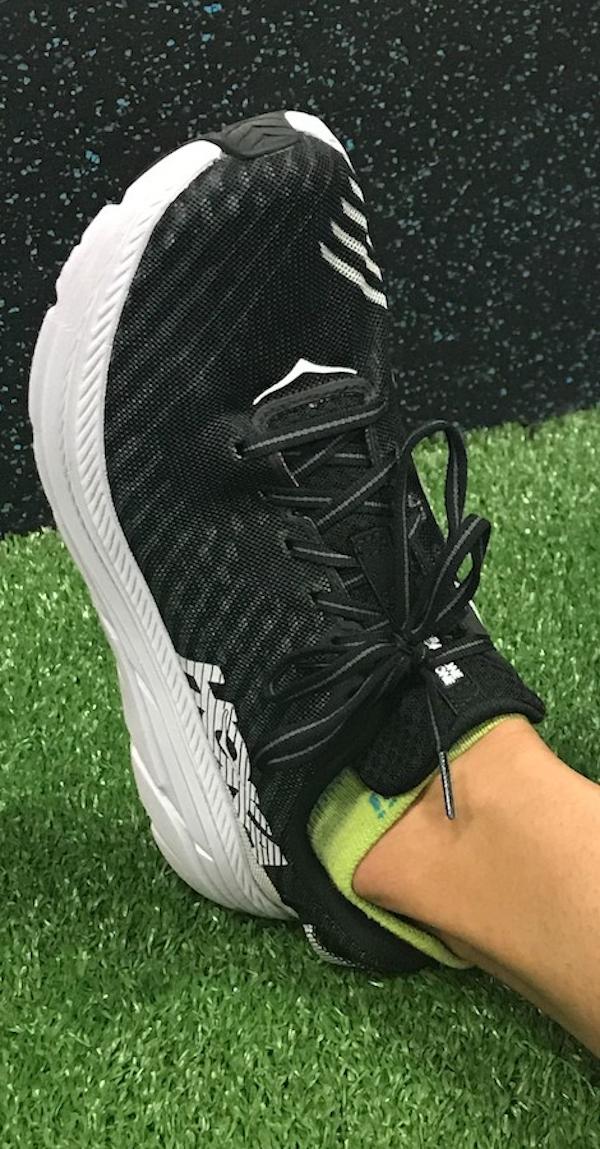 Moreover, I love the flat laces, yet the laces were much too long.
Lastly, the toe box of the Rincon is quite narrow. I found myself wishing for more space in the toe box, especially on my up-tempo runs to allow for greater toe splay.
Very long shoelaces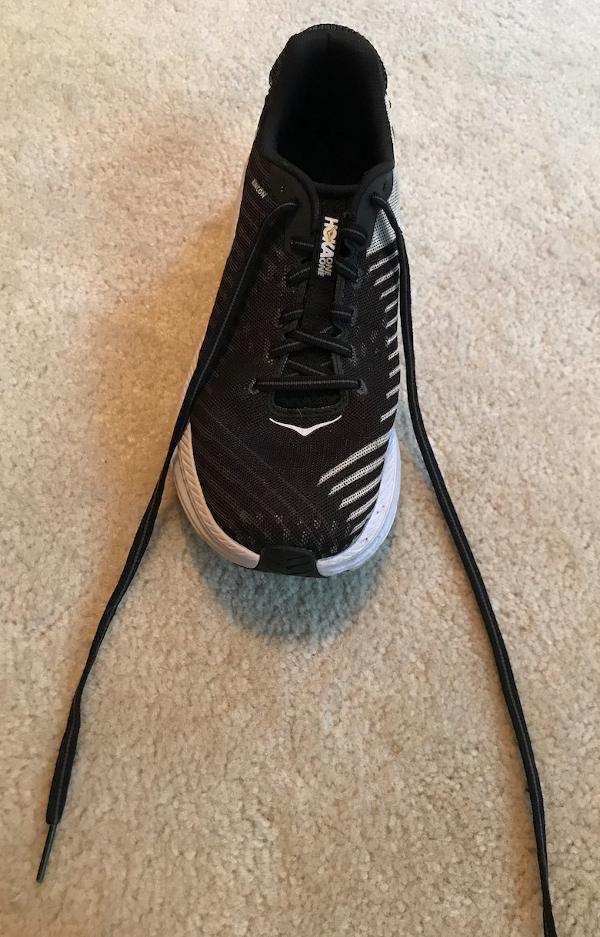 Lastly, I have concerns with regards to the durability and longevity of these shoes. I saw wear as early as 15 miles in the Rincons.
My Rating: 93/100
Aesthetics: 10/10
Comfort: 9/10
Cushioning: 9/10
Durability: 8/10
Performance: 10/10
Value: 9/10
Breathability: 10/10
Pros
Lightweight and Agile
Meta-Rocker Technology encourages proper biomechanics
Versatile for various distances
Very breathable and allows ample airflow to the feet
Love the pull tab
Great balance between cushion and responsiveness
Cons
Narrow width
Short break-in period required
Durability concern
Issues with the tongue
Excessively long shoelaces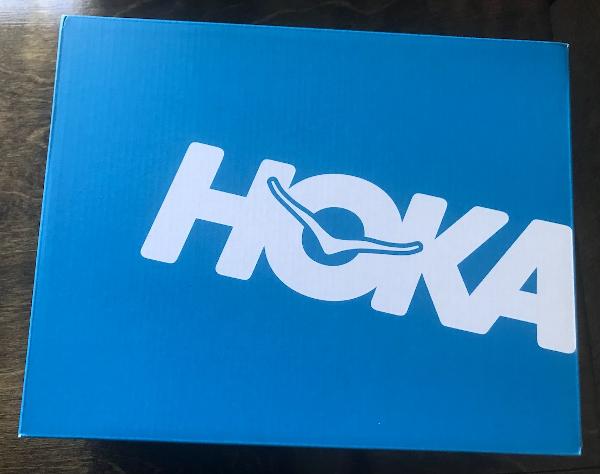 Bottom line
The Hoka One One Rincon offers lightweight protection that not only helps you hit that new PR, but also offers the perfect amount of cushioning for your longer runs.
The Rincon is built for versatile performance and would be an excellent choice for race day. The Rincon checks all the boxes in regards to cushioning, responsiveness, and lightweight feel—light enough for speed work, yet cushioned enough for any distance.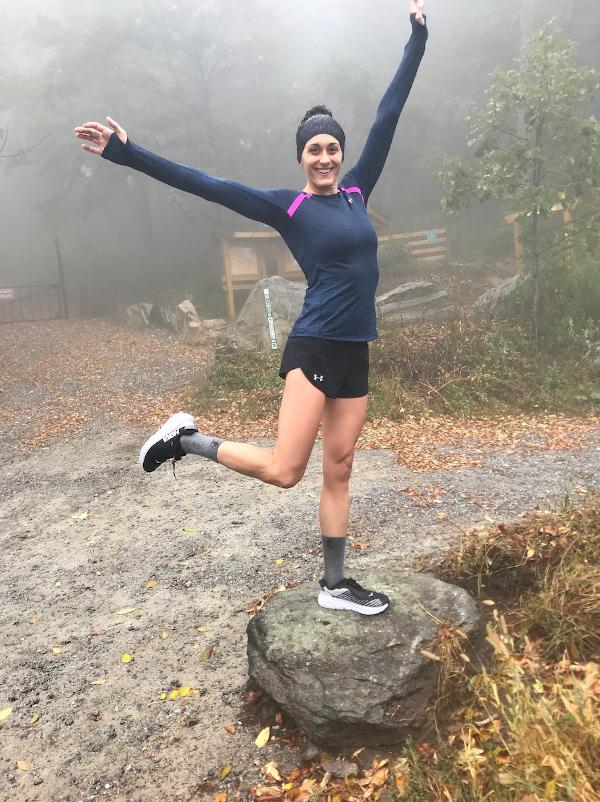 What are you waiting for? You need these shoes today!
The Rincon is designed to be a do-it-all cushioned, lightweight shoe. Other shoes in this category are the New Balance Beacon, the Skechers GO Run Ride, and the Pegasus Turbo.
When the Hoka Clifton 1 was released in 2014, it stunned the running community and many regards it as one of the best running shoes of all time. Since then, there hasn't been a shoe that could match its superlative ride or bottomless cushioning. The Rincon is the spiritual successor to the Clifton 1.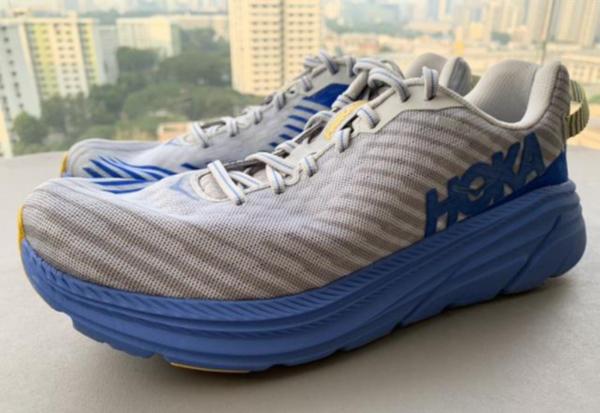 Upper & upper materials
The Rincon's simple upper is made from single-layer mesh, which is lightweight and breathable.
The mesh is so airy; you can see your socks through the holes.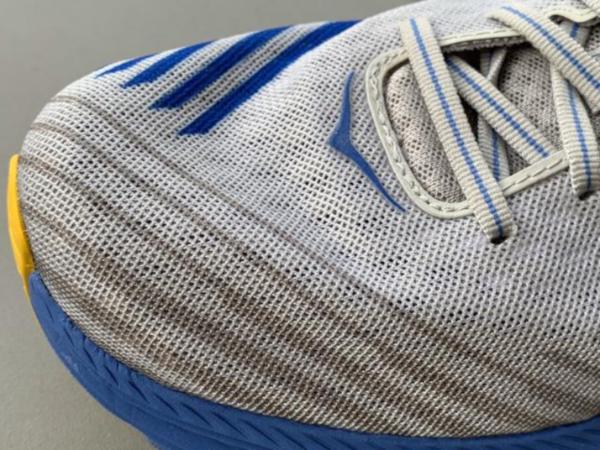 The comfortable upper does its job in keeping the foot locked down but it feels "crispier" than the other premium, more expensive shoes. You can tell from the upper feel that this is a $115 shoe. It's definitely not a Brooks upper.
The wide wings of the tongue help keep the tongue in place and prevent it from sliding sideways.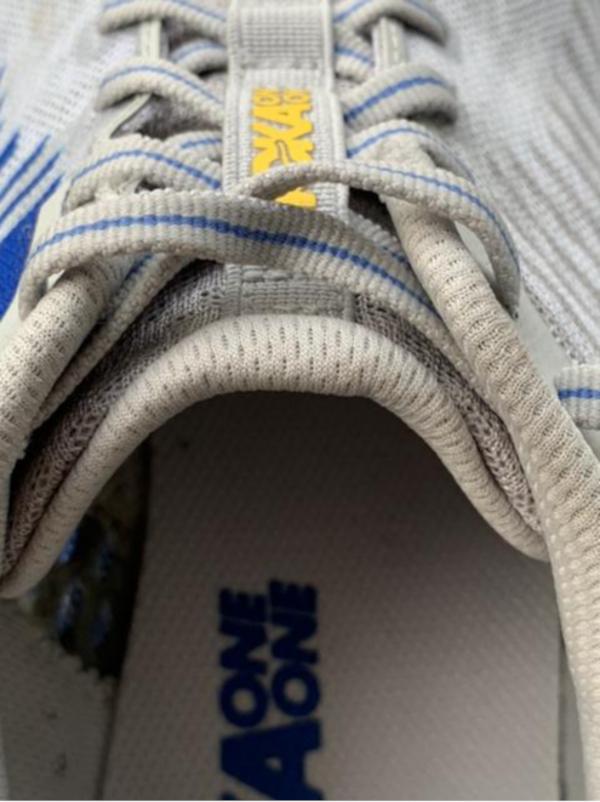 I got the shoes 2 sizes bigger than my normal shoe size, and they fit fine with thick socks. I was worried about the narrow fit of Hokas, so I ordered up a size.
What I didn't know was that Hokas differ in their sizing, being a half size difference when converting from US to UK. So, I ended up buying 2 sizes bigger than normal by mistake. Don't get caught out by that one.
The built-up heel is packed with large amounts of foam and holds the heel in place during runs. I had no heel slipping issues.
The biggest heel tab ever on a running shoe?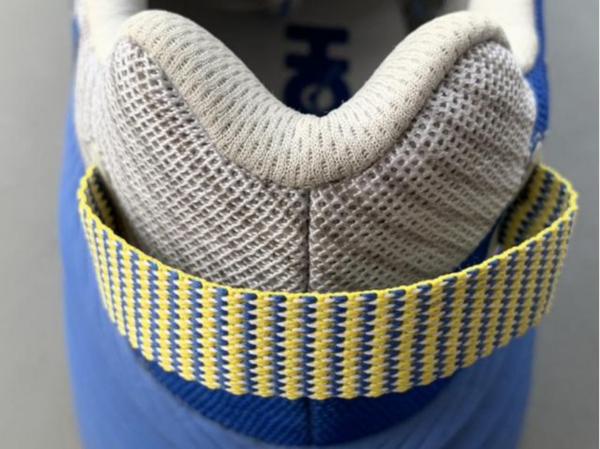 There is an oversized pull tab that some might appreciate. I don't use pull tabs due to a bad experience I had with a certain Epic React and me pulling too hard on the pull tab and the pull tab snapping.
Midsole & Ride
I just don't know how Hoka manages to do it. To create an EVA foam that is so thick in volume but light and cushioned at the same time. It seems like some kind of black magic.
I thought that the cushioning to the weight ratio of the NB Beacon was high, but the Rincon is even higher. It's responsive enough for short, tempo distances but also cushioned enough for long marathon distances.
The thick midsole feels better when striking on the rear-foot due to a lumpy forefoot.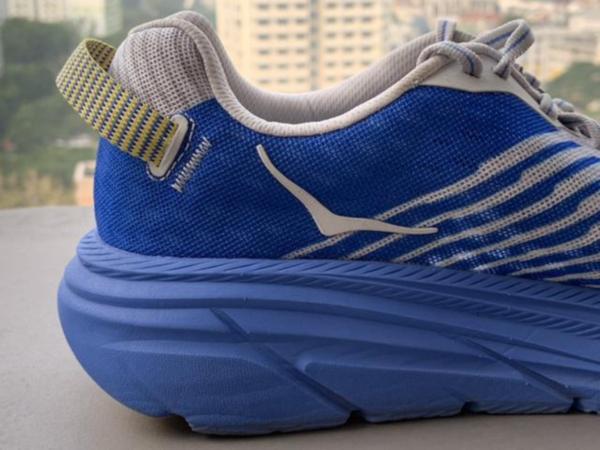 My first run in them was a 15-mile Saturday morning run, and my feet and legs still felt fresh after the run. It has an early stage meta-rocker, which means that it is supposed to help roll the foot forward with a rocking motion of the midsole.
Transitions are not very smooth due to the flex grooves and lugs in the forefoot. I can feel the lugs through the thin insole every time the shoe flexes even if I wear thick socks.
Stability
The midsole flares out underfoot to create a large, stable base: the anti-Nike VaporFly. They make my feet feel planted and put no stress on my ankles.
The upper heel sits on a flared base, resulting in a "sink" into the wider base, which increases responsiveness.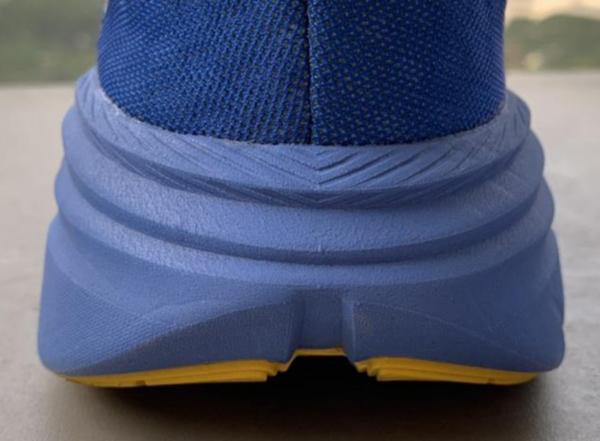 Flexibility
The shoe flexes in the forefoot and is much more flexible than the Clifton 6. While I normally appreciate a flexible forefoot, the flex in the Rincon works to its detriment.
In other Hoka shoes, the stiff midsole allows the rocker to take action and propel you forward. With the Rincon, the midsole flexes instead of a rocking action taking place.
The midsole curls upwards to promote a (muted) rocker effect.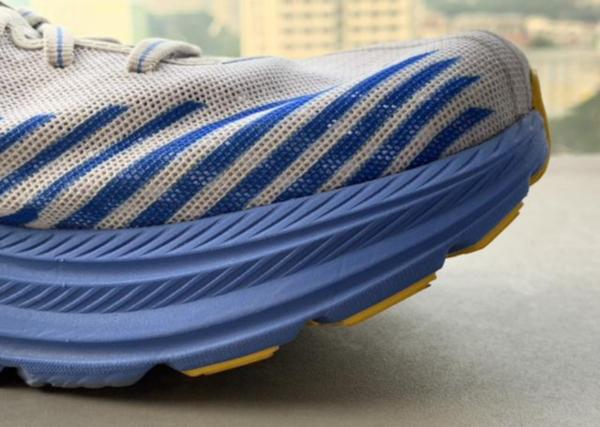 Insole
The insole is thin and glued down to the midsole. Being so thin, there is no step-in softness like the Clifton 6, so all the cushioning is contained in the Rincon's midsole. The lack of sink-in insole cushion makes the Rincon so versatile.
Taking a page out of the VaporFly, the pancake-thin insole is glued down.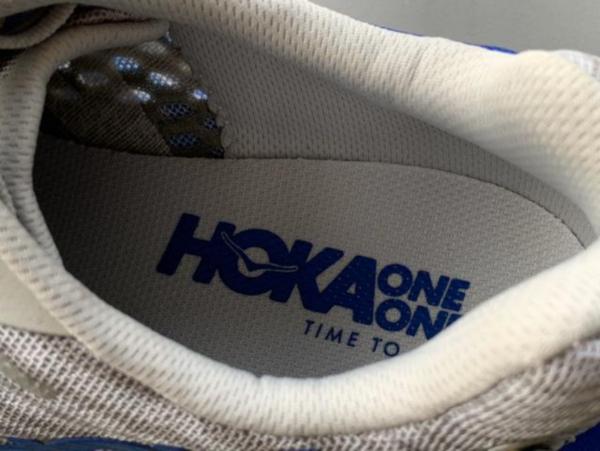 Outsole & wear
There are rubber lugs placed on the high-wear areas, but the EVA areas not covered by rubber shred like butter on a hot pan. Wear is significant and looks ugly, especially on the lateral side. The only shoe I have experienced outsole wear just as fast is the Ultra Boost 1.
Rubber is used sparsely to save weight.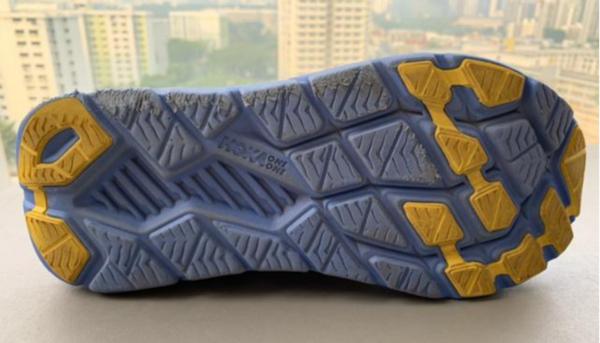 I wish Hoka had added more rubber to make the shoe more durable. I really wouldn't care if the shoe was slightly heavier.
Outsole wear after just 50 miles.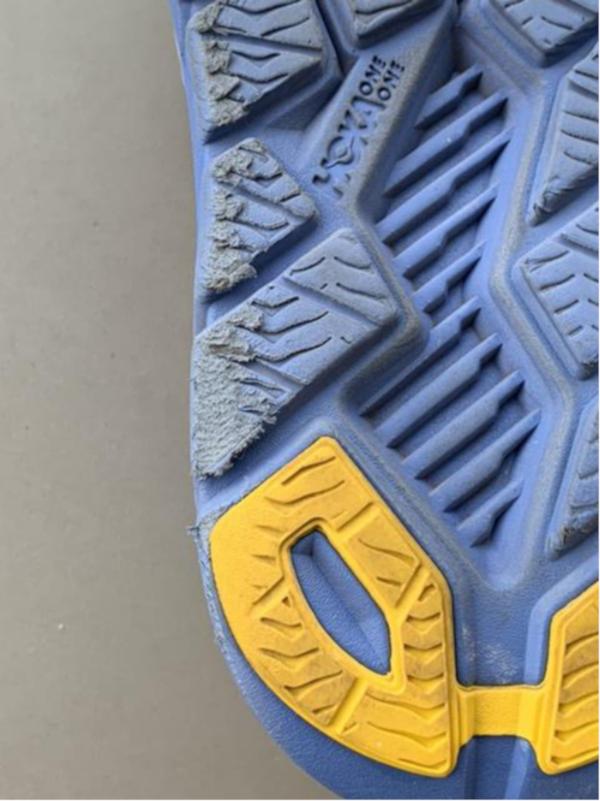 Clifton 6 vs. Rincon
I see the Rincon as a budget version of the Clifton 6. A "light" or a "mini" version.
The Rincon is a slightly lighter shoe, and not as cushioned. The upper materials of the Rincon are inferior to the Clifton 6 and the shoe overall doesn't feel as luxurious as the Clifton 6.
I prefer the Clifton 6 because I prefer a softer ride and a more durable shoe. The Clifton 6's outsole has generous amounts of rubber, and I expect it to last twice as long as the Rincon will.
Likes
Jack of all trades shoe
Very attractive price
Stable but not firm
Dislikes
Outsole shreds at an accelerated rate
Slightly scratchy upper
Hoka sizing is tricky
The verdict
The Rincon is great value for money but isn't as durable as the competition.
The Pegasus Turbo, Skechers Ride, and New Balance Beacon will all last longer than the Rincon and have smoother, less lumpy ride transitions. Although it is ultra-light, the Rincon also feels too chunky to be a lightweight racer for me.
Quick facts
Neutral road running shoe
Weighs 7.70 ounces
Heel to toe drop - 5.0mm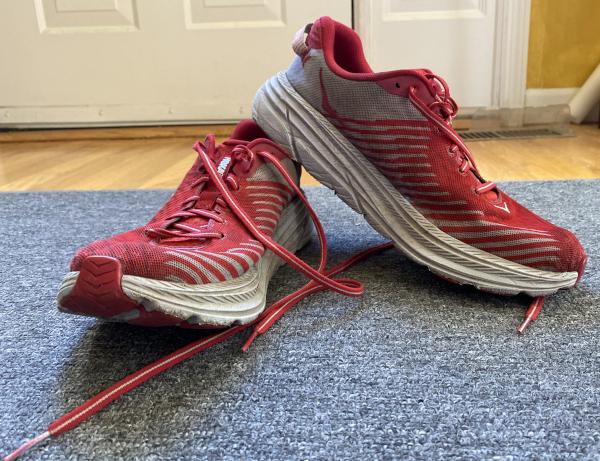 What I love
The Hoka One One Rincon is a phenomenal shoe. It has to be by far one of my favorite shoes to run in. The shoe is so light, it just feels like running in a racer all the time.
On my first run in the shoes, I was so blown away by how awesome the ride was. The Meta-Rocker in the Rincon makes the transition of the foot strike feel so smooth.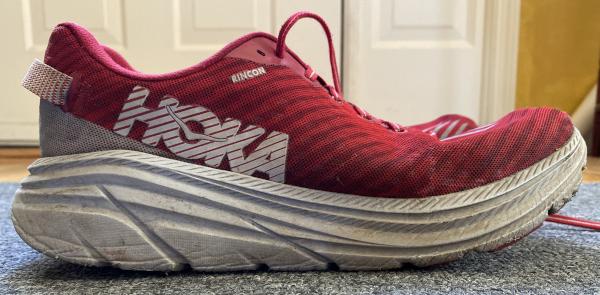 Every stride just felt natural and it felt like I wanted to go a little faster every step. Trying to go at a slow even pace was so difficult because the Rincon just encouraged me to go a bit faster because the ride felt so good.
Going fast in these shoes essentially took zero effort on my part. The light weight combined with the rocker made it feel like I was wearing a pair of racing flats.
Every long run that I ran in these shoes has been by far the fastest I've ever taken them. Going 10+ miles at 6:50 minutes per mile pace just felt absolutely fantastic.
If I had to choose a shoe to run a race longer than a half marathon, I would definitely choose these shoes. The shoe's so light and has a thick midsole that I think this shoe would protect me from the impact of running such a long race while being light enough to race in.
The reason I wouldn't do shorter races in the Rincons is that the shoe, light as it is, doesn't feel quite right for shorter, faster, sprints.
The Rincons aren't really clunky, but the tall stack height just doesn't encourage fast short distance running. Especially when there are some sleeker racing flats. Besides I don't think the Rincons are meant to be racing shoes either way.
Another great thing that makes the shoe so light is because the upper is a super-thin mesh. The mesh is so thin that you can see your feet through the mesh in some parts.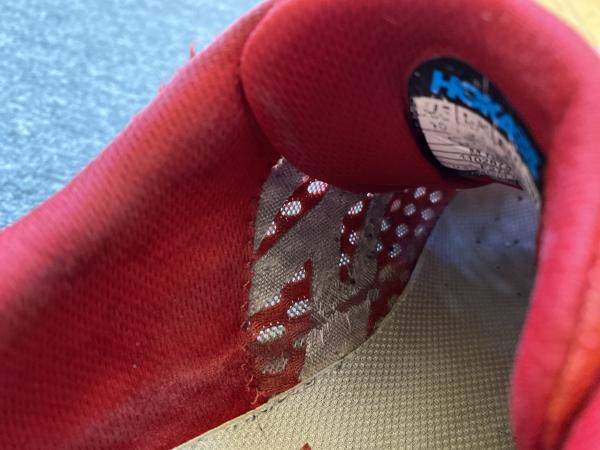 It's pretty breathable too, my feet never got hot, even in the summer heat. With it being so thin, I had a concern that my feet would get too cold during the winter.
To my surprise, my feet didn't freeze during my winter miles. Also despite it being so light, the upper still keeps my feet securely in place.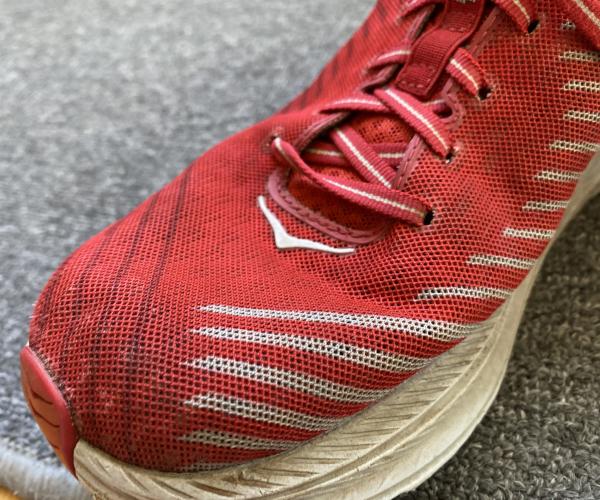 What concerned me
To make sure that the Rincon is really light, there's not really a whole bunch of rubber to protect the foam and add traction.
So unsurprisingly, after a couple of runs or so the outsole of the Rincon was basically shredded. But somehow after 350 miles, the outsole still looked shredded but the same exact way after 50 miles.
With the lack of rubber, I was concerned the Rincon wouldn't have enough traction when running when it's running or somewhere off road. However, the traction wasn't even half bad. It was basically fine on wet roads, grass, and even some trails!
With the Rincon being so lightweight, I thought the Rincon wouldn't last that long. After 350 miles, it doesn't feel the same as it did right out of the box, but the shoe still feels fantastic.
Pros
Super lightweight
Feels really fast like a racing flat
Really durable, still good after 350 miles!
Cons
Not a lot of rubber on the outsole, so the outsole wears out
Final thoughts
I think that the Hoka One One Rincon is a great pair of training shoes. It's so versatile because it can be used for longer workouts and still be used for easy runs.
The lightweight nature makes it a really fast feeling shoe that makes long runs feel great. Even with it being so lightweight, the Rincon still manages to be really durable.
Hoka Rincon feels like Hoka's cushy version of a racing flat and an extremely fun ride! I took the Rincon out on many different runs, from long slow distance (paved) to a 10-mile trail race, down to speedy hill work, and the shoe excelled in every department.
With the Rincon, I could "feel" the terrain much better than with other Hoka/highly cushioned shoes, and it was also more responsive than most in this category.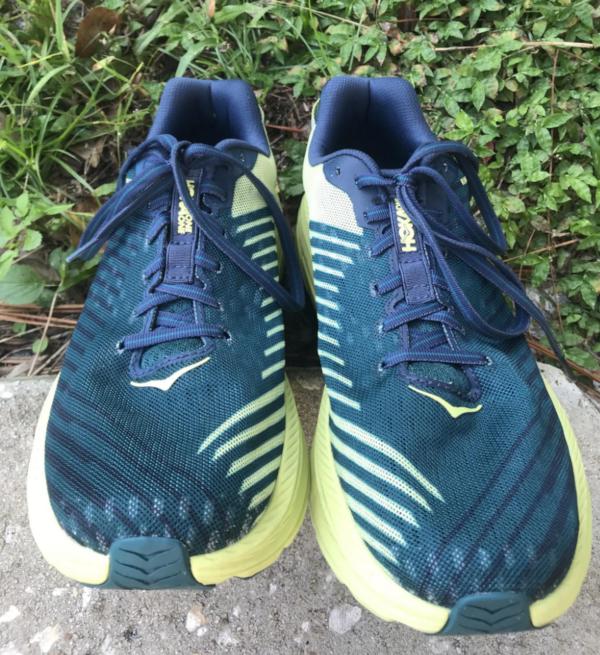 Having ran in Clifton 1-6, I can confirm that this is a much faster and more responsive shoe than all of them. It keeps your foot secure and comfortable with no knee pain or shin splints for me, even on long road runs.
What more could you ask for? This shoe can do just about anything but is ideal for me at 10-mile and half marathon training or race pace (i.e., doing miles at race tempo paces).
Details
Weight

7.8oz (Men's size 9.5)

H

eel to toe drop

5mm

Sole

Lightweight EVA exposed one-piece midsole, with additional traction rubber in heel and forefoot for heavy wear areas

Upper

Reinforced light & breathable Quick-Dry mesh, that's one piece with no overlays
Ride, feel & flex
The Rincon has a great flex point and enough support to keep the ankle snug. It also has just enough cushion to allow more responsiveness/energy return than I've gotten from similar weight shoes.
I felt it was easy on my legs at all paces and distances, with a smooth transition compared to other cushiony shoes. Thanks to a revamped meta-rocker from Hoka!
Zero overlays and seamlessly glued underlay points (onto the sole) created no rubbing or friction, nor do I see where there could be.
As mentioned previously, it is a smooth ride with a good transition, even at my 7 min/mile repeats pace. I had a good bounce in my step, but could still feel the terrain and pavement well at race pace, which is part of the joy of running for me.
More importantly, I never felt I was sinking into the midsole or that my shoes were getting stuck anywhere in the gait cycle. This, to me, indicates good responsiveness.
As I got more miles in the shoe (100+ miles), it even stiffened up a tad and gave a more "racey" feel to my turnover. I am happy to report it felt better than when I started wearing it.
EVA foam technology & weight
The Rincon uses a more "balanced" foam compared to Clifton and thus responds better to speedwork as a light shoe, and a super lightweight and well-ventilated mesh upper lends to this more responsive feel.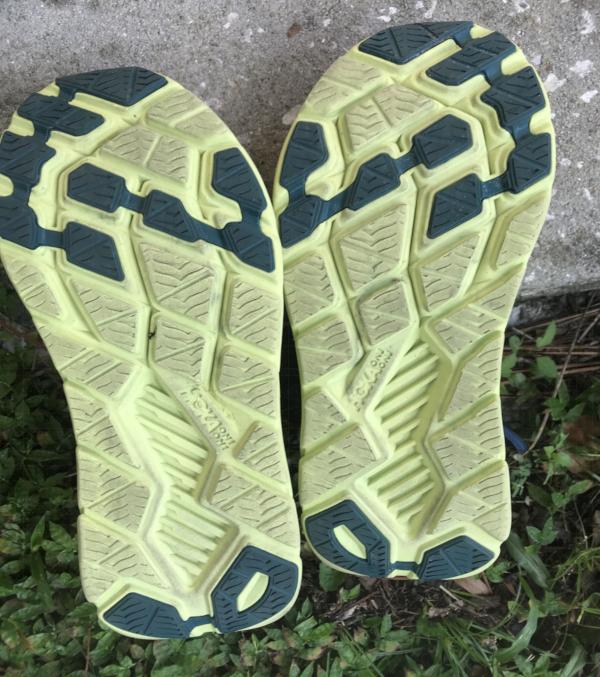 The midsole has one of the lowest stack heights available from Hoka, resulting in a much better connection to the terrain I was running on, and also less likelihood of turning an ankle.
Strategically placed rubber accompanies the one-piece EVA midsole, hitting potentially high wear areas. To paint a more concise picture, I think this is such a light and well-treaded shoe that it could easily be a daily trainer for a high school or college track or cross country runner, that could also be worn on race day.
The tread is probably not aggressive enough for sprinters, or boulder-laden sloshy trail runs. But for the average daily distance runner, it suffices in all situations.
Sizing
For a foot on the slightly narrower side, the fit is snug and close to perfect. The toe box is adequate; it isn't super spacious.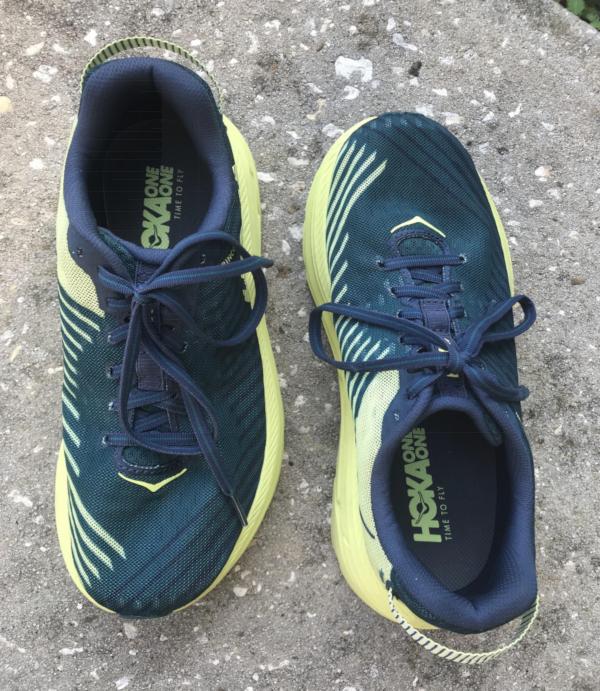 This is actually another area that I am happy about as compared to Clifton and Bondi's recent models. I have found these models the past few years to feel a bit clunky in my stride and have too much space up front for me.
Otherwise, it fits true to size across other running shoes I've worn, including Brooks Ghost 11&12 and New Balance 1080s.
Upper
The Rincon has a mesh upper that I could barely feel, so thin yet has proven to be strong and durable! The upper is made of this thin, very pliable, soft, non-stretch single-layer mesh.
The outer mesh is completely lined with an underlay with large circular holes, I could see my neon socks through the holes in the Florida sunshine, so I had to color coordinate.
Due to the very light upper, I at first thought they might be unsupportive or tear. However, the material is surprisingly strong, and there are additional underlays in the forefoot that held my foot very well on long runs.
There are underlays but no noticeable friction points. I never rubbed and couldn't feel them wearing very thin socks.
Breathability
Breathability was the best I have had in a shoe over decades of running.
No wetness in the shoe on a dew filled grassy mornings. Water draining was outstanding on a few rainy runs, making it a good choice for trail runs or triathletes.
Tongue
The tongue isn't built up, which I love as this is one of my biggest complaints in cushy shoes (rubbing, lace burn, etc.), but it also doesn't scrunch or get caught folded over when tightening the laces at all.
A plus: extra loops for the laces keep the tongue locked down well. The laces are what I would call "silky standard."
It glides very easily through eyelets and ties well, which also really cinch up well with the minimalist tongue.
Style
This may be a mute point for some, but I loved the simple patterns, and color choices stand out in a good way, not an odd, flashy/bulky look way.
The new rear pull tab looks super cool, also one of my favorite add-ons functional things about this shoe too. Great for easy on and off on tired or groggy mornings.
Durability
No issues at 100+ miles for me. As mentioned above, my only real concern at all with the durability of this shoe is the midsole wearing down much more quickly than the reinforced rubber parts on the heel and forefoot.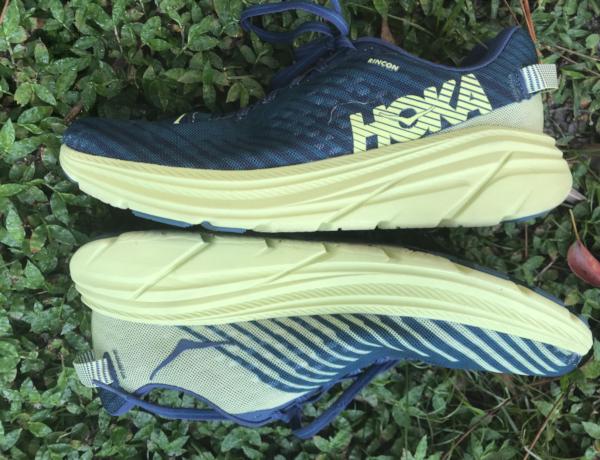 This may not be an issue if most of your miles are off-pavement and depends on where you land, weight, and other factors. Please note, I am a 140 lb mid to forefoot striker.
Lastly, the small tab of tread that loops over the front toebox is dainty compared to most trail shoes. However, I haven't had any issues with it pulling away.
Pros
Rincon is the most flexible of Hoka's new offerings this year, due to its new compression EVA midsole & seamless connection from sole to mesh upper.
Balanced cushion with responsiveness ratio
Best I've seen aside from Carbon aided shoes.
Good transition and an incredibly smooth ride with 5mm drop without feeling any sinking sensation from the high cushion.
$115
Simple, sleek, cool color options.
Cons
If you have a wider foot, you may find the upper snug and midfoot to be too narrow.
Midfoot exposed sole may wear faster at some points
Conclusion
The Rincon is the speedier and lighter member of the Hoka family.
It has less stack (which puts you nearer to the ground) compared to Clifton and Bondi. It also has a good flex point forward in the shoe and effective meta rocker that provides a smooth ride with good transition.
The midsole feels great and responsive. There's a perfectly balanced amount of cushion with a good amount of energy return for tempo and long runs.
The Rincon also feels extremely secure and is a snug fit from heel to toe. I haven't experienced outside of narrow shoes in a long time.
If you don't have a wide foot and you are a varied terrain or distance runner, this could be the best all-around shoe you invest in this year both for races and training!
Overall, I'd say it's definitely worth a try at this price.
The men's and women's Rincon come in four different colors each. These shoes are unique because there is an asymmetrical design pattern on the shoe no matter what color you choose.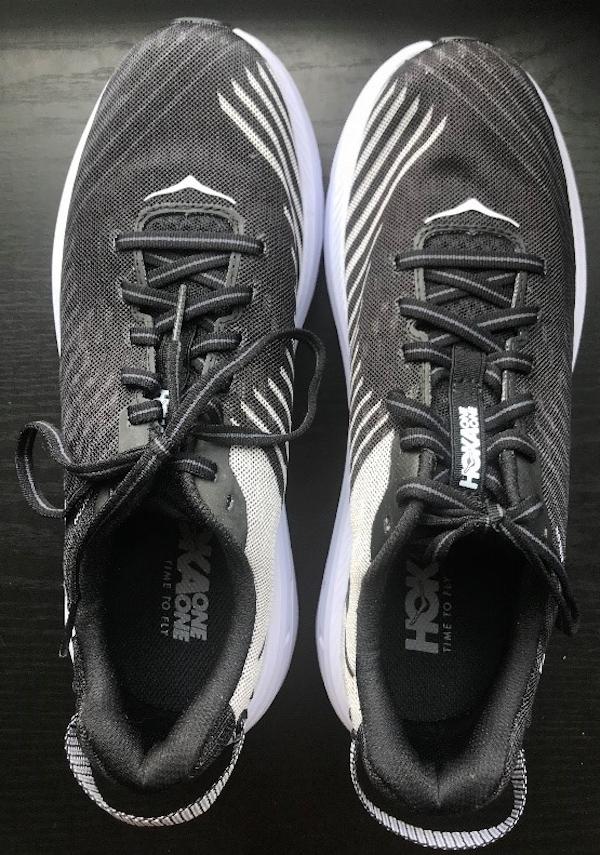 Visually, these shoes are speedy-looking and stylish!
Comfort/structure
The Hoka One One Rincon has a heel to toe drop of 5 mm and comes in at a weight of 6.3 ounces for the women's shoe and 7.7 ounces for the men's.
It is considered a neutral stability shoe as well as having a balanced or moderate cushioning.
The outer and upper mesh is the lightest and most breathable mesh I have found in any shoe. It has been perfect for hot summer runs and works well when the shoes get wet as they dry quickly.
This breathable mesh layer also helps create a lighter shoe than ever before. This could be beneficial for race day when trying to reduce weight and hopefully run some PRs.
The shoe uses the classic Hoka meta-rocker, which makes it more responsive feel.
The shoe inserts are different than any other Hoka shoe I have tried. It has a single thin shoe insert that has an adhesive, which sticks it to the midsole.
At first, I was not very enthusiastic about this design change (I admit I am a creature of habit), but I adapted to this change.
This adhesive prevents the insert from shifting even when the shoes become sweaty or wet during rainy runs.
I wear a heel lift insert in one of my shoes and have always had issues with getting it to stay in place in certain shoes, especially when my shoes get wet.
This adhesive was easy to peel up, I placed my heel lift under the insert, and it stuck right to it and never moved during any of my runs.
Normally, I would have to stop to adjust it once or twice during long runs. But, with these shoes, I did not!
The only downside is that I developed some slight irritation on the inside arch of my foot that required me to place another shoe insert inside. With this slight adjustment, I had no difficulties.
The soles of the shoes are relatively flat with no room for rocks or pebbles to get stuck in them.
Durability
Upon seeing the price of the Rincon ($115), I immediately thought these shoes would likely need replacement after about two months of running.
Hoka strategically placed rubber squares on the soles in areas that they considered high contact abrasion zones. This worked well for the most part except for about two to three spots, which was incredibly frustrating.
I wore these shoes for two and a half weeks and totalled a little over 100 miles on them and already see extreme wear and tear.
After only three runs in these shoes, they were completely shredded up to the point that I would not be comfortable returning them to the running store if I had not liked them.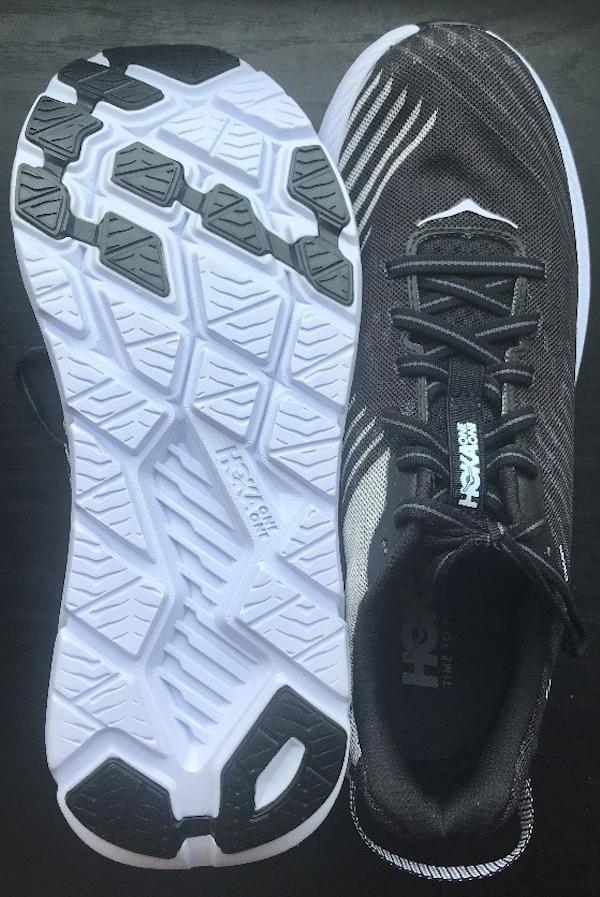 The soft EVA foam in these shoes that is continued into the soles created a similar wear pattern to the Altra Torin's. Given this, I would give the Rincon a 2/10 on durability. I will likely only be able to get about 300 to 350 miles out of these shoes.
Terrain
I tested the Rincon on the road, trails, gravel, grass, and during the rain.
Given the lightweight and thin mesh upper, the Rincon did not perform the best on trails or uneven surfaces in general. It caused a lot of slippage in my feet and created a higher risk of me rolling my ankles.
I would say the Rincon should be used for flat road or grass surfaces only.
Running on wet pavement and during the rain was no problem at all. I noticed no slipping and was able to make tight turns without concern.
Conclusion
In conclusion, I really liked the Hoka One One Rincon. I felt that it was a very different shoe than any of the others they have created.
I appreciated the balanced level of cushion and response. It is definitely a shoe I would reach for during track workouts, tempos, and race day for any length of race.
The overall versatility of this shoe makes for a higher score in my book.
Pros
Aesthetically pleasing design
Breathable and durable mesh upper
Versatile
Cons
Durability issues in the foam/rubber zones
The Hoka One One Rincon was my first shoe by Hoka. Good reviews and the itch to try something a little different pushed me into getting this particular shoe. At the time of this review, I've put over 120 miles on the Rincons, and I hope to put a lot more on them.
I actually completed my review of the Clifton 6 before the Rincon, despite having the Rincon a longer time. That is mostly because I wanted to do the Rincon justice as the sole iteration of its line (the Rincon 2 will be available soon), vs the Clifton 6.
The takeaway: This is a shoe I would recommend to others and would consider purchasing again (either the same version or the update). It's not perfect, but it's very good.
The upper is thin and breathable; you can see the light passing through.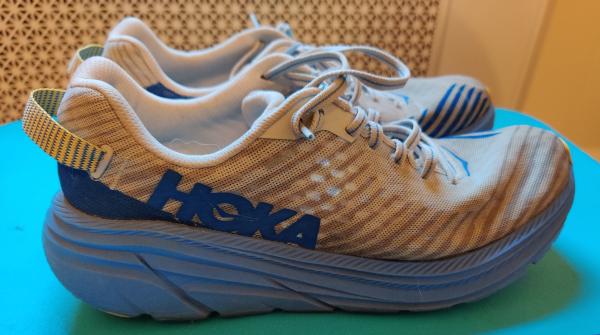 Comfort & fit
The Rincon feels just a touch narrow in the midfoot for me, but not narrow enough to be uncomfortable or cause any pain/discomfort. This is a problem I always have.
My feet are usually good with standard width shoes, and a wide variant is usually too wide. But lately, the standard width feels narrower in more than a few brands, Hoka included.
I went with a size 8.5, which is my casual shoe size. The Hoka's (Rincon and Clifton 6) seem to run about a half size too big for me. So where I typically get a size in 9 in Nike, Brooks, New Balance, etc., I go down to an 8.5 for Hoka.
With that being said, I've been on runs up to 16 miles in the Rincon and had no issues.
In addition to wanting just a touch more width in the midfoot, I'd appreciate just a slightly wider toe box for some more toe splay. To be clear, for the midfoot and toe box, I think just a few millimeters of extra room would take the fit from comfortable to perfect.
But that being said, I find the Hoka line, in general, provides enough room for my forefoot and toes. All in all, the fit is good and solid.
I won't say there is a break-in period for the Rincon. They honestly felt good out of the box vs the Clifton 6, but I will say they do break-in a little bit and feel better now with some runs in them.
The heel collar of the Rincon has been very comfortable, and I've not noticed any slipping. For lacing, I have not altered the lacing structure and found the shoes to fit and feel comfortable throughout runs.
One thing I've noticed is the tongue of the Rincons does not come up the foot very high, and I do have to lace the shoes carefully to avoid the tongue being too low on the top of the foot.
I wish I could pull the tongue up more when I lace these shoes up, but I just can't, and that's a negative for me. I would encourage anyone looking at the Rincons to try on a pair and make sure this won't be a significant issue for the fit.
The Rincons have plenty of cushion. I had intended for these to be a shoe for some faster runs, but find the cushion is plenty adequate for my easy pace and recovery runs. This was a great surprise since they are relatively affordable compared to more cushioned shoes from both Hoka and other brands.
The toe box is roomy enough.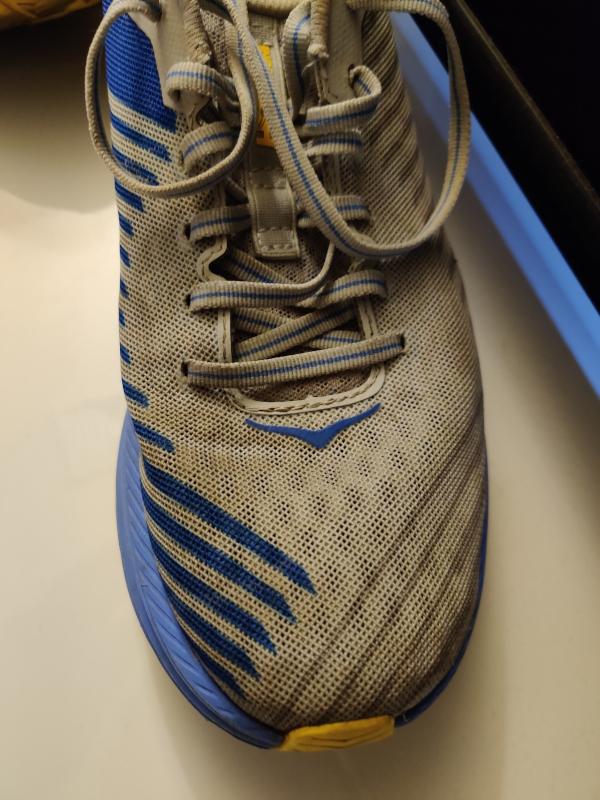 In motion
I strike in between the heel and the midfoot, and I don't have any issues running in the Rincon. I find that when I'm focusing on my running form in the Rincons (at least) my strike moves up to the midfoot and closer to the ball, which feels better in these shoes.
This might be a personal thing, but I think the Rincons reward an efficient stride. This is likely a product of Hoka's meta rocker, but it's not as pronounced for me as the Clifton 6.
The Rincon is a relatively flexible and lightweight shoe. I have not felt any stiffness while moving in them, and they are rather unnoticeable on the feet, which is a good feeling.
In general, I think the Rincon finds a sweet spot of responsiveness and cushion. If you need to put the hammer down, the shoe won't hold you back. If you need to plod along, there is plenty of cushion to smooth out the ride.
The Rincon might not be the go-to shoe for when you need a lot of traction. While I have taken these off-road on some packed dirt and gravel paths, and run in the rain without issue, there is not much in the way of the rubber outsole for traction on the Rincon.
Hoka threw a few pieces of rubberized outsole in the higher wear areas, but it's not much. The majority of the shoe bottom is exposed foam. For that reason, I'm most comfortable keeping the Rincons on dry roads and sidewalks.
As mentioned above, I've not had any issues getting the shoe locked on my foot and remaining in place for longer runs. I've noticed no slipping in the heel and shoes feel like a part of my foot. I can't recall a single run in Rincon where I needed to adjust the laces mid-run.
The Rincon is a remarkably universal shoe. I think it will slide into my rotation as a potential race day option for its performance ability. I envision running 10ks to half-marathons with this shoe when racing resumes post-COVID-19.
I'm not out to set land-speed records and enjoy some cushion, even in my races. The Rincon really fits the bill for me right now in that regard.
Looks, materials, and specs
I opted for the oyster mushroom and nebulous blue colorway, and honestly, they look fine. Typically, I'm not overly concerned about the looks of shoes, but it's nice that Hoka offers the Rincon in a few colorways, so I'm sure there is a color for someone.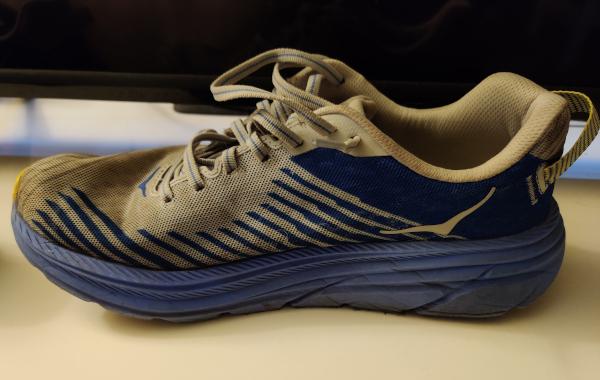 However, it seems some of the colorways are more popular and a little harder to come by at some retailers.
The Rincons come in at 7.7 oz with a 5mm heel to toe drop. They feel light, and they are light. For me, a 5mm drop is not noticeable. If you are someone who typically runs in this drop range, it should be no issue.
I came from some higher drop Brooks' models and had no issues stepping into the Rincons. Overlays are not intrusive and the upper, as breathable as it is, feels durable.
Bonus feature—big old heel pull tab! I'm a fan.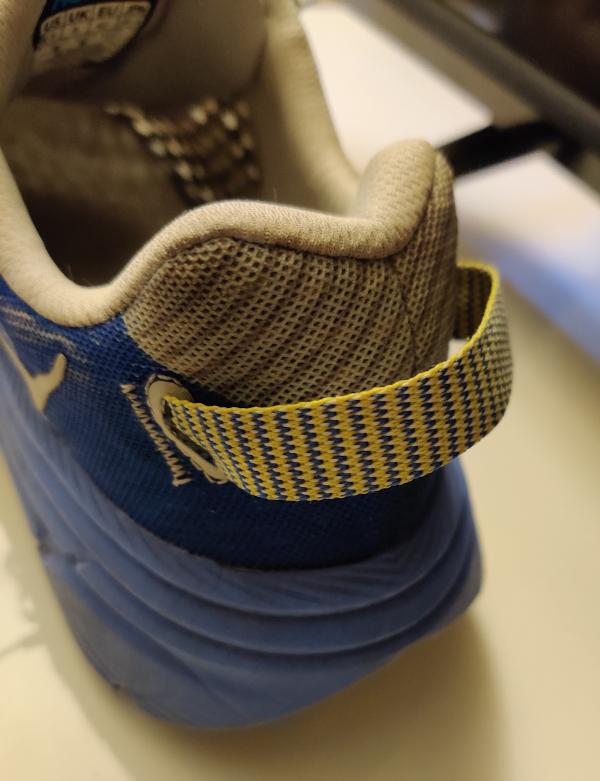 The upper is lightweight, and on the hot, humid runs of summer so far, the shoes have been really breathable. I also run in the Clifton 6's and feel the Rincon is the more breathable of the two.
They definitely dry out quickly, and with a light pair of socks, your feet can stay pretty cool. The mesh is well aerated, and you can see through it, which definitely reinforces the idea that this is a lightweight shoe.
One concern I have is the state of the foam midsole and outsole after 100+ miles. There is limited rubber outsole and a lot of exposed foam on the bottom of the Rincons as previously alluded to. It looks beat up already.
The shoe feels fine, and the midsole seems to be holding up, but I'm concerned about longevity beyond 200-300 miles at this rate. Other owners of Rincons note that the shoes will look worse than they feel, and so far I'd agree. But, I'm very skeptical about the longevity.
In the next iteration, I'd be thrilled to see Hoka focus on the durability, but I concede, it would be tough to do that and maintain the lightweight.

State of the outsole: You can see how "shredded" the foam looks. It's great at picking up dog hair coming into the house after a run!
Pros
Lightweight
Comfortable
Versatile
Cons
Slightly narrow
Durability concern
Short tongue
Conclusion
The Hoka One One Rincon is a great shoe at its price point, can fit in almost anyone's shoe rotation, and a good all arounder. I like them for any type of running on asphalt and concrete.
I wish they were slightly more durable, but here is to hoping they hold up. This would be a buy again for me, or more likely, I do hope that Hoka addresses some of the minor issues here in an updated version so that I can buy those!
After watching some movie reviews on YouTube, I became very curious about this shoe and bought it online. In this review, you can read my personal opinion about the shoes and what my experiences are after my first run and after 100 km.
But, one of the most important questions about a pair of shoes is always: As far as these running shoes need to be replaced, do I immediately run to the shops to buy a new pair of the same model?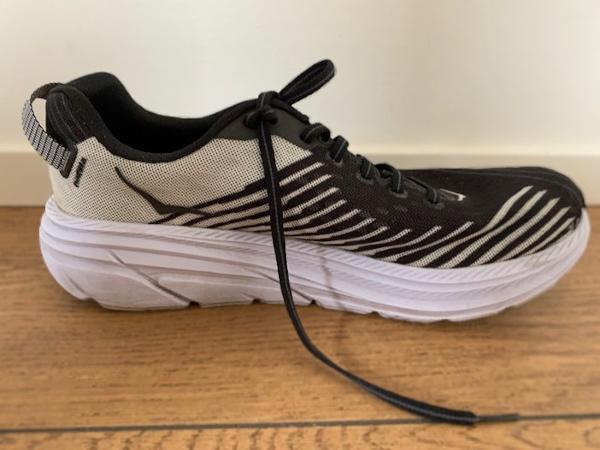 If you do not want to read the entire review, and you do have an answer to this question, scroll down then you will find the answer. If you want to know my honest and personal experience, read on.
What I liked
The Hoka One One Rincon is a great lightweight shoe to walk in. It is my favorite shoe when I really want to race, especially if I want to attack my PR. Sometimes you don't feel like you are wearing shoes when walking.
The shoe has wide support, which I really appreciated because this gives it stability. It is very different from, for example, a narrow Nike racer.
The fabric is also very light and breathable. You can even see the holes when you look inside the shoe. I also really like the pull tab that is so characteristic of the Hoka models. I shoot in my shoes because of this.
What I disliked
The durability of the sole is limited. You can see that immediately after a first run, the sole will wear out very quickly.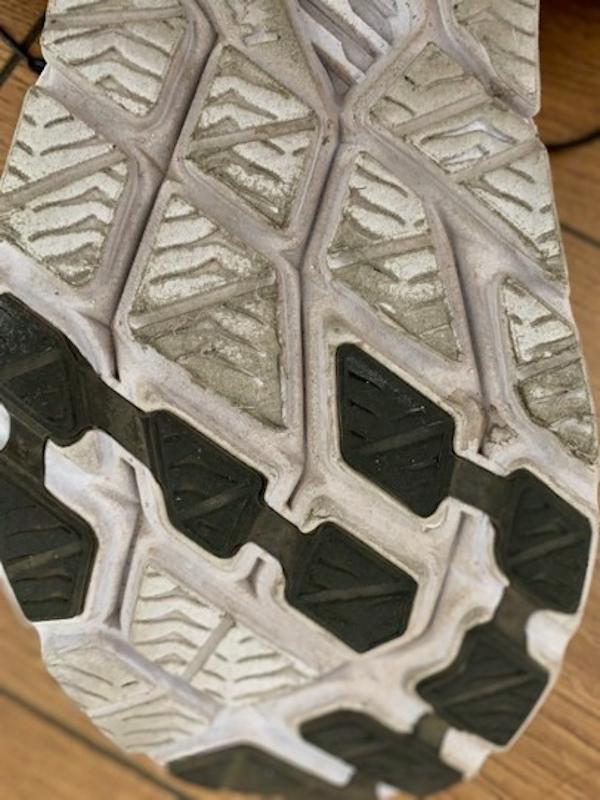 That's the price you think I paid for the weight of this shoe that is really low. But considering the price I paid for this shoe, 120 euros, I don't think that is a huge problem.
The insole really does not fit with this shoe. Hoka, how can you offer such a lousy insole? This insole looks more like paper than an insole. Namely, the paper that you get in a store when you buy (fragile) glasses or other crockery.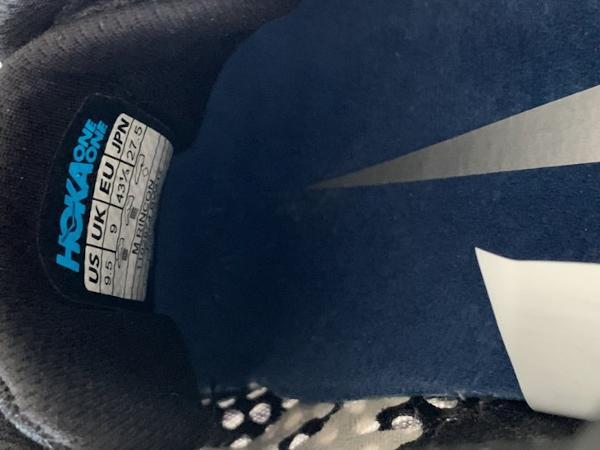 To solve this problem, I used my "old" insoles from Nike.
My experience after the first run
It is evident with the first steps: this shoe is made for fast walking. Every step feels natural, but above all, you want to go faster.
The Rincon simply encourages you to accelerate, which is a very pleasant feeling. The shoe is not a sprinter as far as I am concerned, but a fast racing shoe for the 10 kilometer and half marathon.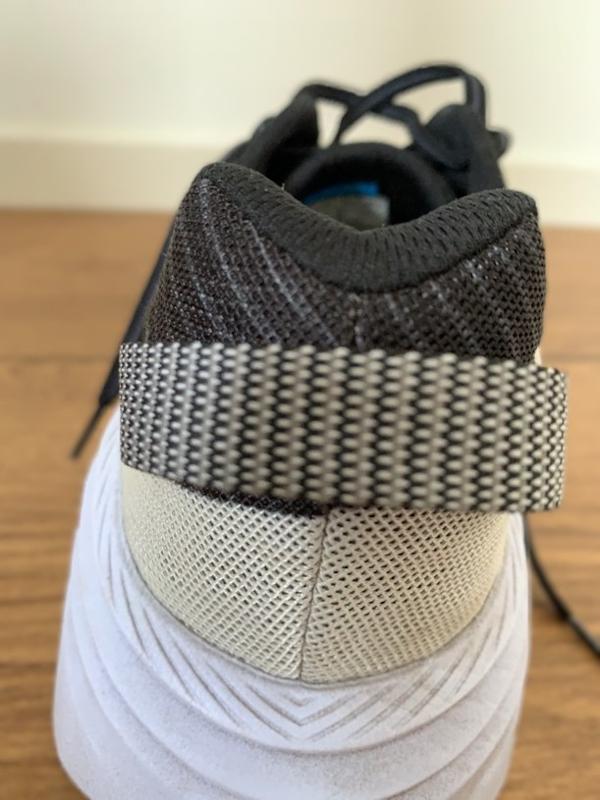 To be clear, it is a shoe that is good to use at all speeds, even at slower speeds.
During my first run, the shoe felt a bit tight. I had to get used to the tightness of the shoe around my top foot. But, I quickly got used to that.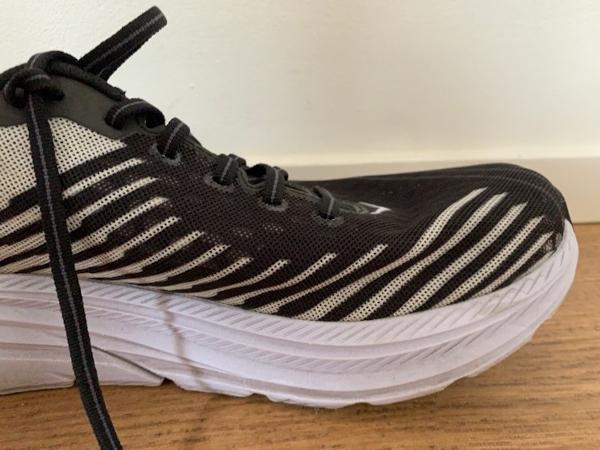 My experience after 100 kilometer
After 100 km, it is clear that I experienced this shoe as very pleasant. However, the sole is not durable. I estimate that it will last about 300-400 kilometer.
Also, after several runs, I had to look for a solution to a slight irritation under the ball of my left foot. It wasn't painful, but it was irritating.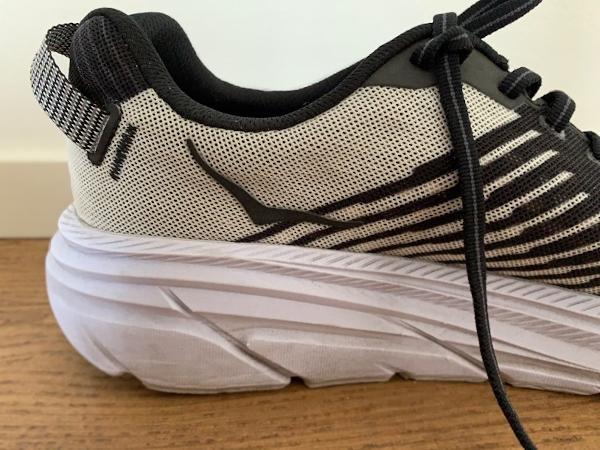 After I replaced the insole, I had no problems with that, and I enjoyed the succeeding kilometers I made with this shoe.
I enjoyed my runs in this shoe. And, when there was a tempo run in my training schedule, I always took this shoe out of my closet.
The big question: Would I buy these shoes again?
The big question is, of course, would I buy this shoe again? And if so, why?
In short, yes. I would buy the Hoka One One Rincon again because it is a great lightweight shoe that I have made many pleasant kilometers with. Also, it can be used at different speeds.
In the meantime, I hope that Hoka will do something about the insole.
I have worn the Hoka One One Rincon for over 50 miles, and I have found it to be a decent shoe for daily training, such as a recovery runs and long runs.
For those interested in the bottom line: the Hoka Rincon is stuck in between trying to do the job of a fast shoe and that of a slow shoe; and by doing that, it doesn't do a great job at either.
It is worth keeping in mind that if you purchase the red colorway of the Rincon, the midsole is more of a grey color rather than white.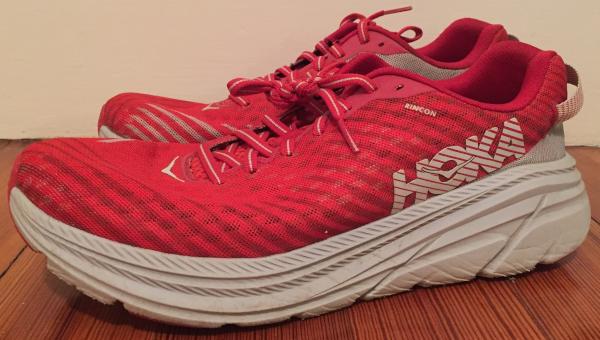 Comfort - 10/10
When it comes to comfort, the Hoka Rincon beats out the Hoka Napali, Hoka Clifton 1, and Clifton 3. I wore the Rincon for a 5-hour shift at my part-time job as a cashier (I'm a student), and I never felt any foot pain like I do when I wear other shoes.
In terms of running comfort, however, the Rincon has a very thick and cushioned heel cup that holds your foot. The underfoot experience of the Rincon, which I will touch on later, is also decently pleasant when it comes to pure comfortability.
The upper is breathable when it is hot, and it shields you when it gets colder outside. The shoe is very comfortable to slip on for a quick run.
Upper - 10/10
As I mentioned previously, the upper on the Rincon is breathable, and it holds up. Thus far, I have not noticed any tearing or discernable signs of wear.
I have no complaints about the upper on the Hoka One One Rincon.
Cushioning/ride - 5/10
Because this is a Hoka shoe, this is the part of the review that you were all waiting for. The cushioning on the Rincon, in my unpopular opinion, is not what I am used to with other Hoka models.
As I mentioned above, I have worn the Napali and Clifton's 1 and 3 for a combined total of over 1,200km or almost 750 miles. After running in the Rincon, I can definitely state that the cushioning is almost nothing like what you will find with the models as mentioned earlier.
Despite bearing the Hoka name, the Rincon feels more like a Nike Pegasus, which, although plush and comfortable, is not the ride or feeling that I expected when I purchased a Hoka One One model. This is especially coming from experiences with shoes like the Napali and past Clifton models.
The cushioning is not firm either. It doesn't feel like a racing flat. It is a strange mix of an easy day shoe and a racing flat. It feels difficult to run fast in this shoe, and it also feels difficult to run slow in this shoe.
It is a strange in-between that, for me, does not give the most pleasant ride. If there is any pace from 4:00/mile pace to 9:00/mile pace that feels natural in this shoe, I have yet to find it.
Being honest, I miss my old, beat-up pair of Napali's. Even more, I miss my old pair of Clifton 1's.
Value - 7.5/10
In terms of value, the Rincon is retailing for $115. Although by the time you're reading this, you can likely find it for cheaper. Compared to the previously mentioned Pegasus 36 from Nike, the Rincon retails for $15 less.
Although this is not very much compared to the total price you are paying, $115 for a pair of shoes that will likely last you about 300 miles is about standard for running shoes. It's not great, but it's, by no means, bad either.
When to wear the Hoka One One Rincon
I wore the Rincon for anything from easy runs to hard long runs. Although they did become better after a while, it felt sluggish to run anything faster than tempo pace for me.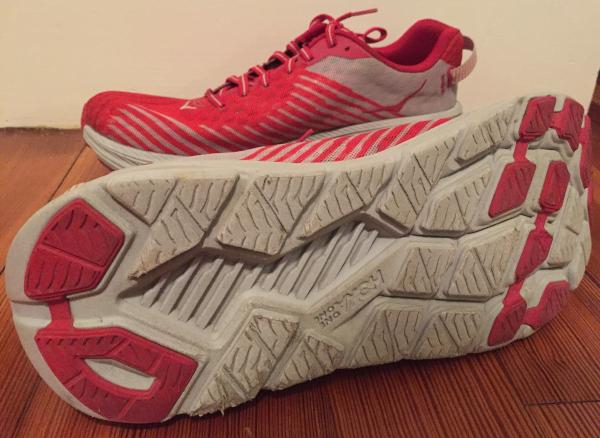 I have begun to wear my cross country spikes instead of these for things like fartleks on grass or even some tempo intervals.
I would recommend wearing these shoes for easy runs and slower long runs.
Final thoughts
All in all, I'd give the Hoka Rincon a 32.5/40 or 81% rating. Although it is a slightly strange shoe that is neither fast nor slow, it has exceptional comfort in the heel and forefoot area, and it is still a good shoe.
However, if you are looking for a ride similar to that of the Napali or original Clifton models, unfortunately, this isn't it.
If it doesn't breach anyone's copyright, I would like to crown the original Hoka One One Rincon as the uncontested 'King of Trainers'.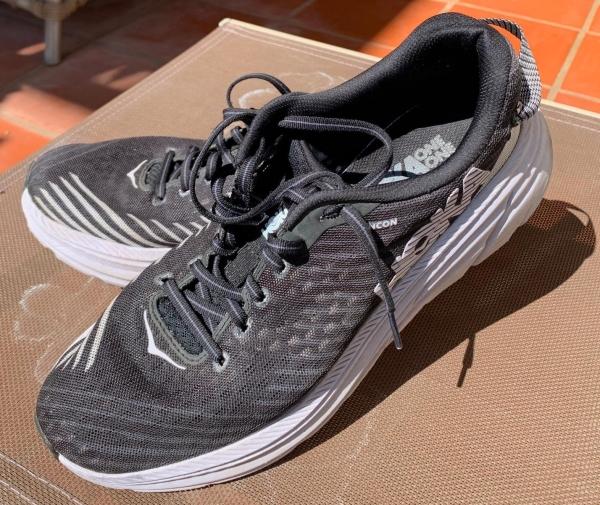 There really isn't a better road running shoe on the market that can also be used as a daily trainer in the gym or for all-day wear. They are great value, comfortable, super light, and have just the right amount of responsiveness and stiffness to make them the perfect all-rounder.
I am a 60yo male, 75kg/160lb. These days, I jog along at a rather sedate 10 to 11-minute mile pace. I cover around 40 miles a week on mostly flat paved or asphalt surfaces or light trail surfaces.
I do get a lot of niggly injuries—it's an age thing! It is mainly hamstring or Achilles, so I regularly have to swap out for softer or more supportive shoes like Bondi 6's and Brooks Adrenaline depending on what's bothering me.
But, it is always a pleasure to step back into my Rincons. I haven't experienced any rubbing or blisters, and the shoes didn't need any breaking-in. The running feel is very Hoka—a cross between my old Clayton 2's and Clifton 5's.
Before I bought my pair, I have to admit that I was sceptical about its durability. I expected that there would be wear issues. I am a Hoka fan, so I was all over these when they first came out but held off buying as I already had several pairs.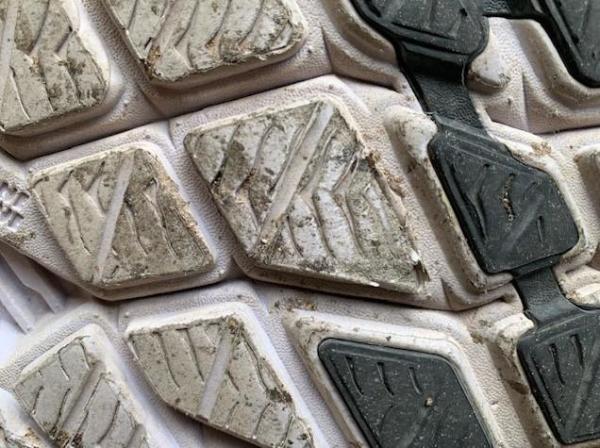 Reviews had warned of concerns over the lightweight construction and durability of the single-layer upper. However, I have had absolutely no issues over the seven months and 130 or so miles I have covered. I do tend to keep these shoes for dry days, though!
The shoe is formed around a deep UVA trench that your foot slides nicely into. It's all about that sole really.
The midsole is on the stiff side of plush, so it gives a snappy response when needed and that smooth glide you expect from a Hoka the rest of the time. The heel is well supported and is nice and wide to give lots of stability.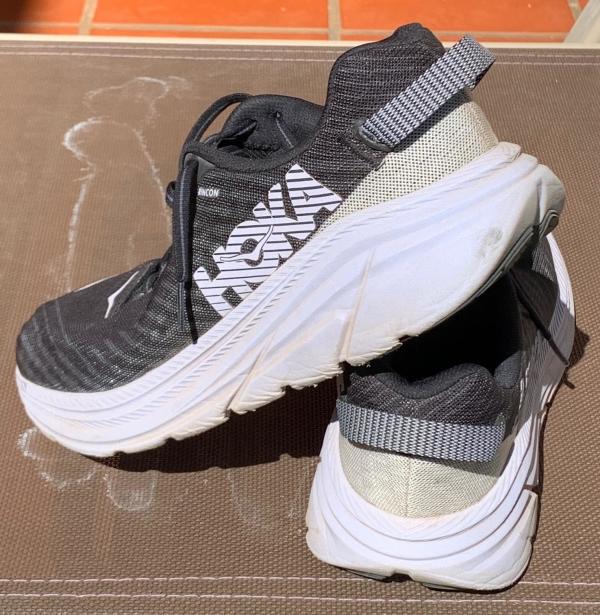 Stiffer rubber pads protect the sole, but these are minimal to cut down on weight and as you can see there's some wear on the unprotected UVA, But, it's really minimal.
The Rincon weighs in at featherweight 7oz/200g and fits true to size. So, my usual half size extra gives me loads of toe room without losing heel grip.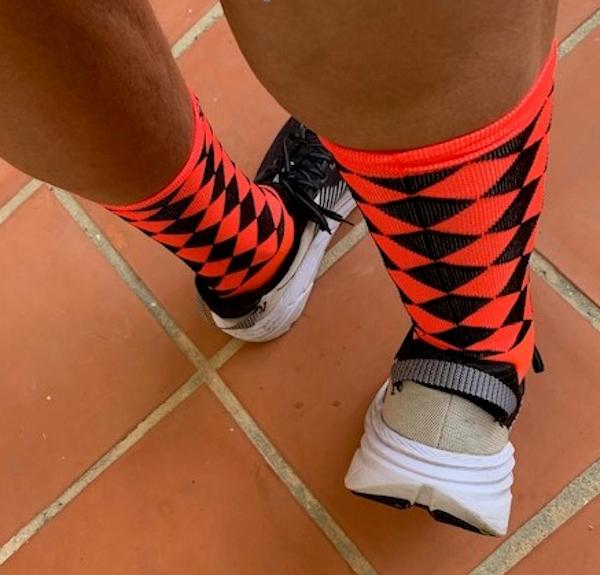 This shoe has a relatively low drop of 5mm from heel to toe that works well with the nice curve of the sole. I can feel this roll that benefits my running style.
The simplicity of the mesh upper shows how cleverly these shoes are designed. It is a single layer of well-ventilated acrylic fabric that wraps your foot snugly into the sole.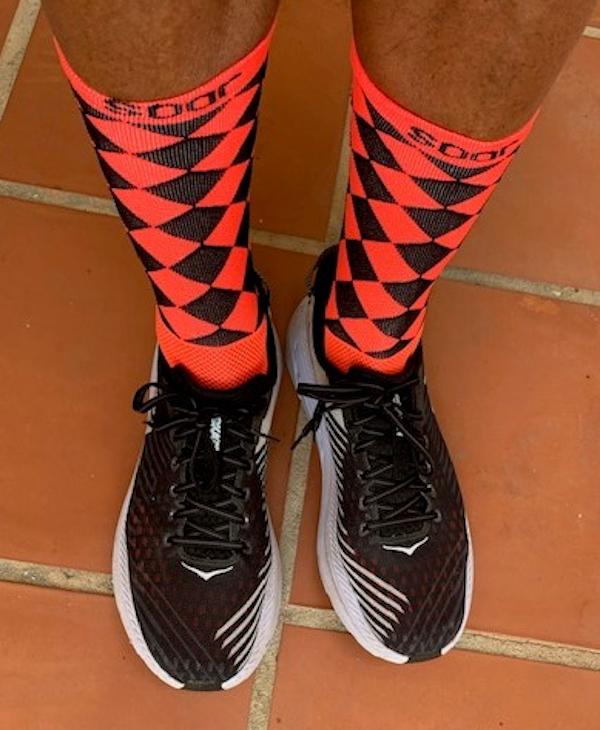 There are no overprinted bands needed for support or as style points. The tongue is a bit short, however, and the lacing is also a little short for me, so I use all the eyelets in a runner's knot to minimise heel movement.
They come with nice broad, stretchy laces, so there's lots of give once you set off. I rarely have to re-tie. There's a bit of stiffening round the heel cup that helps give you a bit more support. The pull-on tag on the heel is a really good feature.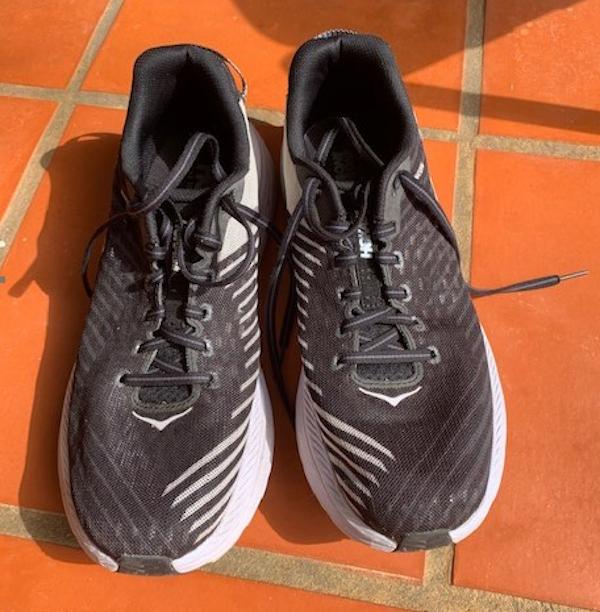 Looks-wise, I think the shoe looks like it means business! They have done just about enough to make the Rincon look like a modern sports shoe without looking stupid.
The white sole is a bit visually overpowering. I'm glad to see there are a few more colour variations in the revised release. And when these go lumpy, I will definitely replace them with the updated version.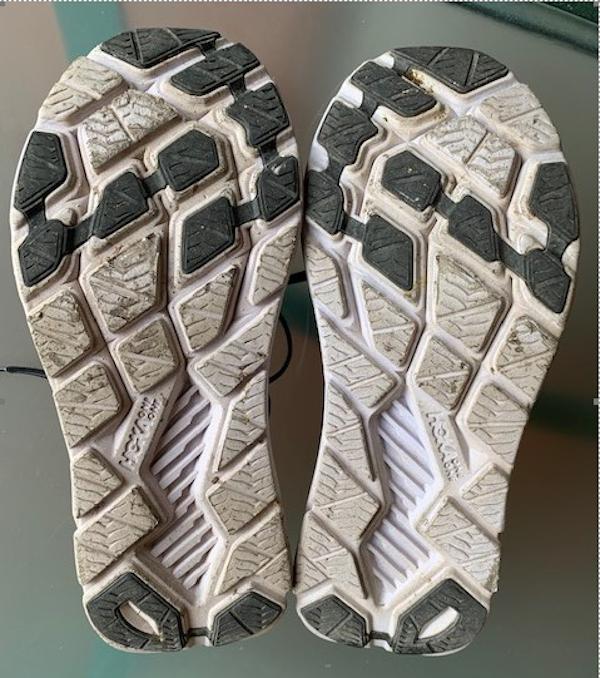 The Rincon is a shoe that I'd recommend for all regular runners to have in their rotation. It really is 'The King of ALL Trainers'!
If you were lucky enough to have run on the first generation of Hoka One One Cliftons and loved them, then you know.
Soles and mesh looking great after 160 miles. Despite clear abrasion on the foam, there's still lot left in the shoe. No doubt it will go at least 300.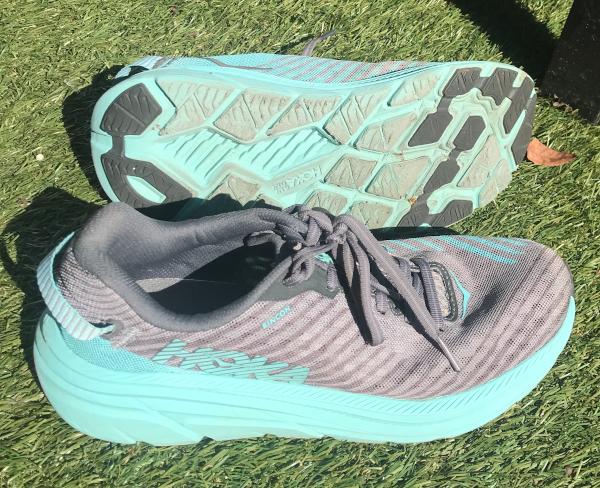 And so, you spent the last four years looking for that same heavenly feeling of light, airy, fast, and responsive that has not been reproduced by any other shoe since 2016, including each of the six generations of the Clifton that followed—each of which somehow managing to get heavier and sloppier than the one before it.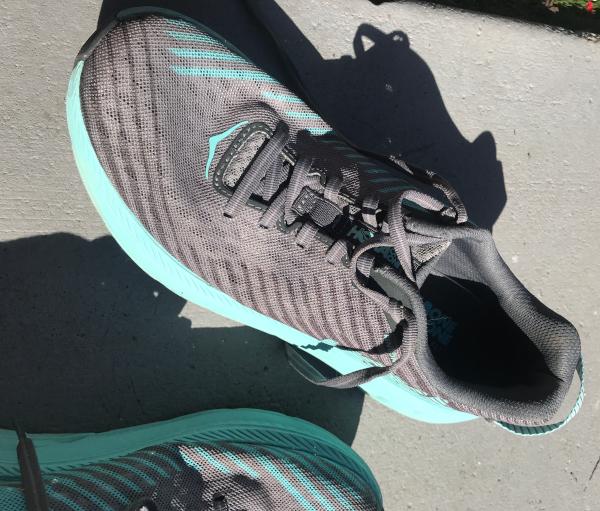 But, alas, the Hoka One One Rincon is the answer to your prayers. Maybe. I read a lot about the Rincon before buying myself a pair. What I read made me excited enough to buy them at full price ($115, which is not a lot to pay for a promised piece of heaven).
I bought the charcoal and aqua sky color, which I find quite palatable compared the colors of the Clifton 1. I was "forced" to wear if I wanted that Clifton feeling. I bought the Rincon size 7.5 M.
The first thing I noticed when I tried the Rincon is that they are long: I usually wear dress shoes size 7.5, but I take most running shoes size 8.
For reference, I wear size 8 of the Brooks Ghost and Launch, Nike Epic React, Zoom Elite and Zoom Fly, Adidas Boston and Adios, Hoka One One Tracer and Bondi. I first tried the Rincon size 8, and they were huuuuge.
Nice and sufficiently long laces allow for ankle locking and double lacing.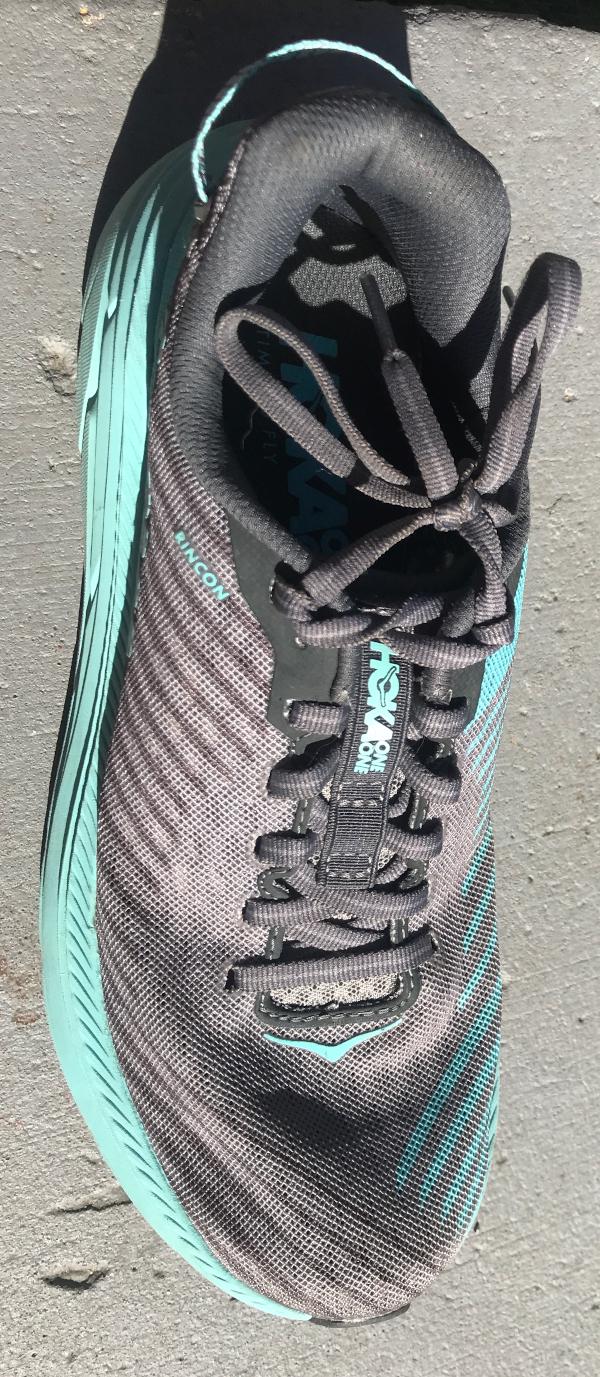 The 7.5 are just perfect. In fact, they might be a tad long still. I do not wear a custom insole, but if I did, I would still take the size 7.5 over the 8.
I took the fact that I needed a 7.5 on the Rincon as a good omen because each of my six pairs of Clifton 1 was also size 7.5.
The width of the Rincon is also perfect. I have normal width feet (high arches) that are neither wide nor narrow (though the Clifton 2s were a bit too narrow for me) and the Rincon envelop my feet just right.
Lots of room despite a .5 size smaller than most of my running shoes (ordered same size as dress shoes)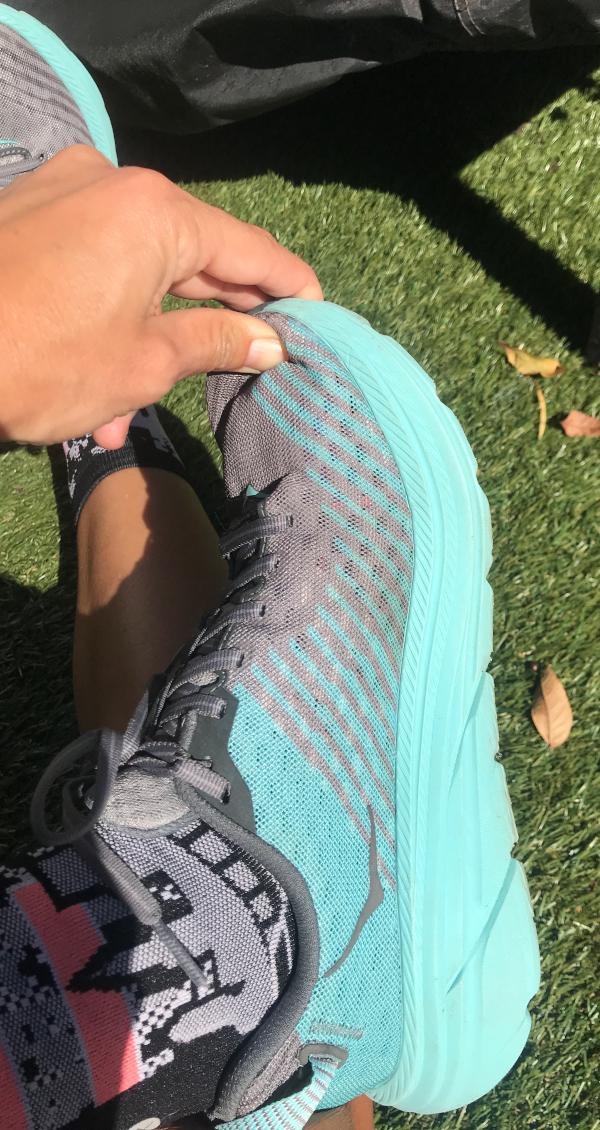 The material of the Rincon's upper, a type of mesh, is also very light and breathable. All in all, I have put 160 miles on the shoe in the last few weeks and have found the upper of the shoe to be very comfortable and unnoticeable while running.
I also like the Rincon's laces a lot. They are long and do not come undone as sometimes the Cliftons' did.
The Rincon's cushioning is superb and very similar to Clifton 1's. It manages to be light, firm and cloud-like all at the same time, which was the magic of the Clifton 1.
I do not like mushy shoes and, like the Clifton 1, the Rincon is decidedly not mushy. You can feel both the protection and the ground in a way I love if I cannot explain.
I don't mind the exposed foam, which saves weight and makes for a smooth ride.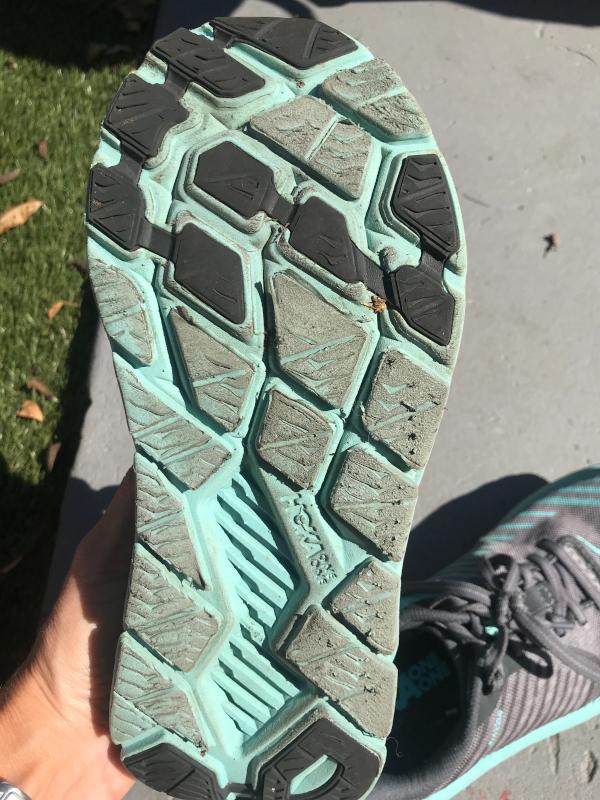 The shoe is responsive and does not stall when picking up the pace. For most runners, the Rincon should excel in training and even racing half-marathons and marathons.
So, why is the Rincon only almost perfect? I am sad to say it is because of the hot spots and blisters I am getting on the balls of my feet and side of the big toe on runs of 10 miles or more.
I did not have this issue with the Clifton 1, though I did have it with other generations of the Clifton. Though I should mention I am a mid-to-forefoot striker, and, interestingly, I am getting blistered right around the area where I hit the ground.
Maybe someone who is a heelstriker, or even a solid midfoot striker, will not have this problem. For those lucky people, the Rincon is probably the perfect shoe indeed.
But, even for those forefoot strikers out there, the Rincon is still a great shoe, especially if you are looking for a shoe to take on 5-6 miles at a time.
Good to know
- Inspired by the world-famous Rincon surf spot and its smooth waves, the HOKA Rincon as appropriately named, delivers the same feeling of the wave's smoothness when worn. It packs an amazing amount of cushioning with its EVA foam midsole which absorbs shocks instantly and effectively.
- The Rincon is also made to be extremely lightweight with the help of its upper mesh construction. It does not only give out a weightless sensation during running, but it is also highly breathable. It keeps the foot cool throughout the competition or training. The Rincon's upper also features an asymmetrical design and a stripped-back profile to give this neutral running shoe a speedy boost to the finish line.
The Rincon from Hoka One One runs in standard medium length sizing. It comes in medium size D for men and medium size B for women. The shoe fits narrow in the rear but slightly roomy in the forefoot. The roomy space in the forefoot greatly assists the runner at higher speeds because it gives the toes room to naturally splay out and maximize forward propulsion as the foot lifts off the ground. The shoe's adaptable mesh upper allows the Rincon to fit a wide variety of foot types by delivering a snug lockdown. Although the fit and sizing details are stated when buying online, it is still suggested that to get the best fitting shoe, trying on a pair in one's local running shoe store and reading about other user's reviews would greatly help.
The Hoka One One Rincon features an outsole design that is made to be flexible and durable. It is constructed from Hi-Abrasion rubber and placed strategically on high wear areas such as the forefoot and heel. This durable rubber outsole material helps increase durability and resist the traumas of heel strike for more extended wear. It also provides traction to handle longer miles while also offering a much lighter design than a full-length blown rubber outsole. The shoe's outsole gives the runner firm control of the shoe's movement across a wide range of different terrain over a long period of time. This reliable outsole anchors the runner into place, keeping them in a strong and controlled position while running.
Completing the Rincon's outsole is the new flex groove system in the forefoot area. It encourages multi-directional movements, a little bit of flex and cored-out heel to further reduce the shoe's weight.
The Hoka One One Rincon uses the full-length platform made of Hoka signature compression EVA foam. It resides underfoot for lightweight, responsive, and better cushioning. Exceptionally lightweight, the EVA midsole foam guarantees a high level of cushioning to keep the wearer comfortable even during the runs. It is also soft and durable enough to assist in protecting the joints during impact on hard surfaces.
The Rincon's EVA foam is made to be extremely firm, which allows it to absorb shocks instantly and effectively. This prevents the shoe from causing any damage to the sole of the foot. The energy produced from this will also be returned as a rebound, which adds an extra spring in the runner's step.
The early-stage Meta-Rocker is applied in the midsole to increase the shoe's running efficiency. Meta-Rocker midsole geometry is specifically designed with a low heel-toe differential and a sculpted outsole to create a unique fulcrum effect, like a rocking chair to encourage a guided gait cycle. This design supports a runner's natural form while promoting an efficient, smooth roll from initial impact to toe-off.
The Rincon's upper is constructed using a single layer mesh material which offers a comfortable fit and provides maximum breathability. This mesh upper material efficiently wicks away the build up of excess sweat and moisture, leaving the runner's feet feeling cool, comfortable, and most importantly, dry.
The upper mesh material also helps in the circulation of cool air inside the shoe. This encourages a healthier environment for the wearer's feet to thrive in.
Additionally, a heel pull tab is found on the Rincon's rear, allowing an easy wearing and removal of the shoe. It also features a slim tongue that reduces additional weight while sitting comfortably against the skin for all-day wear.
Finally, the shoe's upper incorporates a traditional lace closure system which locks down the midfoot for distraction-free strides.
How Rincon compares
Corescore: 54-57
3 shoes (0.32% of shoes)
Corescore: 58-61
6 shoes (0.64% of shoes)
Corescore: 62-65
16 shoes (2% of shoes)
Corescore: 66-69
18 shoes (2% of shoes)
Corescore: 70-73
53 shoes (6% of shoes)
Corescore: 74-77
103 shoes (11% of shoes)
Corescore: 78-81
241 shoes (26% of shoes)
Corescore: 82-85
241 shoes (26% of shoes)
Corescore: 86-89
194 shoes (21% of shoes)
Corescore: 90-94
60 shoes (6% of shoes)
Price: £40 - £70
114 shoes (12% of shoes)
Price: £70 - £100
268 shoes (29% of shoes)
Price: £100 - £130
273 shoes (29% of shoes)
Price: £130 - £160
169 shoes (18% of shoes)
Price: £160 - £190
60 shoes (6% of shoes)
Price: £190 - £220
37 shoes (4% of shoes)
Price: £220 - £240
10 shoes (1% of shoes)
Price: £250 - £270
1 shoes (0.11% of shoes)
Price: £270 - £300
2 shoes (0.21% of shoes)
Price: £300 - £330
1 shoes (0.11% of shoes)
Weight: 100g - 133g
6 shoes (0.77% of shoes)
Weight: 134g - 166g
16 shoes (2% of shoes)
Weight: 167g - 200g
41 shoes (5% of shoes)
Weight: 201g - 234g
114 shoes (15% of shoes)
Weight: 235g - 268g
195 shoes (25% of shoes)
Weight: 269g - 301g
211 shoes (27% of shoes)
Weight: 302g - 335g
134 shoes (17% of shoes)
Weight: 336g - 369g
47 shoes (6% of shoes)
Weight: 370g - 402g
12 shoes (2% of shoes)
Weight: 403g - 436g
3 shoes (0.38% of shoes)
Weight: 437g - 437g
1 shoes (0.13% of shoes)