Verdict from 13 experts and 100+ user reviews
7 reasons to buy
A lot of people say that this trail running shoe's outsole has good traction and grip on different surfaces.
Several users say that the Evo Speedgoat is very comfortable for trail running.
A lot of runners appreciate the lightweight feel of the shoe.
The Evo Speedgoat is highly durable according to a number of wearers.
A lot of the purchasers like the overall aesthetics of the shoe.
One runner says that the shoe is able to enhance speed when running.
The shoe offers roomier insole experience and breathability, several runners claim.
2 reasons not to buy
The Evo Speedgoat tends to be very noisy, especially on wood floor or concrete, says one runner.
The shoe is tight on the toe box, complained some runners.
Bottom line
The consensus of the reviewers on the Hoka One One Evo Speedgoat is highly positive. A lot of users appreciate the comfort it gives. The good grip of the shoe on surfaces was lauded by many. Although there were some complaints on the shoe's narrow toe box, the users were still very satisfied with the aesthetics and lightweight feel that the shoe offers. Some even claim that it is the best trail running shoe.
Tip: see the best trail running shoes.
Our reviews
The Speedgoat Evo is an ultra trail runner's soulmate. It is lightweight, has outstanding grip, a secure fit, great water resistance, and drainage plus Hoka's famous cushioning all in one show-stopping highlighter yellow package.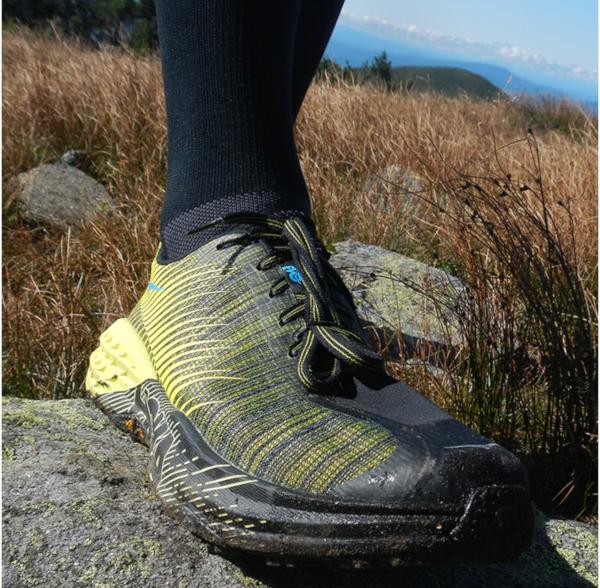 Who Evo Speedgoat is perfect for
With its $160 price tag, low heel-toe drop (4mm), and maximalist cushioning, the Speedgoat Evo is not for everyone. It is optimal for marathon-to-ultra-distance trail runners who are willing to sacrifice pliability and ground feel for some of the best cushioning and grip in the business.
The Evo is a great choice if you're already a fan of the Speedgoat 3 (green and black in photos; Evo in yellow and black) and are willing to invest a few extra bucks for a lighter weight shoe for race day.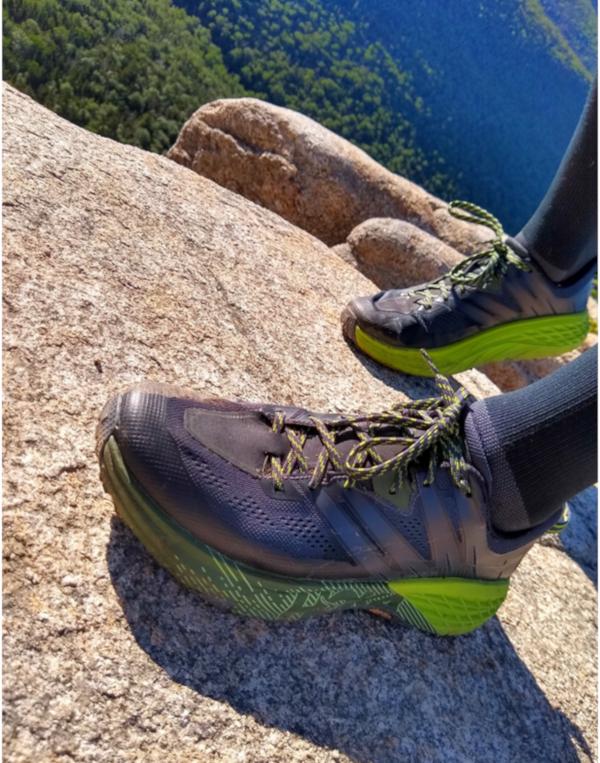 In-depth review, from top to bottom
Have you ever seen one of those giant pickup trucks that someone has jacked up with even bigger tires and rims? A more beefed-up suspension, and an engine that's entirely too big for the hood?
You look at it and think: "that's the most over the top, obnoxious thing I've ever seen." Then you catch yourself thinking, "that's actually kind of cool…I want one."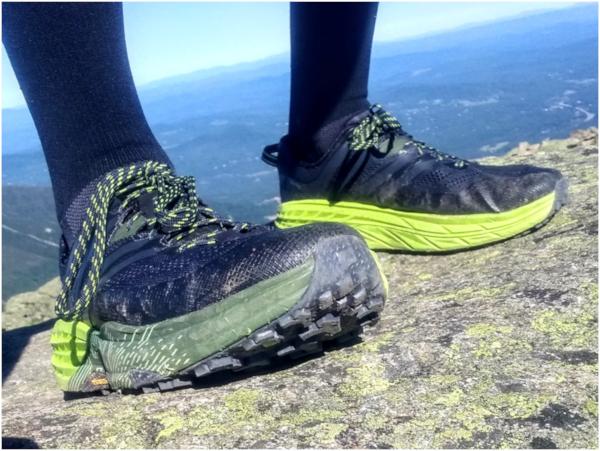 That's the Speedgoat Evo. Hoka took the Speedgoat 3 (an already near-perfect off-roading shoe) and somehow tuned it up to make it even better by adding an in-your-face neon yellow color scheme, cutting the shoe's weight by half an ounce, adding a more durable and form-fitting woven upper, and removing several abrasive overlays.
To test these shoes out, I took them on a few dozen or so laps up a few mountains. Below is an in-depth review of the Evo Speedgoat from top to bottom, and my thoughts on how it stacks up against the base model Speedgoat 3, as well as a few other competitors like the Hoka Mafate and the Salomon S/Lab Ultra 2.
Upper
The upper on the Evo Speedgoat has an excellent, dialed-in fit. I have average (D) width feet, and found I had enough room for toes to splay out and for my feet to swell on 20+ mile runs while maintaining a tightly locked down wrap in the midfoot and heel.
With the Speedgoat 3, there were complaints about overlays around and above the toe box that some runners found caused irritation. No more with the Evo.
The irritating toe cap overlay is gone, and the rigid overlay above the toes has been replaced with a soft patch of stretchy mesh. The Evo's woven upper also allows for more stretching and accommodation of a wider range of foot shapes than did the stiffer upper of the Speedgoat 3.
The Evo's upper also has received thinner, stretchy laces and removal of the heel tab to save even more weight.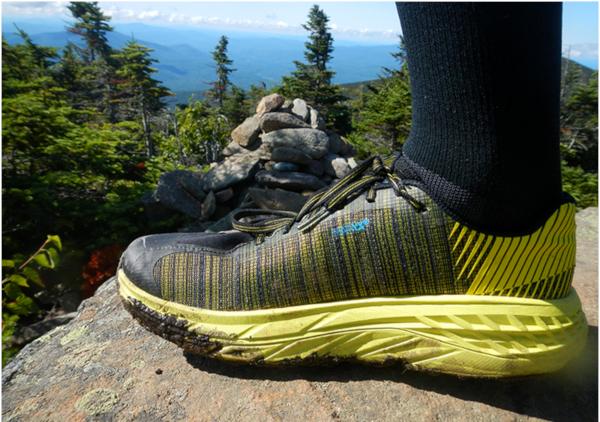 Finally, the Evo's upper has been equipped with a fully gusseted tongue to prevent debris (and water, the "Matryx" material is water-resistant) from slipping in. It gives a better fit and reducing the amount of material in the upper to cut weight.
Even with all these weight cuts, the Evo maintains effective foot protection and durability - thanks to its "Matryx" weave material. Even when my foot was jabbed by rocks and branches, it didn't feel jarring and didn't feel any less protected than the Speedgoat 3.
I've found the Evo's upper has maintained a snug fit after 70+ miles of wear while showing no signs of fraying or tears. This is an impressive accomplishment from Hoka.
I usually don't like woven uppers, especially on trail shoes, since they tend to make the shoe feel like a loose sock and insecure after just a few miles of wear. I'm happy to report this was not the case in the Evo.
Finally, while the Evo's upper is not fully waterproof, it is water-resistant and does drain moisture extremely quickly, making river crossings, mud, and rain easy to deal with. Even in wet conditions, I never got blisters running in the Speedgoat 3 or the Evo, and never felt sloshing from accumulated water.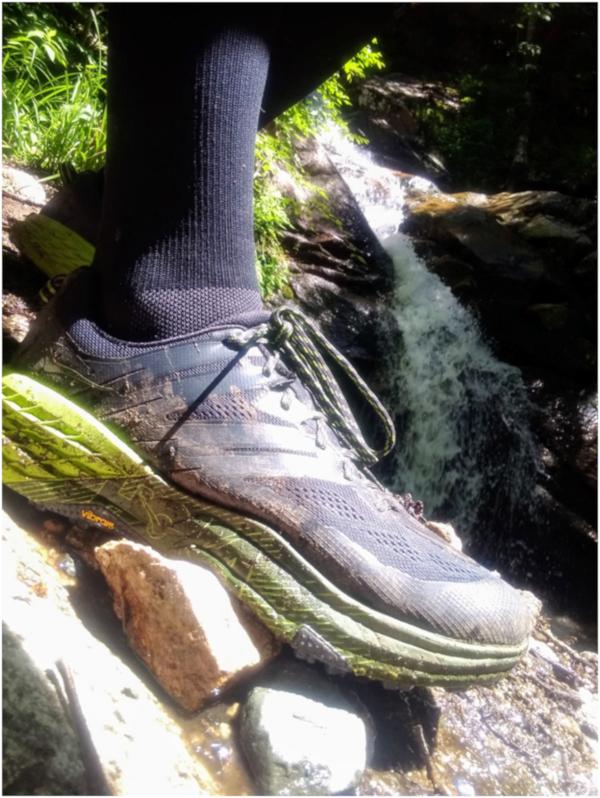 Midsole
By far the biggest selling point for Hoka shoes is their world-famous cushioning. Yet, in the past, I've found the maximalist cushioning of Hoka shoes can go too far, especially with their trail shoes.
For example, I found the HokaStinson was cushioning overkill. You were situated way too high up without any ground feel, which resulted in twisted ankles and insecure footing.
The Speedgoat is one notch less cushioning from the Stinson, and I was relieved to find myself comfortably Speedgoat-ing (can you use it as a verb?) down extremely technical rocky trails and loose scree without a worry, remaining balanced, stable, and connected to the ground.
It is a perfect amount of cushioning that keeps legs feeling fresh on the last miles of an ultra-distance run, but also maintaining the balance and ground feel of a stable, technical trail shoe.
Unlike many trail shoes, the Speedgoat Evo's midsole does not have a rockplate. But with this much cushioning, you really don't want or need one since a rock plate would add extra weight without offering any noticeable extra protection.
Running over sharp rocks and roots, I never felt the midsole needed any additional foot protection.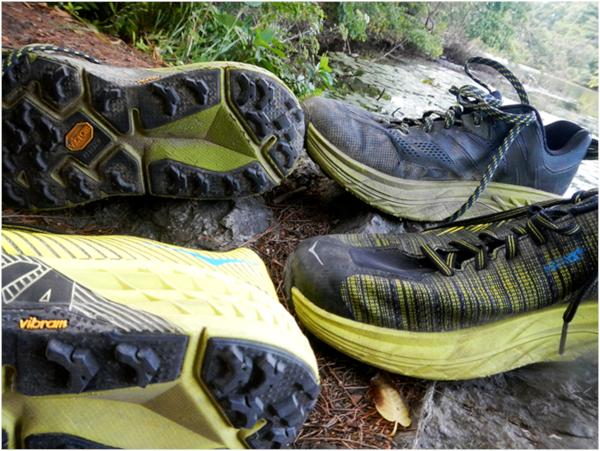 The one limitation of the midsole is that with so much foam, the Evo sacrifices all pliability. Meaning, there isn't a lot of natural foot movement going on.
That said, the meta-rocker curvature of the shoe (a slight curve design of the midsole) succeeds in allowing runners' gaits to transition smoothly from heel or midfoot to toe.
It's a creative adaptation to having so much cushioning. But if you're a fan of flexible, pliable, natural-feeling shoes, the Speedgoat Evo isn't for you, or it should be paired with a more minimalist weekday trainer while the Evo is reserved for long runs that need the extra plushness.
Outsole
The outsole on the Speedgoat Evo is the same as the Speedgoat 3, which is a good thing because it's amazing. I've been disappointed with Hoka trail shoes' traction in the past, but the Speedgoat 3 and the Evo's outsole (made in collaboration with Vibram) is a welcome, major improvement.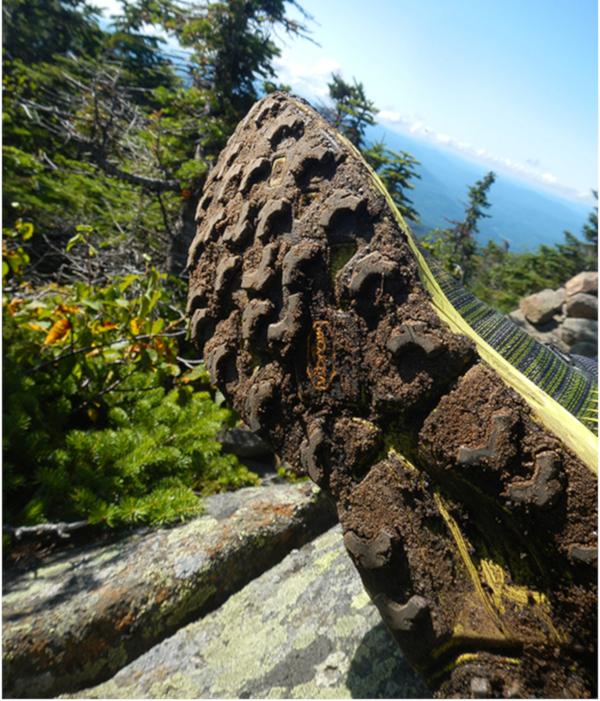 I found myself running confidently across streams, over wet rocks, through mud, on dusty trails, and concrete.
You don't need to take my word for it: in an interview, ultra-running champion Jim Walmsley said he decided to wear the Speedgoat for his 2019 Western States 100 ultramarathon win because of its outsole's grip advantage over Hoka's slightly lighter Mafate trail shoe. Make of that what you will.
The competition
While it's nearly perfect, the Speedgoat Evo does have some serious competition. One strong competitor is the Salomon S/Lab Ultra 2 - another race-day oriented, lightweight (9.9 oz for the Evo, and 10 oz for the S/Lab Ultrain a men's size 9), highly cushioned ultra-running trail shoe.
Both have exceptional traction, seamless uppers, exceptional durability, and tons of cushioning for the long haul. They have similar price points ($180 for the S/Lab Ultra, $160 for the Evo), and similar fits.
I would suggest the deciding factors between the two are pliability and ground feel. If you like to feel connected to the ground and like your feet to be able to flex naturally, then the Ultra 2 is your shoe. If you want a smidgen more cushioning and are willing to give up ground feel and natural foot movement, go with the Evo.
Another competitor is the HokaMafate, a slightly lighter option at 9.7 oz for a men's size 9. Full disclosure, I haven't run in the Mafate, but most reviewers describe a less grippy outsole, a less durable and under-protected upper, and a smidgen less cushioning than the Speedgoat Evo.
In my opinion, those losses plus a $10 higher price point for the Mafate aren't worth the 0.2 oz of weight saving. What's more, the Mafate 2 update for fall 2019 has gained weight, making it heavier than the Evo.
The final competitor is the Speedgoat Evo's little brother, the base model Speedgoat 3, and the forthcoming Speedgoat 4 due in November 2019.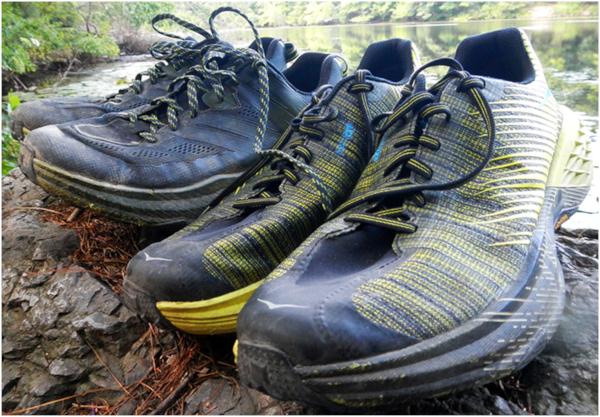 As much as I love the Evo, I would only suggest upgrading from the Speedgoat 3 if you're:
Really trying to set a land speed record where half an ounce will make a significant difference.
Are having discomfort from the overlays on the Speedgoat 3's upper, or
Are really into the color yellow. The reduction in weight is barely noticeable, the outsole and midsole are identical, and the upper is only a minor improvement.
This isn't a dig at the Evo, but more of a compliment of how good the Speedgoat 3 already is without a tune-up.
If you're waiting for the November Speedgoat 4 update expecting major changes, I suggest you don't hold out.
Based on an inside scoop from a Hoka One One sales representative, it sounds like the Speedgoat 4 will not be a dramatic change from the Speedgoat 3, only getting the addition of a knitted upper and a gusseted tongue, a slightly more responsive midsole foam, and a slightly more accommodating forefoot.
The Speedgoat 4 will also come in wide widths for the first time. So, unless you need a more accommodating fit, then the Evo Speedgoat or the Speedgoat 3 will do the job.
Conclusion
The Hoka One One Evo Speedgoat is an ultra trail runner's soulmate: maximalist cushioning that maintains stability with a durable, form-fitting upper and exceptional traction.
That said, the Speedgoat 3 was already a really impressive shoe, so unless you are going for course record times where half an ounce makes a difference, or are finding the overlays of the Speedgoat 3 are causing irritation, then the upgrade to the Evo may not be worth it.
The EVO Speedgoat from Hoka has great grip and cushioning, but feels clunky due to its thick midsole and outsole and tight and tapered upper.

Outsole
The grippy outsole is my favorite part of this running shoe. I've run 200 miles in these shoes and never for an instant was I worried about grip.
From wet rocks to rotting logs, to loose downhill gravel, they can handle it all. Paved roads and sidewalks may not be the intended surface for these shoes, but the soft foam padding makes it a pleasant experience to get from your front door to the trailhead.
Just don't expect to sneak up on anybody; the grippy lug material creates a plastic "scrunch" when it lifts off the pavement.
Midsole
After running in less cushioned trail shoes, the plush foam on the Speedgoat is noticeable both in terms of bulk as well as their well-marketed cushion.
On the one hand, I love the smooth, soft ride that this gives the shoe. On the other, these shoes feel clunky due to the sheer size of their midsole and outsole.
Looking down on these shoes from a birds-eye view, the upper looks as if it rests atop a platform of foam. While comfortable, it gave me the nagging feeling that I was running slower, and clomping around my local trails.
Upper
I chose these over the regular Speedgoats because I'd heard the upper material was more forgiving of wider feet. I typically wear regular-width shoes, including in the Hoka Clifton which fit perfectly, but I've had issues with narrower shoes in the past.
The upper of these shoes feel too tight for my foot. Even though the material is made to feel like compression spandex that molds to the shape of your foot, these feel so much restrictive that I debated returning them.
After taking them for a short test run, I noticed that the tightness became less noticeable after a quarter mile or so. Still, I found it strange that the upper was noticeably narrower than the very thick, wide midsole.
Test Run
10-mile trail loop with some paved connecting roads
New England, Spring, 58 Degrees and Overcast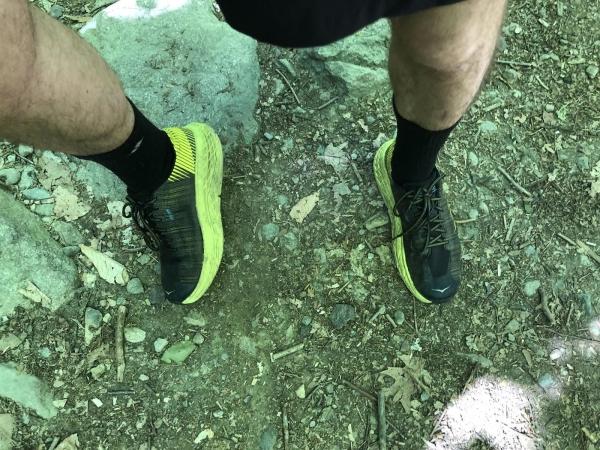 I set out for a trail system about a quarter-mile downhill of my house. The shoes feel very snug as I start out, and the sticky grip of the lugs makes a light, not-unpleasant sticking sound as they release from the pavement.
After wearing Topo Terraventure 2 shoes for the past few months, these things feel like a pillowtop mattress on my feet. Stepping onto the compact but rocky dirt path, the cushion comes in quite handy.
I can tell immediately that the lugs have superb grip as I skip over a few large, smooth rocks — the shoes fall and stick to those rocks as if I were on solid ground.
Despite the grip, I can't help but notice how big these shoes are. Compared to other trail shoes, they feel a bit bloated; not in terms of weight, but just sheer size.
I don't feel fast when I wear these shoes, and maybe that's not the point, but I find myself more aware that I'm wearing running shoes than I normally do.
I also did run into some small creek bed crossings with wet rocks and logs. As expected, these shoes do great on this type of terrain in terms of grip.
Surprisingly, as I reach another stretch of paved road, I find that running on the road in these shoes is rather pleasant. Despite the lugs, I feel protected and cushioned from the road.
Conclusion
On my return home, I wonder if these would be better suited for fall and winter trail running when conditions get a little gross and the added heft of the shoe isn't as noticeable since I'm more bundled up.
I find that day to day, I don't reach for these shoes, but my Salomon Sense Rides instead, which have a more natural feel for me. Unlike these Speedgoats, they fade into the background and almost disappear into my run.
If you're looking for an incredibly padded, grippy shoe, perhaps these are for you. I rarely run more than a half marathon distance, so perhaps these shine for longer mileage on the trails. But for me, they feel like a bit too maxed out for what I really need.
Good to know
- This neutral running shoe employs Vibram® Megagrip high-traction as its outsole component. This technology employs rubber compounds that enhance the grip of the shoe. This component is also highly durable.
- One of the striking features of the Evo Speedgoat is its upper, composed of MATRYX® fabric that has high abrasion resistance. It has high-tensile synthetic fiber strands that give the shoe added support and durability with minimal weight. Meanwhile, a compression-molded ethylene-vinyl acetate (CMEVA) foam midsole provides stability and support.
- The shoe sports a gusseted tongue that disables abrasive elements from entering the shoe.
The Evo Speedgoat is available in standard sizing measurement. This shoe has a toe box height that ranges from medium to low, and an arch height that is from medium to high.
The technical components directly affecting the shoe's fit are the Lycra Strip found above the toes ensure seamless fit experience. The stretchable lacing system of the shoe ensures a snug fit and security of the shoe when running on trails. The breathable vamp on the Evo Speedgoat also provides support and security to the foot.
To ensure that exact sizing and fit of the shoe is achieved, it is recommended to first go through various user feedbacks, or try the fit of the shoe first before purchasing,
The outsole of the shoe incorporates Vibram® Megagrip high-traction with 5mm lugs. This technology sports aggressive lugs that allow the shoe to have good grip and traction on varied surfaces. This also increases the durability and stability of the shoe. This technology is also found in Hoka One One Speedgoat 3.
The shoe also employs outsole flex grooves which is also found in Asics Gel Contend 4 that allows unrestrained movements while providing more stability on trails.
The midsole of the Evo Speedgoat is composed of CMEVA foam that runs full-length of the shoe. This technology is composed of compressed EVA which is then filled inside a mold. This technology helps to absorb impact points and offers stability.
The Upper of the Evo Speedgoat is made out of MATRYX® fabric that uses strategically placed Kevlar and utilizes high-tensile synthetic fiber strands that allow the shoe to have more durability, exceptional foothold, and protection- all at minimal weight. This upper also allows the shoe to be water-repellant
Lycra Strip is also found on the upper of the Evo Speedgoat to allow flexibility. This feature of the shoe also contributes to the shoe's fit and security when running.
Rankings
How Hoka One One Evo Speedgoat ranks compared to all other shoes
Popularity
The current trend of Hoka One One Evo Speedgoat.