Verdict from 5 experts and 100+ user reviews
5 reasons to buy
The Hoka One One Challenger 4 ATR had a roomy toe box that accommodated natural toe-splay, several people stated.
The heel collar adequately secured the foot and kept it in place, according to some testers.
Many runners noted that the upper unit was soft and comfortable.
A few people noted that they were able to use this running shoe for the trails as well as the roads; it apparently remained agreeable and capable on flat surfaces.
The design was considered by most consumers to be appealing to the eyes.
3 reasons not to buy
Some people commented that the outsole started to peel off after only a few uses.
The cushioning and shock-absorbing capacity of this shoe's midsole was touted by many to be not as efficient as the Challenger ATR 3's.
Several runners reported that the fit was broader than what they were used to in the medium width option.
Bottom line
Many runners liked the Hoka One One Challenger 4 ATR. They were receptive to its contemporary design, its spacious forefoot construction, and its overall comfortable build. But there were those who didn't like this trail running shoe's outsole durability, as well as its apparently insufficient cushioning capability.
Tip: see the best trail running shoes.
Our reviews
If you believe that runners were not made to be restricted to pavement and treadmills, read on. This may just be the shoe that will help you enjoy more off-road miles this season.
This is a neutral stability shoe built for the trail (All Terrain) with average cushion level for Hoka.
Details
Weight: 9.0oz for a US Men's Size 9
Heel-toe drop: 5.0mm
4mm lugs for all-terrain traction
Meta-Rocker for smooth ride and Oversize EVA midsole for Lightweight cushioning
Dual-layer mesh upper for better breathability and protection
Performance
Most trail shoes are unforgivingly stiff and feel bulky/heavy compared to standard running shoes. Because of these, the runners needing more support avoid trail shoes.
Some even limit themselves to predictable routes with their trusted shoes. This is not the case with the Hoka One One Challenger 4 ATR, Hoka's fourth ATR.
With this version, Hoka has nailed it with a stable and supportive trail shoe. It is responsive and not overly-bulky yet provides the needed arch support.
It also has the patented Hoka rocket for smoother transitions, feeling the responsiveness of the terrain.
The Challenger ATR 4 is a step up in both the design and breathability from the ATR 3. I especially enjoyed the feel of the extended toe cap when hitting rocks, branches or ruts on the trail.
Traditional New Balance, Nike, or Asics trail runners will immediately notice the additional support underneath without the expected weight and still feeling the terrain.
I have also found the dual-layer mesh upper on the ATR 4s and 5s to be extremely breathable and durable for Florida running, which is both hot and humid.
The internal heel and the podular outsole combine to form a more stable feeling. The well-built heel hugged my foot, providing more support on varied trail terrains as well.
Lastly, the signature Hoka EVA midsole was a good balance of cushioning and responsiveness.
Combined with the Meta-rocker provided, I laced up the shoe well and was striking correctly in the middle of my foot instead of my heel.
Sizing
If you are familiar with Clifton or Bondi, the ATR 4 will have similar sizing and feel for you. In this sense, it was also true to size for me.
However, it is important to note that if you are used to the sizing of the previous ATR 3, you'll find the shoe much roomier with bigger toe box.
The overall width is a smidge bigger, too. If you have a very narrow foot, you may need to adjust accordingly.
On a side note, I also really enjoy using the pull tab on the back for putting on shoes. It is one of my big "likes" with Hoka in getting a good fit quicker for a run.
Durability
For both the ATR 4 and ATR 5 versions, a big plus is the well treaded 4mm lugs on the sole. You can use these in rainy, muddy and snowy/slippery conditions.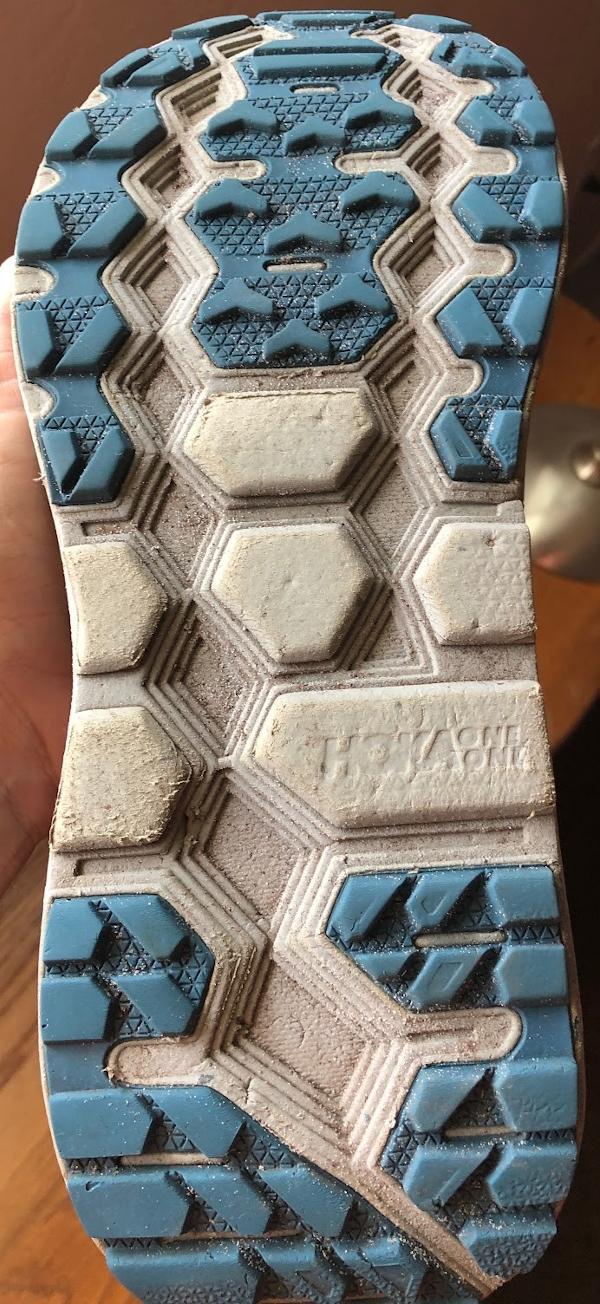 My runs have proven that the tread material holds up 200 miles+ and is more than sufficient. This material gives you more traction stability on odd surfaces than your typical running shoe.
After putting on over 200 miles, I have yet to lose any of these lugs. The rubber is wearing evenly. The upper was extremely durable for being so light, with no rips.
At first, I was worried about not having any stitching to connect the toe cap to the upper. But, this has also held up and had no issues.
Cool Stuff
While it is not waterproof, Hoka has added extra toe protection that works its way up the front of the shoe. This addition protects your toes from splashing and mud.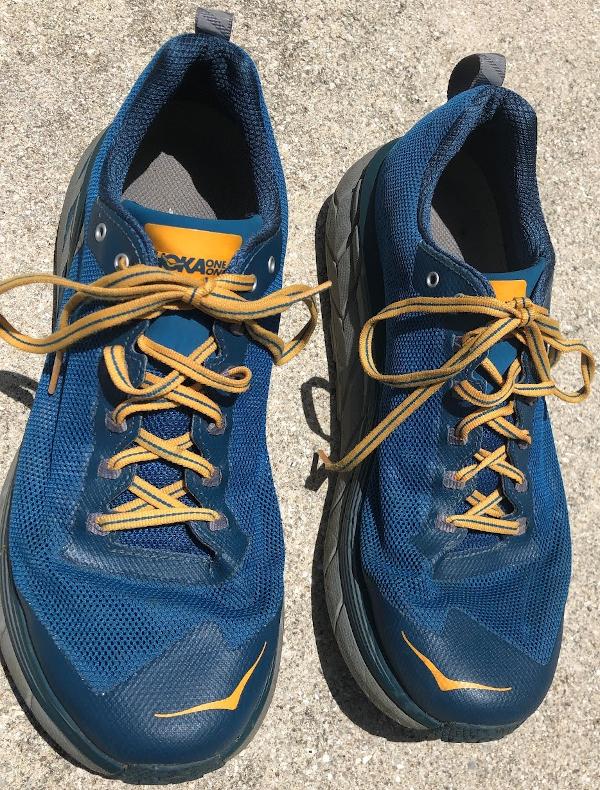 With a good pair of wool blend socks, they would be perfect for outdoor winter running. They have also used a material that was super quick drying for me.
This material also kept the mud out of the sock area, which is a pet peeve of mine. It has a "minimalist tongue" that helps prevent extra debris from coming into your foot and socks.
Bottom Line
This was a great trail shoe and provided good support and stability on varied terrain over 200+ miles.
The lugs did wear down over time, as expected. But, it wore out evenly for the most while one fell off.
Overall, it is a solid choice for off-road runs, maybe with some gravelly roads and rocky sidewalks thrown in there.
It is definitely worth a try to start getting into new territory and exploring on your runs!
Pros
Good ground-contact feel along with a good cushion
Grip against rock and slippery terrain
Flexibility during dynamic movements
Weight: very light for a trail shoe at 9.0oz
Excellent all-around trail shoe, lugs do not feel awkward on pavement either
Durability & extended toe-cap
Cons
Slightly wider fit than the Clifton or Bondi
Less stability control than some trail shoes
Good to know
The Hoka One One Challenger 4 ATR is a trail running shoe that's designed for the neutral pronator. It features a smooth upper façade that moves away from the design-laden surface of its immediate predecessor, the Challenger ATR 3. The newer model still has printed overlays, but they're spaced out more evenly, thereby preventing the obstruction of airflow into the foot-chamber.
A full-length EVA foam is used for the midsole unit of this trail shoe. It's touted to be 30% lighter in construction than most standard foam compounds. A rocker shape allows the platform to lead the foot towards a smooth and enabled transition through the gait cycle.
A trail-optimized outsole permits the Hoka One One Challenger 4 ATR to be more agreeable on unpredictable terrains. Its full ground contact design makes sure to heighten traction whenever it is needed. There are gripping lugs, but they are not too aggressive as to limit activity to only the trails.
The Hoka One One Challenger 4 ATR is true to size. The regular measurements were used to accommodate the usual preferences of runners when it comes to length. The available widths are B – Medium for the women's version and D – Medium for the men's version. It has a roomy toe box which accommodates the spreading of the toes during the liftoff phase of the gait cycle.
The outsole unit of the Hoka One One Challenger 4 ATR makes use of a Full Ground Contact construction to ensure more traction and more surface control. It also makes sure to facilitate a smooth and confident transition from the heel to the toe.
Gripping pods pockmark the surface of the outer sole. They make sure to provide grip whenever it is needed.
Flex grooves allow the wearer to bend the foot more naturally throughout the running session.
4mm lugs that face different directions help the runner when it comes to traversing tricky paths. The clamp-like disposition of these protrusions eases uphill climbs and downward treks.
A soft ethylene vinyl acetate foam, or EVA, is used for the midsole unit of the Hoka One One Challenger 4 ATR. It's formulated to be 30% softer than most foam compounds on the market. Its purpose is to carry the foot throughout the running session and protect it from impact during the striking phase.
The Early Stage Meta-Rocker Geometry involves the platform taking on a rocker shape. This curved disposition allows it to transition through the gait cycle with sureness and ease. It even aims to propel the foot with energy. The Early Stage Meta-Rocker technology is also utilized in the Clifton 5, one of Hoka One One's most popular shoes.
A dual-layer mesh makes sure to cover the foot, protect it from debris and give it ample ventilation. It's also constructed to withstand scratches and other forms of abrasion that's typical of trail running.
The fused toe cap has been extended to protect a larger area of the foot from bumps against surfaces and trail debris.
While minimal printed overlays reinforce the instep and the eyelets, most of the midfoot security is provided by fabric strings on the lateral and medial sides. They connect directly to the lacing system, so whenever the shoelaces are adjusted, they follow suit. This structure ensures a secure yet customizable coverage.
An internal heel counter keeps the foot in place and prevents it from exiting the interior chamber unintentionally.
Rankings
How Hoka One One Challenger 4 ATR ranks compared to all other shoes
Popularity
The current trend of Hoka One One Challenger 4 ATR.