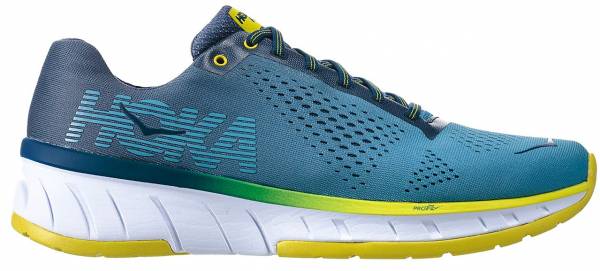 The Hoka One One Cavu is a newcomer in road running yet it has won over many consumers, based on the considerable number of compliments it received. The shoe's fit, comfort level, and performance were all appreciated as well. The very minimal criticism was only towards some of the structural components. Overall, the Cavu has been regarded by the majority as a shoe that is worth giving a try.
---
Verdict from 16 experts and 100+ user reviews
9 reasons to buy
The Hoka One One Cavu was extremely comfortable on cement and asphalt, said a reviewer. Others echoed this opinion by saying it was comfortable right out of the box.
Many users described the shoe as lightweight.
The upper wraps the foot fantastically, a runner expressed. Another mentioned that it felt like a slipper.
Some buyers praised the snug support that came from the heel collar.
The shoe performed well on speed work, slope runs, and sprints, a user remarked.
One runner experienced consistent cushioning no matter the distance.
A number of wearers were amazed at how the shoe remedied their plantar fasciitis.
The shoe helped relieve knee pain that was previously present during running, according to a purchaser. Others also reported a decrease in similar body pains with the Cavu, which were usually caused by wearing the wrong footwear.
The dual-density midsole brought terrific back comfort, according to a customer.
3 reasons not to buy
A few buyers thought that the shoe ran big.
The collar rubbed excessively against the ankle, a user observed.
A wearer complained that the fit of the pair they bought was different from one another.
Bottom line
The Hoka One One Cavu is a newcomer in
road running
yet it has won over many consumers, based on the considerable number of compliments it received. The shoe's fit, comfort level, and performance were all appreciated as well. The very minimal criticism was only towards some of the structural components. Overall, the Cavu has been regarded by the majority as a shoe that is worth giving a try.
Best price from 30 shops
We earn affiliate commissions at no extra cost to you when you buy through us.
78% say it's true to size.

Our reviews
In the past few months, I have been using for road running a new pair of shoes — my first pair from Hoka One One brand, and more precisely, the Cavu model.
First time I saw this model, it had something that made me want to give a try. Normally, for road running, I have been using Asics GT2000 which is an overall good shoe, but I was looking for something a bit lighter.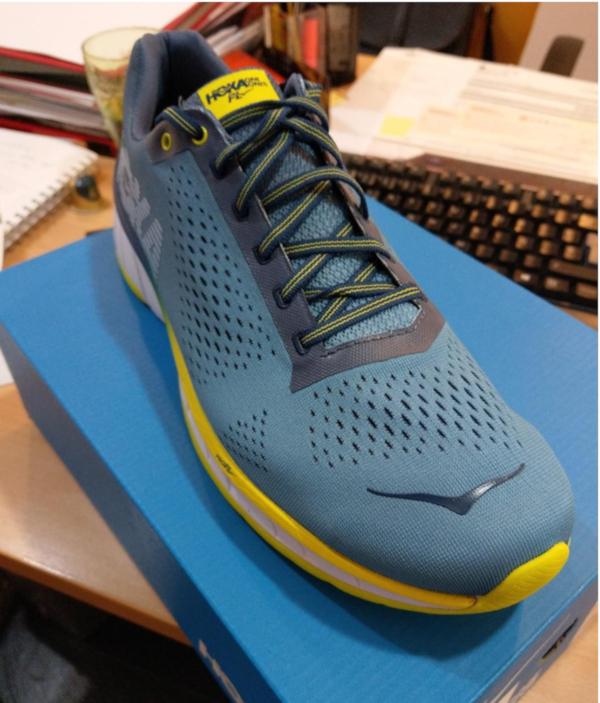 Also, I wanted to taste the Hoka brand for the first time as I have heard and read so much about their shoes, but some part of me had remained a bit skeptical. So I better try by myself.
Here it is right after I got the box and did a small unboxing at my office desk. Size US11 came in perfect fit. I did almost buy half size bigger, but I made the right choice with the size, no doubt.
Design
I like the color combination, not too flashy and with two main colors. Maybe one thing I didn´t like from other Hoka models is the color combination or a bit about the design.
With the Cavu, I am more than happy since I opened the box for the first time. It also doesn´t look too bulky which was one of my concerns before buying them.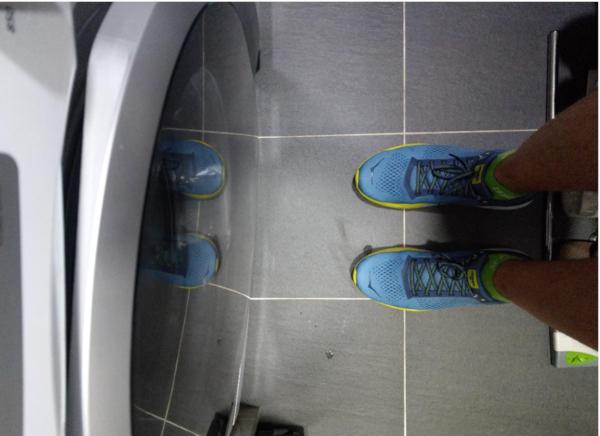 Upper
Just after I finished one of my morning runs. You can tell the upper is a bit wet from sweat. They are really fast to dry also.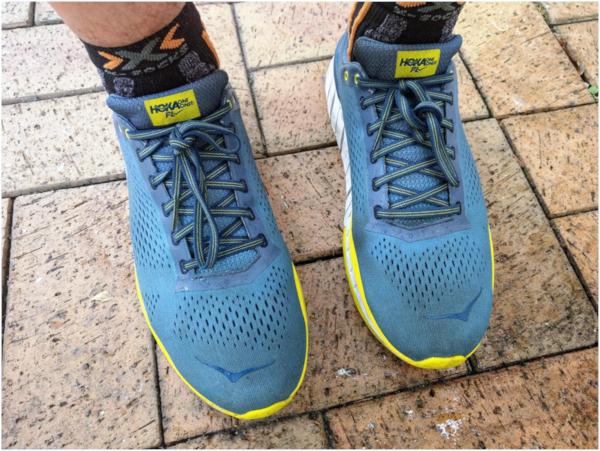 Fit & comfort
It is very roomy inside, and the material is kind of stretchy. You will not feel any tight inside, and your toes will be able to move without a problem.
Breathability
In terms of breathability, I think it's fair and I don´t feel my feet overheat too much. True thing, I haven't tested them yet during the summer days. But now, as we have reached the spring, it would be a good chance to see how they behave with more heat.
Drop & cushioning
It has a quite reasonable 5mm drop. Being a Hoka shoe, you can expect the amount of cushioning is one of their signatures. It doesn´t feel too soft but kinda stiff. Just a matter of putting a bit more miles into them to make sure you feel comfortable.
Outsole
After using them for almost 300 km, I can say that the sole is behaving quite good. I do expect they can last for 600-800 km range which is quite acceptable. I normally use them for fast workouts involving some tempo or sprint reps, so at least twice a week.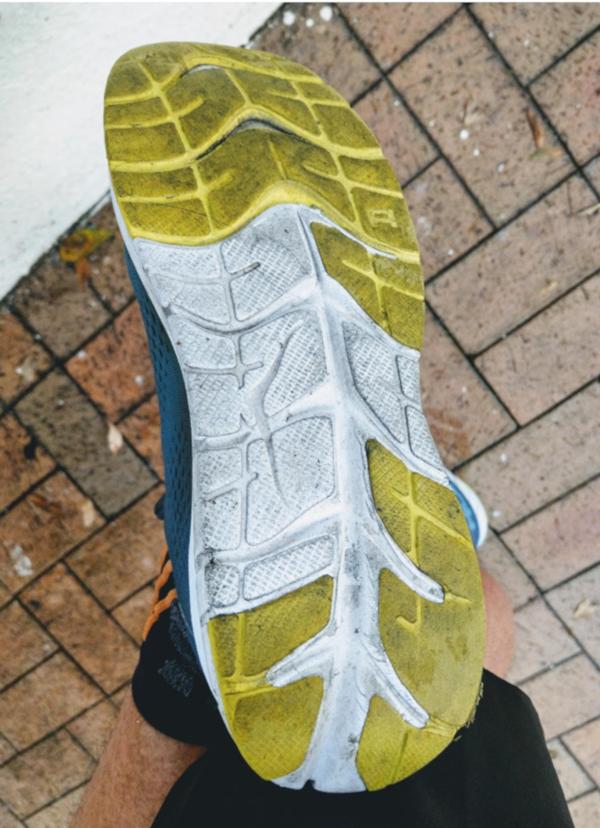 Laces
Classic laces with enough length, so make sure you make a double knot. They will stay in place and making sure your feet stay locked. They don´t feel tight at all, and that´s a good thing.
Pros
Lightweight
Responsive
Color combination
Cons
Midsole a bit stiff and takes time to get used to
Increased durability in some key areas of the sole
A bit more breathable upper
Conclusion
These are not my only road running shoes but have become my main ones. I like how light they are and especially how responsive too. Initially, the sole may look like a bit stiff, but once you get warmed up and increasing your pace, they are really comfortable to run.
If you are looking to jump into the Hoka wagon, I think the Cavu is really a good choice. The Cavu 2 has improved even more, so you better check them out or get these at a discount price while you can.
This is my review on my new short distance race shoe, the Hoka One One Cavu in Black. I was told that the Hoka Cavu shoes were fast, cushioned, and very light.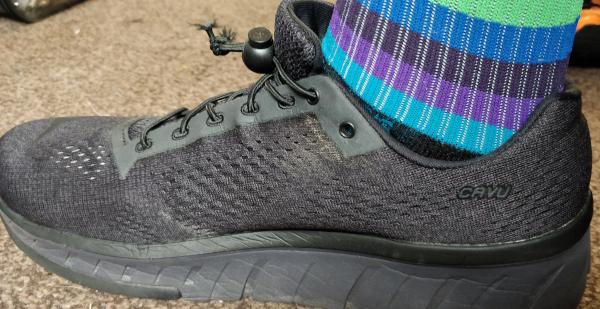 When someone tells me that, I just have to give them a try to see what all the fuss is really about.
How did it look?
Now, I love a bright shoe—something that stands out and something that gets people attention. For me to get this pair is unusual because they were all black.
I mean everything—from sole to upper, to laces and tongue—is just black. But, I had to give them a try and see if it was worth not having some colour for once.
Although I like colourful shoes, I really like the Cavu's design. It was very simple but gave subtle changes in the black and outlines of the branding, showing you the shoe's character.
How did they feel putting them on?
When I first put them on, I thought straight away how light and cushioned they were. They felt nice and didn't feel restricted in any way.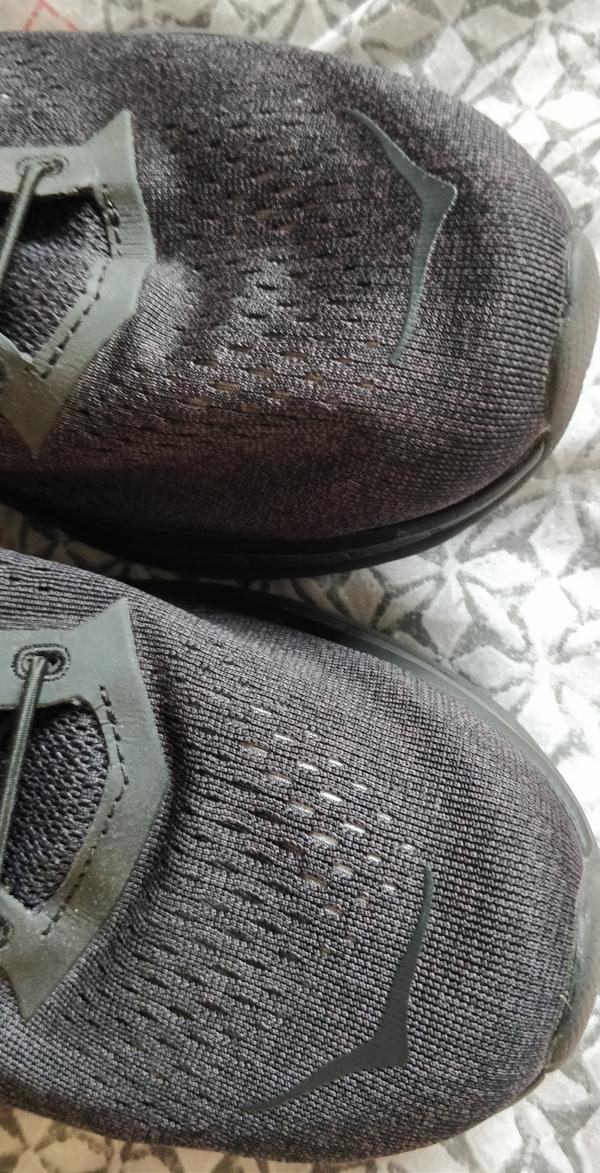 It was very roomy at the front with a nice wide toe box. There was a good amount of cushioning without feeling like you are standing on a pillow or a trampoline!
Looking at the side of the shoe, it seems like it has a huge drop and a large amount of heel cushion. But, once I put it on, I realised it was more to help cup your ankle.
Also, it actually had the right amount of drop and a heel that fits snug to your ankle. The support was good straight away, and I felt very confident in the shoe.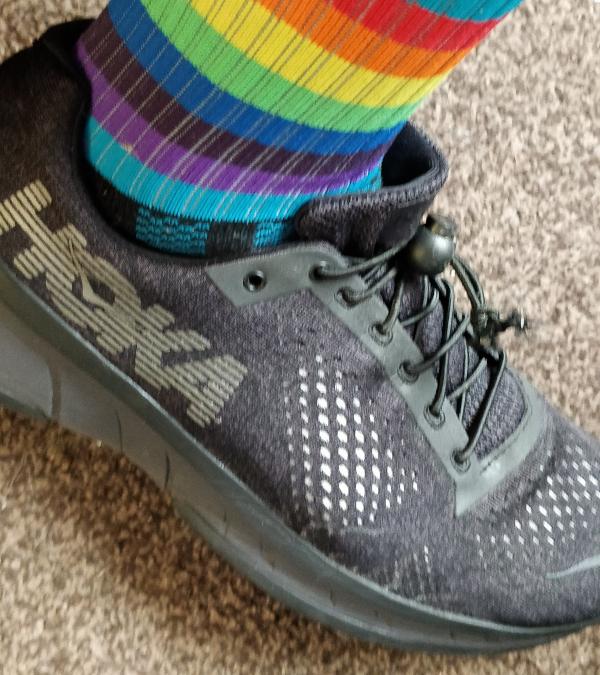 The upper was very light and airy, giving you a nice amount of airflow through the shoe, which will keep your feet nice and cool.
The sole is grippy enough without being like a sticky pad, and they feel very light on your feet.
The run
So, I ended up having a few different runs in the Hoka Cavu. I wanted to see how it was over short and long distances, as well as sprint work or a steady run.
My first impression was that it gave a nice amount of cushioning and bounce. But, it didn't propel you like other more expensive shoes such as the Nike Vaporfly 4%.
I actually like the amount of bounce that it gives you as you still have to work.
I also love how it feels. Even though there is good cushioning, you almost feel like you are running with very minimal shoe. You can feel what's beneath you without being in pain if you step on stones.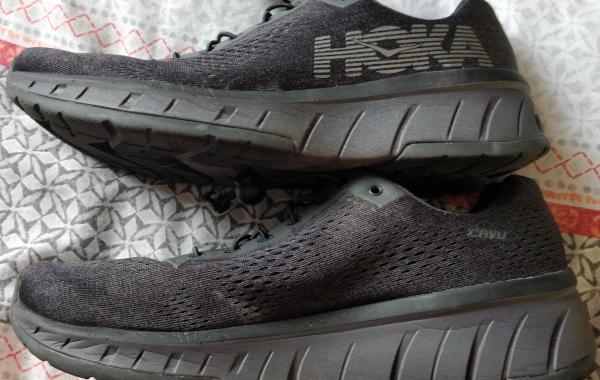 I felt that it was making you come up on to your toes during the speedwork or faster sessions. It also would almost keep you from heel striking when you are on a slower run.
I like this as without even trying, it was like I was running faster. It made use of my forefoot or midfoot, at the least. We all know we shouldn't heel strike, so this was a massive positive for me.
I also made sure I ran on a wet surface in both fast and slower-paced runs. I am always interested to see how the grip fairs with faster shoes.
I say this because other shoes have seemed to become very slippery on wet surfaces, but these were very convincing.
I didn't have a slip at all and was very confident to run fast around corners without thinking I was going to end up sliding down the road.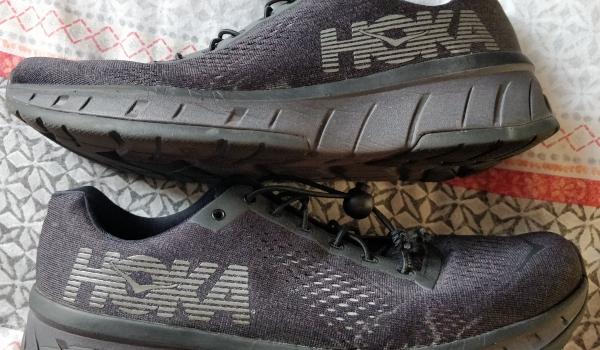 The Cavu is nicely cushioned without being too much like a sponge. Even though it looks like your feet are high above the surface, you can feel the ground and all the different types of terrain.
They also help you nicely move onto your forefoot and off your heel.
Overall
For a training speed shoe, they are good. I'm not sure if they can give me enough bounce or spring for a long-distance, fast race, but for a short distance race of up to 10 miles, they certainly would.
I would be very confident to wear these in both hot and cold conditions and wouldn't have a second thought about wearing them in the rain.
The stability it gives with the added grip is excellent. Also, the fact they were black means they wouldn't show any dirt!
Hoka One One Cavu is a cushioned shoe that you could wear for slow or fast runs, as well as, intervals or a steady club run.
Updates to Hoka One One Cavu
The Hoka One One Cavu claims to be a versatile runner that aims for a simplistic yet bold appearance, as it presents a lightweight construction with functional technologies beneath. Borrowing the name from an acronym related to aviation, the Cavu delivers a clear and unrestricted performance on the road, track, or gym.
An open-engineered mesh and a Lycra® cleatie work together to bring a breathable upper with a seamless fit. Both features promise to equip the foot with a comfortable and customized hold.
At the midsole resides the brand's proprietary cushioning, PROFLY™, which offers a balance of propulsion and protection through its unique layout. Correspondingly, the outsole uses RMAT® for a soft and featherweight ground contact.
Size and fit
The Cavu from Hoka One One runs true to size. It has a modest construction from forefoot to the heel, giving a snug and secure fit to runners with a low to average foot volume. This shoe is available in medium width for both the men's and women's versions.
Outsole
The zonal RMAT® is the brand's exclusive outsole material. It works by enabling a guided stability and durability in high-wear areas. RMAT® is a unique blend of rubber and foam, thus getting the best of both worlds. The created material has high elasticity and therefore yields greater rebound levels than just foam alone. Aside from that, the combination results in an ultra-sticky grip, as it is able to latch onto angled, wet, and uneven surfaces.
Acting as both a design and function, the wishbone pattern of the outsole doubles as the flex grooves. This layout offers strategic flex points, resulting in a smooth transition.
Midsole
A dual-density midsole, called the PROFLY™ is present in the Hoka One One Cavu. It features a construction that is soft in the heel and firm in the forefoot so that the runner receives a comfortable landing and a quick toe-off. The PROFLY™ is a new material from the brand, and it is meant to be more resilient, and have a higher shock attenuation capability compared to other midsole contemporaries from the brand.
Upper
The upper of the Cavu uses an open-engineered mesh, supplying the foot with lightweight comfort, as well as delivering optimum airflow. The Bondi 6, another Hoka One One running shoe, also utilizes this material in its upper.
The mesh also permits a customized fit, as a Lycra® internal lining helps it by providing a seamless layer underneath. This material promotes a second-skin feel and prevents irritation, resulting in a comfortable wear.
Aside from the Lycra® liner, another nether element of the Cavu is the internal reinforcements. These details act similarly to overlays, allowing a secure hold and a supportive fit for the foot.
The Cavu has a rigid heel counter, which is designed as such so that the foot is guaranteed protection and a locked-down feel.
Rankings
How Hoka One One Cavu ranks compared to all other shoes
Popularity
The current trend of Hoka One One Cavu.